Week 1 Recap
& Best Games
Zest stands out in a routine opening week
Week 2 Preview
Dark vs. Reynor, part infinity
Brackets and standings on

Liquipedia
VODs on Twitch
Day 1
-
Day 2
Week 1 Review: The Most Normal TSL yet?
by Wax
Upsets and surprises have been hallmarks of past TeamLiquid Starleagues, whether it was ThorZaIN becoming an overnight star at
TSL3
or a 'retirement-mode' soO departing with one more championship in hand at
TSL5
.
However, at least for the first week, TSL7 has gone largely according to chalk. The top seeded players took care of business against their outmatched foes, often winning in one-sided fashion.
The one big surprise from the weekend was
Zest
shrugging aside his prior
1-10 head-to-head record
against
Serral
to send the Finnish Phenom down to the lower bracket. Perhaps it's not such an unusual result in hindsight—Serral hasn't put up a notable tournament result in over half a year, and for all his prior losses, Zest
did
win their most consequential match back in the 2020 IEM World Championship semifinals.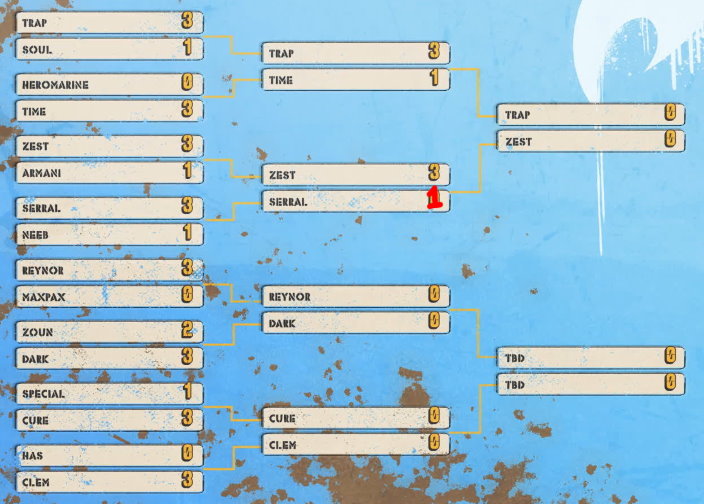 The most notable of Zest's victories was his brutish bludgeoning of Serral on Jagannatha with Blink Stalkers and Colossi (
VOD
). Serral and Reynor have made that composition seem ineffectual on countless occasions in the past, but Zest's positioning and pre-spreading of units against Banelings allowed him to win the deciding battle in such an unexpected matter that it left guest-caster Lambo completely baffled.
Anything else? Maybe
TIME's
one-sided 3-0 victory over HeroMarine raised a few eyebrows, but given the parity and volatility we're seeing in TvT as of late, it doesn't seem like that strange an outcome.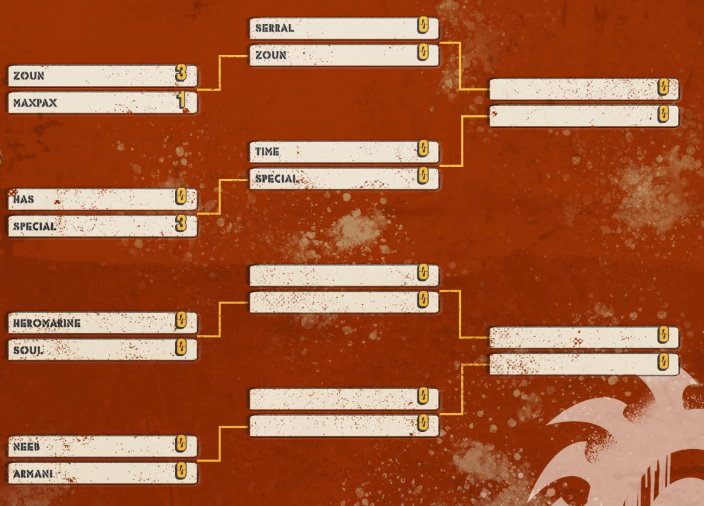 Down in the lower bracket, we sadly bid fan-favorites
Has
and
MaxPax
farewell (due to some quirks in the TSL7 schedule, an uneven portion of the lower bracket matches were played in week 1). Fortunately for connoisseurs of creative-minded play, Zoun, Neeb, Zest, and Trap are more than capable of giving their opponents a taste of fine Protoss BS.
Recommended Games
Two Terran vs Terran matches are TL.net's picks for best games of the week, with both matches occuring on the macro-favoring map of Romanticide. As to not spoil the content of the games too much, it will suffice to say that these matches were in
danger
of becoming long, turtly, and boring—but they ended up taking a turn for the better.
One of the more delightful moments of week one didn't even occur in a game—instead, it involved Reynor playing to the audience as usual in the
SecretLab™ Hot Seat
. This particular interview featured Harstem attempting to fill in as an Italian 'translator,' Harstem phasing in and out of time-space, and Elazer catching all sorts of strays despite not even playing in the tournament (
Watch VOD
).
God of Predictions: ZombieGrub
This week's
GOD OF PREDICTIONS
is
ZombieGrub
, who went 7 of 8 on predictions for an 87.5% accuracy rate. There is no prize money for being named the TL.net GOD OF PREDICTIONS of the week, because possessing flawless logic and superior cognitive ability is its own reward.*
Now, using accuracy percentage as the deciding metric is a bit fraught given the fact that not every caster predicted the same # of games—RotterdaM and TLO had to pick twelve matches, while Mr. Bitter and Lambo only picked six. But until Aligulac.com decides to assign difficulty ratings to each prediction and hand out rankings to casters, this method will have to suffice.
A special shoutout goes to RotterdaM for picking the RO16 100% correctly, though he dropped the ball in the later rounds by going 1/4. Also, a "special" shoutout goes to guest caster Mr. Bitter for going 2/6, including a bizarre pick for Cure to win in a match between Serral and Neeb (okay, this was probably a production error, but we'd rather believe that he's just
that
big of a Cure fan).
*Please DM Waxangel for sponsorship opportunities
Week 2 Preview: The Quadrant of Death
Matches begin at 13:00 GMT (+00:00) on Saturday and Sunday.
The clear highlight of Week 2 is the
Reynor
-
Dark
-
Cure
-
Clem
portion of the bracket, which will have a huge impact on the championship picture.
Clem vs Cure, in particular, is a match-up of immense importance. As we've mentioned many times before, while Clem's absurdly good TvZ (the single highest rated player match-up on
Aligulac.com
at nearly 3500 points) allowed him to conquer Europe, his
comparatively
weak TvT and TvP have held him back in international competitions. Consider this worst-case scenario for Clem: he loses to Cure in the upper-bracket on Saturday, and proceeds to get eliminated from the lower bracket by Neeb (who would have to beat Armani) on Sunday. Sure, it's not likely, but is it that implausible given Clem's past record?
While Dark and Reynor certainly have the personalities to call out Clem on air, one has to think they'd internally breathe a sigh of relief if Clem dropped out of the winners bracket. They'd still face difficult matches against Cure, and then Zest or Trap in the winners, but those matches seem much more palatable than taking on Clem in his current TvZ form.
On the other hand, a victory from Clem would open up an entire new world of delicious possibilities, like a DHM Europe rematch against Reynor (which could deliver the best series of the tournament), or a potential statement match against Trap where he emphatically washes off that 'weak against Protoss' stigma.
But that's enough future speculation for now—time to appreciate the match-ups that are already guaranteed!
Reynor vs Dark is one of the burgeoning rivalries of StarCraft II, and not just because of both players' willingness to trash-talk each other. Their last two meetings resulted in five-game classics, with Dark prevailing back in TSL6 while Reynor won with a dramatic reverse-sweep at IEM Katowice 2021. Of course, Dark crushed Reynor 4-1 in the grand finals of BlizzCon 2019—but that painful loss seems to get Reynor fired up for each subsequent match. There will be no love lost between these two—I just hope we get a special pre-match edition of the
SecretLab™ Hot Seat
where the two players tell us how they
really
feel about each other.
As for Clem vs Cure, you have to be excited for any elite-tier TvT in StarCraft II. Regular TL.net readers will know we often argue that TvT, not TvZ, is the pinnacle of competitive StarCraft II, and both Clem and Cure have played games that
support that notion
. The two players have
perfectly even records
against each other in 2021, tied at 2-2 in matches and 10-10 in map score. The only worry is that the current TvT meta features a lot of early-game gambits which can result in one-sided build order wins. So, in an unusual role reversal, the marquee ZvZ might actually have more chance to live up to the hype than the TvT.
Down in the lower bracket, Serral and whoever drops down from Cure/Clem and Reynor/Dark appear to be the obvious favorites to survive until week three. At this point, it's starting to feel like this could end up being the most predictable TSL to date, with the exact top six of the
TL.net Power Rank
making it to the third and final week. But for the sake of keeping things interesting, let's consider a couple of players who could shake things up in week two (incidentally, they're also the next players down in the Power Rank).
Zoun
certainly has the potential to keep the tradition of TSL upsets alive. The fast-rising Protoss player took reverse-sweep wins off both Dark and Rogue in GSL Super Tournament 2—Serral might just be the next legendary Zerg head he adds to his collection. On the other hand, Zoun's PvZ strategy hand might have already run empty after playing several high-profile PvZ matches over the past month, and he could be surprisingly easy pickings for a well-prepared Serral.
Also, while North American regional champion
Neeb
ate a deflating first round loss against Serral, he may yet have a chance to prove that he's truly 'back' in the lower bracket. Sure, non-American fans may scoff at his 23-3 map record in the NA regional, saying it was inflated by playing against inferior opposition (actually, self-flagellating NA fans are liable to say this as well). However, a loss to Serral is hardly a reason to slam the brakes on the hype, especially not for NA's most successful international player of all time. An in-form Neeb has the potential to survive the weekend and reach the final week of play.
---