The quarterfinal round is over and the match-ups for the final four have been locked in. The invincible best-of-seven player Rogue will take on the underdog Dream in the first match, while former Jin Air teammates Maru and Trap will face off in a PvT spectacle in semifinal #2.

The second night of quarterfinal matches started with Maru's expected triumph over Hurricane. While some of the matches showed the clear gap between the two players, with Maru seemingly conjuring massive supply leads out of thin air, Hurricane gave a good account of himself as well in his 1-3 defeat. After falling behind to Maru's signature proxy-Barracks Bunker rush, Hurricane was able to exploit a narrow window of Terran weakness with a counterattack and steal a comeback victory. Given the expectations prior to the match, and the impressive nature of Hurricane's one map win, he may actually have improved his standing in the eyes of the fans.

The match of the night saw Trap and INnoVation clash for the fourth time in the GSL quarterfinals, and for the fourth time, the series went all five games. While Trap gave up two maps to INnoVation's incisive two-base timing attacks, his superiority in longer macro games saw him take a narrow 3-2 victory.

The series also saw the two former teammates' frequent online trash talk find its way into the GSL studio after Trap abruptly paused the game due to a lag-spike during one of INnoVation's timing attacks (a capture of Trap's live first-person view stream by a DCInside user seems to confirm some form of lag at a critical moment). The game was remade from replay, rewound three seconds back to account for the lag. While INnoVation's trash talk didn't make it onto the screen, according to the casters he said "do you think you'll win because you get three seconds back?"

After the matches, Trap threw some cold water on expectations of an exciting, top level TvP clash between him and Maru. Trap revealed that the two had practiced against each other ahead of the quarterfinals due to match-up overlap, and he seemed quite intimidated by the level of skill Maru had shown him in practice.

Meanwhile, Maru ended up giving insight into the other semifinal match. He elaborated on Rogue's story from last week, of when the players went out for drinks after the RO16 group selection. Dream's outspoken confidence against Rogue couldn't be settled with words, which led to an impromptu grudge match where Rogue won easily. With those results in mind, Maru predicted a win for Rogue.

Code S will resume on Monday, Apr 26 9:30am GMT (GMT+00:00) with the semifinal match #1: Dream vs Rogue.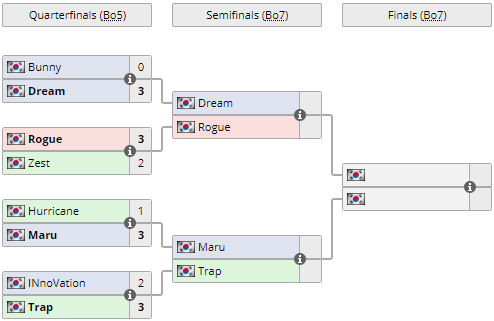 ---
Match Recaps

Quarterfinal #3: Maru vs Hurricane

Game 1 - Jagnannatha: Maru opened with a Reaper expansion followed by a fast proxy-Stargate for a Hellion drop. Hurricane decided to go for proxy tactics as well, proxying a Stargate for an Oracle strike. Hurricane struck first, getting ten odd kills with his Oracle. However, Maru's Hellion attack did far more damage in return, getting around twenty Probe kills.

While Maru sacrificed all of his Hellions and his Medivac in his drop, there really wasn't a way for Hurricane to use his temporary army advantage to make up for his huge economic deficit. Maru played his lead out safely, playing defensive while he established a three base economy. Hurricane's attempt to go for Blink-Stalker harass was disastrous, making the situation even better for Maru. Once Maru's economy kicked in, he crushed Hurricane with a superior army.

Game 2 - Lightshade: Maru proxied two Barracks out on the map for one of his infamous Bunker rushes, which succeeded in killing off Hurricane's expansion Nexus. Hurricane looked to counter by building a proxy Gateway on Maru's side of the map, but Maru discovered it in time and depowered it with a defensive Cyclone. This left both players on 1 base economies, but with Maru having more tech and a better army. Maru looked to just expand safely and establish his economy with Tanks, while Hurricane was forced to play catch-up.

What seemed like a desperation ploy in Speed Prism + Disruptors ended up working beautifully for Hurricane. He hit a fantastic timing when Maru had only 3 Tanks, killing two of them instantly with Disruptor shots and the help of shaded Adepts drawing friendly fire. Hurricane was able to kill a big chunk of Maru's army and force him to lift off his natural CC for a long time, all the while establishing a three base economy back on his own side of the map.

Hurricane continued to use Disruptor drops and Zealot warp-ins to compound his lead and prevent Maru from getting back in the game. Eventually, Maru decided to just GG out without taking a major fight, after his scans revealed that Hurricane had taken an insurmountable lead.

Game 3 - Romanticide: Hurricane went for a defensive Stargate build, while Maru went for a Barracks-Factory expansion. Maru followed up with some ineffectual harass, and then quickly put together a strike force of 1 Tank, 2 Cyclones, 2 Vikings, and a handful of Marines. Seemingly expecting such an attack, Hurricane had played rather conservatively and delayed his third base, giving him a strong army on defense that allowed him to repel the attack. Still, Maru's good focus-fire on the Phoenixes allowed him to get a relatively even trade.

Ultimately this all worked out in Maru's favor, as the attack was hardly an all-in, and he was building a third base behind it. Meanwhile, Hurricane only took his third base after warding off the attack. After a few minutes, the game started to feel awfully unfair, with Maru snapping his fingers and creating a thirty supply lead off superior production. Maru used this lead to close the game out with ease, using a textbook frontal attack + drop maneuver to break through Hurricane's defenses and force a GG.

Game 4 - Oxide: A quirk of scout-timing and pathing allowed Maru's scouting SCV to arrive at Hurricane's natural and pull off a perfect Engineering Bay block, getting it to 99% completion. Hurricane's seemed to realize "Oh ****, I'm getting ebay blocked aren't I" based on his scouting info, and tried to pivot by proxying his second Gateway out on the map. However, Maru scouted this with an SCV, and exploited this by sending two Hellions racing straight toward the Protoss main to kill five Probes for free.

Maru kept up the pressure, peppering Hurricane with continued Mine and Hellion drops while Hurricane tried to respond with Gateway unit harassment of his own. This was essentially a 'so, you have chosen death' scenario for Hurricane, as it amounted to challenging Maru to a multi-tasking war. Not surprisingly, Maru came out ahead in the early exchanges, and then snowballed his lead into a victory.

Quarterfinal #4: Trap vs INnoVation

Game 1 - Oxide: Both players sent out workers for potential proxies early, but moved on to more normal strategies after the workers met each other in the middle of the map. INnoVation went for a Rax-Factory expansion, while Trap opted to play defensive Blink. INnoVation followed by getting a fast third Command Center as well, and with Trap sensing no threat with his digilent Adept-Shade scouting, matched INnoVation with a fast third base of his own. Meanwhile, Trap used his small number of Stalkers to get some decent harassment done, killing a Tank and picking off some SCVs.

Trap looked like he was in great position in the mid-game, having a powerful economy and establishing Storm tech without any threat from his opponent. However, Trap imperiled himself by moving out onto the map without sufficient vision, and was blinded-sided by a surprise 4-Medivac drop into his main. Trap's army rushed back to defend, but INnoVation had already inflicted significant economic and army damage.

Trap gathered his forces for a frontal attack on the Terran third, while once again missing a detachment of infantry INnovation had sent for a backdoor attack. The two players ended up in a semi-basetrade situation, with Trap getting the better end of the exchange once both players had forced the other to retreat. After adding Ghosts to his army, INnoVation decided it was his turn to go for a direct attack, gathering his army for a strike on Trap's third base. However, Trap's Warp Prism allowed him to largely nullify the EMP's, and the power of Psi Storm let him crush INnoVation in this decisive battle and force the GG.

Game 2 - Nautilus: We were treated to diagonal starts on Nautilus with Trap warping in at the top-left while INnoVation landed his CC in the bottom-right. INnoVation sent out an SCV for a proxy-Barracks at the center of the map, which was unfortunately countered by Trap's decision to go for a diagonal Probe scout. However, INnoVation averted the worst-case scenario of being unable to finish his Barracks, as he was already sending a second SCV out to the middle (probably to build a second Barracks). INnoVation settled for some mundane 1-Rax Reaper harassment with a Bunker while Trap opted to go for a Robotics Facility as his initial tech.

INnoVation's next move was to go for some light Mine drop harass (which ended up being mostly ineffectual) while gearing up for a strong two-base timing with two Tanks and a Raven. As for Trap, he secured his third base while transitioning from Stalker-Immortal to Templar tech.

INnoVation's attack hit a sweet spot where Trap was just starting to warp-in chargelots, but not in high enough numbers to have an impact against stimmed Marines. Unable to muster a defense against the advancing Terran troops, Trap GG'd out.

Game 3 - Romanticide: Trap opted to play a defensive Phoenix build while INnoVation went for a Hellion drop followed by quick Armory-Mines. This went about as poorly as possible for INnoVation, thanks to good/lucky defensive positioning from Trap that allowed him to intercept INnoVation's Medivac on its entry path. INnoVation went for multiple rounds of follow-up Mine harassment, but only ended up giving away Mines for free while Trap established an overpowering 3 base economy.

Trap was so far ahead that he even tried to go for a daring kill-move with eleven Adepts + supporting Phoenixes, but some slight mismicro against defensive mines allowed INnoVation to hold on. It was only a brief reprieve for INnoVation, however, as Trap later finished him off with mass Blink-Stalkers and Phoenixes.

Game 4 - Jagannatha: INnoVation opened up with an old-school "maka rax" Barracks at his third base as a small mind game, going on to expand and prepare a 3-Rax 1-Factory timing off of two bases. As for Trap, he went for Robo as his first tech, without any Sentries or Observers for scouting. Trap was completely caught off guard by the Marine-Tank-SCV attack, and he looked completely dead in the water.

Unfortunately, Trap's technical issue occurred moments before his imminent death, and he ended up causing a thirteen-minute delay. This is when INnoVation allegedly typed "do you think you'll win because you get three seconds back?" according to the casters. The game was restarted from three seconds before the pause, right before Trap experienced his technical issue. INnoVation ended up being right, as Trap was forced to GG out about twenty seconds after the game was resumed.

Game 5 - 2000 Atmospheres: INnoVation went for a Reaper expansion to start, while Trap went with a defensive Blink strategy. INnoVation decided to delay his third base slightly, looking to first pressure Trap with a strong army of +1 Bio and Mines. Trap defended well against the dual threat of a ground attack and a drop into his main, but his delayed tech and upgrades meant he went into the mid-game with INnoVation on relatively even terms.

INnoVation added Liberators to his army and moved out for another round of attacks, this time with a 1/1 upgrade advantage against Trap's 0/0. However, Trap had Storm tech by then, and he was able to repel INnoVation's attacks once more. Trap's second defensive stand put INnoVation on a timer, as dual Forges were spinning while INnoVation didn't even have an armory.

INnoVation committed to trying to end the game off of three bases, going up to Ghost tech and preparing another army for an attack. However, Trap's defenses were even stronger than before, with more Templars and better upgrades. Trap held off the Terran offensive again, while having more than enough breathing room to harangue INnoVation with Zealot backdoor attacks.

Trap seemed to overestimate his position slightly (and also underestimate INnoVation's macro), deciding it was his turn to move out on the map when INnoVation still had a dangerous army lurking about. But despite Trap walking into one bad battle, it wasn't enough to tip the scales back in INnoVation's favor. Storm and the superior upgrades of the Protoss army carried the day, forcing INnoVation to concede his third and final GG.