Gold Series Team Championship:
2020 Fall Season
by: TheOneAboveU
The fourth week of GTC Fall delivered one of the greatest weeks of play ever, with arch-nemeses DPG and KaiZi giving us another Dark vs. INnoVation ace showdown, Alpha X proving they still got their groove in a critical match, Team LP almost achieving the impossible against a struggling Jin Air, and Invictus Gaming scoring a big win for the Chinese fans.
Week 5 is upon us and provides BSG and Jin Air a chance to recover from Week 4's setbacks, while Alpha X have an up-hill battle to fight against the as yet undefeated squad of DPG. Meanwhile, Team LP debut their new player Hurricane against KaiZi, but will that be enough to avoid another 0-6 against that star-powered roster?
Week 4 Recap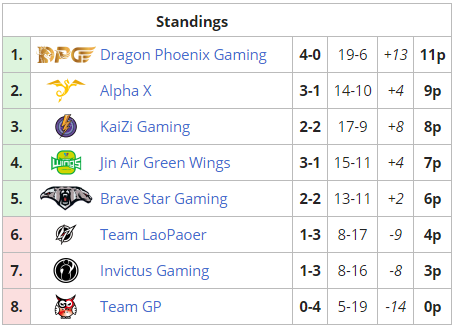 Points are awarded as follows:

3 points for a 'normal' victory in a series that does not require an ace match

2 points for a victory in a series that requires an ace-match

1 point for a loss in a series that requires an ace-match

0 points for a loss in a series that does not require an ace match
Dragon Phoenix Gaming 4 - 3 KaiZi Gaming
Watch VOD - Part 2
Dragon Phoenix Gaming stay undefeated in the GTC for another week, as the derby with their arch-rivals once again went their way. The fans were winners as well, as they got to witness a close and dramatic battle.
DPG.PartinG
and
KZ.INnoVation
started the series off, with INnoVation securing two victories to add to his eight game win streak in non-ace matches. PartinG opened the festivities up with something spicy, serving a proxy Void Ray build. But that only earned him scorn from his opponent, who defended the cheese competently. A game more following the standard recipe followed, with INnoVation winning with a decisive counter attack after deflecting a thrust at his natural by the DPG player. The Machine put KaiZi into a fantastic position with this result, but unfortunately the rest of the team could not follow up equally.
Deathaura developed into a macro epic between
DPG.Dark
and
KZ.TIME
after the Roach-Ravager and Hellion shenanigans in the early game subsided. As the Chinese Terran tried to secure more and more positions on the map with fortresses and turrets while sending out harassment parties, the Zerg player crashed wave after wave of units into his defenses, which held out solidly (TIME's Ghost corps was especially deadly). Dark, however, had merely tried to get TIME to max out on a composition meant to deal with Ultralisks before embarking on a massive Mutalisk switch, which changed the pace of the game, as the Zerg now commanded a more mobile force, which was able to threaten TIME's production line and show up at his outward bases when his army was elsewhere. The Chinese star put up an admirable fight, but after the 30 minute mark passed, the WCS Global champion stood victorious. Another standard game on Eternal Empire followed, with both players being confident in their ability to win such a showdown. TIME pressured Dark from the get-go, killing Hatchery after Hatchery, but Dark showcased impressive patience, foresight and decision making by repeatedly sacrificing indefensible Hatcheries instead of taking bad fights, using the resources saved through that to always have a back-up base waiting. While TIME killed Hatcheries in the manner of a Sisyphean punishment, Dark grew stronger and managed to end the game with one devastating counter attack and the subsequent clean-up of TIME's army.
Still, with a 2-2 score and
KZ.Solar
being the massive favorite over
DPG.Firefly
, the situation looked alright for them. Unfortunately for KaiZi, this firefly was shining so brightly, and Solar's circuits simply overloaded. On Pillars of Gold, the Firefly played a cannon rush into proxy Robo with such clutch micro and timing, that surely Papa PartinG was very proud of his apprentice afterwards. BY forcing the ace match, Firefly showed why he is sporting an impressive 6-2 record so far this season, being the best performing player from the Chinese region so far. Solar did manage to avoid a complete disaster by winning the second map, where Firefly failed to win with a Void Ray opener. The GTC does not seem like a friendly environment for those builds—they are something like 0-5 at this point.
Get to da choppa!
That meant DPG and KaiZi would bring us another classic feature of their rivalry in the Chinese team leagues: the traditional Dark vs. INnoVation ace match. And, as has always been the case in these deciders so far, Dark proved to be the more effective player. His first wave of Mutaslisks managed to blindside the Terran, leaving 17 SCVs dead and the Zerg in command of the battlefield. The Machine started a promising counter attack on two fronts, but bungled his micro and took appalling losses from Baneling connections. A game of thrust and parry developed, both sides darting forward to probe their opponent's defenses, with Dark being the one to land more blows. The Mutas proved to be Dark's most critical instrument, managing to damage his opponent's economy and infrastructure and even sniping the Medivacs carrying Thors, which Inno had sent back to defend his production line. The Zerg's fantastic economy eventually allowed him to overwhelm the Terran, scoring another big win for DPG and keeping their streak of invincibility in GTC alive.
Alpha X 4 - 2 Brave Star Gaming
Watch VOD
Just like that, Alpha X have once again secure second place in the ranking, owing that success to their fantastic performance against BSG, alongside some help from the other teams.
αX.RagnaroK
played a critical role, taking two solid wins over
BSG.Scarlett
, whose downwards spiral in GTC continues (with the situation not exactly being improved by her current location, as she's been playing from Canada). A timely Speedling attack brought the decision on the first map, Mutaslisks sealed the deal in the second game—overall not the most exciting ZvZ series.
Things started cheesy between
αX.Nice
and
BSG.Cyan
—the Chinese stand-out performer of the season alongside Firefly—with Nice bringing a cannon rush as the opener for the first game. The strategy proved very effective, as Nice was able to destroy Cyan's Nexus, leaving his opponent with a handful of Probes, one Stalker and a beat-up Immortal and no further resources. Holding his desperate last attack, Nice secured match point for Alpha X in under ten minutes. The BSG player did have a fight left in him, however, scouting and destroying a hidden base by Nice on Ice and Chrome, retaining an economic lead despite losing Probes to Oracle harassment. The Taiwanese player opted for an attack at Cyan's natural base powered by a lot of bravado, but not enough firepower, keeping BSG alive.
His team's fate once more in his hands, last season's MVP
BSG.Dream
had to step up. His challenger was
αX.Zoun
, who hadn't yet played his Code S group (in hindsight, perhaps this match against Dream was what kick-started his great week). The Terran played things very safe on Pillars of Gold, perfectly preparing for Zoun's Blink-Warp Prism pressure and completely negating its' effects. Devastating drop play caused damage on the other side of the map, with Zoun losing many Probes and delaying a big attack to come back and deal with eight Marines. Zoun was kept on a low base count by Dream's constant counters, while he kept trying to goad Dream into some kind of fight. Dream did not bite, occupying defensible positions with Tanks and Ghosts. A base trade scenario almost brought the turn-around for the Protoss, but Dream's experience kicked in, securing the first map for BSG. Still, Alpha X had one more shot to win the series outright, and Zoun in the end was the man to bring it home on Ever Dream in another macro game. This time, he found better engagements for himself while not taking critical damage to his economy early on. He even added Carriers to his late game army to earn some style points, denying Dream to be a hero for BSG once more in a potential ace match. With this very important win secured, Alpha X look to be well on target to reach the playoffs and fulfill their seasonal goal.
Team LP 3 - 4 Jin Air Green Wings
Watch VOD
Props to anyone seeing this exact result coming—Team LP managed to take Jin Air Green Wings, the last KeSPA giants and victors of CTC 2019 Season 2 to the ace match. And they did it while fielding two Chinese-players, who are often considered the weak links on a team! What a story.
LP.Patience
sent his team off on a good path against
JAGW.Trap
, ruining his opponent's perfect seasonal record thus far. The LP Protoss read Trap like an open book on Ice and Chrome, perfectly defending the Jin Air player's proxy Oracle cheese and then somehow making his Blink-based army work against Trap's Immortal-based composition. Ever Dream saw both players open with Stargates, but Patience played a variant without expansion and with Void Rays, while Trap went with Phoenixes—you know where this is going, don't you? Another loss for the Void Ray openers!
While Patience taking a map off of Trap was somewhat expected, our next match was supposed to be a straight-up stomp by
JAGW.Rogue
against
LP.Jieshi
. That ten percent chance Aligulac gave Jieshi to take a map came into realization, however, in the form of a proxy 4-Gate rush on Deathaura. Faking a cannon rush, Jieshi made Rogue pull off Drones from mining while boosting out Zealots. This led to many of Rogue's Drones being at the natural, where the Zealots actually sliced up many of them right off the bat. Jieshi took several good engagements, positioning his melee units well, eventually overwhelming a very unhappy Rogue—this one was certainly one of those crazy team league moments. While technically the Protoss opened with an Oracle in the second game, he built Void Rays right after that, essentially dooming himself to lose the map. iG.MacSed has pretty much been the only person in this league who won games while building those units, and maybe everyone else should just stop. Anyways, Jieshi tried a weird mass Void Ray build, Rogue killed him before that could materialize, avoiding complete disaster for the Green Wings.
Zealot printer goes brrrrrrrr.
LP.Wanted
and
JAGW.Rex
continued the pattern, the Team LP Zerg winning the first map and bringing his team to match point with a Nydus-powered Roach attack around the ten minute mark. Rex dealt quite well with the sudden and unexpected pressure of having to keep his team alive, being the one on Ice and Chrome to land a critical blow with Roach-Ravager at a similar timing as Wanted's attack in the previous game, though he didn't use a Nydus. Forcing the ace match, Rex contributed a critical win to avert a catastrophic loss for his team.
Patience and Rogue turned out to be the aces of choice, a very predictable move on the side of Team LP, of course. This is where the depth of Jin Air's line-up comes in really handily, as they have fantastic ace choices of all three races available to them. The Protoss tried his luck with a mass Adept-Phoenix composition (though he also built the harbinger of doom aka a Void Ray during the match), but Rogue did not crumble in the face of the pressure, even managing to counter attack with his Roaches. Patience had one more good shot after this counter, being able to snipe the Roach Warren and kill many Drones with his Adepts, but Rogue reacted quickly and soundly, sending his Corrupters to the other side of the map to destroy Patience's main buildings, severely crippling his ability to reinforce his ground army, enabling his own fresh forces to wear it down and secure the win. Still, going home with one point from an encounter with Jin Air does feel like a big win for Team LP.
Invictus Gaming 4 - 2 Team GP
Watch VOD
What's the perfect ending for such a fantastic week of GTC? That's right, resident all-Chinese team Invictus Gaming scored a victory for their home audience.
GP.LunaSea
tried a proxy Robo build against
iG.Coffee
on Ice and Chrome, but the Terran managed to sniff the location out and depowered the building before it could produce a large quantity of units. Knowing he had severely crippled his opponent's ability of detection, Coffee opted for cloaked Banshees in a brilliant and game winning move. For those following GTC for some time now and having watched or read about the Terran's TvP style, the outcome of the second map won't be a big surprise: SCVs, Bio units and Siege Tanks made their way through Ever Dream in a long line, smashing into LunaSea's defences and crushing them under their weight.
This was not going to be an easy and one-sided win for Invictus Gaming, though, because
GP.Prince
brought the series back for them against
iG.XiGua
. But not only did he win two maps against the Chinese veteran, oh no—he broke the Void Ray opener curse two times in a row! Technically, the unit didn't do anything notable during the match on Deathaura, with Prince's multi-pronged Adept and Archon attacks being much more significant for the course of the game, but that should be considered preferable to losing it uselessly in some desperate push. XiGua had no answer for the Protoss player's pressure and succumbed to a mass Immortal-Archon army later in the game. The Void Ray actually took part in the decisive attack on Ever Dream (where it died to Biles), supporting the Protoss player's Immortal-Gateway army, which XiGua once again could not overcome.
Next followed a, let's say 'prolonged' match between
iG.MacSed
and
GP.GogojOey
, which saw Pillars of Gold, a map with fourteen bases, almost completely mined out, as the opposing players faced off in a super late game stalemate with Vipers, Corrupters, Infestors and static defence on the Zerg side, and a Golden Armada, High Templars and static defence on the Protoss side. MacSed eventually won after camping over his shield batteries for nigh half an hour, despite having had the opportunity to finish the game much earlier. GogojOey tried again and again to break the Protoss, but the latter's indefinite patience and defensive stance denied him victory. MacSed later said in a statement that he didn't feel confident enough during the game to counter attack (which was apparent watching the match), so he chose the safe route of staying defensive, which is understandable from a player's perspective—but made for a controversial viewing experience. At least MacSed tried to make it a short one on Ever Dream with a cannon rush, but GogojOey managed to defend the move. A Phoenix-Robo composition (after a Void Ray opener!) brought the Protoss the victory in a relatively swift manner compared to the previous game. The poor GP Zerg is still waiting for his first GTC win in the meantime.
You can see the exact moment when GogojOey lost his will to be a progamer.
Weekly MVP Award: DPG.Dark
With such an important week full of critical results having gone by, there are plenty of candidates for our Weekly MVP Award, but what greater performance could someone deliver than to best KZ.INnoVation in an ace match after having 2-0'd KZ.TIME?

Dark
did all that in a match-up he's supposedly slumping in—what a way to announce that his days of weakness may be over again.
Notable mentions this week go out to
DPG.Firefly
,
αX.Zoun
and
LP.Jieshi
for pulling off fantastic and critical upsets against heavily favored opponents, conjuring up some of that very special team league magic.
Week 5 Preview
KaiZi Gaming may have given up their triple Terran line-up (also known as 'the three Lees'), but Team LP are now coming in hot with the triple Protoss line-up lead by none other than
LP.Patience
. Our favorite master of chaos meets
KZ.Solar
in the first match, which on paper does not look very good for him at all: Solar leads him
9-1 in series and 16-3 in maps
this year, continuing a trend of historical dominance started all the way back in 2014. While the previous week's performances suggest that the gap between them shouldn't be too great (after all, Patience almost had JAGW.Rogue in that ace match, while Solar dropped a map to DPG.Firefly), clearly Solar has Patience mostly figured out, otherwise the win rates wouldn't be so very one-sided. The last two series between LP and KaiZi turned out to be clean sweeps and that potential certainly exists in the present as well, with Solar being the clear favorite to take home two map wins.
LP.Hurricane
drew a very difficult series for his debut for Team LP and his opponent can not be expected to go easy on him for the occasion:
KZ.TIME
is on a five maps and three series long
win streak
against the Korean Protoss, all coming from relatively recent games, on top of a solid TvP form in general. Hurricane on the other hand has been waiting for any kind of success for some time now, unable to make a breakthrough in GSL or online tournaments. While saying TIME is an overwhelming favorite to take the 2-0 here is perhaps a bit too bold, it wouldn't be a huge surprise if that was the result in the end.
Perhaps the win over Rogue last week shouldn't have surprised us as much as it did:
LP.Jieshi
has always been a smart player with his build choices against stronger players, but his execution of those ideas had been severely lacking most of the time. His problem is going to be that
KZ.INnoVation
is not easily tricked (though αX.Zoun showed in GSL that it can be done) and usually plays it safe against opponents he thinks himself favored over, which should really be the case here. The stats actually look a bit better this time for the Chinese player, Aligulac gives him a
20% chance
of taking a map in a Bo3 against the Machine (the site gave him 10% against Rogue). Still, TIME can supply Inno with all the intel he's going to need about what Jieshi likes to do in PvT, so I am unfortunately not a believer—but hey, if they manage to force another ace match, hell yeah!
Prediction: Team LP 1-5 KaiZi Gaming
This opening match is a very interesting one, as
iG.XY
meets
BSG.Scarlett
in what is a very one-sided series in favor of the Canadian
on paper
. But in this case the stats are missing out on a lot of relevant context: Scarlett won't play under ideal circumstances and XY's TvZ looked pretty beastly against αX.RagnaroK in Week 3. If the Scarlett can't kill him early on, she might be in a lot of trouble here—managing a late game swarm with Vipers and Infestors is going to be tough with disadvantageous ping. It sounds crazy when we look at the numbers, but this is like a one-in-a-million shot for the Chinese Terran to score a huge win. All the stars are aligned for him to pull off the upset and bring Invictus Gaming into a good position to perhaps force an ace match later on.
The numbers look
equally bad
for iG.XiGua against
BSG.Dream
as they do for XY, with the difference that there is no missing context—Dream isn't going to play from the other side of the Pacific. This will be the first time for these two players to meet in an official match since 2012 in Wings of Liberty, but the result from back then is likely the one we'll get over eight years later: a 2-0 for the Terran. The Chinese Zerg still commands pretty solid macro, but can he really keep up with this Korean whirlwind?
A lot may depend on XY in this series, because XiGua is quite heavily outmatched by Dream, and
iG.MacSed
is a slight underdog against
BSG.Cyan
. Historically, these two are very evenly matched (very similar to Cyan and αX.Nice last week, which ended 1-1), but the BSG Protoss has clearly had the upper hand in 2020, leading the
head-to-head
record 11-6 in maps and 5-1 in series. While that does give him the position as nominal favorite, it leaves a reasonable chance for MacSed to take at least a map here. If XY can really do the unthinkable and 2-0 Scarlett, Invictus Gaming could force the ace match at this point, but they really need their Terran to show up big and MacSed to follow this up. Of course, an ace match would likely mean getting demolished by Dream, but one point is better than none.
Prediction: Invictus Gaming 2-4 Brave Star Gaming
The battle of the only two Korean teams of the league is unlikely to be as epic as that title may suggest: Team GP is squarely positioned rock bottom in the ranking, while Jin Air Green Wings may not be the dominant force everyone had expected, but are still a class above GP in overall strength. The opening match should be relatively even, however:
GP.GogojOey
and
JAGW.Rex
are regular opponents in online cups, already having faced off in ten series this year. Rex won seven of these, with the Zerg from Hong Kong being victorious in the latest two duels. In terms of map wins, Rex leads
18-10
. While the Jin Air Zerg has had the upper hand overall, GogojOey gained in ZvZ form recently, sporting a win rate of over 60%. I'd say if there's a match where the Zerg can finally secure that first win of the season, it's going to be this one, likely resulting in a map split between these two.
With
GP.NaTuRal
the GTC welcomes another debutante, though it is questionable what kind of welcome party
JAGW.Rogue
will have in mind for the Terran player. After LP.Jieshi angered him in the previous week, the Zerg is probably not going to be up for any jokes this time. GP seem aware that they are unlikely to really pull off a miracle here, so giving their lesser known players—you can hardly call NaTuRal, who has played for MVP before, a rookie—a bit of time in the spotlight is a good way of going about things. Otherwise, GP.Prince surely should be in the starting roster every week. Rogue hasn't been stellar
in ZvT recently
when it comes to results, but he still regularly goes head-to-head with the most elite Terrans of Korea, he should be fine in this pairing, unless NaTuRal is brave enough to try some shenanigans (it couldn't happen two weeks in a row,
right
?).
Our third match in this series is a true blast from the past, from a very different era of competitive SC2 in Korea, but it also kind of a sad reminder of that time:
GP.Bomber
and
JAGW.Creator
once belonged to the very best of their races, and a glorious future was foreseen for the Protoss especially. Ultimately, that did not materialize, and Creator always seems to be in the shadow of the greatness he could never achieve. Likewise, Bomber nowadays seems like an empty imitation of the player he once was, military service having taken a huge toll from the Terran. Perhaps this match between them can remind them of them of the good old times (one of them, at least). In 2020, they met once so far, Bomber taking away a 2-1 victory, but Creator has the upper hand in the match-up statistics with a
measly 40% PvT win rate
over Bomber's 37%. The GP player's Bio-Tank style he likes to fall back on in every match-up may well be dangerous to Creator, who is not the most solid of players out there and has shown some sub-optimal decision making already this season. A map split here would not be surprising.
Prediction: Team GP 2-4 Jin Air Green Wings
Pretty much the highlight match of the week, DPG and Alpha X once more meet as holders of the top two spots in the rankings—though it was probably a bigger surprise last season to see this constellation. The Golden Dragons have established themselves as a force to be reckoned with, causing DPG's first ever GTC loss would be another big achievement. We start off with
DPG.Cure
and
αX.Zoun
, who looks to uphold the momentum from his GSL RO16 advancement. While the 2020 stats between them aren't a great look for the Protoss with Cure being ahead
13-4 in maps and 4-1 in series
(the sixth one being a draw from the GTC Spring season), Zoun's results have slowly become better in their showdowns. Also, there is the key ingredient to much of Zoun's recent successes: Preparation. He can pretty much take a map off of anyone in this league with the right strategy and this Protoss player has proven that he has the brains to go with the speed. Also, Cure has been prone to drop some maps in TvP that he really shouldn't
as of recent
, and in this format that is all an opponent needs sometimes.
Another PvZ against a Korean Zerg for
DPG.Firefly
. His
record
against
αX.RagnaroK
is historically far better (the Chinese player actually won their last two series 2-1, but those were in 2018 and 2019) than against KZ.Solar, but they haven't met since December of last year. If we were to compare improvement since then, the Protoss likely made more progress than his opponent, who has been struggling a bit lately. If this were a longer series outside of GTC, I'd give RagnaroK the upper hand very clearly (Solar destroyed Firefly in Olimoleague a day after the GTC map split). But what goes in favor of Zoun against Cure also goes in favor of Firefly against RagnaroK: he really only needs a map win for the match to be a success for him, and with how inconsistent RagnaroK has been, that's not something out of the ordinary, especially with Firefly being the PvZ specialist he is. This could be a swing match for any of the two teams: a stomp from RagnaroK may deliver Alpha X with the opportunity to end DPG's undefeated run, but a success for Firefly could bury those hopes as easily.
LP.Jieshi stealing a map from JAGW.Rogue was a useful reminder for us that we can't take any result for granted in this league, so there should always be that little asterisk behind any match-up saying that that there are no guarantees for anything here. But once upon a time, when
DPG.Dark
faced a foreign Protoss player like
αX.Nice
the result was as close to guaranteed as you can get in SC2. The Taiwanese player has played
eleven official maps
against the Korean in his career and could not win a single one. With Dark holding up an impressive
ZvP win rate of over 70%
despite his recent slump in form due to injury and now seemingly having overcome said injury things look rather bleak for Nice. Then again: this match format leaves hope for Alpha X. GP.LunaSea took a map off of Dark just a few weeks ago. If things went really well for them earlier in this series, one stolen map could bring them victory or an ace match (the latter option not being that unlikely overall). It feels like without RagnaroK in top form and αX.Astrea being available, they lack the instrument to take out Dark, so ace match or not, DPG must remain the favorites, but there is huge upset potential in this series with those match-ups.
Prediction: Dragon Phoenix Gaming 4-2 Alpha X
---
Credits and acknowledgements
Written by:
TheOneAboveU
Editor: Wax
Stats: Aligulac.com & Liquipedia
Images: Netease