DreamHack StarCraft 2 Masters: Fall
-The Final Stretch

by Wax
Week 3 of DH Masters Fall saw the group stages come to a close in the European and North American regional tournaments, setting us up for an exciting end to the season in the playoffs. While the safe bet in Europe seems to be on another grand finals clash between reigning champion
Reynor
and his rival
Serral
, they may actually meet earlier in the winners bracket due to a quirk of seeding.
It was no surprise to see
Neeb
defend his NA title in the summer season, but the competition was stiffer than ever with up-and-comers
Astrea
and
Future
taking second and third place. Will they have made enough progress to topple Neeb this time around, or will the truck driver extend his reign by yet another season?
Week 3 also saw the DH Masters Chinese regional conclude, with
TIME
coming out on top after defeating
Jieshi
in the finals. In doing so, TIME claimed his fourth consecutive WCS/DH Chinese regional title, once again proving he's the dominant player in the region.
Looking further ahead, the
Fall Season Finals
will take place on September 17-20. Ten out of the sixteen participants have already been determined: Stats, Trap, TY, INnoVation, DRG, Rogue (Korea), SpeCiaL (LATAM), TIME (CN), Nice (TW), and Probe (OCE). The top four players from the Europe regional and top two from the NA regional will round out the roster.
The Reynor-Serral empire showed no sign of relaxing its grip over Europe during the group stages, with both regents taking first place in their respective groups by going 7-0 in matches while putting up perfect 14-0 map scores. The other two round of 32 groups were won by the Terran duo of Clem (6-1 matches, 12-2 maps) and HeroMarine (7-0 matches, 14-4 maps). One can just imagine Reynor and Serral at their secret Zerg Illuminati meeting, having a laugh at Big Gabe's expense
"LOL, imagine dropping a map."
Lower down in the group rankings, we saw some minor shifts in the playoff picture with four spots changing hands since season one.
SortOf, Denver, souL, and Bly
failed to earn their returns to the playoffs, and were replaced by
Elazer, Stephano, Hellraiser, and SKillous
.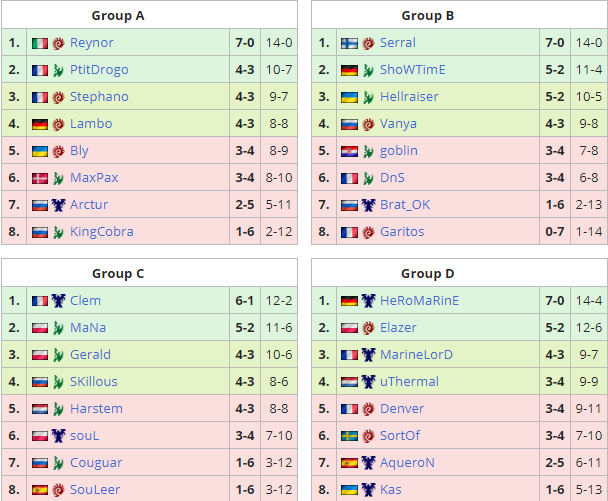 Looking at the playoff bracket, one has to wonder: Is another Reynor vs Serral finals inevitable?
There are a few factors which might work against the rematch. In his first match, Serral faces Elazer, who has defeated him in their last two tournament meetings. It should be noted that Elazer's last win came back in May's TSL5, since which Serral has only gotten better while Elazer has slumped. Still, a match vs a top-tier European Zerg is about as high a threat-level as Serral is going to face in regional competition.
The bracket is also working slightly against a Reynor-Serral final. If the two win their first matches, the seeding will see them face off in the winner's bracket semifinals. One of the two will be sent down to the loser's bracket, where they'll have to beat three top-tier EU players in a row to reach the grand finals. However, that's exactly how
last season's bracket was seeded
as well, with Serral sending Reynor down to the loser's round four. And we all know how that ended: Reynor didn't have much trouble smashing MaNa, HeroMarine, and Clem in consecutive matches to earn that grand finals rematch against Serral.
It really does seem like we're headed toward a most predictable conclusion. Ever since Reynor "got good", the only region-locked WCS/DH premier events that had a non-Reynor vs Serral final was
WCS Spring 2019
during the single-elimination era of WCS, where Reynor and Serral happened to meet in the semis. The entire point of double elimination is to make a grand finals between the best two players more likely, and until Clem or another player makes another leap in skill, that means more Reynor vs Serral.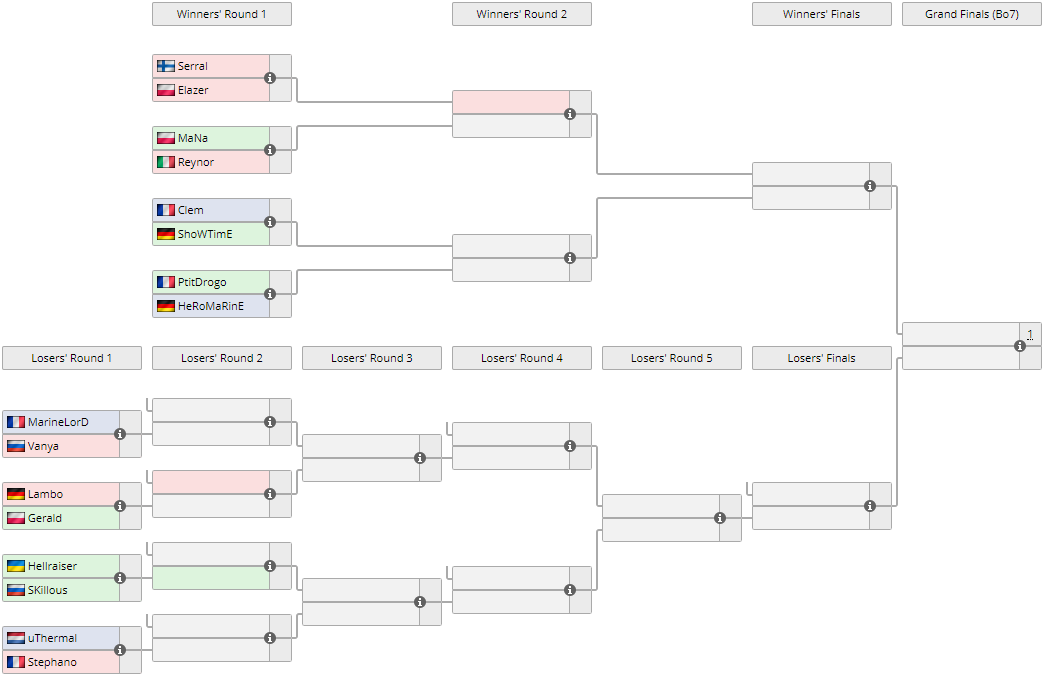 The North American group stage saw two playoff spots change hands from last season, as the Euro-duo of TLO and Namshar fell short of the cutoff.

MCanning
was one of the surprise players to replace them, putting up a 5-2 match record to take third place in Group A and qualify for the playoffs. He even scored an upset against Scarlett along the way, the highlight being an anime-esque game on Ice and Chrome where MCannning's once-maligned Disruptors vindicated themselves by helping unlock the loathsome Zerg defenses. The playoffs will tell us how far MCanning can follow in the steps of the GSL's PartinG, blurring the lines between entertaining streamer and serious competitive player. The NA playoffs also welcomed another fresh entrant in the form of China's

Asuna
, whose victories over Astrea and Nina in the group stage paint as a dangerous newcomer.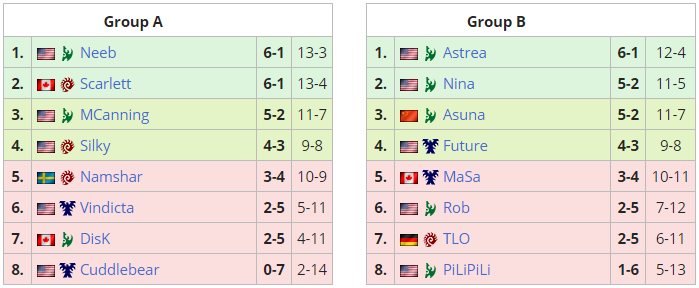 Despite the minor playoff roster shake-up, it's still Neeb's title to lose in the end. Regardless of Neeb's lackluster form in international events, one has to keep in mind that he's won almost every North America-only event in the last three years. The only notable exception that comes to mind is
WCS Valencia Challenger from 2018
, where he lost to Silky in the quarterfinals. Besides that one freak loss two years ago, Neeb has basically been invincible in his region.
The players with the best chance of upsetting Neeb are probably Protosses like Astrea or Nina who can harness the volatility of PvP. Astrea came close—and not so close—to upsetting Neeb last season, losing narrowly by a 2-3 scoreline in the early rounds, but then losing 4-1 in grand finals.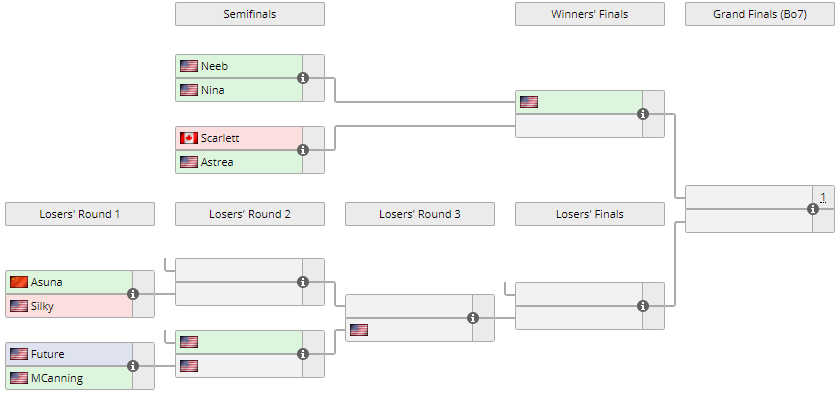 With his fourth straight Chinese regional title in the bag, TIME is on his way to establishing a SpeCial-esque dynasty within his locale. While SpeCial's ten straight titles seems like a far off goal, it's probably just a matter of, well,
time.
There's still no player in the region that strikes you as a particularly credible threat to TIME, especially with the advantage of double-elimination. At
500 Aligulac.com points
above the next highest-rated player in China (by far the widest gap in any region), you can expect TIME's reign to continue for as long as he wants it to continue.

While both CN and LATAM are dominated by singular Terran tyrants, Jieshi's run to the finals reveals the difference in the two scenes. Unlike LATAM which has been locked into a top three of SpeCial-Kelazhur-Cham for what seems like the entirety of LotV, there's been a decent amount of change in the rankings right below first place in China. Until a few months ago (maybe even weeks ago), Jieshi wasn't someone you would have expected to contend for the DH Masters China title. Tournaments like the GTC seem to be succeeding in pulling up the
floor
of the local scene—but raising the ceiling could be a more difficult problem to tackle.
---