Gold Series Team Championship:
2020 Fall Season
by: TheOneAboveU
The defending champions DPG got right back to business in Week 1 of GTC Fall, securing their first win of the new season with a better score than any of their rivals. Jin Air also started strong with an impressive win over KaiZi Gaming, taking an ace match victory without neither Maru nor Rogue having to play.
Week 1 Recap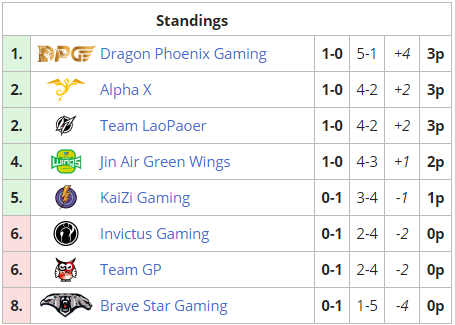 Points are awarded as follows:

3 points for a 'normal' victory in a series that does not require an ace match

2 points for a victory in a series that requires an ace-match

1 point for a loss in a series that requires an ace-match

0 points for a loss in a series that does not require an ace match
Jin Air Green Wings 4 - 3 KaiZi Gaming
Watch VOD
Losing to something of a B-team line-up from Jin Air Green Wings bodes poorly for KaiZi Gaming. The small silver lining is that
KZ.INnoVation
actually got off to a decent start this season by taking care of business against
JAGW.Creator
—last season, he took several weeks to get in form and raise his win-rate above 50%. With Jin Air out of the way, KZ should be aiming to rack up easy wins until they run into DPG.
As for Jin Air, it was encouraging to see
JAGW.Trap
win both his BO2 series against
KZ.TIME
and ace-match against INno in dominant fashion. It reminded us of the true power of Jin Air's squad, where they can take down a previous title contender without even playing its two best players. Of course, this was only made possible by a quality 1-1 performance from
JAGW.Rex
, who managed to take a game off of
KZ.Solar
in his KZ Gaming debut. The last time Rex played in the GTC/CTC, he went winless in the regular season against non-Chinese players. If this improvement from Rex is real, then Jin Air will truly be a team without weaknesses.
Dragon Phoenix Gaming 5 - 1 Brave Star Gaming
Watch VOD
It was business as usual for Dragon Phoenix Gaming, as they once again stomped Brave Star Gaming in a rematch from the Spring Season finals. The series started with furious combat, as
DPG.Firefly
once more proved to be a dangerous sniper by taking a map off
BSG.Dream
. FireFly got off to a poor start when he reacted terribly Widow Mine-Hellion harassment, losing a catastrophic number of Probes. He did, however, realize that Dream had to sacrifice his entire army to achieve this, and counter-attacked a wide-open Terran base. Firefly got in a Warp Prism and managed to snipe Dream's crucial Siege Tanks when they came out of his factory one by one. Cutting off all the units Dream could produce immediately after they came out, the devastation of Firefly's economy suddenly didn't mean much anymore, as he was able to snowball his siege into a victory.
Firefly's initial win pretty much sealed the deal on the series, which would have been very hard to win for BSG even if Dream had taken the 2-0 as expected.
DPG.Dark
once again proved his superiority over
BSG.Scarlett
, taking wins with Ling-Bane as well as mass Mutalisk-play, which was reminiscent of their duels in the Grand Finals for GTC Spring.
BSG.Cyan
is probably most deserving of commendation from the entire BSG-squad, despite his 0-2 loss. He could not quite secure a map win against
DPG.Cure
, but showed some very solid PvT-gameplay against him, making the top Terran really work hard to earn his keep. This continues the trend Cyan started last season. It would not be surprising if he finally lands a big upset at some point this season—he's been due a big victory for some time now.
Alpha X 4 - 2 Team GP
Watch VOD
It almost looked like Alpha X would get a taste of their own medicine in this match, with underdogs Team GP putting in a feisty performance.
GP.Rookie
gave his former team a lot of trouble, taking a map off of
αX.Nice
in a very macro-oriented series. The biggest surprise was how much
αX.RagnaroK
struggled with
GP.Prince
, barely managing to wear him down in a drawn-out macro slug-match, before falling to a cheesy early attack on the second map. While the new Alpha X-players certainly didn't show up in full form, the two Koreans showed excellent fighting spirit, which will hopefully continue throughout the season.
At least
αX.Zoun
, the only player fielded from last season's line-up, was able to fulfill expectations by solidly dealing with
GP.GogojOey
in an initial macro bout and then defending the Zerg's Ravager push on the second map. The American organization may need some time to get the new roster up to speed, fortunately they were able to make things work against GP even with some hiccups. In the end, three points are three points and Alpha X are where they wanted to be on the rankings.
Team LP 4 - 2 Invictus Gaming
Watch VOD
I had faith in Invictus Gaming to score a win here, but things didn't pan out that way—though the potential was there. Unfortunately,
iG.Coffee
gave away a won game on the first map, in which he had a massive army advantage over
LP.Jieshi
, but misjudged the situation severely and went for an ill-fated drop instead of an all-out attack, which would have secured the 1-0. A similar scenario in the second match was avoided, with Coffee safely rolling to victory after defending Jieshi's Dark Templar-build.
I also hadn't expected
LP.Wanted
to put up such a good fight against
iG.MacSed
. The Protoss player got the worse of the initial stages of the first game, but a desperate gambit involving a switch to Void Rays secured him the win. Such measures were not available in the second game, with Wanted taking home a solid macro victory for another map-split. While
iG.XiGua
has managed to score some impressive upsets in past seasons, he couldn't find a recipe to hurt Team LP's sole remaining Korean player
LP.Patience
. Invictus Gaming's only shot was to force an early decision, but Coffee's mistake and the solid performance by Wanted made that impossible. Not too big a deal for iG, though, they'll be back with more fighting spirit next week. Team LP, meanwhile, start out much better than expected.
Weekly MVP Award: JAGW.Trap

Trap
nets out first Weekly MVP award with a strong start to the season, taking three map wins to carry Jin Air to victory. Not only did he take out the most dangerous Chinese player in KZ.TIME, he also won the ace match for Jin Air against KZ.INnoVation with a very solid performance, securing two points for his team.
Notable mentions this week go out to
JAGW.Rex
and
DPG.Firefly
, the two Chinese-region players who scored huge upsets by going 1-1 against strong Korean players. Rex's tie against Solar was particularly important, as it helped force the ace match which Trap subsequently won.
Week 2 Preview
With the organizers stacking opening week with marquee match-ups between the best teams, it's not surprising that we're getting some more lop-sided bouts in week two. That's fine with us, as one of the unique pleasures of team leagues is waiting to see which squad of underdogs might topple the superstars, thus plunging the league standings into chaos.
Monday, Aug 17 11:00am GMT (GMT+00:00) Matches
Dragon Phoenix Gaming vs. Team GP


Dark
< Ever Dream >


LunaSea


Firefly
< Golden Wall >


GogojOey


PartinG
< Submarine >


DRGLing
Ace:
< Deathaura >
Team GP's final roster of scrappy underdogs is deeper than initially reported, and we're seeing one of their previously unannounced players in the form of
GP.LunaSea
, one of the few 'amateurs' in the Korean scene. It's all the same to
DPG.Dark
, who would have expected to destroy anyone Team GP could send out. He's one of the toughest players to face in the PvZ match-up, despite his slow, injury-riddled decline in ZvT.
Aligulac
gives LunaSea a 7.69% to take one map—which actually feels surprisingly high. While the two have never clashed with each other, it's pretty clear that LunaSea has a mountain to climb here—after he's crossed the ocean in a rowboat, that ocean being on Jupiter's moon of Titan, where the 'water' is actually liquid methane.
The power gap between out next two opponents is not as vast, but
DPG.Firefly
still has to be regarded as the favorite in the duel with
GP.GogojOey
. Coming off his big win against BSG.Dream, the Chinese Protoss player should be in good spirits. He will also get to play his signature match-up, PvZ, which is characterized by lots of Warp Prism usage and multi-pronged harassment. Though he doesn't quite share his Korean teammate's detest for Stargate play and opens with Oracles from time to time, the Robo-style seems to be his chosen instrument. His Zerg opponent usually tries for macro games on Golden Wall, which is something of a comfort zone for him—but being lulled into a false sense of security is something Firefly should avoid. With the better
match-up form
and the historical advantage on his side, the Protoss should bring home points for DPG here.
The first ever official meeting between
DPG.PartinG
and
GP.DRGLing
features similar odds to Dark vs. LunaSea, with the Zerg at least being credited with a
10.43%
chance to secure a map-split. We can't say much more about DRGLing, since he really only shows up for GSL qualifiers these days and plays no other official matches. At the moment, he is regarded as inactive by
Aligulac
, his last results being from June. We've seen PartinG die to some Zergling flood play by Impact in GTC before, so there is always a chance of that happening, but the Big Boy should have this one in the bag securely.
Prediction: Dragon Phoenix Gaming 5-1 Team GPJin Air Green Wings vs. Invictus Gaming


Creator
< Ever Dream >


MacSed


Rex
< Golden Wall >


XiGua


sOs
< Submarine >


Coffee
Ace:
< Deathaura >
Jin Air must be really desperate to get some kind of momentum for
JAGW.Creator
going, as they're fielding him for the second straight week. It backfired in week one, when he drew KZ.INnoVation as an opponent and was predictably destroyed. That said, fielding him against Invictus Gaming should be a safe bet. Possibly. Over the course of their careers, Creator is
19-5
in maps over
iG.MacSed
, though they have not met in any tournament in 2020. Having recently won over players like PartinG and αX.Zoun, the Jin Air Protoss seems to be in a solid PvP form. MacSed's recent results have been more average, with a win rate of just over 50% in the mirror match-up, but you never know what he might have in his arsenal of tricks to surprise the Korean with. This is still PvP, after all.
After
JAGW.Rex
took a map off of KZ.Solar last week, and after we heard that he was involved in preparing JAGW.Rogue for his ZvZ victory against DRG in Code S, his stock is certainly rising. A convincing 2-0 victory over
iG.XiGua
would certainly help further convince us that he's a dangerous ZvZ player, who could be confidently fielded against any of the Zergs in the competition (save, perhaps, Dark). Still, given the small sample size of games and anecdotal testimony from Rogue, it might be wise to temper expectations about Rex Aligulac still gives us
50-50 odds
between the two Zerg opponents, and a 1-1 would still be an acceptable result from Rex.
Cycling through their options, Jin Air field
JAGW.sOs
to close things out—or, should, things go terribly wrong, try and force the ace match. One could question the wisdom of using sOs as the anchor, as "solid" hasn't exactly been his reputation in recent years. We have seen
iG.Coffee's
preferred TvP style again last week, with Tank-pushes still being his favored strategy. It has worked against Korean Protoss players before, but the execution and Coffee's decision-making need to be much sharper if he wants to topple someone like sOs with it. Regarding sOs, not even he probably knows what he'll do. It's likely he'll just fall back to playing a solid style against an opponent he must judge to be his clear inferior.
We should remind everyone that GTC allows you to field an ace player who wasn't in the initial line-up, so it's technically possible—however unlikely—that Maru, Rogue, or Trap will show up to save the day.
Prediction: Jin Air Green Wings 5-1 Invictus Gaming
Tuesday, Aug 18 11:00am GMT (GMT+00:00) Matches
Brave Star Gaming vs. Team LP


Scarlett
< Ever Dream >


Jieshi


Cyan
< Golden Wall >


Wanted


Dream
< Submarine >


Patience
Ace:
< Deathaura >
BSG.Scarlett
has already faced and beaten
LP.Jieshi
in two separate team matches this year, defeating him in NeXT Spring before also winning the ace match during that series, as well as during her all-kill of Team LP in the GTC Spring playoffs. We don't know if her tragic Brood War addiction will be enough to give an edge to Jieshi in this match, so for now we'll say she's still the favorite in this match-up. Just remember, Scarlett, you need to turn Overlords into Overseers in StarCraft II to detect Dark Templars.
LP.Wanted
played surprisingly well last week, splitting maps with iG.MacSed, but the historical record between the two had been pretty close before. The history between the Zerg and
BSG.Cyan
is much more clear-cut, with the Protoss leading
13-1 in maps
all-together, 7-1 in 2020. We have seen last week how well Cyan matched up to a juggernaut like DPG.Cure—the guy is a beast in macro games, and I'd rate him as perhaps the strongest Chinese player after KZ.TIME at the moment. He should provide Brave Star Gaming with a solid 2-0 score here.
Our last pairing also faced each other two times already in a team environment this year, with
LP.Patience
consistently getting the better of
BSG.Dream
. The Protoss beat him both in NeXT Spring as well as in the ace match of their Regular Season clash in GTC Spring. The latter game was a masterclass in 'economy cheesing,' where Patience used his reputation as a cheesy player to be as greedy as possible. He kept a fearful Dream in his base for many minutes after deflecting an initial attack, taking over the entire map and going up to something like 90 workers. Overall, they are
14-10 in maps
against each other this year, Dream retaining a slight lead and a three-series win streak at the moment. Patience always seems to find a way to steal a map, though, and DPG.Firefly showed last week what is possible with a Warp Prism and a dream even after losing all his workers.
Prediction: Brave Star Gaming 4-2 Team LPKaiZi Gaming vs. Alpha X


Solar
< Ever Dream >


Nice


TIME
< Golden Wall >


RagnaroK


INnoVation
< Submarine >


Zoun
Ace:
< Deathaura >
While
KZ.Solar
and
αX.Nice
share a common history as team mates on their former club Triumphant Song Gaming, they also share a tradition of Solar beating Nice up in whichever online event they tend to meet: with a
career record of 37-6
in maps in favor of the Korean, the Protoss player is likely not looking forward to this match. The good news is, that Nice actually commands a very solid PvZ win rate at the moment, narrowly beating out Solar's equally fantastic record, with both being close to 62%. Of course, Solar's opponents are of a higher level in general, so his numbers are likely worth a lot more. This is likely not the match-up Alpha X wanted for their Protoss, but they'll have to make the best out of the situation, the best case scenario being a map win at least.
Another rough match-up for the American team presents itself in
KZ.TIME
against
αX.RagnaroK
. While the Chinese Terran is a notorious balance whiner regarding Zerg, often questioning why the other two races even played, he has managed to put together quite a win streak against RagnaroK—probably following his team mate KZ.INnoVation's habit of whining about balance even when being on top of his game at the same time. In 2020, the Terran leads
11-8 in maps
over the Korean Zerg, having won three encounters in August alone, so their three most recent matches have TIME on a 7-1 lead. While RagnaroK still commands the better overall match-up form, TIME seemingly has the perfect recipe for beating him at the moment, and in the end that is all that counts.
Time for a little quiz: Who has an
8-3 career lead
over
KZ.INnoVation
? That's right, it's
αX.Zoun
! All four series between them have been played in 2020, with the Protoss winning three of them. Somehow, the Alpha X player's style makes Machine-killing relatively easy, even though all other statistics are heavily arrayed against him. Obviously, this doesn't mean Zoun is a favorite over INno—but I'd say he's got a good shot at taking another map, at least. While it's hard to see this being enough to actually outright win the series or even force an ace match, Alpha X fans can cling to the hope of a Zoun-made miracle. It's hard to be optimistic with the match-ups they got overall, but Zoun is a certified INnoVation-killer and probably has the best shot of all the players on his team against the Machine bar αX.Astrea.
Prediction: KaiZi Gaming 4-2 Alpha X
---
Credits and acknowledgements
Written by:
TheOneAboveU
Editor: Wax
Stats: Aligulac.com & Liquipedia
Images: Netease