Gold Series Team Championship: Spring Season
Opening Week Mega-Preview
by TheOneAboveU
Fans of the China Team Championship have eagerly anticipated its return, and now their wait is finally over: the CTC has returned as the Gold Series Team Championship (GTC), now fully backed as a Netease tournament.
While several teams have left the competition, many things have stayed the same: the confusing yet awesome format, the juicy rumors about teams and players flowing in from the Chinese community, and the spirit of team competition which makes it wholly different from individual tournaments. Oh, BlizzCon champion

Dark
is participating—What an acquisition!
League Format
The nine teams assembled for the 2020 Spring season of GTC will play each other in a single round robin group, and the teams with the top five records will advance to the playoffs. The group stage/regular season matches will be played in the same format as last season: three best-of-two series, where the team with the higher total map score wins the match (all three series are played, even if a victor is decided in the first two matches). A best-of-one ace match is played in the case of a 3-3 map score tie. Line-ups are submitted and announced beforehand, giving the players time to prepare for their opponent. Each team must field at least once player from China, Hong Kong, Taiwan, or Macau in each match.
The regular season runs from March 23rd to June 6th. The playoffs and an accompanying all-star tournament will take place from the June 25th to 28th.
Wardi plans to broadcast the tournament live in English at 11:00 GMT (+00:00) on match-days (Mondays and Tuesdays)
, whenever it is possible.
Meet the Teams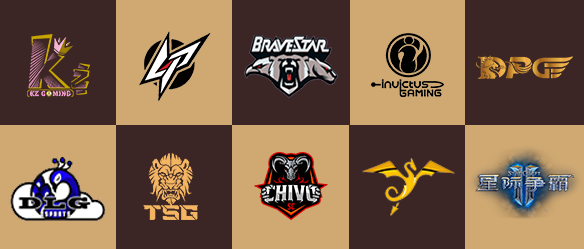 The list of teams has changed quite a bit compared to
last season
. The biggest name we see missing is clearly that of
reigning champions
Jin Air Green Wings, which cited the upcoming military service of its players as the reason for not participating.
Also gone is Chinese organisation
Newbee
, which can only field two players at the moment after losing Dear to KaiZi. Unfortunately for Chinese fans, that leaves the country's #1 talent TIME unable to participate in the league. We also lost 2019 Season 2 playoff teams
Pixel 1
and
Ocean Gaming
, which both were disbanded after last season. US-based
PSISTORM Gaming
, and Brazil's
Black Night
have also departed from the competition.
However, three new competitors have entered the field: Chinese teams
Dragon Phoenix Gaming
and
Dian Lake Gaming
have joined along with US-based
Alpha X
.

KaiZi Gaming


INnoVation
,

Bunny


Dear
,

Nice

None
According to the Chinese community, KaiZi Gaming was founded by a Chinese millionaire for the sole purpose of competing in the CTC. The team made a big splash in 2019's Season 2 by signing INnoVation and going on to win its regular season group—even beating Jin Air Green Wings along the way. In the end, KaiZi finished in third place, eliminated by a full-strength Jin Air squad in a playoffs rematch. Still, KaiZi left a strong impression and should be considered one of the top title contenders in Jin Air's absence.
The roster has changed quite a bit since last season with both Misaki and Super departing. Their replacements, however, look even scarier. Dear was fantastic for Newbee last season, with his 10-1 record being the main reason they were in the playoff race at all. Nice was already one of the few Chinese-region players capable of beating a Korean player in a match, and he looked even stronger in his recent IEM Katowice open bracket run. That's the kind of depth KaiZi need to make a title run—even though INnoVation was strong in the regular season last year, his poor performance in the playoffs was a big reason KZ finished in 3rd place.

Triumphant Song Gaming
(
2019 S1 Champions
)


TY
,

Star


Cloudy


Solar
TSG is one of the more notable teams in the short history of CTC, winning the championship in Season 1 of 2019, and finishing top four in Season 2 (not only that, but they won NeXT Autumn Championship—another, smaller Chinese team league). However, TSG did lose essential personnel during the break. One of the team's main stars, herO, began his military service, while Nice transferred over to KaiZi. That's left team captain and manager Cloudy to fill the Protoss spot on the team.
TSG did at least strengthen its Terran department, which had been completely empty until now, by adding a very strong replacement for herO in TY. 15 year old Chinese player Star also joined the team, though his
winless record
in the pre-season tournament suggests it's too soon to expect serious contributions from him. TSG remains one of the stronger teams in the league, and the two-man tandem of Solar and TY could definitely take them far.

Team LP
(
2019 Season 1 Runner-ups
)

None


Patience
,

Jieshi


Impact
,

QzDdb
,

Wanted
Team LP remain completely unchanged compared to last year, still declining to use a Terran player, and instead relying on their Korean duo of Impact and Patience to get the job done. Last season, this wasn't a bad strategy at all, as Impact played absolutely out of his mind and was able to attain the same number of wins as top ranked Dear. Unfortunately, he couldn't carry his team to further heights alone, since support from Patience and the Chinese players was clearly lacking.
If Impact could start off right where he left last year, and Patience can just provide a little bit of help, Team LP are definitely candidates to take one of the spots in the top 5. But it's going to be very tough and will take some consistency, which we so far haven't seen in any of their player bar Impact.

Invictus Gaming


Coffee
,

XY


Jim
,

MacSed


iAsonu
,

XiGua
Of course, the line-up for such a competition would not be complete without Invictus Gaming, China's long-standing StarCraft 2 team. Fielding the same, all-Chinese roster of players as in the previous seasons, iG once again enter the league as the clear underdogs. The past seasons have shown that their all-Chinese line-up isn't enough to consistently stand up to the other teams' Korean players, but iG is a team that always has the potential to upset stronger opponents, as in their shocking win over Season 1 runner-ups Team LP in the first week of Season 2.
Players like Coffee, XiGua, and iAsonu have taken several map wins off of Koreans last season, and showcased that they are able to even stand up to beasts such as Maru. With a bit more luck and a great deal more consistency, Invictus Gaming might even dream of making the playoffs.

Chivo SC


SpeCial

None


RagnaroK
,

TooDming
Chivo SC is back for its second season of the league after only narrowly missing a playoff spot in its debut season. The team fields a significantly changed line-up, with soO and ExpecT having departed and being being replaced by TooDming and SpeCial. Ironically, both players used to play for Ocean Gaming—the team that beat out Chivo for the final playoff spot last season.
Chivo's roster is small and thus predictable, but packs quite a punch when all players perform up to expectations: RagnaroK was a top player last season, TooDming has established himself as one of the more reliable Chinese players in the league, and SpeCial, even with a 5-5 record last season, is absolutely is an improvement over the young Taiwanese player ExpecT. Chivo could end up in a similar situation as last season: fighting until the very end to secure a precious playoff spot.

Brave Star Gaming


Dream


Hurricane
,

Cyan

None
Along with Chivo SC, Brave Star Gaming return for another season. BSG were a bit of a wildcard last season and perhaps could have played a role in the playoff race—IF Dream's resurgence had come just a few weeks earlier. Its three players are all quite experienced and can reach quite high peaks—both Dream and Hurricane can absolutely upset any other player in the league—but consistency is a big problem for them.
Dream's continued recovery after returning from military service will be key for BSG: if he's plateaued already, then there's not much upside for the team. As of now, they certainly rank among the lower tier of teams in the league, but on a good day one shouldn't count this group out against anyone.

Dragon Phoenix Gaming
(
New Challenger!
)


Cure


PartinG
,

Firefly


Dark
Entering the league for the first time are Dragon Phoenix Gaming, another team founded privately by a wealthy Chinese StarCraft enthusiast. Their line-up should prove that they are incredibly serious about winning their debut season. Cure is tearing it up online at the moment, and it would be no surprise to see him rack up a gaudy win-loss record and win our regular season MVP award. The two former Pixel 1 Protoss players PartinG and Firefly already had success in the league, only losing out to Jin Air in last season's Grand Finals. And last, but definitely not least, WCS Global Champion Dark is here to anchor the squad. Don't forget, he won Proleague 'Rookie of the Year' award back in 2015 when he played for SK Telecom T1.
These guys are the absolute favorites to win this season, with KaiZi and TSG looking like their only real rivals. The one X -factor could be Dark's level of commitment to the GTC. While he did win Proleague rookie of the year one season, he's also had seasons where his Proleague results flagged in comparison to his individual league performances.

Dian Lake Gaming
(
New Challenger!
)


DynaMite

None


SortOf
,

EF
This squad of all-new challengers was completely unknown until the tournament announcement dropped. Dian Lake Gaming certainly will be underdogs, but with DynaMite—transferred over from TSG—Swedish Zerg SortOf, and Chinese Zerg EF, they've come with a decent team. Even if beating the top teams could be out of their reach, they can definitely contend with fellow newcomers Alpha X, the veterans of Invictus Gaming, and on a good day perhaps even the likes of BSG and LP.
So even though DLG probably won't be a top contender this season, it might be able to play spoiler to some of the more star-studded squads.

Alpha X
(
New Challenger!
)

None


Astrea
,

Zoun

BreakingGG

The last new team for this season is Alpha X, fielding beastly American Protoss player Astrea—who is living and training in the Unity House in Korea alongside SortOf—upcoming/returning Korean Protoss talent Zoun (a benchwarmer for SKT before taking a hiatus from SC2), and Chinese Zerg BreakingGG, who himself did not take part in the league last season.
Lacking any truly established players, Alpha X likely won't be causing any of the top teams trouble. But for those interested in the future of SC2, it will be worth keeping an eye on the team's Protoss duo. Astrea and Zoun have been steadily improving over the last couple of months, and CTC might be where they continue their growth. Who knows, maybe we'll see them score some surprise victories and even influence the playoff race. Don't forget: playoff qualification has been decided by a single map in the past.
Week 1 – Preview: Put Your Best Foot Forward
KaiZi Gaming vs. Dragon Phoenix Gaming
(23. March)


Dear
< Zen >


Cure


INnoVation
< Simulacrum >


Dark


Nice
< Golden Wall >


Firefly
Ace: < Nightshade >
The GTC clearly wants to make a good first impression, as they've put two of the biggest title contenders in the opening match. It's great on one hand, because we can dive into the competition with a real spectacle. On the other hand, imagine this match happening later in the season with some more tangible playoff stakes on the line—how awesome would that be? As it is, whichever team can win this match will establish itself as the team to beat, public enemy number one for everyone else in the league.
KZ.Dear vs DPG.Cure starts off the frenzy in a Super Tournament rematch. Dear was the best regular season player last season, and will surely aim for a similar achievement this year. On the other hand, Cure has been an absolute online monster in the past few months, and the GTC seems like exactly the kind of competition he'd dominate in. Historically, Dear
has crushed
Cure whenever he ran into him (there is a five year streak during which Dear hasn't lost a series to Cure). But their most recent encounter—the aforementioned Super Tournament match—might have seen Cure turn a corner. He trounced Dear 3-1, suggesting Online-Cure can survive the trip to the GSL studio. In the pre-season warm-up event to GTC back in January, they tied 1-1. Both players can also boast that this match-up is statistically their most successful one at the moment with their respective win rates being in the 70% range. Even though Online-Cure is fearsome, I think a draw is more likely.
Next up is a duel between two former teammates on the legendary SK Telecom T1, and two of the best players to ever grace this video game with their touch. This will be the very first official encounter between KZ.INnoVation and DPG.Dark in 2020—and their first since the middle of last year. Though both will be a bit pre-occupied with GSL Super Tournament, we can still hope they give us a good battle here. The Super Tournament actually adds a bit of advantage for Dark, as he got a good look at INnoVation's stubborn, brute-force macro style against soO.
Both are absolute monsters in the match-up and can play a variety of styles, but their greatest strength lies in standard, macro play. Dark is the one who's more likely to mix things up with some cheese, but don't discount the "f*** it" bunker rush from INnoVation if he loses game one (there's definitely a worst case scenario where they just trade cheeses for a 1-1). Though Dark hasn't looked as dominant in the match-up on the new patch as on the old one, INnoVation has lost some more questionable matches as of late, so I'm giving Dark the upper hand.
In the last match, two Protoss players meet on Golden Wall, one of the funkier maps in existence. I mention that, because DPG.Firefly is totally someone who would view that as an opportunity to try something interesting—for those who don't remember, this is the guy who took a playoff game off Maru with a cannon rush followed by a mass gateway all-in. KZ.Nice has recently made an impression at IEM Katowice and should definitely be favored in a more straight-up game—he's quite the formidable macro player, something that was apparent even last season in CTC—but only IF he gets to play a normal game.
Prediction:
KaiZi Gaming 2:
4 Dragon Phoenix Gaming
Brave Star Gaming vs. Alpha X
(23. March)


Dream
< Zen >


Astrea


Hurricane
< Simulacrum >


Zoun


Cyan
< Golden Wall >


BreakingGG
Ace: < Nightshade >
Match two will give of an early glimpse of whether these teams can actually affect the playoff race, or if they'll be battling to stay out of last place. Brave Star Gaming and its two Code S Koreans should be the favorites to take it, but it's not going to be a walk in the park with a tricky PvP in the middle of the series.
BSG.Dream's minor resurgence last year unfortunately didn't last for very long, so we're kind of back to square one with the great Terran of old. We can say stuff like
'Dream was so good in the past, so clearly he has the potential to be great again'
and it wouldn't be technically wrong. But StarCraft II has been exceptionally cruel to "returners," and we're still waiting for more big results that validate our hope (akin to FanTaSy's all-kill of KaiZi last season). On the other hand, we're also waiting for another impactful performance from Alpha.Astrea, a player living and training in Korea. His playoff run at last year's
WCS Americas: Winter
highlighted his potential, but nothing notable has come since. The stats say Dream should win here: he won a series of head-to-head encounters back in February, and he sports a very solid TvP record to compared Astrea's poor PvT in early 2020.
Similarly, Alpha.Zoun is the underdog against BSG.Hurricane, a veteran of many team leagues. Zoun has recently been recognized more and more by the international community as one of the fresh-yet-old faces of the Korean scene, but so far he is lacking the results to back this recognition up. Hurricane is one of these old veterans that just kind of stuck around, never really had that much success, but from time to time makes a deep run in GSL and makes people say
"what the hell?"
He made it into the playoffs of IEM Katowice recently, defeating sOs along the way (largely overshadowed by his upset of Serral). He also handily beat Zoun back in February. Last season he was Brave Star Gaming's steadiest player and he may have to fill that role again.
It's hard to say much about BSG.Cyan and Alpha.BreakingGG since they last played each other in the middle of 2019, but historically the Protoss player has had the better of his opponent in the majority of their clashes, and his PvZ numbers look much more reassuring than BreakingGG's—indeed, it seems that Alpha X got out picked quite a bit when it comes to the match-ups, with both BreakingGG and Astrea having to play in statistically poor match-ups. Cyan is one of these names even some Western fans will recognize, due to him belonging to the club of Chinese players representing their scene in events such as GSL vs. the World. He's been posting some very solid results last year in Chinese events, and should be favored to take the win here as well.
Prediction: Brave Star Gaming 5
-1 Alpha X
Chivo SC vs. Invictus Gaming
(24. March)


SpeCial
< Zen >


XiGua


RagnaroK
< Simulacrum >


Coffee


TooDming
< Golden Wall >


XY
Ace: < Nightshade >
In the past, Invictus Gaming always seemed to get some winnable match-ups on paper, which may be why I kept overestimating them. In this particular match, even the match-ups don't smile upon them, which means they might be headed for a pretty brutal loss.
Chivo.SpeCial should definitely be favored against iG.XiGua, but his results in the last season of CTC were quite underwhelming and he didn't always perform up to expectations. That said, going by the statistics alone, the Mexican Terran should be able to achieve a clean sweep here: he's never lost a series to XiGua, and the Chinese Zerg hasn't played an officially recorded match since the end of 2019. Unless he's undergone some intense secret training, he's going to get a cold welcome back at the hands of SpeCial.
It's clear that the situation in match 2 is rather similar: Chivo.RagnaroK, already a solid performer last season, as a large advantage over iG.Coffee. But the Chinese Terran is not a pushover, as LP.Impact discovered last season when Coffee pulled off the upset that sealed iG's sole win of the season. Not that he has a high chance of repeating those heroics, since RagnaroK looks to be in in very solid form at the moment. Still, if RagnaroK underestimates Coffee, he could give up an unnecessary map loss.
The closest match of the series should be our third map, with Chivo.TooDming taking on iG.XY, and I'd expect this one to be a draw between the two players. TooDming has previously participated in the league for Ocean Gaming, just like SpeCial, and is a long time staple in the Chinese scene, who's also been a frequent participant in WCS events in the past. His opponent was probably the best known Chinese Terran before the rise of TIME, but could never match the international impact of his young peer. It's unlikely he'll still be able to turn the match around for his team at this point, but as we know every map counts, and XY could definitely soften the blow of a loss by ending the day on a positive note, preserving morale for the next match.
Prediction: Chivo SC 5
-1 Invictus Gaming
Triumphant Song Gaming vs. Dian Lake Gaming
(24. March)


Cloudy
< Zen >


EF


Solar
< Simulacrum >


SortOf


TY
< Golden Wall >


DynaMite
Ace: < Nightshade >
Former champions TSG take on new challenger DLG in the last match of week 1, and many will be predicting a harsh initiation ceremony for DLG. Even with TSG's roster changes, the duo of Solar and TY gives them firepower that most teams will struggle to match. Regardless, we'll see how much of a fight the newcomers can put up against a somewhat weakened TSG.
It should be very apparent that TSG has lost some depth as they're sending out TSG.Cloudy as one of their players. The veteran Protoss mostly fills a coaching and management role these days, but is now called upon to once more serve on the battlefield alongside his Korean colleagues. Opposing him is the very familiar DLG.EF, who was a teammate on TSG last season. Cloudy hasn't played an official match yet this year, but is generally a more accomplished player than EF. I'd see this as a pretty even match-up—as always with the Chinese team league, we must await some results to bolster our knowledge of the Chinese players to better estimate their capabilities.
Naturally, TSG.Solar and DLG.SortOf are much more known and established entities for us, which allows us to assume that Solar is very likely the massive favorite here. KR vs. EU ZvZ memes aside, Solar has never lost to SortOf over the course of his career, including two recent series in 2020. As of now, there is no reason to believe anything big has changed to break this streak (though perhaps Scarlett and NoRegreT will be able to help SortOf out with some funky strategy).
And for our last match of the week, we get a TvT between TSG.TY and DLG.DynaMite. TSG signing TY was one of the huge rumors going around at the end of the last season, and it's cool to see it come to fruition. Funny enough, DynaMite was also a member of TSG for some time before joining Dian Lake Gaming, so he's also facing his old team here. In this duel between two generations of Korean Terrans, we'll very likely see the old guard prevail. TY only recently faced DynaMite for the first time and was able to win 2-1, so the disparity between them may not be as clear cut as one might think. Still, TY has historically been one of the greatest TvT players in the world, so it's hard to see him losing his debut match in GTC.
Prediction: Triumphant Song Gaming 5
-1 Dian Lake Gaming
---
Credits and acknowledgements
Written by:
TheOneAboveU
Editor: Wax
Stats: Aligulac.com & Liquipedia
Images: Netease