Interview conducted by ZiggyWith the conclusion of yet another season of the WCS slowly but surely creeping up on us, we've had the pleasure of talking to one of the unsung heroes working behind the scenes of the circuit: Igor '

Indy' Kaczmarek, one of the men behind the in-game camera of StarCraft II tournaments.

*This interview has been edited and condensed.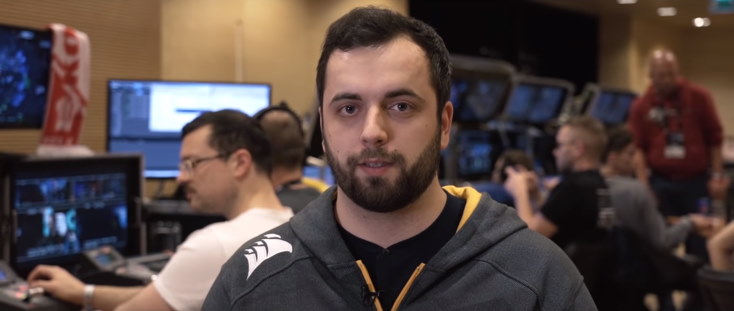 Photo: Intel Extreme Masters
Ziggy: Indy, thanks for taking the time to sit down for a little chat.
Indy: Hey, thanks for reaching out; happy to share my side of the story.
Over the past couple of years you got to work behind the scenes of some of the largest events in the history of StarCraft II. Can you shed some light on how you got into observing in the first place? I imagine it has something to do with your background as a streamer and commentator.
I first got into observing around the time of IEM Pyeongchang in 2018. ESL found themselves in need of an observer to help with the stream during the qualifiers. Since the event was to be broadcast out of their studio in Warsaw (where I happen to live), I ended up being picked for the job, and in no small part thanks to Wojtek 'Dembski' Dębowski—one of my very first acquaintances within the Polish scene of StarCraft. He recommended me for the task, for which I'm eternally grateful. He knew I'd be able to handle it and I like to think I did just that. I have to admit my past experience as a player and later as a Polish-language commentator helped me a great deal. After IEM Pyeongchang things just naturally kept rolling and I ended up working behind the scenes of IEM Katowice 2018, WCS Global Finals 2018, and a number of events this year, also off various recommendations from casters (special shoutouts to ToD). I hope there's more to come.
Back in January you won the QLASH Casters Invitational, and you've been hovering at around 6k MMR on the European server for the past couple of years. How does that help or hinder you from being a good observer? If you've seen professional players try and play the role of observer at HomeStory Cup, the movement is sometimes too fast and jerky because they approach it from a high-level player's perspective.
I reckon being a decent player helps a great deal in observing. It definitely takes away a lot of the pressure that comes with the job, as I'm somewhat able to anticipate player movements and know what to highlight at any given time. I find the first few minutes of any given match to be the most stressful. However, the more one knows about the game, the easier it is to get through the opening.
Professional gamers' camera movement can be all over the place, but that's what they're used to, as you said. They take less time to notice key elements and can infer a lot from catching glimpses of the minimap, the resources, or the production tab. Luckily, the last edition of HSC had

Mapu
working behind the scenes—he did a splendid job observing and the guest commentators didn't have to worry about that aspect of the show.
How do you determine what warrants more screen time, like admiring that newest Warchest skin or the death animation of an Oracle flying over a cleverly burrowed Widow Mine?
It depends. If I'm confident there's nothing significant on the horizon I try and fill the downtime with longer base shots, building animations, or that Oracle's death animation. Conversely, when there's loads happening I can't afford to spend too much time on these visual aspects of the game for fear of missing something that also needs showing. Being able to adapt on the spot is key.
How closely do you work with the commentators to bring the best viewing experience to the audience? Do you decide together on what to focus on in specific matches, or do observers have autonomy in that regard?
The unpredictable nature of StarCraft II makes it nigh impossible to know what to prepare for in a given match. It is to be expected that commentators have clear preferences on what they like to focus and what not—preferences I need to adapt to. I'm always kept on my toes, as I need to quickly move around the map to help the casters make their points and 'visually complement' their commentary, sometimes highlighting things with the mouse pointer, sometimes zooming in and out. The production team trust me in this regard, otherwise things would likely end up not working out. Playing and casting the game for years have taught me how to handle certain in-game situations and how to communicate my thoughts to the viewers, even non-verbally.
Does your observing style change depending on who's sitting behind the commentary desk?
Absolutely. Certain casters prefer to sit back and allow me to somewhat direct the commentary with my camera movement, talking about what appears on the screen, whilst others prefer to take a more decisive approach and make their own points, giving me clues as to what show next. I am comfortable with both styles—my priority is to make sure the audience get the best viewing experience possible.
Any specific commentator you 'click' with the best? Or maybe someone you can't stand working with? (I'm sorry for throwing you under the bus with this one!)
The first people who spring to mind are

Maynarde
and

PiG
—I'm not sure why, but for some reason their commentary has an uncannily soothing effect. Perhaps that's down to their Australian persuasion and the laid back attitude that comes with it. Or maybe it's in coming to events abroad, when they get to catch a break from deadly creepy crawlies lurking under their beds and finally relax. As far as people I find hard to work with are concerned, there genuinely isn't anyone I could think of. And it's something I realized right after the conclusion of WCS Spring—there's not a single commentator in StarCraft II I wouldn't enjoy working with or listening to. Our scene is truly in luck in this regard. Everyone brings something unique to the table, be it their perspective, banter, personality, or charisma.
Is your job centered purely around live in-game observing, or do you have any other responsibilities on production?
It differs from event to event. For example, at IEM Katowice and the Global Finals at BlizzCon, on top of observing, I also helped put together the post-game highlights with the instant-replay guys. In the cases of WCS Spring and Summer, I was responsible solely for in-game observing. I also try and stay in touch with the production by providing feedback—being proactive is never frowned upon in this environment. The devil's in the details and it's good to aim to tweak little things here and there.
A viewer's experience of StarCraft II esports is closely tied to their own, personal skill level and their understanding of the game. How do you manage to cater to the needs of both experienced StarCraft II players and newcomers to the scene alike?
I feel the onus is on the commentators to talk about the game in a clear and accessible manner. In my opinion, making sure the broadcast is as entertaining as possible should likewise be their priority. The observer does have a similar role to play, though it's not as noticeable or significant as what the commentators do. What I try and keep in mind is that showing too much can just as much negatively impact the quality of the broadcast as showing too little. There are loads of minute details that matter at the highest level of play, yet occasionally need to be omitted so the viewers don't feel 'lost'.
Both commentating and observing need to be done in such a manner that the audience feel entertained and feel they're keeping up with all that's going on. But that doesn't mean we always keep a consistent pace—as the game speeds up I do try and show as much as possible so that nothing goes unnoticed—especially when I see the commentators likewise feel the pace of the game warrants a more 'lively' observing style, or when the speed and skill showcased by the players are worth highlighting.
StarCraft II is no longer where it used to be in terms of popularity, having been overtaken by various other games. While myriad reasons can be cited, one argument that pops up rather frequently is that SCII simply isn't viewer-friendly enough compared to other games. Do you agree?
That first encounter with StarCraft might make the game seem somewhat odd and chaotic. But then, I do feel the same about other esports titles. They're all demanding in that they require the viewer to immerse themselves in it. It's entirely possible to explain StarCraft II to the casual observer in such a way as to make the game seem entertaining. Nonetheless, for those who wish to dive deeper... now that's where the trouble begins, as the magnitude of in-game minutia and details might seem overwhelming. And yet, I still feel a deeper understanding of the game isn't a necessity for the casual viewer to find it entertaining and enjoyable—providing the commentary is done right.
Is there anything you'd change in how broadcasts are handled then?
Nothing really comes to mind, to be honest. Personally, I'd enjoy a more laid back and casual style. StarCraft II has truly been blessed with pretty decent commentators, am I right? Actually, now that I think of it, I reckon it wouldn't hurt to cut to the players more often to capture their reactions to game-deciding moves or massive blunders on camera. The production really stepped it up in this regard at IEM Katowice this year.
It is hard to imagine watching a StarCraft II match without having access to the production tab or the ability to check how many workers went down to that Hellion drop. For Brood War, however, the opposite is the norm—even with the introduction of advanced observing tools in Remastered, one never sees them in use. Do you think this kind of approach (no extra tabs with units, income, production—just the resources and overall supply) in StarCraft II could work? Or is this a style that works exclusively with Brood War?
The suspense created by the lack of a production tab could provide interesting results. The issue we're faced with is the fact people are used to the way things have always been done. The fact the production tab has always been there. Removing it from broadcasts would introduce unnecessary chaos and I reckon the audience would have a much harder time keeping up. If we were to do it, we'd have to have done it right from the get go. I can tell you it has been considered in the case of some of the larger events. It would take a hefty dose of confidence for anyone to stick their neck out and make that decision. All in all, I'm pretty sure things are going to stay as they are in this regard. Truth be told, though, I wouldn't object to this being tried at some point. Why not give it a go and see what the people think?
Do you do any particular research on players ahead of their matches?
I'm familiar with nearly all the players who come to events, so I usually know what to expect. Having said that, they wouldn't be where they are without being a little unpredictable every now and then. My preparation usually consists of making sure all my hotkeys are in order (I use a custom layout that suits my observing style), enabling me to access all the UI components when necessary.
Are there any differences in how you approach observing various playstyles?
Sure thing! For instance, as the pace of the game slows down I take more time in switching between locations to match the intensity of whatever is taking place. Conversely, as the game speeds up and the players start trading blows in multiple locations, I likewise speed up the 'pace' of my observing to accurately reflect the game's dynamic nature. The same thing happens in films. What I do doesn't differ much from how the commentators approach their job in this regard. Pace management is key in making sure the broadcast doesn't feel stale and the audience feel entertained. Commentators have a wide array of vocal techniques, such as inflection, to achieve that goal. An observer can spice things up with how they move around the map or how quickly they switch between focal points.
Are there any players whose matches you particularly enjoy working with?
I particularly enjoy observing the ZvZ matchup, as its dynamic nature always provides an entertaining challenge. As a match drags on, players usually try and eke out an advantage with Ling run-bys, Muta hit-squads, burrowed Roaches sneaking into every base - not to mention trying to keep track of which one of the scores of dots on the minimap is an Overlord filled with Banelings. But, as I've said, when done right, the matchup can certainly prove an entertaining spectacle. And top-end players, such as Serral or Reynor, never fail to deliver.
What about someone like Has or sOs? Their nonconformist nature throws all convention out the window.
I'm definitely more excited than frightened by the idea of observing the matches of such players. On the one hand it might seem somewhat more challenging, but in reality all I have to do is pay more attention to those minute details that could indicate unorthodox play further down the line. The commentators likewise often need to guess what comes next. I'm terribly partial to both sOs and Has, especially the latter—I can't recall him ever failing to entertain. And he's genuinely made me laugh more times than I can count, both when I was observing and commentating.
Indy, as always, it's been a pleasure. Thanks for giving us a glimpse into what goes on behind the scenes of WCS events. Any final words to the good people of the Internet?
It's been a pleasure indeed. Have a great day, sir. Follow IndyStarCraft!
---
You can follow Indy on Twitter and Twitch.