HeRoMaRinE barely competed during the 2017 season, but has emerged as one of Europe's strongest competitors in 2018. TeamLiquid.net chatted with the German Terran ahead of WCS Austin, talking to him about what changed for him in 2018, making Serral bleed in the European Challenger tournament, and why he capitalizes his name that way.

*This interview has been edited and condensed.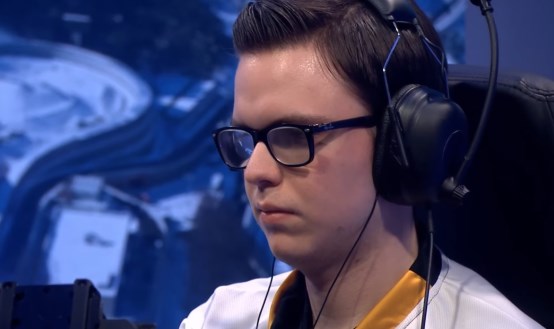 Image: ESL
Wax: Are you surprised as the level of success you've had so far in 2018? At WCS Leipzig, you gave Neeb a tough match in the RO16, and you made it to the RO24 group stage of IEM Katowice.
HeRoMaRinE: I think last year I fell off a little because I didn't have the confidence. I didn't participate in any WCS events last year, because I always did poorly at Challenger and I didn't feel like going [to try to play in the open bracket]... I didn't have the confidence. But I think I was still good enough, that's the thing. I was sort of lacking just the confidence.
This year it's a little different. Things started off really well with qualifying for IEM PyeongChang. Also, the first WCS event was in Germany, which is obvious comfortable for me to go to. I would have gone there either way—even if there wasn't a StarCraft tournament I would have gone to that DreamHack... ...Katowice as well, I would have gone there as a spectator. If I'm going there as a spectator, I might as well play in the open bracket. That's the nice thing about StarCraft: you can always compete, you can always participate in these open brackets, you just have to be there.
I think that was the mistake last year, since I didn't have the confidence. Now I've regained it, and therefore I'm playing more tournaments. I think I've never really been that bad a player in Europe, and I think a lot of players would say so as well. I just didn't play in many tournaments because I didn't have a lot of confidence, and that was the biggest issue.
The last time I talked to you, you mentioned you've been enjoying the streaming side of StarCraft more than progaming. Do you still feel that way lately?
Yes, I think so. I enjoy streaming a lot, I don't think I like the competition as much, I've done that for a lot of years already now... ...at some point, I wanted to try something else, streaming for example, which I do enjoy more at the moment.
I can understand how one would get burned out. But a lot of guys, when they burn-out, their skill level goes down. But you've been pretty steady, getting good results comparable to full-time pros. How did you achieve that?
Technically I'm still full-time, I'm just streaming more. Which means my practice is the only thing that looks a little different. Because I'm streaming a lot, I don't get to play many custom games. In general, the quality of practice is also lowered, since you have to stream four hours in a row without a break in between, which is important. The efficiency of practice is a little worse than it should be. But I still actually play StarCraft II full time, and I still try to go to events if it's possible... ...I feel like I still have the skill level, since I'm still technically playing StarCraft II full-time. The focus is just on streaming in general, and not at achieving, let's say a BlizzCon finish. That's pretty much the only difference between me and a normal player—focusing more on streaming where as they focusing more on the results and trying to get to BlizzCon.
Does getting these good results in tournaments make you feel more motivated? Does it make you think 'why shouldn't I aim higher?'
Like I said, confidence is really important. You don't feel like competing if you don't feel well, and that's what happened last year. You don't really get any results, because I didn't even go to events. This year it was very difference, especially with the qualification through Challenger I gained a lot of confidence. So now my focus is a little different. I didn't plan to go to Austin. I'm obviously going there because I qualified, but I didn't plan to go there [as an open bracket player]. Now that I'm qualified, my WCS ranking is pretty decent… I think I'm aiming toward BlizzCon this year, but I'm taking it step by step. If Austin goes well, and I can maintain my position there, then I will probably aim for BlizzCon.
Serral went undefeated versus everyone but you in WCS Europe Challenger. Going into the match, did you think you had a chance? What was your expectation there?
Against Serral, it's hard to say, because I think Serral is just a better player. Especially if you're a Zerg player and you're just better than the opponent, I feel like it's very difficult to win in the TvZ match-up. I had some plans, I really felt quite good—I had been doing pretty well, and I felt very, very strong, especially with the old map pool. But against Serral, it's just a different story. He plays on a completely different level. He does things that other Zerg players don't. One of the biggest struggles in my head was I wanted to trick him a little bit by playing mech and bio. I mixed it up a lot, but he always got the upper hand because of his proper scouting, and he always made the right choice. I didn't trick him, and therefore I really wasn't able to do anything. So I think overall Serral is just much much better than anyone in Europe, and also much better than me. I don't think I can beat him in a best-of-five comfortably. Maybe with new maps, I'll learn something there, but I would never be confident. I'm pretty satisfied with how I played,
I don't think I played poorly, but I think I just got outsmarted a little bit. Next tournament, it might happen again, or I might change something up. I definitely learned something, so I'm happy about that. Not necessarily about the result, because I obviously want to win, but I learned a lot in that series against him. I feel a little more comfortable playing against him next time.
All the European players say Serral is a level above the rest. Do you think that still applies when you put him up against all the other players on the WCS Circuit, from North America etc.?
I've always thought that Serral is actually one of the most skilled players. I've always had that feeling. I think now that is obviously the case because he's established that. I don't think there's anyone that can come close to him. Skill wise, I think the only player that really comes close to him will be ShoWTimE and maybe Neeb if he is in shape, but Neeb normally doesn't play well if there's new maps or a new patch, so I don't think he is in shape at the moment. Definitely, I would say, possibly ShoWTimE, and maybe some strong Zerg players would have a chance. But I think he's undoubtedly the best player.
Then, regarding your chances at WCS Austin, do you think you have a fair shot at beating anyone who isn't Serral?
It's very hard to say, it really depends on the groups in the tournament. You can get anyone. I don't feel particularly strong against everyone else; I'm not doing too well because of the new maps, and I still have to figure out some stuff here and there. I felt much better with the older map pool in Challenger. With the new maps and everything, it's very difficult for me to adjust, and I definitely need to adjust because there were some significant changes in the map pool... ...I think given the way I played Challenger, I should be able to beat most players, even in a best of five, I should be able to be like top ten. But… currently I don't want to make any statements on that, because I don't know if I'm on that level because of the new maps.
When did you decide to capitalize your name that way? How old were you?
I think I was thirteen? At that time, I thought a lot of people were named HeroMarine, when I was pretty much the only one. And that's why I capitalize it that way. I capitalize it in a weird way because it looks better that way, in my opinion.
Do you still think so now?
Yeah, I think it's unique. It's what I wanted to have. However, because there aren't many people named 'HeroMarine,' I don't think the purpose of it was fully fulfilled. I normally used the weird capitalization for signing, but on social media and everything it's [the normal way].
Did you mind Blizzard deciding to go with "HeroMarine" during the WCS Challenger broadcast?
Nah, it was completely fine. I think both ways is fine.
Any final shoutouts?
I'm very happy to be at WCS Austin. I didn't expect to play. I'm doing pretty well during the last few months, so I have a lot of confidence for the event. Therefore, you can expect me to perhaps get a really good finish at a WCS event again, and I will obviously try my best there. And thanks of course to my team mousesports, who has been supporting me for more than six years now.
---
WCS Austin begins on Friday, Jun 01 9:00pm GMT (GMT+00:00).
See how HeRoMaRinE defeated Nerchio to earn his seed at WCS Austin.
You can follow HeRoMaRinE and Mousesports on Twitter at @mouzHeroMarine and @mousesports. You can watch HeRoMaRinE's stream on Twitch.TV.