Subjects of Circumstance
by
lichter
We are all subjects of circumstance. Sometimes, things are just beyond our control. For Starcraft 2 pros, the ebb and flow of the meta can sometimes deal harsh blows to otherwise fantastic players. No other player has faced that kind of rise and fall quite like Dream in TvZ. During the start of the year, he was considered the maestro of bio, and no one could touch what he could do with a mouse and keyboard. Yet, as the year went on, mech became the standard for terran against the swarm, and Dream's regression coincided with the change. He was never able to adjust; another victim of circumstance.
Though he has so far survived,
Maru
faces a similar situation. Over the past few months, the Jin Air terran has struggled to keep up with the pace. While he has managed to reach the Ro8 of Code S once again, he was ousted in the S2SL by Zest, who had once looked helpless against him. In Proleague, he suffered an ignoble round (0-5) that was 1 loss shy of BboongBboong's pitiable record. Players of Maru calibre, even during a slump, still find their way deep into tournaments, but this is the first time all year that Maru's legitimacy as a contender can be called into question. Once considered the anti-thesis of the robotic INnoVation with his impulsive and cagey playstyle, the past few months have shown that Maru may not be as adaptable as we had once believed.
The biggest problem that Maru has faced is his inability to adjust to mech. Bio has always been Maru's best weapon because it allows him to split up his forces and dismember his opponents with multitasking. His instinct is to attack even when he shouldn't, because for the tiny terran offense is the best kind of defense. This has always manifested itself—even during the bio era—in his inability to handle harassment in maxed situations, and players like ByuL and Life in particular have punished him when things go long. His preference to be on his opponent's side of the map with no vision of his own backyard has led to his demise in several high profile TvZs (0-3 vs Dark, 2-3 vs ByuL). This problem is exacerbated by the immobility of mech. While the composition is the best at defending fortified positions, Maru does not enjoy sitting back and waiting. His impatience with his units and his itching tendency to split up his forces often drive his units down cul de sacs. Unlike bio, he doesn't have the medivac count to pick everything up and boost to safety—or for a doom drop.
Over the past 6 months, starting with his humbling defeat against Dark, Maru is a poor 10-13 in the matchup. Only his 3-1 charity series against Impact buoyed his record, but it looked way too close for comfort as the Axiom Zerg, in his first relevant series all year, pushed him to the limit. The shift from bio to mech in TvZ is an incredible change of pace, and until Maru learns to slow down, this could be as far as he goes.
Perhaps he could learn much from his teammate and opponent
Rogue
, a fixture of Korean tournaments in 2015. The only thing more impressive than his stubborn march to the Ro8 of every tournament is his preordained failure in every Bo5 series once he gets there. It's not surprising then that Rogue has been one of the most talked about zergs this year, but despite his accomplishments, there is almost no chance of him being part of ballot for the best zerg of the year.
Still, 2015 should mark a turning point in his career, if only because of his new found role as zerg's build order vanguard. Though he has always had a hint of sOs about him, this year will be remembered for the many exciting changes the Jin Air player has brought to ZvMech especially. While his swarmhost into muta opening appeared ineffectual, it was a part of a longer plan that involved pushing the terran back and forcing him to turtle on three bases. The switch into a dozen vipers—more than any zerg had built intentionally before—was the masterstroke, but it was clear that he understood the role of each phase of the game and each unit he had built. His ZvT should be considered one of the most technical playstyles we've ever seen from zerg, and it's intriguing to see how he has illuminated in a time of hardship in the matchup.
Unfortunately, we've run aground trying to write Rogue as the dark horse and the sleeper pick, because as much as we want to promote him to contendership, he has made it hard for his fans to believe in the Sexy Boy. He has been eliminated it the Ro8 every single time he has made it (in 4 of the possible 5 quarter finals so far), a damning indictment of his ability to win a long series. This is his last opportunity to redeem himself, and there is no chance he comes unprepared.
This quarterfinal thus presents an interesting duel: Rogue is a sensation against mech, but Maru would like to avoid playing that style if at all possible. While Rogue was not well known for his ZvT before the change in meta, he was still quite adept at the matchup. At one point, he even went on a 12 match unbeaten run, dropping only 3 maps out of 23 between the end of February and the end of April. On the other hand, Maru has always had trouble in TvZ even during the bio phase, although he did have to match wits against the best of the best more often than Rogue at the time. The zerg could have the advantage should he have an inside track on Maru's TvZ preparation—since they likely practice the matchup often—but his accursed record in the Ro8 could be more than just a fluke.
Prediction
:
The outcome of the match will likely depend on the approach Maru takes in this Bo5. If he decides to stick with the norm and play mech, Rogue should be crafty enough to poke holes in Maru's susceptible defenses. However, if Maru chooses to buck the trend and play bio, he could have a recipe that Rogue can't handle.
Rogue
2 -
3
Maru
Keep the Change
by CosmicSpiral
Throughout his career, fans and commentators have harped on
INnoVation
's rigidity as the obstacle standing between him and eternal glory. By that I mean the type of recognition that exists beyond trophies. It's one thing to simply win games. The SKT Terran has honed that skill through merciless repetition, becoming one of the most well-respected and successful players of the HotS era. InnoVation has played many roles during that period: the rock upon which SKT's church is built, the terror awaiting unlucky Zergs in tournament finals, the gentle butt of jokes regarding his inexpressive face and unsurpassed blandness.
It's another to earn deep admiration and loyalty. Players who inspire such devotion are usually a combination of entertaining, dominant, or relatable. Belying his name, INnoVation is not especially inventive. He has not displayed any obvious stylistic tendencies since he stopped raining hellbats from the sky during early 2013; as a result, it's hard to pinpoint any bold approaches he introduced to any matchup. His strict adherence to builds and their underlying strategy appear dreary and predictable compared to more lively and spontaneous opponents like sOs. Additionally, his dedication to that ideal rarely makes for thrilling comebacks. Wild and messy series are not his forte. Either he swiftly crushes you underneath his sturdy boot or he ends up as his opponent jubilantly leaps out of the booth.
Yet isn't it intriguing that said weakness has meant so little in the grand scheme of things? Stubbornness usually signals death in the volatile world of SC2. When champions fail to adapt to the times, they fade into obscurity (Nestea) or are reduced to has-beens (too many examples to name). Undeniably, InnoVation's resolution has cost him several key series...while winning him many others. Anyone can scout InnoVation's schemes and prepare the appropriate countermeasures. Few can fend him off as his jaws madly towards towards their necks. When it comes to tight scenarios execution trumps improvisation 99% of the time, and the SKT Terran is a master of making situations work for him. InnoVation didn't need fancy tricks to crush soO at IEM gamescom, nor did he have to emulate Bbyong to reach this point.
While his foe is famous for being steadfast in his ways,
Zest
is rapidly approaching scumbag status. In days past, the KT Protoss drew comparisons with Rain for his refusal to win in a "cheap manner". Zest rarely used all-ins and out of the exceptions, most were solid unremarkable timing attacks in PvP. Make no mistake, Zest was not a defensive Protoss. His Phoenix harassment in PvZ could be quite remarkable and often won games by itself. He knew when and how to do maximum damage with warp prisms. But rarely did he commit to the point where he had no other recourse.
Today Zest is closer to sOs when it comes to the PvT matchup. Recently he has displayed an unparalleled urge to challenge his opponents in the early game, deploying several strategies that would make his peer giggle in glee. The KT ace deployed an entire buffet of cheese and its close analogues against Maru in SSL, ranging from a 1 base proxy void ray all-in to quick DTs before robo. The sensation I got was akin to seeing a horse speak Latin: terrifying but oddly intriguing. Aberrations of nature can leave you speechless. Horses don't have the vocal cords necessary to do such a thing. When did Zest develop to the point where he could pull them off in such quick succession? Regardless when he changed his mindset, It's an exhilarating sign that Zest has embraced all the nonsense Protoss is capable of. For so long, players assumed they had to rely on preemptive attacks or push Zest into making micro errors. That old dynamic is now dead, and it will be interesting to see how the collective Korean scene tries to outfox this crazier version.
Prediction:
Besides Proleague, INnoVation hasn't played a standard high-level TvP game in the last 3 months. His games against sOs in MSI Master Gaming Arena and SSL were predictably loopy and not indicative of much. In their most recent encounter, Zest beat INnoVation by taking some significant risks. A fast third, as well as a quick transition into colossus, on Echo could have ended disastrously if Zest wasn't specifically anticipating a 2 base SCV pull. Being PL, it's unwise to put too much stock into it. Such a strategy was technically the sound choice and if Zest didn't accelerate his colossus timing, it would have produced an ace match.
Conversely, Zest lost to TY in SSL by underestimating the amount of pressure TY put on during the midgame. TY nimbly moved his army in ways that forced Zest to split his army apart, rending the standard blink → colossus transition harmless as a united force. Most notably, TY played for the long game in his individual wins. Since INnoVation's only recent game against Zest ended in a failed all-in, it will interesting to see if he takes the same approach. Doom drops
are
part of the SKT Terran's repertoire after all. I don't expect the Terran to struggle too heavily against Zest's bag of tricks; Zest's overarching strategy was clearly targeted towards Maru, and INnoVation has enough differences in playstyle to dissuade a repeat showing.
Nevertheless, Zest should have a strong advantage going into this match. The threat of a proxy stargate or a 1 base blink stalker all-in cuts off one of INnoVation's main options in TvP (fast triple CC to exploit large maps). He has a strong propensity to pull SCVs whenever he feels behind, but that's easily readable if he stays on 2 bases and potentially self-destructive if it's not planned out. He could attempt to copy TY, but multitasking on that scale would be uncomfortable for him' INnoVation is a lot more direct when it comes to forcing engagements.
Zest 3
-1
INnoVation
lichter's Foodie Guide to the Ro8 Part 2
by lichter
Welcome back GSL foodies for the final installment of lichter's guide to the Ro8. Last round, the former Michelin star bumped off the food cart and the revolving sushi did quick work of okonomiyaki. This week we get 4 new restaurants vying for a spot in the next round.
Rogue - A fusion restaurant of two different fusion restaurants
The best kinds of fusion restraurants are the ones that realize that it's not about combining food into an unidentifyable hybrid, but serving two different cuisines side by side to make interesting juxtapositions. I don't want something like tteokbokki fries, I wanna eat kimchi on top of my steak. That's what makes Rogue a really great zerg: he knows how to mix up compositions that actually compliment each other. His SH into Muta into hydra-ultra-viper may have been a liiiiitle bit confusing, but the transitions felt natural between courses.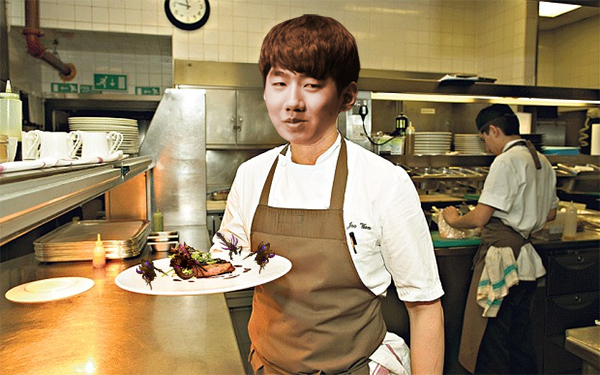 Just add a dash of whatever you find on the counter
Maru - That buffet place that only uses tiny, tiny plates and you have to carry 7 plates just to get everything you want and there's no way you can juggle everything so at least one plate falls to the floor on each trip
We've all been to one of these. One of those places that practically forces you to be a circus performer just to get everything you want back to your table. Of course, being supremely lazy, there's no way we'll only use a manageable number of plates, because we want all of the food right now all together snap snap. This is basically what Maru wants: an opponent juggling too many things at once that eventually, he slips. All it takes is one drop for things to cascade out of control, and Maru owns him. Unfortunately, people have begun to realize that all it takes is some moderation to one-up this dastardly dining design.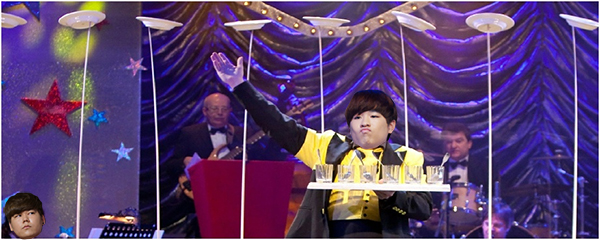 MyuNgSiK: "WHAT IS THIS SORCERY"
INnoVation - A Japanese vending machine that only sells pocari sweat
Yeah, this doesn't even need explaining.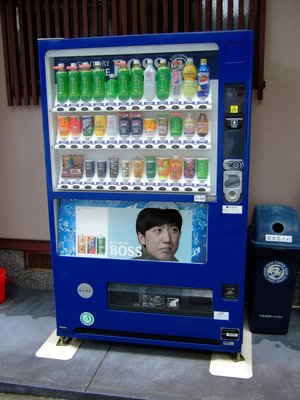 Basically cyborg gasoline.
Zest - A Japanese vending machine that only sells panties
Yeah, this doesn't even need explaining, either.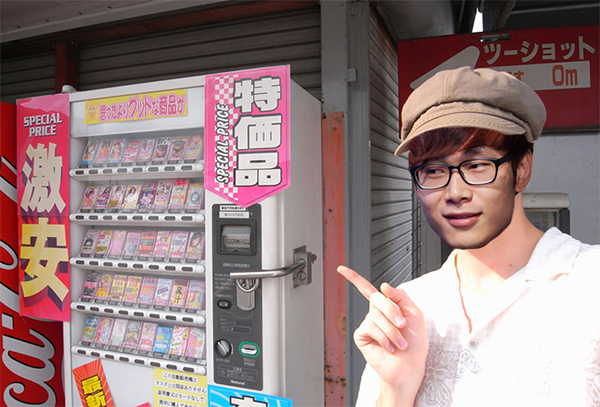 "We get a week's supply whenever I win a game."
Credits:
Writers: lichter, CosmicSpiral.
Editors: CosmicSpiral, lichter.
Graphics: shiroiusagi, lichter.
Photo:
Shayla.
Stats: Aligulac