Parting and PvT
Throughout the history of SC2, few players have changed the PvT matchup as much as PartinG has. Over the years he has been credited with the invention or refinement of fast three-nexus into 10 gate timings, two base templar builds, late game templar usage, and most recently blink stalker/warp prism openers.
Just like his older styles, these blink builds are extremely technical and harder to execute than a more standard, passive colossus build, but they also allow for more control over the game and more opportunities for a superior player to take advantage of an opponent's mistakes or incorrect reads. More importantly, they are quite fun to play and a valid and powerful alternative to passive robo builds for every ladder player.
Build Overview
The goal of this style is to gain map control before a Terran can push out on the map in order to secure a faster third base than most other builds. The combination of early game pressure, light harassment capabilities and fairly quick colossus tech allow the Protoss to play more aggressively around 12:00-13:00 instead of being stuck in their base worrying about defending drops or SCV pulls. This second round of aggression in turn can either turn into a powerful all-in or simply secure a storm transition heading to the late game.
All these factors make this style quite deceiving to play against: the presence of blink stalkers early on is enough to scare most Terran players into being overly defensive, while the mid game colossus attacks hit at awkward timings that easily catch any opponent off guard and out of position. Additionally, the basic opening is extremely versatile, allowing for several different builds to mix things up and play very unpredictably.
Of course, not every build is perfect, and for every advantage gained there is also a drawback. Investing in early game stalker and a quick third naturally delays your upgrades, but more importantly, delays the robo for a minute and makes it impossible to afford an extensive observer network. This makes positioning your army perfectly to defend across three nexi extremely hard. Therefore, spreading pylons through the map to spot for potential drop paths is absolutely mandatory.
Early Game Opening and Execution
PartinG's favourite build is fairly non-standard as far as macro blink openers go, as he prefers to delay his extra gates in favour of a faster robo. This allows him to produce a very fast warp prism, or even get observers in time to defend most factory openings, without sacrificing stalker production significantly. His approximate timings are as follows:
Single gas MSC expand. 4 Chronos on the Nexus, then as blink as needed
23/26, 4:00: Second gas, pylon
26/34, 4:20: Stalker, warpgate. Units off first gateway: 3x stalkers
29/34, 5:00: Twilight council. Start blink as soon as it completes
~6:30-7:40: Robotics, then 2 gates, then natural gasses as money allows
100% Warpgate: warp in one stalker, then 3x more, then 3x zealots
100% Robo: Support bay, warp prism, 1-2 obs
~9:00: Third base and forge, extra gates as money allows
As mentioned in the intro, the goal of the blink/warp prism opening is to gain map control and kill a few SCVs while establishing colossus tech and a fast third base. Because you aren't really trying to commit to a straight up attack, feel free to leave the MSC at home to defend any counterattacks while you pressure.
When blink is finishing up and your warpgates are coming online, move out with your force along with a probe. Poke the Terran's front while dropping the zealots in the main with the warp prism, but never commit to a full on engagement. Use blink to retreat damaged stalkers while sniping marines, marauders and especially repairing SCVs, prioritizing keeping the warp prism alive over doing as much damage as possible. Your force cannot win a straight up engagement, so do not try to blink into the Terran's main. More importantly, utilize the probe you brought with you to start spreading spotter pylons along common drop routes. Ideally you should warp in from the same pylons used to defend drops (see the screenshots below).
While you pressure, you should take your third base and start tech up while warping in two to four sentries at home. If you execute your build correctly, you should be able to do all this while warping in seven to ten stalkers and three to six zealots.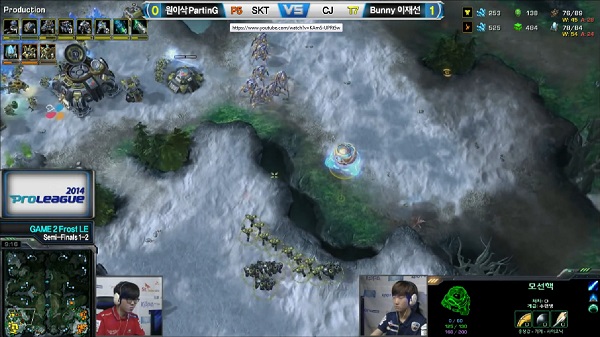 Light Harassment. The stalkers are focusing exclusively on the repairing SCVs.
Taking and Holding a Third Base vs Drops and Timings
This phase of the game is particularly delicate. Around 9:30-10:00, the Terran will have his first set of medivacs, which means you will have to retreat to defend your newly established nexus. You should be particularly careful of players bypassing your stalker contain and sending the medivacs straight to your main base. Without proper positioning and map coverage, this move can cause considerable damage. To avoid this, you simply need perfect minimap awareness and good map control. In these screenshots, Parting is respectively the orange player on Frost and Merry Go Round, and the red one on Catallena and Deadwing. Note how he constantly utilizes every tool at his disposal - pylons, warp prisms, blink stalkers and observers - to have good map coverage and keep tabs on his opponent. The only exception is the Catallena screenshot, and the end result is losing his third nexus.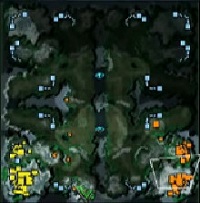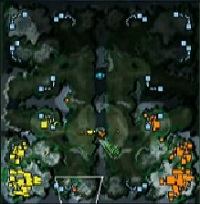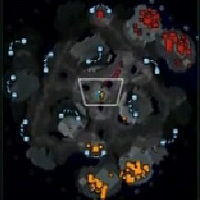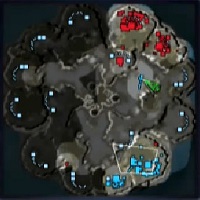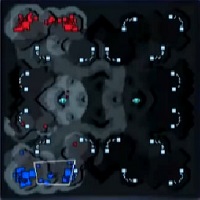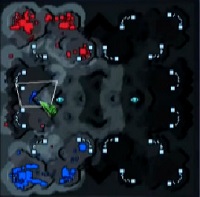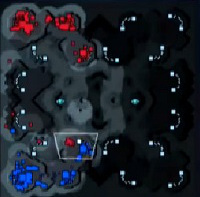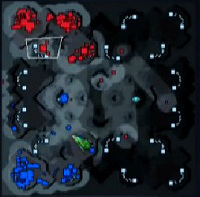 Using pylons, army movement and the warp prism to check for army movements is mandatory. Note how on Catallena there is nothing to spot for the Terran army, resulting in a denied third base.
Spreading pylons, positioning observers and even using your warp prism for vision are absolutely key in holding off the Terran's mid game harassment. Against a particularly aggressive player who keeps trying to split his army in two, you may be forced into dividing your own army in groups of one to two colossi, one to two sentries and several stalkers. While hard to execute, this is easier to accomplish than with other builds because the faster third and delayed upgrades results in a bigger gateway force in this phase of the game. Note that splitting your army makes the individual groups particularly vulnerable, so again, scouting and map awareness are crucial.
Parting retreats his stalkers as soon as he spots Innovation's double medivac drop, thanks a well placed pylon
Holding SCV Pulls
Defending SCV pulls is usually a matter of execution and scouting more than build specifics. Nevertheless, they are common and powerful enough that they are very worth discussing. As a general guideline, there are a few tips that show a Terran might be preparing to pull the boys:
Low SCV count: normally Terrans who want to bring the boys will only make about 50 of them without really saturating their third, and instead maximizing their army supply and relying on MULEs for income.

Passive mid game: if your opponent is playing passively, it's likely that he wants to save units to hit a big mid game timing, with or without SCVs.

No armory, no second ebay, ghost academy or second starport on the way: all these things maximize a Terran's army strength in the short-term against colossus builds, especially if you are trying to get to storm in the meantime.
Note that these are just general guidelines, and many players simply decide to pull SCV when they feel ahead enough that they can end it with one big attack or too behind to be able to compete against both storm and colossi. Either way, you should always be active with an observer and/or with hallucinations to check for army movements and have a rough idea of when this kind of huge attack is coming your way.
The most important adjustment to make to hold these attacks with a colossus build is to have nonstop colossus production until you have at least four as well as a good stalker/zealot force to support them. Investing in extra upgrades, charge, a templar archives, oversaturating your third, or simply not having enough gateways ready in time is very likely to cause you to lose the game. As a general rule, if you don't think an upgrade or tech can be complete before the Terran's attack, do not invest into it and try to maximize your short-term army strength instead. A good general tip when going for a mass colossus opening is to go up to eight to ten gateways before taking the third base gases. This adjustment should give you enough production to defend most SCV pulls.
Dat 142/116 supply block. Not a good spot to be in, even with 2/2 completing.
As soon as you see the boys coming your way, try to use your blink stalkers, along with ramps and forcefields, to delay the attack. The longer the Terran isn't mining, the better, especially if you are waiting for any kind of investment to complete, whether that's upgrades, an extra colossus, a set of gateways or storm. Be ready to sacrifice your third base if necessary. If you do decide to abandon your third,
make sure that it doesn't supply block you
. You need to account for the loss of a few pylons along with a nexus; sacrificing a few of the probes there can help offset this. Avoiding supply blocks is absolutely KEY in surviving, and in fact, it's a huge reason why PartinG himself recently lost to Flash and TY. Along with crisp macro and a good build, you need patience. Stay calm, make sure your colossi are protected against vikings, and wait patiently for an occasion to forcefield the Terran's army or land a key time warp.
Three Base Timings and Pressures, Transitioning to Late Game
Wtf since when do Protoss players attack like this???
The combination of early game map control, a fast third and delayed upgrades make the Protoss mid game army considerably stronger than normal. Skipping the forge completely and cutting probes at about 52 results in a devastating three base all-in, but even if you saturate your third base and start upgrades regularly, it's possible to end the game with three colossi and several gateway units, especially if you are ahead either after pressuring with blink or defending your third base.
Despite having the power to end the game quickly, this build transitions very well into a long term macro game while still being able to put on significant pressure. If you can confirm that no SCV pulls or other committed attacks are coming your way (or that they simply aren't a threat), you can move out with three to four colossi while setting up a storm transition. Using the warp prism to control the Terran army movement and force him to split his attention is particularly useful. Note that while going storm, Parting saves gas by warping in only about ten stalkers. However, he makes considerably more when he decides to commit to an attack.
The most important thing to remember about this phase of the game is that that once medivacs are on the map, no matter what your intentions are, it is absolutely mandatory to know where the Terran army is if you decide to move out. Use any combination of pylons, observers, hallucinations and even warp prism harassment to scout for army movement or even force a retreat. If you move out blindly you just risk getting doom dropped while your army is in the middle of nowhere, effectively handing the game to your Terran opponent.
PartinG spots Innovation's army and saturated third base before deciding to move out.
Build Variations
The combination of a fast twilight council and robotics facility allow this same opening to branch out in several directions with only small adjustments. The most obvious one is, of course,
infamouse 7gate blink all-in
, but since it has already been discussed in a certain Great Book, everyone is probably familiar with it. Another way of going semi all-in with this blink opener is to delay the robo while constantly producing stalkers off three to four gates and committing to a straight up attack as you slowly saturate your natural expansion. However, this kind of attack is weaker than a full out blink all-in, which means you will still need to prepare the same three base colossus transition.
Next up, ask yourself...what is one click away when you have a warp prism and twilight council? Yep...DT drops, hooray!
PartinG has used two different builds off this same opener. The first one is a simple build where he does the same exact opening he would with the standard build but getting a dark shrine instead of blink. This is particularly strong on Overgrowth, where DTs can bypass a turret at the natural by warping in from a pylon at the third base. After the harassment phase, PartinG goes for a more standard two base colossus/blink style into a third base. This is the build order he used against Maru in their last GSL match:
Standard MSC expand/twilight council opener

Only build 2x stalkers off the first gate

DT Shrine and second gate as soon as twilight council completes, sneak out a probe for proxy pylons

6:30: Robotics, natural gasses as money allows; units off the robo: warp prism, 2-3 observers

100% dt shrine: warp in DTs at your proxy pylons, send one to the main and one to the natural

Only warp in additional DTs if the opportunity is there. Prioritize killing SCVs over sniping add-ons unless you are sure the Terran won't have a scan in time.

~8:30: Support bay and forge; play standard two base colossus/blink from here

The second build adds a DT drop on top of the blink stalker pressure, and is considerably less standard. In his match against TY, PartinG decided to still go fast third off this, but the investment into the DTs makes the nexus much harder to hold. If you choose this variation, be prepared to cancel it if a group of stimmed bio shows up. The build order is basically the standard blink/warp prism opening, but it delays the support bay and fast third nexus by about one minute in favor of starting a dark shrine together with blink and the warp prism.
Artosis' favourite build!
The last variation that Parting has used in a televised matchup is a simple two base, double forge colossus/blink build. Note that since the robo is still slightly delayed, it is still impossible to afford more than a couple of observers, making this a slightly sub-optimal build. Regardless, it can be a powerful addition to your arsenal, especially on blink-friendly maps like Catallena or King Sejong Station. The build order is:
Standard blink/robo opener, only make one extra gate after the robo

Units off robo: 2-3 observers

7:40: Double forge, support bay

8:40: 4 extra gates

VoDs
Parting vs Maru on Star Station
from Proleague Round 1.
This is, to my knowledge, the first time a rough version of this build was used in a televised match. Maru just so happened to be doing some weird 2-rax reaper build that did nothing, and so the three gate blink timing ended up winning the game.
Parting vs MMA on Overgrowth
from GSL GT.
This is the first appearance of the macro variant of the build, including a non all-in three base push that completely catches MMA off guard and ends the game.
Parting vs Supernova on Waystation
from GSL S2.
Parting vs TY on Merry Go Round
from SPL Round 3.
These are two early versions of the build which still include some kind of heavily committed pressure. Note how the attack is not as powerful as a six to seven gate all-in and can only end the game if the Terran commits to a bad fight. The macro follow-up is also delayed considerably.
Parting vs Bunny on Frost
from SPL round 4
This is the first time this innovative style was used in its most refined form, and, in fact, it caught even the commentators off-guard. Because of Bunny's greedy 3CC opening, the light pressure along with fast third was enough to put PartinG so ahead that, again, the three base pressure simply ended the game.
Parting vs bbyong on Outboxer
from SPL playoffs
This game is a perfect example of what to do against both widow mine openings and mech. Blink stalkers and an early robo allow PartinG to both secure a fast third base and hit a powerful immortal/blink timing.
Parting vs Flash on Merry Go Round
from SPL playoffs
In this game, Parting commits to the three base all-in despite being slightly behind after the early game, adjusting by attacking with one less colossus than normal. This proves to be fatal, as Flash was setting up an SCV pull, which closed the game out after a crucial supply block and a terrible engagement by Parting.
Parting vs TY on Overgrowth
from GSL S3
This game features the two base double forge/colossus variant. Again, PartinG loses to an SCV pull that he could have held had he not been supply blocked and engaged somewhat poorly.
Parting vs TY on Catallena
from GSL S3
In this game Parting goes for a DT drop along with the blink pressure. The mid game is extremely sloppy from both sides, but it shows reasonably well how important map vision is in defending the third base.
Parting vs Maru on Overgrowth
from GSL S3
The second DT variant used by Parting, made particularly effective by the map's architecture.
Parting vs Innovation on Deadwing
from GSL S3
This is the latest, most evolved version of the style. It skips the aggressive mass stalker/three colossus timing to instead push with four colossi exclusively to open some room to harass and tech to storm. Also notable is Parting's early game map vision.
Appendix
History of PvT During Heart of the Swarm
Throughout HotS, PvT has probably been one of the most changing matchups. While the mid game battles of bio vs gateway units/AoE has remained the same since 2010, the builds used by Protoss players have changed drastically.
The start of the expansion seemed to signal an era of Terran dominance: the new medivac boost, hellbats, and mines all proved to be devastating against outdated, WoL-style Protoss builds. As a result, many players began mixing up their strategies with proxy oracles, one base blink, and immortal busts almost becoming the norm. Eventually macro builds were developed again, and thanks to the defensive power of the mothership core, many went back to the familiar style of simple, passive colossus openings. Protoss were able to defend and get comfortably to late game again.
This was soon countered by Terrans with seemingly unstoppable SCV pulls, exploiting the timing window before storm was ready and punishing the outdated three colossus builds still used. However, combined with a hellbat nerf and a new map pool that offered particularly exposed mains, there was a rise of abusive two base blink all-ins along with templar openings that could defend SCV builds much more easily while giving Protoss players more harassment and non all-in offensive options than any colossus style. The sheer number of oracle, DT, blink, robo, templar or colossus openings seemed too much for the Terran's limited toolkit, and many Terran players felt helpless against the multitude of Protoss defensive and offensive strategies. Despite their struggles though, Terrans kept on fighting, and indeed, this era produced some of the most exciting PvT series to date, with both sides splitting up their armies and keeping up the aggression until one side crumbled to the multitasking required to keep up or to the power of late game deathballs.
Blizzard again intervened by buffing the mine specifically against Protoss shields with the declared intent of improving Terran's early game harassment options. While not successfully changing much in the PvT early game, the new mines proved to be devastating against chargelots, to the point of rendering every templar before colossus opening obsolete. Protoss players were back at square one: Colossus builds died to SCV pulls, templar builds died to mines. Luckily, Protoss players quickly adapted to the new metagame and learned how to defend most attacks with their robo-based builds.
In the modern days of PvT, the options for the Protoss are more limited than ever, and the vast majority of games feature completely passive colossus play that can not afford to play overly greedy, as the threat of "the boys" is always lurking. However, as PartinG and Zest have showed in their recent matches, there is room for innovative builds that combine the strength of both templar and colossus builds. This build combines the map control, harassment, and opportunity for aggression of templar builds, with the mobility and strength of colossus styles, while being perfectly capable of dealing both with mines and SCV pulls.
The Evolution of PartinG's Style
While most Protoss players have at some point employed macro-oriented blink openings, none has refined or embraced the playstyle as much as PartinG has. Not only is blink/robo his go to PvT opener these days, but he has also developed several different follow-ups to remain unpredictable.
Even the way he utilizes his units has changed with time, as shown in the VODs. The first versions of the builds he used, dating to the early rounds of Proleague, featured three to four gate blink timings that were considerably more aggressive at the cost of severely delayed robo tech and a third base. These attacks do allow a macro follow-up by saturating the natural expansion reasonably quickly, but it's extremely delayed compared to more modern versions. As Terrans became better at dealing with blink all-ins, these kind of non-committal heavy pressure builds also became less and less effective, to the point of almost not being worth the investment.
The modern version of the blink/robo build is very, very different from its roots. Using blink stalkers only to poke at the front makes it considerably less map dependent than in the past, and thanks to the quick third base and robo tech, the blink investment doesn't need to do major damage to pay for itself. Most importantly, the ability to harass and keep map control while punishing mistakes with powerful three base attacks is something that previously only templar builds could accomplish, while colossus openings tended to always play extremely passively until around +2/+3 upgrades and storm are researched. The ability to be out on the map more often and more safely thanks to a bigger army is something no other colossus build has achieved to date, and is a very notable step in the evolution of PvT.
Parting and Zest's Styles
To date, the only other player to truly commit to blink/robo builds is Zest, as shown by his recent IEM games. Interestingly, the way he chooses to play out games is very different from PartinG, despite using very similar builds.
While PartinG is certainly capable and willing of hitting three base all-ins and timings, it isn't the center of his play. He prefers to not commit as much to his attacks, and instead he quickly saturates his third base while putting on some light pressure. His goal with the colossus pushes is usually to simply set up his late game army while punishing opponents that fall particularly behind. To this end, he has also developed several different builds to keep his opponents guessing and unsure while his macro gets going.
Zest at IEM, on the other hand, showed a much more brute force style. He mixed in more aggressive four gate builds with delayed robos to come out farther ahead in the early game and, most importantly, set up a three base all-in designed to finish the game before the Terran had enough vikings to threaten his colossi. In fact, this 50 probe, three base all-in build is the only follow-up he employed to the blink opening for the entire tournament.
It's truly impressive how a simple re-arrangement of the standard pieces in a PvT macro build (blink, colossus, ugprades and 3rd base) can allow for such diversity in styles, while essentially executing the same build order. With time, we may see this even creep in as the new standard PvT opening. Thanks again, PartinG senpai!