Starcraft is kind of like a mixture between chess and poker. It's all about making the right moves to counter your opponent and making sure you block his moves in turn. It's about planning and making smart decisions to get ahead. And it's about hiding and gathering information...making the best guess off of imperfect information.
Scouting is an integral part of Starcraft. Combined with mechanics and decision making, it creates the triangle of vital skills necessary to compete against others. But what makes scouting so much more difficult for players to figure out? Often times, you'll hear stories about players who have strong mechanics but miss scouting something or scout something too late and still lose despite their ability to execute the correct decision quickly and effectively. Even pro players sometimes get stumped by the smallest detail missed in scouting. The margin that you gain from scouting can often be the difference between winning and losing, and at the top levels, that margin is especially razor sharp.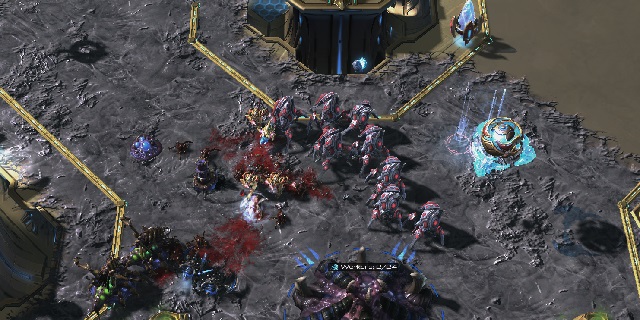 Has this ever happened to you? I'm sure it has.
When we look at lower levels -- gold, platinum, and diamond levels, where everyone is starting to become mechanically decent -- we see a lot of people complaining about how they can't scout something or are unable to make the right decisions at the right times to stop incoming attacks, and one of the most common places these experiences take place is specifically in Zerg versus Protoss. In this matchup, Protoss has what seems like an infinite number of varying all-ins, pressures, and other options to throw at the Zerg. In addition, it often feels as if an overreaction to Protoss pressure is just as detrimental as not reacting at all. Obviously, the difficulty of finding the balance between underreacting and overreacting to pressure can quickly become frustrating for Zerg players, who constantly find themselves with the inability to find out what they need to know and make the right decisions to deal with it correctly. Luckily, TL Strategy is here to save the day!
This guide will focus on the use of timings to scout, deflect, and react to the Protoss as well as a few techniques that will help immensely in the scouting process. The ultimate goal is to feel in control of the game, confident in the flow, and eliminate the fear of attacks that won't come while confidently preparing for the ones that do come.
The Basics of Zerg Scouting
While most people might be familiar with the idea of scouting, there's still a large population on Battle.Net who don't fully understand the concept and how to use it. The single most important rule of scouting is: have a reason for scouting. If you can use timings to gauge your opponent or blindly deflect attacks, you simply don't need to have a full scout of your opponent. You need to be thinking about reasons for
why
you're scouting. In this guide, the main focus is on getting strong map vision on your side of the map in the early game, and then scouting at key timings to reveal the tech path of your opponent and bring to light any possible pressure coming your way.
Since Zerg is not always guaranteed a full scout, much of Zerg scouting has to do with checking for expansions, army movement, and small overlord adjustments in order to get a good periphery of what your opponent is doing. For everything else that you can't get information on, you just have to rely on timestamps, or times that certain events or attacks should take place. Simply put, using timestamps is essentially waiting for your opponent to do something at a certain time and reacting according to what actually happens. For instance, in ZvP, if the Protoss goes robo and doesn't move out of his base by 10:00, you can assume it's probably a colossus all-in or some kind of later third base. In the words of Day9: "Either your opponent is just not doing an attack or he's doing it badly, and you'll beat it anyway."
Early zergling and overlord scouting is crucial for Zerg versus Protoss, especially when going for a triple hatchery opening. The primary purpose of this scouting is to catch probes and prevent any proxy pylons from going down on your side of the map (thus preventing cannon rushes or powerful warpgate pressure) as well as to set yourself up for future spotting. If you can prevent any proxies from going down, you severely limit the Protoss's ability to be aggressive in the early parts of the game and give yourself a lot of breathing room.
With your initial four lings, you need to split them up and cover or spot almost every inch of the map to catch any sneaky probes as well as check the Protoss's potential third bases. The primary focus points should be:
Spotting your third hatchery

Xel'Naga Watchtowers

Primary pathways

Common spots to hide probes/proxies

Possible third base locations
Additionally, one ling should always run directly to your opponent's natural to check the buildings going down and look for chronoboost usage. This ling is also very important for spotting probes leaving the Protoss base, and coupled with overlord scouting, you can get full map coverage and set you up to scout later in the game. Most of the time, your overlords will go to generalized locations regardless of the map. However, on a two player map, the overlord placement is fairly specific and a little bit more straightfoward:
(Initial) - Overlord checks your opponent's natural and ramp before moving to an area to spot the natural gases
(9) - Overlord moves directly to outside your opponent's main base; if you hatch first, you can spot the hatchery with this overlord to prevent cannon rushes
(17) - Overlord checks a central pathway on its way to spot for a common proxy location
(26) - Overlord spots any other main pathways and/or common proxy locations on its way to the potential Protoss third
Subsequent overlords are just placed in dead space areas or abuseable cliffs around the map to get lots of map vision. The first two overlords can swap positions depending on the map and build of your opponent. On four-player maps, these rules are also bent a little as both the first and second overlord are forced to scout the location of your opponent. All in all, though, the idea is the same: spot the natural, main, third base, and common proxy spots.
Here are a couple of images with common ling/overlord scouting patterns:
Scouting for Early Aggression and One Base Play
Your very first scouting information comes when your overlord arrives at your opponent's natural. At this point, the main thing that you're looking for is the timing of the nexus, which will indicate the type of aggression that can be headed your way and approximately when it will hit, or if any is coming at all. The Protoss player can either be going for a fast expand (before 4:00), a delayed expansion (around 4:30), or one base tech (Later than 5:00). If your overlord cannot get to your opponent's base to spot for this, such as cross positions on a 4-player map, the ling that you send to poke can get the proper information.
Against an early expansion, you can be sure that no real threat is headed your way aside from a potential cannon rush or a light poke with gateway units, and you can continue to drone. However, against later nexus timings, there are some considerations you must make.
Gateway/MSC pokes
Most often when you see a delayed nexus, you can expect some kind of early poke with some combination of zealots and stalkers with a MSC (most typically either two zealots or zealot/stalker). The primary purpose of this pressure is to force out lings and potentially pick off a queen or drones. The ling that spots the natural will be able to see the units moving out and give you the time to react accordingly. To deflect it, you simply need to produce two to four additional sets of lings and have two queens in the proper position to defend, most often at the third. For this reason, it's often more imperative to invest in a creep tumor first with one of your queens to facilitate the movement between bases better.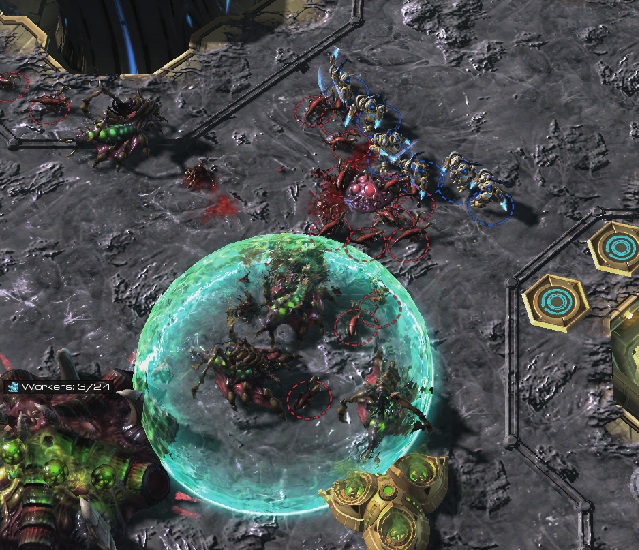 Defending small numbers of gateway units is easy
During this pressure it's important to be watching your opponent's natural for the timing of the nexus. Normally a nexus goes down at 4:30 during the pressure, but if it's later than that it can signal a one base all-in.
One Base All-ins
An absent nexus clearly indicates some kind of one base play. Almost every one base all-in is going to hit at 6:00-6:30 at the earliest, meaning that you need to have the proper defenses in time to defend. If you see no nexus by 5:00, scout with your second overlord into the main to check for tech (either stargate, robo, twilight, or lots of gateways) and forgo getting a third hatchery, cancelling it if you already started it.
At home, you need static defense -- either spines or spores depending on what your opponent's tech is -- and either a roach warren or a lot of speedlings and queens. Ideally, you want to stop at around 35-40 drones or about two base mineral saturation plus two gases. Your overlord scout should clue you into the right static defense: against stargate and dark templar, make spores; against everything else, make spines. If you cannot find out for sure, just place both a spine and a spore at the top of your natural ramp and make sure you're checking for movement of the Protoss army out on the map with lings. Naturally, this sort of play has been phased out for quite a while, but it's still important to be able to identify and react to it properly.
Identifying Your Opponent's Tech Path
Assuming your opponent doesn't do a hyper aggressive build, you should move into the next phase of the game: figuring out where your opponent is steering his mid game. When your initial lings arrive at your opponent's natural, you can often get a good idea of what your opponent's tech path is. A FFE wall will always look the same -- gateway, forge, cyber core, cannon, and some pylons -- but a gateway FE has a few variations that should be taken into account. The primary building permutations are:
Four gates, indicating heavy warp gate pressure (6:30-7:30)

Three gates, indicating early warp gate pressure (6:30-7:30) usually in the form of zealots

Two gates + forge, usually indicating later pressure (9:00+)

Forge + early stargate, typically indicating an overall macro stance (10:00+)
As you can see, each particular configuration results in a fairly specific set of timings and pressure, with four gates being the most aggressive Protoss can be to an early stargate and a forge, marking a fairly passive Protoss. After scouting the front of the Protoss's base and getting an understanding of his building configuration, your next steps are to check up on the forge and cyber core with occasional ling pokes, spot the natural geysers with an overlord, and sacrifice an overlord or two later on to confirm the tech and gateway count. The following section contains a more detailed approach to each permutation.
Versus Forge Fast Expand
Against FFE, you will encounter a standard wall containing a forge, gateway, cyber core, a cannon, and some pylons, all of which should be down by ~6:00. From this point on, you need to poke with lings occasionally to check if the forge or cyber core are being chronoboosted. Chronoboost on the cyber core denotes a warp gate rush that hits around 7:45-8:30, and chronoboost on the forge is typically used in sync with fast warpgate pressure. If there's no chronoboost on these two buildings, it's likely all being used on probes and/or tech buildings. This poke can also be used to reveal your opponent's unit composition and possible tech units.
The natural geysers are also very significant in revealing your opponent's plans. Place an overlord (usually your initial overlord) on an abuseable ledge or in dead space in sight of at least one of the natural geysers. "Fast" natural geysers typically go down at 6:00-6:30 and mean no pressure is coming until 9:30 or later. If the natural geysers do not go down by 7:00, the Protoss has cut probes and spent some extra money on gateways and is planning an attack around 8:30-9:30. To combat this, make sure you have a roach warren and proper static defense at your third started by 7:00.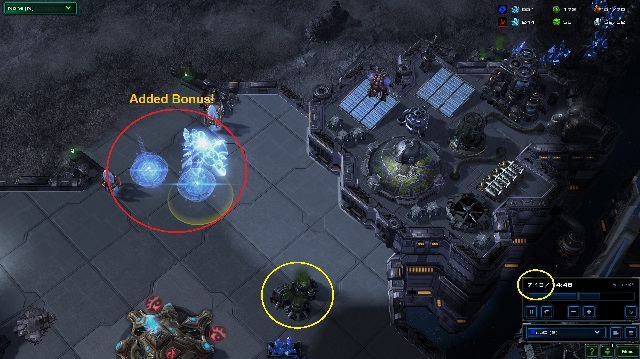 Using an overlord to spot the natural geysers is vital in ZvP scouting
The final piece of the scouting puzzle is sacrificing an overlord at 7:00-7:30 to confirm tech and count gateways. It's possible to make enough deductions entirely based on chronoboost usage and gas timings to defend any pressure comfortably, but this overlord scout allows you to check for any tech you're unsure about such as DTs, blink, or robo play, as well as give you a better idea of the gateway count. A follow-up scout with an overseer at lair tech (around 8:00) will allow you to get confirmation on your opponent's tech and gateway count. The number is usually one to four, but higher numbers correlate with two base all-ins. A conspicuous lack of gateways generally indicates a very early third, which should be spotted by a ling. However, it can also mean proxied tech or gateways.
Naturally, unless you scout chronoboost on the forge or cyber core, you should be droning up super hard between 6:00-9:00. Against FFE, you typically skip an early gas and get it later (one gas at 5:00 or double gas at 6:00) to ensure that you can keep up in economy with the Protoss by 10:00.
Versus Gateway Expand
Against gateway expansion, your first priority is finding out if you're going to be facing heavy warpgate pressure very early or whether you'll be dealing with a more gradual approach to aggression. When your opponent ends up with an early forge in his natural wall, you can feel safe in knowing that heavy warpgate aggression will not be coming your way until after about 8:00, though there are still a few pokes with sentries around 6:30-7:00 (known as "the NonY build") that you need to be aware of and respond to with ten to fourteen lings and a few queens. With this configuration, Protoss has invested into early tech and simply cannot have the money to add additional gateways and commit to an attack at the same time as teching. However, this sets up stronger mid games and makes two base attacks much scarier.
If you scout a total of three to four gateways, it's likely your opponent is going for some sort of warpgate pressure, usually in the form of zealots. The primary purpose of these builds is for the Protoss player to do some sort of damage at your third base and/or force out a lot of units while they get to two base saturation and a fairly equal economy. Ideally, the best way to handle fast warp gate pressure is to have excellent vision coverage with overlords and zerglings and build around twelve zerglings at 6:00 to deny any proxy pylons from going down. If the pylon does go down, speed, often times, will have just finished and you can make ~30 lings to defend. Against more aggressive variants such as the Sangate, you'll need emergency roaches in order to hold off the attack. Roaches are also needed if you missed the pylon and were unprepared for the aggression. In order to deal with the Sangate, just make a roach warren between 5:30-6:00, as soon as possible, and go up to two gases (putting drones back on to gas if you went early speed).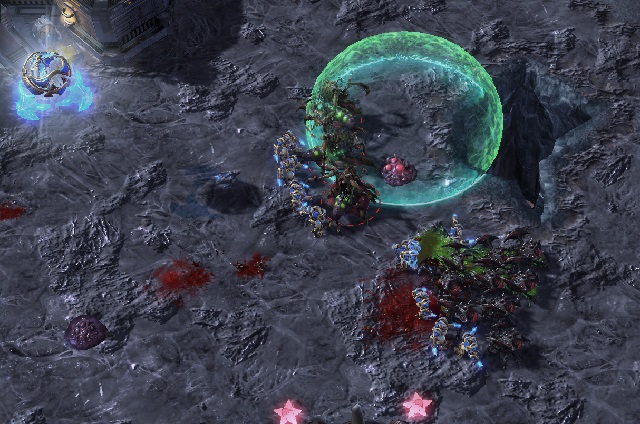 Roach/queen and good creep spread is the secret to success
Follow-ups include checking the main pathways on the map and using lings to spot for a potential third base while also spotting the front of the Protoss's natural with a ling. A poke with lings as well as an overlord scout into the main at around 6:00-6:30 will help you spot your opponent's tech. Assuming you don't get a full scout of what your opponent is doing, you can still generally confirm where gas has been spent. If there are about three to four sentries at the front, you can assume small poking pressure or the Protoss is preparing to take a fast third, whereas no scouted tech or gas-heavy units often means DTs, hidden stargate (either pooled phoenixes or an oracle), or some kind of immortal all-in. If your opponent is doing warpgate pressure talked about above, this scout timing is crucial to find out what kind of follow-up your opponent is planning on doing.
Again, the natural geysers are important to watch as they will give you a good understanding as to what your opponent's level of aggression is. If there are no natural gases by 7:00 and your opponent isn't doing a warpgate pressure, it's fair to assume some sort of two base all-in. No gas means extra minerals, which are usually spent on seven to eight gateways total.
Identifying Two Base All-ins
After identifying and deflecting any early pressure, the next step is to identify whether your opponent is playing for a third base or planning some kind of two base aggression. If you haven't already identified your opponent's tech path, you need to constantly be spotting the third base locations and poking around with lings in order to get a better understanding of what's coming. If you are unable to identify your opponent's gas usage and there is a conspicuous lack of sentries, build blind spores and a roach warren around 7:00 (8:00 for FFE). A follow-up scout with an overseer at lair tech (~8:00) will allow you to get confirmation on your opponent's tech and gateway count. If you have identified your opponent's tech path, then it's simply a matter of defending any initial pressure. During this time, the Protoss can be setting up for a two base attack or an early third base.
As a general rule, Protoss timings are based on their gas usage. The three major groupings of these all-ins are early two base all-ins, tech-based all-ins, and delayed all-ins. Early two base all-ins typically hit sooner with leaner tech and usually only one to two gases while tech-based all-ins are typically characterized by some kind of Protoss tech, be it stargate tech, blink, DTs, or immortals. Delayed all-ins are timings associated with more powerful tech such as archons, immortals, void rays, or even colossi. Sometimes delayed all-ins can also be based around a phoenix or oracle opening into a two base all-in, and sometimes even occur as a quick three base macro attack.
Early Two Base All-ins
Early all-ins typically hit between 8:00-9:30 and rely heavily on lots of gateway units with minimal amounts of tech. If you don't see any natural gases by 7:00, this is an indication that either the Protoss is taking a very fast third base or gearing up for a two base all-in. During this time period, Zerg wants to keep a constant eye on the front of the Protoss base to catch exactly when the Protoss moves out as well as keep a ling or overlord spotting the potential third of the Protoss.
Example:

7-gate all-in (HuK YOLO)
DT HuK YOLO
Phoenix 4-gate
Two base blink all-in
Warp prism all-in
Oracle 7-gate
Response:

Cut @45 drones (2.5 base mineral saturation + 3 gases)
7:00 roach warren
Start making units @~7:30
Spores or spines + queens

Unless you are doing a two base tech build, you cannot defend with any type of lair tech and have to rely on primarily roach/ling in order to hold these attacks. To defend against these types of all-ins, it's important to cut drones at around 45 (two and a half bases of mineral saturation plus three gases) and begin roach/ling production to hold the pressure. Against all-ins that include phoenixes, oracles, or void rays, it's very important to pull queens and a spore to defend; behind this, make sure you remake your queens and keep up your injects. Against ground-based attacks, two spine crawlers at the third can help hold the push quite well.
Tech-based All-ins
Tech-based all-ins are a commitment of the Protoss to tech earlier in the game. However, instead of taking a third base and continuing to play a standard "macro" game, they will add additional gateways and focus on a dedicated two base pressure. Generally, you want to identify the Protoss tech by 6:30-8:30 and deal with whatever tech pressure might come your way early (DTs, warp prisms, oracles, or phoenixes) and react with spores or extra units. After this, the main thing to look for is whether the Protoss takes a third base. For this reason, it is vital to keep constant vision around the potential third bases for Protoss with lings or overlords around 8:00-10:00. If there is no third during that time period, you can assume a two base all-in is coming your way. Again, vision of the front is paramount for gauging when an attack is coming versus whether a third base is going down. The timing window for these builds is usually 9:30-10:30.
Examples:

Soultrain
Void Ray/6-gate all-in
Response:

Cut @60-65 drones (3 full base mineral saturation + 4-6 gases)
7:00 roach warren
Start making units @~9:30
Spores or spines + queens
Defending against these attacks requires Zerg to cut drones at about 60-65 drones (three full bases of mineral saturation plus four to six gases, depending on your tech choice) and switch to constant unit production. A fourth macro hatch is essential for defending these attacks. There are a few different unit combinations, but the most common is roach/ling. However, roach/hydra and hydra/ling are also viable in these situations and depending on the type of all-in.
The first lings and roaches can be used to attack the sentries as they're traveling across the map and force out forcefields, they can counterattack and/or set up a position to flank, or they can linger behind and slowly pick off pylons as the Protoss moves forward. All of these tactics significantly reduce the efficacy of these types of all-ins and strongly reduce the power of the push. Similarly, pulling a few queens and building a few spores or spines depending on the pressure will greatly improve the defense of the attack.
Delayed Two Base and Three Base All-ins
Protoss can also throw out delayed two base timings as well as three base macro attacks that Zerg players must be aware of. The primary culprits behind these builds are the 2-2-2 (the Magic Johnson), phoenix/oracle openings into two base all-ins, and gateway-heavy three base aggression. The timings for these builds are generally after 10:00.
Examples:

2-2-2
Stargate openers into all-ins
3-base blink
3-base gateway all-in (PL Gate All-in)
Response:

Cut @66 drones (full 3-base saturation with all 6 geysers)
7:00 roach warren
*9:30 spire (for colossus-based all-ins)
Start making units @~9:30-10:00
Some all-ins are delayed two base all-ins. The 2-2-2 is a prime example of this. After scouting robo tech, no third base by 10:00, and no move out by 10:00, it's safe to assume your opponent is going for a 2-2-2, and either an excellent flank or corruptors are necessary to hold the push. Other examples include any kind of build that opens with a stargate to pressure with either oracles or phoenixes and then follows up with a two base all-in. Phoenixes into soultrain is one of the most common versions of these all-ins. To scout out these pushes, it's important to get some ling presence out on the map to spot for the third base and any potential moveouts since your overlords will be pushed back by the phoenixes. Again, if there's no third base by 10:00, you can expect some kind of pressure to be heading your way. The safest way to defend against these types of pressures is to place down a spire at around 9:30 if you see no third base and no army move out from the Protoss. Behind this, take all six geysers and continuously make units (roach/hydra is most preferable). Against colossus-based all-ins, a swell of about ten to twelve corruptors at spire completion will easily take down the colossus before they do any major damage. However, this is a very tight timing, so buying time with counterattacks and threatening surrounds is necessary to get the corruptors out in time to defend.
A couple of special cases include third bases that make the Protoss appear playing a long-term, macro game, but are actually just using the extra mineral income to fuel an incredibly powerful three base attack. These types of all-ins are generally centered around gateway units with upgrades, such as 3-base blink, immortal/archon/chargelot, or even just massive three base gateway attacks. Defending against these is as simple as not being too greedy with your gas and taking a more delayed fourth base. Many Zerg players, when they see a third base from the Protoss, let out a sigh of relief and immediately take a fourth base and start getting every upgrade imaginable. Versus these particular pressures, however, you have to be cognizant about spending your money correctly; either take a fourth hatch as a macro hatch or build a round of units for safety before expanding to the fourth. If you are simply aware of what's going on and scouting with your overseer for the gateway counts and tech, you'll be able to deflect these pressures without too much of a problem.
Special Cases and Early All-Ins
Some all-ins hit at slightly different timings than indicated above and are considered "special cases". Don't fret, while these are outliers in terms of what you need to scout, they still have obvious tells that can allow you to identify the pressure and respond accordingly.
Examples:

MANtrain
Fast blink all-in
Response:

Cut @40 drones (2 base mineral saturation + 2 geysers)
Emergency roach warren (~6:15)
Start making roaches @~7:00
Emergency spine crawler(s)
Gas counts can generally tell you a lot about the build. The MANtrain is marked by very little gas and the presence of a robo, which can be easily scouted by an overlord. Perhaps the most defined feature is the lack of a sentry due to all gas being spent on +1 attack and immortals all off of one gas. To defend from these all-ins, you need to drop emergency roach warren immediately, halt drone production, and start roaches as soon as possible. Generally, this all happens around 6:00-6:30 with your overlord scout. To defend, you'll want about 40 drones and two gases. A spine crawler or two also helps greatly with the defense of this particular all-in.
Other pressures, like the fast blink all-in rely more on your ability to multi-task and scout well while defending pressure. If you are dealing with early warp gate pressure and your 6:00 overlord scout happens to find a twilight council being chronoboosted, you know you need to cut drones, make an emergency roach warren, and start nonstop roach/ling production. Again, you want about 40 drones and two gases; a spine crawler or two is also necessary in the defense of this timing.
Drawing Conclusions
In summary, Protoss pressure can be divided into major time frames:
4:00-6:00 Early gateway pressure (zealot/stalker/MSC pokes)

6:00-7:30 Warpgate pressure (either dedicated or light)

8:00-9:30 Early all-ins

9:30-10:30 Standard two base all-ins

10:30+ Delayed two base all-ins and three base all-ins
By dividing up the pressures into these time periods, we can accurately devise responses based on the timing moreso than the composition. For instance, against any all-in hitting at 8:30, no matter what all-in it is, we will need to cut drones at around 45, get an emergency roach warren, and make nonstop units. The only real difference is whether to place spores or spines, depending on the pressure at hand. Two base all-ins that hit at 10:00 have virtually the same response: cut drones, make roaches, and place either spores or spines to help defend. The only difference is time.
With proper early game scouting between overlords and lings, we can help prevent the threat of an early warp gate attack while also setting up our scouting for later in the game. With ling pokes, gas spotting, and the standard overlord sacrifice at 6:00-7:00 (7:00-8:00 for FFE), we can usually get all the information we need on the Protoss tech and respond appropriately.
Hopefully you now have a better understanding of the early parts of the game, know what to look for, how to move your early units intelligently, and feel a lot more comfortable dealing with Protoss pressure. Knowing how to scout out and deflect these pressures is as simple as keeping an eye on the gas count, scouting the tech, and reacting appropriately at the right time. If you can simply identify a Protoss pressure and be familiar with the time that it hits, all you need to do is figure out the exact point that you need to cut drones and produce units. EZPZ. Good luck in your laddering!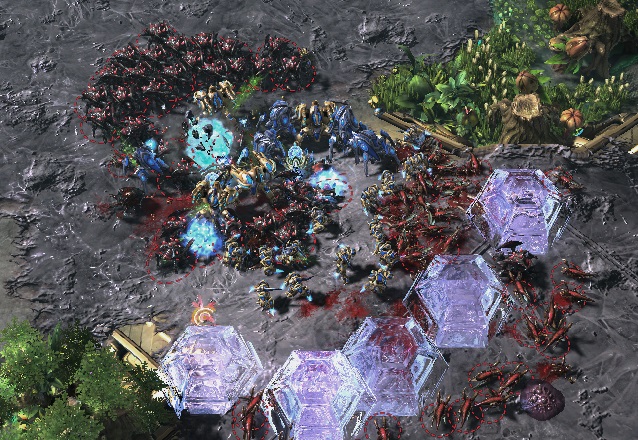 Presumably what your games will look like from now on
+ Show Spoiler +

herO vs Impact G1
Dreamhack Bucharest Group Stage 3 - Proxy Robo -> Immortal All-in

Jaedong vs ToD G1
Dreamhack Bucharest Group Stage 3 - Stalker Poke -> 2-Base Blink

Life vs Stardust G2
Dreamhack Bucharest Ro8 - WP drop -> Immortal All-in -> Failed All-in -> ?

Life vs Stardust G3
Dreamhack Bucharest Ro8 - 7-Gate/+1 All-in -> Game Continues

Golden vs MC G1 - WCS Europe Ro32
Dedicated 4-Gate vs Gasless + Plus goes on to lose anyway because he forgot Zergling speed.

Stephano vs Welmu G2
WCS Europe Ro32 - 3-Base 8-Gate All-in

Vortix vs Harstem
WCS Europe Ro16 - VR/7-Gate All-in

Snute vs Harstem G1
WCS Europe Ro16 - Classic Soultrain

Suppy vs Arthur G1
WCS America S2 Ro32 - Classic Soultrain Fail

Check vs Top G1
WCS America S2 Ro32 - 7-gate +1

Revival vs HerO G1
WCS America S2 Ro32 - Proxy Robo -> WP Drops -> Soultrain

HyuN vs Pigbaby G1
WCS America S2 Ro4 - 4-Gate Pressure -> Soultrain

Scarlett vs Patience G2
Homestory Cup IX Group Stage - 4-Gate Pressure

Snute vs White-Ra G2
Homestory Cup IX Group Stage - Early Soultrain

Snute vs Stork G3
Homestory Cup IX Group Stage - 3-Base 8-Gate

Scarlett vs MC G1
Dreamhack Summer Group Stage 3 - Phoenix 4-Gate

Hyun vs MC G1
Dreamhack Summer RO16 - 3-Gate Blink

Hyun vs Huk G1
MLG Anaheim Lower Bracket R3 - Oracle/3-Gate

Hyun vs Huk G2
MLG Anaheim Lower Bracket R3 - DTs

Snute vs Stork G2
IEM Shenzhen Group Stage - 3-Base Blink Attack With Swarmhosts

Solar vs Jim G2
IEM Shenzhen Semifinals - 4-Gate With Zerglings Only

Check vs Pigbaby G1
WCS AM Group Stage - 3-Base Blink

Jaedong vs Oz G3
WCS Group Stage - MAN train

Symbol vs Billowy G2
GSL Code A Group K - 3-Gate Pressure

Symbol vs Billowy (Decider) G2
GSL Code A Group K - 3-Gate Pressure Into Weird Soultrain

Action vs Squirtle G3
GSL Code A Group J - The Myungsik Build (mass phoenix/zealot off of 3 bases)

Shine vs Panic G2
GSL Code A Group H - MAN Train

Shine vs sOs G2
GSL Code S Group G - MAN train

DRG vs Paralyze G1
GSL Code S Goup E - 4-Gate Pressure (with stalkers)

hydra vs Classic G2 (Decider)
GSL Code S Group D - MAN Train

Symbol vs Stork G1
GSL Code S Group C - DTs Into 3-Base Blink

GSL Code S Group C
3-Base 8-Gate (PL All-in)

Solar vs Paralyze G1
GSL Code S Group B - 3-Base 7-Gate (PL All-in)

soO vs PartinG G2
GSL Code S Ro16 - Soultrain Variant

TRUE vs Zest G3
GSL Code S Ro8 - Phoenix/4-Gate

TRUE vs Zest G4
GSL Code S Ro8 - Oracle Into Soultrain
Download Replay Pack Here
FAQs:
Q: How do I know where common proxy spots are on maps? Do I just scout everything on the map?
A: You want to use lings to comb through your natural and third base mineral lines and then just spot for general pathways on the map. Typically, your third and fourth overlords are used specifically to spot dead spots on the map that are "out of the way" or where your lings wouldn't always check. Again, the most important thing is just to get the proxy pylon off of your side of the map; you don't need to check everything on the map, just be aware of your half of the map.
Q: What if I can't scout the Protoss tech? Whenever I try to scout, my overlord is killed before I really see anything significant.
A: If you don't have any information on your opponent's tech and/or gate count through ling pokes and overlord scouting, the best response is blind spores around 6:30-7:00 coupled with roaches.
Q: How do you know when to cut drones? You say stuff like "cut at 60 drones", but can't that happen at different times during a game?
A: Assuming good macro, you should always have 60 drones around similar times. If you ever cut drones to stave off early pressure such as zealot/stalker/MSC pokes, the Protoss is equally behind, so the timing is still relative. There are perhaps more exact timings to go by, but you definitely need a certain amount of drones to support your response to pressure, so that's why I refer to timings in terms of drones.
Q: What about doing two base plays? I normally just open with two base tech to just avoid dealing with these types of pressure.
A: Two base plays are viable, but definitely far from optimal. Anytime you do a two base pressure as Zerg, it really has to deal some significant damage or you can end up losing the game to more passive Protoss players. In general, for players learning and looking to get good at Zerg, I highly recommend doing 3-hatch builds, as it forces you to macro, scout, and respond well to your opponent.
Q: I still can't tell if the Protoss is going to take a third base or all-in me, especially if he walks over and kills my lings/overlord. What should I do?
A: In general, you should have a few lings out on the map to spot for a moveout/third base. If you lose these, be quick to replace them to double-check. Also, make sure to actively count gateways with your 6:00-7:00 overlord scout and overseer scout. If the number is higher than four at any point between 6:30-10:00, this is definitely a sign of aggression.
Q: Can I defend with hydra/ling instead of roach/ling?
A: Only for two base all-ins hitting 10:00 and later (assuming you opened 3-hatch). Before this timing, you simply can't get enough hydras out in time to defend. For hydra builds, you typically go all the way up to 66 drones, full 3-base saturation, in order to afford the gas-heavy hydras. On smaller maps, hydra/ling also relies heavily on delaying the push as long as possible with a small pack of lings, in which case a more defensive roach play might be more reliable.
Q: What if the Protoss goes nexus first into gateway? Do I treat it like a FFE or a gateway expand?
A: Kind of both actually. For the most part, you want to treat it like a FFE by going gasless, playing greedy, and getting some creep spread done. However, you have to keep in mind that some brutal warp gate timings exist and can hit up to as early as 7:45 with nonstop chronoboost on warp gate. Otherwise, it can be treated essentially as a greedier form of FFE with slightly stronger two base and three base timings.