This map is under-going restructuring, check out "Ver 3" for more details and on how to offer help
Map Preview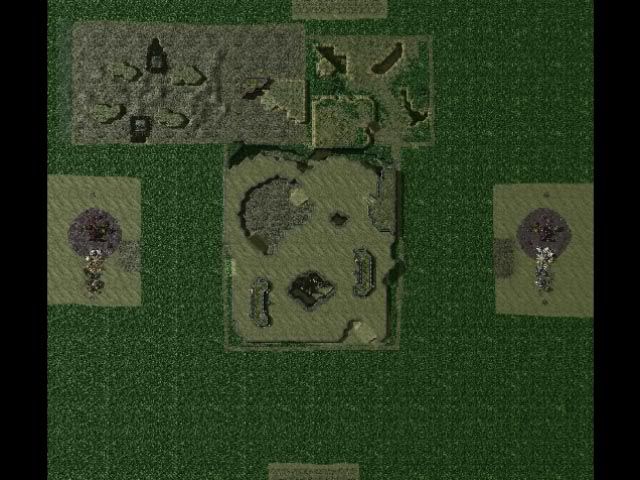 Micro Management Tester v2.1

Players: 2
Size: 256x256

Purpose:
The purpose of this map is to allow users to quickly create and destroy any unit in the game for the purposes of testing micro management, unit abilities and composition mixes. Users are able to instantly create units up to the supply cap from any of the 3 races, instantly research any of the unit upgrades and instantly kill units that they no longer need.

The map is intended to host two players, with both players building and microing armies as needed for the purposes of testing.

Ver 3
+ Show Spoiler +

This map was initially created with very simple intentions and objectives. When I made it initially, I had very little knowledge of SC2, map making, or the Galaxy Editor. Recently, I've wanted to do some updating on this map and, with some suggestions from CecilSunkure I'm ready to move forward.

The following are the changes I would like to implement:
New Terrain: Terrain from Xel'naga Caverns, Shattered Temple and Shakuras Plateau would make up the new terrain for this map, giving actual locations to practice with that players are familiar with.

Base Creation: Some Terrain would be dedicated space to allow players to build bases. This will help players play with not only building placement but also in fighting amidst the buildings of a base.

Upgrade Rollbacks: Instant upgrades are nice, but players are likely to want to roll them back too, in order to continue testing smoothly with or without upgrades.

Easier Killing: Kill zones are effective, but I'd like to allow players to kill of units with a simple click of some sort, to help facilitate speedier transitions.

I could likely do all of these things alone given enough time, headaches and frustration. However, I'll admit fully that I have very little skill in the editor. That I managed to finish this project initially is surprising enough. I'd love to keep learning, but I'd like to do that from within the context of a team. What I'm looking for would be:
Terrain Artist:
The ability to create new terrain is only a part of one's duties as a terrain artist. The Micro Management Tester would need an artist who is especially skilled in recreating terrain.
Data Editor Specialist:
Adjusting unit build times and costs is only a small part of what might be needed from a Data Editor specialist for this project. An expert at the Data Editor can help with conceptualizing upgrade rollbacks as well as efficient methods of quickly disposing of units and buildings.
Trigger Specialist:
Triggers are one of fundamental aspects of this map and will likely be integral to any upgrade rollback system and instant-kill system that is implemented. In addition, triggers are used to help adjust the map with regards to vision, etc.. a trigger specialist will be extremely useful in making sure the map runs as it should.
GUI Designer:
Various aspects of the map may require a GUI to allow the user to have easy, intuitive access to controls regarding the map. A smart GUI designer knows how to create dialogs and GUI but also how to design them in an accessible manner.
I will be filling unfilled positions as best I can, given I'm not an expert in any of the fields. If, by some chance, I'm lucky enough to fill all the positions, then I will remain with the project primarily as a lead, helping to ensure that all the design plans are going well, and offering what I can here or there, but, primarily, simply learning from the project contributors on how to do what.
If you would like to join, simply send me a PM regarding which role(s) you would like to fill as well as a link to any projects you've worked on or are working on in order to showcase your knowledge.
All members of the team will get credit for their work.
Changelog:
+ Show Spoiler +
Team:
+ Show Spoiler +
Download
Micro Management Tester - SC2Mapster.com