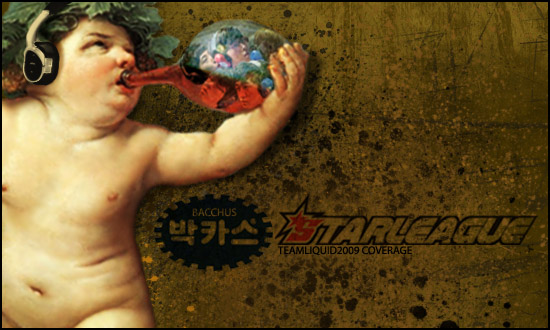 Mad props to SilverskY, Daigomi



With its Ro16 field set and Group Selection Ceremony complete, the "real OSL" — StarCraft's premier event from its earliest form, the 1999 Tooniverse Progamer Korean Open — is finally upon us. Professional Brood War's ever-intensifying competitiveness means each OSL Round of 16 is more difficult to crack, and boasts a stronger lineup, than the last. This Ro16 is no exception: even in the wake of the drama-filled Batoo OSL and at the crest of a flurry of StarCraft 2-related news, the Bacchus OSL 2009's deep talent pool guarantees its final stages will make a giant splash (can you take this sentence seriously? I can't).


---


Streaks and Slumps (Chutes and Ladders)

The Bacchus OSL 2009's Ro36 ran alongside nearly two months of GOM, MST, MSL, and Proleague action — more than enough games to significantly alter our impressions of its Ro16 field since their qualifying matches. Which players have slid from legitimate contender-ship into underwhelming slumps, and which have advanced towards champion-level play? The Chutes and Ladders board (inspiration for an unhealthy amount of frustration and poor sportsmanship in my childhood) reveals all!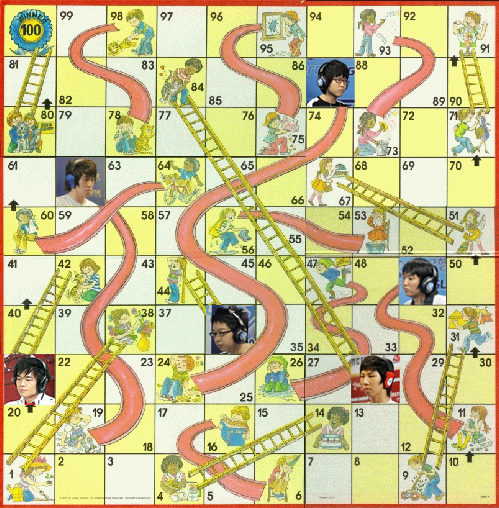 Down chutes:
ZerO (87 → 24) is in freefall. Trouncing Iron and Kal in the Ro36's Group B brought Zero to 13-2 in the current SC season and, quite conspicuously, to the May Power Rank's 3-slot. Since then (May 5), he's gone 5-12 with two losses each to OversKy and Tempest — not the most intimidating vZ players, to say the least. Zero pulled himself together to put on a decent performance in the Lost Saga MSL, but he'll need to dig deep to repeat that feat from this string of sloppy, confused, and helpless play.


YellOw[ArnC] (62 → 19) made quick work of challenger Light in his Ro36 group, but his 2-0 victory is sandwiched by six rather pathetic losses which seem to prove ZvT remains his only satisfactory matchup. Most disturbing, though, is that in recent weeks Yarnc has seen his once-guaranteed spot in Hite's lineup go to HoGiL, go.go, and even scrubs like Type-b and Justin.


Kwanro (49 → 11) capitalized on awful performances from Casy and GGPlay to 4-0 his Ro36 group and thereby cap a 17-3 spring streak, but is 2-5 since — and playing dumb enough to make that run look like a miracle in hindsight. Against most smart, patient, and practiced players Kwanro's near-mindless aggression fails hard: see his recent set vs. Violet, a frenzy of doomed drops on God's Garden.

Up ladders:


EffOrt (28 → 84) is on the fast track (that massive ladder that my brother always landed on) to BW greatness, and suddenly a favorite to win any one of GOM S3, the Avalon MSL, and this OSL. Effort's recent hiccup against Iron in PL included, he's 14-2 since 4-0ing his Ro36 group — a streak that sports a win over the very same opponent he'll face in his OSL Ro16 debut tonight: one Lee Jaedong.


Canata (23 → 42) is an enigma. He's wildly inconsistent both across matchups (at one time possessing the world's strongest TvT, but never cracking .500 against Protoss) and time (his GOMTV MSL S1 qualification and Arena MSL run bore the mark of a great T1 Terran, but he finished 2008 on a 2-8 dive that included a pathetic 0-2 loss to ToSky in GOM). Though he's splitting Proleague sets with Best and has enjoyed some flukey wins lately, Canata is playing with a bit of that rare swagger that has traditionally separated him from the success that seems almost innate in Boxer, iloveoov, and Fantasy.


go.go (38 → 44) followed up his Ro16 qualification by beating his way through the Avalon MSL's Wild Card tournament (past Lomo, by.hero, and 815) and finally earning a few appearances in Hite's Proleague lineup.


---
Royal Road Traffic Report


The Ro36 was cruel to the Bacchus OSL 2009's 10 royal road candidates. Lomo, GuemChi, Juni, s2, and Roro each performed approximately as well as expected (none advanced), but even promising up-and-comers Hyvaa and Hogil failed to qualify for this Ro16. Here are the three royal roaders who did:


type-b is the Ro16's biggest surprise and also its biggest underdog. How big? This kid was playing Minor League games as recently as May 15. Sure, he was undefeated over his Minor League stint — 4-0, with wins versus studs PuMa (eSTRO Terran) and Miso_LT (CJ Zerg) — and has since returned to making occasional Proleague appearances for Hite, but Type-b will need to play the games of his young SC career to prove he belongs in this elite 16.


Kwanro has a much more impressive resume than Type-b, yet also seems outclassed in this Ro16 field. The most compelling reason not to count him out is simple: he's playing for CJ Entus, a team with nigh-unstoppable momentum in both the Proleague and Starleagues. In Iris (GOM, MSL), Savior (MSL), Effort (GOM, MSL, OSL), Skyhigh (GOM, MSL), Much (GOM), and Movie (MSL), Kwanro has a veritable army of teammates who are also still active in this season's individual leagues — and thus eager, skilled practice partners


ZerO remains the Bacchus OSL 2009's most promising royal road candidate. He absolutely dismantled Kwanro in GOM to keep this distinction which, considering his recent level of play, isn't really worth celebrating. Put it all together: if Zero is leading their charge into the Ro16, none of this OSL's rookies is likely to end his royal road run a champion.


---

(Note: A → B indicates player A picked player B at Group Selection)

Group A Preview

The Players:
Jaedong →
EffOrt →
Flash →
YellOw[ArnC]

Group A is far and away the Bacchus OSL 2009's toughest, and probably its most exciting. If one of Effort and Jaedong does not qualify, the title of world's best Zerg will have been settled (for a time) in the OSL's Ro16 — a relatively small stage for such a titanic battle. Jaedong's decision to pull his white-hot CJ rival into Group A seems questionable (if it's a Zerg opponent he wanted, Type-b or Kwanro would do), but I think it's actually Flash who will regret his performance at last week's Group Selection Ceremony most.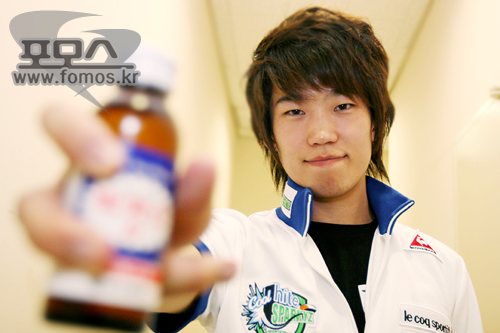 Fake Yellow in Group A: Flash's downfall?


By adding Yarnc to a group that, at the time of his pick, included both Jaedong and Effort, Flash accepted a massive handicap and seriously jeopardized his chances at a quarterfinal berth. Because Yarnc's ZvT is far superior to his ZvZ, and Jaedong and Effort are the world's premier Zerg versus Zerg players, Fake Yellow will give Flash a competitive game but roll over and die for both of Group A's other players. And thus while Yarnc is (rightfully) being left out of most Ro8 predictions, his presence in Group A may prove the primary determinant of the quarterfinalists it produces.


---
Group B Preview
The Players:
fantasy →
BackHo →
type-b →
Stork

Group B is a playground for Fantasy and his world-best TvP. Since routing Bisu 3-0 in the Batoo OSL semis Fantasy has been on fire against Protoss, going 8-1 and generating two of this season's best games against JangBi and Movie. I expect Fantasy's sublime vulture play to make short work of BackHo and even Stork, who will face a much more well-rounded opponent than the royal roader he edged 3-2 to win the Incruit OSL.

Stork is also a favorite to advance (as usual), but BackHo and Type-b may actually prove decent competition: BackHo's cleanest matchup is PvP, and Type-b showed a much-improved ZvP in his Ro36 group (against Pure and Best) and has a (short) history of upsetting Stork in important sets. I would not be surprised to see BackHo bumble his way into yet another OSL Ro8 — his meeting with Stork will be the crucial game in this group.


---
Group C Preview
The Players:
Bisu →
go.go →
Hwasin →
ZerO

Outside of Bisu, Group C's lineup is underwhelming. go.go has posted great results against mediocre opponents but loses to top-tier players with unparalleled consistency. He also hasn't faced a Protoss since April (if it wasn't for his arrogance, this would make me suspect cheese against Bisu in Group C's opener later tonight).

Hwasin and Zero have opposite histories against Kim Taekyong: though he just put on a surprisingly strong show against Bisu on Outsider in a rare PL R5 appearance, Hwasin will forever be KTY's favorite Starleague punching bag. Zero, on the other hand, was responsible for sending Bisu home from the Lost Saga MSL's Ro32 (their only meeting in an individual league). Assuming go.go continues to fail against OSL-caliber players, whichever of Zero and Hwasin brings his A-game is the obvious favorite to qualify behind Bisu from Group C. Hwasin is the safe bet here — and no Starleague is complete without a crushing quarterfinals loss for the Red Sniper.


---
Group D Preview
The Players:
by.hero →
Leta →
Kwanro,
Canata

Group D, like Group C (and B, to an extent), holds one clear favorite — Leta — and three fairly evenly-matched players to contend for the group's remaining Ro8 slot. Given that Canata is always a threat in TvT and by.hero is at least capable of S-class ZvT (recall his hard-fought win vs. Leta in last OSL's Ro16, a likely reason hero drew Leta into this group), I do not think Leta will advance from this group undefeated. Group D's second qualifier will probably be whoever is responsible for Leta's loss — and right now the smart money has to be on Canata, considering his proven TvT and unexpectedly solid performance against UpMagic in the Ro36.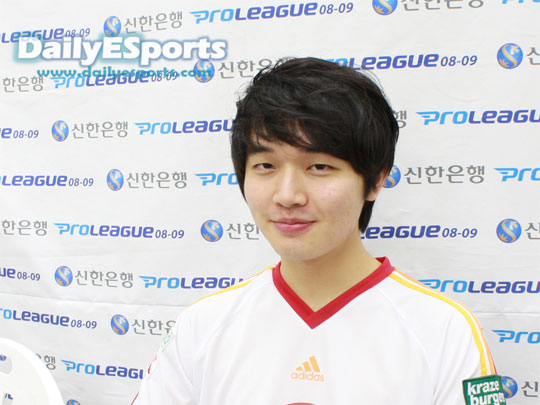 Under the radar…into the Ro8?


Patterns in group construction at the Bacchus OSL 2009's Group Selection Ceremony suggest that its field is more interested in drama and rivalry than easy opponents — a tendency that is beneficial to us the viewers…and one Ko Inkyu. As one of the most boring, persona-less longtime players in BW history, Canata was, naturally, the one Ro16 qualifier not selected into any group. Defaulting to the Ro16's last slot (in Group D) means no Protoss opponents and no drama: favorable conditions for Canata's advancement to the quarterfinals.


---
One More Thing:
+ Show Spoiler [Bisu-go.go preview] +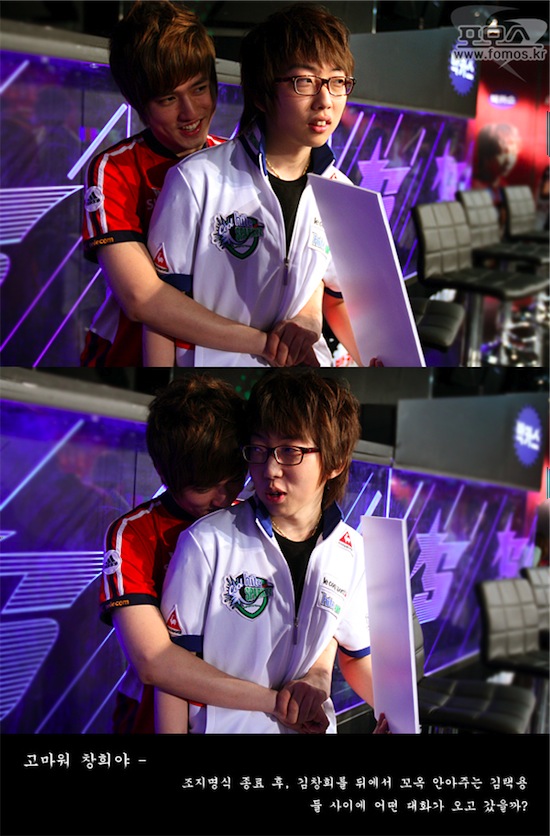 Kim Taekyong demonstrates the Heimlich Maneuver on go.go, who is likely to need some medical attention after their Ro16 set tonight
Photo credit: Fomos
---
I apologize for this article's late publication! Speedy readers will have well enough time to check it out before Ro16 play kicks off tonight (with one of its most hotly-anticipated matchups, Jaedong vs. Effort). Since 18:30 KST is just past my:bedtime PDT, I'll miss these games live. Here's to sweet dreams (of Bisu wiping the floor with that punk go.go).

Peace,
JWD