[SWL] A Different Chemistry
[SWL] A Different Chemistry
March 25th, 2011 22:27 GMT
---
Special Features
Team Results and Standings

● The Tale of the Lee Ssang

● One Man Teams

● Different Sides of the Same Coin

● Mediocrity

● Easy Prey

A Look at Modern ZvMechRehabilitation StationWinner's League HighlightsSemi Final Previews and Interviews

● Previews

● Fan Interviews


By Harem, Milkis, mustaju, Mystlord, swanized, and tree.hugger

Winner's League has quite a different atmosphere about it, that's for certain. We all thought we've gotten familiar to this strange air by now, an air composed of a special oxygen that allows the biggest stars to burn true and bright. But this year we were all so surprised by the unlikeliest stars burning bright, some even bursting into brilliance although we once proclaimed it out of steam. The chemistry also reminded all of us what faith truly is, and how it granted strength and confidence to players who turned into shooting stars, flying brightly across the night sky for all of us to clearly see.

This is a place where we know the superstars shine, a time where many players compete for their chance to dazzle us from the skies above. Heroes are born and many of them become never forgotten, as we etch them as constellations into our minds and hope that they could once again shine in the future for our teams.

Welcome to Winner's League, where the chemistry is just a little bit different, where team chemistries change, and where player chemistry matters quite a bit.



Team Results and Standings
by Milkis

We all knew that the teams with the superstars would be performing quite well in Winner's League – after all, Winner's League really allows the S class players to mow through the lesser progamers with relative ease, despite the many snipers ready to shoot them down.

Yet to what extent? We know that KT and Oz performed well, but what about SKBisu or Stork Khan? It's quite surprising to see the different effects the ace players had on each team – after all, even if they're group together as the Taek Baeng Lee Ssang – they're not all equal, and this Winner's League clearly showed the difference between the Lee Ssang and Taek Baeng.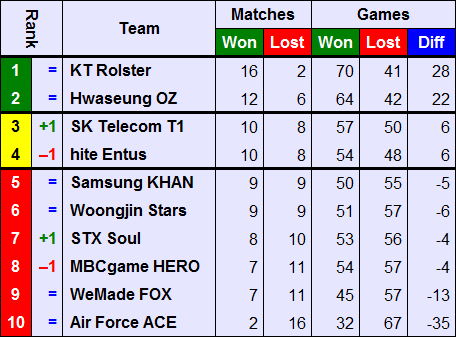 Winner's League Standings, Round 3 and 4
The statistics, to an extent, confirm our findings. We notice KT Rolster had performed extremely well – going on a 13 game winning streak before finally losing a game. Hwaseung also performed surprising well, as noticed.
Something to note, however – while KT has won more games than Hwaseung, KT has lost just as many matches as Hwaseung – with the overall records being 70-41 for KT and 64-42 for Oz. KT has clearly cut it quite close far more than Hwaseung – as they won many of their matches 4-3. The amusing factoid here was that
Flash
was on a 32 game winning streak in Winner's League when he was the "last boss" – a streak that was only ended in the last match against
BaBy
, a feat that justified KT's gamble. While
Jaedong
was a little bit less decisive on the matter – it was clear that these two players were so good that they were able to provide their teammates with confidence.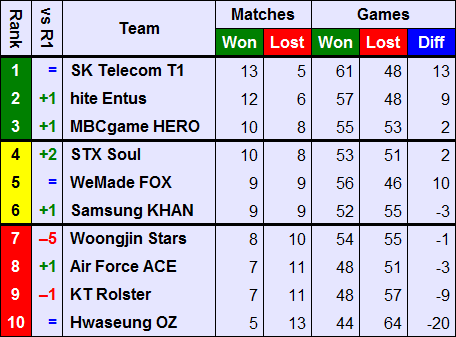 Proleague Standings, end of Round 2
Note how KT and Hwaseung are last – even Ace performed better than these two teams.
This is precisely the concept of faith – and indeed, the players on KT and Hwaseung were comforted, and being supported by such incredible players allowed them to play without any pressure or burden. Much of their interviews credited the Lee Ssang – they just knew that the duo would be able to clean up even if they had lost. Such mentality was able to revive the players we once thought was lost– the players rose up to the occasion, the same players who reinforced the image that KT and Hwaseung were one man teams in the first two rounds.
Violet
went from a record of 5-10 in the first two rounds to 6-2 in Winner's League,
Stats
from 11-8 to 21-9,
HiyA
from 2-12 to 18-9, and
Killer
from 7-11 to 16-8.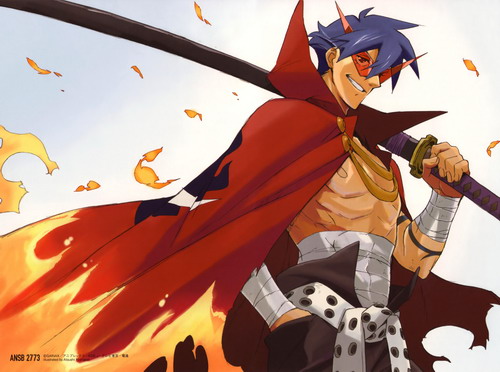 Believe in me who believes in you!
For KT and Hwaseung, Winner's League was exactly the medicine that was needed – their players rediscovered confidence by believing in Lee Ssang and finally seems to have gotten their engines warmed up, for the upcoming post season and the rest of the season.
While KT and Hwaseung got their groove going, SKT seems to have fallen apart, despite Bisu remaining relatively intact. Best seems to have completely lost his game while
By.Sun
who showed so much promise in the first two rounds fizzed out and simply was not able to compete. Meanwhile, SKT Zergs remained cannon fodder, only with
s2
occasionaly being able to take a game or two once in a while.
Fantasy
's post OSL mini-slump came at a bad time as no one was there to support Bisu. SKT's record began and end with Bisu, leading to a underwhelming record compared to their previous dominance, ending the rounds with a final record of 10-8.
One theory is that SKT seems to be a team that relies quite a bit on preparation – only Bisu seemed to have the raw mechanical skill to compete in Winner's League. Despite Bisu's three consecutive All Kills in round three, SKT only was able to post a record of 5-4 during the round, a telling sign about how the players were simply unable to compete in such a format.
A team that showed similar symptoms was Samsung Khan – where winning and losing seemingly depended only on
Stork
.
JangBi
and
great
completely dropped the ball with records of 4-10 and 4-11 respectively – a record so abysmal to the point where even Really was able to snap back at Great taking a shot at him – "He should worry about himself, I think great is the first player to make it to the finals of a Starleague without any sort of force". Indeed, while Samsung posted strong records round 3 while Stork was on a tearing everyone apart, the team quickly fell apart as Stork once again lost his motivation. While Samsung was carried by their new players the first two rounds, to expect the new players to perform just as well at Winner's League was simply too much to hope for.
Hite was a team where players took turns dominating.
Hydra
was able to post amazing records during round three, while
Movie
received the baton and demolished round four. The players in the team talked about how competitive it was for them to get a chance to play because everyone on the team was so good. Indeed, despite starting Winner's League with a five game losing streak, the posted a record of 10-3 over the rest of the season, with two of the games arguably lost due to Movie playing in them during his monstrous streak.
Yet to an extent you can call the streak a bit lucky – the players after all, seem to show high variance in terms of ability – while Hydra performed well during round 3, he performed terribly in round 4 – while Movie did not perform very well until the end of round three.
Leta
was slumping for a while and he seemed to have picked up some steam recently, but the general feeling is that the players are too streaky to call the team consistent.
Woongjin suffers from a similar disease – they have many good players, yet many of them just seem inconsistent. Thier very best aces performed on a 50% winrate –
ZerO
with 14-13,
Light
and
free
with 9-9, with
Neo.G_Soulkey
and
Really
with embarrassing records. The team theoretically should be performing miles better than what they have shown, and there's something about them that makes them embarrassingly inconsistent. The team is most similar to Hite – except none of the players seem to be able to catch onto any streaks, and have burned out rather prematurely.
Perhaps this has to do with the change in practice settings, perhaps, a miniature loss in confidence due to them winning a lot less games as both teams have practice environments that are highly competitive with such skilled players. Or perhaps they're not hitting their potential since they're still getting used to their newest environments – after all, Woongjin and Hite are both teams that went through the biggest overhauls during the off season with Hite and CJ merging, while Woongjin acquiring a lot of players while also letting go of many players. Perhaps, time can tell us how these teams will perform in the next rounds.
STX and MBC Game are both teams that once boasted a very strong one two punch – STX with
Kal
and
Calm
, MBC with
Light
and
Sea
. MBC was well remembered for last season's performance where Light and Sea absolutely deciminated everyone in Winner's League – leading to much hype about how their performance would be.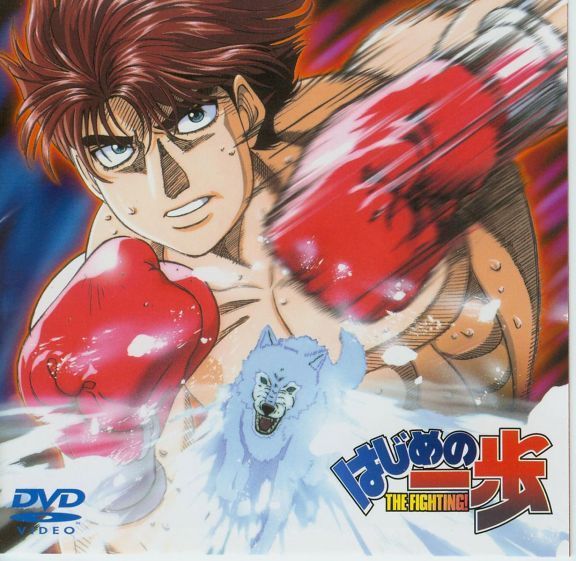 This man had a great one-two combination, the White Fang – but it wasn't enough to beat the best. Just like STX and MBC.
Yet their combination did not have the impact the fans were expecting. I could think of two words to describe Calm, Sea, and Light all at the same time – underwhelming and mediocre. The only player that escapes this generalization is Kal, and despite him posting better results than the previous rounds, it was not enough to drive their teams up in standings. Both of these were symptoms that were present this season overall, meaning that an overhaul of the team structure and strategy would be needed for these two teams to post results again.
At the beginning of this Winner's League, I made a statement to a friend that turned out to be completely wrong. The statement was "I don't expect WeMade Fox to perform well, but I think they'd be one hard team to All Kill".
It's clear how obviously wrong I was. WeMade started with a high win differential – meaning that when they won, they won decisively and when they lost, they often fought really hard and lost very close matches. Yet even this statistic was quickly reversed as they were subject to four all kills – a rather embarassing fact considering how deep the team actually was. Indeed, this could be attributed to a slumping
Midas
and
Shine
– who went with a record of 1-5 and 1-8 respectively, a fate rather opposite of their performance in the last two rounds.
Ace's lineup this season was shallow and deep at the same time – Ace overall had decent players all around, yet decent is not enough to beat the A or S rank players of other teams. It's not a surprise that Ace did not perform well in a format such as winner's league, although they did show a last minute burst in the last few games, getting quite close to winning games, eventually being able to pull through with two glorious wins.
Remarks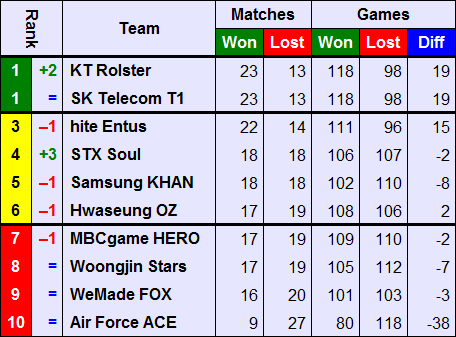 The Final Results
The end results are interesting, as KT overtook SKT as first place, an amazing run as KT was once at the bottom of standings. KT has faced SKT for the decisive match, and SKT simply fell apart as their main strategies seem to have revolved around sniping Flash as they quickly fell to KT's Protoss hero.
The teams remain rather competitive – as many teams hover around at the 50% winrate as they compete towards the post season. There are still 18 games left in the season for each of the teams, which means that there are still opportunities for a complete overhaul of the standings. The momentum however seems to favor KT, Hite, SKT, and Hwaseung for the time being, but if there's anything this Winner's League proved, things can change anytime.
One thing I found difficult, however, was to talk about team performance when something rather interesting happened during the third round to Zerg players. The following chart summarizes the effect very well.

A 32-15 TvZ record and a 27-39 ZvP record is a very surprising result – especially when overall statistics don't show that much of an imbalance. Indeed, Zergs struggled through the third round, and it was a time when even Jaedong looked weak amongst all the Protoss rampaging about. A brief overview of the all kill list will make this clear – there was a total of 9 protoss all kills, as opposed to only five Terran all kills (although this was likely because KT fielded Flash consistently last), while Zerg did not get an all kill until round four.

There are of course, some hypothesis that could explain this phenomenon. One hypothesis is related to the sudden change shift in expected skill distribution – a given game in Winner's League is more likely to involve a good player than a given game in normal Proleague. This means that players such as Flash and Bisu no longer only gets one kill at a time, but many – and Zerg players particularly had a harder time adjusting to this shift in skill level.

Another hypothesis is related to maps. While at a glance many maps look favorable to Zerg in terms of wins – once you filter out Dreamleague games, the results seem to support the idea that Zergs seemed to be quite snipable by Terrans especially on maps like Benzene and Empire of the Sun. Meanwhile, you can also see Protoss dominating Zerg over a period of time on certain maps such as Aztec and Empire of the Sun. Of course, this is all just based on a quick glance and nothing rigorous.

The Zerg woes likely hit teams such as Woongjin the hardest, a team that has very strong Zergs in Soulkey and Zero. The same results likely affected STX's momentum. Yet it is hard to say anything conclusive – Zergs could have been underperforming due to atmosphere in specific teams, or perhaps, it was actually the maps and skill gap and Zergs took their time adjusting. In the end, a more rigorous statistical analysis would have to be done with the aid of analyzing the games in order to say anything conclusive, but it's an interesting mystery to begin thinking about and analyzing.

Special thanks to Simplistik for keeping the R&S thread updated, and to Antoine for putting together the Matchup Chart. Also thanks to jaiBing for keeping the All Kill thread updated.



Of course, while the above is mere speculation, we should realize that in the end, Zerg players were able to adjust, just like Zerg players were eventually able to adjust to the strategy Sea had once called "impossible to lose against Zerg". This of course, refers to a recent shift in strategies favoring a Mech transition. Here's swanized with a more detailed look at this recent ZvT trend.



A Look at Modern ZvMech
by swanized

As you all know, most modern Mech plays are characterized by a bio opening that slowly transitions into a mech play as late-game kicks-in. Truth is that the so-called mech switch forced zergs to totally change the way they played ZvMech and I felt like analyzing this new style of play. Traditional ZvMech mainly consisted of taking a lot of expansions in the mid-game and trying to roll over the terran mech ball with a large amount of hydra/muta. While this style of play is still very strong and commonly used against a standard mech opening, a mech switch simply makes it obsolete. Before explaining why that is let me talk a little bit about the mech switch.

The Mech Switch

The first instance of a late-game mech switch (that I recall) is probably
Fantasy
vs
Jaedong
on outsider, during the 2008-2009 Proleague finals. After a very long game, Fantasy suddenly added factories and started massing tanks at his bases. He then proceeded to roll over a cluelesss Jaedong with a huge tank push. While this was not really a mech switch, more of a tank switch than an actual mech switch, Fantasy's strategy set the foundation of what would evolve into the modern mech switch. Games rarely went to the point where a Terran started switching to tanks however and the play was slowly abandoned in favor of late-game bio plays.
However, the mech switch as we know it was quickly given birth from the ashes of Fantasy's tank switch around the Nate MSL. The first game I can recall involving the mech switch (though it could have happened earlier) was
Midas
vs
Jaedong
on Odd-Eye. The difference here was that Midas' play involved not just adding Factories and making tanks but actually lifting all the Barracks and switching to a full Vulture/Goliath/Tank army at a much earlier timing then the tank switch. As time progressed more and more Terrans picked up the mech switch, and they made it happen faster and faster until the bigfile MSL where a combination of Terran favoured maps and a perfection of the mech switch dubbed it "the imba mech switch". Sea even stated in an interview after beating Jaedong that he only won because his strategy was so overpowered.
The Retaliation– Modern ZvMech
What makes traditional ZvMech obsolete against the mech switch is that Zerg can't really get the air armor and missile attack upgrades that are necessary to fighting the Terran mech ball since they are fighting bio early on. Vanilla Hydras and Mutas are going to get stomped by Siege Tank and Goliaths respectively. The remaining bio ball also prevents the Zerg from actually taking a lot of expansions like he usually wants to against traditional mech which makes Hydra/Muta unplayable against the mech switch.
The fact that the old style of play was no longer viable forced Zergs player to innovate new ways to fight Terran mech and modern ZvMech is an answer to this.
Recognizing the mech switch
The mech switch originally gave Zerg players so much trouble because, while Terran mech is supposed to be fought with a much larger economy for the Zerg to actually stand a chance, having the leftover MnM groups denying expansions makes it extremely difficult to set up a decent economy. Thus the first step to defeating the mech switch is to find the switch's timing and weaken the Bio force to let you double expand and prepare to fight the mech ball. There are currently two main types of mech switch
Pre-Defiler switch
: This is a switch that is executed very quickly, before the Zerg has defilers out. While it is very good to have a mech ball out so quickly, the Terran needs to skip the bio upgrades and thus is going to have a much weaker mid-game pressure then if he used a later switch timing. The Zerg needs to answer this by being aggressive with Lurker/Lings as soon as +1 carapace kicks in to whittle down the un-upgraded marines count and double expand.
Neo.G_Soulkey
vs
Bogus
on Bloody Ridge is a good example of this type of play.
Post-Defiler switch
: On the other hand, the post-defiler switch is executed a little later, after Defilers are out for the Zerg. While quite a bit slower, this switch lets you get a bio upgrade and a lot more troops then the earlier mech switch which means you can apply more mid-game pressure to the Zerg. Zerg's answer that by staying rather passive until defiler kick-in and then whittle down the Marine count with the Defilers to try to double expand.
Neo.G_Soulkey
vs
Sea
on Circuit Breaker is a good example of this style.
Finding the mech switch timing can usually be done by finding out when your opponent is adding Factories, Armory timing or in some case how he upgraded his bio.
Transitioning into a Late-Game Composition
As the terran builds up his mech ball, the zerg should now be on 5 base (ideally) and starting to transition into a late-game unit composition. There are various unit compositions that can be used against the mech army but, as stated earlier, Hydra/Muta simply isn't one of them because of the upgrade issues. Thus Zerg players had to innovate new ZvMech compositions.
Ultra/ling
: Once thought to be cost-inefficient versus mech, ultra/ling has now evolved into the most common composition to use against the mech switch. Progamers probably started using ultra/ling because of the tank switch actually. Back when Terrans used the tank switch very late-game, they only switched to tanks at a point in the game where Zergs were already running on almost fully upgraded ultra/lings and thus had to try to make this composition work. It went quite poorly initially (
Calm
vs
Flash

on Fighting Spirit comes to mind) but Zergs quickly learned to properly use Dark swarm with their Ultralisks to minimize damage against smaller tank lines and use drop + swarm to break large tank lines. Cowbombing tank lines (dropping an ultra or two on top of a tank line, sometimes with darkswarm support, to make the tank overkill destroy a good chunk of the tank line.) also is a useful thing you can do when using ultra/lings (ling bombing is often brought up as a cheaper way to do this but lings have that habit of dieing to vultures before the tank overkill actually destroys anything. Lings also take a lot of time to unload from an overlord so cowbombs are simply superior to lingbombs when dealing with a tank line).

Lurker/Ling

: Also thought to be rather cost-inefficient against mech, some progamers have been experiencing with lurker/ling as a ZvMech composition, mainly on 2 players maps as a way to transition into ultra/lings once they have enough bases. Soulkey has used it very effectively against Bogus on Bloody Ridge. I think it's a nice way to transition into the stronger ultra/ling composition but I'm doubtful of it's strength

Hydra/Queen

: Another trend, mainly used against traditional mech though, is massing hydra/queen into broodling push against traditional mech, this is another play that really needs more development before I can say whether it's viable or not but Zero did just beat Flash with it...

A few months there were experiments with guardians to fight a mech ball but these were abandonned in favor of ultra/ling plays. I recall Effort failing quite hard with this and Zero winning rather convincingly with guardians but this play always seemed sub-par considering Goliaths and Guardians share the same range.

ZvMech is a very dynamic match-up that's incredibly exciting to watch at the moment in my opinion. There are new developments every month and even though only Soulkey (who probably has the best ZvMech at the moment) Zero and Jaedong are trying out new strategies I see a lot of potential in these mass queens and lurker/ling builds. Of course, we can only wait to see what creative play Zergs will respond to this most recent trend with.



One game that stands out to me is Effort's ZvT against Flash on Judgement Day – it was the day that was remembered as the day Flash lost. Twice. It served as a preamble for the OSL finals that came afterwards, and of course, after standing on top, Effort retired.

This season overall has seen a lot of changes in team dynamics. There were surprising demotions and comebacks and revivals that have shocked us all greatly, keeping us on the edges of our figurative chairs as we look towards the future.



Rehabilitation Station
by tree.hugger

There are people waiting here for trains that will never come. Sprawled across benches, slumped against walls, leaning against columns, they sleep, wake, eat, and dream. They are dirty, smelly, and dressed in ripped and fading clothing. Once in a while a voice comes over the intercom and the forlorn figures come to life like malcontent statues. A name is called, and all but one return to their stupor. "Proleague Appearance, Gate Five" the voice says, "Against Jaedong." The chosen player grabs his belongings and waves a hopeful goodbye. He will likely be back. They all come back. It's a difficult ride back to the top.

This past year, the lonely terminal saw its share of activity. Bisu was rescued by the gleaming white SKT Limited, and a number of long time lurkers took the opportunity to hop on a mysterious new orange express train with a fresh odor of Irvine Pine. This year may turn out to be just as busy. In recent months, Rehabilitation Station has seen some unexpected arrivals and some surprising departures.

Back From B

For a player who made a convincing argument for Protoss of the Year, being demoted to the B-team was a humbling experience for Free. Like Beesuit the year previous, Free's critics were all too happy to label him as washed up. But after taking February off, Free has begun to regain his former strength. Soon after returning, he ended a spree from Bisu in Woongjin's match against SKT. The next week, he finished off Wemade FOX with a three kill, working RorO, Pure, and Shine to keep Woongjin's unlikely playoff hopes alive. His next two performances were less impressive; a loss against (the unstoppable, to be fair) Stats and a defeat to HyuN (this one stings). But Free at his best could still drop games at appalling times. The most conclusive news is that Woongjin believes in him enough to put him back on the A-Team. After all, Free's demotion came as a surprise to people, as he had been slumping, but not in such a terrible way. It was rather Woongjin's lack of faith that was the crucial indicator. Thus, we can celebrate the return of Free

to the big time, and have confidence that he will deliver as he did against Wemade, and as he did in his MST group.

Back on Track

More than a year ago, a promising protoss player with an uncanny skill in PvZ fluked into the finals of the OSL against a rapidly rising Flash. It was a closer massacre than some expected, but a massacre nonetheless. Still, everyone agreed that the young protoss player probably had a bright future if he could get his other match-ups in order.

Fast forward a year, and it's looking more and more like Movie's time to shine. After hardly seeing daylight for almost all of round one of SWL, Movie finished off the round by three-killing ACE. He then came into round two with guns blazing, all-killing MBC, finishing off Woongjin, and notching two wins against Soul and SKT each. His PvZ has looked back to form, but the biggest surprise of all has been his much-derided PvT. With wins against Sea, Really, fantasy, and Ace's whole terran line, Movie's traditional weakness seems to have morphed into a fist. There remain two questions. The first is Movie's PvP, which did not get a lot of airtime, but hopefully is less fatal than before. The second question is whether or not Movie can keep up his form. We know he's got talent, but we also know he's shown glimpses of it before, only to tumble back down to futility shortly afterwords. The unexpected strength of Movie's PvT, paired with a resurgence in his bread and butter PvZ gives hope, but this question will be best answered after the proleague finals this summer.

Back from Far Away Places

And then there is that special category of heroes who we once thought had forsaken us, only to return, at long last back into our arms. Guemchi was the first of the two, returning to progaming life after traveling all over Asia and experimenting with Sc2. Although it was stressed that he would be returning to practice partner status initially, it was obvious to all that Guemchi's prodigious talent would surface once again. His first televised match upon retuning was against the beastly Hydra, and did not go well, but his quick ascension is proof that he is regaining his skills rapidly. Although he missed most of winners league, and the format that provided him with many all-kills and much fame, Guemchi figures to play a crucial role on Woongjin's depth chart come playoff time.

And of course (your correspondent is biased) the return of EffOrt is some of the most momentous news to come to BW in a while. Kim Jung Woo's departure to pursue his studies came as legions of B-teamers seemed to be packing their belongings into checkered bindles and heading away from the game. His return to progaming seems a reaffirmation that a year later, things are alright. Entus is already doing well for itself in the playoff hunt, but EffOrt's addition should be another valuable addition to their post-season squad. He won't play a factor in the Winners League final unless he somehow picks up his OSL winning form in a week of practice, but that's alright, because just seeing him on the bench will be a comeback enough.

Not everyone lives as charmed a life as these players. Each of them has been to the mountain, has tasted the glory that comes with being at the top of their game. Each now seeks a return to form; a redemption on the stage. For these players, there are plenty more who will continue to languish at that dusty terminal, or perhaps another less spacious station down up the line, going through the motions, waiting for a time that may never come. But as proleague turns the corner and heads down the second half of the season, a Winners League champion soon to be named, we can look forward to watching these great players as they pull themselves back onto the hard charging locomotive they long to drive again.



Finally, it wouldn't be a wrap up posts if we didn't even talk about any of the games. Luckily for us, Mystlord has provided us with some of the most amazing moments that occurred during this Winner's League!



Winner's League Highlights
by Mystlord

Proleague and Winners League puts out a ridiculous number of games. A really, really ridiculous number. Sure you can pick through the Recommended VODs Thread (if it ever gets active again), or go through the Tournament threads, but honestly, the time spent picking through the threads just to find those gem games is just ridiculous. But what's even harder is trying to find those awesome moments where something so epic happens that you rarely see it happen in Brood War. So that's why I'm here. To break down the highlights of this past Winners League, and to get your blood roiling to go watch these damn VODs and expect great things from the Winners League playoffs.

Repair Imba? No Problem, I Have Queens.
Sea vs Crazy-Hydra 2011-03-21

Honestly, who would have thought out of all the players on Stars, that Crazy-Hydra would be the one to score their first all-kill? But he did it, and he did it in a spectacular fashion. A solid performance, but the crown jewel of the series was the last game.

Mech is always a problem for Zerg. That giant 3/3 blob slowly crawling across the map… What in the world is a Zerg player to do? Well Crazy-Hydra showed all of you Zerg players exactly how you beat Mech. Beat it down in its infant stages.

And how did he choose to do that? Mutas? Hydra bust? Sick Defiler play? Of course not! The real Zerg player goes Queens.
The Harbingers of Doom
The result? Well I think you know what you expect.
Spawn Broodlings!
In this one attack, Crazy-Hydra sniped at least 8 of Sea's tanks. Sure, the attack didn't kill Sea, but it put a big enough dent in his army that he was forced to spread his forces really thin trying to cover three different key points with only 7 or so tanks.
But Crazy-Hydra isn't done yet. He slams Sea's 6 with a wave of Hydras supported by Queens. Tanks get Broodling'd, but as Sea pulls tanks from his other positions and brings them in, Crazy-Hydra attempts to focus fire down the CC. But Sea repairs his CC with his SCVs, and it seems like they'll just barely save it.
SAFE!
Or do they?
Nope
And as a parting insult, Crazy-Hydra comes back and Broodlings two of Sea's tanks left in the area. Sea tries to push up the middle as a counter attack, but Crazy-Hydra rebuffs his advance his excellent swarm usage. You definitely need to see that in the VOD. After the threat towards his main is taken care of, Crazy-Hydra returns to 6 o'clock with a vengeance. All the tanks get broodling'd, and then he focus fires the CC again. Sea repairs it and brings it back from the brink of destruction!
Safe?
but…
Nope
After that blow, Sea no longer has the resources to rebuild his CC at 6 o'clock, and he can only watch as his economy slowly crumbles. Sea tries one last push, but Crazy-Hydra shuts that down with some more great swarm usage, and destroys Sea's last mining base with some Mutalisks. GG.
Introducing the Glass Cannon of Zerg: Mutalisks
great vs Shuttle 2011-01-09
The Neo Sauron style that Jaedong pioneered breathed new life into the Zerg midgame. Perhaps a bit too much life. Once upon a time, Mutalisks were considered to be a far too risky proposition against the Protoss midgame, because of this trap that Zerg would get into because they would have to sacrifice economy for tech, which would pretty much be a suicidal move. Well those times have passed now, and Mutalisks are now ubiquitous in ZvP.
Jaedong realized that there's something really scary about Mutalisks in ZvP. They can pop up at any time during the Zerg midgame. And without proper preparation, Protoss can get hit really hard. But if Mutalisks are now so ubiquitous that Zerg always gets them…
Well now you run into trouble.
great was doing just fine in his match against Shuttle. He had hit Shuttle's front with some early Hydras, and was preparing for the midgame with the momentum swung in his favor. The only real map control that Shuttle could exert was due to his Dark Templar, because he had spent most of the money that would have gone to Zealots on 3 Cannons in preparation for a Hydra bust that wasn't coming.
His only Corsair had been killed on duty, so then...
What's up with the Dark Archon?
For two minutes, it seemed like Shuttle made a mistake. We saw Lurkers coming out of great, and it seemed like great would be content to just turtle and camp on his side of the map until Hive tech.
Then we saw them.
Mutas.
But great wouldn't dare attack Shuttle's main while his army is at home, and great knows that Shuttle hasn't moved out because of his Zerglings camped outside of Shuttle's natural. But then Shuttle made a brilliant move. He moved his Dragoons out and snipes great's two Zerglings camped a bit outside of his natural.
The crucial moment.
Because of this simple move from Shuttle, great thought that Shuttle was moving out, and moved in with his Mutas to hit Shuttle's hopefully unprotected main. And what happened?
Absolutely beautiful.
The perfect trap. Laid out minutes in advance, and with no knowledge that great would definitely go Mutas. If that Dark Archon hadn't been there, Shuttle would have had to pull all of those Probes, and would have lost a ton in the process. great's Mutas would have likely survived, and he would have pulled ahead.
But that didn't happen. Instead, great just threw 900/900 straight down the drain. Shuttle immediately pushed out, knowing that great had really nothing to stop his push down the middle. The result?
Ownage.
A crushing victory for Shuttle because he knew that Mutalisks were coming. Zerg thrives on unpredictability for proper Mutalisk usage. When great lost that advantage, Mutalisks became essentially useless.
2 Base Carriers: Obsolete
Hiya vs Violet 2011-01-17
Terran always has had a tough time against Carriers. They're giant flying beehives, roaming the map, taking advantage of Mech immobility, sniping Tanks… A complete and utter nightmare for Terran, at least compared to watching Dragoons melt under Tank fire. As opposed to its late game counterpart though, 2 base Carriers has never really been a strategy that has consistently posed a threat to Terrans.
And on 2011/01/17, Hiya put the final nail in the coffin for 2 base Carrier. And it's a really simple strategy too, one that takes advantage of a key weakness of 2 base Carrier: The Protoss Economy. Ever since Flash began going super fast upgrades, Terran has began foregoing the original timing push and delaying it in favor of a much stronger timing push later in the game. The upgrades also serve the dual purpose of allowing Terran players to just target the Interceptors instead of the Carriers themselves, because fully upgraded Goliaths absolutely destroy Interceptors, and so Terran can play a game of attrition rather than a game of destruction. Interceptors are pretty damn expensive when you begin to lose a lot of them. They place a heavy strain on minerals, and they do take a while to rebuild. Thus Protoss needs to have a thriving economy in order to replace lost Interceptors.
Therefore, considering that the primary weakness of the 2 base Carrier build is the Protoss economy, Hiya tried out a strategy that would capitalize on this weakness.
Marines and Medics
And he could get away with this because by going 2 base Carriers, Protoss delays the two tech paths that truly stand a chance against MnM: Reavers and High Templar. Reavers are no long term solution because of the micro involved and the buggy Scarab AI, but the reason why you normally never see MnM against Carriers in the late game is because Protoss has access to HTs, and consequently, storms. Now when Protoss doesn't have storm to control MnM…
You get 0 Interceptor Carriers.
And then while Violet is scrambling to get storms up to deal with Hiya's MnM…
His natural falls…
His main gets trashed…
He fails an attack on Hiya's natural…
All in all a pretty bad day for Violet. And then he gets High Templar, and what happens?
MnM mobility > High Templar
As the game continues, Hiya's aggressive MnM play just crushes Violet, especially considering that Violet can't seem to keep a base up and running for a minute without Hiya running some MnM in and wrecking some havoc. In the end, Violet is left with no mining bases and Carriers with no Interceptors.
GG.
Without a solid economy, Protoss just can't sustain Carrier play, especially in the face of wave upon wave of MnM storming down Protoss's front door every few minutes. Remember kids, MnM > Carriers.
Sunken Colonies are Really Important
Hyun vs Jaedong 2011-02-14
Yawn non-Hive tech ZvZ. Boring right? It's just rock-paper-scissors, Zergling on Zergling is never fun to watch, and it's impossible to tell who wins in Mutalisk battles. For the average viewer, the best ZvZs are the gimmicky ZvZs, and that's exactly what we're showcasing in this highlight.
In any normal situation, you would expect 12 pool to beat 9 pool, or at least the 12 pooler would have an advantage for the early/mid-game when their economy is better and can support more Zerglings. But Hyun temporarily had a brain fart, and forgot something. Drones are important. So when you pull 5 workers with your 6 Zerglings to defend against your opponent's 8 Zerglings
Like he's doing…
You have a recipe for disaster. But while Hyun lost in a spectacular fashion, what's really impressive is how great Jaedong's ZvZ game sense is. He dominated two summers ago, and although he isn't nearly as dominant now, his ZvZ game sense is still incredible. So when Jaedong saw that Hyun overreacted and pulled 5 workers to defend, he knew that Hyun's mineral count would be low. In particular, he waited until the opportune moment to capitalize on his mineral advantage. He waited until Hyun had placed 3 Spore colonies costing 175 minerals each (including the Drone), and then he unveiled his grand plan.
Drone attack!
Well ok, not a Drone attack, but something even better.
Two offensive Sunkens.
Hyun's economy was already weak from pulling those 5 Drones earlier, but it's gotten even worse now that he's placed 3 Spore colonies. So Hyun doesn't have the Zergling count that he should have at this point of the game, but crucially, he felt safe enough to not plant a Sunken colony as well, just in case Jaedong would try being aggressive with his Zerglings. This small attempt to save minerals cost him dearly, as now his natural would be destroyed by the very thing he sought to avoid.
So Hyun attempted to attack Jaedong's offensive Sunkens:
Last ditch attempt!
But with Jaedong's Mutalisks providing air support, he was only able to kill one offensive Sunken.
And the natural gets compromised.
Thus ended Hyun's chances at winning the game, as he had nothing to stop the incoming tide of units from Jaedong, backed up by his Mutalisks.
A brilliant move from Jaedong, only made possible by Hyun's blunder earlier in the game.
Ultras Imba? No Problem, I have Queens.
Zero vs Roro 2011-03-13
ZvZ is the only match up in the game that doesn't really explore the tech tree of either race. In other words, ZvZ games almost never utilize advanced tech as opposed to every other match up. Unfortunately it also means that for most people, it's the driest match up in the game. So it stands to reason that when these games actually do end up advancing beyond Lair tech, people get really excited.
So you can imagine the excitement when people saw this:
Tears of joy were cried. Possibly.
Because Hive tech ZvZ is essentially never played, it also makes for a remarkably unrefined game. Build orders and neat timings devolve into a competition of who can predict the other's actions best. Zerg really has absolutely no way of scouting the opponent's main and tech path in ZvZ aside from an attack on the main, so Zerg players play completely in the dark unlike Terran and Protoss, which is a pretty big problem when you consider all the options that Zerg has late game. Essentially every unit is fair game in Hive tech ZvZ, and there's no telling what your opponent's unit composition will be until it's too late.
But it's also kind of incredible just how Zergs, even after majorly screwing up in the early/mid game, can rely on Hive tech ZvZ to pull them back into the game. Zero was at a clear disadvantage for most of the game, and he made numerous micro mistakes that reduced his unit count. Yet even though he fumbled the early part of his Hive tech play by being a tad too aggressive with his Mutalisks and Devourers (he was at a pretty big unit disadvantage early game),
Exhibit 1a: Zero's tech advantage
Exhibit 1b: Zero running like a little girl
But his defeat really doesn't matter because of one key building.
Exhibit 2: The Defiler Mound
Because of the threat of plague-on-Mutas, Zerg is essentially forced to transition to a primarily ground based army during Hive tech. So with a working economy and some plagues to ward off Roro's Mutalisks, Zero can make a solid comeback in this game. Well Zero is on more or less equal bases compared to Roro, so that just leaves…
Oh I guess that's taken care of too!
Zero hit all of Roro's Mutalisks, putting them out of commission for a while. Thus Zero could get his economy up without worrying too much about Roro's air units. But where Roro turns the tables against Zero is in his ability to think two steps ahead of Zero. And because of this foresight, Roro gets the ultimate unit.
Queens.
Queens are broken. They are only 100 minerals/100 gas, yet can take down a 200 minerals/200 gas unit with only one shot. But before using them properly, the proper technology has to be researched first. Roro realizes that Zero would be likely trying to take the initiative by going Ultralisks first, so he gets Queens to counter this threat. And as expected, the moment where he Broodlings the Ultras…
Is epic.
4 Ultralisks go down to Broodlings, one right after the other, and the Broodlings make it that much harder for Zero to get his Ultralisks over the bridge. That's 800/800 straight down the drain for Zero, in a time span of about 10 seconds. Meanwhile, Roro is slowly building up his force of Ultras. Yet the game doesn't come down to one big Ultralisk battle. Instead, Zero opts to split up his Ultralisks and attack several points at once, which only caused his Ultralisks to die faster. He was able to take down several key targets,
Such as one of Roro's bases
But Roro managed to beat back Zero's small force with one well placed plague
2 plagued Ultras vs 4 fresh ones… Hmm….
In the end, Roro just ran over Zero's paltry defenses, and Zero was forced to GG.
Completely destroyed.

Although Zero was already in some trouble, the immediate loss of 4 Ultras completely obliterated his chances of winning any direct confrontations with Roro, as there was no way that he could defeat Roro in a head-to-head engagement with such a heavy loss. Zero didn't play his best this game, but Roro sure did, but Zero tried his best to climb back after taking some rather big hits earlier in the game. And trying to climb back by letting us see Ultras getting Broodlinged? Very classy.



So Winner's League regular season is now over, but we have a huge major event to look forward to – the Playoffs. SKT and Hite will be duking it out for the privilege of challenging Hwaseung for the place in the finals against KT, and of course, we're all hyped. Here's Harem and mustaju to get you even more excited!



Semi Final Previews and Interviews

Previews
by Harem

WL Playoffs begins with a bang as

T1 is playing

Hite. After all, what could cause a greater bang or more exciting match than a team who was nearly reverse killed playing a team that lost to Ace. And Rock. Yes, that Rock.
Anyways, as the series begins on Fortress, we'll probably see T1 send either BeSt or Fantasy while Hite sends Movie or maybe Leta. It would probably be in T1's best interests to send BeSt. Despite the second map being Icarus and Best's pvz making as much sense as flying near the sun with waxen wings, (origin of dohsairs imo) any zerg vs Best would just be fodder for Fantasy on Empire. To combat Fantasy, Hite will probably be sending Skyhigh on Empire and Hydra on Aztec. If Skyhigh wins then he either has to face Bisu on Aztec or a zerg. Either way, underaged kids should not be allowed to watch the carnage of Skyhigh that is coming. However, if Fantasy were to beat Skyhigh, then he'll probably lose to Hydra afterwards in some ridiculous fashion that only he could pull off. (bunker rushing and sending all scvs inside of bunker instead of repairing???) Hydra should feel pretty confident with zvz and zvp on the next few maps.
T1 however is probably annoyed at the placement of Circuit Breaker. After all, it's one of the maps that Bisu keeps losing to Protosses on as well as where Hydra beat him last time. T1 may want to consider sending a zerg vs Hydra on Circuit and abusing the fact that it is 4 player zvz and saving Bisu for the last two maps. In the end, we'll see a victorious Tiger Toss picking a dead bee out of his claws. There is a much more likely scenario though. Leta shows up in a dress and all of T1 is so infatuated that Leta gets the easiest all-kill ever as no one can stop gawking. It's actually scary just how likely that is, wow.
Fan Interviews
by mustaju
1) At the end of Winners League, your teams were placed at third and fourth place, respectively. This begs the question what the biggest mistakes of Hite/SKT were and if they can even compete with the overwhelming #1 team, KT for the Winners League title?
Lightwip:
I wouldn't exactly say that SKT had too many big mistakes in the fourth round other than perhaps trailing with
Bisu
all the time, which could open the team to sniping. Honestly, the biggest problem was simply that the whole team simultaneously fell apart.
SKT may have bad luck against KT, but they definitely have the talent to win. They just have to give a better showing than the awful Round 4 series.
Kenpachi:
I don't understand why T1 would send out
Sun
over
Paralyze
constantly and Hite would be in a much better position if they had beaten Oz in both series and they were capable of winning. I don't think their mistakes were completely terrible because they still ended up in the WL Playoffs. I think the 2 teams can compete with KTFlash but KT is really unpredictable. The win is usually decided by the performance of non Flash members.
Stats
and Action showed that they can bring their A game but if they will or will not decides who will win the Finals (if Hite or T1 even plays them). Both teams will prepare 200% just to take down Flash so
sKyHigh
,
BeSt
,
Snow
, and
iloveoov
will all be prepared.
2) But in order to face KT, Hite/SKT needs to be defeated first. Currently, the games have been rather one-sided, with SKT winning the first round match 4-1, but losing the second 4-0, the third 4-2 and the fourth 4-1. Is this a bad omen for SKT?
Lightwip:
SKT has indeed had trouble in most of the rounds, but this has simply been because they played subpar in the series they lost(except in R3, which was just luck for hite). Playing in a playoff game, they will be able to play at their best because it is important. And while hite is stacked, SKT has the advantage of 2 players that are better than anyone on the hite lineup.
Kenpachi:
Its not surprising that KT is rolling T1 because most teams are losing to them.. It is a pretty bad sign but T1 isn't terrible at all with a solid lineup and a strong ace to back them up.Like i just said, KT's team players have to be team players or else they risk
Flash
being sniped off.
3) While Hite rejoices over
EffOrt's return, they also lost against Air Force ACE, and although SKT defeated Oz to secure the WL spot, they got AK-d twice before that, and nearly a third time as well. So, which team has the bigger psychological advantage coming into the game?
Lightwip:
Without a doubt, it would be hite. SKT's string of bad losses could not be good for morale. Yet this year, Hite is well known for falling just short of the best every round.
Kenpachi:
Hite definitely has the favorable morale here, not only because of
EffOrt
's return but because T1 lost to Hite in the last 2 series they played and the last one was an all Terran win from Hite and Hite Terrans would be the weakest to play against T1 Tosses, even if
Bisu
's PvT is regarded as being terrible. T1 shouldn't be feeling too bad, after all the last 3 teams they were able to play were the other teams in the playoff and their decisive win against Oz probably overjoyed them.
4) Let's get more player centric. In the likely event of a duel between the OSL winner
Fantasy and the MSL winner
Hydra, who is more likely to come out on top and why? (
Hydra is 0-1 vs
Fantasy this season, but
Fantasy has yet to win a game in Proleague vs. Hite in 4 rounds total!)
Lightwip:
Fantasy
would win. Normally,
Fantasy
is capable of being absolutely awful, yet in every game that really matters, he has managed to do well for his team. I believe he can do that here.
Kenpachi:
: heh. i like this question

Hydra
's ZvT is yet untested still and Im waiting for him to unleash his skill in the mu because he certainly does have it.
Fantasy
has been inconsistent and his TvZ is really sloppy. Its hard to predict though but i choose
Hydra
.
5) Unlike KT and Oz, SKT and especially Hite have a wide selection of players to choose from. Which 4 players should play for your team to most effectively counter the weaknesses of the opposition?
Lightwip:
Hite certainly has a more stacked lineup, but SKT's stars are better.
Bisu
would obviously be a good choice because he is the premiere zerg killer, and should be able to win against anyone.
Fantasy
can also be favored against anyone when his team needs him.
s2
, with a good ZvZ and ZvP, can be sent against hite, whose only good terran is
Leta
. Finally, depending on form,
Sun
or
BeSt
to take down a protoss or terran foe, if it comes to that.
Kenpachi:
Well for Hite,
Hydra
,
Movie
and
Leta
can cover Zergs and
Snow
and
sKyHigh
can take Terrans while the Protoss can go to
Hydra
and
Horang2
. Overall though, Hite should send in Leta/Movie to start off, and play accordingly with
Leta
/
Movie
,
Hydra
and
Horang2
against T1. T1 is tricky because
BeSt
is slumping hard,
Sun
is pretty bad and T1 doesn't seem to trust
Paralyze
. Its all up to
Bisu
and
Fantasy
if their team doesn't pick up their game.
BeSt
and
s2
should fill the last 2 slots for them just to see if they win a game.
6) As an homage to the great Western, which is your opposing teams The Good, The Bad, and The Ugly?
Lightwip:
The Good - Hite is a pretty cool team because their lineup is fairly likeable, and you'll usually find at least one player you like among them(not
Leta
though, he isn't cute anymore).
The Bad - KT is pure evil. They exist solely to prey on the Brood War fanbase and to make it suffer. They not only provide boredom, but they wish to spite the viewers. This teams fans are simply those who enjoy the destruction of something beautiful.
The Ugly - Oz is a pretty cool team, even if its fans can be fairly antagonistic. Everyone loves
Jaedong
, and the rest of their lineup is pretty interesting. Yet they aren't exactly the greatest players most of the time.
Kenpachi:
The Good would be Oz because they also seemed to have stepped their game up this round. The Bad would be KTFlash because their team is heavily
Flash
dependent and the Ugly goes to T1 cause they only have 2 players winning games and the rest,
Sun
,
BeSt
,
Hyuk
and
s2
are unreliable. at all.
7) Consider the maps and predict the first players to get sent out. Bets are most welcome.
Lightwip:
Considering that the first 2 maps would be quite favorable, both teams are likely to send zergs, so
s2
vs
Hydra
would be my prediction. A terran on this map wouldn't be too unlikely either.
Kenpachi:
I think
Movie
and
Fantasy
would be sent out for the first game. Game 2 would be hard for
Movie
but i think his goal would be to take out the Terran coming into play in Game 1 since he is pretty good on
Fortress
(8-3) and
Fantasy
IS the terran coming into play game 1 because he is the Fortress specialist of T1 (11-6)
Bisu
is undefeated on this map but would you really send him out this early and when the next map is Icarus?
8) Reflect. What was the worst and best game for your team during the two rounds of Winners League? Why?
Lightwip:
Best, I'd have to say
s2 vs Jaedong
. In it of itself, a fairly standard game, yet it involves a fairly average player being the last obstacle between SKT's playoffs and failure. Yet
s2
managed to pull through with mirror builds and win it for SKT when their aces fell.
Worst would be the entire series vs KT during round 4. I can't say I'm too proud of SKT for letting themselves lose to a player the caliber of
Stats
.
Kenpachi:
The best game for Hite Entus was
Bisu vs. Hydra
in round 3.
Hydra
at the time was only regarded for his ZvZ. No one understood how good his other MUs were and he stomped
Bisu
pretty hard.
Hydra
's ZvP cannot be neglected after that game because iirc,
Bisu
first PvZ lost in winnersleague was against Hydra. The game is comparable to
Snow
vs
Flash
on
Fighting Spirit
last year where
Snow
saw through
Flash
completely. The game exhibited Hite's effectiveness at preparation and
Hydra
's insane skill.
The worst game would be http://www.youtube.com/watch?v=PcgRKEXnvQ0]Snow vs Rock[/url] because imo, that destroyed the mentality of the whole team.
Rock
's first win in a long time came to be against
Snow
and the proof is the games right after.
Movie
just rolled over to
Iris
and
Tiger Toss
played incredibly sloppy against
Iris
and only won because of Carrier imbalance.
9) Some SKT fans point out that Hite lacks the sheer Acepower of SKT's
Bisu and
Fantasy. How would you comment on that statement?
Lightwip:
Right now, Hite lacks an ace who can be considered S-class, since
Hydra
isn't at the top of his game and
EffOrt
isn't playing. But honestly, they can probably beat the aces of SKT if they play extraordinarily well that day.
Kenpachi:
Hite doesn't need ace power because their whole team is solid. Once
Bisu
and
Fantasy
is done, what can T1 do? And Both are fallible (
Bisu
lost to
Hydra
and
Fantasy
loses to everyone).
10) With Cho gone, Hite has lost a great strategist. Is Hite still capable of sniping the powerhouses of SKT?
Lightwip:
Honestly, Cho may have been a problem for CJ near the end of his career. He focused too much on sniping and too little on raising talent for the future.
Snow

is capable of excellent play in all MUs, but he was only made to practice PvT. Doing this may have ultimately hindered CJ, so I'm not sure he was necessary to the team at all.

Kenpachi:

Yeah, definitely. Although their team is much more rounded than before, sniping still occurs under the new head coach. Coach Cho was thought to be the sole brain behind Entus but this season proved that wrong because the choices made are still decisive.

Special thanks to Lightwip and Kenpachi for participating in the interview



That's all we have for now! We're excited to be back, and we are never going to give you up again, nor are we going to let you down. Because after all, we're no strangers to e-Sports and we all love Brood War. Proleague forever!


---
A long overdue writeup brought to you by the Proleague Writing Team. Credit goes to disciple for the amazing banner and the front page picture. Make sure to check out our recruitment thread if you're interested in contributing in the future! Sorry if I ruined a perfectly good write up with an outdated reference. Maybe I should have just mentioned that it's Friday?

2Pacalypse-
Croatia8843 Posts
Holy mother of sweet Jesus this is what I call a news article!

Will take my sweet time reading this. Sweet!
I'll read this tomorrow when I have time xD looks nice.
HKriceboy88
United States248 Posts
Looks amazing. Looking forward to a great read.
Velocity`
United Kingdom343 Posts
Kyyuna
United States1222 Posts
Who ever put that Vorg pic in, I <3 you

Cant wait to finish the 2nd half :D
Kibibit
United States1551 Posts
TL;GRL. Can't wait until I have a moment to get through this epic post. I've been almost blueballed with the lack of BW coverage. D:
XXGeneration
United States625 Posts
Thanks for the WL write-up! Amazing!
Dubzex
United States6994 Posts
Wow this is a massive write-up. Thanks, gonna have to read it over lunch or something.

gulati
United States2241 Posts
Now I know why you were up til 4am making those animations lastnight... O,O

gj milky~~
Iplaythings
Denmark9110 Posts
Really really appreciated the coverage, but cmon, the first time the mech switch happend was
Fantasy vs Zero on moon glaive..

Also I love how both hate on KT saying 1man team when they dont realize Stats has as many or more wins than flash in WL :D

And lightwhip is still annoying to listen to, geez, no offense but I cant do anything but disagreeing (while Kenpachi sounds like he knows what he talks about). Lightwhip is a bad representative of SKT fans, geez.
Beef Noodles
United States937 Posts
Wow just when every thinks BW is figured out... lol
tbrown47
United States1235 Posts
hwaseung 6th placeeeeee aiyeeee
Superouman
France2194 Posts
This is why i love Brood War, pushing the game into the limits more and more.
1Eris1
United States5797 Posts
j3i
United States357 Posts
On March 26 2011 07:34 Kyyuna wrote:
Who ever put that Vorg pic in, I <3 you

Cant wait to finish the 2nd half :D



He should have won that decision vs Sendo.
EPIC WRITE UP.

Thanks! This is awesome. I love brood war.

swanized
Canada2480 Posts
On March 26 2011 07:42 Iplaythings wrote:
Really really appreciated the coverage, but cmon, the first time the mech switch happend was
Fantasy vs Zero on moon glaive..


oh god I stated jaedong vs midas was the first time i remembered it happening not the first time it actuallly happened -______-
darklordjac
Canada2231 Posts
That Sea vs Crazy-Hydra game made me want to cry


Carnivorous Sheep
Baa?21239 Posts
Super good write-up, cheers =]