TL Mafia 2 [GG]
On the very mathematics of the situation, regardless of who you vote for mayor, the same 20/130 risk exists for all candidates until solid evidence from detectives is released (at the risk of losing detectives). Now, assuming each player has an intrinsic 20/130 risk, a vote for someone who PM'd people before the game began is a true risk of 20/130, since there are no alterior factors involved with his candidacy.

Post game start, however, we can assume that mafia will field a single, or two mayoral candidates. If the number of candidates is 6 or less, the risk of voting for a mafia candidate from the pool is 1/6, which is actually higher than 2/13. If mafia field two candidates to split votes and force multiple detectives outing themselves for single incriminations, then we'd need THIRTEEN TOTAL CANDIDATES to produce the same risk.

Either way you slice it, no proof of any kind has entered the game besides some very flimsy clues, The inherant risk of voting pre-game vs. post-game candidate are negligibly identical if we use a few base assumptions, but even those aren't set in stone. Essentially the reliability of the prediction is focussed on the reliability of predicting the number of mafioso who are running for mayor, which is really anyone's game. I'd assume 1 or 2, but it could easily be 0 or 3.

Anyone agree? Disagree?



Why would ANY Townie that isn't a moron claim the DT role?

Veteran looking to absorb hits? Jack? Etc.
Chances that Empyrean is Mafioso again are slim.


Chances that Empyrean is Mafioso again are 20/130.

Probability doesn't work the way you think it does.
My question to all of you is: would it be beneficial enough for mafia to even attempt the stunt empyrean is employing? Would it be reasonable?

Pretending to be a detective to oust a detective and potentially get mayor is massively profitable for mafia. Nearly any disinformation is. That's obvious. They lose 5% of their numbers for a potentially game breaking position and take down a detective if they fail.
The problem is, if I'm not elected anything, the town'll lose a detective.

Unless mafia decide that you're very likely to be plastered in paramedics for the first few days and then decide that you wouldn't be worth killing for 2-3 nights. Even then, that's assuming mafia actually believes your story. The entire Fakesteve 'attitude' was probably the single most important part of the townie downfall last game, and you've show yourself to be heir to it this game.

Mankind ill needs such a savior as you.

Taken at face value, your post assumes that:

-You aren't lying about being a detective.
-You aren't a normal townie trying to push your way into becoming the mayor
-You aren't a previous high-profile mafia member trying to throw down a few high stakes rolls for big rewards.

Since you're likely not mafia, just like every other mayoral candidate isn't, the qualities you possess as an individual are the most important, and I simply don't see you as having the right ones. Sorry

.
Heh Empyrean really should have considered the mafia's new roles before enacting his plan.

If he did, the only logical conclusion is that he was he mafia candidate and is trying to soak medic time and potentially get pardoner/mayor before being discovered for real.
so mafia only used/hit 5/9? Guess this is going to be easier than we previously anticipated.
Also: The medics on emp and emp himself will know if he was targetted, so the medics can pm ace to tell him if emp was targetted or not.
I didn't really 'drop off'. I had an organic 4 midterm of thursday night, and spent a lot of time sleeping afterwards.

As for the smilie clue, people have completely dropped the fact that people who actually use smilies could be the mafia in question (I don't.), and the largest repository of smilies for posts is the mood section, which no one has documented, and thus is very easy to change. Just as an example, Here's a picture of Shallow, unedited from page 94.


Wow, i'm bad at linking images.


And really, I don't think the mood icon could mean anything, it's much more probable that it links to quote or abundant smiley use in posts

I'm leaning towards smilie usage in posts too, but its just an aside really. No one's really gone back and chronicled who's been using smilies in posts, but from a cursory examination of the first few pages, there's plenty of people who have been.
I hope i don't mess up my image linking..



Nah, you're wrong. Mr Pink used Mynock's head like a flail, he was holding Mynock's long hair and hitting with his head (which was attached to his hair obv)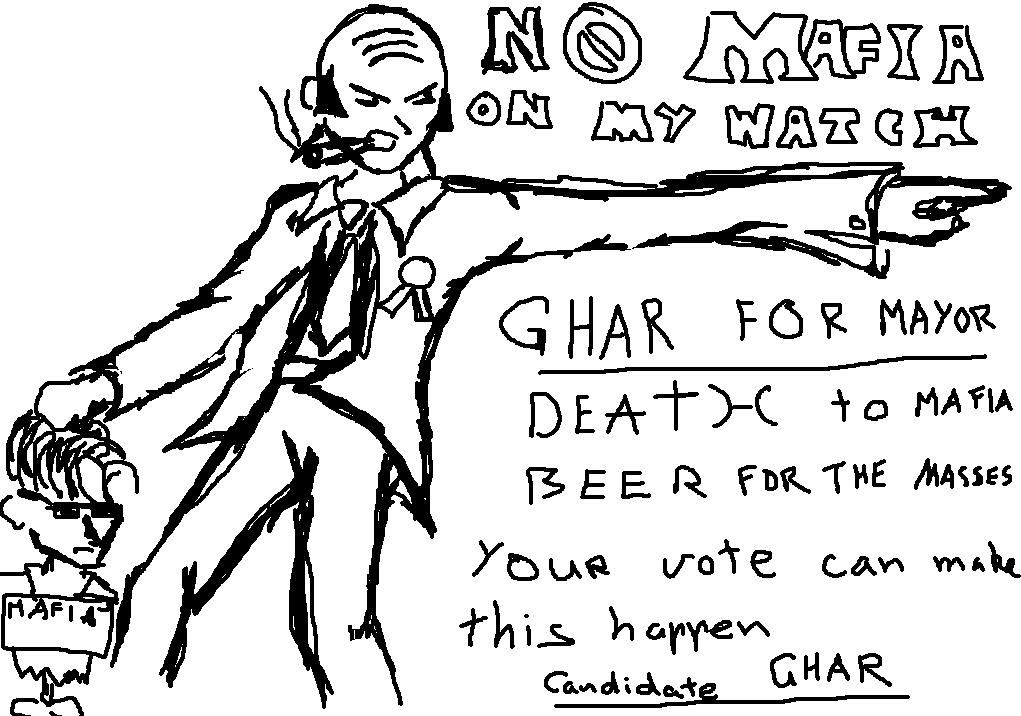 Now that I think about it. that's kinda blatant.
If its confirmed, I'm assuming Mandalor guessed the role of the target wrong? If so, I don't see how Mandalor could be anything other than mafia.
More or less the same as the proportion of mafiosi in the town as a whole.

Beat me to it :/
Do you have a list of people who switched?
Hope chuiu feels better soon. Tomorrow looks like its going to be more fun than this.

New people shouldn't be voting for lynching you and Ace so you should have 3 and 4 votes each, so you would only need on DT check for you and him.




Unless someone is inactive.
I'm going to be without internet for a few days while I finish moving. I'm going to abstain now, but I'll try to log on when I'm at university, but that's if i have free time. I'll try to catch up fast.
Wow, Ghar was green?

We had like seven thousand clues pointing to him :/. That's ridiculous.