TL Mafia 2 [GG]
To set the mood and get things kicking.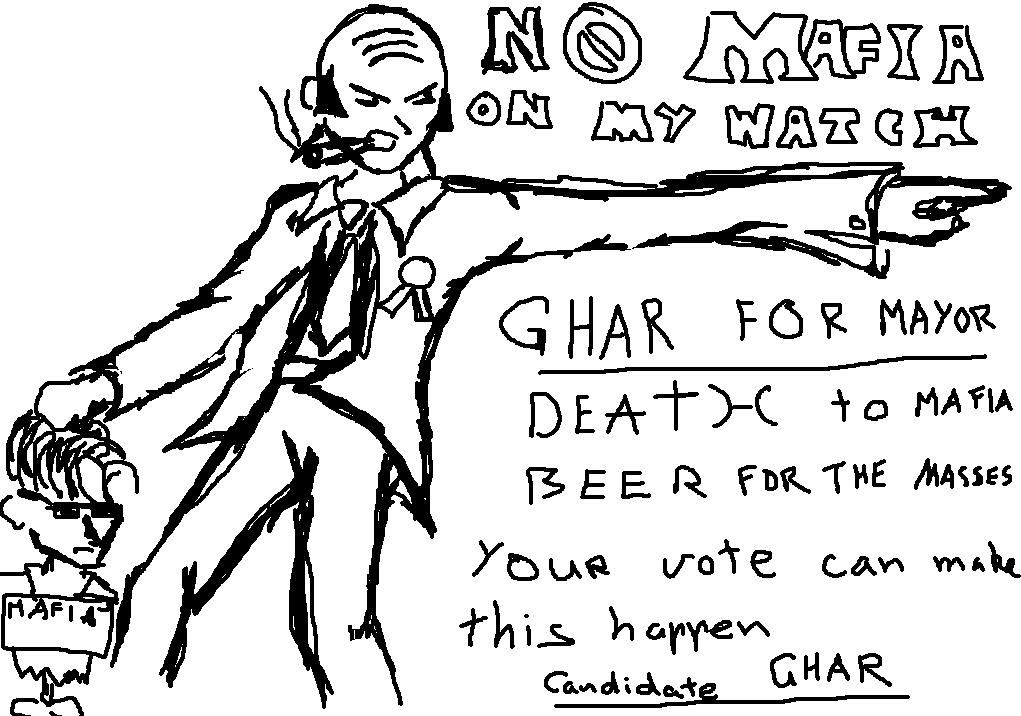 Running for mayor if you lads have any questions for candidate Ghar.
I'm running for mayor.
There's not much to say in regards to why I'm a better candidate than everyone else , but here's why I'm not a worse candidate than any you're thinking of voting.
The only guaranteed way to know I'm not mafia or anyone else is to have a detective check me up.

But at the moment that's not feasible, so all claims of not being mafia are moot until the election is done it seems.

I don't know any of you guys because I'm new. But that shouldn't be a disadvantage because people you know could just as easily be mafia.

My thoughts on how to throttle the mafia, for even if I'm not elected mayor:
- A detective should investigate me should I get the job. Once cleared that the mayor is not mafia, the detective should PM the mayor the role the mayor originally got as evidence he is detective, of course it doesn't make for strong proof, but should the mayor have an exotic role, then its pretty strong evidence that the detective is a detective if he got the role correct.

From there a team can be developed, people with roles should PM the mayor, and he sends detectives to investigate them to be sure. Only mafia would fake roles, so investigating them serves as hard proof of their legit role, or will reveal a mafia faking a role.
Sure this wastes the detective's valuable limit of 2, but its served a good purpose than a blind investigate once the mayor is investigated. Jacks should be recruited first.

Once this network is built, then the detective privately relays their findings to the mayor who announces findings while safe from mafia hit so medics are not needed and assuring the anonymity of the detective.

This is just a brief idea of some of the plans I have as mayor. I'm happy to answer any questions or queries. Feedback on my plan is also appreciated.

Candidate Ghar. Lets kill mafia.
More ideas since the thread just got quiet
Most important roles to ally with the mayor are detectives, jacks, vigilantes, and medics.

Detectives and jacks for investigating roles. I won't reveal this too much since it could help mafia plan their strategy if they haven't already thought of it, but I'll discuss it further with detectives.

Vigilantes for killing power on top of lynching. Though at the moment I'm still contemplating whether it's beneficial to start weeding numbers quickly, or wait until a relatively sure kill before attacking.

Medics to make sure our jacks, detectives and vigilantes are alive.

Vets are just cannon fodder I think, best used to dull down mafia hits per night. They wouldn't serve a direct strategy for weeding out mafia unless anyone has ideas.

Thoughts and suggestions guys?
On March 18 2008 16:40 Ace wrote:


I like to start the game off with weeding out strats that are easy to follow - this controls discussion and gives everyone focal points.

One of the biggest reasons the Townies always lose is because they start posting nonsense, arguing about retarded shit, revenge voting, and seem to listen to the most nonsense posts for voting someone to get lynched.

With weeding strats:

1.) We keep the focus on a few people
2.) allows the Detectives to split up their work. If they see the town gunning for some people, they can investigate OTHER people. This is a major help.
3.) Mafia members can no longer sit back and watch the town kill themselves - they have to get in on discussions. This way, they are in the spotlight just like we need them to be.



A few things though. Detectives can only investigate 2 people. That means the bulk of their work will be interpreting clues and vote checks. They have to choose who they investigate carefully, and I think it's best done with people confirming roles to the mayor.
I have other ideas for detectives, but that's for later in case mafia picks up on it.
Ok, Ghar will give the self plugging stuff a go too.

My campaign title. Ghar- The man with the plan.

1. I'm on the forum when I have free time. Being on more or less won't win the game, so screw
that.

2. analyze clues. Anyone can do that. I plan to do things that only a mayor could do, and that is
co-ordinate a counter attack on the mafia, taking advantage of being invulnerable from mafia hits
so long as my bodyguards are alive.

3. Everyone's dodging the possibility of being mafia if elected. My answer to that, you can't be sure
of anyone. I'm offering to put myself up for detective scrutiny, and be lynched if I am mafia after I
got the job. Not an ideal solution, but it's not like you could get a better deal. I can prove I am
not mafia after I get the job when detectives can do their thing.

4. I reckon Fakesteve is an alright bloke, so I won't spit on his name. And it has no bearings on
winning.

5. I won't jump to inane possibilities about clues right now because that's the detective's job.
Having all the sigs and stuff available is irrelevant at this point. Co-ordinating are resources is
better.

With that said. Ghar for mayor I expect to be mafia hit/lynched very quickly if I don't get the job. But this is my all for broke strategy to get into the thick of things.
On March 18 2008 16:52 ahrara_ wrote:

Ghar, your plan is seriously flawed. I don't think you've thought this through, which is why I'm going to encourage people not to vote for you. If there was a contest over best election poster however, you'd win by a landslide.

There are four detectives. They can use their role finding abilities twice in the game, and once a day. However, noone knows who the detectives are. A mafia mayor could have a fellow mobster, even two, pretend to be detectives and report that you're the mayor. You could have the detectives detect the detectives, but that'd cause the same problem, and the real detectives would be using their abilities in vain. So it's not that easy, but at least it's better than what FS did.

edit:

For chrissake, if you're going to run for mayor, do more than a half-assed job. Can't be worse than fakesteve doesn't cut it.



I appreciate the the analysis.

Scenario 1: If I'm mafia and I get mayor. Real detectives will point me out and swifty lynch me if I'm mafia. Have him lynched to prove he's a real detective. Once the detective is killed and revealed to be a real detective, then I'll die quickly

Scenario 2: If I'm not mafia and I get mayor: Unless a townie wants to ruin me, only a mafia would pretend to be detective. real detectives will confirm to me in private. If I don't get a public protest. I'm clean. Townies wouldn't pretend to be detective unless they want to ruin the game. Real detectives will reveal my role in private and vouch for me with silence. Only a mafia would claim to be detective in the open and say I'm mafia. Kill him, and see that he's mafia, and I'm right.

Am I clear, my thoughts didn't translate too well in this post.
You'll be able to know if there are fake detectives if the mayor suddenly has more than 4 people report to him.
I have a plan to find fake detectives. Using up their 2 investigates is not a problem if you can be sure the mayor and the detectives are the real deal.
For all the people that think clues lead to me. Lynch me if you will, I've provided my parts of my strategy, a competent mayor can pick it up from there. Though I don't know why people are so analytical when it comes to interpreting clues in relation to me. But when it comes to someone else it's like, "araav can program in C++, works for me."

If I get mayor, you will have direct confirmation whether I'm mafia or not. As for the rest, they're not offering any plan of action to prove themselves.



Taipan Snake is an Australian snake, and you are from Australia, so there is a chance you are mafia!


There's a chance anyone can be mafia. That you're playing the game confirms it.
No. What I'm saying is the detectives investigate me before they approach me. If I'm guilty, they spill with the town, they lynch the detective to prove he's right, I follow after. 1 detective life to garantee a dead mafia mayor.

If I'm innocent, they find that out, then they reveal to me in private that they are detective.

Edit: Yes, every detective would have to check me, but it's worth it since it confirms that they are real detectives to me, and they know I'm legit. Nothing comes without cost. Better to investigate someone important than random people.
Ghar's plan sounds reasonable, but the detectives can do that for every mayor and not just not him. I don't see a real flaw in the plan, but I am hoping a more experienced mafia player can point out one or two. I can't be that easy. Also, is it worth it for the mafia to loose one member like that if they can take out the mayor and 1 or 2 detectives? (Sorry for being such a noob).



It offers more than that, it offers that you know that your mayor is legit or not. In the worst of circumstances, at least you won't have a mayor leading you in a goose chase. You can't be sure the other candidates are not mafia. I'm offering peace of mind that you will find out very soon should I be elected. In the best of circumstances, you have a network of people working together. Also I am offering a plan, which the others are not. Direction and teamwork is important no?
How would you know they are actually DTs though, could just as easily be mafia saying "hay, I checked you out, you're legit, and I'm a DT". Given that would mean more than four people would message you, but you still wouldn't know who is lying. Not to mention of not all DTs are active, or follow the plan.


There are a few things I would ask them to do before I'd be satisfied they're legit. I won't disclose that at the moment in case mafia make a counter strategy.



let's analyze a bit.

In case you happen to be a mafia and a detective finds it out, mafia sacrifies a simple member to a town's ability to have extra mafia lynches. sounds very appealing from mafia's perspective.

so this is NOT a good, convincing plan. And you still did nothing for me not to suspect you.


It's better than having a mafia mayor leading people to death. What I'm aiming for though is the best case scenario to set up a network of people with roles, that gives the best chance at winning. I'm not trying to convince you, I said already, all claims of not being mafia are moot. I'm providing a strategy to victory, because that's more feasible than trying to clear a name that can't be cleared at the moment
The same risk holds with any other candidate. I don't see how I'm more at risk than the others, besides some clues that are too early, and best interpreted by a detective. A less risk mayor doesn't guarantee an innocent one. A mafia mayor is better off dead. And an incompetent mayor is like he never existed.
This strategy so far, is the only strategy to unite all roles for co-ordinated work. Or else it will just be detective working along and getting hit, they have less power this time around.
The best scenario still outweighs the worse scenario. And the worse case scenario is no worse than if you elected anyone else. I stake my innocence by that strategy if people really want to find out if their mayor is innocent.



Well, keeping track of the profiles, etc. does benefit us, but more to the point, he bothered to do it. If he was Mafia, that would be a questionable move: who knows how long it would take for us to get the information together otherwise? Therefore I think that araav's using his programming skills to help the town is an indication that he is a towny.


At the consequence of what? Becoming mayor. There is nothing right now that can make anyone less suspicious than another.
I will confirm the innocence of all important roles. Then systemically get detectives to file a list of suspects, confirm that clues point to the suspects, then send the vigilantes and jacks on a spree. And ideally with medic support. The detectives are my sci vessels, the vigilantes are my rines, the medics are my medics.

Double lynches still require a majority vote which include the mafia. Vigilantes can kill without all that hassle, plus co-ordinating detectives, will let me announce their work without fear of mafia retaliation, and lead more intelligent lynchings.



He's not guaranteed to become mayor. You're right, it doesn't prove he's a towny--we can play the double-feint game forever--but it's still something. At the end of the day, the Mafia doesn't want the list up, and if they can get away with no one posting it, they would prefer that.


With your vote, he becomes one step closer to being mayor, for some small work like getting the profiles, if I was a mafia, I think something like that would worth being able to not only off the mayor, but use him to your advantage.

If the list is that important, someone will do it sooner or later. Mafia can't do anything to stop that, they might as well use it to their advantage, You could rationalize.
For people that might have missed my plans as mayor, the link is in my profile page.
And I support Ace. Don't know if he's towny or not, but we think alike. So should I end up not getting enough votes, Ace would make a nice alternative if we need to combine votes to win.
I wasn't going to speak out in my defense regarding the clues because there's no point interpreting clues at this stage. But this is ridiculous.



But you missed the full quote.

Ghar's quote refers to this situation:

(This is a direct cut-paste from

http://www.nevadadailymail.com/blogs/stevemoyer/entry/16036/)

"When the Marines were cut off behind enemy lines and the Army had written the 1st Marine Division off as being lost because they were surrounded by 22 enemy divisions. The Marines made it out inflicting the highest casualty ratio on an enemy in history and destroying

7

entire enemy divisions in the process. It generated three versions of a Chesty Puller quote. I'm not sure which is accurate but they are all quotable."

One of the quotes is the one in the sig.



Did I miss something, or did they change their rationale from 8 directions vs 8 people. to 7 enemy divisions vs 8 people. If you like changing your rationale so much. Maybe because they were marines, means they used guns, and Dapperdan was killed with a gun. So that must mean it links me. Because no one else could be linked to something so unique like the number 8 or guns, or where snakes come from for that matter.