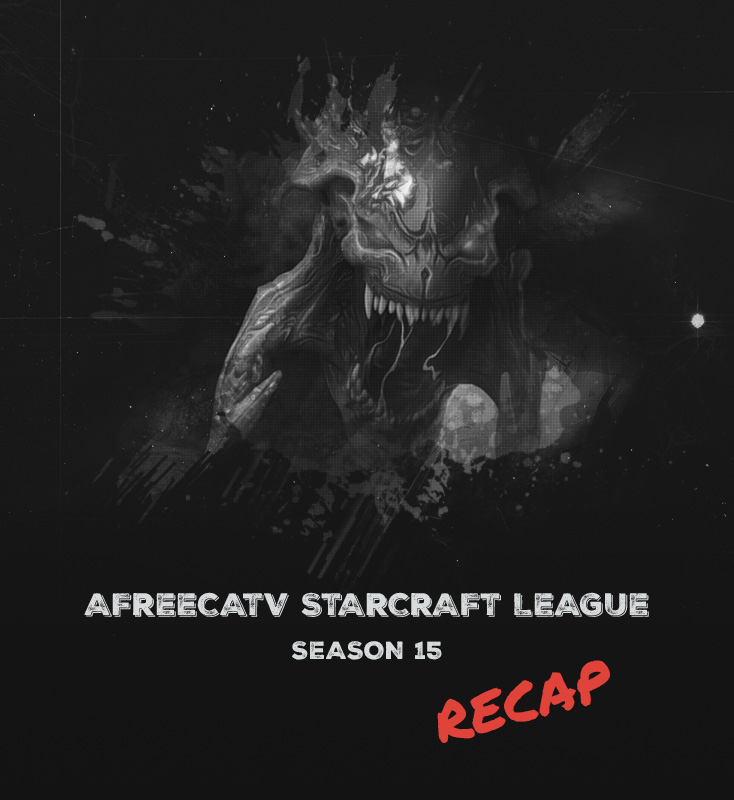 With ASL Season 16 starting the Ro24 a day from this post its only fitting that we ask Simplistik one last time to look back on the highlights and lowlights of ASL15.


Qualifiers
There weren't any really big upsets in the qualifiers, but a few notable players narrowly failed to get over the line. There were some grumblings of discontent online over the lack of seeding, but if we're honest no actual contender ended up missing out.
TY
was twice only one game away from getting into the ASL proper. Former Oz Zerg
beast
also made two qualifier finals, but missed out, as did Leta. Horang2 and perennial TL favourite Sea also fell at the last hurdle.
Ro24
Group A
ction saw the
Mafia Zerg
cruise to an easy 2-0. Hiya disappointed. And former champ
Mini
was surprisingly knocked out by
sSak
in the decider, albeit in a very
entertaining
game:
VOD: Mini vs sSak on Retro
The is probably the only game of the Ro24 worth re-watching, purely because it was extremely fun. Mini goes all out hyper-aggro with mixed success, leaving opportunities for sSak to counter. Despite some big swings the result comes down to a single unit. Hopefully, we'll see a bit more from Mini this season.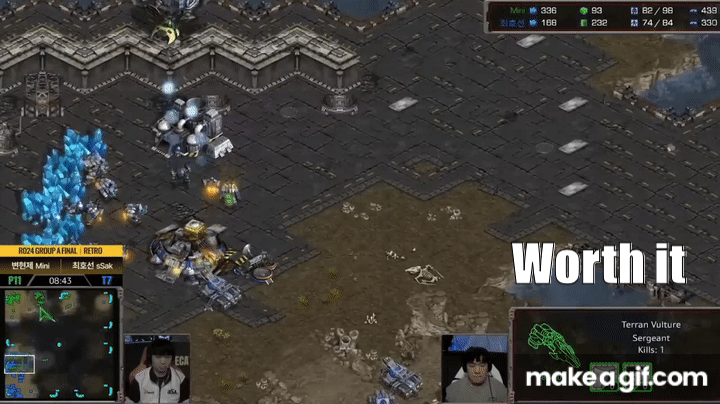 A little aggro never hurt anyone..
.
In
Group B
isu, the
Revolutionist
overcame an aggressive bio opening with his very strong micro to qualify 2-0.
HyuN
squeezed past
BarrackS
after an unusual 5-pool eco win over
Blunt
Sharp
.
Group C
surprised us with knocking out title contender
Soma
in curious fashion. First Soma got tower rushed by
Ample
, and then he (mistakenly) tried to use guardians.
Best
had no trouble.
Mind
's TvT was enough to get past Ample.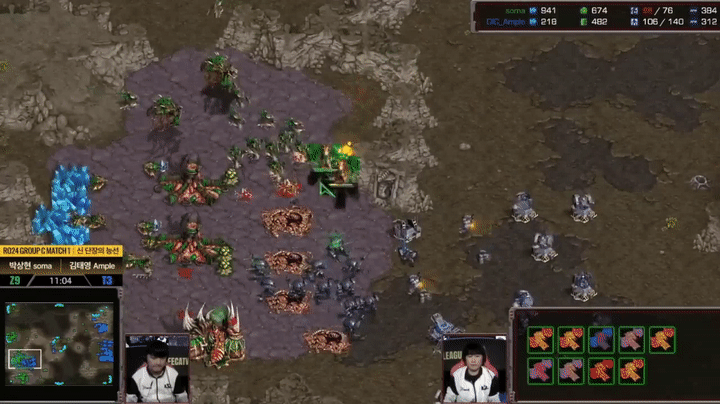 Tower defence
I don't really remember
Group D
.
Snow
crushed.
Shuttle
bombed.
Jaedong
scraped through. Who is
BishOp
?
Group E
saw first-time qualifier
Ruin
actually win a game, only to forget how to plug his FE wall in the decider. I'll leave to the reader's imagination how well this went against known ZvP-aggro-monster
Shine
.
Queen
had no trouble.
Mong
looked out of place.
Group F
went about as well as
Stork
could've hoped, 3 PvT's in a row. Three golden opportunities to use the glorious golden carrier armada. Unfortunately, it only worked once.
Light
cruised through.
JyJ
survived the decider.
Sacsri
tried guardians. Yep, you know how that went. Ouch.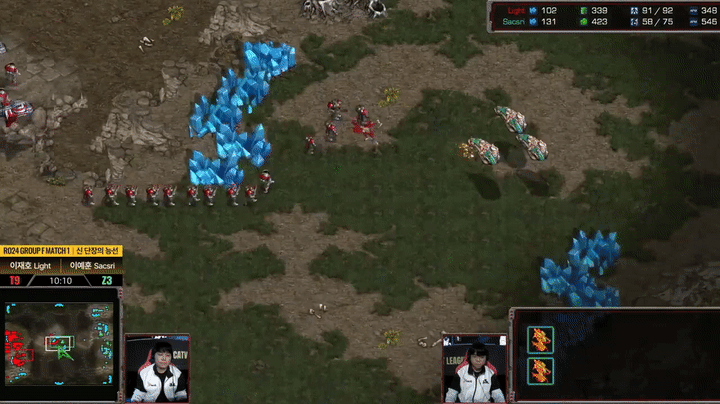 About as effective as an oil-soaked piece of paper is in putting out a raging inferno.
Ro16
Group A
- Regicide
The round of 16 treated us to a notable increase in the quality of the games.
Group A
ction (again!) was carefully set up for the reigning champion to get an easy ride into the next round, by playing exclusively his best match-up. This worked somewhat less well even than Stork's carrier antics, as Royal got dumped out in straight sets. But, on his way out of the door, Royal treated us to a
great
game at least:
VOD: Royal vs Action on Retro, Losers Set 2
A nice long TvZ, where both players get away with insanely greedy openings for an explosive midgame. In between massive macro rounds, there are a number of clutch micro moments. And when Action gets to four gas, you better be ready for a tidal wave of claws and teeth.
The rest of the group was a ZvZ-fest resulting in Jaedong and Action making it to the next stage.
Group B
- Premonition
Against the odds, JyJ came out of this group on first place, and he did so with
style
. In many ways JyJ's performance here hinted at his chance to win the title.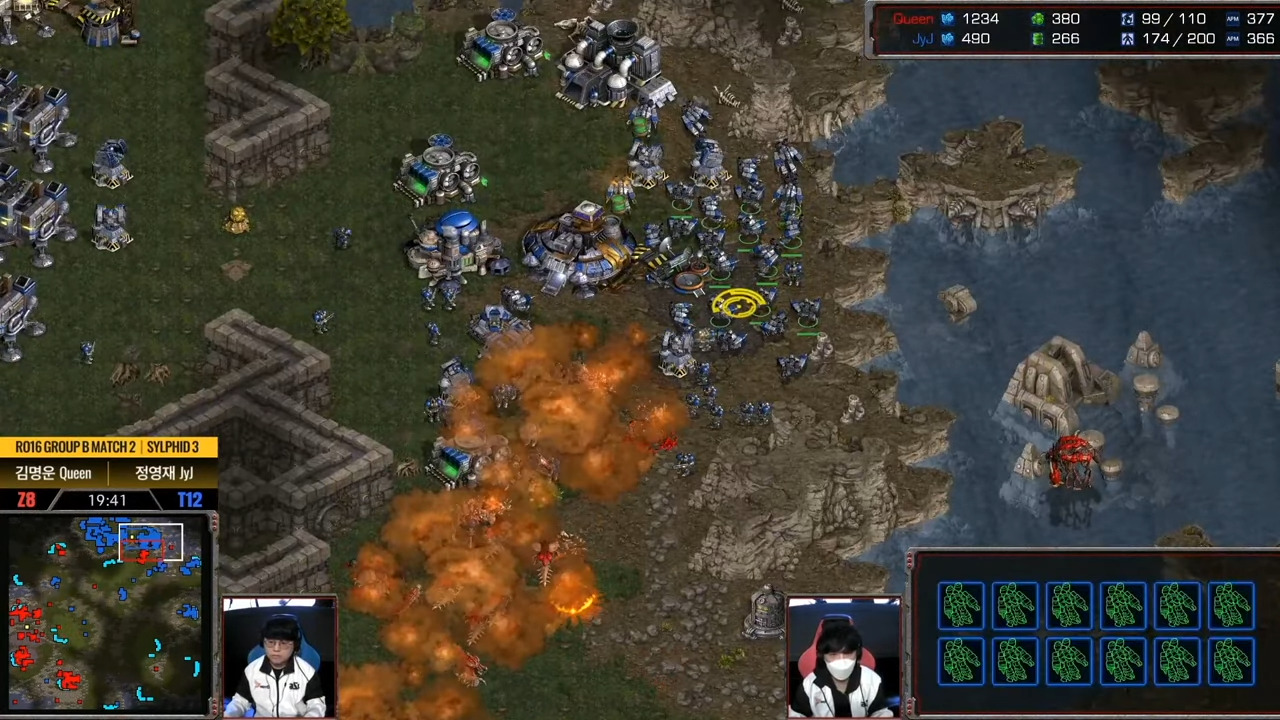 Everything going to plan...
VOD: JyJ vs Queen on Sylphid 3
JyJ combines powerful calculated aggression, near flawless defence and the ability to play well under great pressure to claim his first big win.
In the Winners Match, Rush got subjected to JyJ's inexplicable vulture-wizardry, getting overwhelmed in very favourable positions, twice.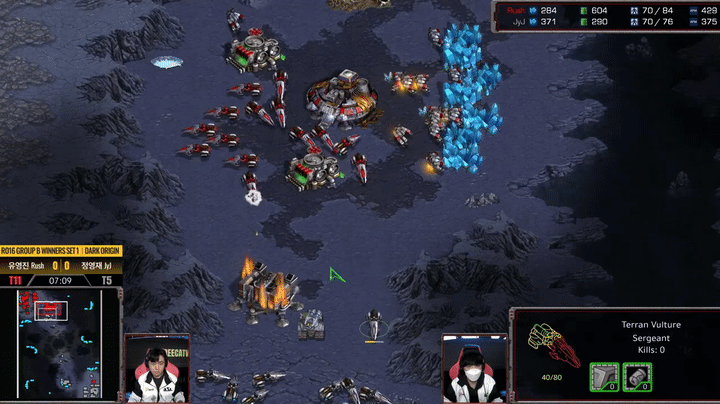 What? How? WHY?!
Finally, Queen found his ZvT mojo. A polite description for Barracks might be 'collateral damage'.
Group C
- Epic Struggle
Although the reigning champion didn't do much this ASL, he did create the
Group of Death
, by using the royal prerogative to swap JyJ and Snow. The result of this group was exactly the opposite of what I expected. In my mind the relative strength of the players going into the group was Snow > Light > Soulkey > Best. But, apparently live play can do funny things to relative strength. My poor liquibet performance notwithstanding, there were some great games here.
VOD: Best vs SK - Sylphid 3
This is the first of a number of brilliant games delivered by Best. A double-stargate opening runs into a big mid-game hydra bust attempt, held off by a clutch DT. After the game stabilises we are treated to a series of large ground fights backed up with top notch macro. Can goons really go toe to toe with hydras? Depends how many you have...
One big disappointment of ASL15 was Snow's performance. Light cought the former finalist attempting a very fast reaver build and punished it hard with some nicely executed aggression. And in the Losers Match, Soulkey just swatted Snow aside like he's a b-teamer.
The Winners Match on the other hand was awesome, giving us three quite different games, where Best eventually prevailed over an exhausted looking Light. The standout game was the marathon encounter on 76.
https://www.youtube.com/watch?v=zmmx0WuZkrc&t=1h35m42s
VOD: Best vs Light on 76 (Ro16)
Another long
epic
game, courtesy of Best. Despite Light's very effective 2-port wraiths opening, Best is far ahead after the drop heavy mid-game. But with astonishing tenacity, Light claws his way back into the game by taking and holding the middle, while fighting off drops, storms and the inevitable late game carrier switch. With some excellent drop play, Terran even manabes to take the game to the wire.
The Final Match also delivered some quality games. Light took a quick lead with a valkyrie knock-out. Soulkey struck right back by catching the next valkyrie attempt in the open with scourge.
https://www.youtube.com/watch?v=zmmx0WuZkrc&t=3h57m47s
VOD: Light vs Soulkey on Vermeer (Ro16)
The group of death comes down to the final game between Soulkey and Light. After a tense opening, we get to enjoy a full on late-game TvZ complete with ultralisks and battlecruisers. Facing two elimination games in a row, Soulkey shows why he has been a legitimate contender for the last few seasons with calm play and excellent late game control under pressure.
Group D
- Revenant
Unfortunately, the final group did not match the viewing quality of the others and there weren't any standout games. sSak looked badly outmatched, getting crushed by herO and toyed with by Bisu. Bisu on the other hand, even after all these years, still doesn't seem to have an answer to Mind. Mind's play looked fairly good, with solid TvP and good TvZ. herO won the decider convincingly. He is legitimately good at ZvP, and seems to have Bisu's number in any case.
And thus we ended up with a very wonky race distribution for the Ro8: 5 Zergs, 2 Terrans and a lone Protoss. There was a real possibility of all Zerg semis, but, by some kind of miracle, we got the completely opposite. Praise the BW gods!
Ro8
Best vs Action
The round of 8 started off with an interesting match-up. The only Protoss left, playing his traditionally weakest match-up against a Zerg also surprisingly playing his weakest match-up. This series could have easily turned into three bland hydra busts. And things didn't start well for the prospects of an interesting series, when Action washed over Best's natural with a simple ling flood, because probes were unable to surround the all-important cannon. And things continued in a one-sided manner when Action killed an eye-watering 37 probes with two lurkers. I had honestly given up on Best at this point. And then the
miracles
started happening...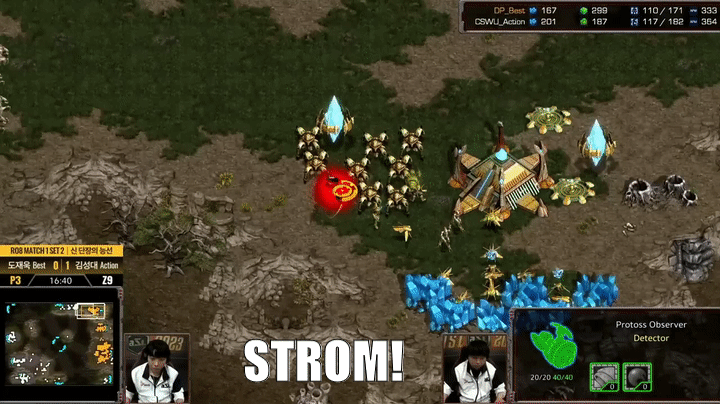 Storm Strom Storm Strong
VOD: Game 2, Best vs Action on Heartbreak Ridge
This extremely entertaining game was probably the biggest comeback of the whole tournament. From the moment Action executes some top-notch lurker harrass, Best is in a really difficult spot. What follows is some of the best spell use and defence in PvZ I have ever seen, as the underdog hangs on by a thread through wave after wave of multi-pronged attacks.
https://www.youtube.com/watch?v=8ojdLdBa3vk&t=1h11m57s
VOD: Game 3, Best vs Action on Nemesis
If you are only going to (re-)watch one game of ASL15, this is it. Easily the best game of the season, and the lynchpin of the best series. Though only in the Ro8, this incredible PvZ is the Protoss high water mark of the last two seasons, and should probably join any reasonable best of PvZ list. This game has nearly everything and then some: early aggression, great defence, huge momentum swings, maxed armies on full upgrades, a destroyed main base, almost no minerals left, ultras vs reavers, templars vs guardians, impressive stamina, great manoeuvres and a last stand finish with huge crowd reaction. Seriously, stop reading and watch this game. Now.
In the final game, Best messed up his opening, but again survived thanks to excellent mealstrom and storm use, until Action ran out of steam. What an incredible series. Made me remember why I watch this game in the first place.
Queen vs Mind
A fun close ZvT
series
, with good play from both sides that went to the wire. Overall, Mind won with his expert timing attacks punching through Queen's more economic openings, with a hilarious failed mech build thrown in for good measure. The highlight of this series was the game on, you guessed it, 76.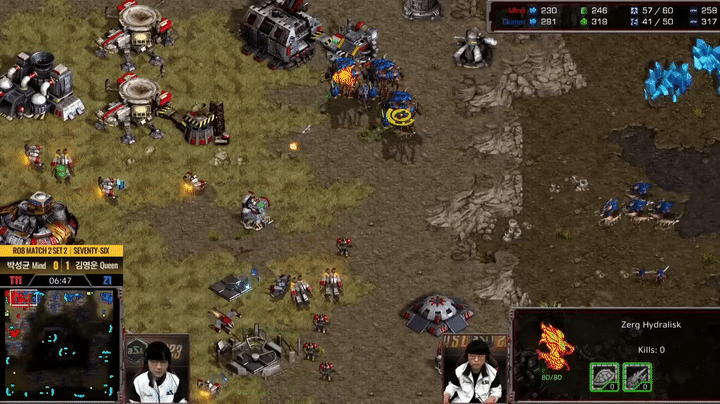 Watch that tank
VOD: Game 2, Queen vs Mind on 76 (Ro8)
An unusual low-econ, early tech, clutch micro thriller thanks to [s]everyone's[\s] my favourite map of the season. When was the last time you saw a double lair opening in a serious game? Exactly.
Jaedong vs herO
I don't know if there is such a phrase, but this ZvZ really lived
down
to my expectations. Lings, mutas, lings, scourge, lings, mutas, spore. For die-hard ZvZ fans, the 3rd game actually had a couple of surprising momentum swings, which nearly lead to a comeback. Unfortunately, the outcome of the close fights was, as usual in ZvZ air battles, essentially incomprehensible. Maybe the players should just toss coins instead? Oh, herO won 3-0.
JyJ vs Soulkey
This was another very fun series, and probably the best one that we didn't review in detail. Overall the Ro8 really delivered. There were several games with swarm and plague, great vessel control, big bio armies and clutch surrounds. JyJ showed that his win over Queen, in the previous round, wasn't a fluke. He's genuinely good at this match-up, albeit in a strange fragile looking fantasy kind of way, including some risky mech play. Soulkey played his part, creating tension with near comebacks similar to his semi-final against Royal in ASL14.
VOD: Game 5, JyJ vs Soulkey, on Retro
The final game of the series stood out for several reasons. 2-port in a knockout match on a standard map is unusual, but surely burrow and ensnare in response is just wild. And afterwards the game somehow stabilises into a big late game tussle. Soulkey is behind for a while and claws his way back with some good manouvres, but JyJ's vessels are insanely efficient. In the end he has so many that he starts irradiating individual irritating hydras...
Ro4
Mind vs Best
By general viewer consensus, this serious did not live up to its potential, although I have
argued
that it was closer than it looked and that Best had his chances. Mind got off to a good start on Heartbreak Ridge with a clever double block between the Protoss main and natural, allowing him to take down the fast nexus. Best never quite recovered from the early setback as his shuttle play failed to thin out the tanks.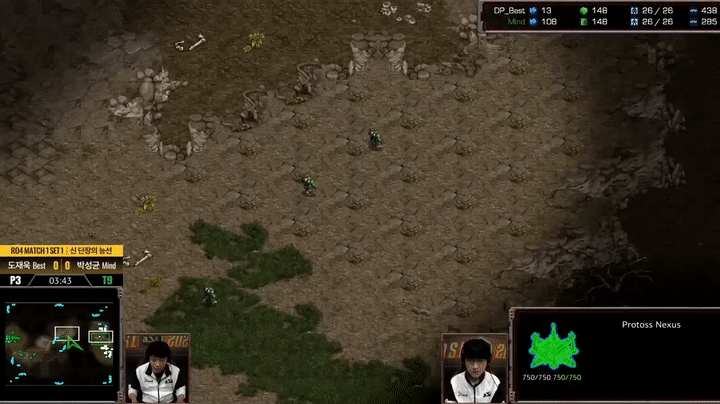 Winning Move
On Vermeer, Best lost the game due to a completely failed frontal attack on Mind's very well defended third base. Mind tried a cute elevator all-in on 76, but Best won with essentially perfect defence. On Sylphid, Best opted for aggression again, with a little more success, but ultimately the drops and recalls were just too inefficient. Dark Origin seems tough for Terrans, so Mind tried to get aggressive with a 0-0 tank push, but Best dealt with the situation expertly. After this Best took map control and ultimately ran Mind over.
In the 6th game, on Retro, Best managed to get into a very favourable position, with a big supply and eco lead, confining Mind on two bases. At this point it looked like the series would go to Nemesis, giving Best an edge in the final game. Then Mind did a lot of damage with vultures and Best seemed to lose his nerve. Instead of consolidating an economic lead, Aiur's Last Hope took several extremely unfavourable engagements and thereby gifted a Finals ticket to Mind.
JyJ vs herO
The second semi final was very
enjoyable
. herO quickly took a two game lead with a ninja 4th gas on Sylphid and rolling over Mind's ineffective 1-1-1 on Heartbreak Ridge. Over the next two games JyJ levelled the score with well-timed attacks, hitting just before herO's economy got out of control. Not keen on a long Nemesis game, herO stopped JyJ's momentum with a 4-pool, which very nearly went wrong. On Retro, herO looked good until he botched defending a drop into his main. The final game on 76 was incredible, and you should definitely watch it.
VOD: JyJ vs herO on 76
An amazing Terran build-order-singularity the likes of which we haven't seen in a long, long time, never mind in a game that actually mattered. Forward rax into floated factory into two-port, all on one gas well into the midgame. This should never have worked, but in JyJ's hands it somehow looked so strong that seemed like the logical thing to do. I wouldn't mind a lot more action on the best map of the season.
Final
Mind vs JyJ
Unfortunately, the final didn't maintain the quality of the previous two rounds. And unlike the previous season, it wasn't close either. Put simply, JyJ outperformed Mind across the board, micro, macro, builds and decision-making. The first game was quite back and forth, but in the end Mind blew his chance with some bad drops and painful mine missteps. Mind won game 2, although I don't remember how. The most interesting aspect was JyJ's suspicious GG timing. But as soon as you realise that fantasy helped him prepare for the series it all makes sense.
I have a dream fantasy. - ML Kong
On Sylphid there was some tense high-quality micro in the opening, which culminated in both players clumsily throwing away useful units almost immediately after seemingly saving them. Mind had an advantage in the midgame, but JyJ won anyway with better staying power and strategic decision-making. (If this summary doesn't sound very detailed, I can only apologise, I'm reading my own life-reporting and notes and I just don't remember anything. Please don't make me re-watch this...) The game on Heartbreak Ridge was actually fun though. Some crazy fights, really great marine micro, JyJ's trademark vulture voodoo topped off with cloaked wraiths and valks. In the final game of ASL15, JyJ rode a big build order advantage to an even bigger victory that we could all see from a mile away. Probably the best part of the final was the marriage
proposal
.
And here we are again. Another ASL round of 24 about to kick off. I for one look forward to the crazy shenanigans that await us.
---
Writers: Simplistik
Graphics: v1
Editors: BLinD-RawR