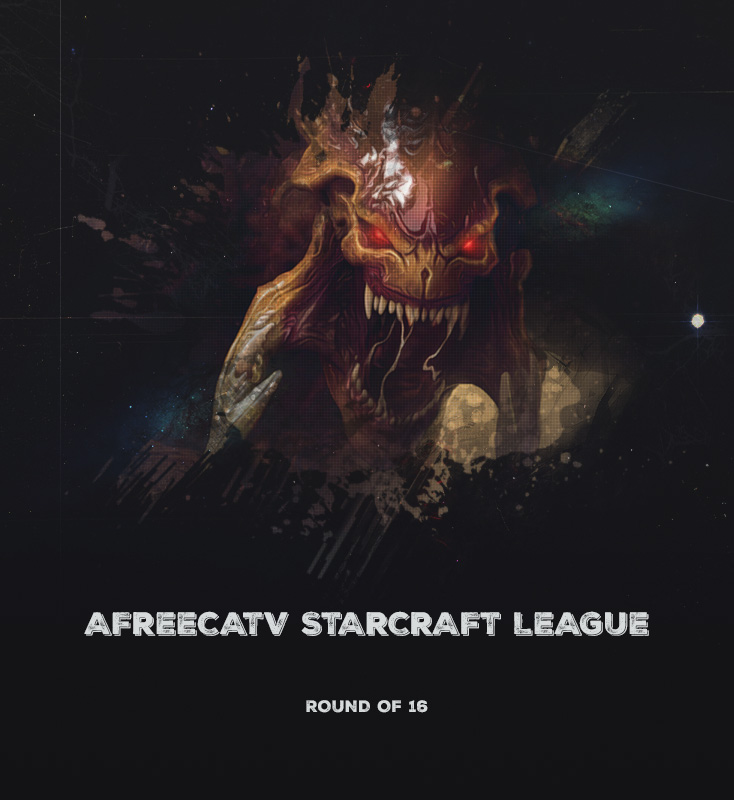 the Ro16 and especially the group of death that was Group C provided as expected the best games of the season thus far and one can only be excited for what is to come as we are coming up to the top of the season, Simplistik is here to recap all the hits from that group as Peeano and BLinD-RawR preview the first two matches in the Ro8.




Group C Highlights
Game 1
-
Best
vs
Soulkey
, Sylphid 3
Underdog
Best
pilots a double-Stargate opening safely to the midgame.
Soulkey
's Mutas do almost nothing and his follow-up Hydra bust is stopped with well-timed Cannons and a DT.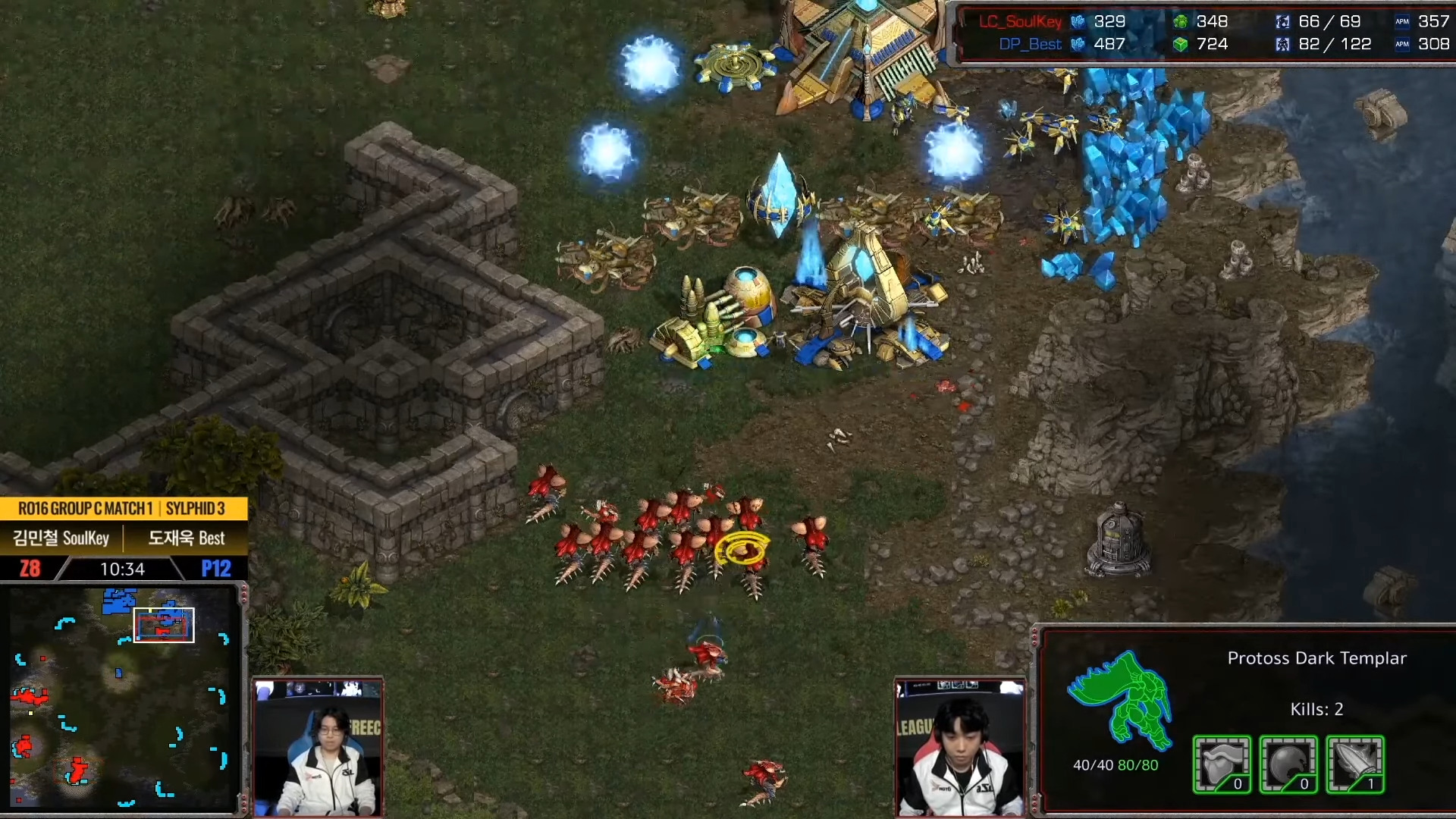 Invisible Man
When a large Goon/Templar army engages a Hydra/Lurker, I feared for the worst. We all know what happens when Goons fight Hydras straight up: lots of blue goo. But, with impeccable macro Best straight up overpowers Soulkey and moves on to the Winners Match.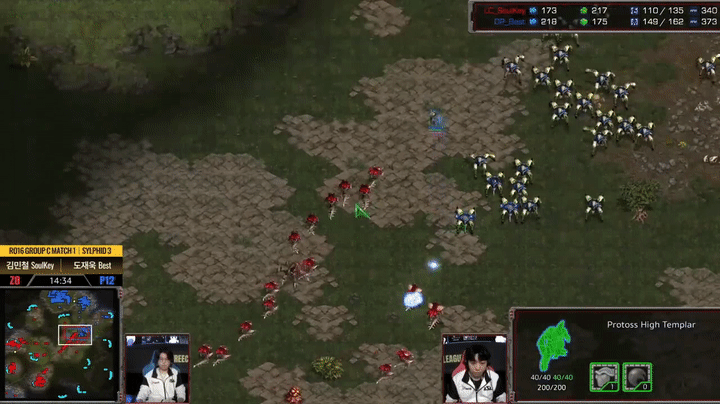 Goons reaching critical massGame 2 - Snow vs Light, Sylphid 3
Snow skips Goon range to get out a super fast Reaver. Somehow Light reads this correctly, and moves out with 3 Marines, 2 Vultures and a Tank. The attack does huge damage. Snow, feeling the pressure, responds by channeling his inner Stork: 7:30 Fleet Beacon, behind a single Gateway.
Twice as many Stargates as Gateways, probably a good ladder build.
It doesn't work. Light's economy is too far ahead and the Carriers get caught in the open by too many Goliaths.
Winners Match -
Best vs
Light
Game 1 - Retro
After a fairly standard opening, with some pressure from Best, both players hit max. Best is already on five bases. Light is still stuck on three and about to mine out his main. But in a brilliant maneouvre Light pushes Best's army into a corner and cuts it off with mines. This allows the Terran to split his forces, and to take down two Protoss expansions.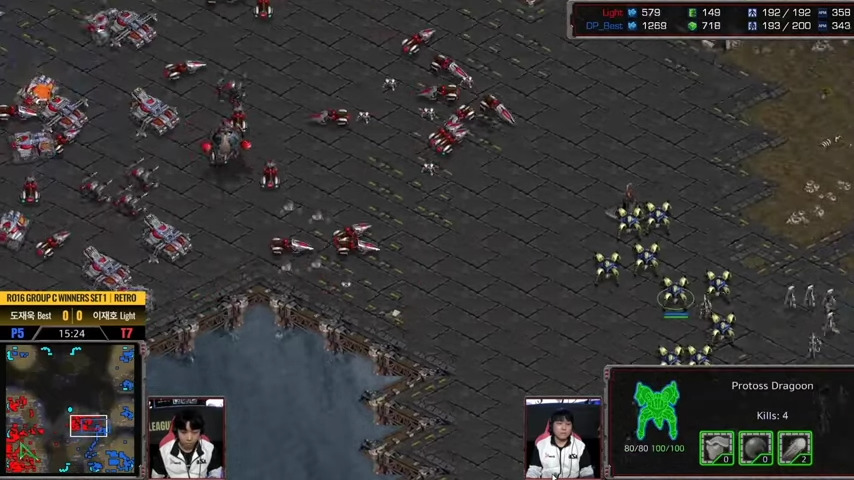 Mines are good against Best.
After that Best never finds an opening to attack Light's economy or engage the large well-upgraded Terran army.
Winners Game 2 - 76
This is hands down the best game of the tournament so far. If you plan to watch only one ASL game this season,
what are you doing here?
, this is it. Although I can imagine that Terran fans might feel slightly aggrieved by the outcome.
Light manages to punish Best's greedy 12 Nexus with 2-Port Wraiths, and the game stabilises with both players on three bases. From here on Best's strategy is take all the bases, and secure them with many Cannons, while keeping Terran under control with drops. Light transitions into Tank/Goliath drops while being extremely annoying with his Wraiths.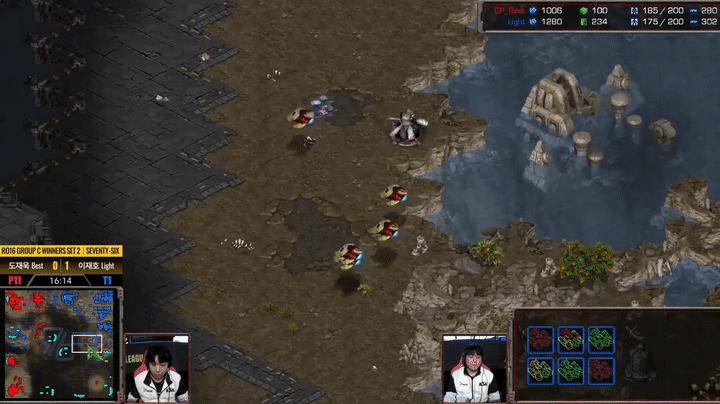 There goes 30 supply: Wraiths being extremely annoying.
Light tries to drop the Protoss main, but Best holds with Templars, Zealots and elevatored Goons. The game is starting to look difficult for Light, main mined out, and still on three gas, when he finally manages to get a foothold in the bottom right main. But the island at right middle is controlled by Protoss, making it difficult for Light to get reinforcements down. Best attacks the Terran parachute regiment with 5 Shuttles, a myriad of Storms and a huge number of Zealots, to take back control of bottom right.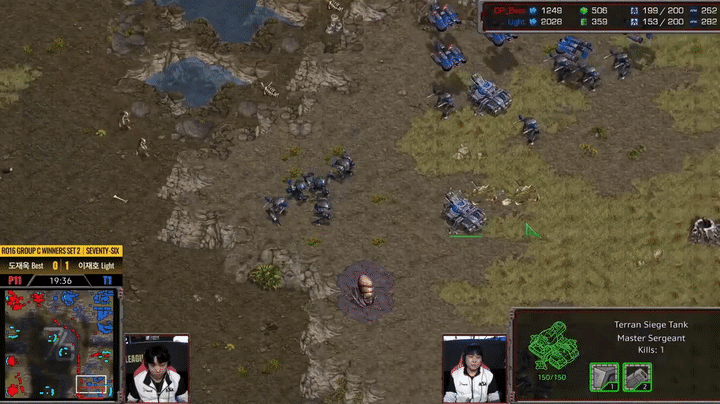 Massive conga line
20 min in, the game looks all but over. Light still has no 4th gas, he is running out of minerals, has no map control and is 65 supply down. In desperation, he takes one of the middle bases. And suprisingly, Best fails to stop this with drops. The thin ridges, and lack of ground paths are very difficult to maneouvre with Shuttles and Zealots, while Goliaths and Tanks can use their range to great advantage. Still up on army and resources, Best tries to take out Light's main, but fails because the Zealots and Storms are not synced up with the drop. As a result Light can replenish his army and start to get active again, shutting down some softer bases.
Best responds in the only way that a self-respecting Protoss would: Carriers. Astonishingly, and completely against the odds Light actually manages to take down the Stargates at the second attempt
and
defend his middle base with Goliaths for a short while.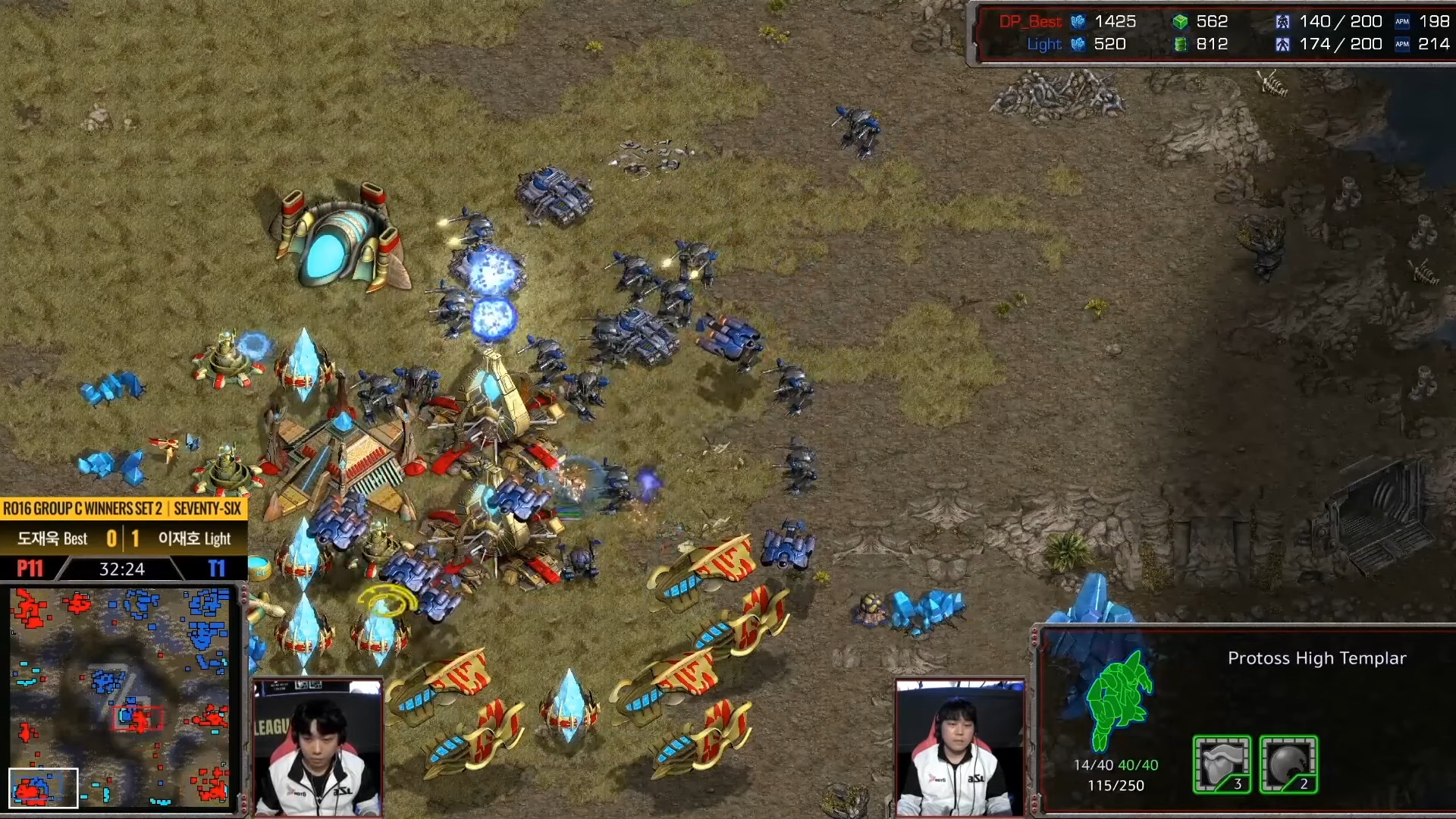 Good night Stargates
Unfortunately for Light, the middle bases are very vulnerable to Carriers with Storm support. Running out of options, our intrepid Terran commander tries one last drop on Best's bottom right base, where the rebuilt Stargates are located. But there aren't enough units and the Terran army gets sandwiched and eaten up fairly easily.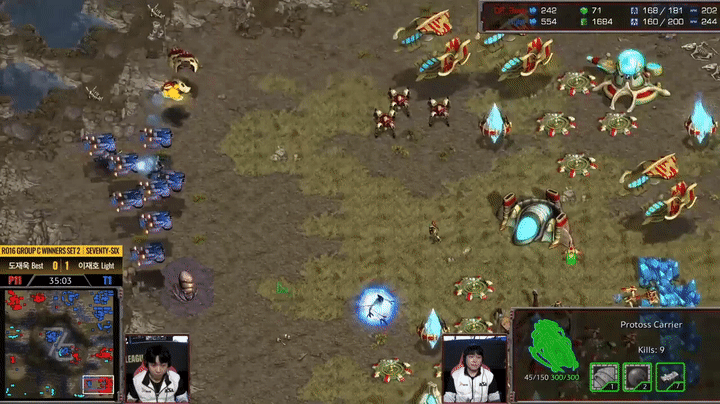 Goliath sandwich with a sprinkling of Tanks
The rest of the game is a brief clean-up operation.
Winners Game 3 - Nemesis
The final game is more straightforward. Both players open similarly, Rax expand vs Gate expand. Best gets a small advantage out of scouting, which allows him to delay his Robo and take a fast third, while Light is blind and forced to play safe. Vultures kill a few probes and a Reaver drop does some damage.
The cumulative effect is that at 11:09, Best is up 55 supply, with a big round of Zealots streaming across the map to join his Goons outside the Terran natural. When the attack hits, Light is not ready. The Terran third and main are well defended, but the natural is dangerously exposed: 1 Mine, 1 Turret and 6 clumped Tanks, no forward depots. Zealots drop onto the Tanks, Scarabs are solid. Light pulls back the units from his third, but it's too late. Best is already on the Factories, and behind this he's transferring Probes to his 4th base.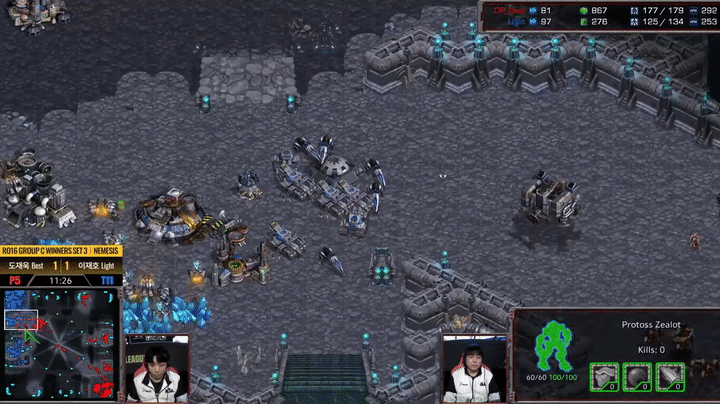 Classic Bust
Losers -
Soulkey vs
Snow
Game 1 - 76
Snow tries to play the map by going mass Zealots, but he never gets anything done. Soulkey takes a second main without any trouble, keeps the Sairs under control and proceeds to Hydra pressure. When Snow finds himself without units, pinned into his base, he taps out. In hindsight, Soulkey probably didn't even need Lurkers to win this game.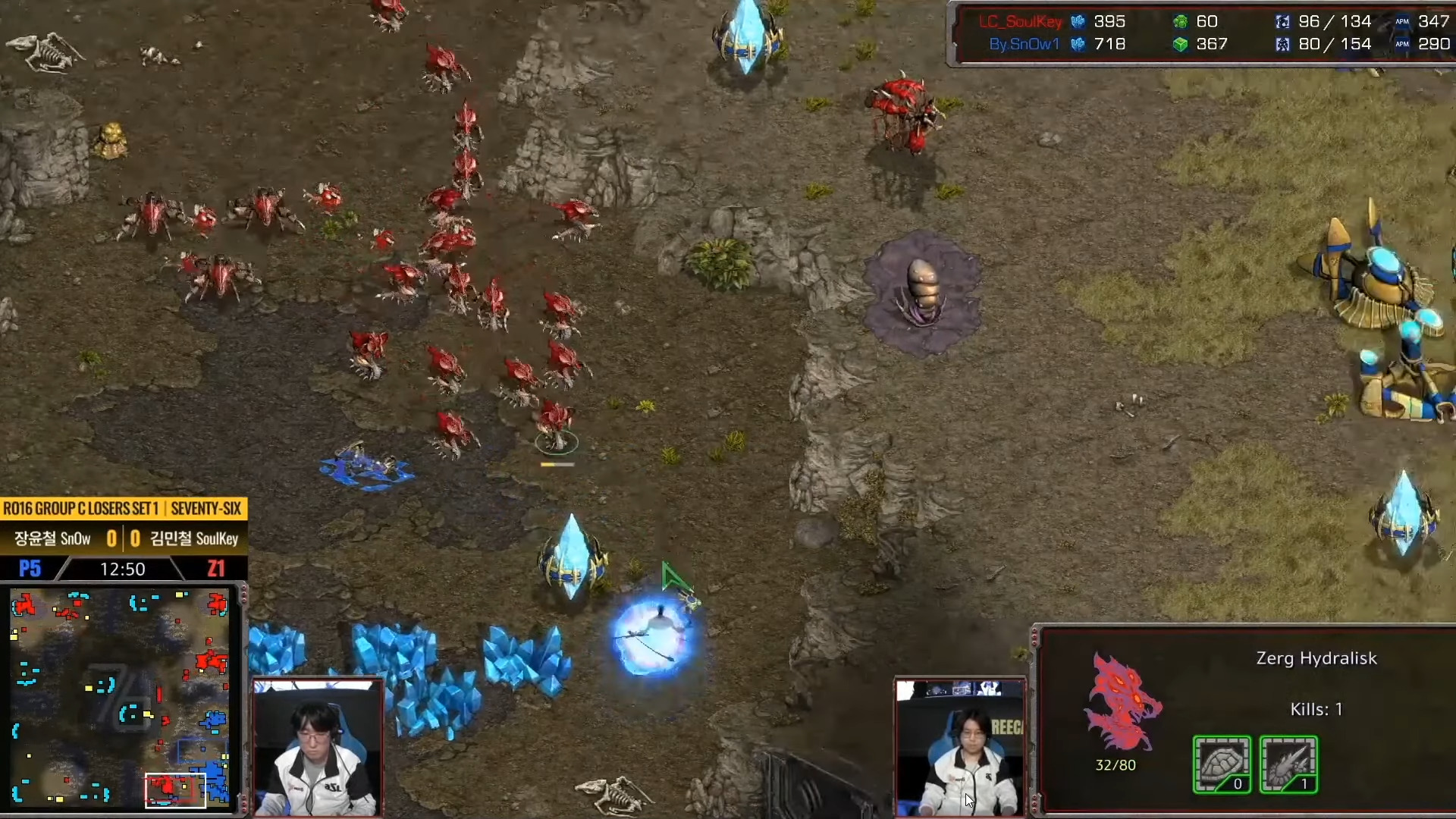 No way out
Game 2
Soulkey opens with Speedling pressure, and arrives at Snow's natural before the Forge finishes, but Snow preemptively built a ... Shieldbattery(?!). The Lings take down the Gateway, but Snow plugs the wall with a very nicely timed Forge.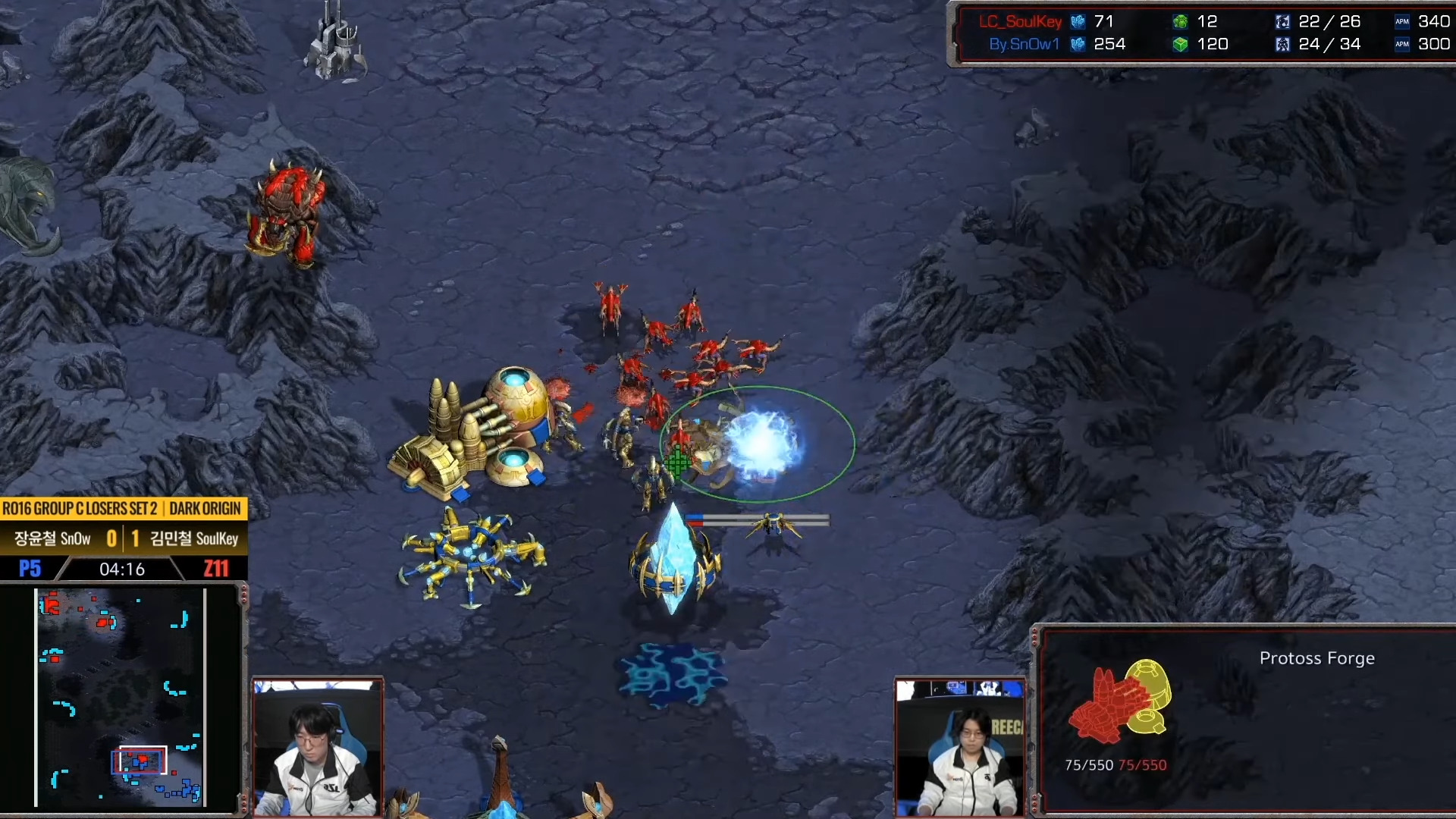 Clutch hold
Annoyingly for Snow, his Gateway got sniped before he had a Core, so all his tech is very late. Perhaps that's why he opts for double Stargate. As Soulkey has basically complete information, the Sairs do virtually nothing. Soulkey transitions into Hydra pressure off three bases with a solid economy. Before 9:00, Zerg overtakes Protoss in supply and never looks back. Snow gets out his starting quadrant once, before getting crushed by overwhelming numbers. Overall a very disappointing showing from Snow, but Soulkey is...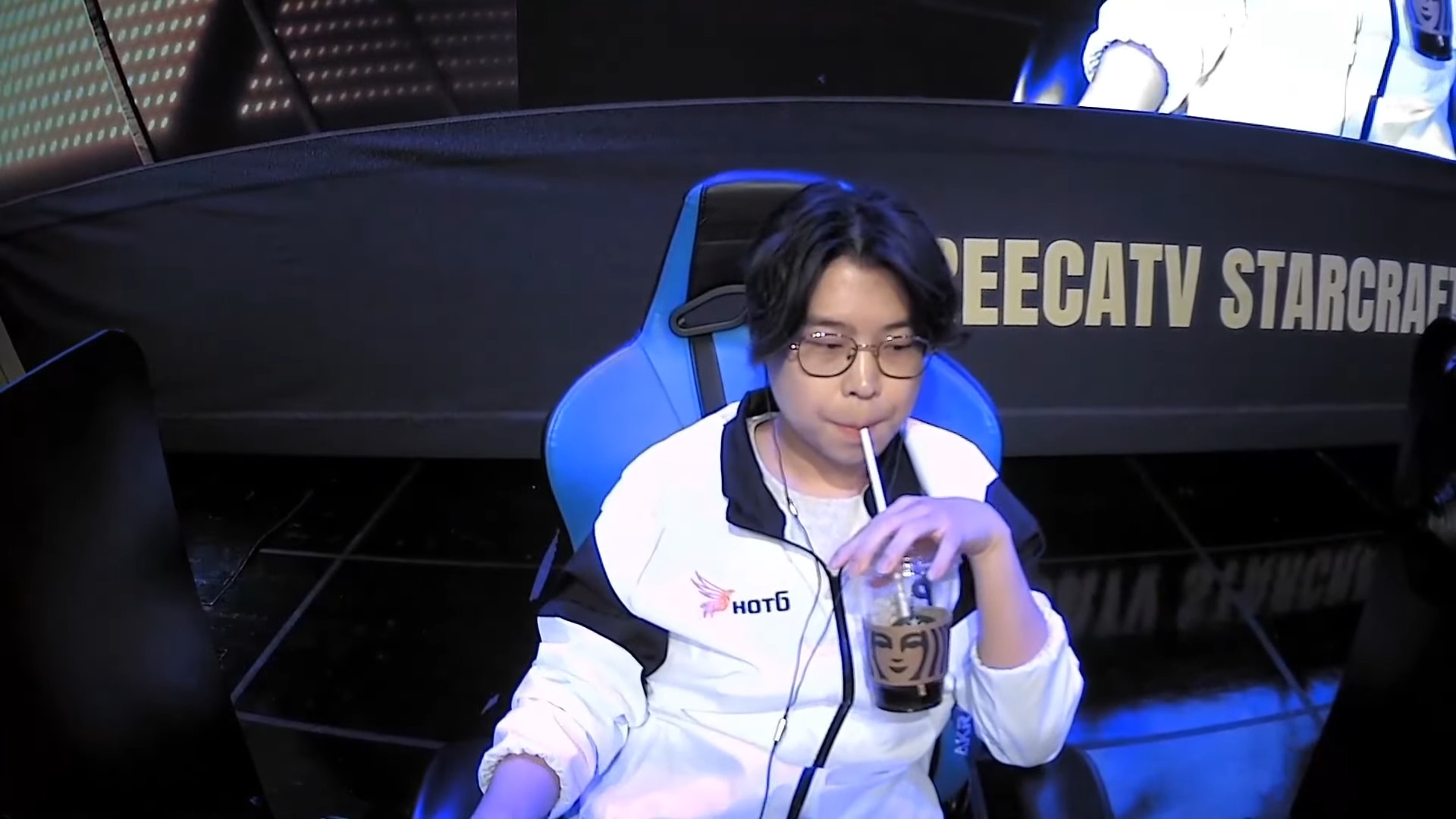 Looking cool
Final Match -
Soulkey vs
Light
Game 1 - Nemesis
Early on Light puts pressure on the Zerg natural with a Tank/Valkyrie push. Soulkey's attempt to manage the Valkyries purely with Scourge fails due to Light's impressive patrol micro. And with air superiority the Valks proceed to massacre Overlords left, right and centre. The resulting supply block and sheer cost of replacement badly cripples Soulkey's economy.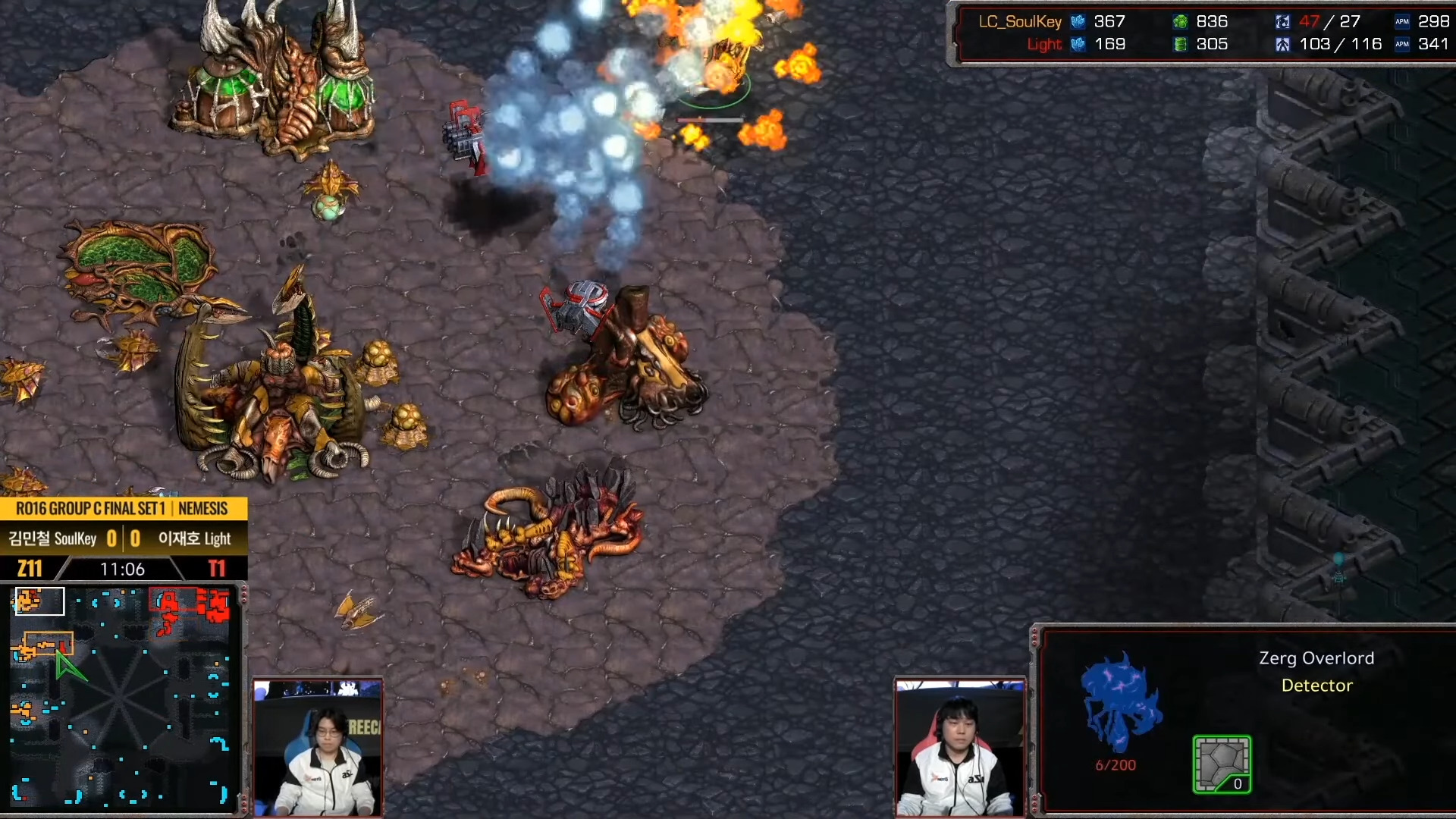 This is not ideal.
Soulkey holds his natural with Swarm, but gets locked on three bases while Light can Mech-switch unpressured on four bases. Eventually the gap becomes too embarrassing and Soulkey taps out.
Game 2 - Dark Origin
Soulkey has his back to the wall, so he plays it safe and opens with Mutalisk pressure. Light has Valkyries again and doesn't take much damage. The game proceeds normally with Soulkey taking a third and Light preparing another Mech-switch.
But this time Light fails to apply any pressure and Soulkey gets his economy humming. Then Light missteps. While looking for some Overlords, the Valkyries get caught by a Scourge/Muta cloud.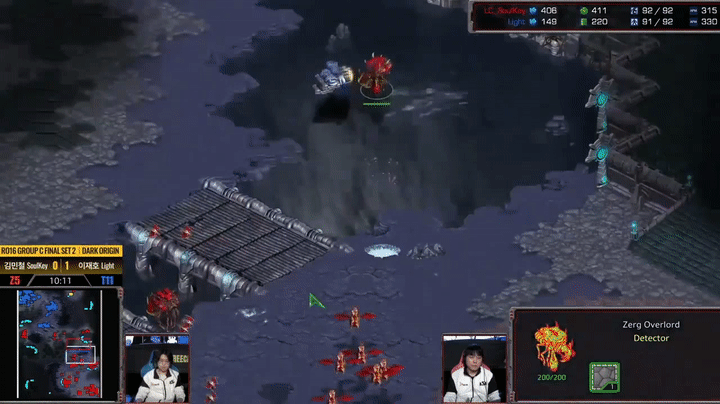 The hunter becomes the hunted.
After this exchange Soulkey is up in supply and Light gets stuck behind the bridges near his natural. Being unable to move out, and with no Vessels, Light can't stop the first Defilers getting across the map. And when Dark Swarm reaches the Terran 3rd, Light is forced to tap out.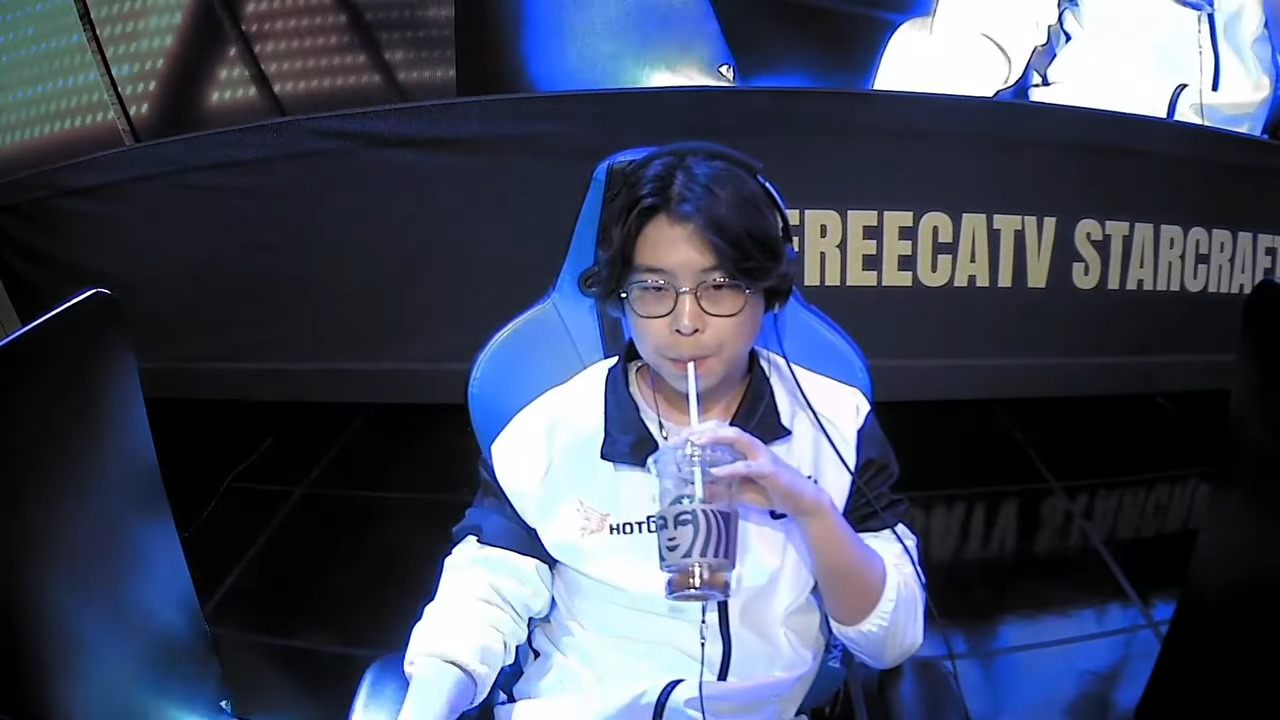 No sweatGame 3 - Vermeer
The final game of the group is the most finely balanced of the series. This time Light opts for SK Terran over Valkyries, while Soulkey goes for Mutalisk pressure again. Light doesn't take much damage. But when the Bio ball gets caught in the open
SaviOr
GGPlay-style, Light loses his opportunity to slow down the Zerg economy.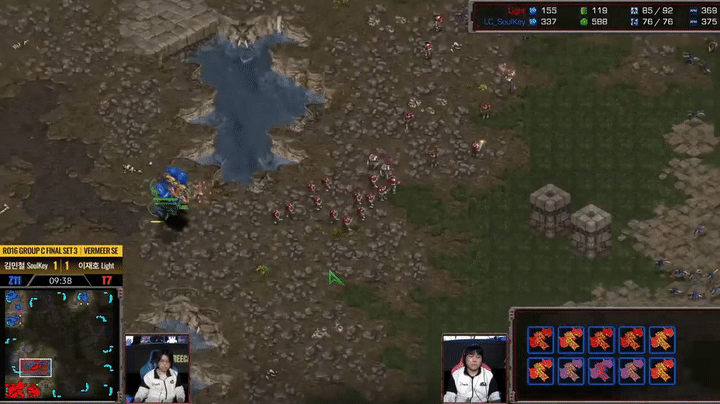 We've seen this before somewhere.
Soulkey gets up to four gas without trouble and starts moving to a late game composition with plenty of Ultras and Defilers. Light does regain the supply lead and goes up to four bases also, but by this time Soulkey's economy is already out of control.
Light manages to put together a large Vessel cloud and and even a small handful of Battlecruisers. But he never kills a Hatchery or a Drone line. Ultimately he gets ground down slowly by overwhelming Zerg numbers. With SCV's fighting Hydras, Ultras taking down the fourth, Vessels plagued and Swarm at his natural, Light's ASL run comes to an end.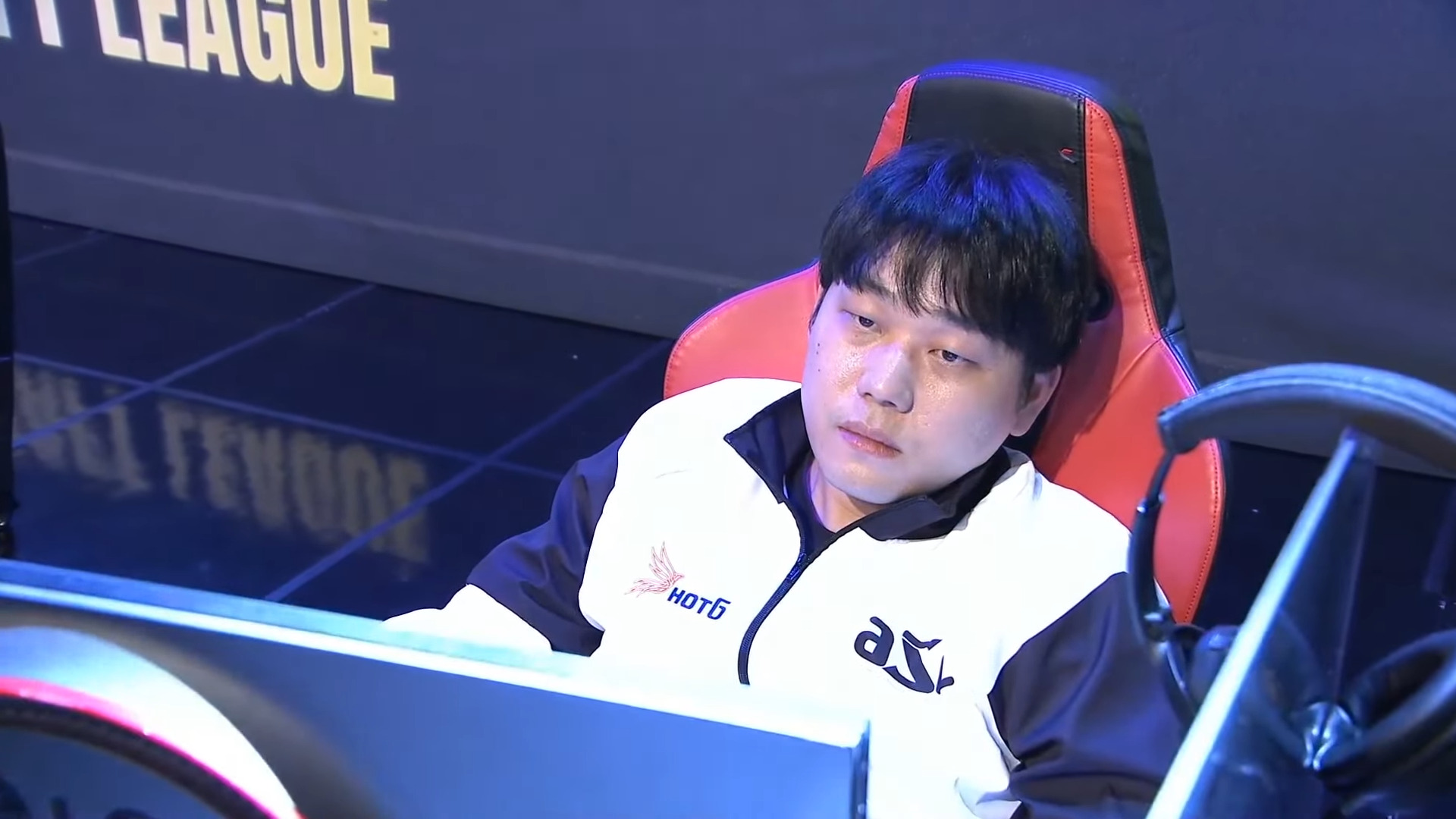 Lights out

Opportunity
In the 15 seasons thus far in the ASL
BeSt
has yet to make it past the Ro8 since ASL 2,
Action
has not made it past since 2019. A huge opportunity has been presented in this matchup giving both of them the chance to change that.
Nobody expected
BeSt
to be the one to top that Ro16 group managing an impressive set of games against soulkey and the Bo3 against
Light
, for the first time in forever he feels like he's in control and able to perform offline at a higher level. Online however
BeSt
while active spends most of his major Proleague games trading wins/losses keeping it around 50%, while his K-league appearances has been almost all wins with him rarely looking bad or taking losses showing that gap in quality between the two leagues.
Meanwhile, because that's the
BeSt
way to describe how fans see
Action
's run, as one that just sort of creeped up despite fantastic showings in both the Ro24 sending
Mini
into his tailspin and Ro16 knocking out reigning champ RoyaL and
Shine
. Online,
Action
hasn't been the most active, but thats how he's usually been with only a couple of Major Proleague and K League matches, choosing instead to focus on practising for his ASL matches off camera old school style.
Its not either player's favoured matchup as
BeSt
and
Action
would rather go and beat up some terrans but
BeSt
's PvZ growth over the last few years has been absolutely astonishing.
While I don't have the actual numbers for either player's current status in the matchup, I know that the map pool selection has both players playing it safe by picking Sylphid and Nemesis, which favour Protoss while
Action
picks HBR and Vermeer, leaving Afreeca with Retro after the bans.
BeSt
has been absolutely been smashing on the public front, if
Action
's prepared builds from practicing offline don't make a dent I'd put the victory on the side of
BeSt
.
BeSt Advances to the SemiFinals 3-2!

Dream Queendom
Mind
, the Bisu-killer, he's still got it after all these years! He helped knocking out
Bisu
last time and took a surprising win vs
hero
. Wait, wait, wait. Let's go back for a bit. He helped knocking out Bisu? If we look at
the game
then it was a classic Bisu PvT where Bisu kills himself rather than the Terran is killing him. Mind stayed on top of his upgrades and he did have nice decision making once he moved out. Alright, he also landed a money EMP during his move out. His early game did not look hot though. His games vs hero is the same is true. His early game isn't anything special. So how exactly did he beat hero? With drops. Drops, something Mind also tried vs Bisu. The other key thing is said upgrades. Mind loves his upgrades.
If you blinked last round, you may have missed Mind losing a game last round. Basically his 8 rax got scouted early and Mind didn't bother to try and salvage the game at all. He immediately gg'd when it was clear the 8 rax would at the very least get delayed. It's very likely
Mind
will try at least one 8 rax vs
Queen
. Staying true to his name, he must have had a good plan with it when he used it vs hero. Since we never saw the rax finish that game, the plan is still to be used again. The other thing we can expect to see is, yes, drops. Also upgrades.
It's been about 2 weeks since we have seen
76
be played on proleague, word on the street is that the map got thrown out because players were mostly banning it in ASL anyway. It's still in the ASL however, and this round it seems like players cannot veto maps.
Queen
, one of the few players to NOT ban the map so far, picked it for this round. He also picked
Dark Origin
. Analyzing proleague and this ASL, neither maps have seen a lot, if any, ZvT. In general Dark Origin is looking good for Zerg so far, but there is too little info on 76 to conclude anything other than that it is non-standard, a show maker map. Does Queen have something up his sleeve? Perhaps. Maybe he just wants to entertain and whether that is himself or the crowd we will have to wait and see. If we are lucky we will get to see both. Queen's classic grin after pulling out a win is as good seeing him slowly sink in his chair when defeat is impending!
Mind
upset
Soma
this ASL. Can we say something about that for this Bo5? Well, upsets have been the trend this ASL. I will not acredit it to Mind being awesome, but rather to the format. Now we've finally reached the Bo5 state, I hope we can actually start Liquibetting with our instinct now. Ironically my instinct isn't convincing me enough. I could see either player advance from this group.
Who can we vote for then? Has
Mind
or
Queen
won anything big recently? Nope, not really. Not in the last 2-3 years. Thankfully we can look at the recent proleague results thanks to TMNT and 2Pac's endless efforts! I looked over all of last month's results; both players have been playing on and off. Queen with a very positive win ratio. Mind with a
very
positive loss ratio. They have both been playing in the major ones, this means even though Mind is getting trashed left and right, he is still practicing with the best. Yay, we have hope for this match not becoming a flop.
Now if we finally look back just a little bit further. We saw a very dominant
Queen
. Winning 2 ASLs back to back. In ASL9 he killed
Flash
and
Light
, in a Bo5 and Bo7 respectively, back to back to win his gold. Should
Mind
be scared? Most definitely. If Mind is still worthy of the Bisu-killer title, then Queen still deserves a lot of respect for his ASL golds. So will that scare Mind? He will be unphased if anything. Mind just doesn't care. What does Mind care about? Well, for this round? Maps. Mind picked the 2 most standard maps this round,
Sylphid
and
Vermeer
. If Mind is lucky he can collect his 2 wins there and create enough tension to win the final map. The odds are not stacking in his favor though.
Queen to Advance to the Semifinals!
---
Writers: BLinD-RawR, Peeano, Simplistik
Graphics: v1
Editors: BLinD-RawR