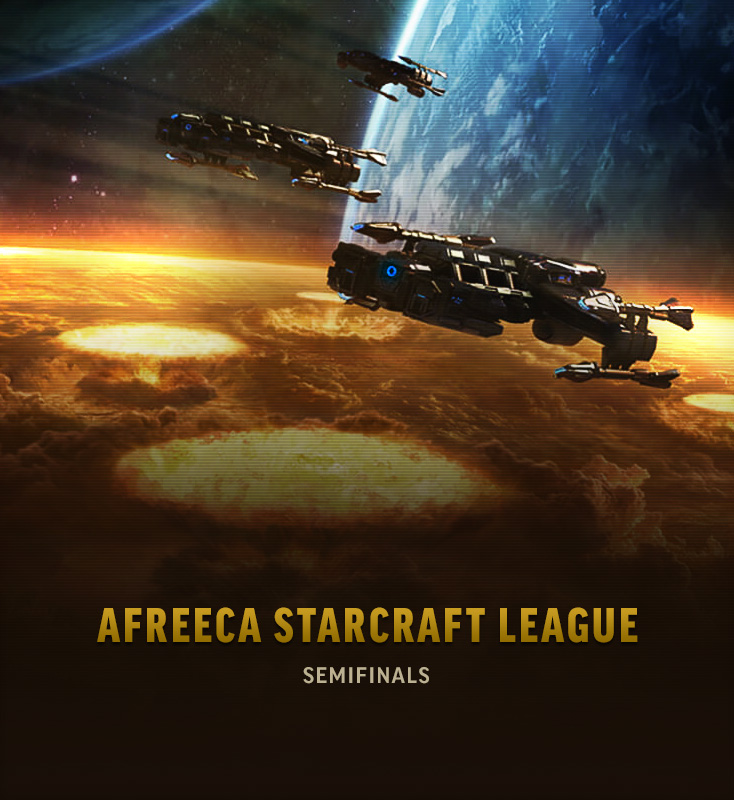 This may be one of the most competitive ASL in quite some time, at least definitely in the last 5 seasons or so. With the games being as competitive as the are, every win feels earned and loss for each player has been equally heartbreaking, ASL continues to present the finest starcraft out there.

All that remain are BeSt who has not made it this deep in an ASL since the 2nd season, Mind who many thought would never recapture his pre ASL era brilliance from 2015, hero who has quitely managed to hold his seeded spot for another season and JyJ who has gained the confidence to be a top tier terran and perform at the highest level.

We cannot wait for what is to come in their respective games.




Queen vs
Mind
Game 1 - Sylphid
The second quarter final stars two former champions. Bisu-slayer
Mind
and the second most successful ASL competitor
Queen
. Perhaps to settle their nerves, or more likely to get a sense of the other player, our contestants start with a fairly standard game.
Queen
opens 11-Hatch, 10-Pool into a fast 3rd at 11 o'clock.
Mind
goes 'Ample wall' into CC. He knows that there is a third Hatchery somewhere, and responds with fast Academy and gas to put on some early pressure. When scans confirm the suspicion, the Terran squad moves out immediately. Unfortunately, for
Mind
, Sunkens above ramps are comically strong against Bio. Good luck trying to take a medieval fortress only armed with a kitchen knife.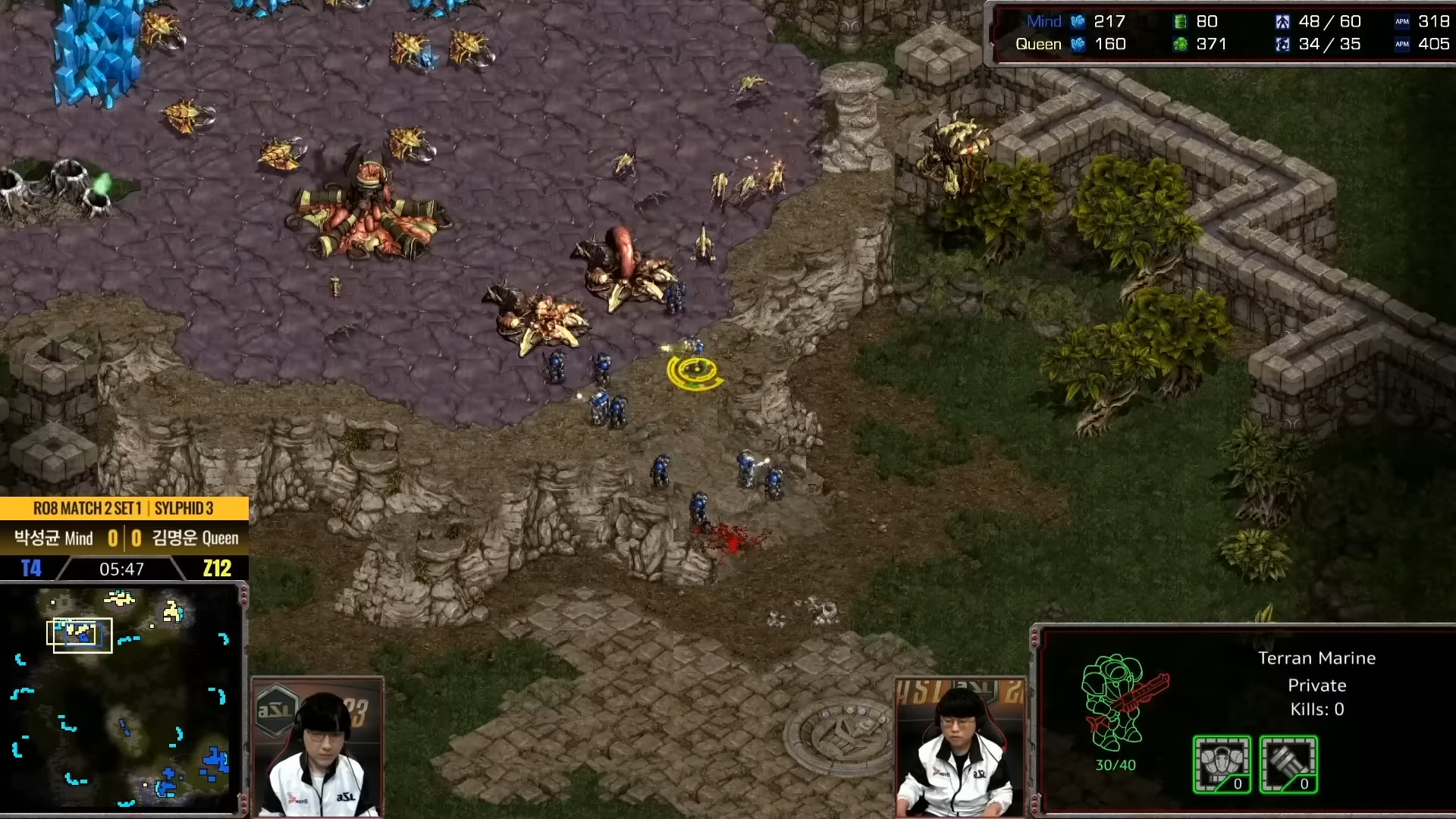 I admire the ambition.
Although Turrets are late, the light Muta pressure doesn't reap many rewards.
Queen
is teching straight to Hive on a strong economy.
Mind
expands and transitions into SK Terran with double Factory.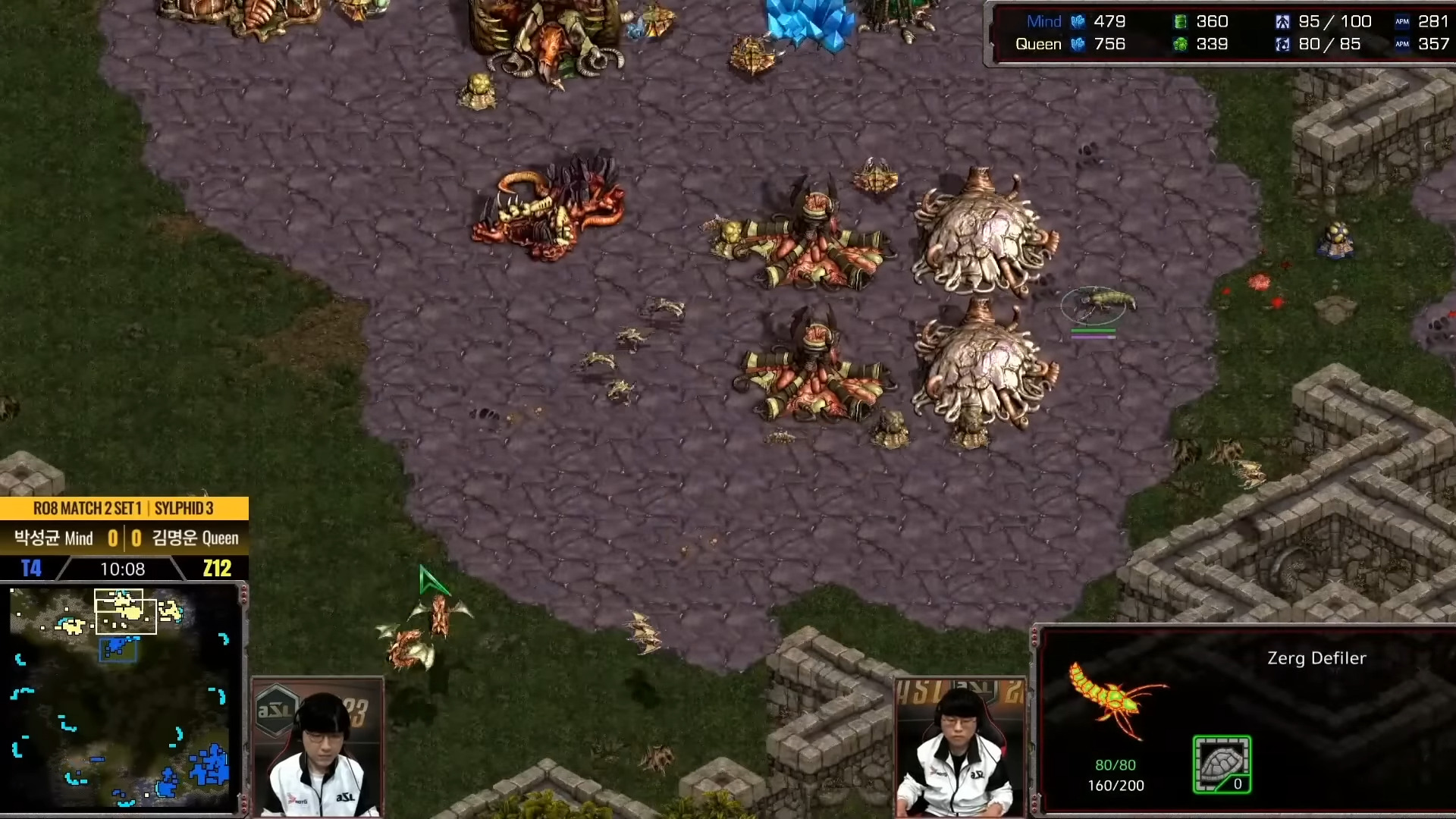 Geometrically pleasing Hatch square
With Consume done,
Queen
is confident to move onto the map with his Hydra/Lurker/Defiler comp. For a while Irradiate and Siege Tanks manage to keep the swarm at bay. In the complex situation,
Mind
gets out-positioned a few times, needlessly losing first a number of expensive Tanks, and then his 3rd gas. A few good Plagues later,
Queen
is up in bases and supply.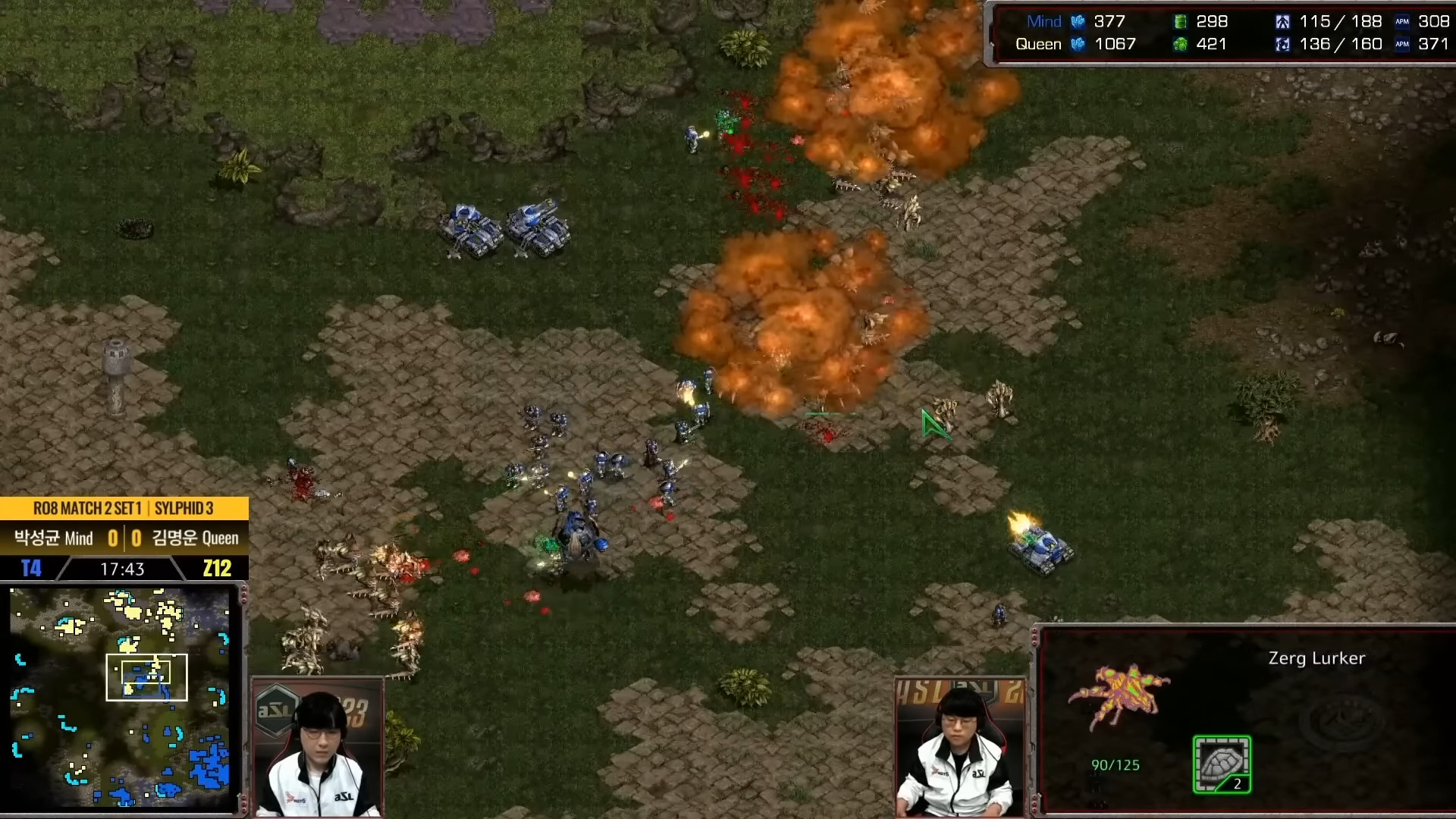 Last stand
The Terran army briefly manages to get in siege range of Zerg's 4th base, but is swallowed up by superior numbers. GG.
Queen 1
-
Mind
0
Game 2 - 76
This was a game after my own heart. We find the players in close spawns, both expanding to their natural islands. Being one game down,
Mind
plans to open standard: 2-Port. Refusing to be outdone,
Queen
goes with the most orthodox build of them all: double Lair. Great minds think alike...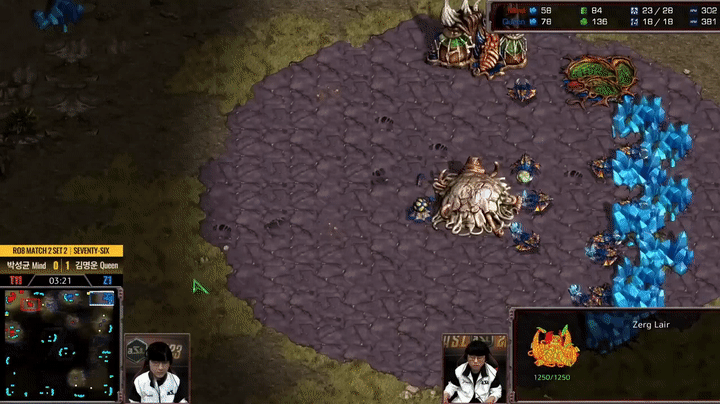 Ah, 76... You beauty!
The Hydras get scouted while slithering across the map. And just in the nick of time, Wraiths deny the drop.
The Intercept
Queen
needs to make something happen, so he sends his Overlords around to the top corner of the Terran base. The Wraiths are out of position and there's only one Turret, so the invaders manage to unload safely. Simultaneously, a small group of Hydras attack the ramp, which is 'protected' by an empty Bunker. This looks like a game-ending threat, but a few little details don't go
Queen
's way.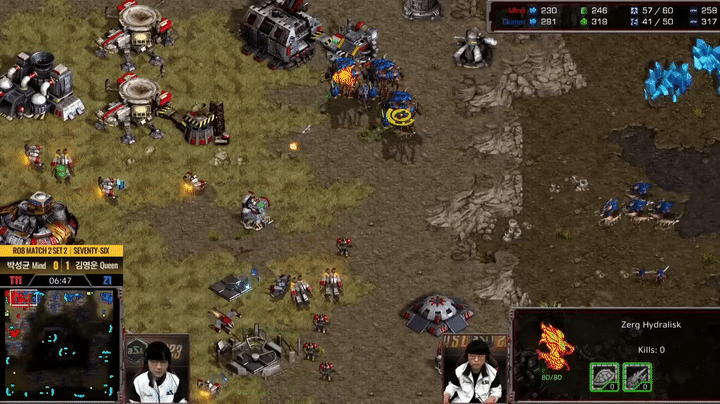 The Hydras at the ramp waste precious time spitting down the Turret, instead of tearing through the wall. A good SCV pull pushes the parachute regiment into the corner. This costs quite a few workers, but a Tank plops out of the Factory at the perfect time and survives miraculously with 6 health. SCV's also successfully scramble to save the Bunker and the Zerg attack fizzles out.
Knowing he's behind,
Queen
starts to transition, by adding a 3rd Hatchery, but the Zerg economy is very weak. The swarm tries a multi-pronged attack, dropping the main and island in short succession. But it's only two Overlords each, which isn't enough to cause any serious trouble. Three Tanks hold the main. And at the island, the injured Overlord in front gets shot down before it can deliver its payload and a freshly made Dropship allows
Mind
to clean up.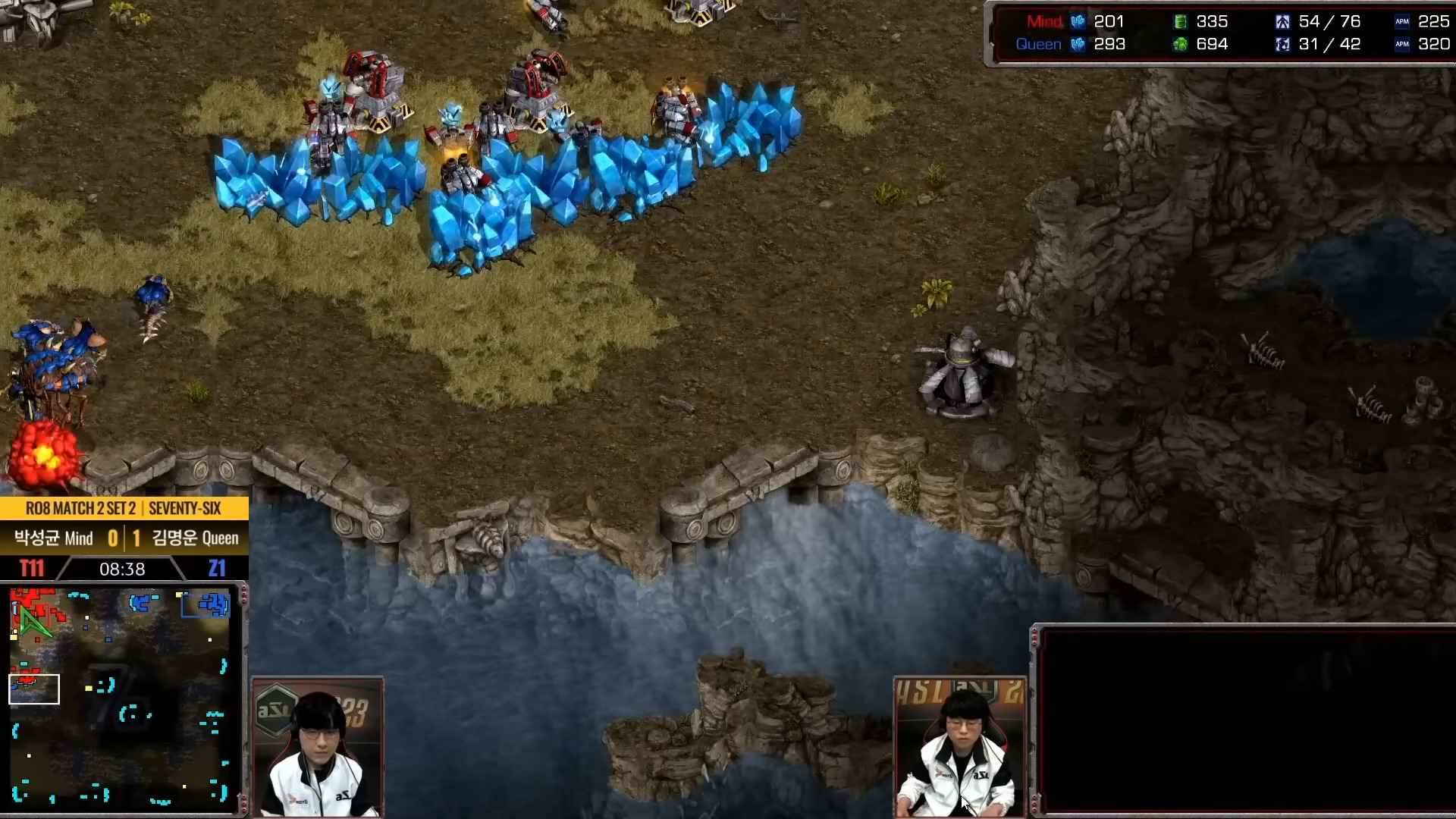 Popped
With less than half the Terran supply,
Queen
tries everything. Take another base, drop some Lurkers, eco up. But this isn't how the game works and reality has this nasty inexorable way of catching up with the best intentions. The only effect of the Lurker drop is to pad the kill count of the first Tank, now at twelve. Meanwhile
Mind
has assembled his own strike force: two Dropships full of Bio. Terran gets to the Zerg island first. Zerg tries to defend with a counter-drop. One Lurker misses the flight altogether, and the other two get off only one shot between them, because
Mind
's micro is on point.
Queen
concedes.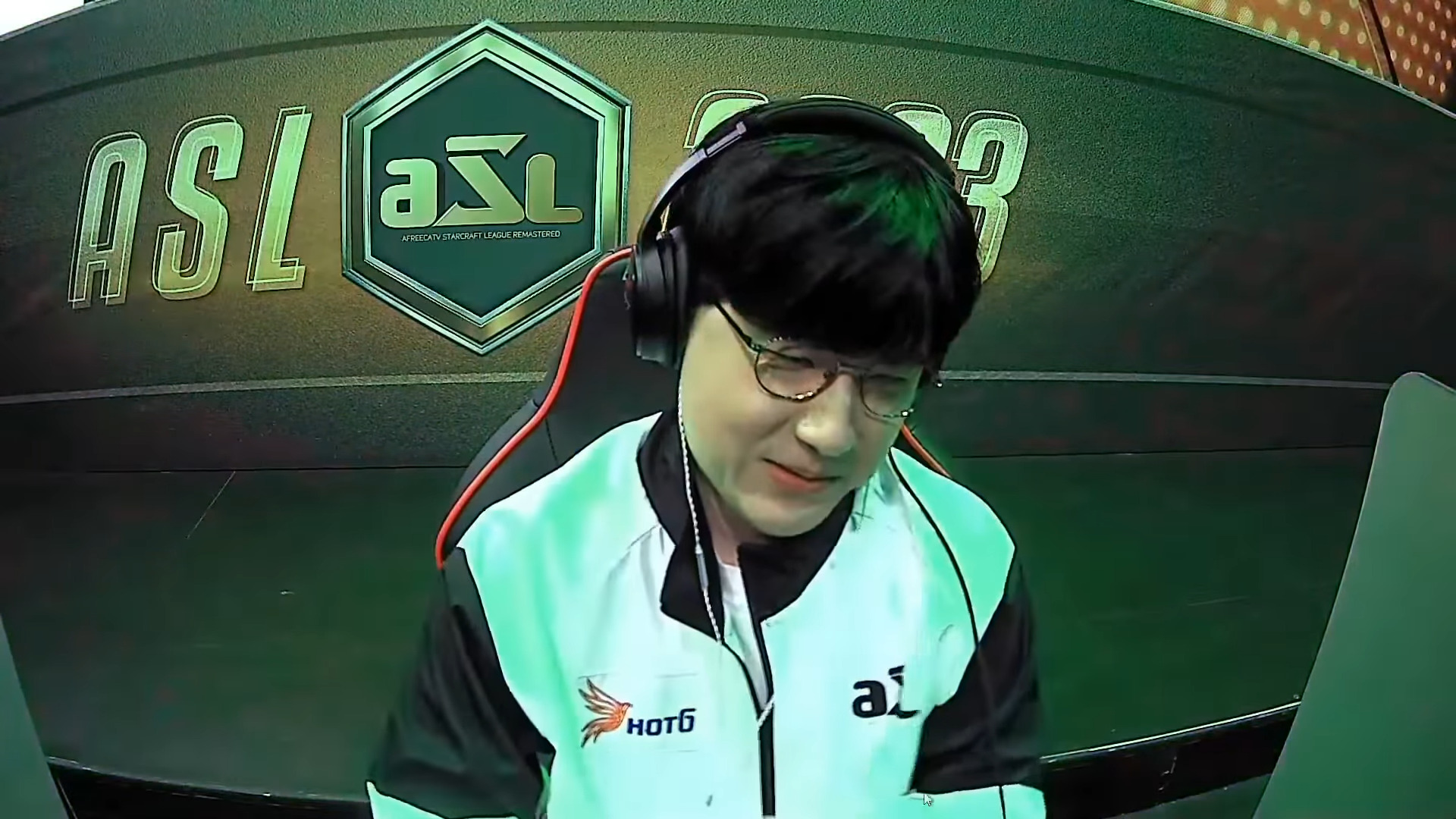 -_-
Queen
1 -
Mind 1
Game 3 - Vermeer SE
With the score even,
Mind
pulls out an unusual opening. Rax expand, with a very fast Factory on very low Marine numbers. This looks like it could get punished by early aggression, but
Queen
's 2.5 Hatch Mutas are a little too slow. After expanding to another main, the swarm spawns a fairly large number of Zerglings, which could overpower the Bio ball in an open fight. But the small Terran army has the good sense of staying very close to home.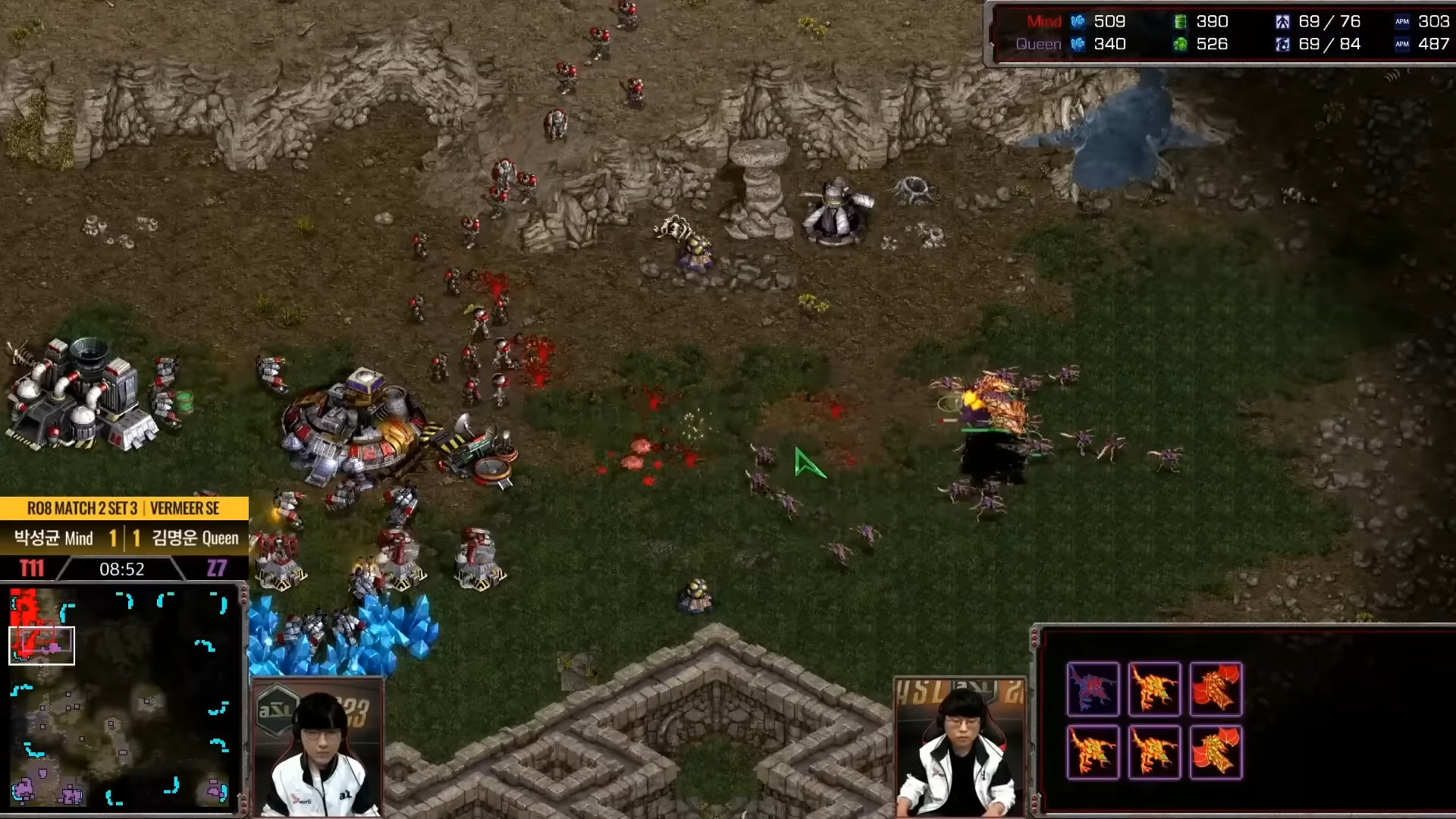 Home sweet home
After the first Irradiate does decent damage,
Mind
feels secure enough to move out with his first two Tanks. Four Lurkers finish morphing just in time and emergency Sunkens try to buy precious seconds. When they fall, a few Marines wipe out the Drones at the natural, but Dark Swarm saves the Hatchery.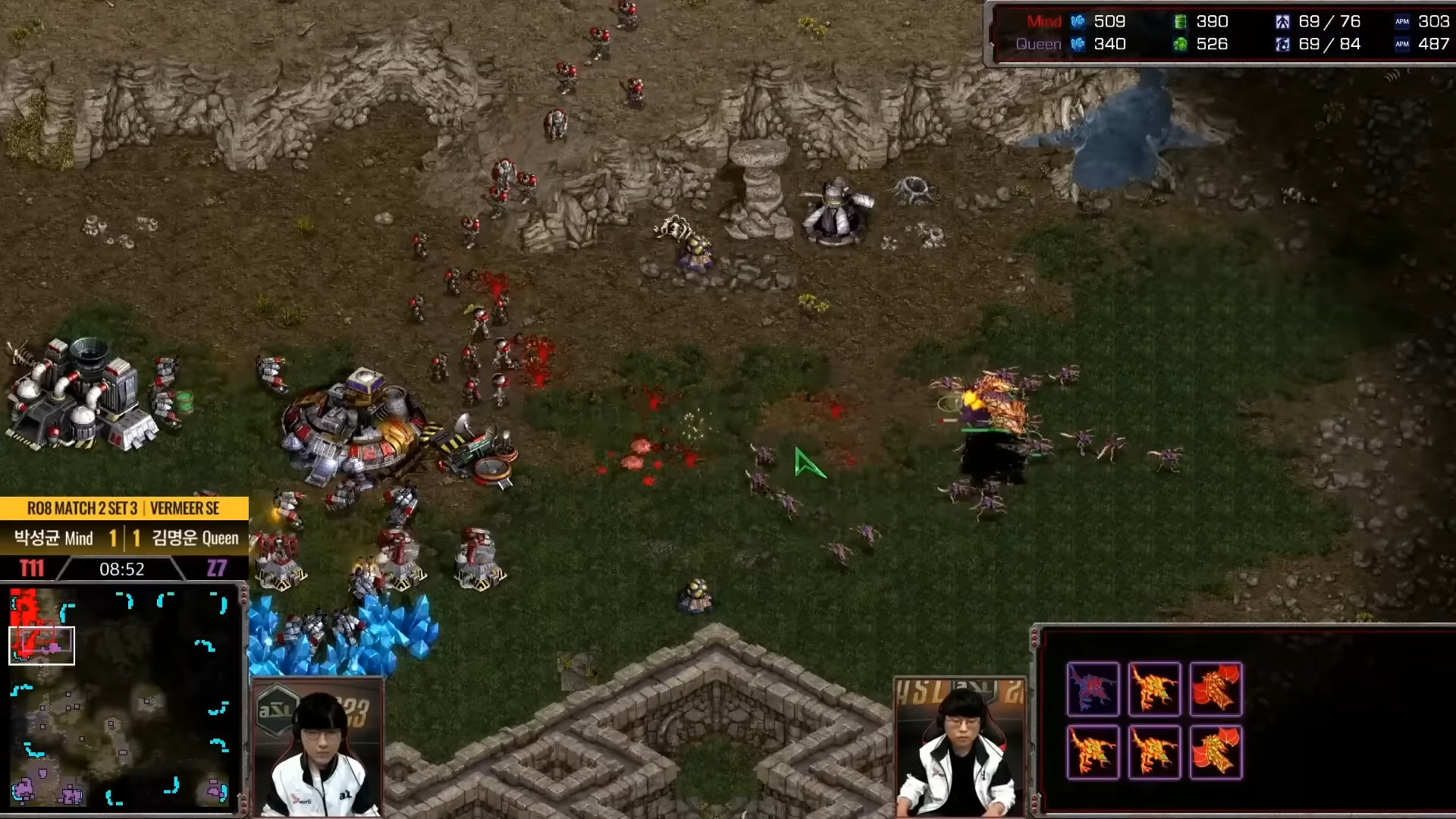 Drone-cide
Already in a good position,
Mind
delivers the knockout blow with a drop into
Queen
's third. There aren't enough Zerg units to hold and the Nydus falls. Before the inevitable GG,
Mind
briefly pays homage to an old Brood War icon, by dancing the Lurker shuffle.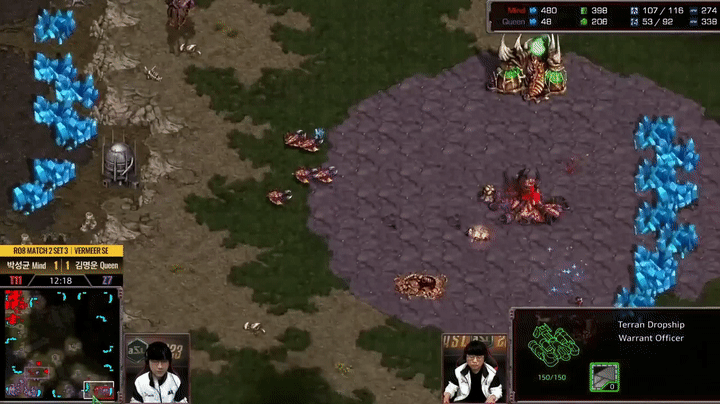 Somewhere out there, Boxer is smiling.
Queen
1 -
Mind 2
Game 4 - Dark Origin
Game 4 is a fun example of what happens when
Mind
games backfire. I suspec that Zerg fans may have experienced more than a little Schadenfreude...
Dark Origin seems to be a tough map for TvZ, which is why we've seen a few unusual Terran builds. As far as I can tell,
Mind
's plan was to go proxy 8-Rax to force a response (Drone pull, extra Lings), and to follow up with a 1-1-1 variation, perhaps speed Vultures. (Or maybe
Mind
didn't have a plan at all and is just playing Brood War jazz...)
The Terran plan sort of works initially.
Queen
opens 12-Hatch and gets a round of Drones. When three Marines and an SCV arrive, Zerg sends a few Drones out onto the map, to cut off reinforcements, and evacuates the rest to the main. Maybe
Mind
was hoping the Drones would try to fight, allowing him to pull back without arousing any suspicion. As it is, the Terran vanguard finds itself alone at the natural and decides to build an opportunistic Bunker.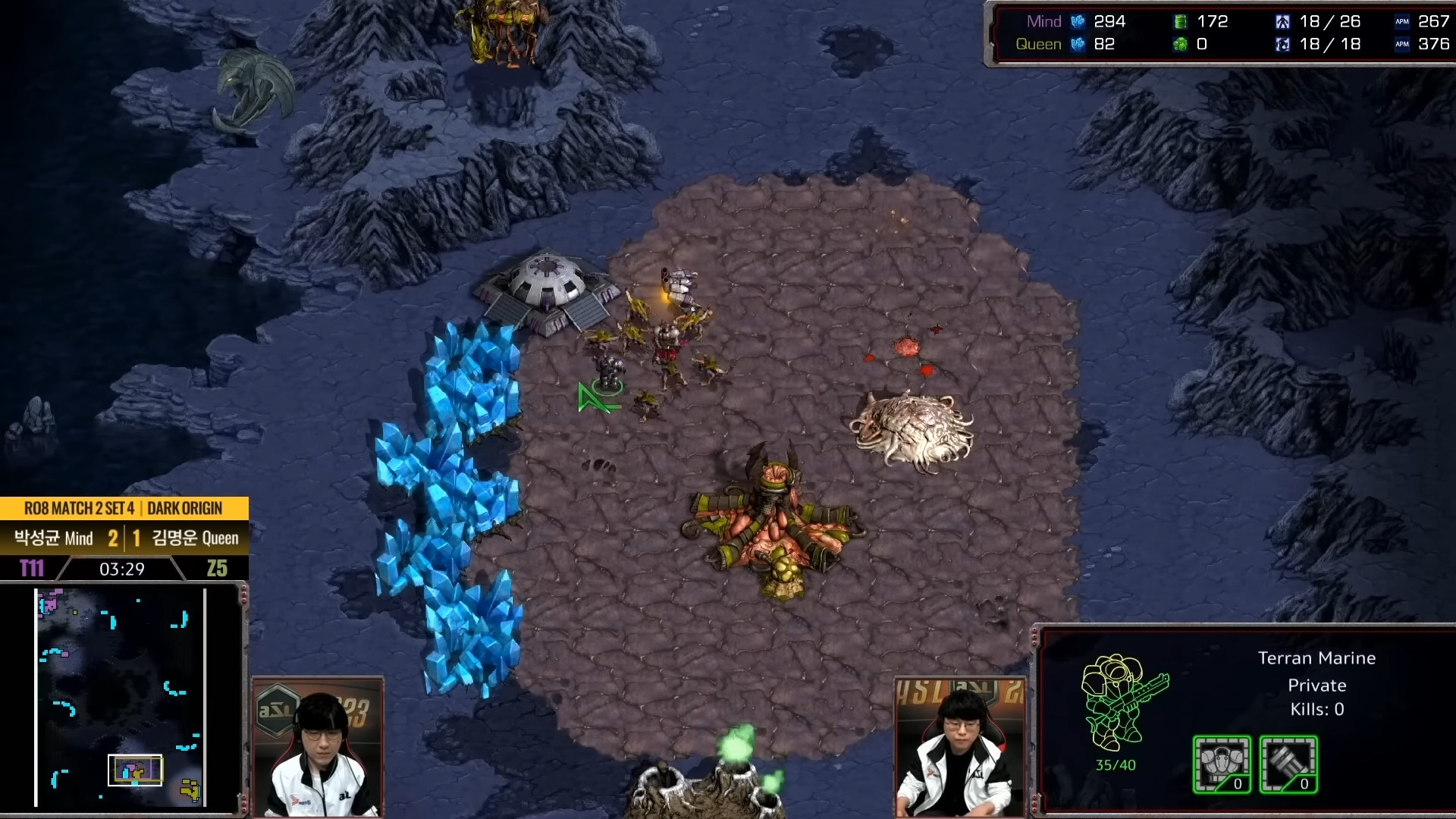 "YOU SAID CLEAR!" - "I said it
looks
clear."
This backfires in two ways. The Bunker causes a Sunken, which will also help against Vultures.
Mind
also mis-micros his Marines, which allows
Queen
to clean up easily. At 3:50, Terran has successfully established the better claim to be called Zero: 0 Marines, 0 expansions and 0 Vultures with 0 upgrades. Unsurprisingly, this doesn't end well.
A Wraith kills an Overlord and
Mind
starts his natural, but that's as far as it goes.
Queen
reads the situation correctly and makes a Den, while some Lings watch the back. Then the Swarm simply slither-lopes across the map and pulls the plug on this nonsense.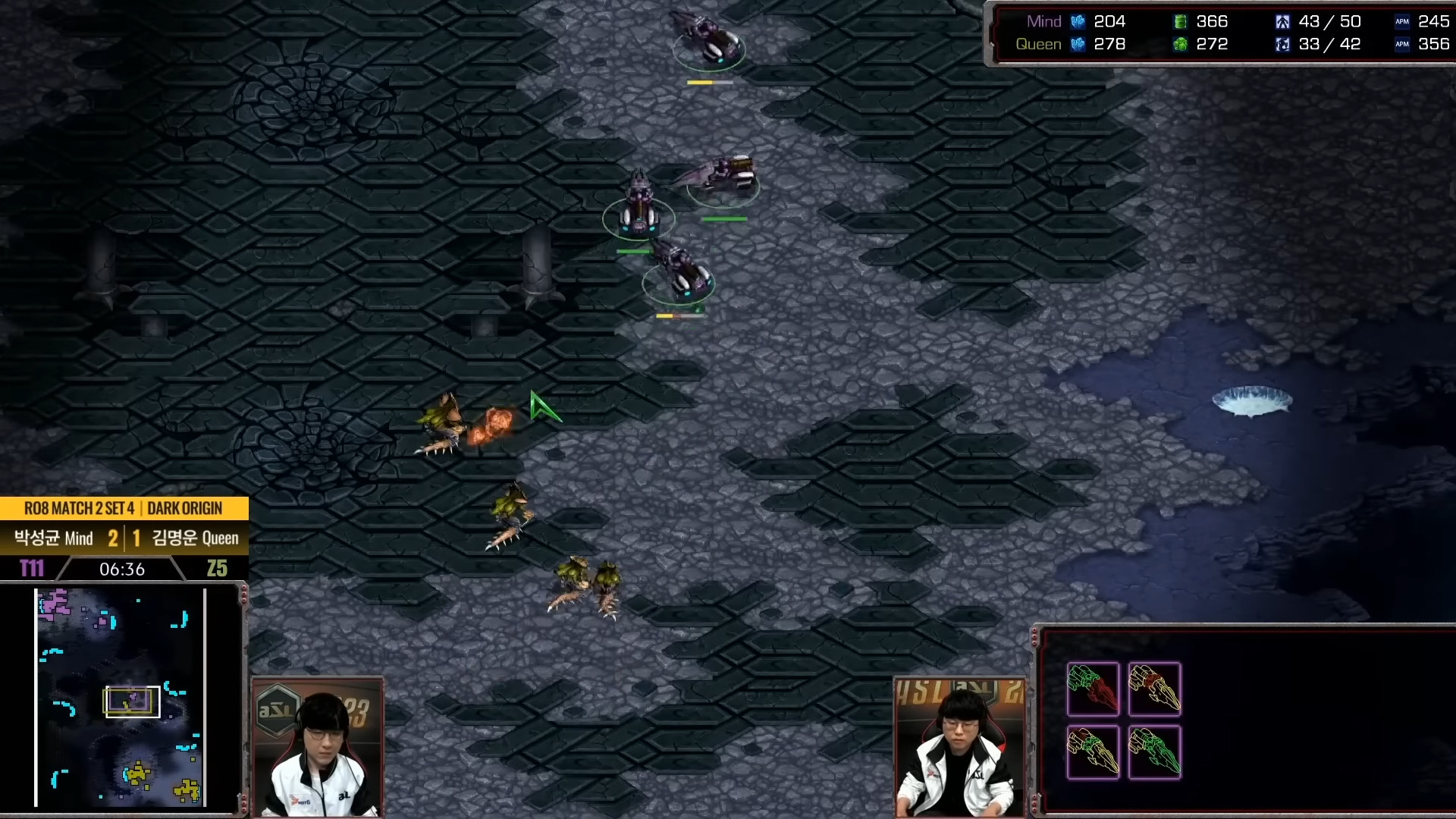 Vultures are good, but not
that
good.
After the game,
Queen
looked tense and somewhat unhappy. If you were to just watch the player reactions, you would be forgiven to conclude that Zerg lost. In hindsight, I wondered if maybe the game was closer than it looked. A good look at the mini map shows that there were no more Zerg reinforcements on the way. Did
Queen
actually have a Spire? Could
Mind
have stabilised if the Bunker had finished slightly earlier? Possibly...
But what I really need to know is: what is this large long light grey cylinder that
Queen
was drinking from?!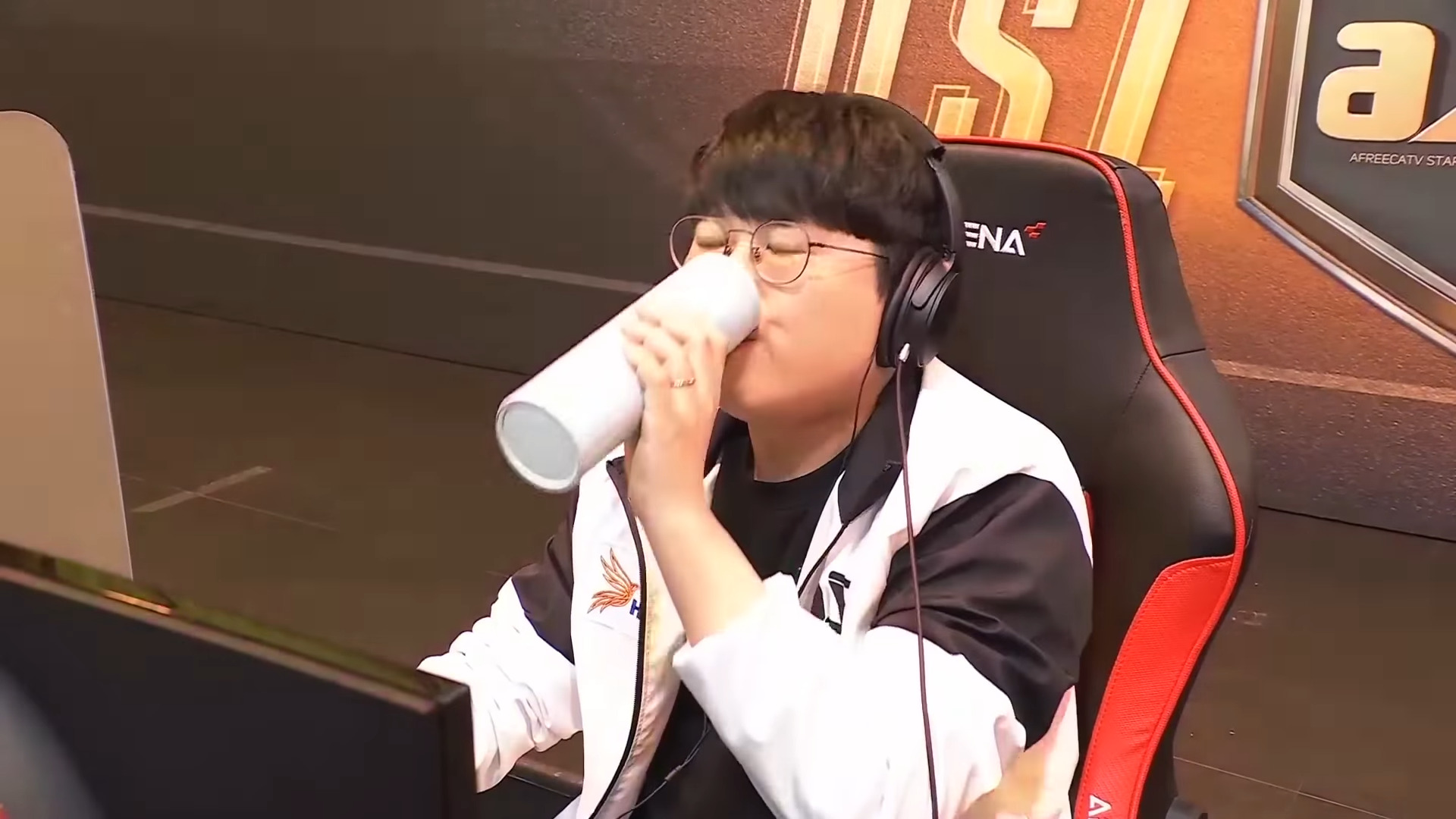 Some strange alien artifact
Queen 2
-
Mind
2
Game 5 - Retro
We find ourselves in the deciding match on an old-fashioned normal map. Supposedly,
Mind
couldn't make up his, well,
Mind
, between Rax expand and CC first, and while he was pondering this eternal quandary, he sent his SCV late and then decided to follow through with 14-CC and fast gas. With his tournament life on the line,
Queen
is more sensible and goes for the middle of the road 2.5 Hatch into Mutas.
Mind
adds three Barracks and starts on Bio upgrades. His scan timing is excellent and he catches the Spire finishing. Meanwhile, another Hatchery is morphing in the top right corner. The Mutas are largely deflected, but manage to pick off two Medics.
Queen
knows that some kind of push is inevitable, so he races up the tech tree.
Mind
channels his inner RoyaL and orders some Valkyries. When the Terran army moves onto the map, a Ling counter forces the Bio ball to trudge back home to clean up.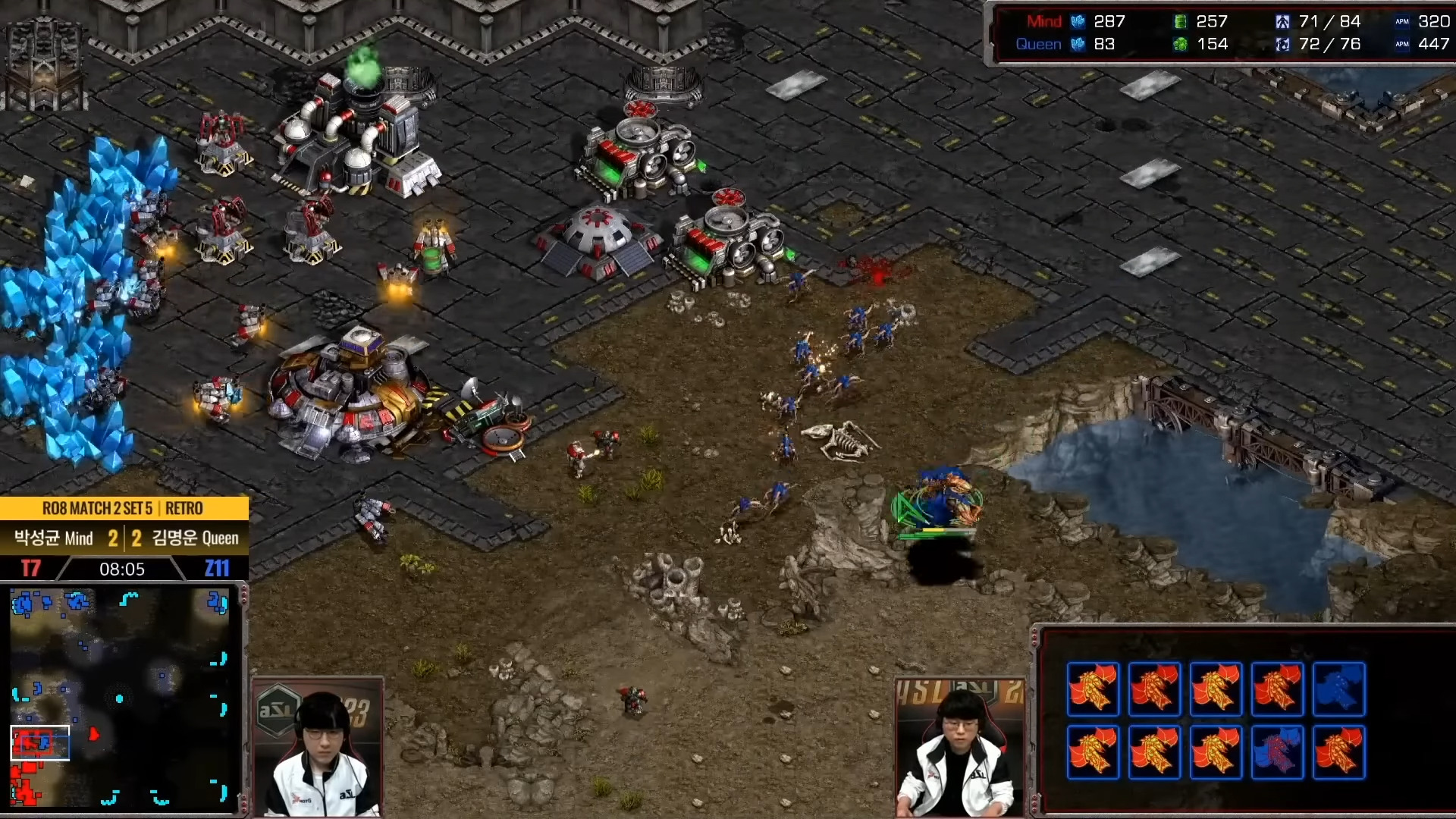 Buying time
Mind
throws away a small squad of Marines, trying in vain to get up the ramp to 9 o'clock through Lings and Mutas. But with the first Valk out, the Mutas need to be careful, and the push gets going. With the Defiler Mound only half done,
Queen
adds a few Sunkens. Two Lurkers move to the bridge outside the natural, hoping to impale some over eager privates.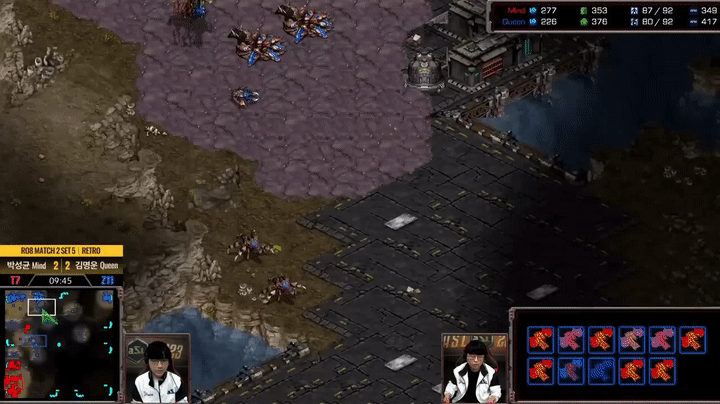 Star sense
But
Mind
is too sharp for that and scans perfectly. (Can you actually hear units burrowing out of vision range?) The Valkyrie gets caught, but not before bruising the Mutas very badly. Two Tanks blast through the Sunkens in no time.
Mind
slips up a bit with controlling the reinforcements and the second Valk gets Scourged. But there aren't enough Lurkers and Mutas to defend the Hatchery.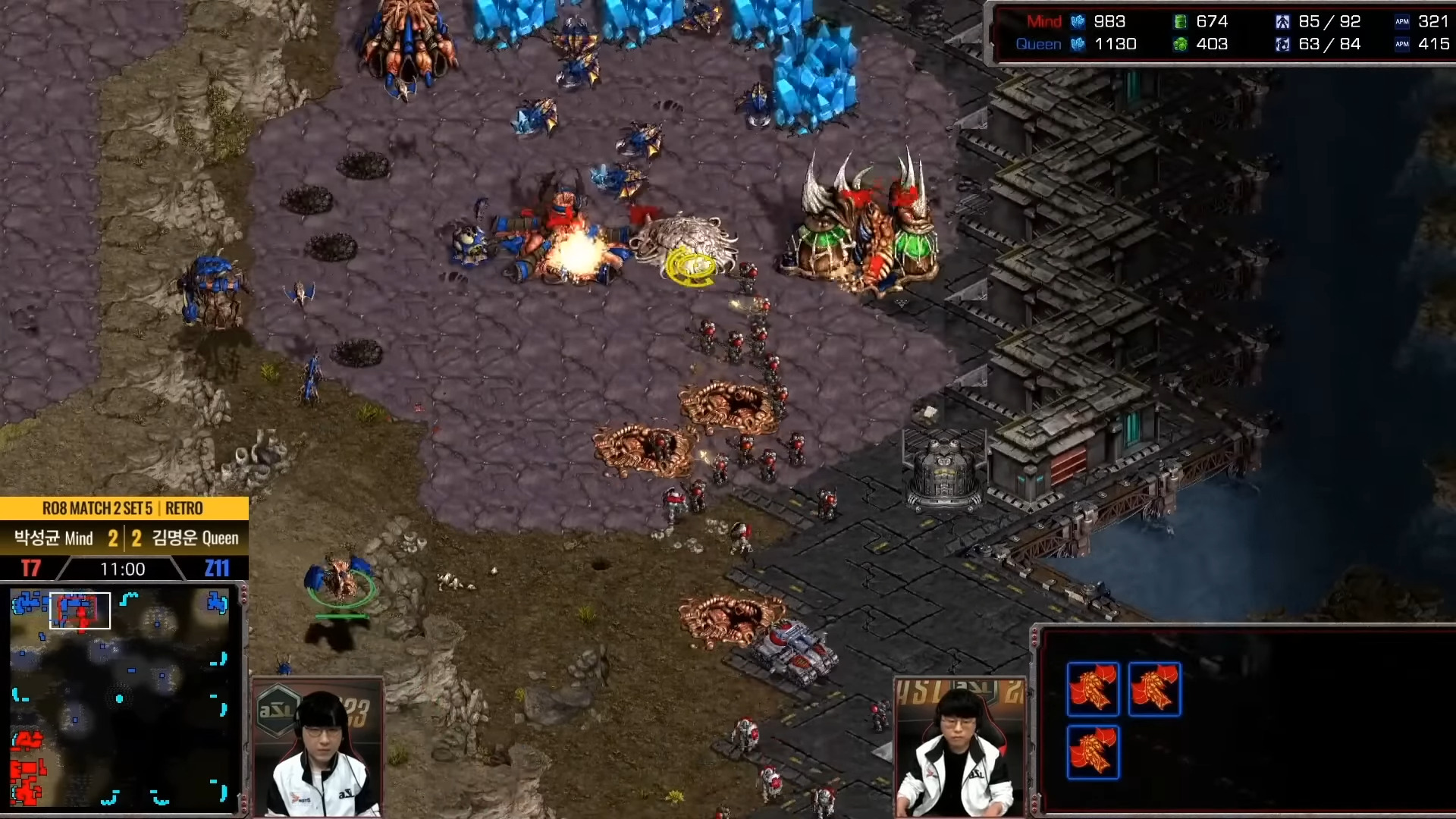 Pressure
Dark Swarm arrives about 20 seconds too late and
Queen
is staring down the barrel of a gun.
Mind
decides to keep up the pressure, by sending a small task force to the Zerg 3rd. This time the stop Lurker trap actually triggers. But, due to the upgrade differential (1-1 Bio vs 0-1 Lurkers) and a decent split, half the Marines survive.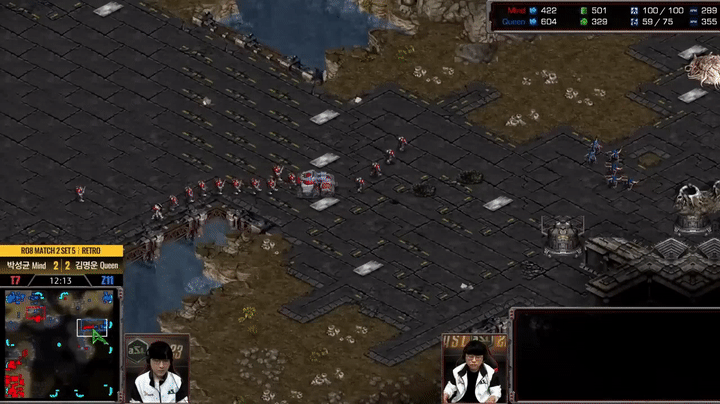 Armor is pretty good.
There is only one Lurker in the main. The Terran army gets up the ramp very easily and takes down the possibly still unconnected Nydus.
Queen
slumps sideways and taps out.
Queen
2 -
Mind 3
I can't shake off the feeling that
Queen
will look back on these games as a string of missed opportunities. The drop build on 76 was cute, but ultimately a gamble that backfired. It seems like playing standard, and using Zerg's superior mobility would've made it difficult for
Mind
.
And the slower, more economic openings on Vermeer and Retro may not have been the right choice against
Mind
's expert timing attacks. Even tight at the end, it's possible that
Queen
could've held the 3rd, if only he had all his Lurkers on top of the ramp, instead of gambling on stop Lurkers again.
Better luck next season!

The BeSt Mind for the Job
Have you watched ASL this season? If not, then stop reading and go catch up, watch it.
We could do a bunch of analyzing and figure out the safe bet, but honestly by now everyone's LB iis in shambles already anyway and it almost feels pointless to say anything worthwhile about players this ASL. Anyone who would have expected JyJ or
Mind
to reach the semis this ASL woulda been out of his
Mind
. They're not the weakest Terrans that made it out of the qualifiers, but they definitely weren't top Terran contenders. One thing
Mind
and JyJ have in common is that despite that, every series in ASL they played they looked stronger than the previous one. Both Terrans seem eager to win it all.
BeSt
is another player that wasn't very likely to reach the semis, but he did. Unlike
Mind
however, he is a player who always kept his skills honed all this time.
BeSt
simply destroys any player that isn't a top player. On the other hand voting on
BeSt
in a tournament setting more often than not leads to a feeling of disappointment. Let's dive a bit deeper here.
Let's look both at
Mind
and
BeSt
. What's with
Mind
's unphased look. Is that a lack of emotions or a lack of expressions? I'm not sure, but it does read as confidence. Also while
Mind
isn't an expressive individual, he does have emotions and show them as well. We had the joy of catching it very recently when he smirked and shook his head after he held
Queen
's cheese on 76 successfully.
Mind
saw it coming quite early and thus got to see a cut of the cheese, pretty much a swiss cheese, one full of holes. Even though
Mind
knew right there and then all he had to do was defend the cheese, he didn't really have that many units to do so. With the power of gundam however,
Mind
held it surprisingly well, even making it look easy.
BeSt
on the other hand is often shaky. By the way he acts, you can tell he isn't your typical confident extrovert, but in his latest 2 interviews he was very elated as if he was. Perhaps that only happens after the fact? If we just look at this ASL, we can easily say
BeSt
is feeling confident and not shaky. Anyway. Let's dive...
Let's first take a look at the Liquibets and see what TL thinks:
In the Ro24
BeSt
is the clear favourite with 2 (mediocre) Terrans in his group. 65 votes for
Mind
though is not bad at all. It's more than I would have imagined. Before knowing what I know now, this just meant we still have a good amount of
Mind
fans out there. In the Ro16 we ironically see both with just 40 votes. Clearly they didn't impress us from just the Ro24 when comparing them to (other) top dogs. In the Ro8 I'd say both
BeSt
and
Mind
gained some popularity, because of their Ro16 performances. By checking all above charts and knowing
BeSt
's history (not a great PvZer), we can conclude
BeSt
is TL's favorite. Well, before Ro8 was played anyway. It
may
be different now... I doubt it tbh lol.
Now let's take another look at (recent) proleagues:
As of writing this,
BeSt
played in 36 proleagues since March.
BeSt
played PvT mostly - or at least many from my quick glance - and most of them vs Royal, Rush and
Light
. Basically
BeSt
fought mainly the top 3 Terrans. This should have given
BeSt
good practice, but honestly something scarier maybe: this gives
Mind
a lot of material to analyze.
Mind
meanwhile played just 16 proleagues since March and many of his TvP losses were against Snow and Stork. I would say this doesn't favor
BeSt
if wants to figure out how he can beat
Mind
easily as both Snow and Stork play PvT so so different than what is
BeSt
's go to style. Without having seen those losses. I can confidently say Reavers and Carriers are definitely a good way to beat
Mind
. Is that something
BeSt
will try? In a Bo7 he could consider it at the very least? Ironically Carriers were the key unit in bringing down
Light
on 76 lol. So we should see those at least once, despite
BeSt
's preference being gateway man. As for reavers,
BeSt
is not a stranger to them, but unfortunately he is not quite Snow level there, so probably no free wins for
BeSt
by using reavers.
Do we look at maps? Should we? I mean there are 7 maps in the ASL and this will be a Bo7. All maps will be played. What's the point? Well, I can say one thing actually. Do you remember that
Light
vs
BeSt
game on 76? No? Then read what I said earlier in the first paragraph. Anyway. Both players got to pick 3 maps and... Yup, 76 was picked. And yes, it was picked by
BeSt
. Just check it yourself on
LP
. Meanwhile
Mind
picked the most standard (non-2 player maps). That's saying something. I will leave it to you to decide what that tells you.
Will
Mind
's game plan that worked out so well vs both Bisu and
Queen
work vs
BeSt
. I'd say
BeSt
's macro is simply too great for that.
Mind
cannot sit too long,
BeSt
will simply take all bases in that case. A given is that
Mind
will get his upgrades and
BeSt
will get his bases. When does
Mind
become active? And how many bases can
BeSt
get take before that time? At least one such game and slugfest wil ensue in this Bo7. I do hope
BeSt
will utilize the Arbiter late game well enough or I fear
Mind
might be too tough to crack late game despite having many bases.
Initially I was going to say
BeSt
4-1. Now after checking all the facts and
a Bo3 between these two
of 4 weeks ago I'm frankly not so sure anymore. Also with this ASL having so many upsets,
Mind
's chances increase and with the
knowledge
experience of voting for
BeSt
they do even more so. I wish I could confidently tell you who will win this one. I do know who I want it to be. Please
BeSt
. Make your believers proud. Take this ASL, it's as good of a chance for gold you'll ever get. I'm thinking 4-3 either way and I will vote
BeSt
!
BeSt Advances To The Finals!

Learning To Believe
Well I keep betting against
JyJ
and he keeps winning, now that he's secured his spot for the next season, he's now fully in it to win it.
hero
has also been creeping up through the tournament with some great wins under his belt, but his ZvT comes into question as
JyJ
's has been on the rise.
With the Ro4 being a Bo7, every map in the tournament's pool is in play its only a matter of order, which is as follows
Set 1

Sylphid
(
JyJ
Pick) :
Whats there to say about sylphid that anyone hasn't said before, its currently the bastion of standard play, that said
JyJ
knows how to tear it up on this map,
hero
has been able to pull some good games against terran on the map but I'd say
JyJ
made the solid pick here.
Set 2

Heartbreak Ridge
(
hero
Pick):
hero
definitely is playing it safe by putting HBR as early as possible, this map has been the absolute bane of terrans in both non mirrors though a bit better for TvZ this season. Being that every map in the pool has to be played on, its a matter of its positioning.
Set 3

Vermeer
(
JyJ
Pick):
Again solid
JyJ
pick, we've seen how he's performed against
Soulkey
on Vermeer, where SK already played an amazing game and still lost out to
JyJ
's tenacity,
hero
is going to have to outdo SK in terms of planning and execution on this map.
Set 4

Dark Origin
(
hero
Pick):
Zerg is 7-1 in just ASL games, nothing has changed since my last preview,
JyJ
couldn't get it done on this map against
Soulkey
, he isn't going to do it against
hero
either.
Set 5

Nemesis
(
JyJ
's pick):
Shows real confidence that
JyJ
left Nemesis up this late, though us older fans love to scream tank imba on every map, Nemesis pretty much amplifies that feeling tenfold making it one of the best maps for terran and it shows, zergs actively avoid playing on this map just as much as Terrans on HBR.
Set 6

Retro
(
hero
's pick)
Least confident map for
hero
, its not a bad map, its very similar to fighting spirit except for no middle base, the map has been pretty split in the tournament so far in terms of results for both players, I'm confident that
hero
can take it since he picked it before 76.
Set 7

76
(Final map):
With neither player showing preference 76 becomes the last map in the series, unsurprising seeing as its widely reviled with the least number of games played on it so far this ASL by being unstandard for all the races.
All in all I would say
JyJ
should be feeling extremely confident to take it all, not to say
hero
doesn't stand a chance but
JyJ
did beat the best performing zerg in
Soulkey
, he's sure feeling confident against the second best performing zerg in
hero
.
JyJ Advances To The Finals 4-3!
---
Writers: BLinD-RawR, Peeano, Simplistik
Graphics: v1
Editors: BLinD-RawR