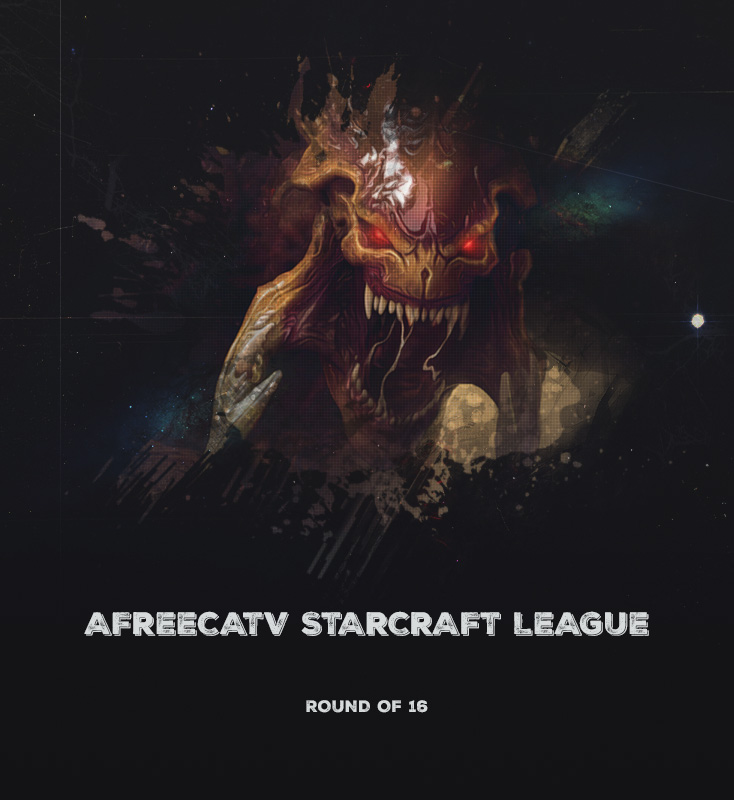 When a playerpool's skill level is but a hair's breadth, it can lead to a lot of awesome games and shocking results.

This ASL has already given us its fair share of shocking upsets but to have the previous season's finalists taken out in the Ro16 itself was not what most would have predicted, but on the other hand there will be a new champ this season. 4 players have managed to move to the bracket stage, time to see who will take the other 4 spots.




Group A - Royal Mess, or the Triumph of Action Man!
Royal vs
Action on

Retro, Losers Set 2
RoyaL joins the long and inglorious tradition of reigning champions getting rudely dumped out of competitions early. He is in excellent company. In three consecutive Football World Cups defending champions Italy, Spain and Germany all lost in the opening round in embarrassing fashion. Champ Mini got stuck in the next Ro16 and didn't even make it there this time.
After losing two TvZ's to Ling-Muta aggro, the ailing king finds himself with his back to the wall. He opens 9 Depot, 11 Rax. The challenger goes 12 Hatch, 11 Pool. Action gets lucky with his first scout, and then immediately sends the scouting Drone cross map to throw down a third Hatch at the 1 o'clock natural, before his Pool is even finished.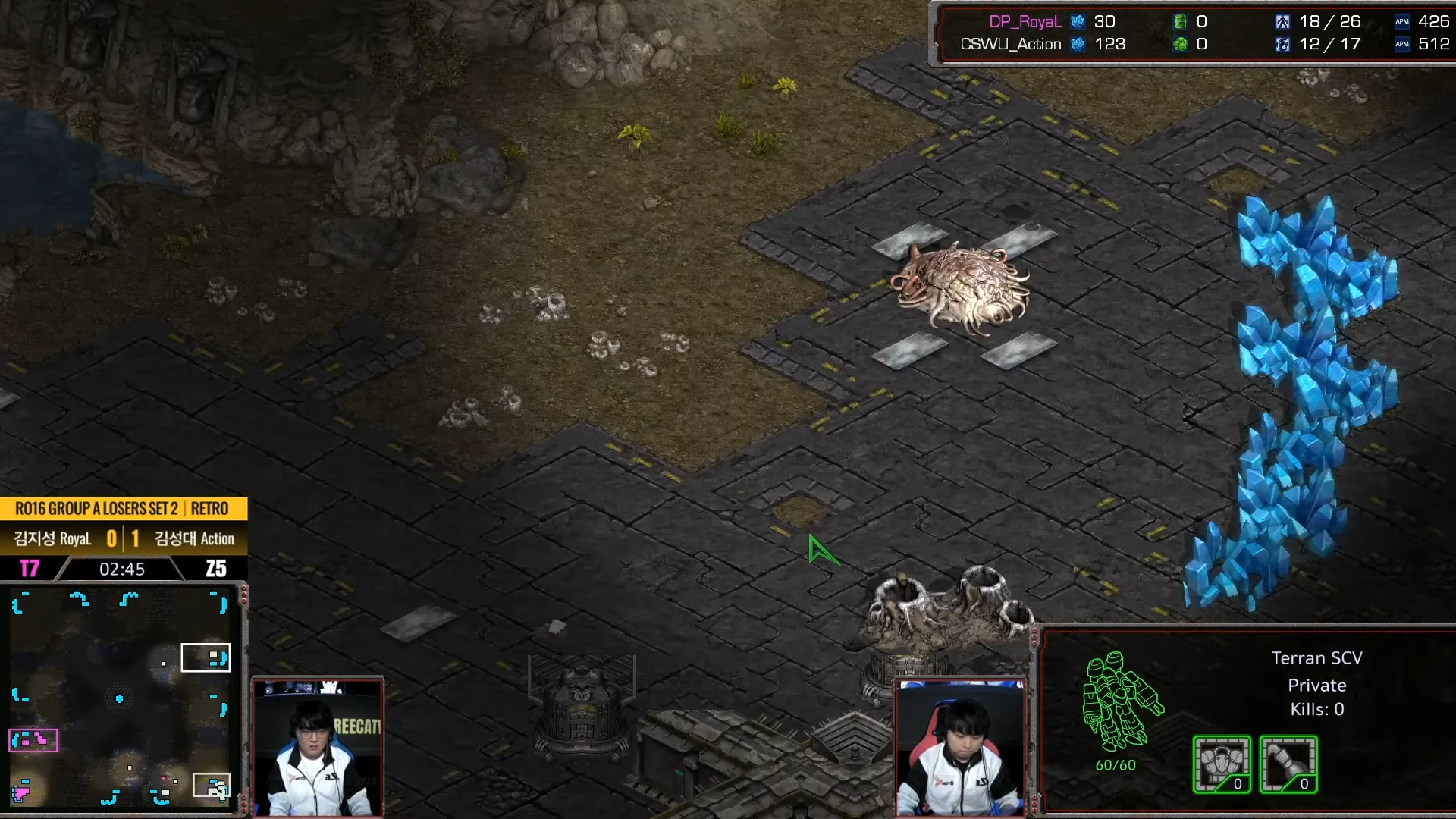 Counting with Action: 0 Lings, 1 Pool, 2 Overlords, 3 Hatcheries.
Meanwhile RoyaL completes his wall and starts a CC, and then immediately adds two more Rax.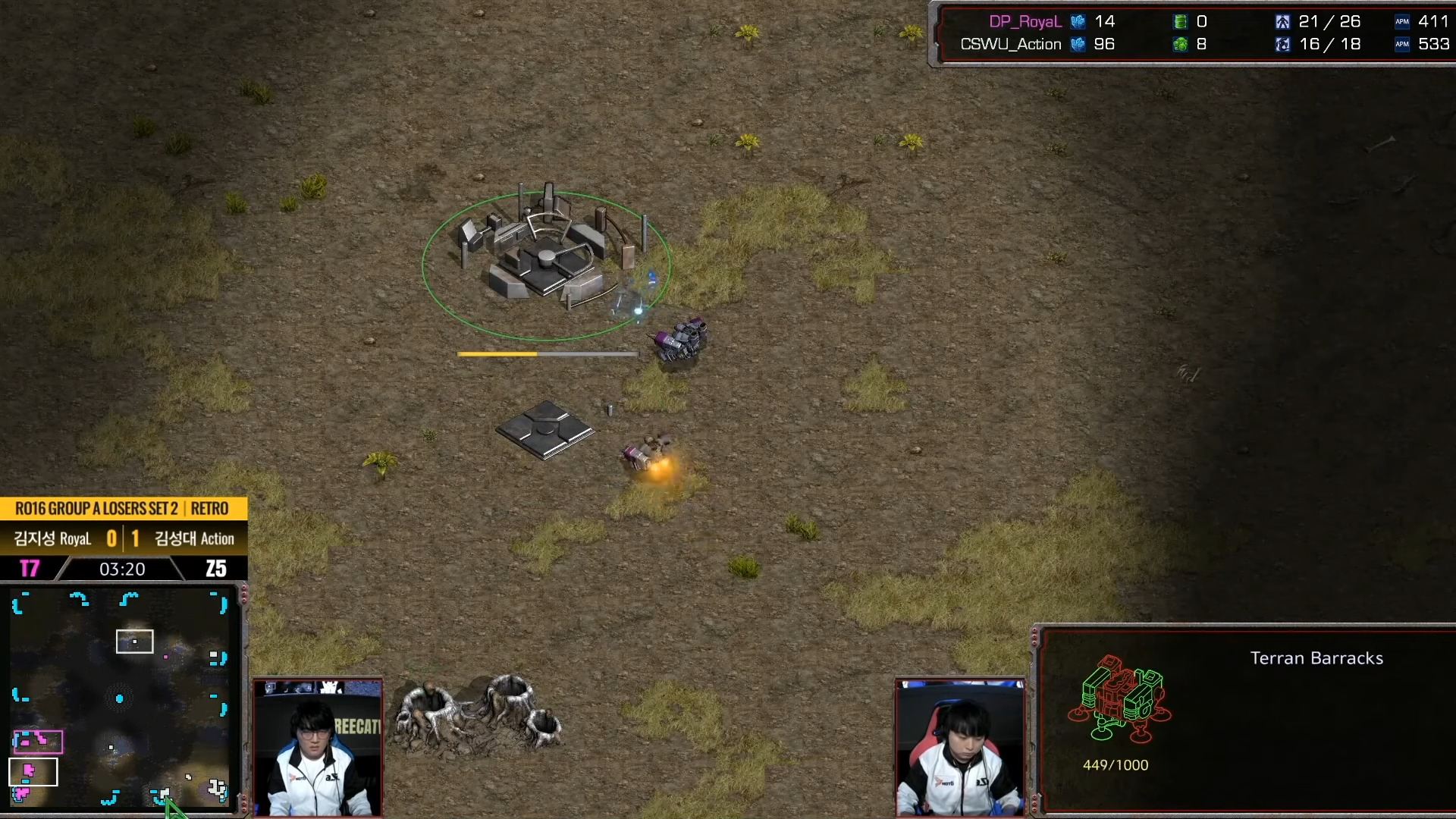 Counting with RoyaL: 0 Academies, 1 Marine, 2 CC's, 3 Rax.
Academy and Spire start. Action banks gas and gets a Den. At 5:36 Royal moves out with 13 Marines and 3 Medics. Action spots this and adds 3 Sunkens at his natural and starts 5(!) at his third. Lings buy a couple of seconds. When RoyaL stims the last few metres it looks like a bust. But, the Marines funnel in one at a time and when the Medics arrive a sliver too late 4 Sunkens are already finished. 6 Marines die, Zerg loses nothing.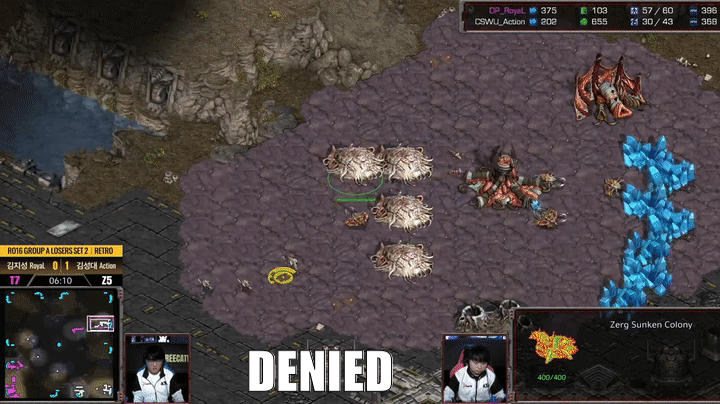 Perfect hold
From here, Actions goes Mutas and adds more Sunkens. Royal goes 4 Rax Starport and starts some turrets. The Mutas don't get anything done, so Action carries on up the tech tree and also adds a few Lurkers. RoyaL is getting ready for SK Terran midgame aggression, entirely appropriate on a map called Retro. Given the number of Sunkens, not adding any Tanks looks like a mistake. But RoyaL is confident in his macro, so he starts a third CC on location and also tries to take a 4th. But since Action is under zero pressure, both expansions get delayed by the still alive Mutas.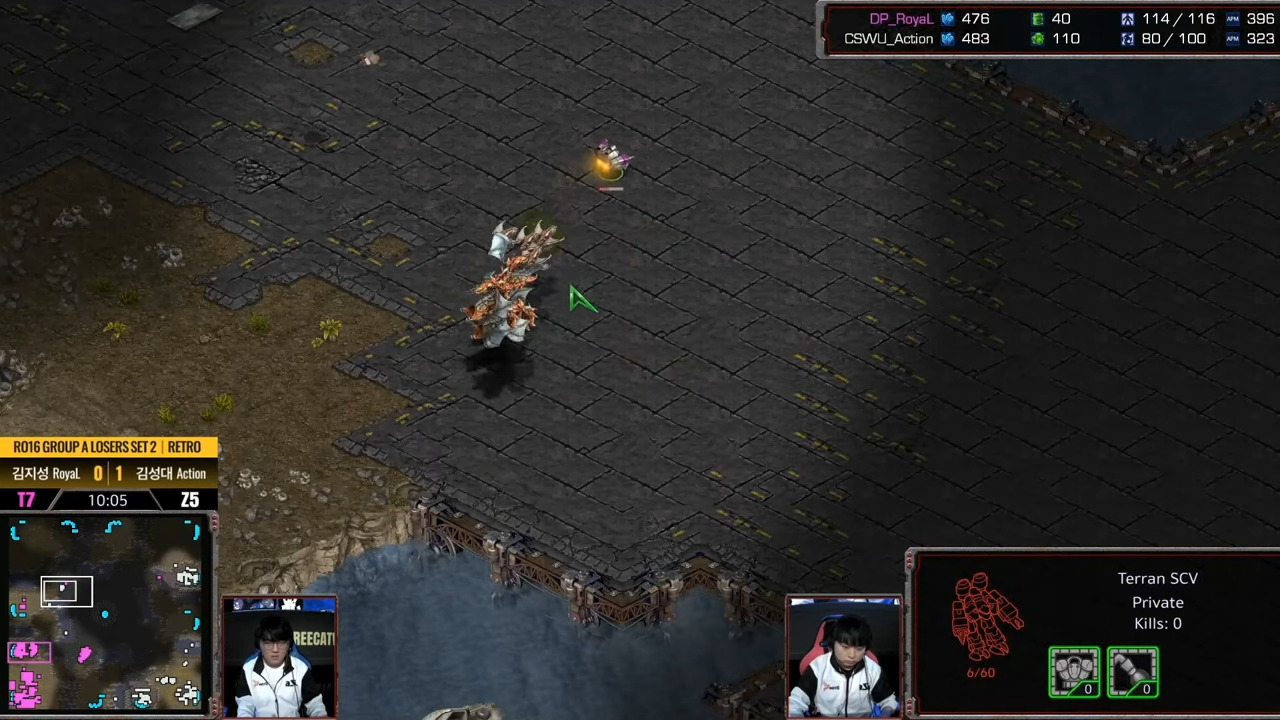 Not so fast young man.
Royal ambles across the map with a lot of bio, 2 Vessels and 2 Dropships, presumably intending to deny Action's 4th gas. But, after saving his Dropships twice, RoyaL lets them fly out in front of the ground army, right in vision of Action's fliers. This does not go well.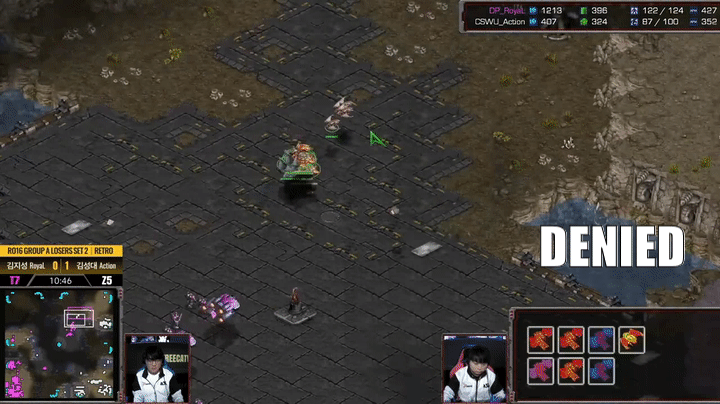 Black Hawk Down
Royal finally gets both expansions up. Action drones like a herO. Given that Swarm and Plague are out, what's a Terran to do? Get some Tanks maybe? Nah, RoyaL opts for BC's! They end up doing almost nothing. Shortly after that a stampede of 4-1 Ultras enters the field and trample all over Terran dreams. Within two minutes, Royal's crown is shattered.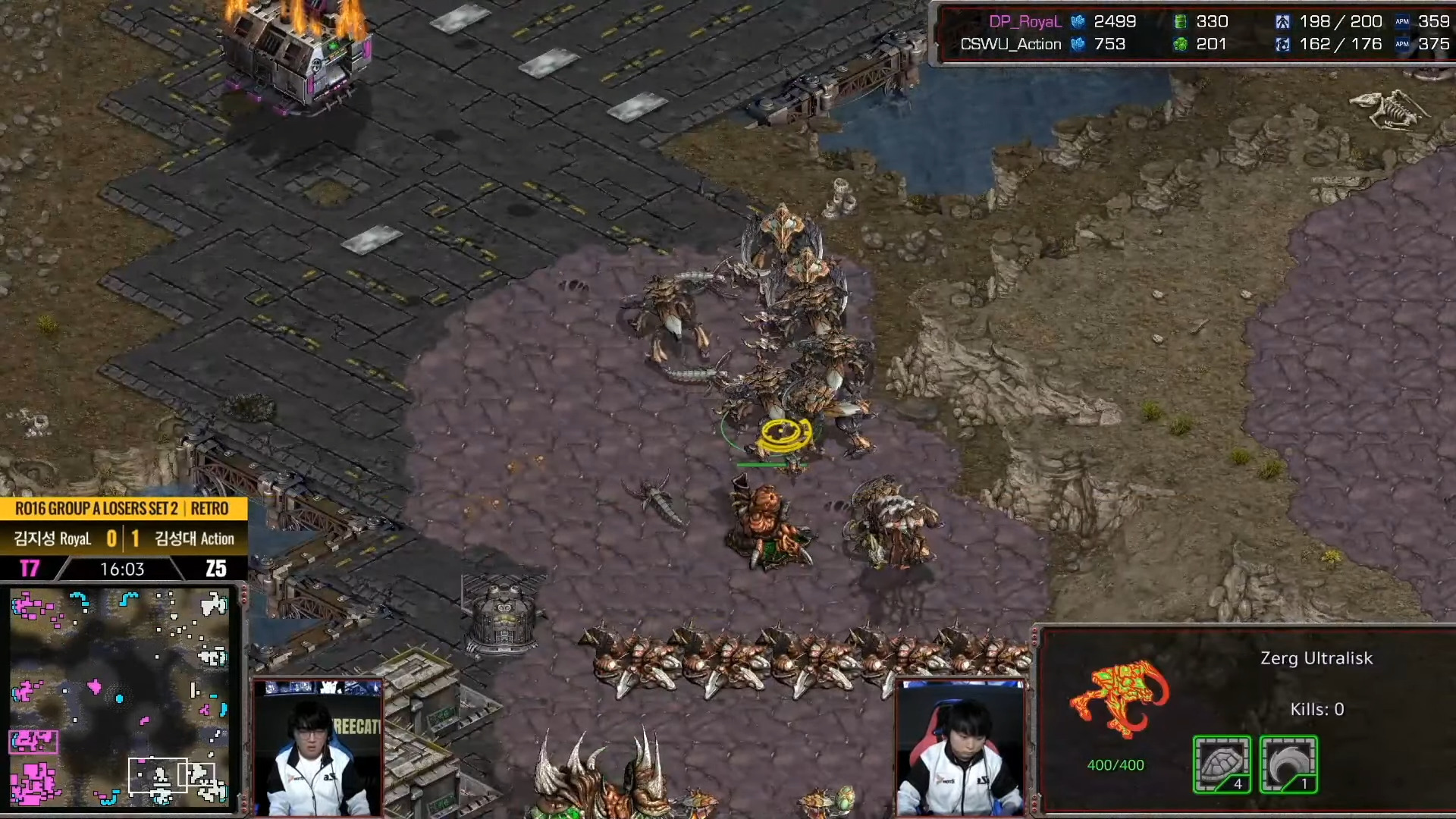 Many cows.
After this Action swats Shine aside and goes on to join Jaedong in the Ro8.
---
Group B - Mission Improbable
JyJ vs
Queen
It's fair to say that JyJ was not the favourite to make it out of Group B. But in his first game he really brought the fire. The whole game was a brilliant display of intense pressure. Have you ever seen 1 Marine / 1 SCV harrass? Actually doing anything? And the Marine survived?!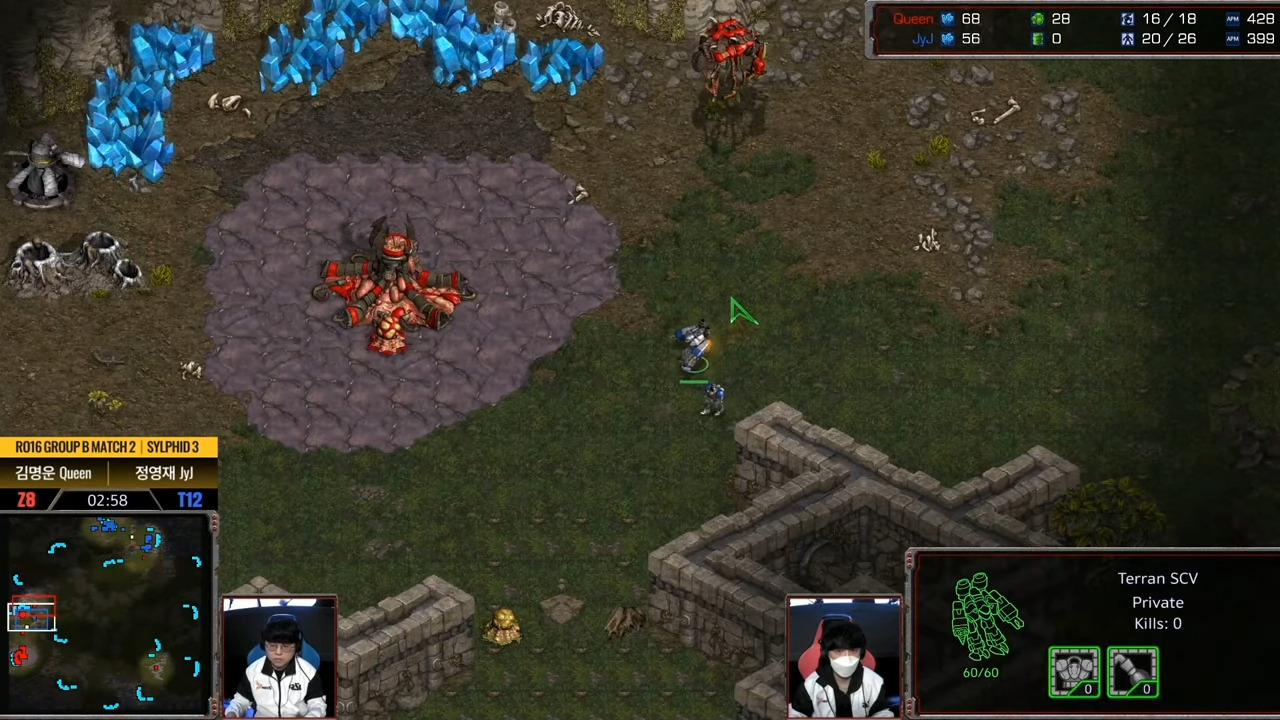 You don't see this every any day.
JyJ's Muta defence is almost flawless. And after building and maneuvering his bio-ball carefully, he takes a successful engagement against 3 Sunkens and 11 Mutas. If Queen's Lurkers had been 5-10 seconds later, the game would've ended right there.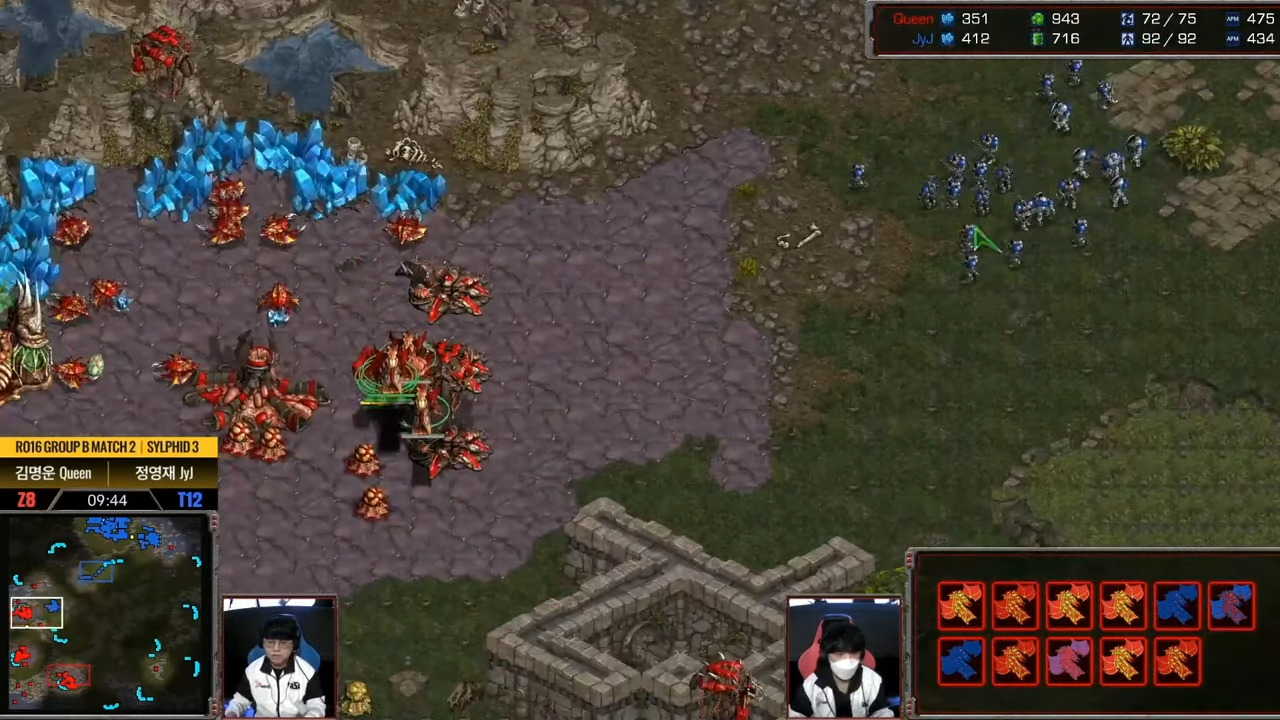 This attack actually works. Are you watching this, RoyaL?
Queen played his part to make this game exciting, with excellent Defiler control. Many Vessels were plagued. And when a chain of Swarms reached JyJ's natural, with four Lurkers alive the game was was at a tipping point. Those Lurkers had about 50 kills between them (literally), but somehow JyJ managed to cut off reinforcement, keep up his supply and ultimately stabilise. Then he put the squeeze back on Queen.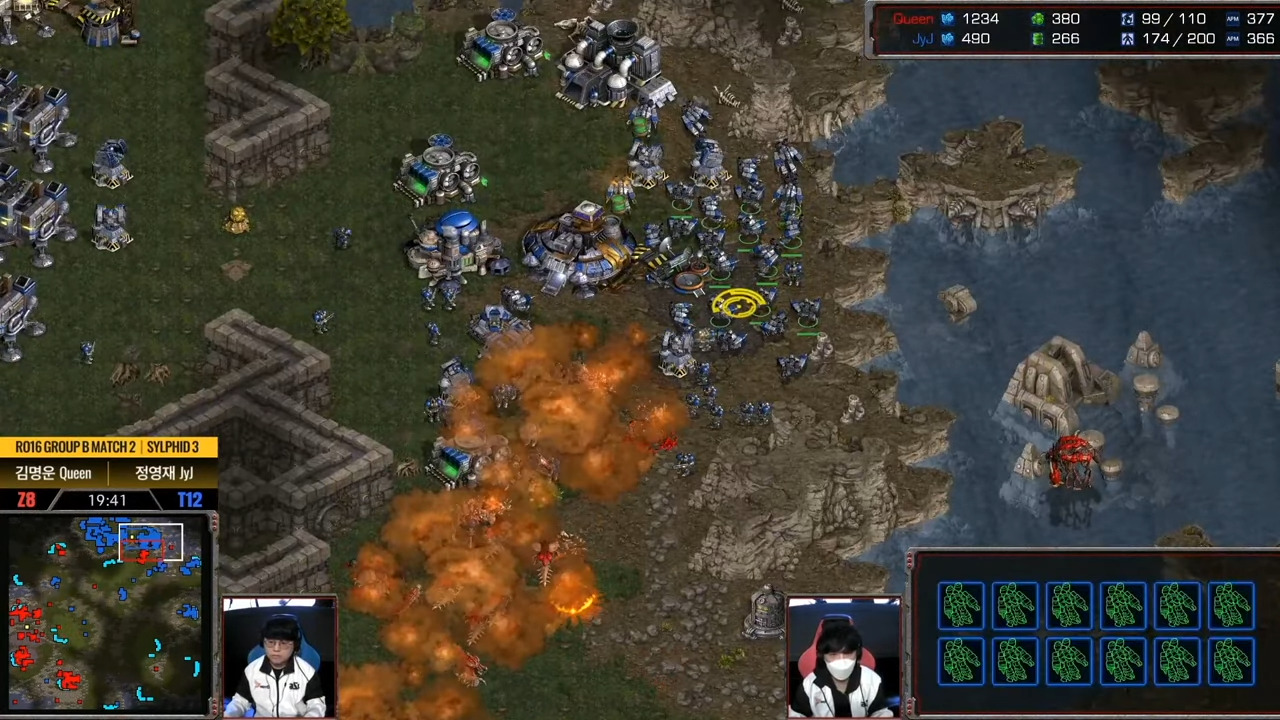 Terran is completely fine here, trust me.
In the end JyJ's pressure meant Queen was only able to start mining his 4th gas at 22:41(!). And when that base got shut down less than two minutes later, Queen tapped out.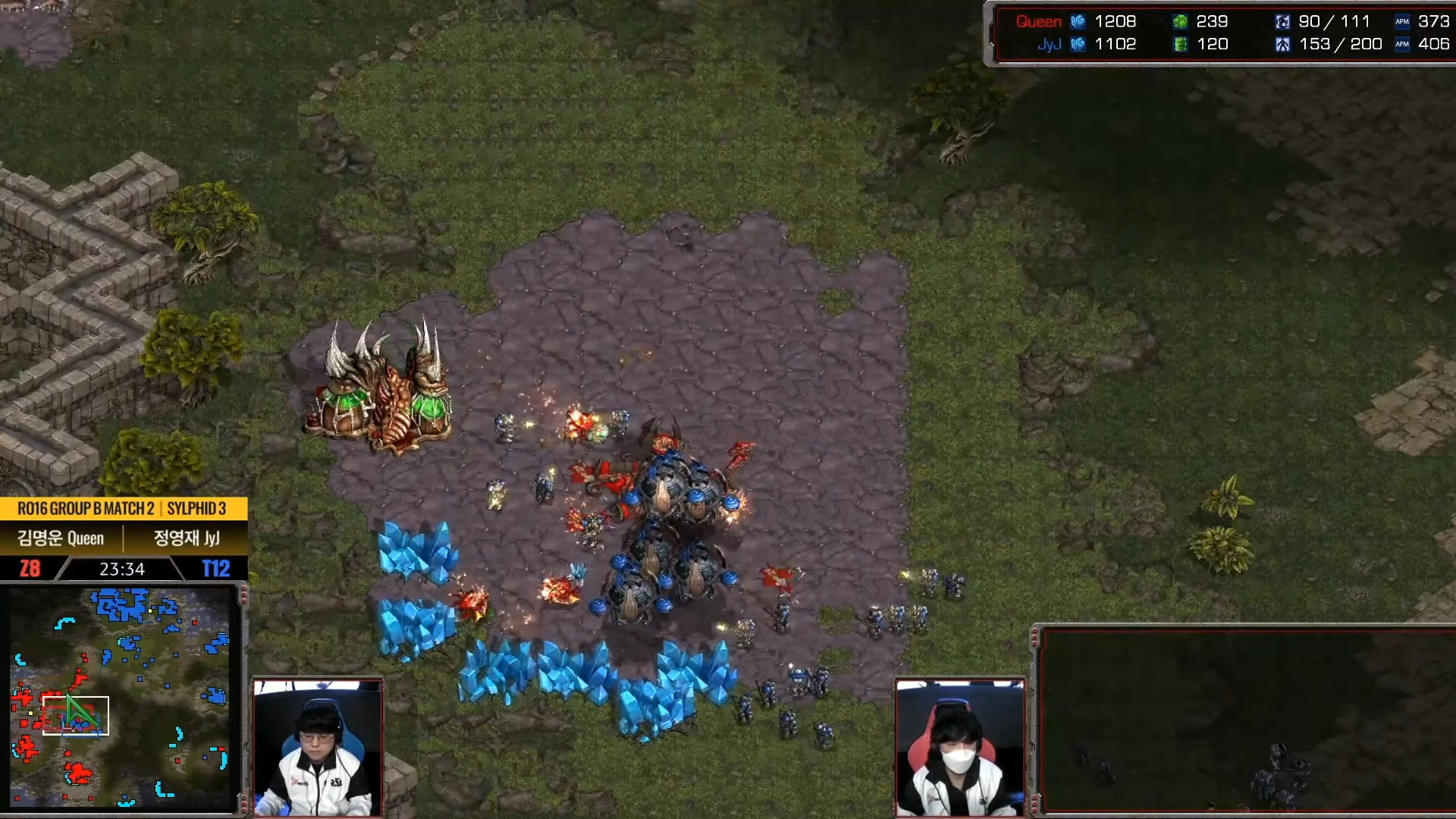 GG
JyJ vs Rush
Game 1
Despite his Finals loss, Rush is pretty decent at TvT, especially in Vulture battles. JyJ couldn't have cared less. All three matches had almost mirror openings: 3 Fact Vultures into Speed. In Game 1, Rush got an early advantage when JyJ got caught on one of the bridges. This cost JyJ 5 SCV's.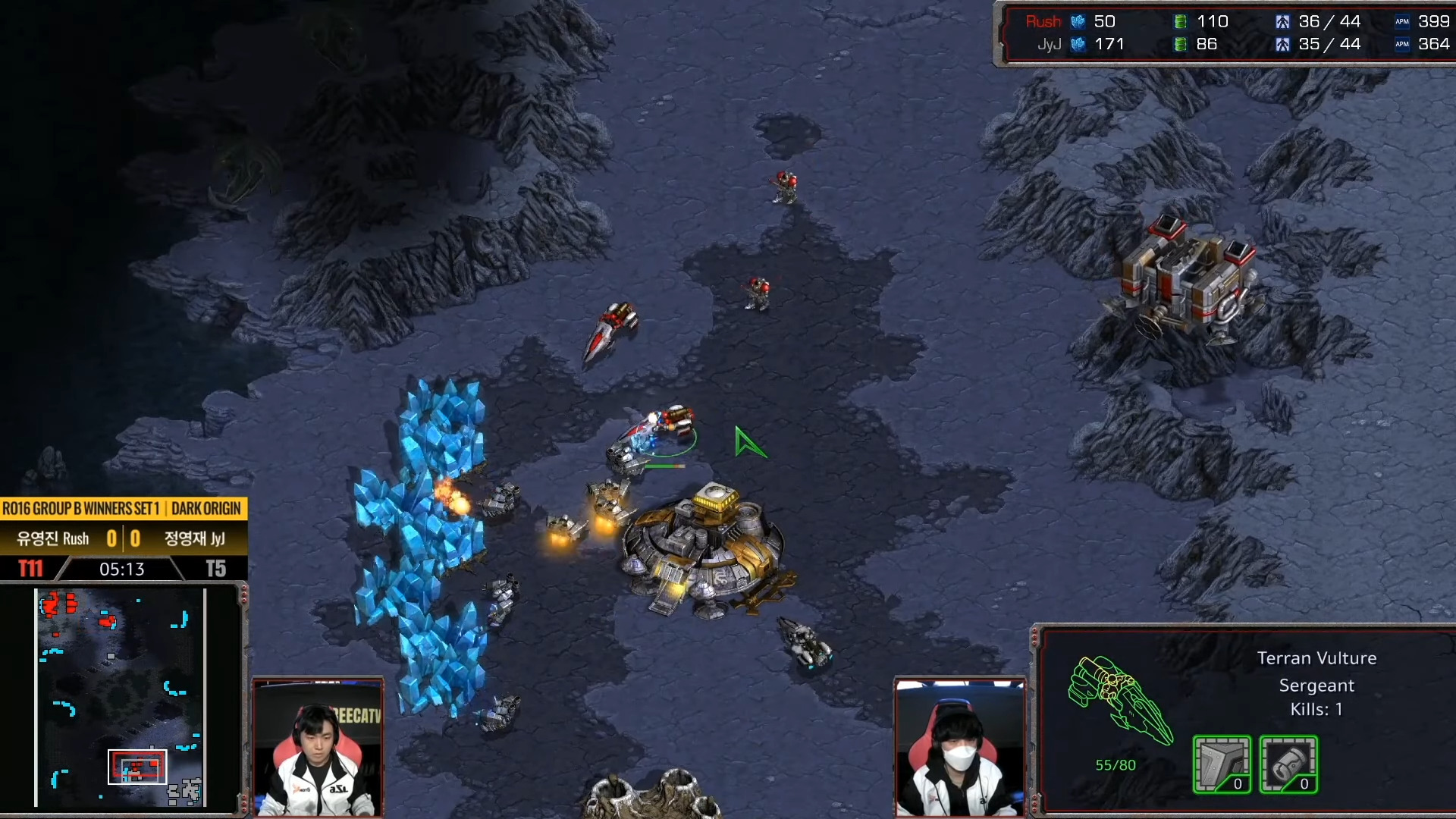 This is not an ideal start.
Is JyJ bothered? No, he just channels his inner Ethan Hunt and goes on the offense. He cuts a few Vultures to squeeze out a very early Tank and heads over to his opponent's natural. Rush has the Vulture advantage, 13 against 10. His first Tank pops out just in time. Surely Rush is fine here. Surely?!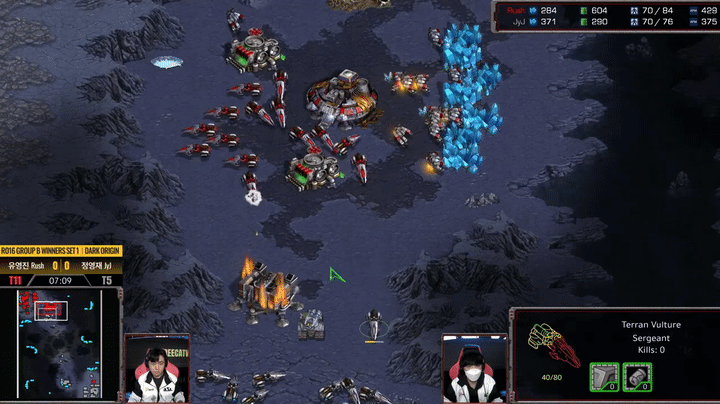 "I'm still struggling to come to terms with this attack." - DA
When the dust settles Rush is down 20 supply. All SCV's at his natural are dead and JyJ's Vultures are ransacking the main. More Vultures rallied across the map kill more SCV's. Although Rush stabilises, he never recovers.
In Game 2
JyJ has another go at this early 1 Tank push pressure, but this time Rush holds.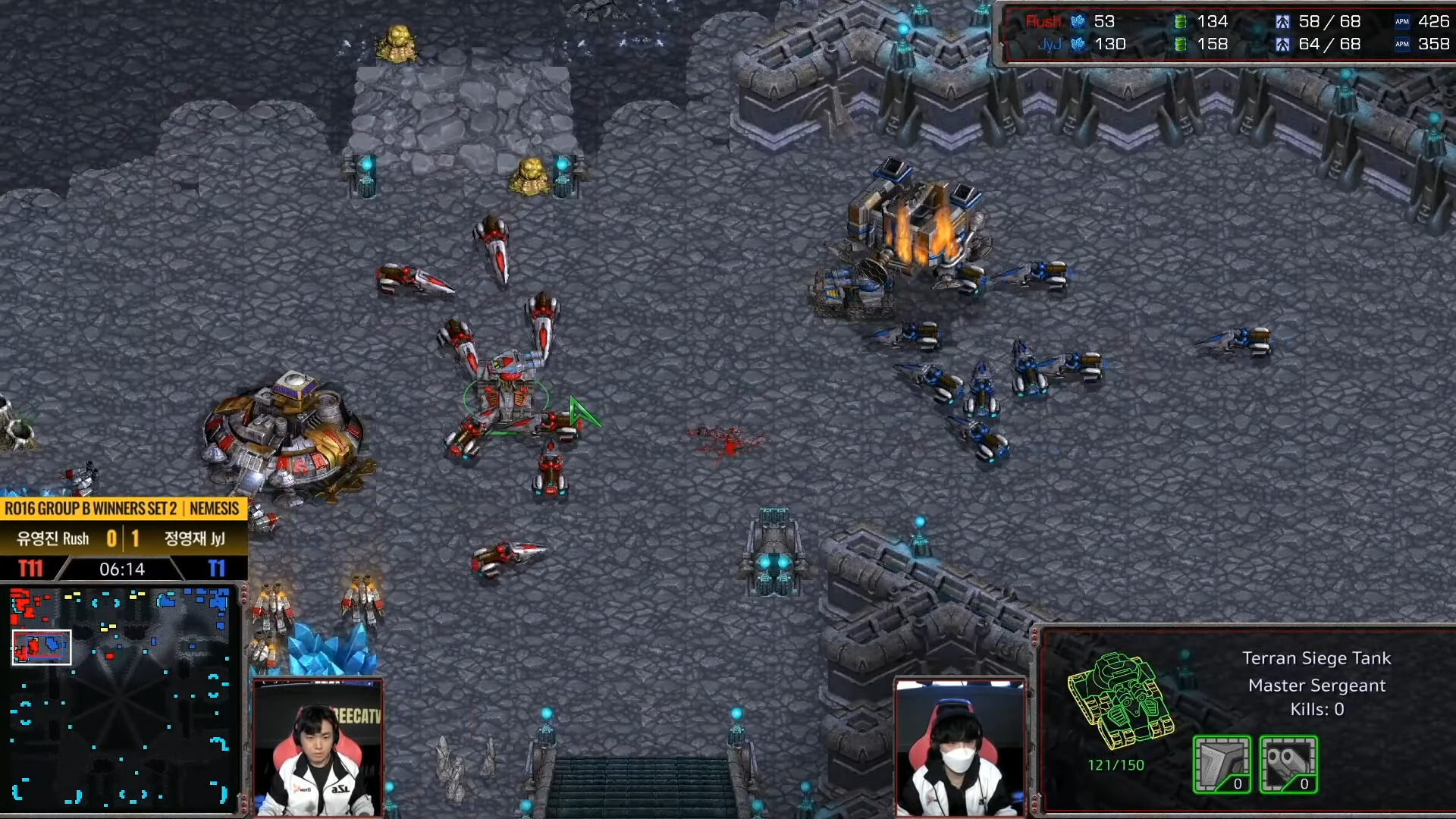 Mirror, mirror
In a longer eco game Rush secures a win with superior drop decision-making.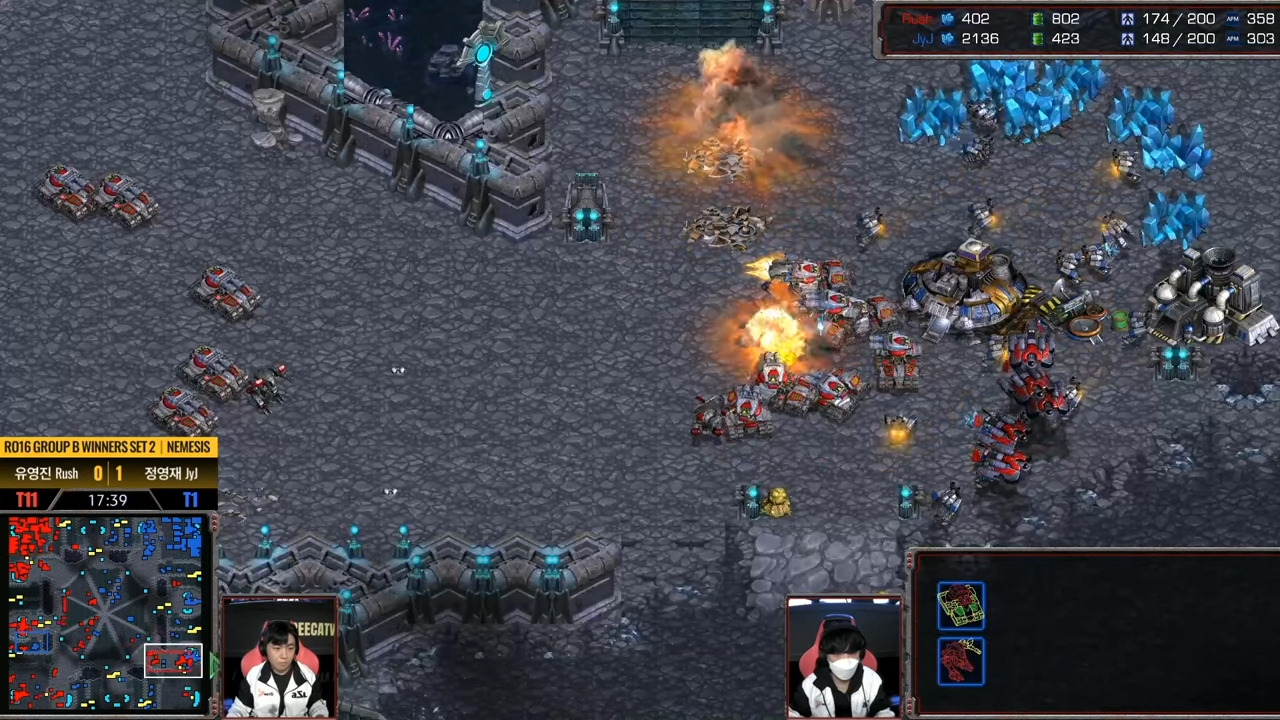 Winning Move
Game 3
Rush wins the early Vulture engagement again. But JyJ has clearly sold his sould, because his
weird
SCV ritual miraculously saves the day.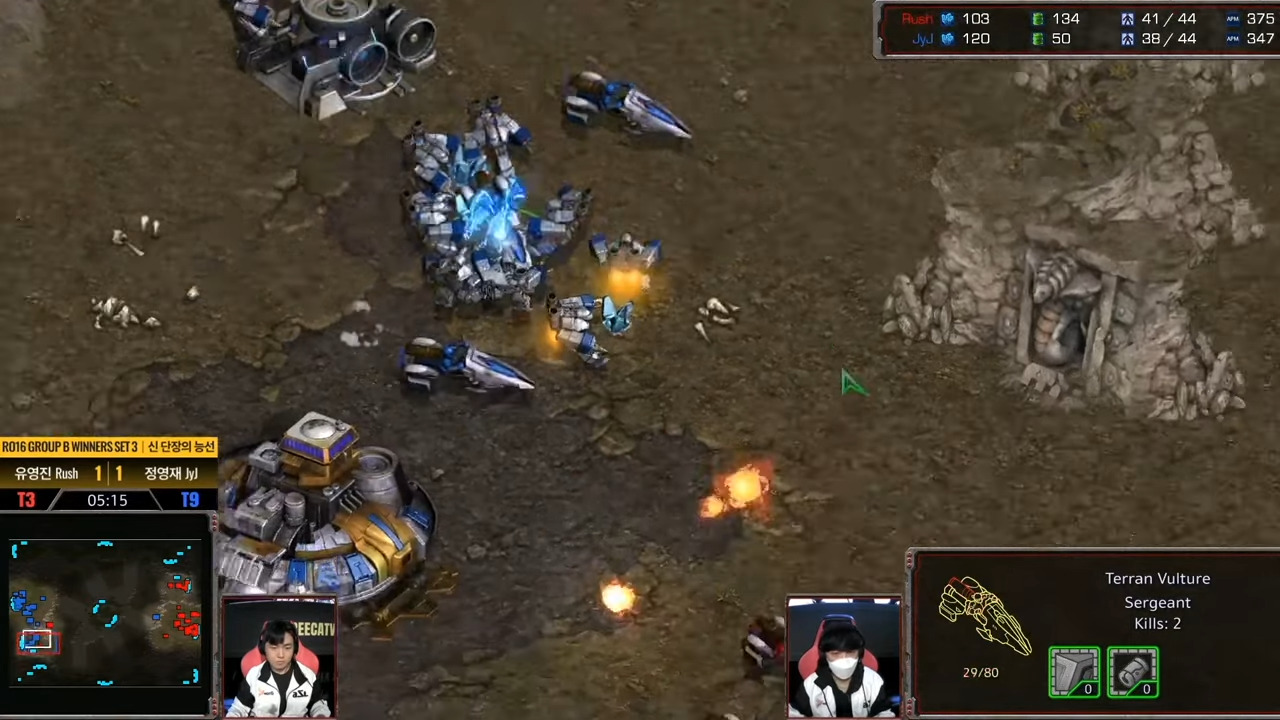 This
weird
SCV ritual should probably be banned.
The game goes on. SCV's are being trained. Vultures are being assembled. Mines are getting laid. Supplies are pretty even. Various vehicles drive/hover around the map. And then something strange happens. JyJ takes another improbable engagement. Vulture numbers are even-ish. Rush is on the ridge first, closer to his own base, with a tank in position. But, when the dust settles JyJ is up 15 supply. The SCV's in Rush's natural are once again lining up to be slaughtered.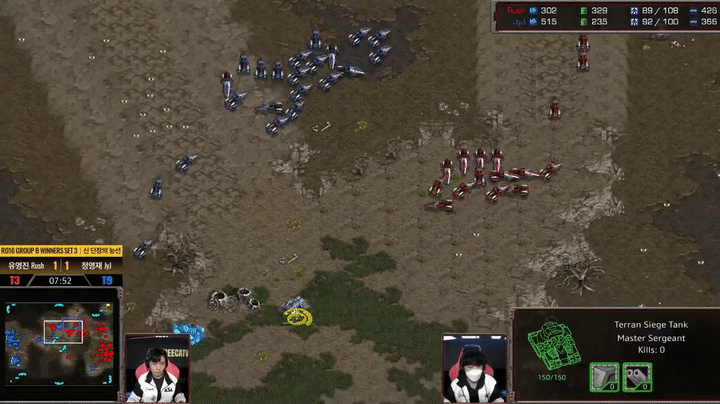 The vultures are already circling.
The rest of the story is familiar. Rush stabilises but never recovers. JyJ moves into the Ro8 in first place. After the series, the audience reported hearing a faint crying sound. Later it transpired that Defender's Advantage had a complete breakdown and hasn't been seen since. Spare a thought.
In the Losers Match Rush plays a close couple of games against Queen. But he totally misreads the final game, missing the Zerg's third base, and gets crushed.

RoyaL's Death Rattle
With how things have been going this ASL it will have to be either
Light
or
Snow
falling. The stoic faced protagonist who took Flash's seat ever since he left for the military or the steady genius antagonist?
How about
Soulkey
? We haven't seen him play yet this ASL. Are the maps in his favor?
He has likely taken a lesson from Action in the Ro16 Group A and I'm sure he also checked out his former teammate, ZerO's performance in Group B. That really only gives him an idea how to deal with Light though.. The style we saw Action use is very similar to how Soulkey loves to play vs Protoss: Take a 2nd natural as your 3rd. Defend any timing attack successfully. Take the 2nd main as your 4th and keep macroing. While doing this hold another attack or fend off a drop.Then once 4th gas finally kicks in, crawl out of your shell. Depending on how much his opponent wasted on trying to penetrate his shell, Soulkey will easily win from there or he will have still have a (very) tough fight ahead.
BeSt
not to trust BeSt, however if he is ever to reach the semifinals or even the grand final again this is the ASL to do it. It's been ages since we saw BeSt use corsairs to great effect in PvZ, That's not too surprising because BeSt is not known for it unlike his old pal, Bisu. The reason I highlight this, is because sairs are quite good vs how Soulkey likes to play PvZ. Losing overlords and/or building defense against sair flocks at both bases is very costly which delays his whole 4 gas tech style. Even if BeSt will use sairs his patience will be tested by Soulkey. Sairs alone won't kill Soulkey. BeSt needs to have enough patience for the turtle to stick his head out of his shell; he should not try to 1a2a3a as soon as he macroed up 3 control groups. The shell is hard to break... Cut off the head first, then it's easy to dissect the rest. It's vital for BeSt to win his first match in order to advance from this group. It will boost his confidence for that moment. Confidence he needs to best Light or Snow in a Bo3, since it never really is a matter of skill with BeSt.
Light
has not looked
as
impressive as when he won 2 seasons ago. Falling to Rush in previous season was not expected. He also dropped a game to Shine there, which honestly wasn't expected either. Light is still easily the Top 2 Terran we have. He is very well rounded in both TvZ and TvP. Snow and BeSt are in this group though. Literally the 2 guys with the greatest PvT potential there is. We can expect to Light to play very solid this group. Can BeSt and Snow do the same? For Light's sake, let's hope not.
Snow
, I dare say the fan favorite of this group. Perhaps it's my bias. Snow's skill is high and his style is unique. He is very composed and genuinely enjoys himself playing Brood War whenever he does. Snow's task this group is to hit that sweet spot between just having fun and trying his best. He cannot become nervous. A stage environment is so different to playing at home. Snow needs to create a bubble to find said sweet spot. Fool your brain you're just playing some games at home vs your fellow pros. No big deal. Any doubts you have, just laugh them off.
Like BeSt, for Soulkey it's time have another showing. It's been a while since we saw them do well. Soulkey never really seems affected by stage fright, but he hasn't ever shown dominance for more than a game or 2 either. Light and Snow are the favorites. One has to go. One is to stay. This has been the trend. I believe both of those players have similar chances this group. Their danger is BeSt rather than Soulkey. It comes down to Snow vs Light. I
have
to root for Snow here. And since BeSt is the danger...
Snow and
BeSt to Advance!

Hard Counters
Group D was beautifully sculpted around every player's weakness. This is what makes the group so compelling. Every single opponent will be facing a thorn no matter how the match-ups pan out. After writing previews for the past decade, this one will be based on the viewers perspective versus cold hard stats.
S:
by.hero
is obviously top tier. He has qualified for the round of 4, three of his last four seasons.
Roadkill:
sSak
is
Hero
's easiest opponent. He barely made it into the round of 16 and is one of this season's biggest imposters.
Hero
should have no trouble in this ZvT.
Owned by:
Bisu
is owned by top teir Zergs. Furthermore,
Bisu
lost to
Hero
in a grand finals when it was all on the line to win the 11th Sonic Stargleague. That was a huge turning point in
Bisu
's career where he went from a championship winning player to a top 4 player.
Tricked by:
Mind
holds the best handbook for early bio aggression against Zergs. Since the moment he faced Kwanro in the finals, he established himself as a unique talent in early game.
Mind
may very well be
Hero
's toughest opponent.
A:
Bisu
is the 2nd highest player in this group as he ties Rain for the highest Protoss winning percentage in the ASL.
Roadkill:
sSak
is roadkill for
Bisu
too.
Bisu
might have the highest winning record against former Proleague teammates. Ignoring the huge upset from Larva several seasons back,
Bisu
is pretty much untouchable against SKT teammates.
Owns:
Bisu
is owned by
Mind
. Whether it's MSL 2007 Season 3 or HungryApp Starleague,
Mind
has a consistent history of being the one Terran to own
Bisu
. No matter
Mind
's condition, he's always there to stop
Bisu
from winning championships.
B:
sSak
is the 3rd highest player despite being called an imposter earlier.
Roadkill:
Mind
is dead meat for
sSak
.
sSak
has proven outstanding technique in TvT for over a decade. In 2015,
sSak
defeated Last in one of the most watchable TvT matches ever. His vulture control and wraith game comes unrivaled.
Mind
is in no condition to take on
sSak
C:
Mind
ranks fourth, but ironically could take first or second in this group. He's reached a form we really haven't seen from him for nearly 8 years now. He's been chasing his own shadow, but it's high noon now and he's finally caught it. We should expect great games despite his what his ASL record shows.
How things will most likely pan out:
Hero
vs
sSak
: Easy win for
Hero
here
Mind
vs
Bisu
:
Mind
's long history as being the underdog and defeating
Bisu
will continue
Winners' match
Hero
vs
Mind
:
Hero
outshines with his micro and places first
Losers' match
Bisu
vs
sSak
:
Bisu
's dominance over SKT players continues
Final Match
Mind
vs
Bisu
:
Bisu
wins this best of series
by.hero and
Bisu Advance!
---
Writers: BisuDagger, Peeano, Simplistik
Graphics: v1
Editors: BLinD-RawR