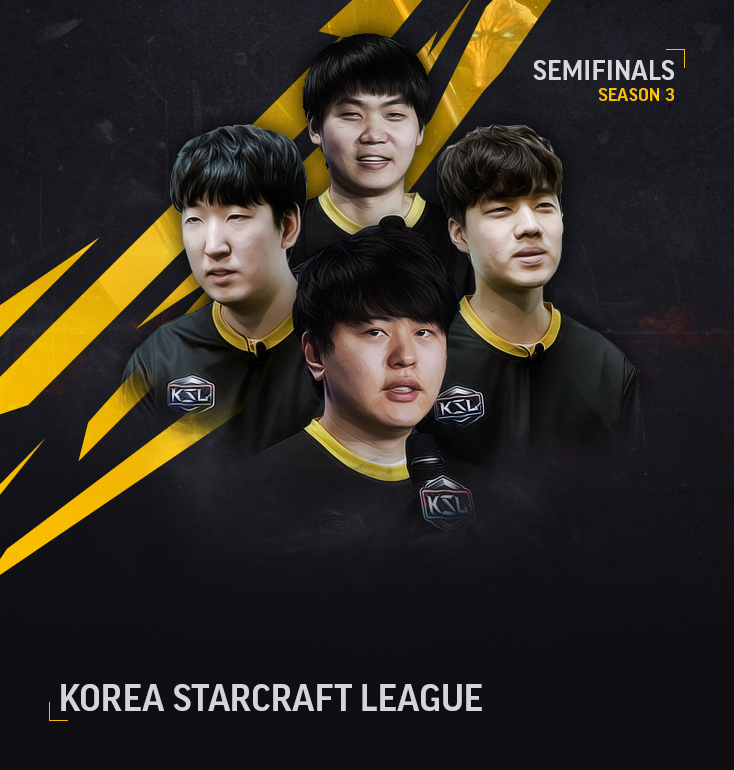 The Korean StarCraft League Season 3 semifinals features an all Protoss lineup. This has only happened one other time during the

2008 Club Day Online MSL
. Four of the six dragons (Bisu, JangBi, Kal, free) were represented. The two missing—Stork(eliminated in the top 8) and BeSt.
It's so fitting now that Stork has advanced along with Mini, Snow, and Rain. 11 years later, Stork gets to challenge the new hatchlings, and those who survive the Dino-Toss will earn their wings and sit on the mountain of gold among the other legendary dragons. It's almost a rite of passage. The final three series of KSL3 may only consist of a single matchup (PvP), but the level of play and excitement these players bring to the table will be enough to make the conclusion of this season a very enjoyable one.
Here are some killer recaps from the Ro8, courtesy of
Frudgey
!
Table of contents

A Legend Once More....
Not too long ago Stork announced his withdrawal from competition due to stress-related health issues. Now onlookers question their grasp of reality as the Stork of a different timeline has slain Jaedong, Last, and Best, in resounding back-to-back 3-0s.
But with every step lingers a dreadful skepticism that echoes the recent demise of Ample. Although Stork is treading along the same flashy path of apparent dominance, will he take the quick 180 into a finish that sputters out before reaching its worthy climax?
Both have taken different paths, but there's no doubt that Stork has gotten as far as he has due to a good amount of luck. In fact, a combination of Protoss favored maps, his opponents choking, and a general underestimation of Stork's skills have driven him this far. Every part of Stork's advancing, just like Ample's, has not felt especially miraculous.
Yet, where there was only darkness for Ample, there still remains an ember of hope for Stork. His sword after all has been sharpened by meeting tougher opponents than Ample has. Last, Best, and Jaedong are after all a good deal more stronger than Shine and Miso. Gathering such an impressive head-count, Stork has proven his versatility, adeptness for series play, and a renewal to his old form.
Most of all, what Stork has displayed here is consistency and a competitive steel in the booth that separates the supporting cast from the main characters. And for Mini, if he has even the most minor slip-up in mentality, he may be demoted to a mere extra. There's no way to stop reverse sweeps or prevent being swept when Stork is playing.
Prediction:
Stork 4-1
Mini

Either Way, We're Getting Precipitation
Asking Snow to win a series versus Rain is like asking a fish to survive out of water. Rain is a stone-cold killer in this matchup, and Snow learned that firsthand in the finals of ASL5. So what's the difference this time?
Both 26-year-old players also were raised in the same "By" clan and are now reaching the height of their career with no road blocks in front of them. Snow completed his military service in 2015, and Rain does not have to complete his after selflessly donating half his liver to his father, so neither has to worry about a future retirement. But despite the similarities, these players have extremely different playstyles.
Snow's career has never been defined as consistent, solid, or top tier. Snow has certainly been the best at times, but most of what gets him there is his control and ability to multitask better than his opponent. Snow is the premier reaver player and perhaps the best shuttle/reaver player of all time. In 2010, Snow set the record in a live match by clocking 72 kills with a single reaver. Over the past year, his multi-shuttle drop play versus Zergs has helped him overcome his inherent weakness in the matchup too. The only place where Snow never truly unleashed his potential was as a PvP player.
Perhaps it wasn't that Snow never unleashed his potential but that Rain never let it get there. Rain is the epitome of solid and consistent gameplay. There are only a handful of players in the history of Brood War where you thought, "No matter the match up, this person has a good chance of winning". Rain's close friendship with Flash may be related to the fact that he is Flash incarnate as Protoss. He focuses on macro first and reading his opponent, and if there is a weakness in an opponent's build order, Rain will switch from defense to offense in an instant.
Generally, league map pools have maps that favor one player or another. Rain really proved the map selection didn't matter by beating Stork on Overwatch, Cross Game, and Circuit Breakers—three maps that hit all varieties of style from standard macro to micro and harassment oriented. Rain excelled on all of them with superior dragoon control and high precision scouting. Snow may realize this and opt for the most standard maps possible and try to play straightforward macro games. PvP has a very long history of being a coin flip matchup with easy build order wins. Playing on a map like Fighting Spirit or Circuit Breakers greatly increases the success rate of build order wins.
All good things must come to an end. This is where the monster streak ends for Rain. Despite Rain's record, Snow is 2-3 against him and won their most recent match up in MPL Season 2. Snow will be ready this time and is going to meet either Stork or Mini in the finals.
Prediction:
Snow 4-2
Rain
---