After four weeks of exciting matches, we're finally down to the final four. One of these four worthy players will be named the final champion of the Brood War OSL. Each of these players has what it takes to win and bring an unwanted but satisfying end to professional Brood War in Korea. Will ZerO finally get a long overdue title? Can fantasy defeat Flash and get his revenge on Jangbi? Will Jangbi get his two-in-a-row? Or will Flash do the impossible and break NaDa's record of most Starleague titles?
All four of these players breezed through their competition so far (except Flash going 3-2 in Ro16), but they'll have to give it their all to make it to the finals. None of them are the clear favorite to win the match anymore, and the each match will come down to who put in the extra effort to prepare. Not even Kim Carrier could call the winners for this OSL's semifinals! So find out with us who will go down as the last champion of the prestigious Ongamenet Starleague!
As always you can catch up if you missed any of the quarterfinals games in our
recaps
. Also, check out the most exciting games of Ro8 by reading the
battle reports
. Can't wait for the semifinals to start? Get hyped up
reading about the two matches that are coming up
!
Cheers

,
l10f
Round of 8: Recaps

By: l10f

Another Victim

Not even mini could stop Jangbi's streak as he fell 3-1 to the OSL champion. When players are on a roll, they seem impossible to stop, and Jangbi is definitely on a roll. He seems poised to take a consecutive title after convincingly taking down the potential royal roader mini.

Set 1: Jangbi failed a 4-gate all-in to a good reaver micro, but overcame his loss by taking advantage of mini's holes in micro to overwhelm mini's army. Mini tries to win using dark templars, but Jangbi blocks his entrance with 2 forges long enough to barely make the one observer that allows him to win the game. One second later and mini would have taken the game since there would be no way for Jangbi to detect the dark templars.

Set 2: mini harasses Jangbi with zealots and manner pylons, but Jangbi decimates mini's army with 3 gates, sniping mini's reaver with flawless micro.

Set 3: mini 4-gates Jangbi, and Jangbi loses few of his initial 4 goons, but barely defends with a great probe pull. Mini continues his push but Jangbi defends with proper reaver and probe micro. Jangbi expands and mini makes a robotics facility before following it up with an expansion of his own. Jangbi attacks when he gets his 2 reavers, but mini snipes both reavers, forcing Jangbi to delay his attack. Mini then defends the next attack and expands again, harassing with his reaver and killing a large number of probes. The next few engagements are very close, but mini takes an opportunity to attack Jangbi's natural. Jangbi reacts a little bit too slowly to attack mini's natural for a base trade, and mini's reinforcements, combined with his main army, takes out Jangbi's army and mini takes the win.

Set 4: both players opt to expand instead of going for early aggression as they did in the first 3 sets. Jangbi expands slightly earlier and decides to harass with his reaver. The reaver kills a lot of probes and Jangbi defends the subsequent attack to win the series 3-1.

---


Zero the Hero

Hyvaa gets another ZvZ after surviving the 4 Zerg group in the Ro16, but he was no match for our hero Zero, who took him down 3-1. ZerO proved that his ZvZ is no longer as weak as it once was, and he's ready to make a run for his first title.

Set 1: hyvaa's 12 hatch vs ZerO's 12 pool; hyvaa defends against ZerO's zergling attack and wins with mutalisks.

Set 2: ZerO 9 pools against hyvaa's 12 pool, and attacks the wrong position on the first try. Hyvaa easily defends his expansion, but ZerO kills hyvaa's natural with a mutaling attack. Hyvaa makes an effort to come back using mutalisks, but ZerO defends and wins the game.

Set 3: hyvaa overpools vs ZerO's 12 hatch. ZerO defends the initial zerglings and uses his zergling advantage to do a lot of damage to hyvaa before finishing the game with a mutalisks.

Set 4: 12 hatch vs 12 hatch. ZerO kills a few drones with superior tactics, then wins the mutalisks fight to win 3-1.

---


Spoiler: Flash Won

The king of upsets was no match for Flash as he beat Shine 3-1. Read the battle reports for details!

---


n.Die_Who?

Fantasy takes down his teammate in 3 quick games to face Flash in the semifinals. Will he get his revenge for the painful 3-2 loss in Bigfile MSL semifinals?

Set 1: Standard opening for both players. Mutalisks do a good amount of damage and fantasy decides to attack rather than defend against the mutalisks. This forces Soo's mutalisks back until fantasy is ready to defend. Soo cuts off and kills a good amount of fantasy's units but loses a lot of lurkers by mistake. Fantasy attacks Soo's 3rd but Soo defends with guardians. Fantasy takes advantage of the slow guardians and switches to attack Soo's natural. When guardians come to defend, he switches again to Soo's 3rd and catches the guardians off guard. Fantasy switches to mech and Soo is too far behind to defend for long.

Set 2: Fantasy goes 2 port wraiths, and Soo takes advantage of this by making a lot of speed zerglings. Soo kills all of fantasy's vultures and gets into his main. Soo does decent amount of damage but decides to go spire instead of hydralisk den. Fantasy defends with wraiths and turrets, and builds up a good amount of marines. Soo commits to only mutalisks, but loses the fight and the game.

Set 3: Fantasy makes a proxy barracks, Soo fails to stop the bunker. Soo tries to break the bunker but fails. Fantasy kills the natural, and has vessels by the time Soo breaks out. Fantasy attacks for the 3-0 win.

▲ Back to Top ▲

Battle Reports: Flash vs Shine


By: l10f
Set 1
Shine takes his chance against God Young Ho for his chance to make the OSL semifinals. Shine is known for his aggressive play and creating upsets, especially against Bisu. Shine starts at 10 o'clock on Gladiator and Flash starts at 2. Flash probably knows that Shine will try to do aggressive play and try to take him down early, but Shine's all-ins are hard to stop even if you know they're coming.
Flash walls his natural instead of his main with a barracks and supply depots. Shine, unsurprisingly, starts overpool gas then expands to his natural. He gets a quick lair with his gas, and Flash scouts everything with his SCV. Shine builds a hydralisk den after stopping Flash's scout. Flash, knowing something is up, gets a quick academy for the scan. Flash had an SCV clicked on a mineral before his last scout was destroyed, and sneaks an SCV to see the hydralisk.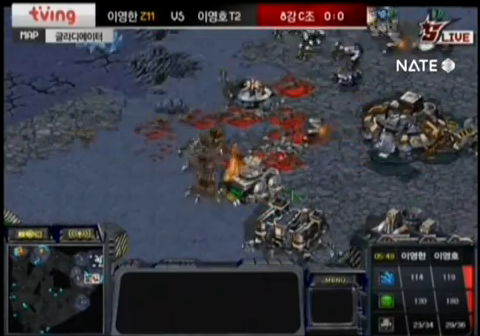 Could... Could Shine pull this off?
Flash builds a second factory to get tanks against the lurkers. Shine morphs the lurkers near Flash's natural and attacks. He gets the attack off before the tanks come out, and Flash only has one bunker. Shine breaks through and gets into Flash's natural with four lurkers while Flash only has one tank to defend. The tank goes down but does enough damage for the last marine to finish off the last lurker.
Shine follows with zerglings, but Flash gets a firebat out to defend. Shine tries one final attack but fails and GG's.
---
Set 2
Flash starts 7 o'clock and Shine starts 1 o'clock on Neo Ground Zero. Shine continues his aggressive strategies with a very fast 2 hatch mutalisk. Shine attacks with his first group of lings and kills most of Flash's marines. Shine follows with mutalisks and Flash is forced to lift his natural. However, Shine misjudges and tries to end the game, and Flash barely defends. Flash retakes his natural, and Shine keeps making mutalisks to try and win the game. Shine attacks Flash's main with mutalisks and stops microing for some reason then calls pp.
In a controversial decision, the referee calls for a re-game. Flash starts at 7 o'clock and Shine starts at 5 o'clock. Flash barracks expands and Shine, to everyone's surprise, starts 12 hatch and builds a 3rd hatchery after his spawning pool. Flash pressures Shine by moving out with his first few marines.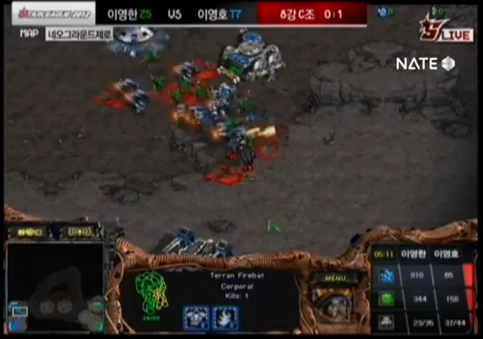 Perfect defense by God Young Ho
Shine makes a lot of speedlings and attacks Flash's natural, but Flash pulls his SCVs perfectly and firebats come out at the perfect time to defend. Flash moves out with his bionic army to pressure again, and Shine builds a couple of sunken colonies to defend. Flash makes 3 more barracks to defend Shine's mutalisks, and even sends his two firebats to Shine's 3rd. Mutalisks do decent damage, but Flash soon has enough marines to fend off the mutalisks completely.
Shine sends zerglings to defend his 3rd, but they all die to the 2 firebats. After losing all those zerglings, Shine does not have enough units to defend Flash's attack on his natural, and forfeits the game.
---
Set 3
Flash starts 5 o'clock and Shine starts 7 o'clock on Neo Electric Circuit. Flash once again blocks of his natural with barracks and depots. Shine starts 12 hatch into 2 hatch lair. Flash scouts this, and once again builds a fast academy in response. Shine gets his mineral only expansion, but Flash gets his SCV in and scouts the spire.
Shine jumps a drone behind Flash's base. Flash's first vulture gets in Shine's main, but mutalisks come out and kills it before it does too much damage. Goliaths and turrets stop mutalisks from too much damage. Flash makes more barracks to switch to bio after fending off the mutalisks. Shine finally moves the drone he snuck in and makes a hatchery near the mineral only expansion in Flash's base. Flash moves out but mutalisks and sunken colonies keeps the army in check.
Shine rushes to hive and starts to get lurkers. Shine gets a nydus to connect to the hidden hatchery inside Flash's base. Flash continues to check for hidden bases since Shine is being too passive. Flash doesn't notice the nydus in time and lurkers flood Flash's main. Dark swarm goes down in Flash's main, and Flash finally realizes what's going on.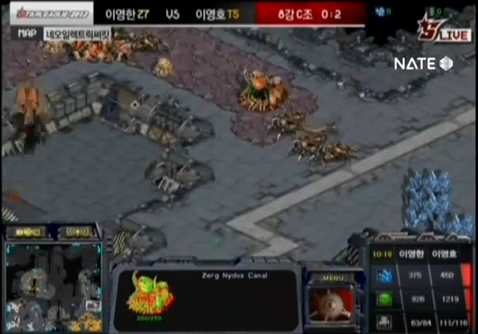 Not even starsense could see this one coming
With no science vessels or tanks, there is virtually no way to stop the defiler from consuming zerglings and continuing to put down dark swarms all over Flash's main. Flash's units wander around until they die, and he GG's.
---
Set 4
Flash starts 7 o'clock and Shine starts 1 o'clock on New Sniper Ridge. We already know Shine is going to lose because they started cross position. Flash, using his God-sense, knows this and starts 14CC. Shine does a very early drone scout while doing a 12 hatch. Shine sees the 14cc, and makes his third hatchery in his main. Flash scouts the third hatchery before his SCV falls to the zerglings.
Flash gets an early engineering bay for his +1 attack upgrade. Shine once again makes a lot of zerglings and burrows almost 3 control groups of them on the first ridge. Flash builds his 5th barracks for the 5 barracks +1 attack. Shine hesitates when Flash first moves on top of the zerglings. Then Flash scans the burrowed zerglings like he knew they were there, and kills all the zerglings without losing anything.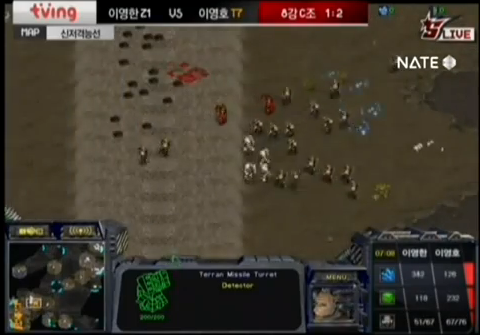 I don't even know what to say about this one
Flash attacks Shine's natural and Shine has nothing to defend and GG's. Flash takes the game 3-1.
▲ Back to Top ▲
Semifinals Preview and Hype


By: kjwcj and Xxio
Flash vs Fantasy
The most famous rivalries of Korean progaming have always found their genesis in the individual brilliance of their protagonists. Boxer and Yellow, Savior and Bisu, Jaedong and Flash; these are players who defined the way Starcraft was played and the era in which they played it. Great players alone, however, do not make great rivalries. The enduring association of these young men with one another was cemented in-game, by series played on the biggest stages and with the highest stakes.
The connection between Flash and Fantasy, like that between many Starcraft gamers, started out on Battlenet. Both were relatively distinguished during their amateur days, but the two young gamers knew each other long before we knew them. Once their careers began in earnest, their paths slowly diverged. While Flash went on his famous run to the Daum OSL semi-final, Fantasy was still waiting to establish himself on a team already famous for producing great Terran players. Though when both of them joined, their teams were at a low ebb, Flash was quickly accepted as KT's ace and talisman, while Fantasy remains in competition with Best and Bisu for ace status.
Despite the fact they made their Proleague debuts two days apart, Flash and Fantasy's careers have always been somehow out of sync. The initial surge of form that had taken Flash to his first OSL title was waning by the time Fantasy made his mark in Incruit 2008. Just as Flash began to make a return in late 2009, Fantasy, fresh off the back of two OSL finals and a Proleague title, entered a period of mediocrity which took him some time to shake. While these were clearly two players linked by circumstance, up until this point games between them were sometimes entertaining but seldom truly significant.
In late 2010 as the flames of the LeeSsang Rok began to burn out, things finally started to fall into place. The Bigfile MSL semi-final, one of the most exciting and closely contested TvT series in recent memory, was a taste of things to come. Fantasy won the 2010 Bacchus OSL in dominating fashion against Stork, while Flash finally completed his Golden Badge by beating Zero in the ABC Mart MSL. In the Jin Air OSL, a reinvigorated Jangbi and the Legend of the Fall proved too much for either of them to overcome.
Now, in 2012, there's little doubt over who the two best players in the world are. Their most recent meeting in the Proleague final was a TvT master-class, a game in every way worthy of their stature and the occasion. In the last twelve months they share a combined record of 79 wins and 22 losses. The fact that both of them have lost TvTs in Proleague recently is hardly even a factor. These two could could lose their next dozen games, quit playing Starcraft for a year and when they came back they'd still be the two best Terran in the world. And the kicker? This is the first time they've ever met in an OSL.
In the semi-final of the last Brood War Starleague, Flash and Fantasy have found their stage – and the stakes couldn't be higher.
Jangbi vs Zero
At the late age of 23, it seemed that Jangbi was reaching his twilight years with a legacy of second-place finishes to be remembered by. After losing 0-2 in last year's preliminaries, he became the most unexpected champion since Hydra. His Legend of the Fall performance ignited a fire in fans, and in himself. He has shown phenomenal games in the past year and reentered the spotlight to rival newcomers like Stats and Sun, his progeny. With a childlike zen, he holds a stable presence and tries to set or reset the pace of the game on every map. Twice last year, Jangbi's hunger overcame Flash's desire for the coveted and career defining fourth OSL championship. In the finals he was cornered and backed against a wall, and yet he persevered. He exudes composure and exhibits experience, and without a doubt, he will show these attributes in the upcoming match.
To be the champion, you have to beat the champion. Despite besting three crack Protoss in the lower rungs of the tournament, most would agree that in less than twenty-four hours, when the countdown ends and the workers split, Zero will be playing as the underdog. Both he and the fans will be waiting for Jangbi's devastating storms and unbreakable late-game armies that have left their mark on Zerg in the past. Such is Zero's struggle. But behind the crown and promise of carnage there is a not-so-secret strategy that has been Jangbi's bane for the past two seasons.
Zero's ZvP record for the past year is 9-6. But more importantly, his wins and losses are split nearly even between the games he hydra busted and the games he didn't. Of the eight games without a hydra bust, Zero won two. He hydra busted and won all of the remaining seven. The only two players that Zero beat in late-game ZvP were Movie and Guemchi. Two players, it is needless to say, that are frankly nowhere near Jangbi's current state. And yet, of the twelve PvZs that Jangbi lost in the past year, ten were to hydra busts. Jangbi will have patched the flaws in his game and prepared as thoroughly as possible to defend the thin no man's land between Nexus and hydra, but whether or not it will be enough remains to be seen. Ultimately, however, both players knew what to expect leading up to this match and the onus fell on Zero to diversify and remove the crutch that he has been relying on.
In 2009 Zero knocked the number one PvZ specialist out of the OSL with queen play unequivocally genius. Tonight, it would be fitting for the misunderstood unit to change history once again. More recently, Hoejja used ensnare to outclass SKT's second best Protoss in the last Proleague Grand Final. Against Jangbi, a similar flash of brilliance on just one map may be all that Zero needs. In the past year Zero has done little to show that he is more than a one-trick pony, but as they say, "necessity is the mother of invention."
▲ Back to Top ▲
Jangbi Carrier by Kiett
This writeup was brought to you by the Team Liquid OSL Team 2012 - riptide, l10f, Silversky, 2Pacalypse-, kjwcj and SirJolt.