---
Aquatic Bird Opens - December 2018 Report
by
Yakuzaku
---

Light told me I don't get overtime for this.


---

With only three Duckling events this month it's hard to really make anything out of it. That said, things did still happen. We start with

Reignandpals in the first SDO of December, slogging through the lower bracket and having many, many close calls even in the Finals before finally taking the win, marking December as his month.

Then he took a break and December was open once again.

Sashamon returned to stake his claim dominating his way to the finals, but in the climax of a long tournament it was another Protoss player,

ReaLiTy who took the championship.


Sea Duckling Open Monthly Stats
---

Sashamon returned again the following week for Master Swan Open and after narrowly defeating the first MSO champion in

Vincis, Sashamon again tore a path towards the Finals, only to be stopped by one of our earliest players in SDO as well as his teammate,

TerranLord who finally fulfilled his promise of winning an MSO by sweeping Sashamon in a rematch Finals.

Though December was short on Duckling tournaments, none of them were short of quality, producing great games for fans. An appropriate end to an eventful year.

Now then, time to review season 2018. These graphics make things way easier to refer to, thanks Kueo.


---
Aquatic Bird Yearly Awards
---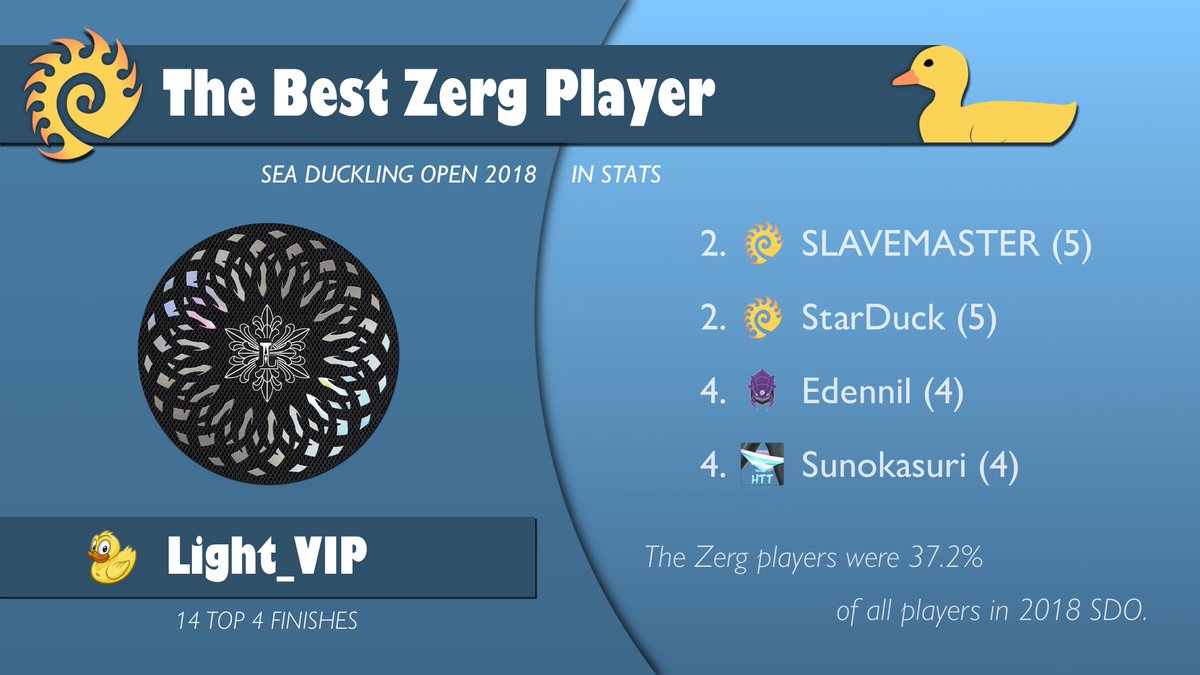 Of course Light was gonna be at the top, after a spectacular August

Light_VIP remains the only 5DO champion thus far and since getting promoted to Masters league, already shows promise being able to compete with and beat many veterans.

What's interesting are the other players on the list and the fact that all of them had their runs at the start of the year and rarely signed up since. We definitely had a Zerg drought which contributed to this, and vice-versa I suppose but that said, for the most part they seem to left their mark in the community.



StarDuck of course has his own curse named after him, that being him always missing the check-in time by just this much. To this day whenever he signs up you can still see people trying to help him check-in by SPAMMING THIS TRUCK TO WAKE STARDUCK.



Edennil had his own rivalry with

Light_VIP earlier in April, both of them wrestling in the mud with varied results, and Light even attributes this to helping him improve the way he did later on. After winning two SDOs in a row, Edennil took a break only to return a few months later out of nowhere to claim his third.



SLAVEMASTER and

Sunokasuri too had a bit of a short rivalry early in the year with Suno winning her championship the week after SLAVEMASTER won his. That Final between the two in particular stands out to me as perhaps one of the first great series in SDO and kinda makes me wish Light told me to start the reports sooner.

SLAVEMASTER showed off just how unorthodox and aggressive he could be that series and recently showed us he hadn't lost his touch. Between Proxy Hatches, Roach run-bys and burrowed Banelings, SLAVEMASTER will always remain one of the more exciting players to watch in SDO.

Sunokasuri that series also showed off her signature Muta style which just made Milk fall over heels for her and by combining that with some Dropperlord play, she won SDO a week later.

There may have been a Zerg drought later into the year, but our top Zerg players made their mark at the start and each gave us something to remember.


---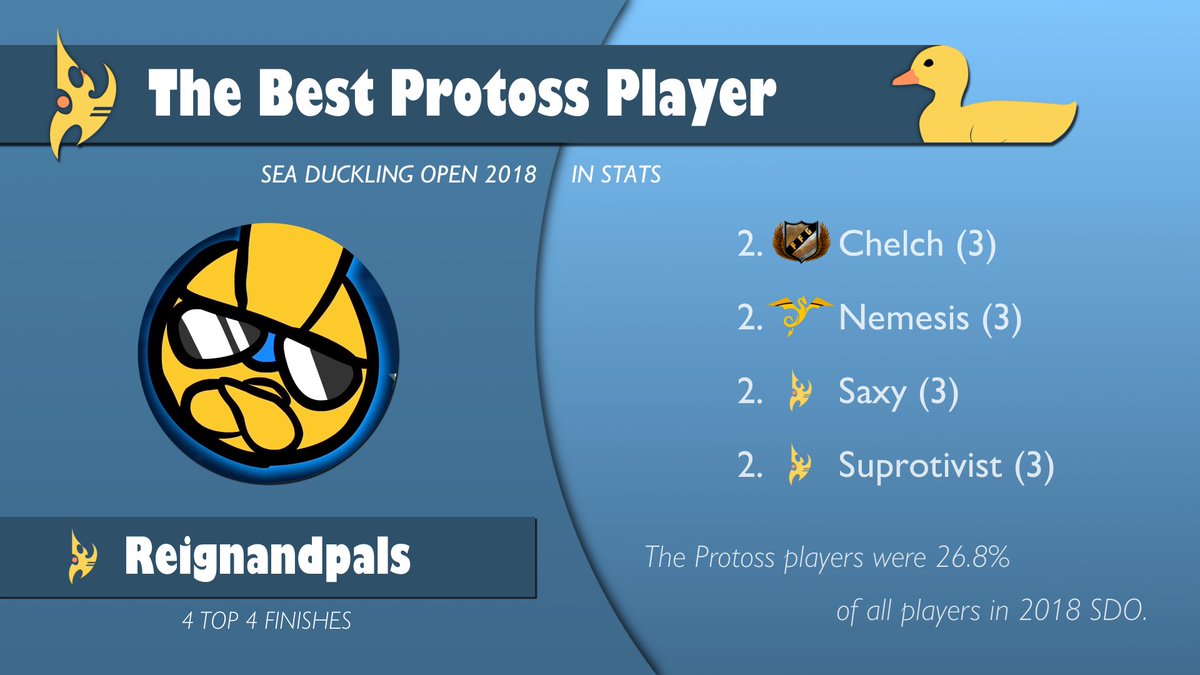 If Zerg made their mark at the start of the year before dropping off into a drought, Protoss did the opposite, starting the year with barely any Protoss players and getting a little saturated by the end of the year.

The exception to this would be

Suprotovist. Supro played in the first SDO and continued for most of the first quarter of 2018, but took a break from competing in order to hone his skills. He returned in October to show us the best performance we've seen from him yet, sweeping his way to the championship with only a few unorthodox strategies from

Phoenix making him work for his win.



Chelch showed us complete dominance in September, consistently placing well in spite of having to forfeit more than once and to top it all of, he managed to clutch out the MSO championship in a reverse-sweep at the end of the month as the first non-Masters league champion. Then he got promoted to Masters league in game and couldn't compete in SDO.



Saxy played on and off towards the end of the year, placing well each time and even won once, but never quite played often enough to really assert himself.



Nemesis became a consistent regular since her first appearance and remains one of the few regulars that are actually from the target demographic of SEA/ANZ players. Well known for her fondness of DTs and proxies, Nem has always been one of the more scary players to face because of her unpredictability. In some ways, I view Nemesis as a test for other players, a reminder that you can't truly be a champion unless you can adapt to unpredictable situations. Well that and also a reminder that you can also win this way as she did win the last SDO of August. And then following that we seemed to have a migration of Protoss players. Hmm…

But the Protoss player with the most top 4 placements this year was

Reignandpals, the player who showed up in the final months of the year. The player who came this close to victory time and time again, the player who's dominant runs ended anti-climatically in the Finals more than once, and the player who never gave up and through his own force of will saw the fruits of his labour pay off with a championship run at the end of the year.

We joked about how Protoss players seem to avoid SDO at the start of the year, but by the end of it we were spoiled for choice when it came to which one we'd follow on stream.


---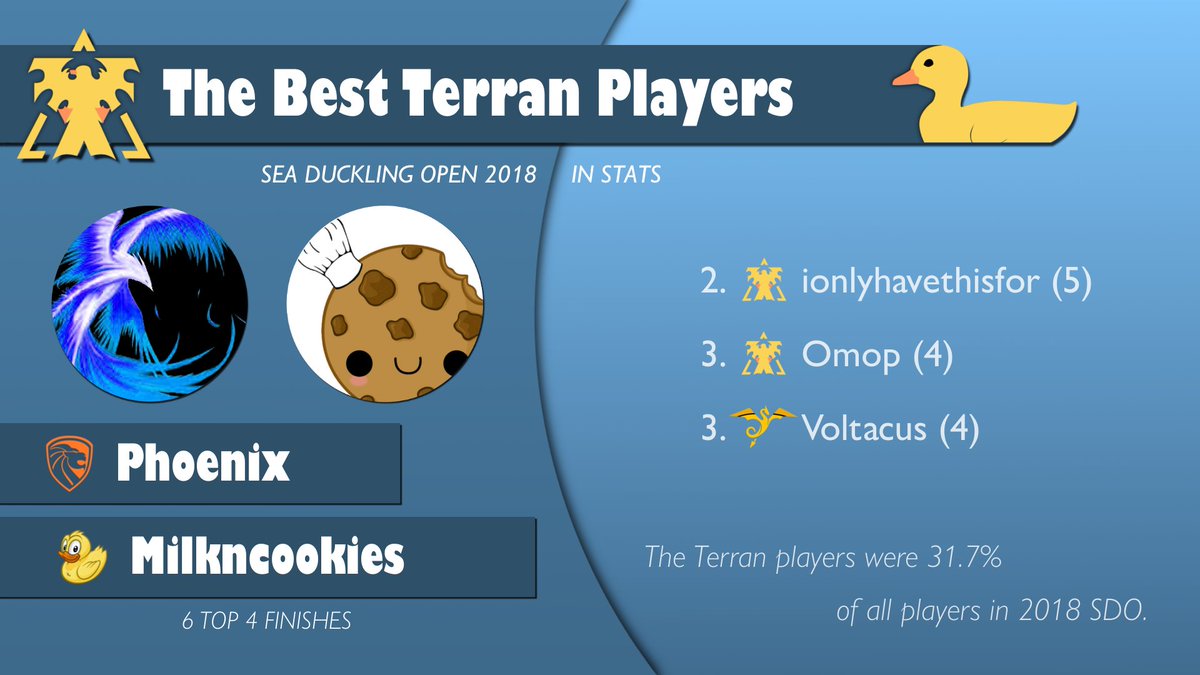 And then there's Terran, the race that just keeps chugging along, sometimes peaking but for the most part never really having a drought or over-saturation. The top 4 however is almost the opposite, each of them had brief periods of dominance but none of them are really considered regulars.

Among them,

ionlyhavethisfor would be whom I consider the most consistent, with 5 top 4 placements in 6 months. Being Danish and therefore outside of the target timezone, ionly couldn't quite sign up every week but for a while I held out hope that after winning the first September and then October, he'd continue the pattern and win the first SDO of each month and be somewhat of an INnoVation figure in our tournament. During each of his championship runs however, ionlyhavethisfor was able to create an aura of untouchability which I'm gonna try to find some connection to Maru because to paraphrase him after one of his first SDOs, "I don't really know what I'm doing tbh, I just try to copy Maru."



Omop is another player who could be considered consistent. Being just a few IKEAs away from ionly in Finland, Omop too lacks a high sign-up rate, but was usually able to make deep runs barring any unfortunate bracket-luck. I remember him mostly for his affinity for mech play, though after rewatching some VODs, found him to be pretty versatile with the ability to adapt mid series as well.

Our two CranKy coaches of 2018,

Voltacus and

Milkncookies are on this list, and both of them had a similar pattern of starting the year strong and then not being able to play, but for different reasons. With Volt it was the dreaded Caerwyn Curse™. Volt often fell short in SDO due to usually having just woken up but would be right back at it the next week, eager to make up for his previous performance. And then he got promoted to Masters league before winning an SDO, an anti-climatic end to the dream.



Milkncookies' story was a little different, after returning to SC2 because Light told him to play in SDO, he started small with a mere Semifinal placing before basically being guaranteed a spot in the top 4 if not the Finals or championship. Then he got caught up with irl stuff (learning how to make websites) for a few months, but has recently returned to competing mostly because Light told him to. Though Milk hasn't been able to replicate his dominance at the start of the year and seems more than content with his role as a coach rather than a competitor, following Milk's run in a tournament usually produces competitive series'.

And then, Der Deutsch Gott himself,

Phoenix. A staple of the Cranky community ever since Yaku started terribly mispronouncing German words. Phoenix has one of the highest sign-up rates and the highest in EU (tied with

Legendk). Phoenix mostly uses SDO to have fun at the end of the week, showing off unorthodox builds for the fans or to just practice in a Bo3 format. But when Phoenix turns it on, he turns it on. In his more competitive runs since his championship, Phoenix acted as a gatekeeper, his losses more often than not being against the eventual champion dragging them to the edge of defeat before just falling short and giving his opponents the practice they need to win in the Finals later.

Terran's generally the most popular race in SC, and for SDO the most reliable in terms of sign ups, but none have been able to assert themselves like these players have. (But that's mostly cause

Lumiya,

TerranLord and

Porosha are Masters so…)


---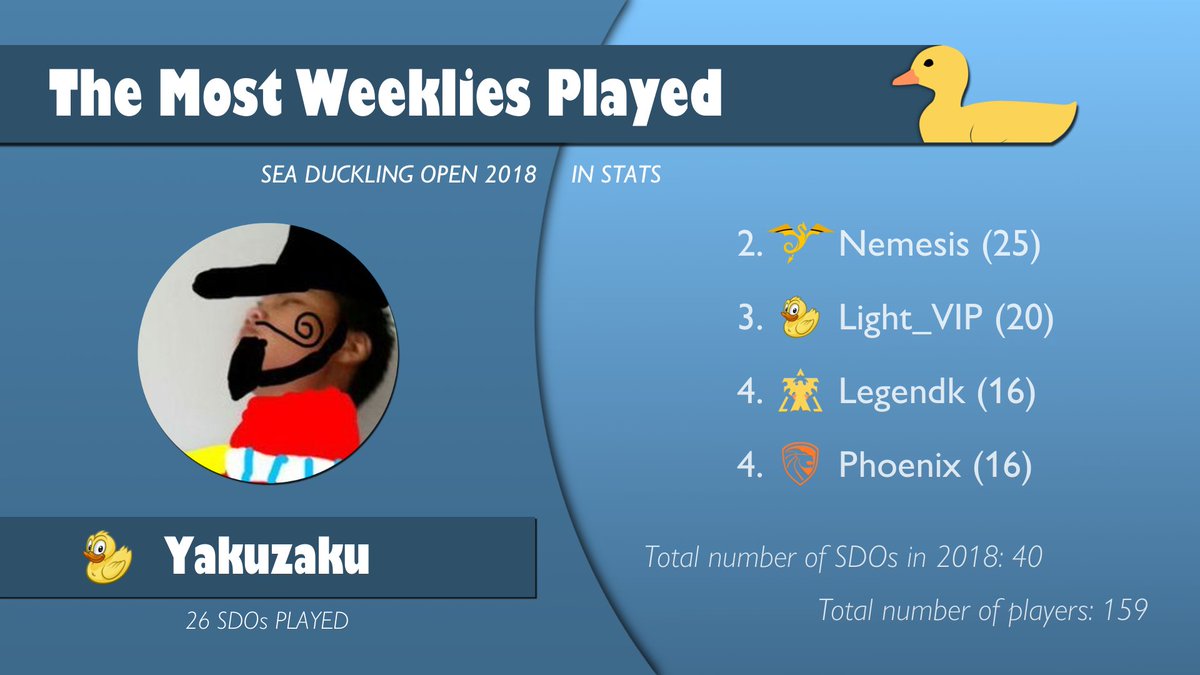 Straight up just been giggling to myself for the past 20 minutes or so.

It's not much of a surprise that our top three would be SEA/ANZ players involved in the Cranky community, and the order kind of makes you scratch your head a little before realising how it makes sense. The big surprise for me here was

LegendK.



LegendK is just a player that we've never really followed on stream, being a Platinum player that often competes against high Diamonds early on. While he may not be the most successful non-Diamond, he's definitely the most resilient. For a relative late-comer, LegendK has been able to check-in almost every week and quickly rose through the ranks of weeklies played and managed to tie himself with

Phoenix for most weeklies played in EU.

Speaking of

Phoenix, making it on this list probably isn't all that surprising now with him being the top Terran with

Milkncookies for 2018, but another similarity he has with Milk is that he too was taking a break from StarCraft before coming across SDO, making this in my eyes all the more meaningful for him.



Nemesis is someone else I consider a latecomer but her first SDO was actually back in April. Considering Nem's the exact target for the time set, it not surprising to see her second, but it's still nice having someone as eager as her signing up every week.

As a founder, admin, captain of the Ducklings and most importantly, supplier of the prize,

Light_VIP fought hard and often so as to never part with roughly 10 dollars each week. But after a spectacular August, achieving the 5DO, Light decided that 1, he should fire Yaku after seeing the trophy he made and that 2, 10 dollars isn't worth as much to him as improving in game, so he took a break to admin and to get better, and hit Masters league, barring him from any future SDOs. Also TerranLord would like to remind everyone that Light missed his first MSO as a Masters player because he played too many 2v2s and lacked the required 1v1 ladder games to qualify.


The 5DO trophy


But in the end it was I, twitch.tv/Yakuzaku1, twitter.com/EmporerYakuzaku (buy my shirts) who stood with the most weeklies played. So good job me, you may not win one anytime soon but you know what? Quantity over quality for this one statistic.


---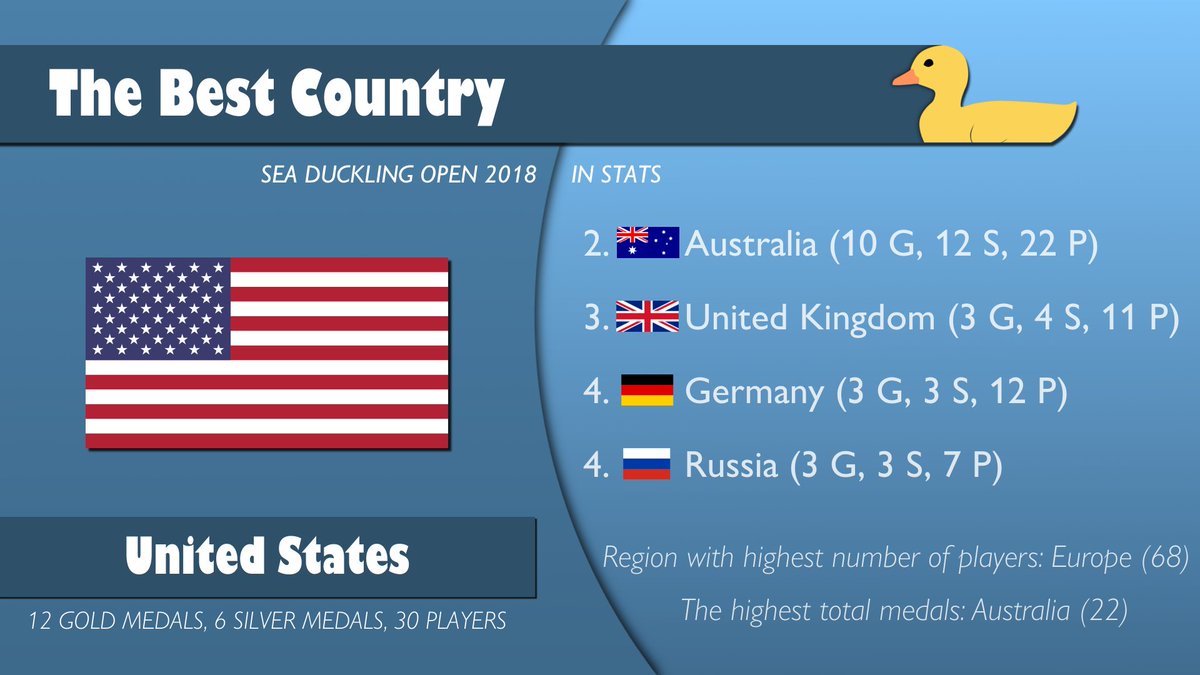 For a tournament dedicated to SEA/ANZ (clue's kinda in the name) the brackets tend to have a bunch of different flags on them, with players from Oceania to the Caribbean that one time.

Australia's presence is a bit of a no-brainer being the target, and two of the top Zerg and Protoss players were Australian after all, so we were pretty successful in that respect.

Europe being the region with the highest number of players, with UK, Germany and Russia being at the top is something that I attribute to a bit of a daisy-chain effect. Someone hears of SDO, spread it in their clan, and all of a sudden we find ourselves with new sign ups from EU. It's happened for AUS and other regions as well, but we hear this story from our EU players more often than other regions, barring maybe NA. It also helps that our weeklies, while not exactly prime time for CET and GMT, aren't at ridiculous times, and while you probably won't hear her admit it, Kuro definitely has a bit of a presence in EU when it comes to the amateur scene, after all Phoenix says he heard of SDO after he "saw a tweet from that Kuro person."

So for the US, a country where SDO is at some unfathomable time of either early in the morning just before people leave for work or school, or deep in the night when they'd be asleep, to come out on top speaks volumes about how passionate our NA sign ups can be.

"SEA Tournament Confirmed" - Steelmold 2018


---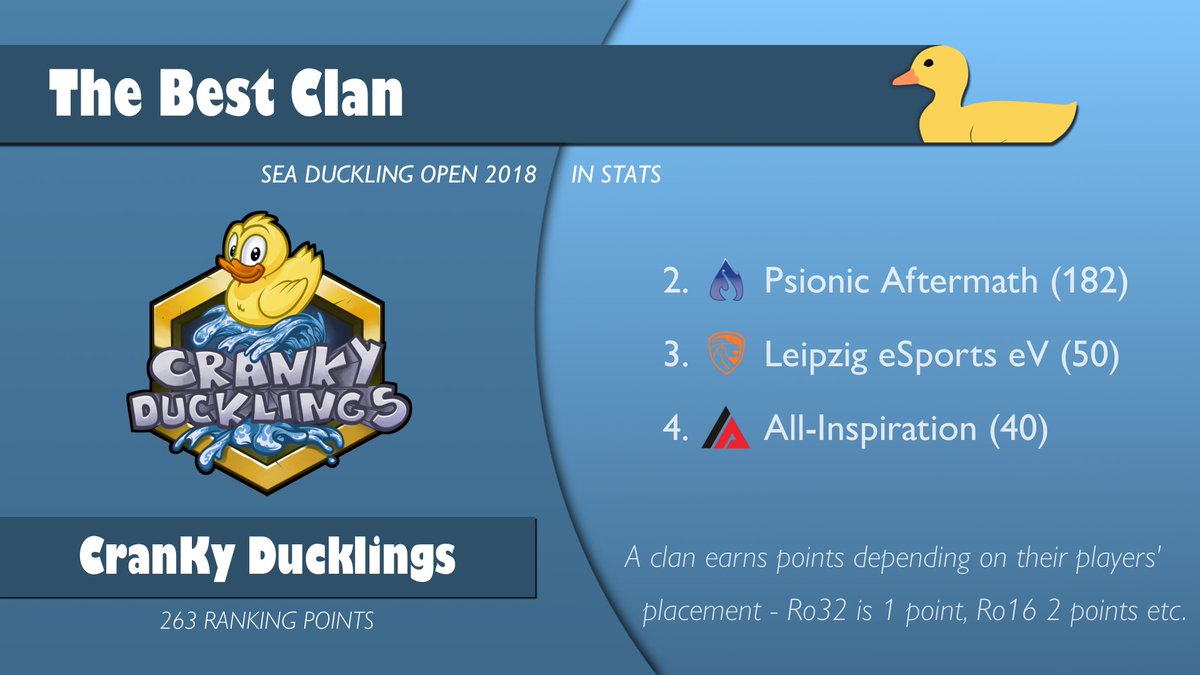 Light: "Sign up for SDO"
Rest of Cranky: "A'ight"

It's a little funny to have Cranky on here, it is our tournament after all so of course we're gonna sign up whenever we can to support it. That said, now that it's up there the pressure's on to ensure we maintain our position in 2019, especially with our sister clan Psionic Aftermath/AlphaX as runner ups.

PsiX and Cranky have always been pretty close, due in no small part to both organisations being very involved in the amateur scene, organising events, spreading information and even just lending each other a hand for admining etc.

As friendly as we are with each other, a rivalry's still a rivalry and between

TerranLord at the start,

Sashamon at the end and

Nemesis throughout, PsiX was by no means short of players able to remind us how well they could do as we teased each other throughout the year for that one last showmatch in December.

Come to think of it, Cranky has a bit of a history with each of these clans, and with All-In it starts with

Lumiya. Lumiya is another example of the daisy chain effect, he actually heard of SDO in the All-Inspiration Discord but after becoming the first SDO champion, he encouraged other All-In members, notably

Quiet and

Frugs (Steelmold: *Swoon*) to sign up. Lumiya was our regular caster along with Steelmold for a while and though he's stepped down and let others show their talents, remains one of our honourary members of Cranky and an important part of Cranky and SDO getting off the ground in a sense.

Other than Lumiya, Leipzig eSports eV's

Phoenix is another player from a different clan that's still very involved in Cranky production, responsible for most Liquipedia brackets and the Adjutant bot on Discord. He's even a merc for us in clan wars (although he didn't get to play yet, thanks Light). Being the main bearer of the Leipzig banner, it's no coincidence that Phoenix is the top Terran player and LESeV is a top clan. A man of his people, Phoenix plans to help in the development of the local Leipzig scene and we can only look forward to whom we might see following Der Deutsch Gott in the coming year.

Cranky may be top dog when it comes to performance, but we still owe gratitude to many members of other clans that helped SDO become what it is today.


---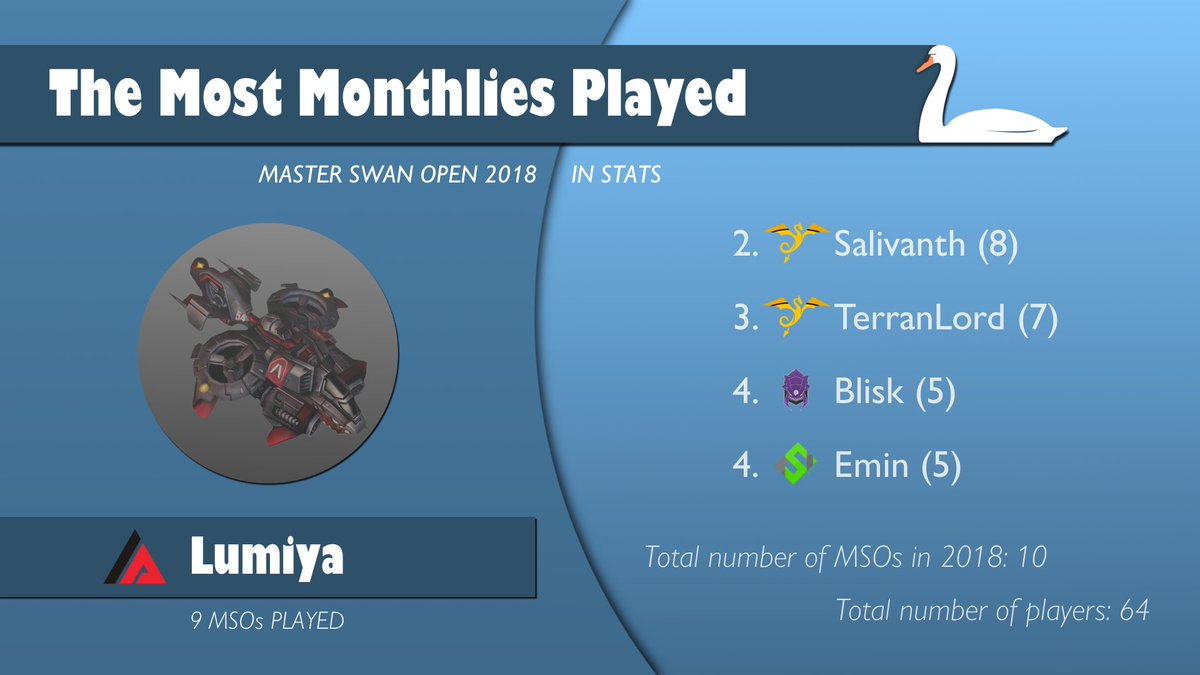 2018 marks the launch of Master Swan Open, our monthly tournament geared towards players up to Masters 2, inspired by what we heard from Masters players about their lack of options when it comes to tournaments, basically only being able to sign up for open tournaments and getting crushed by pros. It's no surprise then that the players who played in the most monthlies are the players who inspired us to create MSO in the first place.



Lumiya proved to be the most enthusiastic, having missed but one MSO. We did say he's an honourary Duckling, and however indirect it was, it still played a part in the creation of MSO.

Fellow Aussie,

Salivanth was someone else we heard express interest in a tournament targeted to Masters players early on. Getting promoted to Masters after playing in one SDO which he won in 2017, I honestly kind of forgot about Salivanth before he returned. It's a good thing he remained in the discord then as he was there at the first MSO and kept at it throughout the year.



TerranLord sits at a very respectable 70% sign up rate. After the first SDO, Light considered Lord to be the strongest player in the bracket, more so than the actual champion, Lumiya. Despite this, in many MSOs TerranLord often expressed his doubts, how he felt that he didn't practice enough or that his opponents seemed stronger than him based on previous results. But in the final MSO, the final Cranky event of the year, TerranLord overcame it all to fulfill his promise and become the last champion of the year.

While it's not surprising to see Australian players at the top, German Terran,

Emin maintains a sign up rate of 50% and while there's not really a pattern to be observed, tends to be one of the strongest contenders whenever he signs up.



Blisk was still on a pilgrimage through the dark forests of Europe when we introduced MSO, but upon hearing the news, he returned to show the fans what they wanted to see, his cunningly unorthodox playstyle and signature Proxy Hatch. Blisk took another break to settle down after that, but has recently returned to playing fairly regularly.

We introduced MSO because of the opinion from Masters players that they don't have much options when it comes to tournaments, and we're glad to see that the ones we spoke to most seem to appreciate it with their sign up rates.


---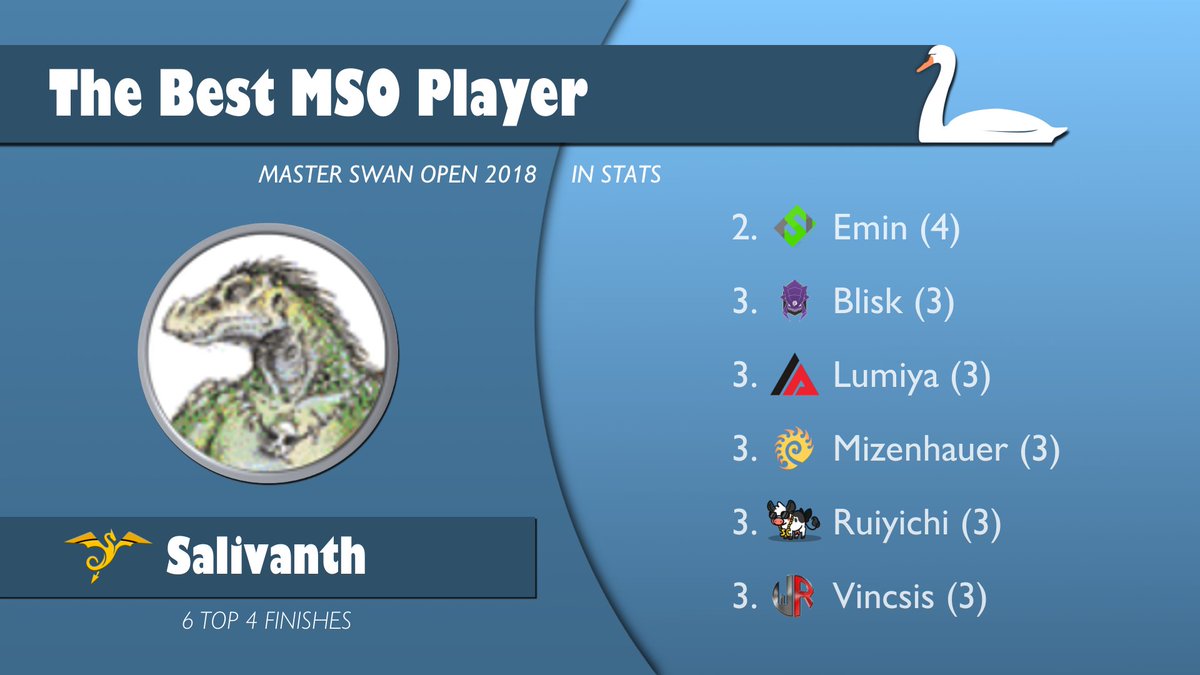 Salivanth came into MSO and started a tradition called the Salivanth Curse™ of losing to the eventual champion. He'd break this by beating

Blisk in MSO #4 to claim his championship, becoming the first SDO and MSO champion, but what didn't change was, well, his skill. Between solid defensive play and cheeky Immortal proxies with Warp Prism micro, Salivanth remains one the more consistent players in MSO and not only has the most top 4 placements, but also holds the record for most runner-ups.

If any player could give Lizzy a run for his money consistency-wise, it would be

Emin. Emin is a player who didn't have any history in SDO, but made an explosive entrance in MSO, placing in the top 4 three months in a row and winning MSO #2. Emin may not have the highest sign up rate, but whenever he does play, he demonstrates why he deserves to be at the top with a top 4 placement to sign up ratio of 4:5.



Vincsis was our first ever MSO champion. While you can argue that him being a royal roader is only a technicality based on it being the first MSO, he is still a player that, like Emin, lacks a history in SDO. The shatterer of dreams, Vincsis came out of nowhere with an unstoppable run dropping only a single map to

Lumiya in the finals. It's not very surprising then that he'd exceed the 4.9K MMR cap later on.

In comparison,

Ruiyichi was one of the most dominant players in SDO. At the end of his absolutely spectacular July, Ruiyichi's first MSO was actually as a Diamond league player, where he slogged through the lower bracket beating players like

Lumiya and

Salivanth to reach the finals. Ruiyichi then outdid himself in October. Now in Masters league, Ruiyichi not only won the tourney, but did so while playing random. He'd reach the finals again the next month but this time he'd be bested by the other dominant SDO player,

Blisk.



Blisk dominated SDO early in the year and after getting promoted to Masters league went on a tour through Europe. When he returned from months without much internet access, Blisk was still highly competitive, being perhaps one of the smartest players we've come across. While his signature Proxy Hatch is always a treat to watch, he's also one to use it tactically, understanding everything he can get away with and how to use it to get into his opponent's head. Blisk isn't a player that lacks in variety, and changes his builds depending not only by reacting to his opponents but also by understanding his own strengths and what he can do to maximise his chances against specific opponents.

Hey look, it's an actual SC2 writer.

Mizenhauer is the first real royal roader in MSO, using a Swarm Host style reminiscent of Rogue to claim the championship title. A player almost as unorthodox as Blisk, Mizenhauer is by no means the most regular sign up, but in each run he's been this close to claiming another championship. (btw gimme the hook up over at TL HQ pls thanks.)

I feel like I've written a lot about

Lumiya this article, but if there's anything left to say, it would about Lumiya's resilience. Having to wait an entire month each time, Lumiya still came back month after month with varying results. At this point, I believe Lumiya's championship run seems very much a guarantee unless he suddenly just stops playing.

I'll admit, I do get a little carried away writing about dominance and noteworthy performances in SDO, but with MSO and the players that compete in it, I'm reminded that there's many, many layers of competition in SC2. And then I watch GSL.


---
Writing:
Yakuzaku
|
Proofreading:
Light_VIP
&
Steelmold
|
Editing:
Kuro
---
More From CranKy Ducklings
---
CranKy Ducklings
CranKy Clan
@CranKyDucklings
CranKy_Ducklings
CranKy Ducklings Discord