Of Men and Dalek



Today I want to talk about two things, one concrete and one abstract. The first is a simple show I very much enjoy, because it challenges me to think, even if it doesn't do so on purpose. The second is much more complex, but is perhaps a reflection of the first. Today, we are going to talk of Men and Daleks.

When one thinks of Doctor Who, one of the first phrases that comes to mind is the perennial favorite of the Doctor's nemeses "EXTERMINATE". The Daleks are, for better or for worse, one of the opponents that have come to define the Doctor. They are the eternal threat. The enemies that are the antithesis to the Doctor, and who are always hanging at the edge of space, threatening everything that is not Dalek. Or, so, at least, the Doctor will have us believe.





Terrifying Monsters?



Even though it tends to be glazed over, the Doctor is very much an unreliable narrator. We understand the Daleks as a threat, not because we've seen them be actively hostile, but because the Doctor has told us that the Daleks are evil. This is coming from a man who was willing to sacrifice his current companion to assure himself the genocide of the Dalek race, a man who has in the past committed genocide for "the greater good". Perhaps we should give his claims more scrutiny than "yep, that sounds good, it's the Doctor!". Again, this is a timelord who will happily tell you that he lies and manipulates for "the greater good". I can already hear his supporters protesting my claims, contesting that the Doctor is in fact, not unreliable, but let us analyze the evidence at hand.

We encounter the Daleks well into their war with the Doctor. We are told, time and time again, that the Daleks can only feel hatred, and their actions would certainly seem to reflect that. Their cold compassionless extermination of those in their way, their seeming lack of hesitation at enslaving humanity. But this also disregards large swathes of evidence. Take Remembrance of the Daleks where we see two different Dalek factions embroiled in ideological war with each other, surely a finely tuned engine of hate would show more internal agreement. After all, if the Doctor is to be believed, these abominations consider the Dalek form to be sacred. In fact, their entire ideological discussion of the perfect form, and their schism over Davros shows a theological bent in the Daleks that hints at a much deeper intellect and culture than the almost locust like plague that the Doctor portrays the Daleks as.

The Cult of Skaro, with its innovating ideas and deeper understanding of their enemies, hints even further at the fact that the viewer tends to gloss over, that the Daleks are intelligent, and capable of learning. That perhaps what we are dealing with is not a culture of pure hatred and destruction, but rather one that is much more alien. Because the doctor is focused on the threat they present and his hatred of the Daleks, he cannot, and by extension, we are denied, the possibility of seeing that the Daleks may not be *just* a culture of hate. They may be embroiled in what they perceive as a war for survival, but that is perhaps the consequence of a race created in the very crucibles of war. As we learned, a war so destructive that it made the timelords themselves lose their sanity. Is it impossible then, for us to consider that the Doctor may not have given us the best representation of a more complex race, a race that he and his people have been battling for ages. A race that, from what we are shown are a threat, but all we are shown is the Daleks at war. Because the Daleks are at war with the Doctor, because all we see are their clashes, we get a skewed impression. As we would if we only saw the Doctor at his worst, if instead of seeing him saving people, we saw him only when he had to commit whole races to extinction, our judgement would be equally skewed.

Reading this, one might think that this is an over analysis of a simple show. One meant to be mindless. But this is an exercise, one that seeks to illustrate something very important. To demonize is human. Every generation has it's Daleks, and consciously or subconsciously, every nation, every family tends to paint an inhuman portrait of their enemies. The Greeks described the Persians as devils and held them to be inhuman enemies. The most recent and visceral example is how the Americans portrayed the Japanese during world war two. Just looking at propaganda and popular media, it was clear that the Japanese were sly and treacherous enemies, inhuman, capable of only feeling hatred. Sound familiar? Its the arguments of someone who cares more to spur hatred, to "do what is necessary" than to comprehend the enemy. Because to understand is to acknowledge that the enemy may have a point of reason, to accept that perhaps they may be deserving of mercy.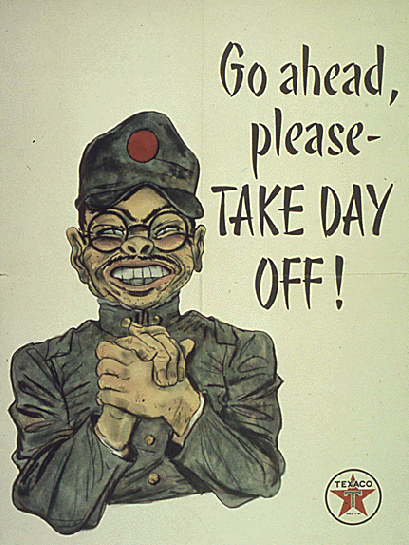 Terrifying Monsters?



It is part of the human condition to divide. Them and Us. The Clan and the Enemy. Safety and Threats. What is different is a threat. While it is understood that sometimes, even often times, differing goals make peace or even acceptance between groups impossible, what we cannot afford to do is lose sight of our horizons. Be persuaded, for even a second, that your opponent is not human and you will have lost a spec of your humanity, and any chance of triumphing without paying a great cost. Even worse, is when you allow someone else to make the decision for you. When you allow something as deceptive as an ad, or a story to shape how you see things. This is why, we must always analyze what we read, interpret what we see, and discern the intent behind it. This is why, we must always think upon even the most mindless of shows, and give our assessment. Because if we do not think, we become sheep, and sheep are easily taught to hate. So, now I ask you to think carefully. Who are the Daleks of our generation? Are they a nation? A people? A social class? Or something entirely different?

Who are your Daleks?