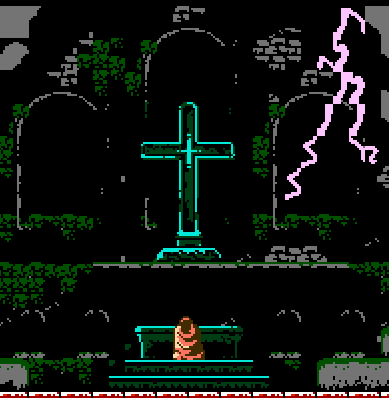 Castlevania 3: Dracula's Curse is a true classic in every sense of the word. It is a standard to which other platform games are measured, like Super Mario Bros 3 (which is also coincidentally the third game in the series). The game length, replayability, graphics, music, and difficulty are all of the highest quality.

In Castlevania 3, you play as Trevor Belmont, master vampire hunter, badass extraordinaire, and awful swimmer. You know he's a badass because he can kill a ghost with a whip and also he has a mullet. Your mission is to slay Count Dracula, whose castle is thankfully about half a mile away from the village where you live. In addition to the whip, Belmont also collects subweapons from the levels that vary between extremely useful and total shit. The holy water is basically a grenade that splashes on the ground and does a fuckton of damage. When the holy water is hitting enemies, the hit recovery animation also stuns them in place, so it essentially makes killing certain enemies a joke.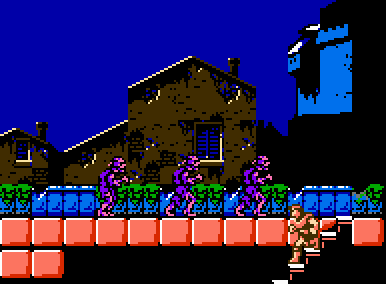 I probably shouldn't go up there

One of the things that sets Castlevania 3 apart from other games is that you can choose your path through it. There really wasn't anything like this at the time, although it wasn't quite revolutionary because SMB3 also let you pick the levels, and came out months earlier.


Do I heroically choose the owl infested forest or the gear infested clocktower?

In addition to choosing different paths through the game, there are also 4 playable characters with different abilities you can switch between. In addition to Belmont, who is always in the party, you can choose between Grant, a ghost pirate monkey who wields a knife, Syfa who is some kind of wizard I guess, and Alucard, who has vampire powers and can turn into a bat. The subweapons change their effects depending on which character you pick them up with. For instance if Syfa picks up the boomerang, instead of throwing a wimpy cross, she fires some kind of magic orb homing attack that does an absurdly large amount of damage.



Syfa, the saucy wizardess shaking hands with our hero, pictured here showing off his mullet

Because there are different paths to take and characters to play, Castlevania 3 can be played through many times. By putting in certain names at the beginning, you can start off the game with another member in your party.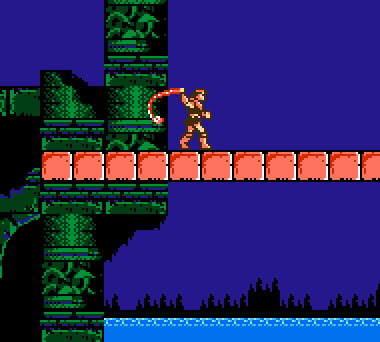 Not really sure why I took this picture, but hey I guess this is a good place for it

The game environments are all beautiful. Some of the environments include: a haunted castle, a haunted ghost ship, a haunted bog, a haunted graveyard. Each room in Dracula's castle is different and has a different theme.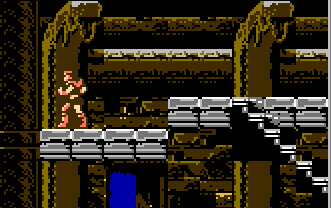 The ghost ship, shown here (ghosts not included).

Castlevania 3 is fairly difficult. Not Super Ghouls N Ghosts hard, but it's still hard. The main reason it's so difficult is because the whip only goes straight in front of you and all of the flying enemies are annoying as fuck.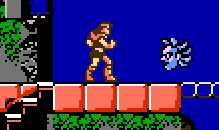 The floating medusa heads are probably the most annoying enemy in video game history. They have a curved path and if you aren't ready for it, it will probably knock you off a cliff to your death.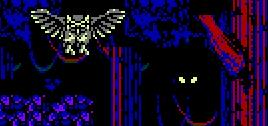 ARGH FUCKING OWLS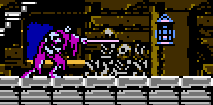 Oh hey, this guy isn't too annoying, he just walks back and forth and swings his sword, right? No, he does a fucking sword lunge to knock you into the abyss.



This picture was taken at great personal risk to the photographer

This guy throws axes and he's so awesome that when he throws one it comes back to him like a boomerang. He's beefy and takes like 8 hits to kill and usually ends up standing on a small platform you can't safely jump onto. Good news is holy water makes short work of him.



you'll remember these goddamn birds if you ever played this

So if this game has so much annoying shit, why should you bother playing it? Cause its awesome, that's why. There are lots of places you'll die, but it never really feels undoable or unfair. You can see most of the things before you go forward and eventually you'll memorize where everything is and you won't die in as many stupid ways.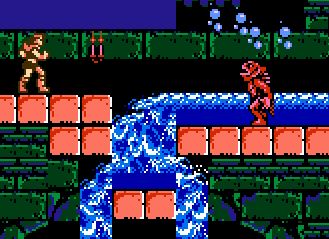 Water: A Stupid Way to Die

Castlevania 3 is a classic you need to have played to have your opinion on gaming taken seriously. I hope you enjoyed reading this and hopefully it was enjoyable enough to maybe make you consider playing through again (or trying the game out if you're one of those sorry noobs who has never played it or thinks black ops is the pinnacle of gaming).



hopefully there are no glaring or awful editing errors

Previous entries
Double Dragon: http://www.teamliquid.net/blogs/viewblog.php?id=170537
Megaman 2: http://www.teamliquid.net/forum/viewmessage.php?topic_id=51878