Whether you are new to gaming or an old school pro, there are some games that everyone who considers themself a gamer should have played through or be forever considered a noob. This one part illustrated series (maybe more later, we'll see) will be about the classic Double Dragon for NES. If you've already played it, I hope this article brings a single man tear of nostalgia to your eye and maybe convinces you to play it through again. If you've never played it, I hope this article holds your interest and forces you to try it out.



Things like this happen in Double Dragon

In Double Dragon you take the role of Billy Lee, master kung fu guy. You must beat your way through an assorted horde of thugs to rescue your girlfriend, who I guess has the plague, so you can bring her to a hospital before she dies.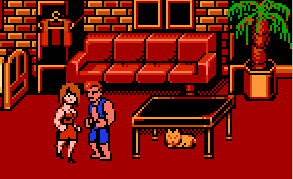 I can see the sores growing on her leg!

Part of what makes this game so awesome is the fighting. When you start off you only know how to punch and kick (and how to headbutt, obviously as this is a staple of kung fu). As the game progresses and you beat up more people, you learn more moves, like uppercuts, roundhouse kicks, the deadly knee to the face attack, and the always interesting nose stealing attack, pictured here.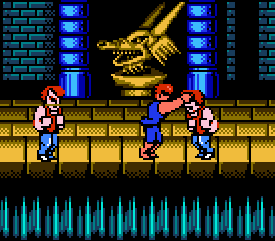 I got your nose.

In addition to using your hands and feet and forehead, you can also pick up some objects and use them as weapons. Weapons like this baseball bat:


I'm sure you remember this fucking bridge

Weapons are scattered throughout each level, usually in the hands of someone who wants to kill or maim you. Some of the weapons include knives, barrels, boxes, and dynamite.


please to enjoy dynamite

As you increase in power, so do the enemies. A variety of scary thugs will try to harm you.
This is Williams, pictured here ready to gangbang me:


sup

He's pretty useless for the majority of the game, but you might want to watch behind you when he's around. Later on he starts to carry weapons and learns how to jump kick, but he's still a major wuss.

This is Linda:



eeeeeeeeek

Linda is the most useless enemy in the game. The first one you meet usually has a whip, but she's so terrible you can usually just kick her in the face until she falls over. Later on you can use the knee/elbow/throw to deal with her quickly.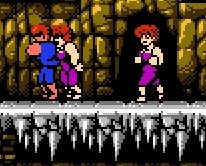 Her arms are bigger than mine

This is Abobo, one of the tougher enemies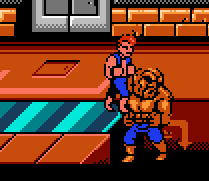 I have no idea what's going on in this picture

The first one you meet you can push off the ledge, like in the picture. After that, its a bit more complicated. This is the part where the game ends for you if you've never played it before:



The reason it ends is because of this screen: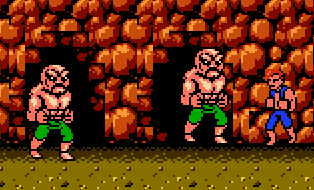 You need to beat both of them at the same time without dying up to this point to be able to beat the game. You can jump kick them to death without taking much damage, but this takes forever. The best way is to knock one down (hint: jump kick) and then stand right on top of his foot and mash the kick button as he's getting up. If you're standing in the right place, he won't hit you when he gets up and instead will try to back up (and fail because you're kicking him in the crotch).

A dramatic reenactment

The last enemy I'll discuss is this guy with a machine gun, shown here about to kill me: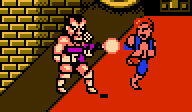 This is another part of the game you will probably end up dying. The best way to deal with him is to hit him with the jump kick and knock him down, and then stand so that when you kick your foot is directly over his feet. When he gets up, if you time it right, he'll take the kicks to the gut and fall over again. If you can catch him with an elbow, that works well too.

The elbow is the best attack in the game. You won't get it until later on, but it will kill most enemies outright when you use it. The enemies cower in fear when you use it.


Assorted cowering

Another thing that makes this game awesome is the colorful graphics.



yeah that's right

Some of the levels look pretty weird: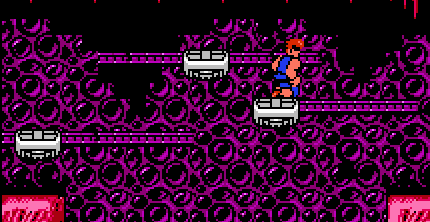 Yeah, I'm sure you remember this part too

I just realized that none of the pictures I have left show the graphics, so here's a picture of Mission 4:


This is another place you will die randomly

The music is also really good, but I have no idea how to show that. I looked on youtube but every video I found in the 5 minutes that I looked was retarded people playing.

So I hope you enjoyed this. I sort of had a point when I started but it just turned into random pictures with comments. Maybe if I get bored I'll do another one.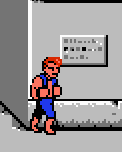 Hopefully this was easier to read than this sign