With the RO36 play-ins concluded on Wednesday, IEM Katowice 2023 commenced with the 24-player group stage featuring all the heavy hitters and elite players. Unlike previous tournaments where entire groups were finished in a day, the 2023 edition of the tournament introduced a new format where all four groups played two rounds of games on the first day (three total days for the group stage). While the schedule has changed, the stakes in the group stage remain the same: The top three players from each group advance to the playoffs, and the #1 player from each group receives a first round bye.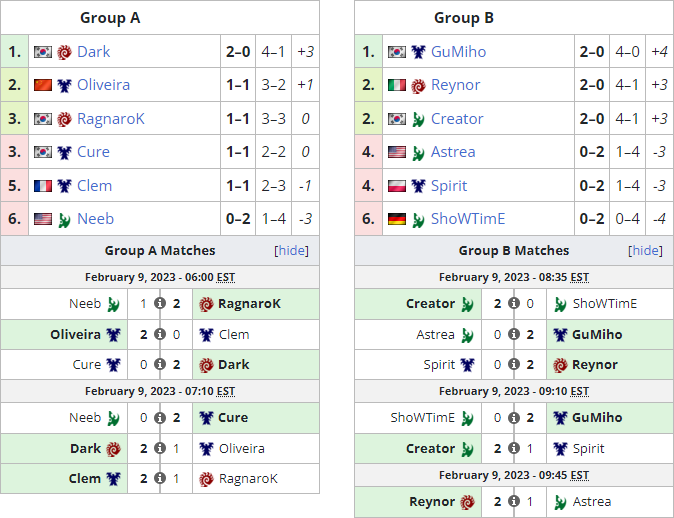 Day one of the RO24 saw the title contenders get off to contrasting starts across the four groups. herO was the only one to kick things off without a hitch, taking 2-0's over DongRaeGu and Solar to tentatively take first place in Group C. Top Zergs Dark (Group A) and Reynor (Group B) won their two initial matches, but couldn't manage perfect map records like herO as they dropped games to feisty underdogs Oliveira (aka TIME) and Astrea.

The big surprises came in the latter two groups, with both reigning Katowice champion Serral (Group C) and G5L winner Maru (Group D) starting off 1-1. While Serral defeated SpeCial as expected, he gave up a shocking 0-2 upset to DongRaeGu. The veteran Korean Zerg didn't need to rely on the volatility of ZvZ to get the job done, outplaying the Finnish Phenom in two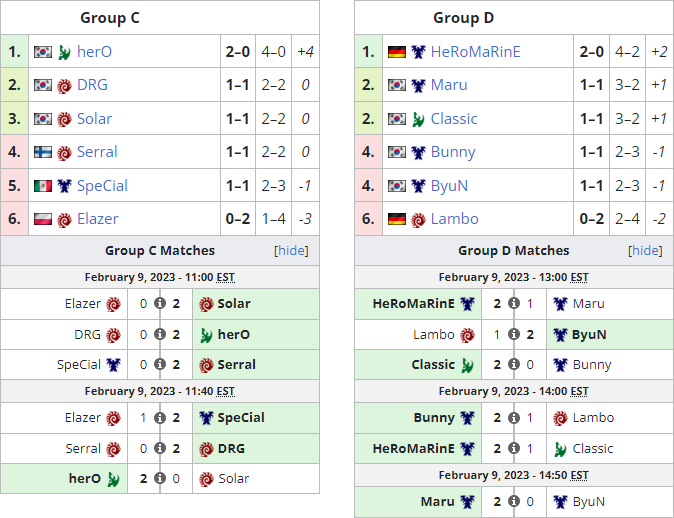 macro games.
As for Maru, he stumbled out the gates by losing to HeroMarine for the first time ever (previously 6-0 against him), with Big Gabe clinically snowballing an early lead in game two and hitting the mark with a 2-Factory Tank push in game three. While Maru recovered by taking down ByuN in the following match, it was certainly an unideal start for the consensus strongest Terran in the tournament.

Thanks to this career-best showing against Maru, HeroMarine concluded the day on top of a chaotic Group D (winning his other match against RO36 survivor Classic). With four players tied below him at 1-1, HeroMarine might even contemplate the possibility of clinching the #1 seed for good in the following days.


Alongside HeroMarine, GuMiho was another surprise Terran who claimed a temporary perch on top of his group. As mentioned above, Reynor dropped a map to Astrea to make his total map score 4-1. On the other hand, GuMiho went perfect on the day, scoring 2-0's against both Astrea and ShoWTimE with a hyper-aggressive and creative TvP style.

The RO24 will continue on Friday, Feb 10 11:00am GMT (GMT+00:00) with rounds 3 and 4 of the groups. herO vs Serral looks to be the feature match, with ESL scheduling it as the final bout of the day.



Games of interest (VODs)



HeroMarine vs Maru and DRG vs Serral: These two games are definitely worth a watch, if only to see why the two heavy favorites are started 1-1.

Reynor vs Astrea: While Astrea's reputation as a clowny zany NA Protoss gets overblown at times, he really brought a spark to IEM Katowice with his outside-the-box build orders in this series.

Dark vs Oliveira, Gresvan: This game was a late-game slog, so perhaps you don't need to watch ALL of it. Mostly, it served as a reminder of Oliveira's sneaky-strong late-game TvZ skill, which gives him a fighting chance against elite Zergs in this macro-friendly map pool.