Bunny's career-defining Code S run came to a brutal end in the semifinals, as #1 Protoss Trap smashed him 4-0 in one of the fastest best-of-seven series in GSL history. Trap's late-game skills didn't come into play at all—instead, he sealed his passage to the grand finals with his precise micro in a barrage of early-game attacks.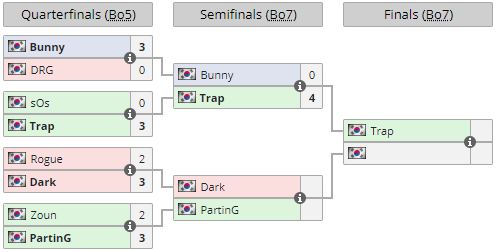 The first game on Blackburn felt like the only instance where Bunny was allowed to play a bit of StarCraft II, opening with fast Widow Mine drops off of one base. Trap defended against the drops handily, and then dealt crippling damage through an Immortal-Stalker counterattack from his proxy-Robotics Facility. Feeling no need to drag the game out much longer, Trap ended the game quickly with a follow-up attack from an overwhelming ground army.

The following three games were even more one-sided, with Bunny seemingly drawing dead in terms of his build orders. His attempt to go for a greedy triple-CC build on Oxide was dissected by Trap's 4-Gate Blink Stalkers, with Sentries able to bisect the Terran main and natural with Force Fields. We never even got to see what Bunny was up to in game three on Lightshade, as he spent most of his brief time alive trying to defend against a proxy Void Ray-Battery all-in. Trap later said he was trepidatious of using such a build after his proxy Tempest-Battery strategy failed against Maru in the previous season's semifinals, but this time around, he strolled to a fast victory.

Bunny brought out the triple-CC build one more time on 2000 Atmospheres, and yet again, Trap opted to go for 4-Gate Blink Stalkers. While Bunny had been able to get a tiny bit of advance scouting done on Oxide, he was caught almost completely off-guard this time around (even making Turrets in fear of Dark Templars), and was thus beaten even more thoroughly by his opponent's Stalker micro.

Overall, the total in-game time for the series totaled around 26 minutes and 17 seconds—perhaps even the fastest GSL BO7 in history, pending further historical review. It was reminiscent of Trap's semifinal series against Maru prior to the meltdown, where he secured victory with aggressive early-game tactics paired with excellent micro. Unfortunately for Bunny, he ended up continuing the recent trend of Code S featuring a feel-good story that ends violently in the semifinals. After the experiences of PartinG, DRG, Armani, Dream, and now Bunny, fans will have to be leery of getting behind any underdogs in the final four.

After the matches, the ever-humble Trap took care to attribute his dominating victory to favorable map order and a bit of luck, sheepishly backtracking on his prior assertion that the current map pool favors Terran. Not surprisingly, Trap said that he would prefer a potential PvP match against PartinG in the grand finals, opposed to a PvZ match against Dark.

Trap is now set to return to the Code S finals for the first time since 2019, when he placed runner-up in two consecutive seasons. Not only will it be a chance to win his first Code S title, but he might also shake off his unfortunate reputation as a player who can only win "tier 2" competitions.

The Code S semifinals will continue on Thursday, Jul 22 9:30am GMT (GMT+00:00) with Dark vs PartinG.