Reynor wins the DreamHack Summer Season Finals
by Wax
It's a shame that we never got the epic Serral vs. Maru match that we all dreamed of, but perhaps the StarCraft II gods are looking to make up for it by giving us a burgeoning
Reynor
vs.
Maru
rivalry. Four months after the two competitors played an
instant classic series
in the semifinals of
IEM Katowice 2021
—with Reynor winning in a dramatic 3-2 reverse sweep—the two delivered yet another thrilling series in the grand finals of DreamHack Masters Summer. Yet again, Reynor triumphed by a narrow margin, solving the puzzle of Maru's mech just in time to clinch the championship in game seven.
The two players actually got drawn into the same group in the initial round of the Summer Season Finals, but dodged an earlier clash as Maru advanced in first place, while Reynor advanced behind him. In the subsequent playoffs, both players put in convincing performances to reach the finals, with Maru dominating HeroMarine and INnoVation in TvT's, while Reynor took down Dream and reigning Code S champion Rogue. The IEM Katowice rematch was set, but this time it would take place in a best-of-seven grand finals. Interestingly enough, it was Maru who stoked the flames ahead of the match, suggesting that European Zergs wouldn't be so much of a problem if not for the latency of playing online.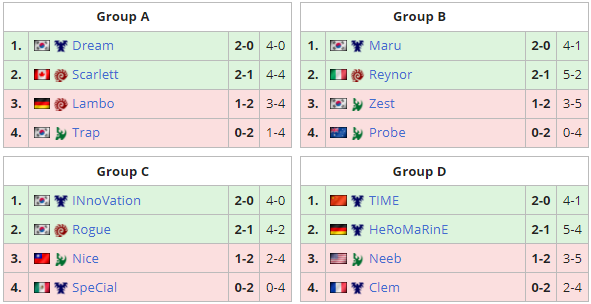 Viewers would hardly have expected an exciting series after the first two games. Reynor comfortably smashed Maru's bio-based play in two ways, swarming over the Terran forces with Muta-Ling-Bane on Jagannatha, and striking early with Roach-Ravager-Queen on Oxide. However, Maru was able to prevent the series from turning into a rout in game three on Lightshade, finding damage with an early Hellion strike and following up with a decisive 1/1 Marine-Tank push.
The turning point in the series—or at least the first of several—came in game four on Blackburn. Maru decided to change up his approach radically, going for a fast Battlecruiser-Hellion strike followed with a transition into mech. This proved to be exactly the correct move for Maru—whether the Team NV Terran knew it or not, Reynor considered mech to be "broken" on Blackburn (he shared such thoughts in the post-match interview). Maru certainly made Mech
look
broken, easily shutting down Reynor's attempts to harass with Muta-Ling-Bane before finishing the game with a Thor-centric army.
With the series tied 2-2, Maru stuck with his mechanical guns (as opposed to the psionic guns of Adepts) on 2000 Atmospheres. This time, he was aided by some poor early-game defense from Reynor, starting off in high gear after roasting several Drones. Reynor was powerless to stop Maru from getting to the late-game with a powerful economy, and despite taking some surprisingly good trades against the mech forces, he was forced to surrender his third straight GG.
Reynor's fate seemed all but sealed headed into the sixth map of Beckett Industries, with the infamous Zerg-killing ground making a rare appearance due to the best-of-seven format. However, opportunity turned into disaster for Maru, as his proxy two-Barracks rush was blind-countered by Reynor's Pool-first build. While it's tempting to fault Maru for taking an unnecessary risk, it might be Reynor who deserves credit for making an incredible read. According to Reynor, he saw through Maru's shallow mind-game of 'who would expect Terran to all-in on the free-win map?' Reynor took the mind-games one level deeper, countered Maru with a 17-pool, and won the game with ease.
With the series all tied up at 3-3, the two players went to Romanticide for one final showdown. This time, Maru didn't play any tricks, once again going for fast Battlecruisers followed by mech. Reynor later admitted "I was very scared of the mech, honestly," which was quite understandable. The two prior mech games hadn't been particularly close, with the composition maximizing Maru's strengths in playing long, defense-oriented games. In the early stage of this uphill battle, Reynor got a critical boost—he made a strong defensive stand against Maru's early harassment, even killing off a Battlecruiser that lingered for too long.
This was the spark Reynor needed to finally play his own style. In the previous games, Maru had snowballed his early game advantages into becoming an immovable object. This time around, Reynor was able to transform himself into an unstoppable force. Playing a Roach-Ravager-Baneling composition, aided by Vipers and Corruptors in the air, Reynor was able to keep battering Maru with relentless attacks.
It was hardly a one-sided affair—Maru kept Reynor's economy in check for much of the game, while plenty of Zerg troops perished in reckless charges into the Terran lines. However, Reynor was able to always get enough damage done to prevent the Terran defenses from fully solidifying, with Maru constantly forced to expend his resources on re-fortifying his lines and re-taking expansions. Ultimately, Reynor prevented Maru from splitting the map in half, and was able to take the additional expansions he needed to mount his final offenses and force Maru to concede the championship.
Status Quo Broken or Business as Usual?
With a few days to contemplate the result, let's examine how the competitive StarCraft II landscape changed after DHM Summer.
In some ways, it feels like there's been a huge shift of power.
Trap
and
Clem
, recent champions and the two most hyped players coming into the tournament, were the victims of massive group stage upsets, with Trap being eliminated by Lambo and Scarlett, while Clem bowed out after losing to HeroMarine and Neeb. It seems as if Reynor has risen up to fill the void, retaking the mantle of best player in the world.
On the other hand, the events of DHM Summer also seem like they can be explained by a common refrain in TL.net articles: we're in a high-parity, high-competition era where any of the title contenders can beat one another. To some extent, this is more an assertion of
feeling
than fact—after all, Trap has won about half of all major events since December of 2020, which would typically be called a stretch of utter dominance. But whether it's due to Trap's chronic collapses, Reynor's inability to defeat Clem, or Rogue's Rogue-ness, no one established an aura of dominance that comes close to matching that of any player from the 2018-2019 era. And, when you look at the
path
through which we arrive at some of these supposedly 'predictable' conclusions, it's often through a morass of chaos (just look at this latest season of GSL).
Still, Reynor's victory obliges us to wonder about how this might be the start of a new golden age for the Italian Zerg. He certainly has "clutchness" in spades, and even if that's a rather mystical, nebulous quality, every progamer seems to believe in its existence and its importance. There's also the practice aspect. Reynor revealed that he had resumed his archon mode training ahead of DHM Summer, just as he did ahead of his championship run at IEM Katowice 2021. Who's to say that mental fortitude + unorthodox practice can't continue to be a reliable, winning formula going forward? Needless to say, we'll be
very
interested to see how he fares in DH Europe Fall—especially against Clem.
In any case, Reynor certainly deserves to be called one of the championship favorites in any tournaments he enters—if not
the
favorite, bar none. But, for now, it's only by the narrowest of margins. And that's no slight on Reynor—it's a testament to how competitive the StarCraft II scene is at the moment.
---