Not even a 0-3 deficit can get between Maru and the Code S finals. The four-time Code S champion pulled off a miraculous reverse-sweep against Trap in their Code S Season 1 semifinal match, advancing to the finals for his second consecutive season. Maru's previous attempt to win a fifth Code S title in 2020's Season 3 finals was thwarted by TY—this time he will go up against another formidable opponent in Rogue.

The semifinal match between the two former Jin Air players began with Maru being little more than a punching bag for a rejuvenated Trap, who showed the same dominant form that allowed him to win multiple championships in the lead-up to IEM Katowice 2021. From impervious early-game defense to strong macro play, or even getting a cheeky build order win, Trap displayed the full suite of championship-tier PvT skills to go up 3-0.

Trap seemed close to earning a clean 4-0 sweep in game four, executing a cheeky proxy-Tempest strategy and establishing a daunting formation of Shield Batteries right outside Maru's main base. However, Trap lost track of Maru's defending Vikings and committed the terrible blunder of moving his Tempests too far away from the Batteries, allowing Maru to pick the capital ships off and steal a victory.

Despite the deflating nature of Trap's game four loss, few would have expected that it would snowball into an utter disaster. Game five saw Trap's previously impeccable defense go out the window, with a crippling early Hellion strike allowing Maru to take an easy victory. Game six then headed to the GSL-specific map of Nautilus, where both players tried to exploit the unique geography of the four player map with proxy tactics. Unfortunately for Trap, his hidden Dark Templars were easily repelled by a cautious Maru, forcing an all-or-nothing game seven.

Having come back to force an unlikely game seven on Lightshade, Maru gambled his tournament life on a proxy 2-Barracks Bunker rush—the very same one he had attempted unsuccessfully against Hurricane in his prior quarterfinal match. The mind game of 'he can't possibly think I'd try it again' paid off for Maru, with Trap just barely failing to scout out the proxy-Barracks (unlike Hurricane, who discovered it early). Trap had no chance of stopping the unscouted Bunker rush, and was forced to concede his fourth and final GG of the series.

After the series, even Maru couldn't offer much of an explanation for how he pulled off what seemed like an impossible comeback. He admitted to having essentially given up after going down 0-3, and that he had taken a break to gather himself headed into game four. Regarding Trap's pivotal game four blunder, he described it with typical Maru plainness "Seongho let his guard down a bit."

In any case, history is guaranteed to be made when Maru faces Rogue in the grand finals. Either Maru will win the G5L trophy, or Rogue will improve his record in major grand finals to a staggering 8-0. Maru played down the hype about his chances of winning the G5L, choosing to praise Rogue instead "Honestly, I think [Rogue] is the best Zerg, so I'm not really sure [about winning the G5L] yet." Maru will face Rogue in the Code S Season 1 finals on Thursday, May 06 9:30am GMT (GMT+00:00).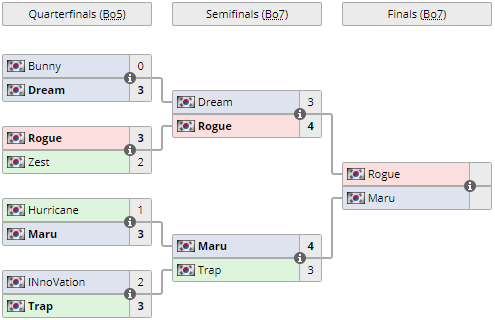 ---
Match Recaps

Semifinal #2: Trap vs Maru

Game 1 - Jagannatha: Maru opened with a greedy Reactor-Barracks into triple-CC build, while Trap proxied a Stargate for Oracle harassment. Maru seemed to get off to a fantastic start as he scouted out the proxied Stargate and took minimal damage from Trap's harassment, despite Trap making as many as three Oracles.

Maru played out his early economic lead passively, giving Trap the time to transition into Templars and mass Gateway units. Maru eventually got his war machine running at full steam just as Trap tried to secure his fourth base. For a moment, it seemed like Trap might be hard pressed to stop Maru's famed multi-prong attacks, but brilliantly placed Stasis Wards allowed him to completely nullify Maru's offensive. In fact, Trap was able to trap and destroy so many Terran infantry units that he found himself having enough of an army advantage that he could immediately go on the counter-offensive.

It was a testament to Maru's defensive ability that Trap couldn't finish him off with his huge force of Chargelot-Archon backed by Storm, but it was only delaying the inevitable. Trap assembled another deadly force—this time aided by Colossus—and dealt Maru the finishing blow.

Game 2 - Oxide: Maru opened with a Reactor-Barracks expansion once more, but this time went for an entirely different follow-up by going for two more Barracks behind it. On the other side of the map, Trap opened with a fast Dark Templar drop. Trap ended up being the clear winner in this exchange, dealing heavy SCV and unit damage with his DT drop while completely nullifying Maru's frontal attack with a Dark Templar on defense.

Maru decided there was no point in playing out a macro game, and instead started gathering troops off two bases to go for a desperation all-in attack. Unfortunately, this ended up being a rather hopeless endeavor for Maru. Despite being the player who was ostensibly sacrificing economy for army production, he still found his army supply easily matched by Trap—who was also teching and expanding at the same time. Trap ended up having little trouble holding off Maru's two desperation attacks to collect another GG.

Game 3 - Romanticide Trap was the one to make a greedy play this time around, opening with a blind Nexus-first expansion. Meanwhile, Maru changed up his opener and went for fast tech, looking for a combination Hellions + Armory/Mines drop. Trap went for defensive Blink-Stalkers behind his fast expansion, and deduced that some kind of fast-tech attack was coming with his Adept scouting.

Maru committed hard to his Hellion-Mine harass, and ended up getting 10 Probe kills for his efforts. However, given Trap's greedy start and Maru's decision to delay his expansion for faster tech, this still ended up being an extremely favorable exchange for Trap. Trap was able to comfortably take his third base after holding off Maru's harassment, and was actually inflicted far more damaging harassment of his own (relatively) with his Blink-Stalkers on Maru's side of the map.

Trap played out his lead in an almost leisurely manner, even looking indecisive in terms of what tech he wanted to use to finish Maru off. Ultimately, he decided on a big Gateway army backed by Templars, which easily smashed through Maru's defenses to force a third straight GG.

Game 4 - Blackburn: Maru opted for a proxy-Barracks at the designated backdoor Reaper site on Blackburn, while also going up to two Refineries for tech-based play. Trap also went for a 1-base build of his own, proxying a Stargate for a Void Ray followed by fast Tempests. The quick Adept from Trap's one-base build allowed him to fend off Maru's Reaper easily, leaving Maru with not much else to do but focus on stopping the incoming Tempests.

A long range marksmanship contest between Tempests and Viking-Cyclone ensued, with the Tempests slowly winning on account of their superior range and the formation of Shield Batteries that Trap had planted in Maru's natural. Maru's defensive line was slowly shoved deeper and deeper into his own base, as the Tempest count increased to allow them to one-shot Cyclones and Vikings in a single volley. In the midst of all this, Maru attempted a sneaky Barracks float into Trap's main to make Marines, but a single Shield Battery in Trap's mineral line stopped this cheeky harassment.

Trap consolidated his lead by adding a Nexus at Maru's natural, giving him another line of resources and access to Battery Overcharge. However, Trap seemed to be tentative about pushing past Maru's ramp and deeper into the Terran main, and Maru took advantage of a lull in the action to send his Vikings across the map for a backdoor attack into Trap's main. Thanks to the Nexus in Maru's natural, Trap was able to evacuate his Probes and resume mining.

But while Trap didn't suffer much economic disruption, he did seem to be afflicted by a huge lapse in concentration due to Maru's unexpected move. Trap moved his Tempests forward when he noticed the Vikings landing in his main, but he didn't seem to quite notice when the Vikings jumped up and flew back on defense. Trap's Tempests were caught out of position by Maru's returning Vikings, having ventured too far away from the protective Shield Batteries. Rather than try to force the Tempests back into range of the Batteries, Trap actually kited them further away in the opposite direction. Maru used his Cyclones and Vikings to mop up the Tempests, forcing Trap to concede his first loss of the series.

Game 5 - 2000 Atmospheres: Maru pulled out the good ol' Engineering Bay block, forcing Trap to pull several Probes to remove the obstruction in his natural. Back at home, Maru went for a Barracks-Factory-CC start, while Trap went for a Dark Templar drop after taking his natural expansion. Maru's first choice of tech was a garden variety Widow Mine Drop, which Trap handled without any trouble. However, he tunnel-visioned too hard on stopping the Mines and allowed two Hellions to casually drive past his wall. Trap had just evacuated a giant stack of Probes from his main to his natural, which allowed the two Hellions to get massive shots off that killed fifteen Probes. Having scouted the Dark Shrine with his drop, Maru was able to fend the eventual DT drop off easily with scans followed by a Raven.

Trap tried to play out a normal macro game from his disadvantaged position, but it was a doomed endeavor. Maru's economic lead let him hit an unstoppable two-base timing attack, with his 70 supply army utterly smashing Trap's 29 supply defense force to end the game.

Game 6 - Nautilus: Maru spawned on the bottom-right corner of the map, while Trap drew the bottom-left starting position. Without any scouting info, Maru went for a proxy-Barracks in the center-left region of the map, which ended up being terribly unlucky as it was directly in the path of Trap's clockwise Probe-scout. Maru was forced to cancel his Barracks and play a delayed Barracks-Factory-CC build back at home.

Meanwhile, Trap delayed his expansion for tech once more, building a hidden Dark Shrine to send in Dark Templar's by foot. Maru seemed to suspect some form of cheese from Trap, and went for a fast defensive Cyclone while also conserving his Orbital Command energy for scans. The extra scan energy ended up being a game changer for Maru. Trap pulled back his first DT's from Maru's natural upon being scanned the first time, but sent them straight back in once the scan timer ran out. Trap didn't seem to anticipate Maru would have energy for a second scan, and he ended up losing all three of his Dark Templars. Dark Templars #4 and #5 were able to kill five SCV's, but it was still an extremely poor exchange for Trap given the state of his own economy.

Similar to the previous game on 2000 Atmospheres, Trap decided to try and play out a macro game and hope for the best. And, once again, Maru hit a timing where he had nearly double the army supply of Trap, giving him the win to tie the series at 3-3.

Game 7 - Lightshade: Maru sent out two early SCVs to go for a double proxy-Barracks at Trap's third base—almost identical to his quarterfinal match versus Hurricane on the same map. However, unlike Hurricane, Trap didn't commit to a full, deep scout of his third, and his anti-proxy Probe ended up missing the two Barracks by a few inches (this seemed rather odd considering that not only would Trap have seen Maru's games against Hurricane, but he had also been his practice opponent for that exact match).

In any case, Trap ended up going for a standard fast expansion, with his Pylon, Gateway, and Cybernetics Core all built down at his natural to form a wall. An exasperated smile crossed Trap's face when he saw Marines and SCV's show up in his natural, with a Bunker going down directly between the Cybernetics Core and Gateway to turn his own wall against him. It was all too easy for Maru to just focus fire down the Pylon powering the Gateway, and also any new Pylons Trap tried to desperately warp in. With the situation being utterly hopeless, Trap conceded the game just after the three minute mark.

In his post-match interview, Maru said "[the proxy-Barracks all-in] wasn't the build I had originally prepared... ...just felt like doing it, so I did."