The round-of-sixteen concluded with Group D, where Trap and Zest prevailed over sOs and Armani to clinch the final two playoff spots.

Top seed Trap advanced in first place with a perfect 4-0 map score. In his initial series against Armani, he took game one with an unexpected all-in, and then took game two with a hanbang-style mid-game attack. Trap went on to safely navigate his way out of a potentially tricky winners' match against sOs, with his vigilance protecting him against sOs' repeated attempts to go for hidden Dark Shrines.

Zest lost his opening match against sOs in a predictably wonky series, but kept his playoff hopes alive by taking down Armani in the losers' match (unfortunately, Armani was the victim of more Protoss trickery). Zest was much more solid in the deciding rematch against sOs—who continued to be obsessed with hidden Dark Shrines—taking a clean 2-0 victory to advance in second place.

Code S will resume on Monday, Apr 19 9:30am GMT (GMT+00:00) with day one of the quarterfinals, featuring Bunny vs Dream and Zest vs Rogue.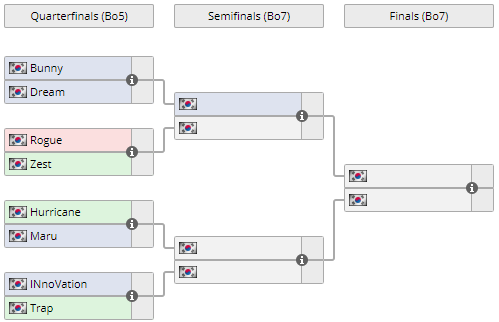 ---
Match Recaps



Initial Match #1: Trap vs Armani

Game 1 - Deathaura: Trap opened up with Stargate into two Oracles, which would end up being the defining PvZ strategy of the day. Trap managed to catch Armani off-guard with his Oracle (thanks to building his Stargate in a slightly hidden location in his natural), allowing Trap to get a satisfactory number of Drone kills. Trap then followed up by quickly increasing his Gateway count, hitting a peculiar timing with one Immortal and a slew of Gateway units. This surprised Armani once again, forcing him to give up his third base to the Protoss force.

With the advantage well in hand, Trap comfortably built up a large army of Stalker-Immortal-Disruptor off three bases while Armani desperately tried to keep up in his Roach-Ravager count. Alas, Armani had no chance of stopping Trap's army once it attacked, and he conceded the first game.

Game 2 - Jagannatha: Trap went for a two-Oracle start again, and once more nabbed a decent number of kills in spite of Armani's better preparation this time around. Trap looked to hit a later timing this time around, massing a powerful Archon-Immortal-Chargelot force off of three bases. Armani was able to scout and respond to this threat, hatching enough Roaches and Ravagers to deny this attack and seize the initiative.

Armani decided to use this breathing room to tech to Spire and go for a surprise Muta switch—which Trap detected and responded to by adding Phoenixes to his army. Despite this, Armani was able to use his Mutalisks and Roach-Ravager to delay Trap's fourth base severely, and even get into the Protoss main to deal Probe damage.

However, Armani got too ambitious with his Mutalisk harass, ending up losing them to defending Phoenixes and Archons—all while he had queued up several Corruptors in support. Trap seized the opportunity and launched a big Stalker-Immortal-Archon-Templar attack, which smashed Armani's Roach-Ravager force while Corruptors looked on helplessly. Armani typed out his second GG, sending Trap to the winners' match.

Initial Match #2: Zest vs sOs

Game 1 - Lightshade: sOs played for a fast expansion off two Gateways, while Zest turned his 2-Gate start into a 3-Gate Robo all-in that looked to kill sOs off. Shield Batteries and Battery Overcharge delayed Zest for a moment, but eventually he was able to overrun sOs with mass Stalkers (sOs made a Dark Shrine, but never had a chance to warp DT's onto the map).

Game 2 - Oxide: sOs proxied a gate at Zest's third while Zest went for a Gateway at his natural, signalling his intent to fast expand (whether Zest was actually planning to expand or just playing a mind game, it didn't really matter since the game quickly got very weird).

sOs' Zealots got into Zest's base before Stalkers were out, managing to collect four Probe kills. In the meanwhile, both players were going for additional proxy buildings—Zest going for a hidden Twilight Council and Dark Shrine while sOs was going for a Stargate and Oracles. It seemed like sOs would get the better of Zest as he had set up a barricade of Stalkers at his ramp in case of such tactics, but a terrible misclick saw Stalkers clear the path for the DTs. On the other end of the map, Zest did a much better job holding off the Oracles, forcing them to go back and contend with the DT's.

Somehow, after all these early game shenanigans, the two players still ended up in almost even positions, building Stalker-Immortal off of two bases. sOs utilized his Oracle advantage, drawing Zest out of position with a feint and following up with a painful raid on the Probe line. Perhaps due to the raid, Zest decided to charge headlong at sOs' ground army. Unfortunately for Zest, his micro and focus-fire was somewhat suspect, and he GG'd out after being crushed in the fight.

Game 3 - Deathaura: Both players opened up with 2-Gate expansions builds, with Zest going for a standard Blink-Robo follow-up while sOs tried to hide a Dark Shrine on the map. Funny enough, sOs didn't even bother to warp in any initial DT's, knowing that the jig was up due to Zest's hallucination-scouts seeing his conspicuously empty main.

The two players proceeded into a relatively passive build up, going up to three bases off of Blink Stalkers. While Zest continued to focus on Stalker-Immortal, sOs added Chargelots and Archons to his composition. Zest's previously diligent scouting failed him here, as he tried to attack sOs with a completely inferior army composition. sOs' Zealots ran amok over Zest's Stalkers and Immortals, forcing Zest to tap out.

Winners' Match: Trap vs sOs

Game 1 - Nautilus: Trap started at the top right, while sOs started at the bottom right of the four player map. Trap gambled on doing a no-scout Nexus-first build, hoping scouting luck would work in his favor. sOs obliged Trap by going for a failed scouting gamble of his own, sending an early Probe to the central watch tower, hoping he might see the direction a diagonal-scouting Probe was coming from. Seeing nothing was coming, sOs belatedly resumed normal scouting while going for a normal 2-Gate strategy at home.

Trap's gamble went almost completely unpunished, but he bungled the Pylon wall-off at the top of his ramp when sOs' first pair of Adepts came in. Combined with the Oracle that came next, sOs actually managed to narrow the Probe difference to just two when it was all said and done. That left the two players to tech-up to Blink-Stalkers and take third bases on almost event terms.

As sOs prepared a transition into the Zealot-Archon phase of the game, Trap squeezed out a few extra rounds of Stalkers for a decisive mid-game strike. His attack hit the mark perfectly and sOs GG'd out.

Game 2 - Romanticide: After 2-Gate starts, Trap went for a fast expansion while sOs hid a 3rd Gateway out on the map to go for an aggressive Stalker attack. While sOs' first attack looked dangerous, Trap managed to hold it off. Instead of going all-in by committing to more Stalkers, sOs decided to follow with a belated expansion of his own. Ultimately, this didn't put sOs too far behind, with both players going up to Blink-Stalkers on reasonably even terms (sOs tried another proxy Dark Shrine, but it was soon discovered and cancelled).

Both players built up on armies on three bases, but their compositions diverged. Trap went for the usual Chargelot-Archon-Immortal army, while sOs tried to complicate things by focusing on Disruptor-Stalker. However, sOs never really got to use his army effectively, as Trap attacked when the Disruptor count was only at three. Trap easily dodged the purification novas and smashed the remaining Stalkers to close the series.

Losers' Match: Zest vs Armani

Game 1 - Romanticide: Similar to Trap, Zest went for a double-Oracle start, though he failed to do quite as much damage as the Wing Commander. Zest went for a daring follow-up move, getting a Fleet Beacon and 2nd Stargate for fast Carriers. Armani was completely duped, with his scouting Overseer only getting into the Protoss main once two Carriers were already crossing the map. Yet, somehow this situation worked out worse for Zest, as he failed to plug his wall back at home and lost 20 Probes to Armani's Ling-Roach Counter.

Somehow, this didn't put Zest irrevocably behind, and he continued to just mass Carrier-Void Ray-Archon-Zealot off of three bases. Armani stayed on mostly Lair units, focusing on Roach-Ravager-Corruptor with an odd Viper to help. The first major clash between the two forces ended with both sides being devastated, leaving both players to build their armies back up. However, while Armani replenished his army with mostly Roach-Ravager, Zest was able to make a strong ground army backed by many Templars with Storm. When the two fought again, Zest wiped the floor with Armani's troops and forced a GG.

Game 2 - Deathaura: Zest opened with another 2-Oracle strategy, once again doing some minor Drone damage. Zest then teched up to Glaive Adepts, with the first wave getting stopped by Armani's Zerglings and Banelings. However, Armani was not prepared for Zest's oddly-timed follow-up attack, with mass Stalkers and Adepts attacking just before Armani was ready to start Roach production. The element of surprise carried the day for Zest, as he extracted the final GG from Armani with his overwhelming army.

Decider Match: Zest vs sOs

Game 1 - Deathaura: Zest opened up with a few annoying tricks, placing a single offensive Assimilator in sOs' main and blocking his Nexus location with a Pylon. Zest then went for a fast Stargate at home, and followed that up by taking his expansion as well. sOs played it safe by establishing two Gateways before getting an expansion, and then going up to Blink and Robotics tech.

While Zest's Oracle didn't do much, the situation still worked out quite well for him. sOs played too conservatively and could not punish Zest's faster expansion, and by the time he could snoop around with Blink Stalkers, Zest already had Void Rays and Immortals in place to defend. Amusingly enough, Zest proceeded to throw away most of his economic lead by letting two Adepts slip into his main and tear up some Probes.

Still, Zest still had a tech advantage on his side, and he started assembling a strong army of Zealot-Archon-Immortal. sOs tried to make up for his tech deficit by going for a surprise army of almost entirely Chargelots and Archons. Though this gave sOs a stronger frontline, this didn't avail him when it came time to fight, as Zest's backline firepower in Void Rays and Immortals let him win the battle easily and take the game.

Game 2 - Nautilus: sOs started at top-left, while Zest started across from him at top-right. Zest had the misfortune of Probe-scouting counter-clockwise, but wasn't so far behind sOs' diagonal-scouting technique. Regardless, both players went for 2-Gate starts, followed-up by standard Blink tech.

sOs got up to his predictable tricks, attempting a hidden Dark Shrine again. A little bit too predictable, perhaps, as Zest got a fast forge for the sake of +1 attack upgrade and a singular safety Cannon in his natural. Upon scouting this with a hallucination, sOs declined to make DT's at all (what deja vu).

This small difference ended up actually mattering, as Zest went for a +1 attack timing with Blink Stalkers and superior Guardian Shield support. sOs was completely crushed by Zest's stronger Stalkers and GG'd out.