Putting Down the Boulder (for Now)
by Mizenhauer
"Everything ends badly, otherwise it wouldn't end."
—Brian Flanagan


"There is no real ending. It's just the place where you stop the story."
―Frank Herbert
It's the end of an era.
soO
has played his final season in
Code S
before starting his military service. Whether or not soO returns in the future, this moment was always going to be more of a gut punch than your average farewell tour. After all, no individual is inextricably linked to
GSL's flagship competition
than its six time runner up.
Maru challenged for that honor when he earned his fourth consecutive Code S title in 2019. INnoVation, likewise, made a claim in 2017 when he won a then-unprecedented
third time
. Delve further back and you find pioneers such as Mvp and Nestea, whose triumphs in Korea's most prestigious league secured their status as titans of the game.
And, yet, despite all that quartet has accomplished, it's inarguable that after ten years and 38 seasons, no exit leaves a larger wake than soO's.
soO departs StarCraft II as arguably one of the best five players of all time, and someone who belongs in the
GOAT discussion
. Second place in six GSL Code s Tournaments. Runner-up at BlizzCon 2017. Champion at IEM Katowice 2019. But, for all his accomplishments, soO's significance is far bigger than his tournament resume.
StarCraft II is littered with champions. Some, like Seed or Sniper fade deeper into obscurity with each passing year. Others manage to become fixtures of the scene through continued excellence, but remained largely inaccessible to me for one reason or another. It's difficult to place myself in Life's shoes, and attempt to understand what drove him to squander his limitless potential. How am I to sympathize with Rogue, whose transformation into the best player in the world only occurs when the inclination strikes him? INnoVation's perspective on StarCraft II is the antithesis of the idealized professional who competes tirelessly with an unfailing love of the game. These elements keep them at arm's length, leaving nothing but their in-game prowess to admire.
But then there's soO. The man who failed so many times, but somehow managed to pick himself up and try again and again. The man who matured through suffering and defeat rather than glory and victory.
Disappointment is something we've all experienced. Failure is something we've all encountered. Missed opportunities, wasted chances, these are the currency of life. How we react to pitfalls and setbacks plays an essential role in determining what kind of person we eventually become. soO's journey may take place on a different plane than ours—what with the hundred thousand dollar cashes and countless hours spent spent playing a video game at the highest possible level—but it runs the same gamut of emotions. How can you not empathize with him? How can his struggle not resonate within you?
And, yet, for all its familiarity, soO's pain is also unlike anything I've ever felt. It's this slightly alien note that makes his tale all the more tragic, enthralling and, ultimately, iconic.

"The path to paradise begins in hell."
―Dante Alighieri
soO stands as StarCraft II's
eighth highest earning player
with more than 600,000 dollars in tournament winnings. The fact that a large portion of this sum came from second place finishes doesn't make it any less impressive. He's been a top three Korean Zerg for over half a decade and has flirted with the designation of
best player in the world
on more than one occasion. That fact that someone can exist who is so amazing at what they do, and yet never good enough, is fascinating. It lured me, as I tried to understand the man behind the mythos.
Ever since 2017, when I happened to make his acquaintance, he has been, perhaps, the most forthcoming StarCraft II pro I've ever encountered, Korean or otherwise. He's laid bare his feelings about his highest high and lowest lows in countless articles, interviews and videos, entrusting the entire StarCraft community with his vulnerabilities. Whether it's talking about his time on SK Telecom, his desire to win a championship, or the relief that came when he finally crested the summit, we've had plenty of chances to study the evolution of his character.
soO wasn't always the paragon of nobility he is today. He struggled greatly in 2014, as finals defeat after finals defeat weighed upon his mind. Hyper competitive, extremely critical and devoted to StarCraft in a way none outside the pro scene can comprehend, soO waged a war within as much as he battled opponents. His entire life had been spent in anticipation of moments like his showdowns against Dear, Zest, Classic or INnoVation. He'd dreamed of those sorts of matches, of the moment when his love of StarCraft, and the effort he put into it was validated on the grandest stage. Except that dream had rapidly morphed into a nightmare.
On and on it went for years and years. 2015 was the year he won
KeSPA Cup
, but even that momentary reprieve was quickly marred by a loss to INnoVation in
Cologne
. 2016 was a point of desperation, a time when soO finally had enough of the stringent team environment and the criticism of colleagues and fans alike. Who could blame him? soO's descent into Kongdom wasn't a private affair. One crushing defeat after another played out before an audience of thousands. Time and again we saw him at his most vulnerable, wounded, ashamed and horrified of what the game he loved had become.
Some made jokes, others expressed their sympathy, but could any of us claim to have any idea what went through soO's mind as he was forced to watch his opponent celebrate amid falling confetti and adulation? Seemingly destined to be the tool of another's ascension, we can only imagine the despair he must have felt. Despair rooted in the knowledge that, for all the excuses he chose never to make, soO's fate was entirely his fault.
None of us would have judged soO had he decided to call it quits. But, for soO, giving up was never an option. Battered, bruised, but never truly vanquished, soO came back in 2017 and, despite falling twice more in the finals of Code S, he asked the crowd with a wavering voice to put their sympathy for him to the side, and give GuMiho his righteous due.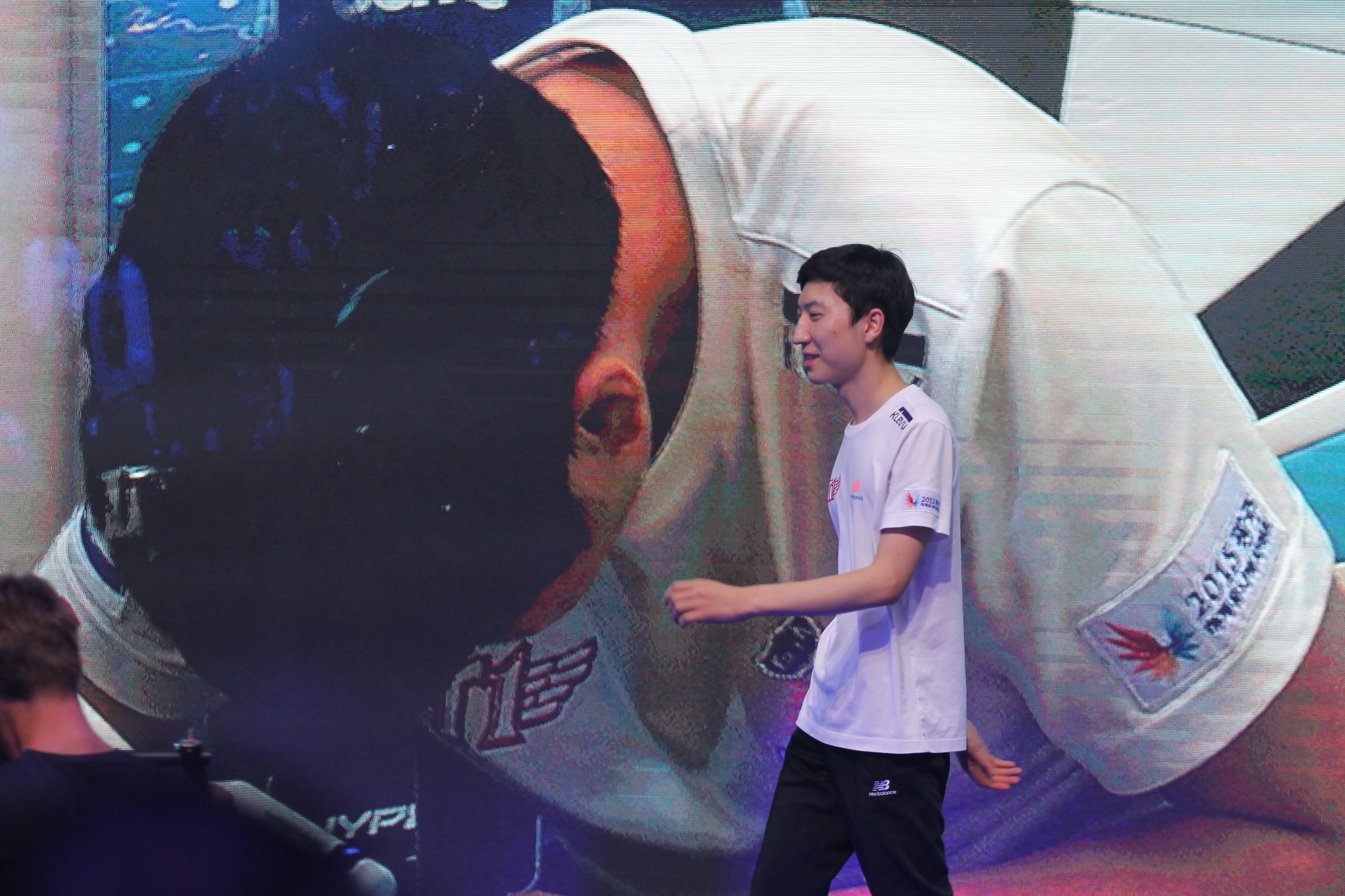 "It's the unquenchable thirst for a championship which motivates me. It's the quest to recapture the joy of the KeSPA Cup which enables me to keep picking myself back up. Only when I become a champion can I retire without regret."
―Eo Yun Soo
soO may have never won GSL, but it's not as if he left those six finals empty handed. For all his talent, soO's most admirable trait isn't his incredible macro or some other StarCraft bound trait. It's the courage and maturity that came with defying fate and never yielding. Every time a new season of Code S began, soO knew there was a chance he'd find himself in that same familiar position. But, he never hesitated. He never complained. In soO's mind, there was only one choice. He began the climb once more. He acknowledged the mistakes of his past. He recognized the potential fate that lay ahead. He vowed to do better and tried as hard as ever. That's why, though the exact circumstances of soO's journey are so dissimilar to ours, his plight, when reduced to its most basic elements, is an essential part of the human experience. To fight against our inadequacies. To defy our fears. That is something to which each and everyone one of us can relate.
And, so, soO departs for the military with his reputation as one of StarCraft II's greatest players firmly secured. His legacy, however, far outstrips trophies, prize money and accolades. That's because he managed something no other player could. He did more than amaze with brilliant in-game play. He did more than entertain with outside-the-game banter. Yes, he was the perfect encapsulation of what it meant to be a competitor, but he was so much more.
soO was nothing short of an inspiration, a mighty feat indeed when you consider the tools at his disposal were a mere mouse and keyboard. His seven year StarCraft II journey is the stuff of fairy tales. He faced personal demons, rivals and impossible odds, but eventually persevered, reaching the zenith of the game at IEM Katowice, when his post match interview brought so many of us to tears. In that moment we felt an element of his relief, joy and fulfillment. All the pain, doubt and anguish that allowed soO to grow into the person he is today vanished as he, as we, celebrated his crowning achievement. I cried that day. I know many of you did as well. I'm choking up as I write this very article—as I look back and realize how the unassuming act of watching soO over the course of his career taught me more about the person I want to be than the RTS skills I hoped to emulate.
"I learned this, at least, by my experiment; that if one advances confidently in the direction of his dreams, and endeavors to live the life which he has imagined, he will meet with a success unexpected in common hours."
―Henry David Thoreau
soO hasn't written off a return to competitive StarCraft II when his military service concludes, which is a rather fitting decision when you think of all he taught us over the course of his career. Eighteen months of mandatory time away from the game? Just another hardship to overcome.
As we, and as soO say goodbye to this phase of his life, we do so well aware that the state of Korean StarCraft may be very different when and if soO once more takes the stage.
But, however different the world will look in 2022, the legacy of Eo Yun Soo remains immutable. Unyielding, unbroken and as committed to his dreams as ever, soO is a living testament to the fact that incredible things can be accomplished if you never give up, if you never stop trying and press on in the face of adversity. None of us can be sure what the future holds, but what I do know is that soO has given me something for which I will forever be grateful.
---
Credits and acknowledgements
Writers:
Mizenhauer
Editor:
Wax
Photos: Blizzard, TheOneAboveU