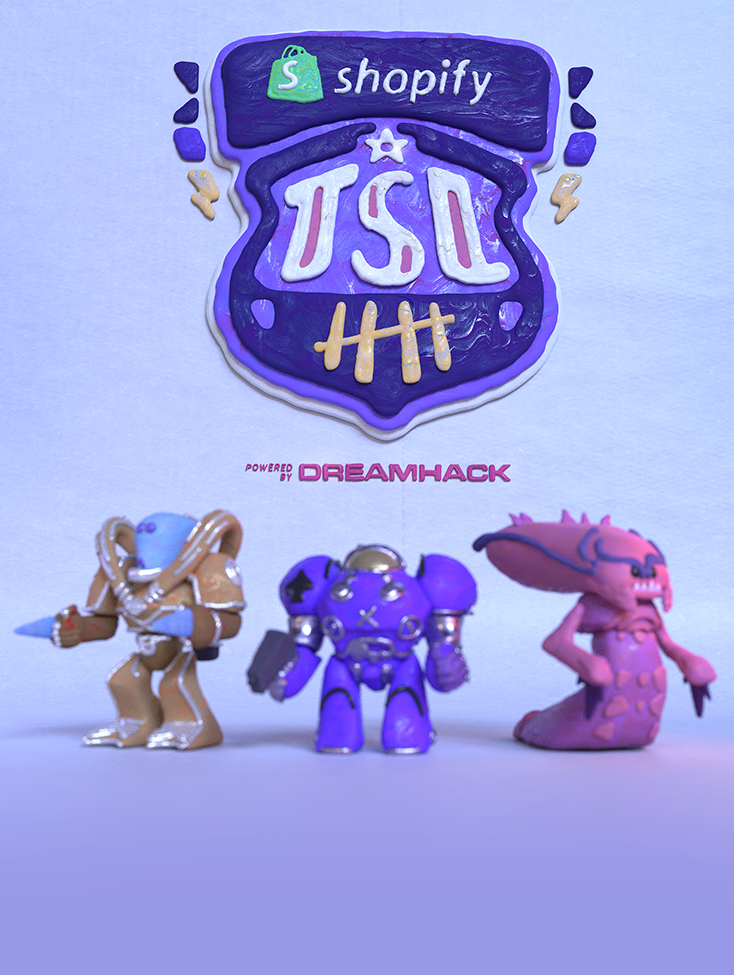 While there are a lot of things critical to creating a great tournament — getting the right players, getting the graphics right, creating content you, the fans, will enjoy — the importance of partners cannot be understated. Without partners, we can't offer the prize pool we want, meaning that getting the right players would be nigh impossible. Without partners, we wouldn't be able to produce the content you've come to expect of us. Without partners, we'd probably end up doing the stream overlay in mspaint. That being said, we're also firm believers that whoever you work with needs to be a great fit. We want to work with people, and companies, who care for esports and the TSL has a proud history of doing just that. In the past we've worked with some great partners and TSL 5 will be no exception. We're incredibly excited to work with these companies who have a genuine interest in esports and were happy to help not just us achieve our dream but signed up to help support the entire SC2 community through the TSL. So without further ado, here are the great partners we've managed to secure for TSL5.
Shopify
Shopify's love for StarCraft 2 is no secret. Their founder and CEO, Tobias Lütke, hasn't just been vocal about his love for the game, he has also shown it on several occasions. Like when he took a day off to play, and stream, StarCraft. And who can forget him giving SeleCT an internship a couple of months back, after a tweet? Shopify came on board as the naming rights sponsor for TSL 5 without any hesitation and have, since, been an absolute joy to work with. Whatever crazy idea we've come up with, they've been supportive.
The love for the game isn't just limited to mr. Lütke, though. When we asked the company for a statement to include, here's what they had to say:
First and foremost, we're just fans. Whether you look at the number of players and fans we have working at Shopify, partnering in on these sorts of events is basically a no brainer for us. I think we also recognize a massive amount of talent and passion in the esports world and would love to help inspire this group to consider starting their own businesses or even joining our team to tackle some of the pretty complex engineering challenges we're working through in making entrepreneurship a little bit easier and more accessible for everyone.
— Jeremy
head of esports initiatives at Shopify
Twitch
Twitch is the place for esports. Easy as that. If you're running a tournament you have to be on Twitch. But they're also so much more than "just" a streaming platform. Twitch does a lot to help esports grow as well, hosting their own events and constantly coming up with new features to help support streamers. That's why we're so excited that they were the first partner to come on board for TSL 5. Without their support, it's hard to see how we could've pulled this tournament off. And while it's possible to stream the tournament in other places, why would we? Even if Twitch had decided against supporting us, we would've streamed on their platform. Because that's where you, the fans, are.
Here's what Twitch had to say to you fans:
Without StarCraft 2 there likely wouldn't be a Twitch. The game's release coincided perfectly with the viability of home livestreaming. The success that Starcraft had on what was then Justin.tv opened our eyes to the possibilities in gaming generally. I still think that much of this wave of esports, ten years later, is predicated on the wave that StarCraft 2's release started.
StarCraft is a game that is in our DNA. We're elated that Team Liquid gave us the opportunity to become partners as they revive this historic circuit.
— Cody Connors
Account Director, Strategic Partnerships
Ting
Jesse from Ting is a thing. Over the course of the years, Ting have been a proud supporter of esports and — maybe most of all — StarCraft 2. Don't believe me? Check out
this video
of Jesse, their community and sponsorships manager, "putting my money where my mouth is" (direct quote) challenging members from the community. Highly recommended watching. Having Jesse, and Ting, on board has been a blast for us and we hope the community shows them some love!
And Ting didn't want to stop at "just" helping us getting this tournament off the ground. They've also created a special sign-up for TSL fans, in case you're interested in switching mobile providers, with $25 in free service credit. More info in Jesse's statement below. They also have something very special in store for the main event but we're not about to spoil that. You'll just have to tune in to find out!
As a huge fan of StarCraft and the pro scene, I'm thrilled to be a part of this historic tournament series. Looking back, TSL3 was the first SC2 tournament I ever watched and is part of the reason I discovered the amazing world of esports, so being invited as a sponsor of TSL5 is a dream come true. Thanks to TL and Shopify for putting this together - see you in Twitch chat, I'll be cheering on Neeb!
If you're interested in learning more about how Ting Mobile can help you save on your monthly phone bill, check out https://tsl.ting.com and get a free $25 service credit.
— Jesse
Manager of Community and Sponsorships at Ting Mobile
Secretlab
It was recently announced that Team Liquid has partnered up with Secretlab as their new chair sponsor, and we couldn't be more excited. Their new line of Team Liquid branded chairs
looks sick
and the writer of this can personally attest for their comfiness!
But not only did they partner up with the main team, signing up for TSL was seemingly a non-brainer for us. When we first started discussing who went wanted to work with, Nazgul let us know that Secretlab had some huge StarCraft fans on staff. So when we reached out they didn't hesitate about signing up. They really want to help support SC2. But don't take our word for it, here's what Alaric Choo had to say when we asked him for a statement:
This has been a difficult period for everyone, and StarCraft professionals haven't been spared. We've seen StarCraft tournaments around the world cancelled due to the COVID-19 pandemic. Being former Starcraft players ourselves, along with Victor, we know this inevitably translates to a loss in earnings and income for many of these players—hurting their livelihood. StarCraft always has a special place in our hearts; it's where Ian and I started our gaming careers as well. Supporting TSL5 isn't just giving back to the community, but also ensuring today's players can continue doing what they love even in these tough times.
— Alaric Choo
Co-founder and Chief Strategy Officer, Secretlab
---
Sometimes, when arranging tournaments, you might feel like you're signing anyone and everyone that shows interest. That has definitely not been the case for TSL 5. All these companies have been amazing to work with thus far and we see no storm clouds on the horizon. If you want to support them, and TSL 5, let them know that you appriciate them! Tweet at them or sign up for their services. These are truely exceptional companies that we're incredibly excited to have on board!