Super Tournament 1: RO8 Preview
Start time: Wednesday, Mar 25 8:00am GMT (GMT+00:00)
We're on to the quarterfinals of the Super Tournament where the stakes have rarely been higher. The top four players of the Super Tournament will receive seeds into the second round (RO16) of the upcoming Code S tournament—a prize that's just as desirable as reaching the top four of the Super Tournament. Who will move and keep their Super Tournament title hopes alive, as well as earn some precious peace of mind in Code S?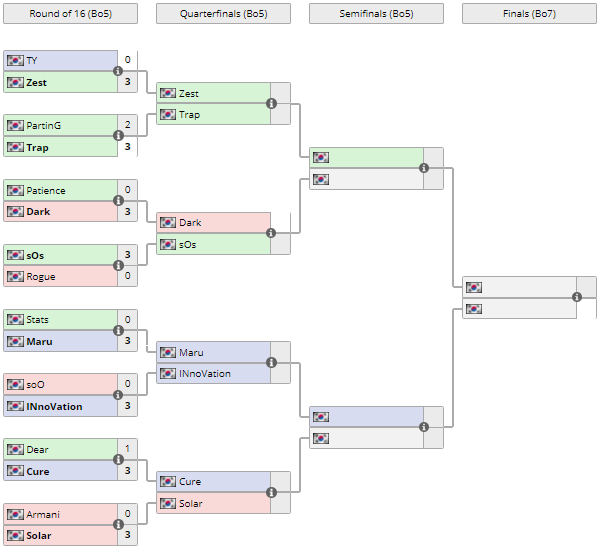 RO8 Match #1: Zest vs Trap
by Wax
At the time of writing, I was surprised to see that Zest was barely at
3rd place in the TL.net poll
to predict the Super Tournament champion. With Rogue eliminated early, Zest is the remaining ST player who has enjoyed the most recent touranment success: runner-up at IEM Katowice. C'mon, I thought you guys were supposed to be heavily influenced by recency bias—can't a guy get some credit for coming in second at the biggest tournament of the year? (Although, Zest not getting more credit for beating Serral is a strong affirmation of TL.net's Korean bias if I ever saw it...) Even if I thought of the poll as a measure of popularity, it took me aback. Has it really been so long since Zest was a top-tier player with throngs of fans spamming "Zest is best" in every forum thread and Twitch chat?
Well, I'm here to declare that the fans are wrong and that Zest is back (why thank you, I'm proud of that strawman myself). Just look at his last few offline touranment results: Top 8 Code S, top 4 ASUS ROG, top 4 HomeStory Cup, runner-up IEM Katowice. Okay, maybe he's not 'best player in the world' back (which he attained briefly in 2014), but he's back to the degree where he shouldn't be struggling to get even 10% of the vote.
At least he's getting more appreciation than Trap who's dead last in the poll—I'm assuming all of his single-digit votes are from GGemini and his alts. But on this end, I'm with the TL.net readers. Sure, if Trap somehow made it to the finals, his god-like PvT would make him the favorite to win the title against whichever Terran advanced from that half of the bracket (apologies to Solar). However, it's just too hard to see him reaching the finals. Obviously, a semifinal match against Dark would be a death sentence given his PvZ struggles. And, of course, there's the immediate issue of this PvP against Zest.
Through the peaks and valleys of his career, Zest's PvP seems to be one thing that's never waned. With Zest's recently resurgence, his PvP has crested comfortably at #1 in the
Aligulac.com rankings
. And while fans and players can justifiably complain about PvP having too much variance and being too unpredictable, players like Zest always find a way to bend the probabilities in their favor.
The case for Trap is that he isn't a poor PvP player by any meanas (#7 in the Aligulac rankings),
beat PartinG 3-2
in the previous round of the Super Tournament, and even
beat Zest 3-2
in a recent online WardiTV tournament. The latter series played out in a curious fashion, with Trap playing falling behind 0-2 when playing Zest in relatively straight-up games, but pulling off the comeback by handily deflecting some hidden-building cheese from Zest. While Trap refrained from going for any proxy shenanigans, one has to think more risks will be taken in the setting of the Super Tournament with a Code S seed on the line.
While I think Trap is good enough to keep things close—I doubt he'll get drubbed like Dear at IEM—I see Zest winning a weighted coin-flip in game five to close out the series.
Prediction:
Zest 3
-2 Trap
RO8 Match #2: Dark vs sOs
sOs
being good again has really sent me for a loop. After a year of writing and reading countless previews that said "you can never count sOs out," it's weirdly jarring to see that it might actually be true. Emphasis on the "might" there, since we're all still assessing sOs' recent resurgence in real-time, match by match.
Headed into 2020, I couldn't blame anyone for thinking sOs was washed up, especially after a 2019 season where he never got out of the Code S group stages. Then, IEM Katowice 2020 happened, where he went all the way to the quarterfinals (defeating opponents like ShoWTimE, TY, and Cure along the way) before being eliminated by Maru. And if you thought that was a one-off result, he put in a vintage sOs performance last week by
3-0'ing Rogue
last week in the Super Tournament. In particular, his bizarre Carrier-into-Adept strategy on Purity and Industry was a stroke of mad brilliance that 2015 sOs would have been proud of. But if you STILL think everything about sOs' recent success is fluky, I couldn't blame you. Rogue has taken it easy after a big pay-day on more than one occasion, and you could reasonably see sOs being just another beneficiary.
All that goes to say: This match against Dark is an important test for sOs. Of course, he doesn't necessarily have to
win
to pass (well, he does have to win to pass in the Super Tournament). No one in the entire StarCraft II scene could be faulted for losing to Dark on any given day. It's the content of the games, and the scoreline to a lesser degree, which we should be taking a closer look at. If sOs's play manages to prove that the old cliche is true, that form is temporary but class is eternal, then it means we're going to be seeing a lot more sOs BO5's in 2020.
Anyway,
Dark
should still be favored to take out sOs, given that sOs is a player we're still asking questions about while Dark is a player we accept to be championship-caliber by default. I wouldn't look into his 3-0 drubbing of Patience in the RO16 too deeply—as cheesy as Patience may be, he's hardly a proxy for sOs (maybe if turned your head, squinted your eyes, and took a tab of acid). The more concerning loss is the
0-2 to PartinG
—a devious player worthy of comparison to sOs—during IEM Katowice group stage, which showed even a BlizzCon champion can be brought low by cheese. But sOs doesn't possess PartinG's super-precise micro, relying more on the sheer surprise factor of his strategies than perfect execution. So while I think sOs can dupe Dark once or twice, getting three wins seems like a long shot.
Prediction:
Dark 3
-1 sOs
RO8 Match #3: Maru vs INnoVation
by Orlok
Damn, what a treat. While the GSL has historically been the place for great TvT, the Zerg domination of 2019 and the long 2020 pre-season makes it feel like it's been ages since we've seen a BO5 match like this. The retirements of Terran mainstays such as GuMiho and Keen haven't made the situation any better, especially since players like Dream, Bomber and Taeja have struggled to fill their shoes. But here we are:
Maru
vs
INnoVation
face off in best of five between the two best Terrans in the world. Whatever your thoughts on the state of GSL Terrans, this is definitely a match worth getting excited for.
The last BO5 between the two was at the
WESG semifinals in 2019
, with INnoVation taking out Maru in a surprisingly one-sided 3-1 before going on to defeat Serral for $150,000 in the finals. Their most recent matchup was at IEM Katowice, with Maru eking out a 2-1 victory in the group stage. At the risk of being a hype-killer, I have to say the IEM matches weren't that great either. INnoVation lost two games after playing way too greedy against Maru's timing attacks—and while there was some strategic thinking to appreciate there—it wasn't the action-packed TvT bloodbath we had hoped for.
There's still the potential for high entertainment given the two players' differing approaches to the matchup. INnoVation has been all about mech-play since coming into 2020, showcasing both tank-mech and battle-mech against the likes of Cure and TY in online tournaments. While he has sprinkled in bio play and proxy-rax strategies to keep his opponents guessing, his preferred option seems to be mech and he's very deadly with it. Maru, on the other hand, sticks to his guns. More specifically, the Marine's C-14 gauss rifle. While he employs a variety of early-game attacks with Factory or Starport units, it's usually to setup his bread and butter bio play. Though Maru hasn't played many online matches for us to go through, on reputation alone he should be considered one of the greatest TvT bio players.
While Maru and INnoVation will surely have some curveballs prepared for this BO5, games where they stick to their aforementioned styles could make for some great 'sword vs shield' type scenarios. Will it be INnoVation's steadfast mech army that slowly rolls to victory, or will Maru pick his opponent apart with insane multitasking? Let's hope they let us find out the answer.
Prediction:
INnoVation 3
-2 Maru
RO8 Match #4: Cure vs Solar
Cure
and
Solar
close out the day with a crowd-pleaser in a TvZ. Given that both players are inclined toward standard play and that they should be fairly evenly matched, the fans might get their figurative money's worth.
Cure's online prowess after leaving Jin Air has been, from a statistical standpoint, mind-boggling. We've fawned over players hitting 70 percent or higher win rates, but Cure has somehow upped the ante with his plus
80 percent+ win rate
over the course of more than 150 matches. While we were all a tad skeptical given his propensity to stumble offline, the numbers were just too absurd to simply dismiss out of hand. And while Cure's attempt to convert his online prowess to offline success missed the mark in Poland, he made a decent recovery with a strong showing against Dear in the RO16 of the Super Tournament. Be it with fast Battlecruisers into tank pushes or simple mid-game bio power against Phoenix-Colossus, Cure actually looked something like his online self as he steamrolled over Dear (losing just one game after getting sidelined by Disruptors). You don't have be convinced by Cure, but you certainly have to be intrigued.
Solar, on the other hand, comes into this match with a much less fanfare. After all, when your first round opponent is a military returnee in Armani, even a 3-0 victory hardly elicits any hype. Solar didn't have any problems in quickly dispatching Armani, be it by winning the Baneling-Zergling knife fights or laughing off his opponent's Mutalisk-play with Hydralisks. But don't sleep on Solar, as his run at IEM Katowice might have gone underappreciated. He was seeded into the group stage by surviving the brutal online qualifier in Korea, and was in a solid position to win his playoff match against Dark before committing a ridiculous throw. On the other hand,
Solar's ZvT hasn't looked all so convincing
. He's had more losses than wins against high profile players in the matchup, with losses against Maru and INnoVation at IEM Katowice and TY and Dream online. Online Cure is on a level with Maru and INnoVation—if that version of Cure shows up, it's going to be quite difficult for Solar here.
Both players are good, occasionally bordering on great level players, but both have consistency issues that make it hard to predict just what kind of outcome we're going to get. While Cure does have momentum, he'll also have no benefit of the doubt regarding his offline form until he wins matches at a steadier rate. Solar, well, at least he's seen the playoffs of a major offline tournament lately.
Predictions: Cure 2-
3 Solar
---