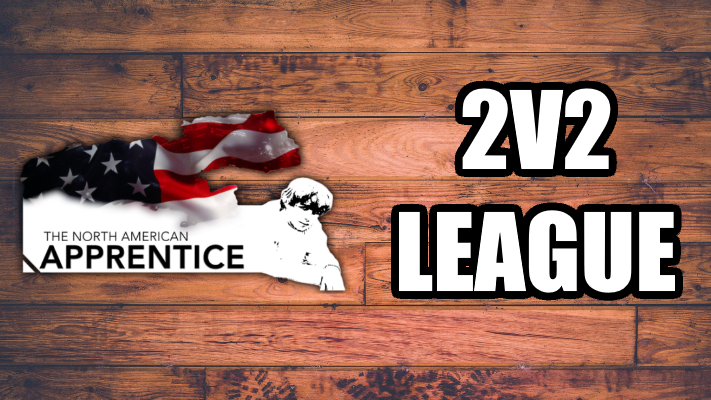 The NA Apprentice: 2v2 League



I'm happy to announce a special 2v2 season of the NA Apprentice. It is open to everyone regardless of region. However, all games will be played on the NA server.

All games will be streamed live on Beomulf's Trovo channel: https://trovo.live/beomulf.

The prize pool will be paid out via Matcherino, which can be found here: https://matcherino.com/tournaments/34935/overview.
Code Apprentice2v2 adds $0.5 to the event for free!

To keep up with more NA Apprentice and 2v2 event announcements, be sure to join the Discord server and follow us on Twitter.

Liquipedia - https://liquipedia.net/starcraft2/The_NA_Apprentice:_2v2_League_1


---

Prize Pool
$300

1st: $150

2nd: $80

3rd/4th: $35
---
Format
8 teams (2 invited, 6 from qualifiers)

Qualifiers are double elimination, with the top 3 teams of each qualifier advancing to the main event.

2 GSL style groups into single elimination playoffs
---

Schedule
When signing up for the qualifiers, please be sure to sign up with your real player names. Any smurfs that I am unable to identify will be removed.

Qualifier 1: Saturday, Sep 19 @ 8 PM EDT. Sign up here.

Qualifier 2: Sunday, Sep 20 @ 8 PM EDT. Sign up here.

Group A: Saturday, Sep 26 @ 8 PM EDT

Group B: Sunday, Sep 27 @ 8 PM EDT

Playoffs: Saturday, Oct 3 @ 8 PM EDT
---


Server Rules
The default server is NA. However, to ensure fairness for players competing from non-NA regions, the following rules will be used to determine servers:

NA vs NA: US Central

NA vs EU/LA: US East

NA vs Asia/OCE: US West

EU vs Asia/OCE: US Central
---

Map Pool
The map pool for this event is the same as the ladder map pool minus Divergence.


---