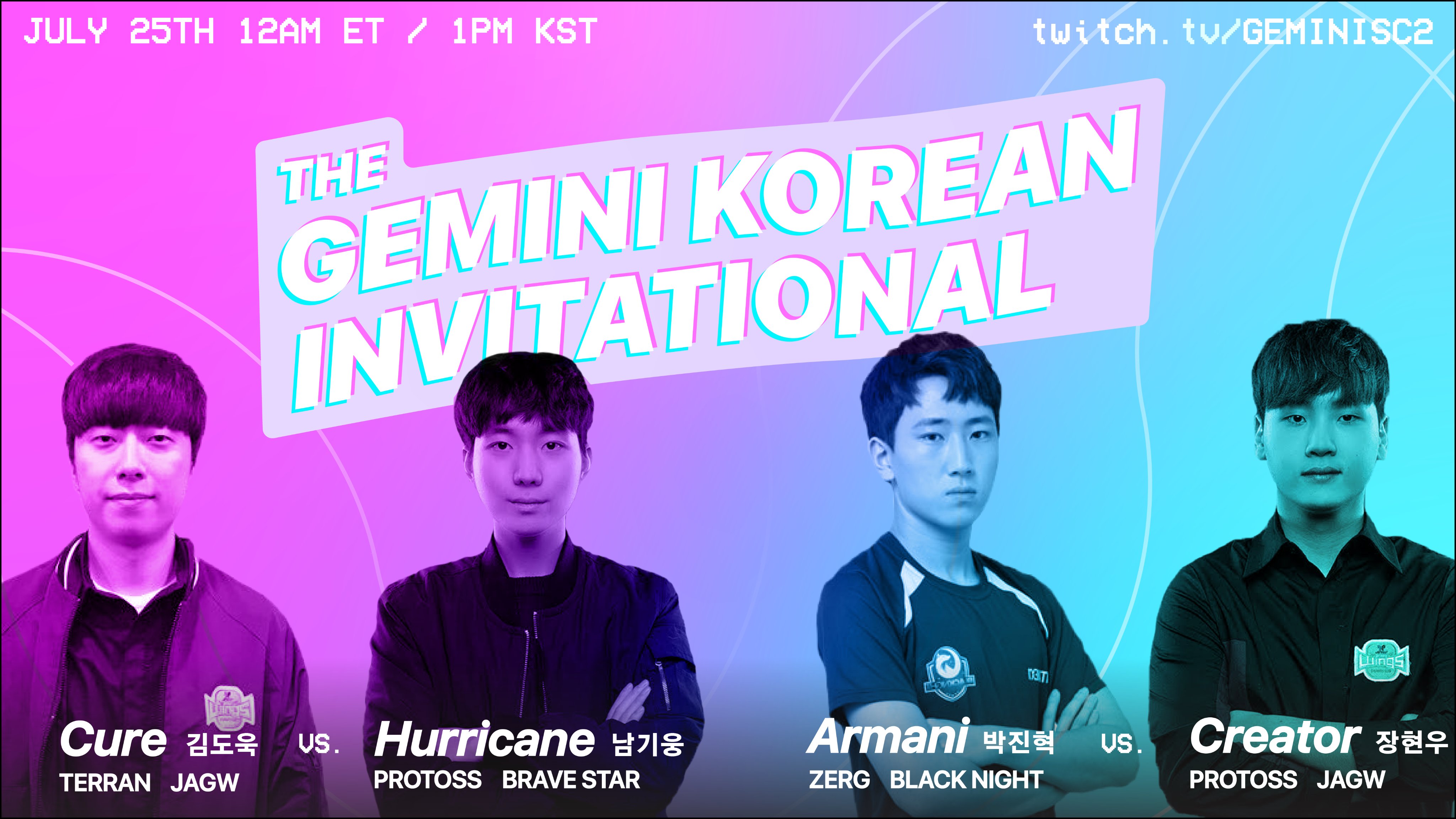 The Gemini Korean Invitational is a new tournament series I've starting up that is funded through my Patreon and today will be the July edition of the tournament!

Sorry for the super late announcement on this edition of the tournament, but I've been super busy with family vacation and me planning my move to Korea in just a few weeks, that it was hard to get everything organized and made up in time. Regardless, I'm squeezing in GKI: July tonight!

The tournament will be a simple 4 person bracket with the reigning champion Cure going against Hurricane and Armani vs Creator in Bo5 matches! We'll then play the Bo7 finals to determine the champion. There's no 3rd/4th place match.

I had raised $128 on my Patreon for June! That will be spread out among the players as:

* 1st Place: $78
* 2nd Place: $30
* 3rd/4th Place: $10

You'll be able to watch the stream live at https://www.twitch.tv/geminisc2/ on the 25th at 12 AM EDT/1 PM KST (and 9 PM PST on the 24nd), which is in about 8 hours.

VODs will be up on my YouTube channel within 1-2 days aftewards.

If you want to download the replays of the tournament, then you can become a patron and I'll have the link posted to download them within 15 minutes of the tournament finishing! Any tier is able to download them.

If you'd like to further support the tournament series then all patrons above $100 will still be added to the next edition's prize pool! I already surpassed $100 going into August as well so there is still funding thankfully! Since I'll be moving to Korea on the 13th, I'll need some time to adjust and settle in so I don't think I'll be able to do a tournament in August. I should hopefully be setup by September and since I'll actually be in Korea then I might try to organize a double prize pool tournament with more players as well! We'll see



Thanks again for any support and I hope you all tune in to watch!