Arena MSL 2008 - Round of 8 - Group D


On Thursday the final MSL quarterfinal match took place between two fine terran players in Flash and Lomo. Flash of course needs no introduction, and came into the day looking to keep his major title hopes alive for this season. Lomo on the other hand was the least known of the four terran in the quarters, and had nothing to lose in this best-of-five series.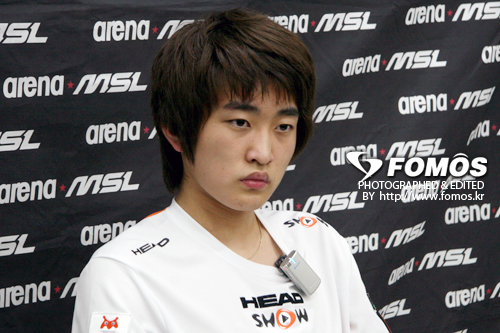 After destroying the month of May with near perfection, Flash has looked... dare I say mortal? in the month of June. He was a mere 6-6, and going into the night he had lost two straight matches TvT on Othello, the map that would be played twice in the series if necessary. While getting knocked out of the OSL could be considered a blip on the radar, getting eliminated in both leagues would be cause for concern.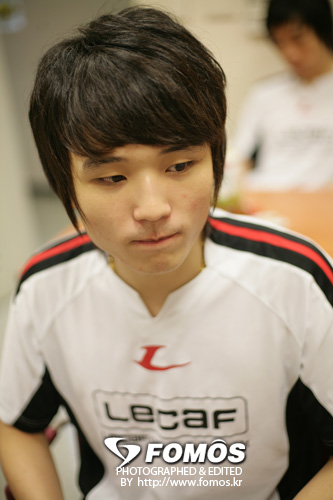 Lomo had almost disappeared from the map between the end of last season and the MSL, but after turning in two strong games in Survivor he has not looked back. A seven game win streak boosted him into the playoffs where he quickly dispatched Kwanro with some nice play. His TvT is only 8-9 however, so he stands with a tall test ahead of him.



Arena MSL 2008 - Round of 8 - Group D
Lomo vs
Flash
vs
1st set :

Othello+ Show Spoiler [Game notes] +

Lomo got a little bit greedy at the beginning of the match and that small window of opportunity was all Flash needed to push his way up and halt that early CC. From that point on it was all Lee Young Ho taking advantage of his greater resources and timing. Lomo never even got a unit inside Flash's base.

Not that he stood much of a chance anyway, but I thought the switch to two port doomed any chance of Lomo pulling out a comeback. He was already behind, and researching cloak for his wraiths guaranteed he couldn't force Flash's tanks back. The wraiths were annoying but the tanks did the damage.

2nd set :

Tiamat+ Show Spoiler [Game notes] +

Well, it didn't take long for Lomo to even this one up. Flash searched everywhere for the rax except in his own base. His defense was rather uninspired and he perhaps could have used his bunker to better effect if it was in a better spot. On the other hand, Lomo got the victory but didn't exactly exude confidence while doing so.

3rd set :

Athena + Show Spoiler [Game notes] +

Where Lomo in game 2 felt cheesy, Flash in game 3 felt perfect. Taking a page from Boxer's book he pulled out the bunker/expo in TvT to get miles ahead of Lomo off the start. The repairing of the bunker was cute and bought him precious seconds while his extra CC easily made up for any scv losses from Lomo's lonely wraith. The timing was perfect, and Lomo walked into two tanks and a platoon of marines 5 seconds too late. Flash switched up to wraiths with his front secure and it was quickly GG.

4th set :

Colosseum+ Show Spoiler [Game notes] +

Aaaaand... they switch roles. Much like the last one this was a real rock paper scissors game which came down to the TvT reaction to a very fast cc. Unlike Lomo in the last game though, who scouted the CC quickly after the rax, Flash scouted the wrong way and it really cost him. Killing the marines with his vultures should have been a huge boom for him but the goliaths came quickly and he just could not do enough damage with his wraiths. After falling behind, Flash could not seem to decide whether to attack or defend and expo, leaving himself badly out of position for many of the battles. Very "un-Flash-like" tactics in this game.

A nice point is that when Flash was killing the scv making the academy, a lone marine came over on a suicide mission. The two wraiths took two shots each at the marine, and then Flash pulled one of them away to focus on the scv again as the last single shot from the other killed the marine. A progamer wastes nothing ^^


5th set :

Othellohttp://jp.youtube.com/watch?v=-1dX629NHO4+ Show Spoiler [Game notes] +

The fifth game was so tense, and so close. Everything came down to one attack at the 8:40 mark where Lomo's 2 port decision would go against Flash's faster CC. Unfortunately, Lomo's micro was not up for it, and goliaths backed up Flash's airforce. Lomo repeatedly lost wraiths for nothing and soon found himself down an expansion and out of position. From them on it was a matter of finishing the job which Flash is so adept at doing.




The rest of the tournament is pregnant with story lines. Flash is out for revenge against the Legend Killer and is going to do it one teammate at a time. Just as Jaedong earned his nickname for defeating Reach, ChoJJa, and other KTF legends past and present, Flash is going to earn his own new name: The Wizard of Oz. Lomo is down. ForGG is next. Jaedong stands on the other side of the bracket. Can Flash murder the entire Lecaf Oz team? Find out next week.

Mani

Youtube VODs courtesy of Jon747 aka Baezzi