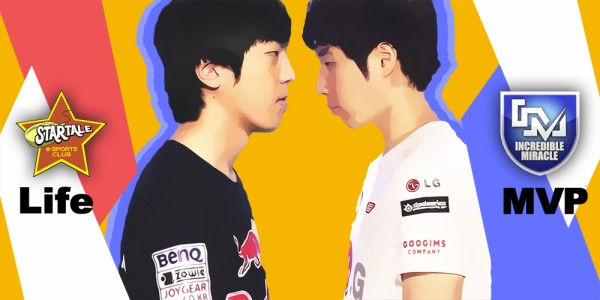 2012 Code S Season 4 Grand Finals

Startale Life vs.
LG-IM Mvp
October 20th, 06:00 GMT (+00:00) at Seoul COEX Center
(Cloud Kingdom - Entombed Valley - Antiga Shipyard - Whirlwind - Abyssal City - Ohana - Daybreak)
Rules of the Game of Life

By: Fionn
1. You Must Win
Q: Tell us your mindset going into the finals.
A: Honestly, it's my first finals and I don't have much to say yet. All I know is that I'm going to win.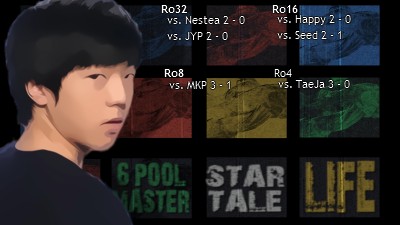 That exchange is Life in a nutshell. He's young, brash, and will never back down from a question. During the day, he is a simple middle school student trying to get by and finish his final year. During the night, he is either practicing (which in Life's case is often simply laddering), or playing in a tournament where he dominates players who are five to ten years his senior (in the case of Nestea, fourteen). He's an unconventional player that has only started to realize his true potential during summer break, when was tossed into a practice environment provided by one of the best teams in the world in Startale.
While Life is truly a spectacle, and a unique character, there are two people that you can compare him to. First, you have to look no further than down the line of computers in the Startale practice room to see Squirtle, the last Startale player to take a shot at finally getting his team a championship in the GSL. Similar to his new teammate Life, Squirtle was once a royal roader. Coming into his first season of Code S after a killer second place run at IPL4, the expectations were high for the Startale Protoss.
Squirtle had an eerily similar road to the finals as Life. Life only dropped one game in the first two group stages, that being to the defending champion Seed. Squirtle only dropped one game in the first two group stages against the Blizzard Cup champion MMA. In the quarterfinals, Squirtle crushed a strong Terran opponent, Taeja, into dust and waltzed his way into the semifinals. Life did almost the same to a tough Terran opponent in MarineKing, but dropped the first game of the series before winning three straight in easy fashion. They both slaughtered a poor Liquid member in the semifinals - Squirtle beating up HerO and Life mauling Taeja - and made their ways into the final with the glory of the Royal Road on their minds.
Winning means everything. Unfortunately for Squirtle, it also means everything to win last. The fourteen wins in a row? The romps against Taeja and Hero? The incredible near-comeback 0 - 3 down in the finals? It was all for nothing.
Squirtle battled valiantly against Mvp, but couldn't get it done against the greatest Starcraft 2 player of all-time. What could have been a springboard to super-stardom for Squirtle, and a chance to be the first Protoss champion in almost over a year, turned one more second place finish for Startale, and a one way ticket to the back of the line behind players like MC, Seed, and now even by.Rain.
Mvp cheesed his way through that season and rarely came close to administering the kind of beat-downs Squirtle dished out in his games. He was broken down, injured, and had to use his brains to get to the top. Even in the final game, summing up the entire season, letting Squirtle tie up the series with three straigh wins, he went for an all-in that failed. Seeing his all-in fail once, Mvp went for a second all-in, caught Squirtle over extending, and took home his fourth title. It didn't matter how well Squirtle played up to that final point in game seven when it looked like he would become champion. In the world of sports, the only thing people care about who holds the trophy at the end of the night. Mvp had the trophy and Squirtle had to linger in his booth wondering what if.
Do you think Mvp cares that he won through all-ins and wacky strategies? Do you think he sits up at night, pondering if what he did was the right thing for e-sports and putting on the best final game possible? Hell no. He's Mvp. He's going to go down as the best Wings of Liberty player in history, win or lose Saturday. This is the mindset that Life will have to go up against and match if he wants to not only become a champion, but fulfill his ultimate potential.
Squirtle is an amazing player, one with a quiet confidence that makes you believe he has what it takes to be a champion. He put on truly one of the greatest seasons of all-time in Code S history, but it was all for naught. All we will remember years from now is that he was a temporary obstacle before Mvp got to pin the fourth golden badge on his uniform. Life must learn from Squirtle's mistakes before he becomes the fifth.
2. You Must Always Strive For More
Like I said, there are two players you can compare Life to. The second player hasn't been playing Starcraft 2 for very long.
The only player in Starcraft history that can know what Life is going in this lead-up the grand finals as a fifteen-year-old middle school student is currently twenty, has a golden mouse in his possession, and is considered the greatest player in Brood War's history. Yes, I'm talking about Flash.
Both started their careers on teams they would never deliver a trophy to. Flash, who is synonymous with KT Rolster, was actually was drafted by WeMade Fox and transferred shortly before he made his official debut. Life began his career on ZeNEX, playing very casually on the squad during the school year and mainly getting his practice done through ladder. It was not until Startale absorbed ZeNex that Life could finally begin his journey down the Royal Road.
Another similarity between the two is how both were initially more well-known for cheesy play than the stellar late game ability they would later show. It would be easy for people who didn't follow Brood War, or started following it late, to think that Flash was considered 'God' or a genius from the very start. Instead, he was known as "that cheesy brat" in his early career, getting bashed by fans for taking down bigger named players with a boring, cheesy play style that didn't create the greatest games. Similarly, Life first gained notoriety with his quick lairs, six pools, and unorthodox early game play that tried to end games before they could reach the mid-game (though in Life's case, he was more celebrated than vilified).
Flash, of course, shed his image as cheesy player as time went on, and became hailed for his brilliant... ...everything. Life, who is still not afraid to throw a 6 pool out at any moment, has now proven that he can beat, destroy and toy with the best players in the world in the late game. Like many a championship player, Flash and Life share the love of throwing in a cheese in a long series, knowing that it gives them a psychological edge, and having the confidence that they will either win or gain a big advantage.
Age at time of first finals
Time from debut to first finals
Record from debut to first finals
Flash
15 years, 8 months, 11 days
338 days
44 wins, 31 losses
(OSL, MSL, PL, 59%)
Life
15 years, 9 months, 10 days
267 days
29 wins, 12 losses
(GSL and GSTL, 71%)
If Life wins on Saturday, he will join Flash as the only 15-year-old to ever win a major Korean Starcraft league, but will still be beaten by a month's time.
Looking how fast it took each player to reach the finals after their debuts, Life actually has Flash beat by a month. Flash made his debut by beating Light in his first OSL, but he didn't go on to win the title, losing to eventual champion GGplay in the semifinals in a close 2 – 3 loss. Life made his debut in GSTL for ZeNex, getting beaten by Supernova and starting his career with a loss.
In terms of actual results from their debut to first finals, Life has the edge, but you have to remember Flash played a lot more games, was constantly in two leagues at once, and had to routinely play two times a week in Proleague almost as soon as he started. Life's record has been astonishing so far, going 14 – 2 heading into the finals against Mvp, but he's almost certainly benefiting from having a small sample size of games (long-term win rates in the 70's are extremely rare).
All these comparisons don't mean Life is as good as Flash. They are both prodigies in the games they started in, but Life's story is still only just beginning. The prologue to the story matches up well, but that doesn't mean the later chapters will be similar at all. Flash ended Brood War with six major titles, two Proleague championships, MVP awards, and countless accolades. Life hasn't won anything yet. No GSTL titles, no GSL championships, and no real accomplishments except for a second place finish in the online TSL4 tournament. Life has a long way to go, but he must reach for the stars if he wants to become the best.
3. You Must Have Variety
Throughout this season, Life has used his mid-game ling/bane aggression to destroy Terran opponents. If you think you can be aggressive against Life, you're wrong. MarineKingPrime, who loves to set the pace of the game, found this out the wrong way. Life thanked MKP for the troop donations whenever there was an attack, while his lings and banelings wrecked the unprotected Terran economy. Any time an opponent has left his door unlocked during an attack, Life has been there to knock down depots with banelings ravage workers with zerglings.
Mvp is certainly not MarineKing, and he isn't Taeja or Happy either. MarineKing and Mvp play polar opposite styles, meaning that Life isn't to find Mvp strolling in the middle of the map when there's no defenses at home. Also, MarineKing is the player you could say is the easiest to tilt out of the top-tier players in the world. Mvp is someone who is almost impossible to put off his game. Dance your zerglings and create manner hatcheries? Go ahead, he'll stick to his plan and go into the next game with a clear mind.
He will be ready for Life. Mvp has been given a week and a half to watch all the games Life has played against Terran in the GSL and online competitions. Already known for his superb defense and careful play, Mvp will be the biggest and toughest test Life will have ever faced in his career. MarineKing and Taeja are both top of the line players who have achieved international success, but there is a reason why they have zero GSL championships to Mvp's four.
If Life is as good as he thinks he is, and has the gall to call out Mvp, to say that he isn't good enough in a macro game to beat him, it won't be enough to show up with just his full arsenal of strategies. He'll need to bring things Mvp has never seen.
4. You Must Always Be Confident
In terms of confidence, Life lands in a zone that is presently occupied by only one other player in the world. Let's break down the five zones of confidence in the Starcraft 2:
Level One (The Humble Zone):
The most well-known inhabitants of this level would be SKTelecom's Rain and Life's opponent in the finals, Mvp. When asked how they're so amazing and destroy everyone, both laugh, say they're awful in practice, that they were lucky, and they need to get better.
Level Two (The Average Zone):
This is where most players land. They will promise good games, thank the fans for coming out, and differ on their confidence depending on who they are facing. They don't constantly pretend they're bad like the players in level one, but loathe to instigate anything.
Level Three (The Entertainers Zone):
Parting, MarineKing, Bomber and others are in this zone. They will pull out crazy celebrations, speak freely in interviews, and boast confidently if they're on a good streak. Historically, these are the players who actually take losing the hardest. They will play to the crowd, but don't have the same confidence level as the people in our next class.
Level Four (The Irrational Confidence Zone):
These guys think that even in if they're in a Bo13 and down 0 – 6, they can come back and win seven straight. This is where a lot of our former GSL champions are at. Seed, MC, Polt, DRG, MMA, and others have a fighting spirit and never-say-die attitude that make them think they can come back from any disadvantage. Seed and MC moonlight as entertainers, but have shown they know how to get it done in a GSL finals.
Level Five (The Lifephano Zone):
This is a zone where only two people share a room: Life and Stephano. It's a zone where total apathy and total confidence become hard to distinguish. Neither player seems to care who their opponent is, what tournament they're at, or what the score is. The difference might be that Stephano doesn't even seem to care about
winning
at some moments, whereas Life still wants to win at all costs (unless the Korean government is kicking him off the internet).
5. You Must Win
The final rule to the game of Life is the same as the first. He must win. He called out Mvp and Rain, said they weren't good enough to beat him, and then said he was going to win the championship as a reply to every other question in his winner interview after beating Taeja. Unlike Parting, his teammate who threw rocks at the house of Mvp, Life is not playing a character or trying to simply hype up a final. When he says he thinks Mvp can't beat him, he really expects to crush the best player of all time into the ground.
Remember the first GSL final two years ago between FruitDealer and Rainbow? Neither went on to do much after the first Open season, but how are they remembered now? FruitDealer, the first champion, is still remembered by Blizzard, given an homage in the new World of Warcraft expansion, and is still, even after retiring and moving on to League of Legends, a name that will never be forgotten in the history of Starcraft 2. Rainbow? He might have actually had a better SC2 career than FruitDealer after the initial finals, but did it really matter? The two have entirely different legacies.
Rainbow started the Startale second place curse. Him, July, and Squirtle have all been in finals, and they have been dispatched by FruitDealer, MC, and Mvp, three champions that had their careers defined by GSL championships. If Life wins on Saturday, he will go down as the breaker of the Kongtale curse, the youngest GSL champion of all-time, and be the first to finish the walk down the Royal Road.
So, Life, you going to win?
Q: You and MVP are both aggressive in style so do you think that works in your favour?
A: I haven't studied MVP much so I can't say. I'm still going to win though.
He's going to win.
The Most Valuable Champion

By: Waxangel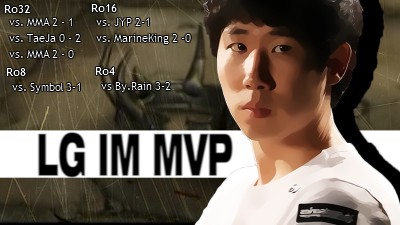 Around this time last year, I was writing an article about Mvp that was defending him against arguments that he was boring, claims that he was going to get swept aside by KeSPA players, and against those who downplayed his success as piggybacking on the Terran wave. Basically, the point was to tell people that they should appreciate Mvp some more. Funny how things change.
As he heads into his sixth GSL final ever, Mvp is overwhelmingly and with no lack of certainty, the people's champion. Sure, some Zerg supporters and hipster fans will be in Life's corner. But for the most part, people want to see Mvp's fifth championship, not the first Royal Road. This is the same guy who last year, was called "Jung Sleepy" in Korea for his soporific games, blamed for slowing every Terran match-up to a crawl, and was rarely the seat-filler at a GSL event. What happened?
Maybe it's because people like seeing history be made. When Mvp beat MKP for his first championship in January of 2011, history didn't even exist. After more finals came and went, after more championships were won and lost, we came to realize that the first meeting between Mvp and MKP was meaningful, that it was the start of two defining legacies. But at that moment, it was just the worst final ever.
One, two, and three championships are significant, but those are achievements that have been matched by others. Four and above are the sole realm of Mvp, and something we may never seen again in Starcraft 2. Not surprisingly, Mvp supporters and Starcraft II fans alike showed up in droves to see him break his tie with Nestea and take a record fourth championship against Squirtle. On Saturday, even more are likely to show to see if Mvp can take a fifth championship and put himself completely out of reach of others.
After all, who doesn't want to be there when the first Starcraft 2
Bonjwa
is crowned? Actually, calling Mvp a Bonjwa would be demeaning. Bonjwa was a word made after professional Brood War was over seven years old, when people needed a word to classify a group of great players who had similar stature. If Mvp succeeds at taking his fifth GSL championship, then there won't be any peers worth comparing him to. He will set himself far apart from all other players, almost certain to never be surpassed. It's safe to say, that's not the kind of history you see being made on a regular basis, and is the kind of history worth getting behind.
The IM_Mvp finals chart.
*Blizzcon buff.
Maybe it's because no one really likes perfection. It's not that people can never empathize with a nearly flawless, almost robotic player (hello, Flash). But for them to do so, the player has to at least show a human side outside the game. In Mvp's case, he was modest and reserved to a fault. His matter-of-fact way of saying things would have been seen as haughty and overconfident coming from a player with actual flaws (and in a good way!), but with Mvp's ability to back up everything he said with results, it just seemed like he was stating the facts when he proclaimed a victory. Somehow, interest in cash can make other players endearing, while Mvp's frank admittance that he switched to SC2 for the money made him a less compelling character.
While Mvp's attitude hasn't really changed that much, he's been forcefully humanized by outside events. Heck, they've done more than humanize him, they've made him the lead role in a Hollywood sports movie. Once a champion on top of the world, Mvp was crippled by injury (his famous wrist problems) and plummeted rapidly before nearly hitting rock bottom (dropping out of MLG Winter Arena and Code S Season One early). Yet, the old champion found a way to overcome his physical limitations, and used his veteran savvy to defeat the brash, young stars who foolishly thought his time had passed (Code S Season Two). You couldn't have scripted it better.
However, it's not like the championship in Code S Season Two signaled a triumphant return to normalcy for Mvp. Not long after, Mvp went to HomeStory Cup 5 where he was knocked out of the Ro16 by players like Ret and Naama. It was an embarrassing loss for the four-time champion, but it was an important reminder that he could lose, and made him all the more easier cheer for. The player who actually had to struggle to be good was someone fans could relate to, unlike the juggernaut who seemed to effortlessly win every tournament in 2011.
In the midst of it all, one has to wonder what Mvp thinks of his new-found popularity, especially in Korea (he always seemed to have more fans internationally, but he loathes to travel abroad). It's been a long time since he gave that interview where he said money was the original motive for his switch to SC2, and he seems to have become more interested in his legacy as of late. At the very least, it must amuse him to have changed places with his old opponents who went up against his 2011 self. The 2011 Mvp was the establishment, the evil empire that could only be toppled by underdogs as resourceful as the 2012 Mvp.
Maybe it's because we're fascinated by the supernatural. In 2011, Mvp beat everyone because he was better. When I say better, I mean it in the IdrA sense of the word: what everything visible to the naked eye, every bit of data that can be extracted from a replay, everything our analytic faculties tell us about who should be the winner. And in 2012, Life is better than Mvp. Much better.
Yet, the majority of people think Mvp will win. Maybe 'believe' would be a better word than 'think.' Whatever Mvp has that's letting him win games, though his wrists are broken down and he looks like a mere shade of his former self, is like magic (some people like to call it 'intangibles'). Units move, resources are mined, casters yell, Mvp casts a spell – and he's won the game.
Of course, it's not really magic – just some deeply sophisticated function of Mvp's psychology and strategic mind. However, Mvp is the only person who seems to be capable of operating on that intellectual level, and he's content enough to just be modest about it, and not delve into the details of something we probably couldn't understand anyway.
And by all means, things are better this way. What fun would it have been in Season Two, if the 'better' player Squirtle had won against Mvp? That would just have been a continuation of the same pattern for the umpteenth GSL finals, rendering the league terribly predictable. There's a reason statistical analysis is both loved and hated in traditional sports, and esports isn't all that different. As viewers and players, Starcraft 2 fans claim they want predictable and scientific StarCraft 2, and regularly lament the lack of more knowledgeable casters. But at the same time, we all enjoy our weekly services at the church of Mvp.
Or maybe it's because we're realizing things don't last forever. In 2011, there wasn't any concept of old. To become familiar with the idea, we had to see that even for the best of players, there was inevitably a fall to come. We're getting used to the idea that things won't always be great, and sometimes they're actually just going to get worse. We're realizing that things can't be taken for granted, and that when something truly inspiring comes along, you have to grab it and cherish it while you can. We know that we have to love Mvp while he lasts.
Predictions

By: Progamers and Writers
With Mvp in the mix, a traditional breakdown becomes a bit pointless. Everyone seems to know that Life looks like the better player in almost every department: whether it's strategy, tactics, or mechanics. The problem is, Mvp is ahead in the "being Mvp" department, which means he wipes out whatever conventional analysis would suggest. If Mvp is allowed to do Mvp things, then Life will lose, just like PartinG, Squirtle, Symbol, and Rain before him. If Life is the antidote, a prodigy so bright that he is immune to Mvp's magic, then he should be able to crush Mvp.
Anyway, we asked some pros to do our work for us.
Progamer Predictions

Liquid`Zenio: Mvp 4
- 2 Life
"Mvp prepares extremely well for multi-game series, so I think he will win 4 - 2."

Liquid`Sheth: Mvp 4
- 2 Life
"Life is good, but in big games, it comes down to confidence, and MVP has it."

TSL_Hyun: Life 4
- 3 Mvp
"I think Life will win 4 - 3. Maps are good for Zerg these days o,.o"

aTn.DarKFoRcE: Life 4
- 3 Mvp
"Mvp has health problems, just the chance it gets worse makes me think Life is the favorite. Mvp just has more stuff to deal with than Life."

Quantic.TheStC: Mvp 4
- 2 Life
"Life has been playing well lately and has a lot of momentum, but Mvp's strength is preparing well for his opponent's style. It's a Bo7 and Mvp is extremely good at strategizing* for such series, so I think he will win."

Liquid`TaeJa: Mvp 4
- 3 Life
"Mvp is extremely good at strategizing for multi-game series, so I think he will win by about 4 - 3."

???_MMA: Copped out
"I think it's really 50/50. Life's mechanics are way ahead, but Mvp is just different in tournaments. It will all depend on how Mvp prepares."

iS.Axslav: Life 4
- 1 Mvp
"Mvp will most likely opt for mainly bio strats which Life's macro and choice of engagements will be too strong for. If Mvp goes mech I expect a very close match, 4 - 3 either way."

Axiom.Crank: Mvp 4
- 2 Life
"From the play we've seen lately, it might seem like Life has a big advantage. However, Mvp is a different player in multi-game series and on big stages, so I think he will win."

Grubby: Mvp 4
- 2 Life
"I think MVP is going to win because Life hasn't met anyone who's been comfortable with being uncomfortable yet. MVP has shown he can do that. Plus, with MVP's injuries, he's been forced to relegate his practice to be a lot of mind-training. That may just happen to be the most perfect preparation for an opponent like Life.
Predicting MVP to win 4-2, with the first real Terran
Bonjwa
being born!
(let's say I'm right, I'm gonna push my luck a bit by predicting the score order.
MVP 1-0 Life
MVP 1-1 Life
MVP 1-2 Life
MVP 2-2 Life
MVP 3-2 Life
MVP 4-2 Life)"
*Korean players used the word Panjjagi (판짜기) to describe Mvp's ability to prepare for series. Panjjagi roughly means, 'draw a picture,' 'lay out a plan,' or 'strategize.'
WritersFionn: Life 4
- 1 Mvp
"Life is a real life prodigy, something we truly haven't witnessed since Flash, and it's his time to take over as Heart of the Swarm approaches."
monk.: Mvp 4
- 2 Life
"Four time champion, +Startale second place curse."
Pokebunny: Life 4
- 3 Mvp
"This match could really go either way: Mvp's TvZ and long-series play have always been excellent, but Life has shown a spark we haven't seen in a while."
Porcelina: Mvp 4
- 3 Life
"IM players win finals. Startale players lose finals."
stuchiu: Mvp 4
- 3 Life
"4-3 MVP. It's MVP lol, cya next GSL."
Waxangel: Mvp 4
- 2 Life
"Technically, I'm not allowed to predict against Mvp in public."
Ver: Mvp 4
- 2 Life
"I think Mvp will win because i think life will try his random timings too much, instead of just turtle infest-brood."
Overall
Mvp: 11
Life: 5
Undecided: 1
---
Writers: Fionn and Waxangel.
Graphics and Art: GomTV, Meko and shiroiusagi.
Editors: Waxangel.

Special thanks to everyone who submitted a prediction!