Another week slips by and we drift toward the inexorable end of the season, bringing about even more exciting Brood War for us fans to enjoy and new creepy mascots to molest fans during the games. The real highlight of the week should be immediately apparent, KT has finally been deposed, knocked from its number one spot on the ladder by a hungry Khan. While Flash still managed to be the unassailable titan we've come to expect, the rest of his team was bested by the unassuming Khan line-up in impressive fashion.
With around five weeks of competition remaining before we reach the playoffs, almost all of the teams (sorry Ace) seem to be poised to swoop in and win a prized place in the playoffs. This round will help determine which teams deserve to fight for the championship in the first season of the SK Planet proleague and which teams can't take the pressure. I know I can't wait to see how it turns out.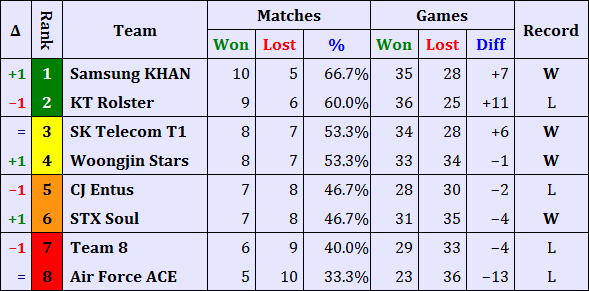 You'll probably notice that we've made some pretty drastic changes to the way the SPL news post works this week. Specifically, the implementation of a page-style layout as opposed to the usual pages-long scroll-fest we provide. Here at the SPL team we try our best to make our write-up look the best it possibly can, usually with cool graphics, pictures and clean layouts. We're hoping that this could be the next step in making the coverage we work hard to bring you easier to read. That being said, we do this for you, the readers, and as such it is your opinion that counts; I'd like to ask you to please leave as much feedback as possible for us about the style change.
Do you like the new tabbed layout? Do you hate it? Let us know!
Finally let's take a look at the content that's featured in this week's update. As usual, we've got
recaps of last week's games
to catch you up on just what happened this week, along with a selection of the
top five games
you should watch. We have a battle report by the talented live-reporter Hyde, giving you the heads up on the
Turn vs Stats
game. Carnivorous Sheep has once again provided another episode in his
Team Spotlight
series, this time featuring KT Rolster. Kiett got creative with some of the funny games of this week with
two amazing masterpieces.
Finally with Mustaju out sick we've had Hyde and myself fill in in an effort to try and improve the woeful prediction score with
previews of next week's games.
So don't wait around, click the contents or the navigation bar below to get started enjoying this feast of Brood War content!
--Kiante
Recaps, Round 2 Week 6 and Round 3 Week 1

By: Kiante


In the last day of round two, we saw KT finally take its second loss after being on a five game winning streak. More importantly, this series put Khan within spitting distance of seizing the first place position from KT, which has been on top for so long. Khan started the series strong, taking a two-game lead thanks to stout play from Brave and Jangbi. Brave bested Hoejja, defending against his drop play with ease and rolling over his Zerg opponent with a two-base timing attack. Similarly Jangbi also won a PvZ against Action, who has been in similarly poor form lately. Action attempted to contain jangbi with lurkers and sunken colonies, but Jangbi was having none of it, making four reavers and slowly pushing his way out of the contain to take the victory.

KT struck back with their star players Flash and Stats taking victories of their own. Stats easily dealt with Roro, busting him with zealots, archons and corsairs while Roro had only ineffectual mutalisks with which to mount a defense. Flash took a win over Stork in an exciting game, involving cliff drops, reavers, scouts, carriers and Flash's unnerving ability to win games whenever he pleases. Unfortunately for KT, the comeback was not to be, with Reality coming out to seal the victory for his team by taking down Mind. Reality utilised the power of a single tank to counter Mind's pure vulture play to put himself at a huge advantage and take the game quickly thereafter.



Team 8 continued its gradual rise from the bottom of the rankings with a victory over a once again disappointing STX Soul, which continues its round two slump. Jaehoon came out first and took down Calm quite easily on Chain Reaction, which has seen good times for Protoss against Zerg. Calm attempted to use hydralisks to secure a fourth base but Jaehoon was more than capable of busting him down and taking the win. STX quickly levelled the scores with their resident five pooler taking an easy win against Tyson, in what could only be described as a monumental failure. Jaedong continued his own resurgence (perhaps in reaction to being bumped off the Power Rank) with an exciting win over Modesty, despite being left at something of a disadvantage by his opening build order. Finally Baby sealed the series for his team taking down Last in the sort of dominant showing we all know Baby is capable of, despite his not showing it much this season.



On paper this series looks like a simple three nil white wash of Ace, but the games themselves tell a different story. Each game was hard fought and, while Ace eventually lost, its players definitely deserve respect for their performances. Iris was the first to fall for Ace, playing an extremely long TvP against Shy. In a see-sawing game, Iris almost managed to break down Shy's fifth base, but with good arbiter usage Shy was able to pull the game back, recalling incessantly and claiming the win. Great was sent out next by Ace and was unfortunate enough to run into Light's TvZ. Great fought valiantly but Light's mech army in the late game proved too much for Great to handle, forcing him to concede. Finally Canata was taken out by Hon_sin. While the game lasted a long time, in typical Canata fashion, he was never able to wrest any real map control from the young Terran from Woongjin and eventually was forced to tap out, granting Stars a fantastic start to the round.




CJ continued its poor form from round two into round three with a quick defeat at the hands of SKT. They started out well, with Leta bamboozling Fantasy with a quirky two factory build and an expansion into wraith follow-up that Fantasy was unable to handle. Soo then turned the tables on CJ, busting down Movie's defenses with hydras after sniping one of Movie's shuttles with a reaver inside. Best exercised his considerable PvZ skills to take down Effort in an exciting game, with Effort seeming unwilling to progress to hive-tech and despite winning a few battles and breaking down Best's back expansion, was unable to hold up against the constant streams of Protoss units.

Finally, Sun took down Horang2 in what was a bizarre dragoon-on-dragoon encounter. Sun had been building off a single gateway while Horang2 went for a three gateway bust, but somehow Sun was able to beat down Horang2's initial assault by simply having superior micro. It was a dominating performance from SKT, whose players will need to remain in tip-top shape in order to secure their spot in the playoffs.


IIn the much-hyped rematch between the two titans at the top of the table, the number one spot would be decided. Khan showed that it deserves its place at the top of the pack, taking down KT again in the space of less than a week. Stork was the first out of the blocks for KT and this time, instead of being matched against Flash, he was gifted with a game against Action. Stork took no time in exerting his dominance, easily rolling over Action's defences with a zealot timing attack, combined with archons and corsairs. Brave came out on his favourite map, Chain Reaction, and ran into Wooki attempting to emulate the build order that Jaehoon used against Best the week before last. Unfortunately for him, Brave had no problems busting down Wooki's early expansion attempt with some excellent reaver/shuttle control.

Reality was the poor sod unlucky enough to be matched against Flash, and he was summarily destroyed by an early bunker push catching him off guard, losing too many SCV's to remain realistically competitive in the game thereafter. Finally for Khan, Turn took down Stats in an exciting game, with Stats' manner pylons shaking up the young Terran who responded with a modified deep six build to crush Stats (despite the build being scouted by an observer). It was a poor performance from the rest of KT, with comparisons to the "KT Flash" of old becoming more and more common.



Let's be honest here, Team 8 choked. After being up two games in the series against STX, with incredibly impressive performances from Baby and Jaedong, it managed to throw the series away with a number of both unlucky and disappointing displays of Brood War. Baby was the first out for Team 8 and played an exciting TvT against Bogus. Baby won the game through superior control of the unoccupied main bases on the map and simply didn't allow bogus to break him down despite his defences being quite widely dispersed. Jaedong was the next out and, although his double hydra den bust failed somewhat to Mini's reaver defences, he was able to drag the game back into his favour with incredible mutalisk control, keeping Mini's templar nice and dead so his hydras could reign supreme.

Calm brought back the series for STX with an easy win over Killer – a simple ten-hatch ling bust. Sea then looked to be poor sorts against Dear, sitting passively on three bases while Dear took the map, and pushing ineffectively to give STX another win. Finally Hyvaa showed an impressive game against Jaehoon, and despite losing what seemed like countless numbers of drones throughout the game to Jaehoon's impressive harass, he was always able to take the victories in the on field battles, and eventually overcame the captain of Team 8 to give STX a fighting shot at a playoffs berth.





Top 5 Games of the Week


Because awesome games deserve another watch
By Kiante
5

BaBy vs Bogus on Ground Zero






Personally, I've never been a huge fan of TvT. It's one of those matchups that takes monumental concentration just to watch and comprehend. Over the years, though, I've slowly warmed to the matchup. Particularly intriguing are the ways that the games can swing back and forth, incorporating insane tech switches at a moment's notice. This particular match features some truly great play from both sides; watch this game to help get a sense of just how much Terrans have to do to play the matchup effectively. It gives the impression of a work of art being slowly drawn together as you watch.

I'd like to take a second to encourage you to watch the vods before you read the text below if you haven't watched the games. While I have attempted not to spoil the results, I cant promise anything. That said, if you have seen the games, go and watch them again! They're awesome.
4




It is not often that a ZvZ finds its way onto a list of recommended games, so when it does you know that something really special happened. While we haven't yet seen any of the hive-tech ZvZ's that were becoming more common last season, sometimes a lair-tech game can still make itself stand out. In this case, we get to experience the art of recovery. One of the beauties of Brood War is that deficits can be overcome, allowing a superior player on the receiving end of a run of bad luck to win a game he rightfully deserves. While ZvZ's are usually decided on the back of a simple mutalisk battle, this game shows just how amazing ling micro can easily turn what should be a build order loss into an overwhelming victory. Watch for two lings dismantling what could have been an early game lead, and to top it off repeatedly blocking a spore colony from being built to give time for mutalisks to do their part more effectively. Enjoy.
3

Stork vs Flash on Ground Zero






Often when members of TBLS are matched up against one another the result can be underwhelming. Fortunately, this was not one of those occasions. Reasons why you need to go watch this game right now include Flash moving out of his base before 200/200, Stork making a scout, incredible reaver control, and sick macro all around. While the game's conclusion ended up being a little anticlimactic considering how exciting the rest of the match was, it doesn't detract from the overall quality of viewing experience. A worthy candidate for the number three spot this week.
2

Jaedong vs mini on Chain Reaction






Jaedong manages to feature in a second game on this week's top five, this time playing a ZvP against the up and coming Protoss from STX, Mini. This game is exciting from beginning to end, with one player managing to secure what would normally be recognized as a complete build order counter. Somehow, the game stretches out into the mid-game and the result is extremely exciting with the game resting on a knife-edge for most of its duration, epitomizing what makes PvZ such a compelling matchup for spectators.
1

TurN vs Stats on Sniper Ridge






When recommending a list of the five games I believe to be the best of this week there are a number of factors that weigh in to the decision-making. One of the factors that makes for extremely exciting games is uncommon strategies. While Turn and Stats didn't play the longest, most correct game of the week, they played what I believe is the most exciting. Without giving too much away, let me tease you by saying in this match you'll see units and strategies that you would normally only see in other matchups. Now stop reading this and go watch!
Turn vs Stats: Sniper Ridge


A battle report.
By: Hyde
The game begins normally, with both players making their barracks and gateway inside the main.
Stats scouts in the correct direction after his gateway. The probe arrives inside Turn's main to find the barracks under construction. Stats' probe then heads for the mineral line and plants a manner pylon, trapping an SCV and blocking off two mineral patches. Turn starts his factory as soon as possible, sending his marine to take out the hindering pylon. Stats continues his probe harass, attacking the SCV making the factory as he gets his own core up.
Both players take their natural expansions at roughly the same time. Turn adds a bunker to his natural as he sends out his first vulture. The vulture runs by a dragoon and attempts to head into the main. Having already anticipated an early vulture attack, Stats blocks off the ramp with a probe. The vulture is dealt with by dragoons shortly after.
That must be very annoying
Stats runs his probe into Turn's natural again, around the mineral line and into the main. Another manner pylon is placed at the mineral line, this time trapping three SCVs. Marines are called over to tear down the offending Protoss structure.
Two dragoons approach the natural and begin bombarding the bunker. SCVs are pulled to repair the damage. Before long, the first tank arrives and forces the goons to leave. Turn then does the unthinkable; he pulls SCVs off the mining line and constructs three barracks inside his main, while pumping more marines from his first. Meanwhile, Stats warps in more gateways and acquires an observatory.
An observer slowly heads into the main and over the barracks. Stats, caught off guard by this unorthodox build, immediately sends out his small goon force while he starts building his support bay and citadel.
The moment Stats finds out Turn is crazy. Thanks to Kiett for the gif
Stats' goons occupy the ridge outside Turn's base just as the Terran force moves out. Marines stim and engage the dragoons, tanks siege up and a small skirmish takes place. Dragoons pick off a few marines but are soon forced to retreat as tanks begin raining shells on the small Protoss army.
Two goons are lost as the retreat is ordered. More goons continue to fall on the trek back to base. Marines stim again and tanks continue their rain of destruction as they enter Stats' natural. Amid the chaos, Stats sent out a probe to establish a third base at five o'clock.
Marines and tanks occupy Stats' natural. A shuttle arrives to drop a reaver, the scarab heads straight into the marine group and blows five of them away. The shuttle-reaver micro continues as Stats attempts to repel the Terran's aggressive assault. More goons charge down the ramp, and all the while the reaver continues to deal damage to the tanks. However, with every drop, the marines and tanks manage to chip away at the Protoss support, eventually killing the reaver.
Stats pulls back his goons, and marines and medics dash up the ramp and into the main. Stats scrambles to get another reaver out, but marines rush over to the robotics, where the shuttle is about to pick up the reaver. The shuttle takes considerable damage from the marines but manages to ferry the reaver to safety. More marines are blown up as they attempt to kill the robotic slug.
Turn's onslaught is far from over, units continue to stream into Stats' main. Three dark templar spawn from the gateways and begin tearing into the tanks. A scan goes off, revealing the deadly assassins. The tanks fire back and all but one dark templar survive by jumping into the shuttle.
The reaver desperately tries to fend off the blitz, killing more marines and damaging the tanks. Eventually though, it's overwhelmed and succumbs to Terran fire.
The final struggle before defeat
Probes are pulled off the line as Stats struggles to defend his main. Dragoons join the probes in fighting off what seems to be an endless flow of Terran units. Turn breaches the main once more with his marines and tank, this time attacking the mineral line. The tank is picked off, but the probes and dragoons are no match for the marines.
Stats loses his last goon along with all his probes. With nothing left inside the main to resist Turn's onslaught, Stats concedes and leaves the game.
Team Spotlight: KT Rolster


Hard to lose with God on your side
By: Carnivorous Sheep
Traditionally, the art of the Proleague line-up is a thing of grace and finesse. It is a game full of subtleties, mind games, and gambits. At each coach's disposal is a dazzling arsenal of aces, snipers, and specialists, to be delicately arranged like pieces on a chessboard. Unfortunately for seven teams of the SK Planet 2011-2012 Proleague, their line-ups of bishops, knights, and rooks is forced, once every round, to face up against a queen.
This is where the strained chess metaphor falls apart, since in said queen's eyes, every other piece might as well be a pawn.
It's hard to offer any interesting new insight on KT Rolster. In plain view, for all to see, is Flash, God of Starcraft. As I mentioned in an earlier article, Flash is the closest thing to assured in professional Broodwar; no one in the history of the game has exhibited such dominance. I'm certain Coach Lee doesn't go a day without thanking some higher power for gifting Flash to his team. It is not unreasonable, when making predictions, to consider every opponent of KT as starting down one game, putting pressure on them to win three of the remaining four games. With Stats also maintaining an impressive 9-4 record, it is easy to see why KT sits firmly on top of the Proleague rankings.
It was during this past week that KT suffered their worst defeat since the beginning of the season. Losing twice in a row to Samsung Khan, is KT finally showing signs of weakness?
In a word, no.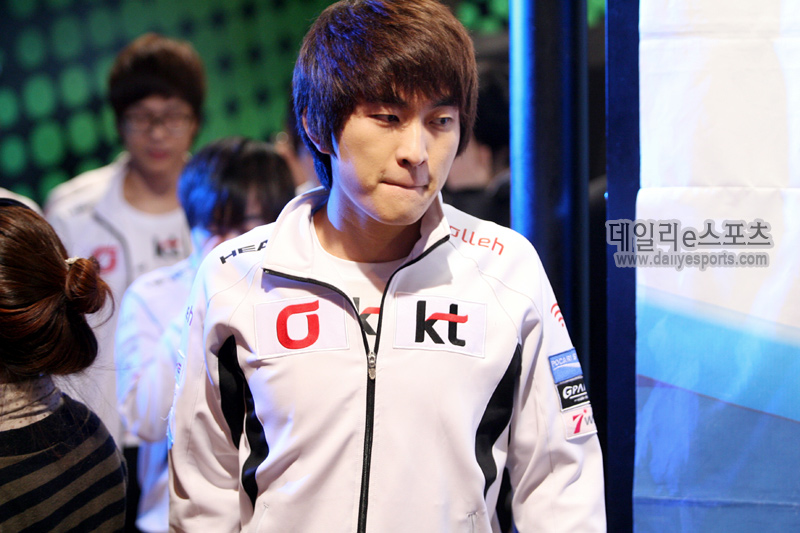 Flash is the unstoppable force. Unfortunately, there is no unmovable object to test Flash against. Jaedong and Bisu are both shadows of their former selves, and there isn't even another universally accepted S class player to speak of, let alone a God class level to pit against Flash. I would go as far as to say Flash is himself both the unstoppable force and the immovable object of the scene. He is simply that good, and, as long as Flash stands (with Stats' support), KT's banner flies high.
It is evident that the majority of us rejoiced at watching KT fall twice to Khan. It offered us a glimmer of hope – that KT is just another team, fallible and imperfect. However, it would be unwise to read too much into these defeats. As I mentioned in an earlier article, Khan is a very good team, and I have high hopes for them. Their defeat of KT is more an indication of their strength than a sign of KT's weakness.
Moreover, Flash still won both of his games in convincing fashion. Stork gave us a very exciting game, but looking beyond the marvelous defense, involving both scouts and some of the best reaver micro we've seen, Flash was still firmly in control of the game, and wasn't ever in true danger of losing. Reality was summarily dispatched, and Stats went a solid 1-1 with his loss to an extremely sharp looking Turn. KT's one-two punch of Flash and Stats shows no signs of slowing down, and no other team will put up as much of a challenge as Khan. That is not to say I predict KT to go undefeated the rest of the season, but it is to say that KT, barring major disaster, will most likely hold on to their rank one position.
KT is not infallible, but to overcome both Flash and Stats is a tremendous task. So far, no team has shown any success. Taking out all three of the remaining KT members is, in comparison, a far easier task – but the need to go 3-0 allows no room for error. Stats is in excellent form, and still seems human in comparison to Flash. 9-4 is
scary
. In a best of five, it is really no surprise that KT is the top dog.
In the end though, we are still in the world of Brood War. The weight of probable victory doesn't preclude the possibility of a loss; coach Lee may plan for Flash to go undefeated and help bring home another Proleague title, but you know what they say about the best laid plans of mice and men…
SPL Gallery


Immortalizing Moments in Brood War
By: Kiett
Vultures vs. The Reali-tank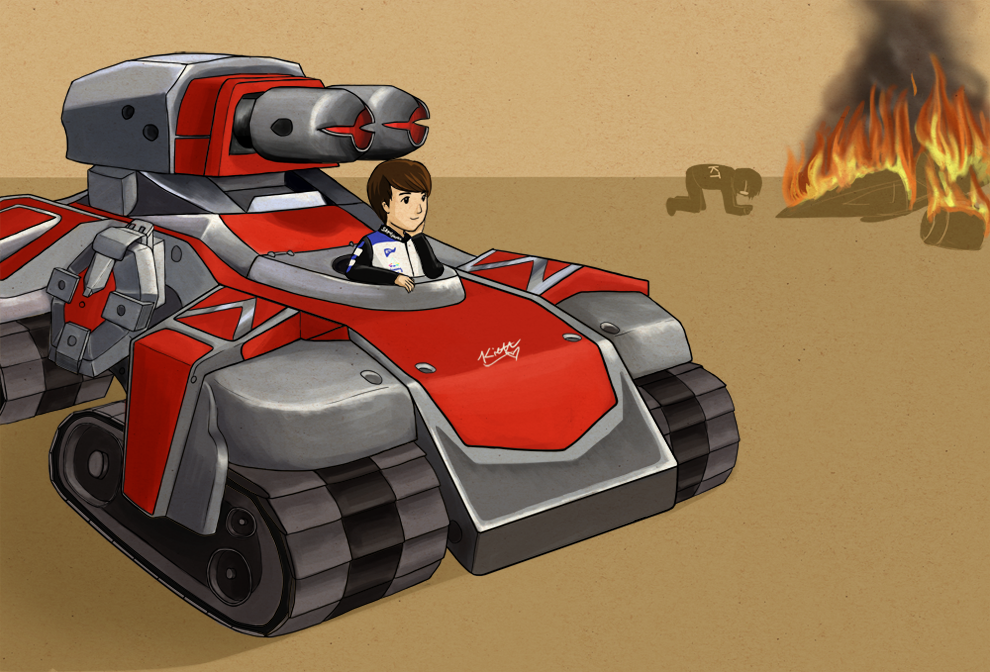 "Hey nice bike, bro. Too bad I'm in a tank."
from
Reality vs. Mind
The Reaver Master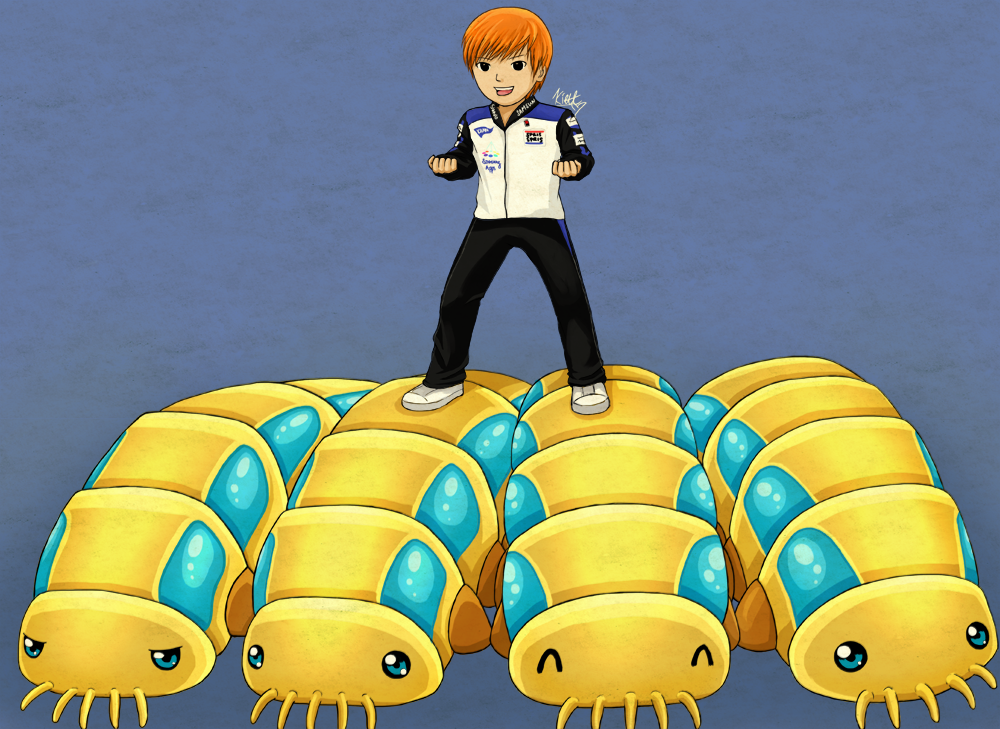 "I'll take your sunken contain and raise you a double robo."
from
Jangbi vs. Action
Previews, Round 3 Week 2

By: Hyde and Kiante
Current Proleague Prediction Challenge Progress:
Matches
Predicted
Actual
Gain/Loss
Current
-1
KT Rolster vs Samsung KHAN
3 - 1
2 - 3
-2
STX SouL vs Team 8
1 - 3
1 - 3
+3
Air Force ACE vs Woongjin Stars
2 - 3
0 - 3
0
CJ Entus vs SK Telecom T1
0 - 3
1 - 3
+1
KT Rolster vs Samsung Khan
3 - 2
1 - 3
-2
STX Soul vs Team 8
3 - 2
3 - 2
+3
Final
2
If I predict the winner and the result correctly, 3 points
If I predict the winner correctly, and the result is off by 1, 1 point
If I predict the winner correctly and the result is off by 2, 0 points
If I predict the winner wrong, and the result is off by 1, -1 points
If I predict the winner wrong and the result is off by more than one, -2 points.
Saturday, February 18th


STX SouL vs Woongjin Stars
On writing this, I feel these two teams are still rather unpredictable; both the Stars and STX have taken out stronger teams, yet there are still days where they fall flat on their faces and fail miserably. For instance, STX recently beat Team 8, but just a week ago lost to the exact same team in a terrible fashion.
I can never tell which side they'll show until the moment comes. The outcome will be determined by the match-ups, and I know that's a cop out of a prediction, but at this point I can't really say one team is more likely to win than the other. My gut feeling says that STX will pull out a win this time around, simply because I feel STX players have been a little more consistent recently.
My prediction:
STX Soul 3
-2 Woongjin Stars
After CJ's capitulation to SKT last week it is hard to see them taking down the top-of-the-table Khan. That said, CJ's line-up has so much potential that it would be silly to count it out simply because it's going through a bad patch. The key players for CJ when playing against Khan are Hydra and Horang2. Both players have been going through a patch of poor form that seems to be coinciding with CJ's own losses, and historically both have excelled in the vsP matchup. With Khan relying so much on their extensive Protoss line-up, if Horang2 and Hydra can do their part they could easily take a win over the top ranked team.
Of course, Khan's Terran line-up has been equally vital in bringing Khan to their current rank, and the vsT specialist on CJ, Skyhigh, has been going through an extreme slump of late. Once again, if he can manage to get out of his funk and do his job, CJ could be in with a good shot. The final factor in this match-up is the coaching staff; CJ will need to rely not only on their slumping players rebounding, but also on hitting the right match-ups to facilitate a rebound. While I'd like to believe CJ could do it, I'd be silly to make a prediction against Khan right now.
My Prediction:
CJ Entus 1 -
3 Samsung Khan
Sunday, February 19th


SK Telecom T1 vs KT Rolster
Seeing this match-up always brings painful memories from the last Grand Final (and the one before that). I'd be lying if I said I've gotten over it, the scars still burn to this day. KT is not the pushover everyone thought it would be at the beginning, it's been blazing through a lot of teams and a playoff spot is almost guaranteed. Having said that, SKT has defeated KT at every turn this season. KT being its arch nemesis, I feel that SKT tries extra hard and prepares rather well against its rival.
Despite KT's one-two punch, I think this match will be no different from the others this season. SKT will prevail as long as its coach gets the right match-ups, avoiding Flash like the plague and winning the other sets. Maybe I'm a little biased or over confident, KT may step up its efforts to tarnish the perfect record against them this season, but this is regular PL, not the finals.
My prediction:
SK Telecom T1 3
- 1 KT Rolster
While Ace of late has been on the receiving end of a number of losses, counting the boys in blue out could be a mistake. Realistically, Ace won't be featuring in the playoffs, but that doesn't mean it's about to give up without a fight. Ace's result against Woongjin was poor, but its players put up fight and you can bet they'll be coming out to try and regain some pride by the end of the season. Team 8, on the other hand, is barely staying afloat, and will need to win almost all of its games if it's to have any hope of getting into the top four come playoffs time, so expect them to come out firing. The key to this series will be where Team 8 finds its third win.
Jaedong and Baby have shown that they're in amazing form lately, and I would expect them to take their own games quite easily. The third win is more of a problem; Sea and Killer have been letting their team down with extremely disappointing performances this season, so it would be preferable if they simply don't get sent out in favor of the strong Protoss line-up that Team 8 sports. Team 8 getting a win from Tyson or Jaehoon will most likely be the lynchpin of this series, and if both are given a shot I'd be shocked if neither were able to take a win against any of the current Ace team. The wildcard for Ace is FireBatHero. He hasn't seen much action of late but we all know what a devastating and inspiring force he can be. If he were to take a win, his enthusiasm could perhaps lift Ace to another level, one from which it could potentially upset the star studded Team 8.
My Prediction:
Air Force Ace 1 -
3 Team 8
Tuesday, February 21st


Samsung KHAN vs STX SouL
Khan seems to have everything going for it at the moment, sitting at the top after defeating a fierce KT Rolster. There's a lot of momentum behind the team and I feel like it's got itself together. STX has also been enjoying a great run; its rookies are really stepping up and are carrying the team rather nicely. Its last match was rather close and, to be honest, could have easily gone the other way. This is one of those matches that are hard to call once again, as both teams are still vulnerable to stumbling. I think this day will belong to Khan, the momentum it's accumulated may just give it the edge it needs to defeat STX.
My prediction:
Samsung Khan 3
-2 STX Soul
Wednesday, February 22nd


SK Telecom T1 vs Woongjin Stars

SKT managed to have an undeniably mediocre second round. Fortunately, it was able to start round three in a positive fashion with a win over CJ, but given CJ's own failings this can hardly be taken as representative of SKT's form. Woongjin is in a similar position to SKT in terms of ranking and current performance, so the stakes are high.
Winning will put the victorious team in a fantastic spot in terms of the playoffs, while the loser will be left to struggle to hold its spot in the top four. Woongjin has long relied on their Zerg players, along with Light's vsZ, play to bring it victories and this should play right into SKT's playbook. With Best's PvZ currently almost unbeatable, and Bisu himself being no slouch in the match-up, Woongjin is going to need to rely on its coach managing to get favorable match-ups if it is to have any hope of winning the series. The more I think about this series, the more difficulty I have envisioning a world in which SKT loses it. Bisu, Best and Fantasy would be favored to win over almost any player on the Woongjin line-up, regardless of potential match-up snipes.
My Prediction:
SK Telecom T1 3
- 1 Woongjin Stars
Art by fishuu
Team: riptide, HawaiianPig, Kiante, Mustaju, SirJolt, 2Pacalypse-, Carnivorous Sheep, Simplistik
Guest Writers: Hyde, Kiett