Banner by pachi. Screenshots from the GSL Round of 64.



"To Korea, With Love"
GSL Season 3 Round of 64 Recap
By Lovedrop, Treehugger, and TrueRedemption

So it begins. Make no mistake, the third incarnation of the GOMTV Global Starleague promises to be even better than the last two. The players are better, the skill ceiling is higher, and there are a record number of foreigners who have qualified for the tournament proper. GOM sets its schedule at a breakneck pace, and the TL GSL Team is happy to follow its lead. Fresh out of the oven and piping hot, we have a menagerie of game summaries, player ratings, and series recommendations. With TL's ever-improving coverage of the GSL, you won't miss a must-see game, and you won't accidentally watch something you won't be able to unsee!

Links and Resources:
http://wiki.teamliquid.net/starcraft2/2010_Sony_Ericsson_Starcraft_II_Open_Season_3
GSL Game/Series Rating Scale
- The kind of game that'll still be referenced in a year. Incredible play from both players in all aspects of the game. Must watch now.

- Excellent play demonstrated by at least one of the players, and very likely both. A must watch.

- A good game, but nothing truly special. Often not competitive, or with some mistakes. Worth watching if you have the time.

- A below-average game. Not worth watching unless you're a fan of the winning player.

- Not an entertaining or instructive game. Even if you're a fan of the winner, your time is probably better spent.
No stars - The losing player played so poorly, we presume he's been banned from all future GSL events.

Recommended Series Short List
+ Show Spoiler [Recommended Series] +

All ratings out of 5 stars.

Set A

IMNesTea vs

Jys -

oGsVines vs

fnaticSEn -

LittleBoy vs

JookToJung -

MakaPrime vs

IMSleep -

oGsTheWinD vs

GoldenfOu -
Set B

Rache vs

ST_Squirtle -

DreamizErZenith vs

TSL_Rain -

LiberoPrime vs

Nsp_Genius -

ST_RainBOw vs

NewDawn -

BitByBitPrime vs

Liquid'HayprO -
Set C

Tosyad vs

TSL_Fruitdealer -

sCfOu vs

Bless -

anyproPrime vs

TheBestfOu -

NEXNaya vs

HongUnPrime -
Set D

Liquid'Ret vs

Cyrano -

JSLZenith vs

KyrixZenith -

MarineKingPrime.WE vs.

NEXLine -
Not played. Forfeit due to illness.

GuMihofOu vs

ST_Monster -

TSL_GuineaPig vs

IMJunwi -
Set E

TSL_Clide vs

LeenockfOu -

ST_Max vs

oGsHyperdub -

oGsMC vs

OdinMvP -

ST_July vs

cOreZenith -
Set F

aLivefOu vs

oGsZenio -

PoltPrime.WE vs

NsP.Joon -

Liquid'Jinro vs

NEXDrug -

FOXMoon vs

ButterflyEffectZenith -

EGIdra vs

NEXChoa -
Set G

IMMvp vs

BanBanssuZenith -

AnNyeongPrime.WE vs

choyafOu -

NEXDestination vs

CheckPrime.WE -

SlayerS_'Boxer' vs

NEXOn -
---


Set A: "Back to Business"
Recaps by Lovedrop
+ Show Spoiler +

"I am Nestea."

IMNesTea
<2-1>

Jys -
Game 1 @ Shakuras Plateau
+ Show Spoiler [Show Recap] +
NesTea ignores the risk of getting 2 rax'd and drops his hatchery to start off the third season of GSL. Jys opens two starport with tech labs for banshees, looking to not having the cloak upgrade. The first two banshees do no damage at the face of four queens, and two more banshees are defensively holding off any early aggression by NesTea. Jys double expands to his natural and the 6 o'clock base, staying even on base with NesTea. Seeing how mutalisks can be a problem, Jys begins thor production and puts up hi-sac tracking turrets all over his expansions. The first batch of mutas gets denied by the thor, and NesTea finds no reason to not expand again to the 7 o'clock main. Muta numbers are slowly dwindled down but turrets and thors, but the altered flight path leads NesTea to find the hidden 6 o'clock base. Roaches break down the rocks in an attempt to shut down Jys's third, but the planetary fortess proved too formidable. The roaches circled back around the front and put pressure on Jys, halting all mining activities at Jys's natural. The roaches are forced to retreat in the face of thors/banshees/tanks. NesTea throws down hatcheries at all but two possible expansion and looks poised to break the siege line with brood lords. NesTea trades his army away in order to make supply for BLs, forcing a mass production of vikings from Jys. The BLs/roach/infestor combo is no match for Jys's army, but it served as another fodder for NesTea as 10 ultralisks and 50 zerglings are now in production for NesTea. Jys cannot reproduce the proper units to deal with the ultralisks and Jys loses a nail-biting game one.
- Great opening by Jys to stay on track with NesTea, but the macro capabilities of Zerg and overall better unit composition proved too much for Jys to overcome.
Game 2 @ Delta Quadrant
+ Show Spoiler [Show Recap] +
NesTea respond to the two barracks opening by going speedlings before expanding. Jys stocks up on marines before pushing out, grabbing his in-base natural on the way. The marines force NesTea to make more zerglings and while he was able to hold off the push, NesTea loses a majority of his speedlings in the process. Jys adds a tech lab to his factory and begins producing hellions off of two factories and upgrading the pre-ignitor upgrade. Jys pushes out just seconds before his blue flame upgrade is done along with a sprinkle of marines. The hellions deal massive damage to the drone line, crippling NesTea's economy. Jys starts to produce tanks to counter the roaches, who now also have burrow movement. The roaches creep their way inside Jys's main and wreak havoc onto the production facilities. Jys pulls all he can to defend, but the roaches remain stoic while SCVs tickle away. The banshees and tank/mauraders eventually sweep away the roaches, and a swift counterattack with cloaked banshees are next on Jys's priority list. A loaded medivac takes out the queens and the roaches are out of position to help, and Jys evens out the series.
- Jys continuously switched up his tech in order to confuse NesTea. While being the resourceful player that he is, NesTea could not overcome the deficit he was in.
Game 3 @ Xel'Naga Caverns
+ Show Spoiler [Show Recap] +
Two barracks opening forces a ton of zerglings from NesTea, who went hatch first on a map where the natural is so wide open. Marines are rallied non-stop towards NesTea's base, but a command center is building inside Jys's main. Jys pulls his marines up NesTea's ramp and attempts to wall off the zerglings on the outside, but the zerlings break down the wall and claw their way through the marines. Speed kicks in and zerglings glee across the map for a counter attack. Jys moves his marines down the ramp, leaving the entrance exposed and as the zerglings finish off the rest of the marines, reinforcing zerglings mow down any sort of resistance SCVs put up. NesTea avoids an early upset and moves on to the RO32.
- Jys overextending himself with the marines, thinking he could catch NesTea off-guard and when that failed, a quick counterattack of speedlings was all NesTea needed.
Player Grades
+ Show Spoiler [Show Player Grades] +

IMNesTea -
B
Concrete decision making once again but looked shaky in game two as he continually suffered damage from Jys's relentless harassment.

Jys -
C+
An impressive showing for the unknown Terran: beautiful opening game one, aggressive tactics game two, and cute (but still a fail) move game three.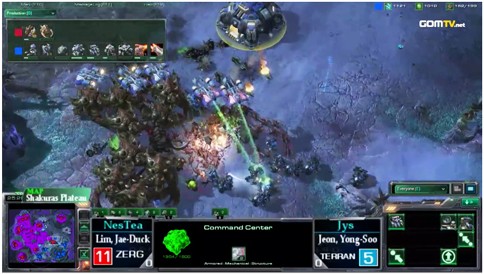 The tech switch was too much for Jys to handle.
"Taiwan's number one."

oGsVines <1-2>

fnaticMSISen
-
Game 1 @ Steppes of War
+ Show Spoiler [Show Recap] +
Sen sneaks a drone out to risk a hatchery first on a map that spells disaster for FE builds. VINES builds a gateway before dropping down a forge and builds a cannon rush from the low ground. The zealots stream over and Sen's expansion looks hopeless. Sen looks for a counterattack but is stopped by a warping pylon, zealots sandwich the zerglings from behind and Sen cannot get plausible surface area to surround. Sen almost took advantage of zealots not on hold position, but the wall proves too much for zerglings to break through and Sen concedes game one.
- Gamble did not work out for Sen.
for Artosis being mean.
Game 2 @ Delta Quadrant
+ Show Spoiler [Show Recap] +
Sen spawns cross-positioned and no longer wants to jeopardize his hatch so early. VINES begins making phoenixes from his stargate with a warp gate push behind it. Sen's two queens fall to the early phoenixes and VINES goes on a rampant overlord hunt. The hydralisk den forces the phoenixes to fall back, and VINES expand to his backdoor rock natural. VINES pushes out prematurely with his stalker-heavy army, and the battle goes disastrous for VINES as constant hydra production slices VINE's food count in half, and VINES threw in the towel.
- Good opening by VINES, yet a horrific follow-up. Sen caught a lucky break in his opponent's impatience.
Game 3 @ Blistering Sands
+ Show Spoiler [Show Recap] +
VINES leaves Sen's early hatch in peace and goes for a more refined approach of three gate expand. VINES gathers enough sentries and finally drops a nexus, only to cancel it halfway for an all-in 5 gate attack. Sen has started his lair quite late, and lacks attacking units to fend off this push. Sen tries for a flank with his zerglings to pick off the plyons that are used to warp in, while his front consists of nothing but roaches. Beautiful force fields by VINES reduce the number of roaches every engagement, and Sen pulls every drone at the expansion to push stalkers back. Burrow research finishes in the nick of time and the roaches have a moment to regenerate. Sen's great economy allows him to constantly reinforce, and the amount of roaches simply wither away VINE's stalkers and Sen takes a suspenseful game three.
- A valiant attempt by VINES is foiled by Sen's great defense. Balancing roaches and lings while keeping his roaches alive with burrow, Sen narrowly avoids an early exit in the RO64.
Player Grades
+ Show Spoiler [Show Player Grades] +

oGsVINES -
C+
Threw away his lead in game two with a mistimed attack, and perhaps should've made use of the backdoor rocks in game three.

FnaticMSISen -
B
Game three's defense shows his ability to composed himself while under pressure.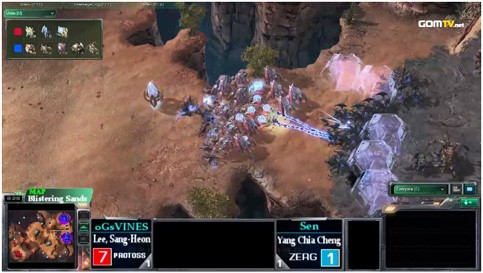 Immaculate defense.
"The happiest Terran on Earth."

LittleBoy
<2-0>

jookToJung -
Game 1 @ Shakuras Plateau
+ Show Spoiler [Show Recap] +
LitteBoy attempts to reaper-bunker rush jookToJung's natural, and successfully used the bunker as a decoy while his reaper hops into the main. LittleBoy walls in with three barracks while expanding behind it. LittleBoy goes double starport banshee while ignoring his barracks completely, and a third starport is now attached to a reactor. jookToJung's base shows no sign of deviation from the standard muta/baneling play. The first two cloaked banshees total 11 kills before mutalisks are able to chase them away. Mass vikings deny the mutalisks any harassment, and LittleBoy marches his sky army + marines over to jookToJung's natural. A hopeful scan for Zerg's third catches the banelings morphing in, and jookToJung taps out.
- An extremely interesting build from LittleBoy catches jookToJung completely flatfooted
Game 2 @ Blistering Sands
+ Show Spoiler [Show Recap] +
The distance is far enough that jookToJung feels safe to go hatch first. The first 125 gas is spent on a tech lab and stim for LittleBoy, extremely early. The drone that is used to steal LittleBoy's gas takes a peak at LittleBoy's subsequent barracks and prepares a baneling's nest to repel the midgame attack. Three barracks are reactored and LittleBoy exits with his MM army via the backdoor entrance. The SCVs join the fray only to be dismantled by a single baneling explosion. Even with the buffer gone, LittleBoy's marine spread nullifies the baneling's effectiveness and jookToJung completes his GSL run for the year.
- Effective MM push with SCV buffer runs jookToJung over. Perhaps more banelings would have helped. (maybe?)
Player Grades
+ Show Spoiler [Show Player Grades] +

LittleBoy -
C+
Dominated the series with little effort.

jookToJung -
C-
While he scouted the Terran's gameplan in game 2, he seemed ill-prepared for the incoming push.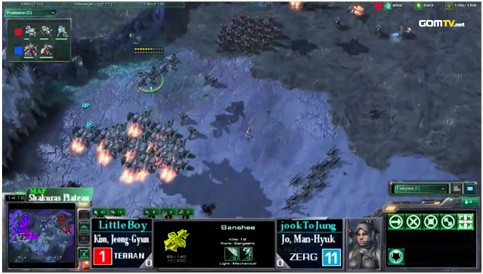 "Sky Terran."
"Maka the Insomniac."

MakaPrime
<2-0>

IMSleep -
Game 1 @ Xel'Naga Caverns
+ Show Spoiler [Show Recap] +
Maka fakes the two barracks pressure, stalling Sleep's economic lead and expands himself. Maka goes up to four barracks and catches the banelings morphing in at the left Xel'Naga towers. The second wave of banelings crashland into the marauders, leaving all the marines in tact. More zerglings force Maka's small MM force back, but the marines position themselves within the mineral patches and Sleep is losing a lot more zerglings than he should be. Sleep goes in for a huge baneling bust, but the slow banelings detonate themselves onto a bunker and marauders, and Maka holds off the attack with minimal effort. A spire is morphing in now, and a small drop delays Sleep's third. Maka looks to do more damage as his medivacs skirt Sleep's natural but the plan backfires as mutalisks pop out and snipe the medivacs. Maka shuts down Sleep's third with a small marine task force while Sleep's indecisiveness slows down his counterattack. As Sleep's third falls, Maka's third now is operational at the gold. Maka pulls back his tanks to the gold and baits the Zerg through the left watchtower. Zerg rushes in recklessly and is welcomed by siege tank shells, ending any hope he has to win game one.
- Maka played brilliantly before siege tanks came out against a composition designed to match his in cost effectiveness. The metamindgame slowed down Sleep at the cost of nothing from his end, and Sleep looked uncomfortable and frustrated all throughout the game.
Game 2 @ Steppes of War
+ Show Spoiler [Show Recap] +
IU's voice is nowhere to be found as the Korean commentators' voices drown her out with exciting remarks about Sleep's 6pool. Sleep extractor tricks out an extra pair of lings and pull all his drones towards Maka's base, while a forward drone is blocking Maka's wall-in. Split second later, Sleep's forces arrive and Maka makes a bad call, attempting to wall at the bottom of his ramps. The zerglings quickly demolish the supply depot and now have access to the main. The first marine is surrounded and immeadiately picked off. The SCVs engage for a short while before pulling back to the minerals and repair themselves. The drones try to surround the second marine but are unsuccessful and the unit station counts 13 SCVs and 2 marines vs. 5 drones and 4 zerglings. Simple micro marine and Maka makes sure that Sleep won't be getting up for the RO32.
- Desperate cheese almost worked when Maka made a bad call, but micro was not with Sleep that time.
Player Grades
+ Show Spoiler [Show Player Grades] +

MakaPrime.WE -
B
Besides the blunder of losing two dropships, Maka played a brilliant game with very little mistakes.

IMSleep -
C-
Outclassed by his opponent in almost every aspect of the game, Sleep will have to go back to the drawing board.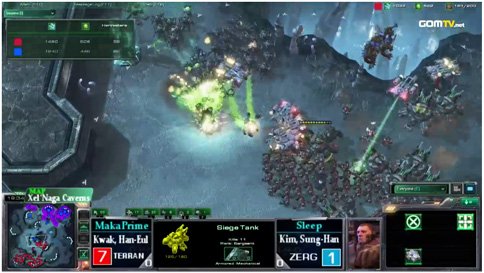 Tank shells rain down on roaches and banelings.
"Huffed and Puffed."

oGsTheWinD <0-2>

GoldenfOu
-
Game 1 @ Xel'Naga Caverns
+ Show Spoiler [Show Recap] +
TheWind 8pools and his zerglings arrive before Golden's pool is done, but Golden calmly micros his drones in order to avoid any losses until his own lings hatch. TheWind techs up to lair and burrow roaches, while Golden opts to grab his expansion first. Predicting mutalisks, Golden fortifies his air defenses with three queens. As one of Golden's zergling sneaks into the main, TheWind's plan is revealed and he slowly moves across the map, as glial reconstitution has not finished researching. Golden's own roaches are on the way, and three queens are ready to support the spine crawler with key transfusions.
The roaches burrow to regenerate, but the more time TheWind spends underground, the thicker the defenses get. A spore crawler just in range forces TheWind to pull back everytime he wishes to burrow. Parking his own roaches on top of TheWind's, Golden's overseer is morphed in at the natural and TheWind is cornered and Golden takes out a large amount of roaches. TheWind sneaks some roachs into the main to snipe drones. The harass slows down the drone difference between the two players, but Golden has had his economy running for much longer than TheWind. Using the overseers to halt the production capabilities of TheWind, Golden masses into TheWind's base with a 40 food difference and as the acidic saliva comes to a halt, TheWind is left with no roaches and types out.
- TheWind switched things up in order to throw his opponent off, but Golden's calm response and clutch defense held strong as he eased his way through the rest of the game.
Game 2 @ Shakuras Plateau
+ Show Spoiler [Show Recap] +
The long distance is a safe indication that both players are likely to hatch first. The bases are eerily similar 6 minutes into the game, both consisting of an expansion, speedlings, and a baneling's nest. Their paths diverge when TheWind playing his usual fast tech choice and constructs a spire before Golden can even finish lair.
Meanwhile, Golden slowly builds up his roach number. Seeing mutalisks prompts Golden to make a hydralisk den and a infestation pit, and TheWind expands once again behind his mutas. Both players grab their respective upgrades for their units. TheWind appears to have stopped mutalisks production and switch over to roach. The in base hatchery is a strong indication that Golden is ready for a timing attack. The timing attack comes with a hydra/roach army with four infestors, and Golden engages at the intersection between TheWind's three bases. The fungal growths make the banelings and roaches absolutely worthless in the face of six-ranged hydras. Even though TheWind's mutalisks are racking up the kills back at Golden's main, Golden's monstrous army has yet to be dealt with and Golden breezes through to the RO32.
- The mutalisks turned out to be quite useless in the end for TheWind. Again TheWind decides for some innovative play, but Golden never once seemed unsure as to how to reply.
Player Grades
+ Show Spoiler [Show Player Grades] +

oGsTheWind -
C
Tried to include some inspired play to his arsenal but they did not prove to be fruitful.

GoldenfOu -
B+
Immaculate defense in game 1 and his army in game 2 demolished anything TheWind could've prepared for.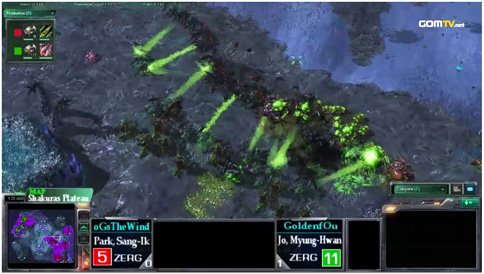 Stationary banelings are not very useful.


Set B: "Fallen Heroes"
Recaps by Lovedrop
+ Show Spoiler +

"Water gun is super effective."

Rache <0-2>

ST_Squirtle
-
Game 1 @ Steppes of War
+ Show Spoiler [Show Recap] +
Seeing that Rache isn't walled in, Squirtle chrono boost out a zealot to put on early pressure on this short distance map. The zealot gets a huge kill on the MULE, effectively nullifying Rache's econ boost. Rache looks poised to expand after researching stim off of two barracks, while Squirtle solidifies his defenses with three warpgates and a robo. A scan reveals Squirtle's aggressive macro and Rache holds off his CC and bunkers up, in fear of a timing attack. Squirtle instead drops his nexus and the CC is vastly delayed.
Rache pushes out with his MM force with stim and thirteen SCVs, a huge blow to his economy at this point while looking to end the game. While he forces the cancel on the nexus, a wasted stim did minimal damage to Squirtle, as he's cranking out colosssi in preparation for a counter push. The thermal lance upgrade finishes with three colossi, and Squirtle needs to cancel out the economic lead that Rache has had for the last five minutes. Rache techs up to ghosts and vikings, but the static defense of Rache is no match for colossi + force field combo, and Squirtle takes game 1 with ease.
- Minimal tech into expand hurts Rache greatly, especially on a small map where reinforcing isn't much of a problem.
Game 2 @ Delta Quadrant
+ Show Spoiler [Show Recap] +
Rache fast expands with a barracks and a tech lab, a similar build to game 1 minus the initial zealot pressure. Seeing a quick command center prompts Squirtle to drops two additional gate and a proxy pylon to take out the expansion. A zealot-less composition of Squirtle takes out any resistance from Rache and takes out the fleeting CC. A force field contain enables Squirtle to safely drop his own expansion, while Rache desperately tries to tech up and break the contain. Seeing a medivac elevator flank is eminent, Squirtle packs up and retreat to the safety of his colossi. Rache decides to play it safe and expand while queuing up a drop, but the omniscient observer warns Squirtle of any danger, and the drop is easily deflected. Squirtle takes his third and pushes out as zealot charge is done. The massive 30 food difference is only more intimidating as hallucinated colossi and high templars join the fray. Nearing max, Squirtle walks all over Rache's army and into the RO32.
- Rache was unable to defend his FE, and was behind ever since. Squirtle was extremely patient and took every right decision to further extend his lead.
Player Grades
+ Show Spoiler [Show Player Grades] +

Rache -
C-
Not the best of two maps to FE. Never once tried anything risky game 2 in order to get back into the game.

ST_Squirtle -
B
Nothing flashy, simply solid micro/macro and decision making. Held on to that lead game 2 with an iron grip.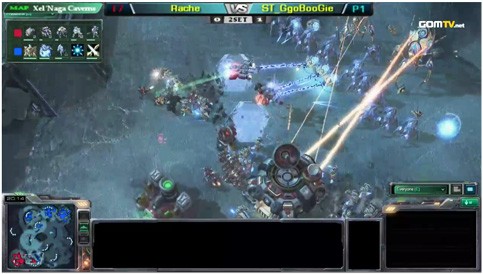 Overran.
"Rain Dance: Marine Edition."

DreamizErZenith <0-2>

TSL_Rain
-
Game 1 @ Shakuras Plateau
+ Show Spoiler [Show Recap] +
A double barracks opening on the low ground versus DreamizeR's hatchery first looks grim for that expansion. The first round of rallied marines and SCVs are held off with Rain's bunker unfinished, but heavy damage on dreamizEr's zerglings and drones. Having to pull all his drones to defend, dreamizEr's economy suffered greatly. An extractor is nowhere to be found and a queen is completely out of the question. Rain's marines walk around the poorly placed spine crawler and as the numbers grow, down goes dreamizEr's hatchery and his hopes of being a game up in this best of three.
- As long as long distance maps could possibly get, 14 hatch is just too risky.
Game 2 @ Jungle Basin
+ Show Spoiler [Show Recap] +
Both players fast expand on a rather friendly map to do so. A heavily fortified wall for Rain is essential as dreamizEr prepares for a mid game baneling bust from two bases. Medivacs and stim are on the way, but the lack of lair tech means that the banelings are without their centrifugal hooks upgrade. Banelings lead the charge but somehow stops midway from finishing off Rain's production facilities. After a quick pause they proceed to finish the job, but the little amount of zerglings left are no problem for Rain. A counter attack is held off by reinforcing zerglings, and dreamizEr is ready to expand. Rain is now up to nine barracks and barely is able to take out dreamizEr's third. Marine micro evens out the army trade and as a stream of marines flock into dreamizEr's main, Rain dances his way to the RO32.
- Kyrix-style (Is that official?) bane-speedling aggresion did not pay off, and for a moment as he looked to be all-in, dreamizEr techs up and expands. Rain danced his marines around dreamizEr's banelings, maybe not what we had in mind though..
Player Grades
+ Show Spoiler [Show Player Grades] +

DreamizErZenith -
C-
Had the banelings finish off the buildings before losing a huge chunk of zerglings, perhaps the game would've turned out different for DreamizEr. Banelings off-creep without speed are just asking to get picked off by stimmed marines.

TSL_Rain -
B
14 Hatch opening puts a big grin on his face, and Rain never looked to be remotedly in danger at any point in game 2.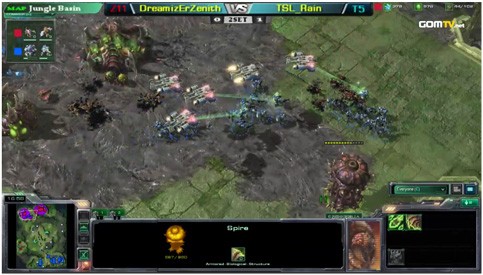 Evacuate the dancefloor.
"Ceremonial Genius"

LiberoPrime <0-2>

Nsp_Genius
-
Game 1 @ Metalopolis
+ Show Spoiler [Show Recap] +
Genius tricks Libero into thinking that his double gas would lead to further up in the tech tree, but a fast expansion would soon follow and as the scout dies, Genius is only functioning off of one gas. Meanwhile at Libero's base, a bunker is needed to hold off any incoming aggression as Libero is teching up to banshees. A hellion scouts out Genius's plans and a timing push consisting of marines/tanks/banshees and a PDD-ready raven is incoming. All of Libero's units are upgrade-less except siege mode, and an all-in is not official until 20 SCVs accompany your attacking force. Genius loses his observer and the tanks leapfrog their way in range of Genius's expansion. SCVs server as amazing buffer and Libero cleans up Genius's army at the natural. Libero greedily pushes up the ramp in attempt to seal the game, but colossus micro melts away the marines and reinforcing stalkers deny Libero the quick victory. Libero arms up again for another all-in, but thermal lance kicks in just in time for Genius to steal game 1.
- A well-built all-in attack, but Libero overextended himself and cost him the win.
Game 2 @ Xel'Naga Caverns
+ Show Spoiler [Show Recap] +
While a similar build is coming out of Libero, Genius opts to go for a quick twilight council and blink. A quick turn in Libero's camp is detected by an armory, and a thor pops out from the factory. Genius pokes into Libero's base and snipes the first thor, quickly following up with a dark shrine behind his minerals. Libero researchs 250mm cannon and wastes a scan, and as he pushes out to Genius's newly erected nexus, a dark templar slices his way through Libero's marines. Libero pops a scan and falls back to his base, desperately trying to get any sort of cloak detection he can. Dark templars flood Libero's base as Genius comfortable macros up. A raven finally gets out after suffering considerable losses in his main and Libero's thor
rush
attack is on the way. A lonesome DT gives vision to Libero's base and stalkers blink in to begin demolision. The absurd amount of chargelots crush Libero's attack and Libero types out.
- Libero made a moot decision to drop a mule when he knows DT tech is imminent, and he paid for it bigtime.
Player Grades
+ Show Spoiler [Show Player Grades] +

LiberoPrime -
C-
A well-orchestrated all-in attack in game 1 did not work out due to poor decision making, and he just gave away the second game when he responded ever so poorly to DT techpath.

NSP_Genius -
B
Never short of personality, partially lucked out in game 1 and just combed his hair while watching his zealots chop up Libero's army.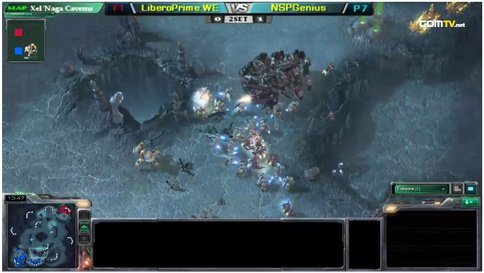 Hacked and slashed.
"Match to decide Stephanie Meyer's new book title"

ST_RainBOw <0-2>

NewDawn
-
Game 1 @ Metalopolis
+ Show Spoiler [Show Recap] +
Cross-positioned on Metalopolis, RainbOw takes a twist on his 2 barracks opening by grabbing both gases before sending out a handful of marines and SCVs. Delaying his push by quite some time by opting to take out the overlord in the middle, RainbOw arrives at NewDawn's natural just seconds before zergling speed kicking in. NewDawn cleans up the push and forces RainbOw to fall back. In the main, RainbOw drops double starport with cloak being researched. RainbOw's 1 base play continues with a total of 4 barracks now in play. RainbOw takes out all the queens but unable to take down the spire, and seven mutalisks are now on the way. RainbOw pushes out with banshees/medivacs/marines but a large amount of his air force is sniped out by mutalisks en route. RainbOw is forced to turn around with NewDawn's army following him by the minute. The speedbanes obliviates the marines and with mutalisks cleaning up, our Terran player is down one game.
- RainbOw's marine/scv rush, banshee follow up, and subsequent push had an uneasy feeling to them. His sloppy unit control cost him quite a few units, and NewDawn took the advantage of a timing window to run him over.
Game 2 @ Shakuras Plateau
+ Show Spoiler [Show Recap] +
Even though it didn't work out last game, RainbOw once again goes for double barracks before gas. Seconds later, two more barracks are constructed below NewDawn's expansion. RainbOw pokes up the ramp to see two spine crawler, and damages one while suffering few losses. Back in NewDawn's base, a baneling's nest is morphing in and time is ticking away for RainbOw. The banes finish morphing in and detonates itself in the middle of a clump of marines. RainbOw's forces are withering away to banelings and NewDawn sets up for a baneling bust. The command center is blown to pieces and RainbOw makes a disappointing exit in the RO64.
- Just barely sufficient defense by NewDawn, and RainbOw was at his wit's end.
Player Grades
+ Show Spoiler [Show Player Grades] +

ST_RainbOw -
C-
Looked shaky and sloppy in his execution in game 1, and had no open window to stage a successful attack in game 2.

NewDawn -
B
Defense is the key to a strong offense and NewDawn played it safe both games into a strong counterattack.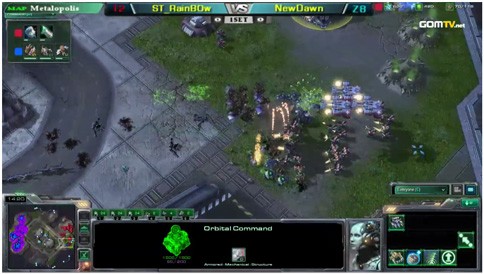 Rainbowned.
"The meticulous BitByBit"

BitByBitPrime
<2-0>

Liquid'HayprO -
Game 1 @ Steppes of War
+ Show Spoiler [Show Recap] +
The trend continues for TvZ as we see a 2 barracks opening versus hatchery first. An additional two barracks continuously pump out marines and rallying towards HayprO's base. Controlling the north tower, BitByBit sneaks all his marines and SCVs over without HayprO noticing until the very last second. Half of his zerglings are out of position, and BitByBit runs in and quickly snipes the spine crawler and proceeds to massacre HayprO's drones. HayprO's hatchery falls and BitByBit takes game one.
- The long distance between main and natural in addition to the backdoor rocks entrance make the marine push that much more deadly. Had HayprO taken the correct watchtower, perhaps the game would've turned out differently.
Game 2 @ Delta Quadrant
+ Show Spoiler [Show Recap] +
HayprO's early hatchery is safe this time as BitByBit quickly builds two refineries along with his orbital command. HayprO's overlord scouts the tech lab on the factory and responds with a roach warren. Little does he know that the buildings have switched and cloaked banshees are in production. The banshee grabs five kills before it gets chased away by queens and the overseer, and strangely enough, a raven pops out from BitByBit's starport. The MMM army + raven along with about half of BitByBit's SCVs break down the rocks and engages HayprO at his ramp. The SCV absorbs the brunt of the damage and stim kicks in to finish off the rest. With nothing but drones left, HayprO has no choice but to resign.
- A precise timing push caught HayprO off-guard. While the spire was the next tech choice, it saw no use as BitByBit's army came in a small window of opportunity.
Player Grades
+ Show Spoiler [Show Player Grades] +

BitByBit -
B
The map worked well for his strategy game one, and the distintive MM push with raven/banshee exposed the time it took to construct a mutaling army.

Liquid'HayprO -
C
Had no chance to hold it off game one as he saw the army approached near point blank, and engaged with his army at a rather disadvantageous position in game two.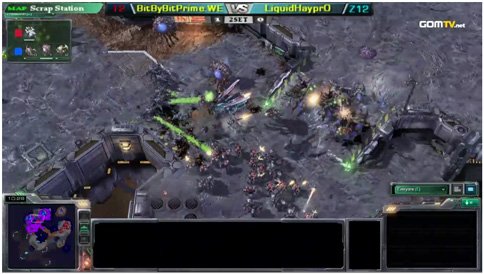 Chipped away, bit by bit.


Set C: "Rented Mules"
Recaps by Lovedrop ft. motbob
+ Show Spoiler +

"The deadliest fruit of all"

Tosyad <0-2>

TSL_Fruitdealer
-
Game 1 @ Scrap Station
+ Show Spoiler [Show Recap] +
The timing of both players' spawning pool are nearly identical, but their paths diverge as FruitDealer goes roaches and Tosyad puts up a baneling's nest. Six roaches march their way down FruitDealer's ramp to find Tosyad's banelings morphing in. The banelings explode onto the roaches dealing their maximum amount of splash damage and Tosyad's speedlings are there to clean up. Tosyad tries to deal some damage to FruitDealer's mineral line but newly hatched roaches fend them off. Defending his ramp with a roach wall, FruitDealer continues to produce roaches and his own baneling nest. Tosyad's banelings have a difficult time penetrating the drone line due to superb building placement from FruitDealer, and minimal drones were lost. On the other side of the map, roaches push up the ramp against two measly spine crawlers and FruitDealer's banelings anihilate a huge chunk of Tosyad's speedlings. FruitDealer's roaches chuckle at the feeble drones and proceeds to drown them in acid, along with Tosyad's hopes of winning the first game.
- Both players opt to go for an offensive built rather than the typical lair tech. Tosyad looked sharp as his zerglings punched out an early victory, but his simultaneous tech to lair/offensive approach doomed him as his defenses were extremely fragile.
Game 2 @ Jungle Basin
+ Show Spoiler [Show Recap] +
Tosyad 8 pools in an attempt to catch FruitDealer off-guard, as 14 hatch on Jungle Basin would seem to be the norm. As FruitDealer's spawning pool begins, six zerglings make their way towards FruitDealer's base. Two more joins the six and FruitDealer pulls all his drones for a surround. Miraculously, FruitDealer does not lose a single drone after several spat exchanges. As his own zerglings are on the way, the production tab shows that Tosyad has been reduced to half of his initial count while FruitDealer lost a single drone. Tosyad is forced to pull back for the time being and waits for his baneling's nest, while FruitDealer cancels his expansion and erects a roach warren. Tosyad's baneling effective takes out half of FruitDealer's drones and a queen, and at the other end, FruitDealer's zerglings were traded for Tosyad's queen. In fear of a counterattack, Tosyad clumsily places a spine crawler at a rather obscured position, where roaches can simply walk around it. The roaches do walk around and backs up against the wall to avoid a zergling surround. FruitDealer sends all his workers to join the party but the 'gg' arrives before the drones.
- Great defense by FruitDealer by nullifying the 8pool. Tosyad had a glimpse of hope as he evened out the worker count, but beyond that, a roach attack is just too strong for him to hold.
Player Grades
+ Show Spoiler [Show Player Grades] +

Tosyad -
C
Perhaps the loss in game one impelled him to be a bit cheesy, Tosyad simply could not hold up to FruitDealer's standard.

TSL_Fruitdealer -
B
Getting caught with his roaches in game one and had half of his drones blown up in game two were not minor mistakes, but showed off his drone micro and decision making to compensate. Just overall a really solid understanding of ZvZ.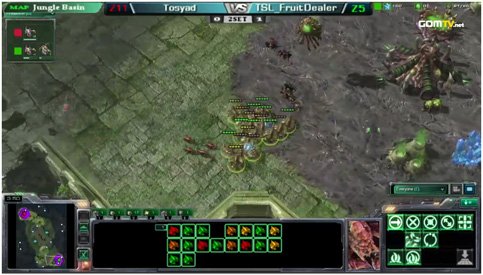 S-class drone micro.
"Positional Advantge"

sCfOu
<2-1>

FOXLyn -
Game 1 @ Metalopolis
+ Show Spoiler [Show Recap] +
The second gas is extremely fast for both players sitting crossed positions on metalopolis. Lyn delays his factory by getting a reaper but does not hop up onto sCfOu's main. sCfOu techs up to starport while Lyn is expanding before getting his own. sCfOu goes cloaked banshees after seeing the quick CC, and Lyn responds appropriately with reactored starport and an engineering bay. The banshee looks to do some damage but is picked off immeadiately. sCfOu pushes in with his marines and tanks looking to do damage to Lyn's expansion, but limited air control forces his to retreat. It's Lyn's turn to move out and he sieges his tank next to the top gold expansion. sCfOu unknowingly walks straight into the tanks and loses a lump of marines. His lack of air dominance forces him to stim in with his infantry, losing all of them in the process in exchange for a few marines and tanks of Lyn's.
sCfOu sends out a small task force to deny Lyn his third, but Lyn is unphased as he sieges up right below sCfOu's main base. With his spotting capability, Lyn rains down siege tank fire on sCfOu's production facilities. sCfOu pulls off all his SCVs at the natural and desperate tries to break the contain. The SCVs work wonders as buffer and cleans up all of Lyn's siege tanks. sCfOu pushes with his own siege tank and takes down Lyn's third. Lyn's attempt at clearing out the tanks goes horribly wrong as he engaged below the ramp and his forces gets demolished by splash damage and barely comes out victorious. Lyn attacks the third with his own MMTank army and destroys the fleeting command center. sCfOu wants to take out the third again, but the incoming force from his third + a double drop in his main force him to come back and defend. sCfOu is sandwiched as he heads for Lyn's third, while Lyn comfortable trades armies and takes his own fourth. Lyn has double the amount of harvesters and even though loses his army in trying to break sCfOu, he's up five bases to two. sCfOu finally taps out as his drop is deflected and his natural runs dry.
- Lyn's build order gave him a huge lead early on and while losing his army repeatedly, could easily rebuild with his impressive economy. Bad gg timing by sCfOu.
Game 2 @ Lost Temple
+ Show Spoiler [Show Recap] +
sCfOu makes his second gas significantly faster than Lyn, with Lyn attaching a tech lab to his factory to pump out blue flamed hellions. sCfOu opens cloaked banshees but gets minimal kills as turrets are placed all over Lyn's base. Lyn runs in his ellions from the front while dropping marines from the back, but the hellions suffer too much damage from sCfOu's marine and are unable to score some SCV kills. The marines from the back finishes off the weakened SCVs, but Lyn loses a dropship and all his marines in the process. The SCV count sits at 18 to 27 after both engagement. sCfOu's banshees continuously pick off important add-ons while another hellion drop goes wrong for Lyn. Lyn's second CC comes up first and that triggers sCfOu to move out. sCfOu fields a ridiculous amount of marines compared to Lyn and situates himself outside Lyn's Xel'Naga watchtower. Lyn sieges on the high ground and manages to pick off all of sCfOu's tanks, at the cost of air dominance and his raven. At the other Xel'Naga tower, Lyn aggresively tries to gain ground, but the sight given by the Xel'Naga tower enables to shoot just as far.
sCfOu mirrors Lyn's strategy as he tries to set up his own contain, and an advantage in tanks gives him the edge at Lyn's watchtower. Lyn sacrifices quite a few units to break out, but it bought sCfOu enough time to expand once more. Lyn smartly moves his main CC to a fourth base while taking his own gold, but is slow to saturate the gold. Lyn walks around under the left hand side of the map and engages a heavily sieged position at sCfOu's watchtower, and relinquishes his lead of any sort. sCfOu skirts around the edge of Lyn's watchtower is coyly evades any sort of damage, giving him a beautiful siege position and the chance to take out Lyn's fourth base. sCfOu forces the CC to lift off, and while not being very cost effective, Lyn cleans up the tanks with sme high ground tank drops. sCfOu once again pushes in, this time from the other side of the watchtower, catching Lyn out of position. Various drops occur around the map, as Lyn loads up all his siege tanks to take out sCfOu's top two expansion, while sCfOu's own drops clears the turret contain and the 3 o'clock expansion. The drastic difference in supply looks bleak for Lyn and as his attacking force gets wiped out, we're going to game three.
- sCfOu's economy remained for the most part untouched in the latter part of the game, and Lyn's inability to even out that difference severely crippled his army production
Game 3 @ Scrap Station
+ Show Spoiler [Show Recap] +
sCfOu's second gas comes up before Lyn's, the difference being Lyn making a CC before his starport. The army composition remains similar, with sCfOu having more units. sCfOu thinks about pushing forward, but is hesitant and decides to pull back and expands instead. Given his econ lead, Lyn breaks down the rocks to push. A quick glance at the position of his barracks indicate that Lyn will be unable to defend his natural had an attack came from the opposite side. Lyn sieges up on the narrow path but inches forward a little too much, giving sCfOu a chance to move up and takes out the contain. Lyn moves up to the watchtower to secure a position, but a drop is coming to his natural.
The marines forces the SCVs to migrate while Lyn tries to clean up, but sCfOu's marines outnumber his along with medivac support forces the CC to lift off. Lyn is unable to reinforce with tanks as his barracks are terribly misplaced. Back down at the watchtower, sCfOu easily breaks down what's left of Lyn's forces, leaving his constructing gold expansion exposed and Lyn is forced to cancel. sCfOu greedily attempts another drop, but this time, Lyn is ready to pick off the units inside the dropship and Lyn grabs a small lead. Both players try to secure their third and trading blows at the watchtower. sCfOu goes for a counter push through the narrow passageway and catches Lyn completely off-guard. Lyn pulls all his SCVs and some units back to put a halt in sCfOu's carnage but it was not enough. sCfOu's forces march onto Lyn's third to put the nail on the coffin and our War3 legend is eliminated from the tournament.
- Well-positioned attacks caught Lyn at many points in the game, with Lyn dealing with the majority of them very poorly.
Player Grades
+ Show Spoiler [Show Player Grades] +

scfOu -
B
Rebounded from an early loss to take the next two games convincingly. Repeatedly exposed Lyn being out of position and put up a stronghold position to take down key structures.

FOXLyn -
B-
Retribution as what he accomplished so well in game one was served back to him in game two and three.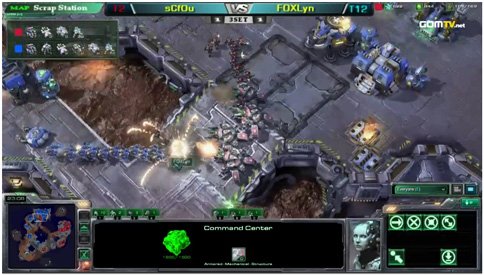 Perfect siege.
"We don't need the best, hell, any pro could probably beat this guy"

TheBestfOu
< 2-0 >

anyproPrime
Game 1 @ Lost Temple
+ Show Spoiler [Show Recap] +
A lot of Protosses feel that Lost Temple is one of the worst maps for PvT, and that might be why anyproPrime opened with a stupidly greedy early 2-base build in game 1. A lot of Terrans do a very specific early pressure build: make one marine, get a tech lab, research concussive shells, get two marauders and attack. This pressure is so common that a prerequisite of any Protoss build has to be that it will not die to or take significant damage from that particular early attack.

TheBestfOu made use of that early-game build in game 1. After his 3 unit force moved out, anyproPrime lost a stalker in the middle of the map, lost both his zealots without hitting any Terran units, lost the single pylon powering his gateways, and gged.

No Stars. -- Seoul police are arresting anyproPrime for attempting to impersonate a once-competent Protoss player.
Game 2 @ Steppes of War
+ Show Spoiler [Show Recap] +
TheBestfOu put up an early factory, and he also put a bunker up at the top of his ramp. This bunker could have acted as a tell to anypro that TheBest was executing a tech build, but anypro made no effort to scout up his opponent's ramp after his initial probe. TheBest got a super-fast banshee with cloak and sent it to his opponent's mineral line, depending on his bunker to keep him alive. anypro walked up the ramp with a powerful force of stalkers, but he didn't have enough sentries to block SCVs from repairing the bunker. Repair—as Artosis would say—is pretty good, and when the entirety of TheBest's worker force made its way to the ramp, anypro's chances of breaking through were over. Meanwhile, an invisible banshee killed all of anypro's probes while a robotics facility slowly warped in.
- anypro got hard-countered but still had a chance to win due to the scarcity of forces at TheBest's ramp. He couldn't capitalize.
Player Grades
+ Show Spoiler [Show Player Grades] +

TheBestfOu -
B?
I don't know what grade to give here. He properly exploited anypro's mistakes, I suppose.

anyproPrime -
F
The Protoss race ill needs a savior such as you!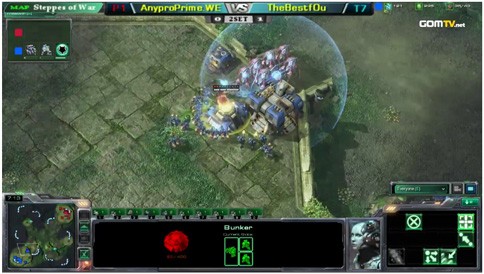 One unit short of breaking that bunker.
"HongUn's back"

NEXNaYa <0-2>

HongUnPrime
-
Game 1 @ Delta Quadrant
+ Show Spoiler [Show Recap] +
NaYa opens with a speedling opening in fear of the close positions. HongUn follows the cyber core with a stargate, with a void ray being chrono boosted out. The long travel distance between hatcheries causes a queen to fall to the first VR. HongUn cease production from the stargate and begins researching blink, looking to follow up with a blink rush. Stalkers flaunt their new ability to the zerglings sitting outside HongUn's base and march over to NaYa's base. NaYa could not put up enough spine crawlers in time and is forced to gg.
- NaYa overcompensated for the VR harass and did not have enough units to defend the blink rush. Well played by HongUn.
Game 2 @ Metalopolis
+ Show Spoiler [Show Recap] +
HongUn puts a forge at the bottom of his ramp and seeing that NaYa has gone hatch first, pulls another probe to begin cannon rushing NaYa. HongUn blocks off NaYa's ramp with pylons, trapping a few drones outside. The cannon goes up and the hatchery will eventually fall, so NaYa breaks out with his zerglings to do a counter attack. The zerglings arrive at HongUn's ramp to see an even more fortified wall and NaYa disappointedly resigns.
- Super risky from NaYa to try to hatch before pool, and HongUn could not be any happier.
Player Grades
+ Show Spoiler [Show Player Grades] +

NEXNaYa -
C
Ill-prepared for HongUn game one and took an unnecessary risk game two.

HongUnPrime -
B
Solid execution of the blink rush and chuckled at the FE in game two.
Silly zergs, when will they learn?


Set D: "Spoiler alert; Ret dominates."
Recaps by Treehugger
+ Show Spoiler +

"William of Ownage"

Liquid'Ret
< 2-0 >

Cyrano -
Game 1 @ Metalopolis
+ Show Spoiler [Show Recap] +
Ret goes pool-first, while Cyrano takes a FE after a forge and cannon. The protoss simcity is tight, and Ret makes only two zerglings before starting a lair and getting a roach warren. Cyrano secures his natural against zergling pressure, and gets two stargates which Ret scouts at just the right moment with a speedy overlord. Forced to commit with his tech, Cyrano scores a series of overlord and queen kills regardless as Ret's hydra den builds. But Ret pressures with a small horde of roaches and does a substantial amount of damage himself, taking out Cyrano's early stalker mob in front of his natural, clearing a set of cannons and sniping a geyser. Ret finally gets hydras out at the same time that Cyrano is able to regain control of his natural.
Both players pull back, and Ret takes a fourth while Cyrano takes a third. Ret is the first to strike again, dropping a huge creep bridge and nearly ending the game with a huge hydra/roach combination at the protoss natural. But Cyrano saves the game with the timely addition of two colossi to his defense, and Ret is forced to fall back, exposing a cluster of overlords to Cyrano's phoenixes. Cyrano presses his army advantage, and comes out ahead after a massive engagement. He follows up immediately, but Ret's almost immediately replaces his hydralisks with corruptors, and demolishes the protoss force. Ret double expands to the gold minerals, and to the main opposite, while Cyrano ambitiously attempts to take his own gold. Ret morphs a mass of broodlords and coupled with roaches, overwhelms Cyrano's stalker heavy army. Wave after wave of roaches eventually force the gg.
- A dynamic and hard fought game, with good displays of ability from both players. Ret admitted after the match to being slowed down considerably by Cyrano's harass, but it sure didn't seem to matter.
Game 2 @ Jungle Basin
+ Show Spoiler [Show Recap] +
Both players play a slightly more economic variant of their game one builds, with Ret taking an expansion before a pool, and Cyrano expanding after just a pylon. Behind a wall, Cyrano again commits to two stargate phoenix play, and Ret takes his third along the side of the map behind a much faster hydralisk den. This helps limit overlord losses, but also opens up the zerg third to a quick zealot thrust which comes within one swipe of killing the hatchery. Yet seconds later, a lone suicidal stalker puts the "anti" in front of climax and finishes the hatchery off. Ret takes his fourth, and Cyrano throws down two robo bays (which an overlord promptly scouts) and attempts to take his third along the right, but Ret's hydra/roach army denies it almost as soon as it can start, cutting deeply into Cyrano's forces before being pushed back by colossi. A simultaneous zealot attack at Ret's brings that hatchery into the red, but Ret defends more comfortably with roaches and drones. Cyrano gathers his forces and again moves out to take another base, this time in the map center, but time has run out for him, as Ret uses a cloud of corruptors to shred Cyrano's colossi. An immediate follow up at Cyrano's natural cannot be blocked, and Cyrano concedes.
- Hardly a bad game, but surprisingly one-sided after the opening builds. Cyrano could not replicate his phoenix success of the first game, and even his hatchery snipe could not slow down Ret's upward supply march.
Player Grades
+ Show Spoiler [Show Player Grades] +

Liquid'Ret -
A-
The Jos de Kroon show booked a date with the Round of 32 in dominant fashion, but not without at least some moments of worry. Against a resourceful and adept opponent, Ret was pressed on several occasions in the first game, and fumbled an expansion in the second. Yet like any good comic book hero, Ret's faults only served to make his strengths that much more spectacular. Cyrano simply could not muster an answer for Ret's relentless macro play and was repeatedly beaten down by the Dutchman's finely honed sense of timing. In the blink of an eye, a well-fought series took on the character of a rout. We had a hint of this in the qualifiers, but Ret's play in the booth was simply exhilarating.

Cyrano -
B
The lowest ranked of the qualifiers, Cyrano was impressive, yet outclassed in his debut. He showed good control and decision making under pressure, and seemed very comfortable in executing his prepared strategy. Yet in each game he was simply unable to take any control of the situation. In situations where he could have conceivably taken the lead, Cyrano's absence of a confident follow-up was stark. His repetition of builds on two very different map also might speak to a general deficit in skill. Yet for what it was worth, Cyrano battled, and for that alone, credit is due.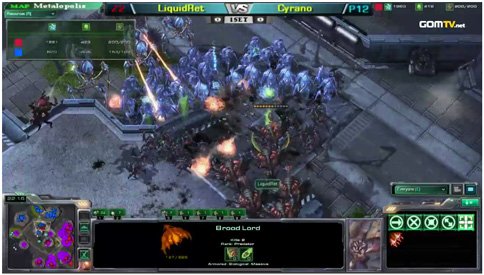 Korea, meet Ret.
"Anything you can do, I can do better"

JSLZenith
< 2-0 >

KyrixZenith -
Game 1 @ Metalopolis
+ Show Spoiler [Show Recap] +
The players spawn at cross positions, with Kyrix taking an expansion before a pool and JSL taking his expansion after scouting the zerg. JSL opts to tech quickly to tanks after his expansion, and Kyrix drones up and gets a baneling nest. JSL anticipates the baneling attack (and who didn't, really?) and walls off half of his natural, with a siege tank covering his mineral lines. The defense is extremely solid, and Kyrix does almost no damage with his attack. Kyrix builds his third and unconvincingly tries again, but JSL defends it even more smoothly than before and pushes out with his first medivac. Patient management and good positioning from JSL allow him to bait out the zerg defense and take the sting out of it. Kyrix secretly takes his fourth base, but JSL comfortably cleans out the zerg third. Kyrix musters his baneling/muta/ling army and eventually overcomes JSL's forward position, but has little left for a counter attack, and JSL has secured his third in the meantime. Kyrix attempts to snipe the new terran PF, but barely fails against a rapid marine response and mass repair. Kyrix doesn't have any options left, and JSL's next push steamrolls his third yet again, forcing the gg.
- Strong play from both, but exactly what you'd expect if you gave vision to only one of two well-matched players. Ultimately a pretty convincing win.
Game 2 @ Delta Quadrant
+ Show Spoiler [Show Recap] +
Identical opening from Kyrix, while JSL takes a faster factory and starport instead of an early expansion. JSL gets come early harass done and kills a queen of Kyrix'es with marine/hellion, but is eventually pushed back by roaches. This being Delta Quadrant, you know what happens next; JSL puts a tank on the cliff above the zerg natural, and Kyrix is completely unable to stop it. JSL drops and redrops a small marine force and a tank in range of the hatchery, and despite plenty of attention from the zerg, he takes it down comfortably. Kyrix eventually takes the open third expansion, but JSL has a comfortable army lead at this point, and cleans up a desperate muta/baneling defense. Kyrix concedes as his third base and reconstructed natural fall.
- This games gets a star because JSL's micro at Kyrix's natural was pretty nice. But this match just highlighted just how silly it is that the players were not allowed to thumb down maps. Watching a player killed by the map is not very fun.
Player Grades
+ Show Spoiler [Show Player Grades] +

JSLZenith -
A
JSL is a talented player, but this series was won in the preparation. Everyone knows Kyrix is an aggressive player with a certain fondness for rolling green landmines, but as a frequent practice partner, JSL knows his playstyle better than most, and cashed in on it heavily. This was most apparent in the first game as he blindly parried Kyrix's initial attacks, and evident in every movement of his army thereafter. In short, JSL did exactly what he needed to do to win. He wasn't completely perfect, taking a long time to secure his backdoor natural on DQ, and making the occasional sloppy move on Metalopolis, but he was more than good enough.

KyrixZenith -
B-
Yes Kyrix is predictable, and yes he was tremendously sloppy with his defense in the first game. Hence the grade. But until I someone tells me exactly how Kyrix should've played the second game on DQ differently, I'm ignoring it when it comes to this rating. The position JSL put himself in was near untouchable as long as the terran paid attention, which JSL did almost to a fault. Kyrix didn't really give this series away, but he was out-prepared, out-played, and out-mapped. Only two of those three are his fault.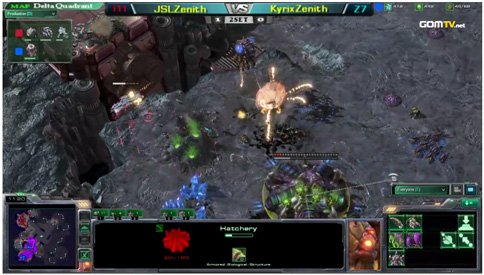 Thumb this down.

MarineKingPrime.WE
< w.o >

NEXLine
+ Show Spoiler [Details] +
"MarineKingPrime and NEXLine not playing because of health problems for NEXLine. MarineKingPrime will advance with a bye."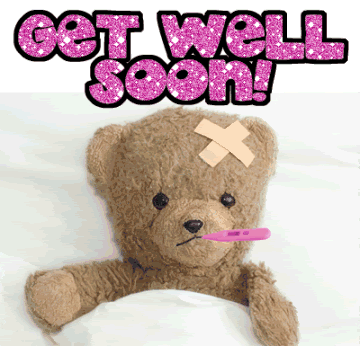 Get well soon.
"Life is like a box of chocolates... except sometimes the chocolates are banelings."

ST_Monster
< 2-0 >

GuMihofOu -
Game 1 @ Jungle Basin
+ Show Spoiler [Show Recap] +
GuMiho spawns as protoss and attempts to take a quick FE with a gateway, but is denied by Monster's scouting drone, and is forced to send a second probe. (Oh the irony.) Monster takes his own expansion before a pool, and barely kills off GuMiho's first harassing zealot, saving a red-health queen. Noticing that Gumiho initially got a gateway instead of a forge, Monster immediately starts to break the rocks at the protoss natural, but is chased away by a group of stalkers before he can finish the job. A second simultaneous ling attack at GuMiho's front wall is denied by a timely forcefield. GuMiho then takes the timing to attack, pressuring Monster's natural with a void ray and phoenix, and killing off a queen before retreating. Monster spawns a gob of hydralisks while GuMiho continues fairly unfruitful phoenix pressure. Both players move out at similar times, and attempt to take the middle of the map, with zerg expanding there first. GuMiho avoids a hairy situation with a timely blink, and pressures the destructible rocks at Monster's natural, but nothing comes of it, and he retreats to take his expansion when his first colossi comes out. Unfortunately, this timing coincides with Monster's corruptors and after some back and forth, Monster decisively wins the inevitable army clash, and despite some nice control afterwords from GuMiho, the zerg advantage is too strong.
- A decent game, but ultimately without any real drama. GuMiho's decision to trade a second robo bay for blink ultimately did not work for him, and his phoenix commitment disappointed, as his stalker mob was left unsupported at the end.
Game 2 @ Metalopolis
+ Show Spoiler [Show Recap] +
GuMiho spawns as terran at close positions, and is spotted immediately by Monster's overlord, although the terrran does not see it. He scouts correctly nevertheless, and sees Monster's hatch-before-pool opening before opting to expand himself after a single barracks. GuMiho applies light pressure with his first four marines, but Monster brings together his two queens, and defends his natural from the infantry. GuMiho pushes back with several marines and a hellion, but Monster is able to surround the marines and take no damage from the hellion runby. GuMiho produces several more hellions, and gets the blue flame upgrade, but settles for removing a few creep tumors, and lets Monster tech to muta/baneling without much trouble.
Monster secures his third base and blocks a clever elevator drop from the terran into his main with help from a well-placed overlord. GuMiho continues to insist on pushing, but Monster's forces have grown exponentially, and waves of b/ling/muta overcome a nice split from the terran. GuMiho follows up with drops at Monster's third and main, but the damage is limited to a handful of drone kills and a queen assassination, as Monster cleans up the terran units with masses of muta/ling. Monster capitalizes by attacking from two directions and taking out the terran third with no muta losses. GuMiho bravely presses out again, but despite good anti-baneling micro he is unable to make any headway against Monster's gold expansion. A deadly muta backstab from the zerg and a failed counter drop essentially seals the deal. Monster will throw away a ton of mutalisks before the game ends with silly control, but it hardly matters, GuMiho cannot macro appropriately off of three remaining barracks, and is belatedly worn down and forced to call gg.
- Some back-and-forth from both players, and some nice control in a losing effort from GuMiho. Ultimately, Monster's better command of TvZ timings seemed to be the difference in the game, as our Random hero was unable to find an opening when he could land a decisive blow on the zerg.
Player Grades
+ Show Spoiler [Show Player Grades] +

ST_Monster -
B+
Monster turned in a workmanlike, if not particularly inspiring performance. It was enough, but there were some questionable moments. Monster's play in the first game was what it needed to be, but his play while ahead in the second was tremendously uninspiring. Perhaps it doesn't matter too greatly, but it was worrying to see such a sloppy finish. That was a serious issue; Monster seemed adept at gaining a lead, but in several instances in which he could have conceivably ended the game, Monster backed away. It's safe play, but a failure to sieze opportunities will be a liability later in the tournament if it continues.

GuMihofOu -
C
Oh poor GuMiho. Despite having the well-wishes of TL behind him, the lone Random-er in the tournament could not put together a full performance against solid zerg play. GuMiho showed a good deal of promise, especially when it came to micro-management, and his macro was decent enough. But exactly as might be expected, a lack of intimate familiarity with all of his match-ups was the deciding factor. In general, a sense of timing seemed to be most lacking. In the first and second games, GuMiho had no trouble putting a frightening army on the field, but in each case his opponent was able to match him at the same time. From what he displayed in two games, I have no doubt that GuMiho could play well as a specialized player, but I'd like to state that I really hope he doesn't pick. A strong random player may yet be impossible, but GuMiho can undoubtably claim to be the world's best at his discipline, and I hope he pushes the boundaries of Random as far as they can be pushed.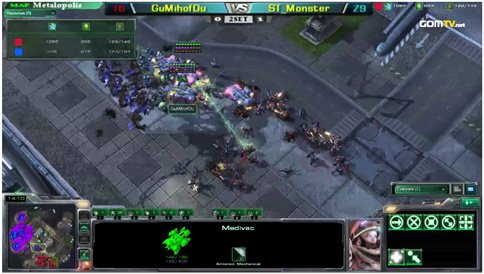 This is what GuMiho found under his bed.
"Nibbled into oblivion"

TSL_GuineaPig
< 2-0 >

IMJunwi -
Game 1 @ Lost Temple
+ Show Spoiler [Show Recap] +
Junwi goes hatch before pool, and GuineaPig responds by taking his own expansion after just two pylons. Junwi gets a lair and roach warren immediately, and tests GP's wall at his natural, but three cannons secure it. Meanwhile, Junwi gets a quick nydus network, while GP builds two stargates. The first worm from Junwi is killed off by a rapid probe response, but the second surfaces, and GP is forced to awkwardly deal with an inconvenient force of lings and roaches. However, two void rays are summoned at the right moment, and GP handles the incursion and a third nydus fairly easily. GP next starts to pump phoenix and clears the overlords peaking into his base. This accomplished, GP cautiously probes into Junwi's natural with three void rays, while bringing his phoenixes over from his base. The two air forces meet up atop Junwi's small detachment of hydras and a queen, and decimate the zerg units in mere seconds.Suddenly army-less, Junwi sacks his natural hatchery, but with his hydra den right nearby, there's simply nothing Junwi can actually do, and the zerg gives up quickly.
- A short game, but with plenty of interest. Junwi's initial nydus play was clever, but well met. GP's
beautiful
construction of the winning attack was reminiscent of Jaedong's famous ee han timing against Stork. One moment you don't see it, and the next it all comes together perfectly. A must watch.
Game 2 @ Shakuras Plateau
+ Show Spoiler [Show Recap] +
At cross positions, Junwi opts to go pool-first, while GuineaPig appropriately gets a forge before taking his FE. As GP techs, Junwi adds a fast third at the opposite natural, but GuineaPig is completely on top of his scouting, and spots the drone leaving the natural. He leaves that probe to cannon rush the expansion, and sneaks yet another probe into the zerg main, where he sees that his opponent is not committing to aggression. As his first third expansion is denied, Junwi next attempts to take the watchtower third, but GP immediately sets a void ray on it.
Junwi rushes five hydralisks to clean up the harass, but GP injects a shot of bear semen directly into his forearm, and proceeds to kill off the whole hydra force with four +1 phoenixes. Once again Junwi's third hatchery falls. On the third try, Junwi is able to take another base, as GP has begun a massive void ray pump off of three starports, added a robo bay, and taken the bottom expansion. Junwi sees the threat, but is delayed in attacking by GP's cannon wall from earlier, and some timely distraction from the protoss in the map center. This gives GP time to chrono out his first colossi. In a battle outside GP's expansion at the bottom middle, Junwi's hydra-only composition is completely fried by a huge spectrum of void rays. GP takes his fourth shortly after and makes a large band of zealots—his first gateway units of the series—to supplement his attack. Junwi adds infestors, but cannot cope with GP's tremendous army composition, and gg's as his third falls.
- A similarly one-sided game, but a spectacular one nonetheless. While this second game demonstrated brawn to the first game's brain, GP showed a tremendous amount of diligence and adaptivity in stringing it all together. There were plenty of stunning moments throughout to make this a great game to watch.
Player Grades:
+ Show Spoiler [Show Player Grades] +

TSL_GuineaPig -
A+
If you were left speechless by GuineaPig's clinical destruction of Junwi, you have company. In the time between my writing and this going to press, I suspect that GP's stunning +1 air assault will have been copied ad infinitum on Battle.net. But make no mistake, this is not a simple strategy to pull off, and GP showed superior skill in making it look absolutely unbeatable. His careful dissection of Junwi's natural in the first game was exemplary for patient and attentive micro-management. In the second game, GP managed to produce a ton of void rays, expand. and tech to colossus, all the while scouting and harassing Junwi relentlessly. No overlord was safe, no expansion was free, no unit or building went unnoticed. What a tremendous performance to watch.

IMJunwi -
C+
So thoroughly was Junwi manhandled, that I have no idea how good or bad Junwi actually is. There can be no doubt that he was unprepared for his opponent's playstyle, but this begs the question whether any zerg would've been more adequately prepared for the beehive that GP dumped on Junwi's head. At any rate, it seems a fair statement that while Junwi was outplayed, it was more due to his opponent's greater skill than deep deficiencies* in Junwi's play. We can and should expect better things from Junwi in the future.
*Although, he did lose an overlord to a cannon. That's always bad.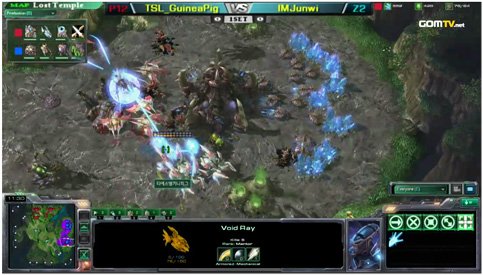 Finesse.


Set E: "Why we watch"
Recaps by Treehugger
+ Show Spoiler +

"Significantly better than the last two GSL finals combined"

LeenockfOu
< 2-1 >

TSL_Clide -
Game 1A @ Jungle Basin
+ Show Spoiler [Show Recap] +
Leenock takes his hatch before pool, while Clide expands behind a wall. Clide tries to pressure with his first couple marines but is forced back twice. Back home, he techs to a factory and then puts down two quick barracks, while Leenock drones heavily and starts prepares for baneling/muta play. Clide continues his build-up with a double engineering bay, and Leenock takes his third during the lull. Leenock is the first to make a move, harassing with his mutalisks and taking out an exposed tech lab on one of Clide's barracks, but little else. Clide finally moves out just as Leenock prepares to take his fourth along with a massive muta/ling army.

Then he gets dropped.

This was already a tense game, after a build-up for about eight minutes, Leenock moved to take the center expansion and Clide rumbled out of his base with a formidable marine/tank/medivac army on 2-2 upgrades. Leenock himself was well-upgraded, had three secure bases and an ample tech tree. His army on the field was large and figured to grow bigger before the main clash. Not only that, but he was spreading creep like a complete boss. Really disappointing to see a player get dropped in a game, but especially one as tense and between as high quality opponents as this.
Game 1B @ Jungle Basin
+ Show Spoiler [Show Recap] +
Basically take the first paragraph of what I wrote above and read it again, except Clide isn't quite as reckless with his early marines. With his initial mutalisks numbers and a group of zerglings, Leenock pressures the backdoor of Clide's third, killing a tank and a turret but nothing else. Clide moves along the side of the map with a small ball of marines, killing a few overlords, drones and zerglings, but losing his force. Once again Clide moves out to match Leenock's fourth, and is successful at establishing himself in the map center.
Leenock takes the right side expansion as his fifth and both players jockey for position around the middle. Leenock bites first, making a huge sweep through Clide's main, natural, and out the backdoor chased by Clide's marine mass. Both players are now playing with massive armies, and each tries to gain the upper hand in positioning. Clide is able to successfully box Leenock out, and takes the center zerg hatchery down. Leenock's army is now pinned against the right side of the map, and Clide attempts to drive a wedge through it to the zerg fifth. With excellent control at the expansion ramp he bottles Leenock's army behind the right side hatchery and snipes it too. Leenock is reduced to one mining base, and Clide continues to cut down on all favorable angles attack from the zerg. Leenock swings his army back and forth but is constantly forced to retreat, taking losses each time. While Leenock continues to maintain a nearly maxed army, he is operating off of just one or two bases at any time. At long last Leenock is able to fend off the full court terran press at his third, and gets broodlords out at the same time. Clide however has rebuilt his army and presses again, taking out Leenock's reconstructed center base. Leenock gives battle across the middle, and despite doing a significant amount of damage, he cannot support a second army, and concedes.
- A superb game that was tense for the full duration. Both players did well to not change anything from the dropped game, and it turned out to be just as exciting as anticipated. Leenock's macro was almost too much, but the star of this game was Clide's brilliant army control. He abused the map's architecture to shut down any opening for attack that Leenock may have had, and continued to do so for a tremendous amount of time. One of the best games of any of the three GSLs.
Game 2 @ Lost Temple
+ Show Spoiler [Show Recap] +
Clide walls in and begins a factory, while Leenock takes his natural before a pool again. While Leenock drones up and gets a roach warren, Clide finishes a starport and armory at the same time, and prepares for the well-known LT cliff thor drop, sending a contingent of scvs across the map to support.
Leenock gets a small bit of advanced warning from an overseer, but is still pressured by the initial thor, and his hatchery falls to red as he tries to kill it off. A second medivac flies into the zerg main and the thor takes out the queen there, before flying off to join his brother on the cliff. At the last second, Leenock again attacks, having killed the scvs previously, and Clide makes a critical mistake, picking up the wrong thor and losing one of the two. He still takes the hatchery out seconds later, but Leenock is expanding to the lower main, and is gathering burrowed roaches in front of Clide's front. The horde of roaches batters down the wall, and kills of a defending thor. Clide pulls his scvs, but quickly expends his scans and Leenock soon has the run of the place. More roaches pour in, picking off buildings as clide turtles behind a turret and several tanks. Leenock brings his overlords across the map, and drops the roaches on top of Clide's mineral line, killing all his scvs, and winning his base. A last-ditch marine drop from Clide is blocked twice, and the thor on Leenock's cliff makes a last stand in the natural. Clide calls gg moments later.
- A clever and usually fatal build from Clide was handled fantastically by Leenock, whose delaying tactics on the natural paved the way for his deadly burrowed roach counterattack. Short game, but a close one with bucketfuls of action. Leenock's decision to drop to end the game was small, but absolutely right on, and perfectly foreseen. There was no time wasted.
Game 3 @ Shakuras Plateau
+ Show Spoiler [Show Recap] +
Once more, a hatch-first opening for Leenock, while Clide expands after a barracks, and walls-in his natural. At close positions, Leenock takes down the rocks on his side, but is chased away from Clide's. While Leenock yet again gets a spire and baneling nest, Clide puts down two factories, and tries to runby into Leenock's natural with seven blue flame hellions. At the last second, Leenock puts up a brilliant wall with a roach warren, evolution chamber, two queens and a spire crawler hidden under an overlord, averting disaster. Clide's hellions find Leenock's third base as it's morphing bringing it down to the red, but Leenock lets it finish and saves it with mutalisks by the slimmest of margins. Clide manages several drone kills at the expansion moments later, but Leenock secures it with a spine crawler and gets out of trouble.
Clide next puts down several barracks and begins to produce thors from his factories, while Leenock gets a sneaky greater spire and puts down another hatchery at his watchtower expansion. Sensing a timing, Clide breaks through his rocks and moves into Leenock's main from the back way, just barely ahead of the morphing broodlords. He takes out an extractor and infestation pit, but is repulsed by Leenock's broodlord/roach combination. A touch-and-go battle outside Clide's main is barely won by Leenock, but he is obliged to retreat with shrinking air numbers. Clide takes the initiative, landing a command center in the center expansion, and securing it with a deadly mech army. He pushes forward again, but is forced back after his vikings fall, and by sheer numbers of broodlords. Once again, equilibrium is achieved over the middles expansion, and Leenock takes two more bases along the map bottom as his watchtower hatchery is destroyed. Clide leaves his PF in the center to defend itself, and extracts his army to the middle of the map, where he threatens Leenock's bases along the bottom of the map. Massed air from Leenock pushes him back, and the zerg army kills off Clide's watchtower expansion with the help of a fungal growth on Clide's viking fleet.
Clide successfully clears drones from two of Leenock's isolated lower expansions, but is dissuaded from trying to kill one off by the arrival of Leenock's armada. He settles for taking the bases along his side of the map in the meantime. He has difficulty protecting them all though, and Leenock harasses with mutalisks, killing a great deal of scvs along the left side. Clide then evens up the score by taking out Leenock's lower watchtower base. Clide moves back to the defensive, and Leenock moves around his army, taking out the terran expansion at the other right-side natural. Clide traps Leenock's ground army in the main there, and eliminates it. Leenock attempts a simultaineous brood-lord push at another of Clide's expansions, but Clide's vikings are right there, and wipe out the zerg air army. For the first time in the game, Clide has a strong army advantage, but he is hesitant to use it initially, as he is hurting economically and fears a counter-attack. Having cleared so much supply, Leenock is now free to make ultralisks, which come out as Clide belatedly tries again to push at Leenock's lower expansions. The ultras take out Clide's inner expansion, as Clide attempts a counterattack, then destroy the mech elements of his army, leaving only a bio ball. Leenock is hurting for minerals as well, but he has a mining base and a half to Clide's one expansion, and has mined more bases throughout the game. Leenock adds Banelings to his next army, shuts down Clide's last remaining base, and engages in the map center. Broodlords abuse the tanks while ultras mop up the bio ball. Clide concedes, just under 33 minutes from the start.
- The best game of the GSL so far, and one of the best TvZs yet seen in Sc2, fully comparable to many top level BW TvZ games. Both players threw in a dazzling mix of defenses and counters, timings and mindgames which made this game a must watch. Clide's excellent army management, and Leenock's dogged harassment in shutting down terran expansions were the key themes of the game. In the end, the terran starved, but only just.
Player Grades
+ Show Spoiler [Show Player Grades] +

LeenockfOu -
A
Leenock put in a series of good games last GSL, but was famously out-macroed by NaDa on Shakuras to end his season. This time around, he was creative, poised, and mechanically excellent. Forced to regame a match that he was marginally winning on Jungle Basin, Leenock caught a tough break in the replay. But he responded with great self-control, beating back a great build on LT with a superb counter of his own. And on Shakuras he stayed ahead in the macro game and was able to overcome an opponent at the top of his game.

TSL_Clide -
A-
Clide, surely, is the most unfortunate player in terms of brackets. Drawing a strong player in TankboyPrime last season he could not play up to the standard expected of him and lost narrowly. This season, he yet again faced a strong opponent who also happened to look like a cherub. Again he lost by the narrowest of margins. In this case, the difference was one thor, which is all Clide needed to pick up to maintain pressure on Leenock in the second game. Instead, he made his only serious error of the day, by picking up the wrong thor, and thus lost the game, series, and tournament. Thankfully, Clide performed well enough in the first GSL to secure S-class designation, because we sure deserve to see him again.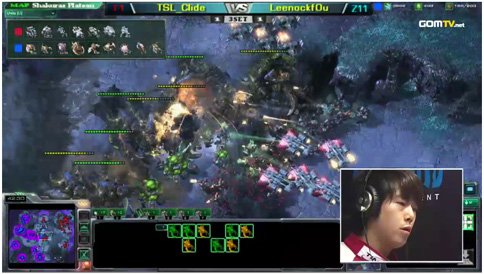 A picture is worth a thousand words, and a VOD is worth a thousand pictures. Watch this series.
"And now for the cheese course"

oGsHyperdub
< 2-1 >

ST_Max -
Game 1 @ Blistering Sands
+ Show Spoiler [Show Recap] +
Hyperdub sends out two scvs and begins a proxy two rax outside Max's natural. Max goes hatchery first, and drone scouts the wrong way, seeing nothing. After the first of Hyperdub's barracks finishes, he begins building a third barracks, while walling in at his main with depots. He pulls a couple of scvs, and waits to attack until he gets a small grouping of marines. Max pulls his drones and gets lings out at the same time, but Hyperdub inflicts heavy damage, and gets his bunker up. For a brief moment, Max looks like he might barely hold on, but another round of marines reinforces Hyperdub's push, and stabilizes the situation. Hyperdub pushes straight into the main, where it turns out that Max has basically nothing left. Max gg's.
- Nothing to see here.
Game 2 @ Scrap Station
+ Show Spoiler [Show Recap] +
Max learns his lesson well, scouting possible proxy locations before taking his early hatchery. However, Hyperdub has built his barracks just outside of his own base this time, and expands behind it. Meanwhile, Hyperdub moves out with his initial marines and an scv and begins to construct a bunker chain outside of Max's base. He finishes the first and second, but Max goes in with a swarm of lings and both queens and clears away the bunker. Max then presses his army advantage, but Hyperdub builds a series of very creative walls to seal off his main and natural. Max gets an additional hatchery inbase, gets a lair at his natural and double expands to the gold and Hyperdub's rock expansion. Meanwhile, Hyperdub begins heavy marine production and pushes out as he gets blue flame hellions. He quickly finds the gold expansion and survives a mass ling defense before taking it out. Max gets together a huge army of infestor ling, while Hyperdub is macroing and teching in excellent form, getting a large tank and thor battery to supplement his marine and hellion force. However, his hellions get separated from his main army and taken out by fungal/ling. Max takes his fourth and Hyperdub moves out anyway to secure his third, but roaches and some neutral parasite action clean up the mech, and force Hyperdub to lift his command center.
Max takes a fifth base at his rock expansion and covers for it with a huge roach drop at the terran main. The expansion gets up safely and the roaches kill several supply depots and many scvs before being wiped out. Hyperdub once again moves out to secure his third, with a heavy tank line, while Max runs directly into it with roaches and infestors, this time getting completely mauled. Hyperdub presses with his huge tank force, and takes out the hatchery at the zerg third. Max tries his luck through the middle rocks, but gets blocked. He moves back around and is able to engage the main terran army out of position, this time destroying most of it. Max takes the island and Hyperdub finally discovers the terran base at the barricaded base on his side, and sends a series of hellions to do a small bit of harassment. Max has bigger plans, however, getting a greater spire and executing a staggered roach drop on each terran base in turn with is extremely successful. Max finally gets broodlords out while Hyperdub takes out Max's long hidden hatchery at the bottom rocks. Both armies prepare for the final clash but Max gains the upper hand by killing the large terran viking fleet with fungal growth, allowing his broodlords to dominate the terran ground forces. Finally, at long last Hyperdub is beaten down, and concedes the game.
- Hard fought game with plenty of action, and some neat plays from both players. Opportunities for each player to take the game, but ultimately the result hinged upon some awful viking placement from Hyperdub.
Game 3 @ Delta Quadrant
+ Show Spoiler [Show Recap] +
Max again goes hatchery first, which prompts an immediate rush from Hyperdub's double barracks. The terran puts down two bunkers to wall off the zerg ramp, and proceeds to kill the hatchery at the natural. Max responds by getting banelings, which break the two bunkers, but don't even try the get the barracks down at the terran main. Hyperdub takes his backdoor expansion while Max takes the gold, and gets a nydus network. Hyperdub moves out with a pair of hellions before the attack can begin, and takes out a large amount of Max's zerglings. When the nydus worm surfaces, Max's attack lacks any real punch and Hyperdub splits well enough to doom the attack. Ahead by miles, Hyperdub pushes out with tanks and marines to take out Max's gold expansion and break into the main. Hilariously, Max spawns mutalisks a few moments too late, and is able to kill off Hyperdub's army, after losing all his other units. He gg's once he cleans out his main.
- Not a very entertaining game. Hyperdub's advantage was too large from the beginning, and Max's attempts to come back really weren't all that sound.
Player Grades
+ Show Spoiler [Show Player Grades] +

oGsHyperdub -
B
Winning the series nonwithstanding, Hyperdub's performance was less than inspired. A brute-force cheese in the first game, and an opportunistic rush in the third were enough, but against an opponent better prepared for his early aggression, he may not have been so lucky. His best game might've been the second, where several control mistakes eventually overshadowed a strong macro performance. In general, Hyperdub's multi-task seemed a little suspect. His lazy unit queuing and bunker defense in the third game left a sour taste. So too did his sloppy macro in the first game. He'll need to play better in the next round.

ST_Max -
B-
I liked how Max played the second game, but his stubborn refusal to go pool-first against a player with known aggressive and cheesy tendencies was just stupid. I don't know if he never looked up his opponent, or thought he could get away with it, but the fact remains that he could not make the hatchery first work against Hyperdub. However interestingly and well he may have played in winning the middle set, overall Max's series must be defined by a truly dumb overall strategy.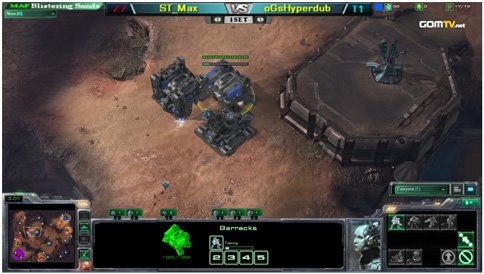 Hyperdub thinks hatch before pool is risky.
"Hello. My name is Jang Min Chul. You killed my friend. Prepare to die."

oGsMC
< 2-0 >

OdinMvP -
Game 1 @ Jungle Basin
+ Show Spoiler [Show Recap] +
MC opens with a standard two gate expand, while Odin initially builds two barracks, but then hides a factory and proxies a starport at the lower left. MC slips a scout past Odin's marines on the field, but is unable to figure out anything except that Odin is not preparing an eminent bio push. Meanwhile, Odin has added a tech lab to his starport and researches cloak for his banshees. MC is quick to smell a rat, however, guessing and preparing for banshee harass with observers and stalkers at his main mineral line. Odin tries his luck around the protoss base, but loses his first banshee with almost nothing gained, and backs off with his second. But MC is now up to four gates, and is having none of it. He pushes out, defending a banshee backstab at the same time, and evicts Odin from his own ramp with some tremendous force fields. Unitless, Odin has nothing left to do but concede the game.
- MC apparently doesn't need things like good scouting information on his opponent's hidden tech to emphatically D that shit. In fact, when you think about the lengths that Odin went to conceal his banshees, and how effortlessly MC shrugged them off, it makes this game pretty funny.
Game 2 @ Shakuras Plateau
+ Show Spoiler [Show Recap] +
Odin goes for a two barracks opening and follows it with an expansion, while MC sneaks a stargate in on the edge of his base before putting down his second gateway. Odin gets a reaper out for scouting, however, and spots the stargate just after it finishes. The terran responds by building a third barracks, while MC scouts and begins to pump phoenix, taking out a fair number of terran units until Odin gets meaningful turret coverage. This distraction covers an expansion, and MC transitions seamlessly into colossi play. Odin prepares a push with the usual bio ball plus a thor and a ghost, but MC meets him head on in the map center, and dominates, using phoenixes to occupy the thor, while dropping a tremendously effective series of force fields. MC wastes no time in pushing Odin's natural, and the hasty appearance of a viking only slows down the final blow by less than a minute. Odin surrenders, and MC bolts out of his booth to show the audience the spiffy Liquid'Huk hoodie he's wearing.
- A fairly unorthodox game with superb play and no fear from MC. The fact that MC was able to exact decisive revenge upon HuK's qualifier opponent only made it sweeter.
Player Grades
+ Show Spoiler [Show Player Grades] +

oGsMC -
A
A virtuoso performance from MC, who dealt effortlessly with a couple challenging situations. While his comfort with unorthodox play (both using it, and fighting it) was impressive, MC's general battle micro and FF use—the protoss bread and butter—was perfect. Sacrificing his phoenixes to keep the thor out of the crucial battle in the second game was particularly brilliant. So was his divination of Odin's game one build. In a tournament that has been tough for protoss and promises to continue being so, MC made a convincing case for himself and his race.

OdinMvP -
B-
Odin hardly mailed it in for this series, and yet he was comprehensively destroyed in just two quick games. That's largely because the gambles he made in tech; banshees and ghosts, simply didn't pan out. But there is also substantial fault to be found in Odin's battle control. In each game, Odin's army was abused by a protoss force more attentive controlled than his. It's a huge issue, and cost Odin a chance to make any impression in this GSL. So while his macro and decision-making showed practice and thought, his opponent in this series could only be beaten by quite a bit more than that.
Don't wage a land war in Asia, and don't mess around with Min Chul.
"Nom nom nom."

ST_July
< 2-0 >

cOreZenith -
Game 1 @ Shakuras Plateau
+ Show Spoiler [Show Recap] +
July takes an early pool, and expands when his first zerglings spawn, pulling drones off of gas as soon as he starts zergling speed. cOre walls in at his ramp, and gets a second gateway with the anticipation of expanding. July's fast speedlings surprise the probe at cOre's natural, and surprise the zealot in the wall-in even more when they bolt straight past him into the main. cOre panics, and sends his whole army dashing around his main chasing after two zerglings while July just sweeps a much more significant swarm of lings straight through the open front door. cOre pulls his probes, and July gives battle for some reason, allowing cOre to clear his main after decent losses.
All this time, cOre's nexus at his natural has been warping in untouched, and both players take some time to macro up and tech off of two bases. July puts down a spire while cOre gets a twilight council and dark shrine. cOre eventually moves out to put some pressure on, but July turns the joke around and kills several protoss units and forces a ton of sentry energy to be expended with a swarm of zerglings. Mutalisks come next, and cOre loses a handful of probes before forcing the mutas to retreat. In the meantime, cOre's first FT is phenomenally unsuccessful, getting completely stuffed at the zerg natural. Subsequent DT harassment at July's third (#2), main (#3), and main again (#4) are slightly more fruitful, but that's not saying a great deal. Optimistically, cOre clears out the rocks separating the two main bases, but July harasses the protoss natural while pressuring the backdoor and gives cOre a headache. Delirious, cOre tries to push out with an army noticeably devoid of colossi. It gets utterly obliterated. GG.
- This game could've been over a great deal sooner, but instead became a prolonged mess for cOre. Never close, and never dramatic after the first couple minutes.
Game 2 @ Delta Quadrant
+ Show Spoiler [Show Recap] +
As in the first game, July expands after getting zerglings. cOre walls in again, and drops a stargate and two gateways behind. July can't get any information from inside the protoss base, and scrambles to respond to cOre's push timing after his second void ray. A few roaches and a third queen make it to the natural just in time to blunt the protoss attack, and July holds after losing two queens, but taking out cOre's small ground support, and two void rays. July immediately over-lings, but can't get past the protoss wall at the natural, and nets only two proxy pylon kills. cOre sits back and clears the rocks in his protected backdoor expansion, while July adds a spire and goops up the stargate for a bit. Once two more void rays are out, cOre moves in with them alone to do some damage, but July has massed up six queens and repels it easily. cOre spots July taking the gold base, and attempts to block it, but July's mutalisks are out, and he removes the void ray threat easily. Sitting on two bases, July is content to mostly hang back and wait for cOre to move out, which he eventually does, single file. July meets it head on, but cOre goes nuts with force fields, and wins the first engagement handily. Unfortunately for the protoss, he has no sentries left, and July runs him over with rallied roaches seconds later.
- A neat defense from July of cOre's initial attack, after which the game was basically decided, and took a little too long to reach a conclusion. Poor control from cOre throughout.
Player Grades
+ Show Spoiler [Show Player Grades] +

ST_July -
B
July won in pretty one-sided fashion but he was quite sloppy throughout, and did nothing to distinguish himself from the vast quantity of unremarkable zergs in this tournament. In the first game, July's control of his zergling runby was considerably less than the sum of its parts. With his opponent running around like a chicken with its head cutoff, July did stunningly little damage, failing to take out his opponent's natural, crucial pylons, or tech structures. Instead he engaged in a battle that he lost badly. Even though he took the lead, a different player would've won from that position. On several occasions across both games, July gave away mutalisks in silly ways. In the end, July's solid macro and unfailing aggression was enough for the first round, but it will not be enough for the next round unless July does better.

cOreZenith -
D
Although being few in number, most protoss in the tournament distinguished themselves with strong play, even in defeats. cOre is one of the exceptions. His decision-making and micro were extremely poor throughout the series. The most obvious example is his abysmal handling of July's initial speedling pressure in the first game. Letting the lings in the first time was a bad control mistake. Letting in the second batch of lings by not securing his wall was truly stupid. Fool me once, shame on you, but fool me twice... In the second game cOre's initial push appeared extremely dangerous. Yet it seemed as though he hardly paid attention to his attack once he had sent it off. That's no way to play. While it was cOre's lackluster control that set him firmly behind, it was shoddy decision making in tech that doomed him. DTs in the first game were an unnecessary Hail Mary into triple coverage. Not getting colossi, high templars, or anything beside mass stalker/sentry in the series is inexcusable. Any silver league player knows that isn't going to work. This was a horrible series from cOre.
How to get nowhere with void rays.


Set F: "Stop, Drop, and Jinroll" OR "Grack 'em up"
Recaps by TrueRedemption
+ Show Spoiler +

"Alive's upgrades eat Zenio alive"

aLivefOu
< 2 - 0 >

oGsZenio -
Game 1 on Lost Temple
+ Show Spoiler [Show Recap] +
Zenio attempted a hatch first build prior to scouting close positions, Alive deciding to tech and expand rather than commit to the popular early marine play. Zenio plays pretty standardly, maintaining a small ling/roach army to defend while a baneling nest and lair finish up. The short travel distance allowed Alive to push out with a fast marine siege push that hit before the zerg's roach and baneling speed upgrades had finished. Zenio managed to hold on with his small army, but suffered substantial overlord losses in the process. Switching to drop play Alive was able to force Zenio's third to cancel and slaughter more overlords, but Zenio had some drop play of his own, multiple baneling drops into Alive's mineral line seriously damaging the terran income. This prompted Alive to counter attack, his marine and medivac force pushing a little too far ahead as Zenio's roach ling baneling force was able flank the tanks, but Alive had far too large of an army and was ahead on upgrades, allowing him to demolish the swarm army at on the doorstep of the zerg natural, forcing Zenio to gg.
- Alive controlled the pace of the game well, keeping Zenio on 2 bases and getting ahead in upgrades before Zenio was able to stabilize and disrupt Alive's game plan.
Game 2 on Jungle Basin
+ Show Spoiler [Show Recap] +
Zenio again opts for a blind hatch first, but Alive took gas and opened with a quick factory yet again, managing to catch an overlord with his first couple marines and block Zenio at 20/20. The tech lab factory looked just like last game, but this time Alive opted for blue flame hellions as Zenio quickly pumped a couple roaches out to try pressure Alive and put him on the back foot. Alive continued with the hellion drop despite showing them as he pushed back the roaches, allowing Zenio to be quite prepared and deflect the drop without taking much damage. Mutalisks begin poking around the terran base while Zenio took his third, but Alive's timely thor prevented any real harass.
Zenio's investment in map control was paying dividends however with his this third operational, a pack of lings outside the destroyed back door should Alive move out the front, and banelings burrowed in the middle of the map. As Alive attempted to move out his back door Zenio counter attacked the front with a mass of zerglings, but the wall in and siege tanks cost Zenio more than the attack accomplished. After a brief macro lull, Alive moved out to the zerg third, good upgrade timing again contributing to a scary marine tank ball that Zenio opted to avoid rather than meet head on, his muta ling army making use of the undefended back door. The counter attack was only mildly successful though, revealing how far Zenio had fallen behind on upgrades, the Terran force retreating to protect a third base after ravaging the zerg economy. Zenio fighting to barely be on 3 himself, he committed to a last ditch effort, managing to take out Alive's natural, but with no real answer to the huge terran ball Zenio was way outmatched. Alive cleaned up and moved out, ending Zenio's season 3 bid earlier than most expected.
- Alive's good upgrade timing showed much more dramatically this game, emphasizing the power of upgrades. Pretty good play from both players made for an entertaining game, but Zenio's minimal upgrades proved a fatal mistake.
Player Grades
+ Show Spoiler +

aLivefOu -
B+
Alive played a really great series. However, showing his hellions yet continuing with the drop didn't work out well, and the damage Zenio managed with his baneling drops gave a fragile look to his play despite his very authoritative style. Regardless his GSL run should be an interesting one to follow, his upgrade heavy play seems geared for the late game suggesting he would be even more comfortable on more macro oriented maps than this series had. The maps may have been what helped him get past Zenio however, so only time will tell.

oGsZenio -
C+
Close positions on LT followed by JB seems like a harsh opening round for any zerg, especially against Alive's upgrade centric 2 base style. Zenio was able to put up a small fight, but not disrupting his opponents economy nor safely establishing his own until he was already behind in upgrades really limited his potency in both games, which could again point back to the maps. Obviously plenty of other zergs have managed to win in these situations, but Alive proved he may have been at least an even opponent on balanced maps, and Zenio's play simply wasn't enough.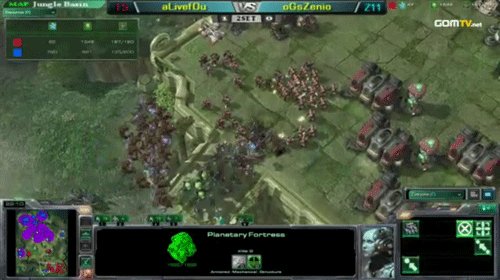 This was a slaughter; 3-2 marines are in fact part Chuck Norris
"The Return of the Reaper"

PoltPrime
< 2 - 0 >

NsPJoon
Game 1 on Delta Quadrant
+ Show Spoiler [Show Recap] +
Joon goes hatch first in close positions, Polt opts for a 1 rax reaper opening with a command center. Thanks to the delayed zergling speed of hatch first play, Polt was able to dance his three reapers around the zerg natural, managing to pick off the queen and the drones at the natural before speed finished and the harass was cleaned up. Polt added on barracks with his newly established natural, leaving Joon desparately teching and expanding to the gold to catch up from the strong reaper harass. Polt pushed out with a large marine marauder army before baneling speed could finish, and some good initial micro allowed Polt to take out Joon's natural and earn a solid game 1 win.
Game Rating:
A well chosen opening on a favorable map, DQ close positions
Game 2 on Scrap Station
+ Show Spoiler [Show Recap] +
Polt opened reactor hellions, but Joon's 4 fast queens and creep between the bases kept his hatch first completely safe, and minimized the banshee follow up as well. Despite Joon's good defense, Polt had a marine tank hellion banshee push quickly knocking down the destructible rocks and moving in. As Polt moved out from the middle path choke however, roaches and queens met the marine banshee head on, and a large zergling force flanked to take out the tanks, crushing Polt's timing push. Joon counterattacked, but was deterred by tanks behind the wall in and 4 banshees harassing his main. The banshees managed to take out the queens, but that bought enough time for Joon's mutas to pop and clean up the harass. The muta force poked around the terran main, but another banshee in Joon's main distracted him temporarily, allowing Polt to take his natural. A growing mutalisk ball continued to pick off the occasional depot or small group of marines as both players macroed up. Polt made the next move, pushing out again before Joon took his third, again sieging up on the middle path.
This time Polt opted to use the marines to bait and kite back into the choke instead of moving out. While expanding to the gold base, Joon used his muta's to disrupt the terran reinforcement pathway and force Polt to pull back his marines, allowing the roach baneling force to take out the tanks and a majority of the marines to end the push. After macroing up new armies and a failed drop at the gold put Polt 8 marines and a medivac still further behind, Polt remembered the third time is the charm, again pushing out and sieging up in the narrow path between mains. Joon attempted to deal with it the same way he had previously, mutas at the back hitting tanks and roach baneling through the front, but the increased number of siege tanks from 2 bases this time proved too cost effective, managing to level the food and army sizes. Joon's remaining roaches could not keep up with Polt's marine medivac force however, and the next wave of reinforcements was too much for Joon to hold as a full game lead slipped through his fingers.
Solid defense by Joon, but Polt was able to force an awkward situation and capitalize on Joon's decision making to pull out a victory that defeat had already partially digested.
Player Grades
+ Show Spoiler +

PoltPrime:
B
A well picked opening in game one put him miles ahead, even if it might be taking more advantage of the metagame than anything else. The timing of his marine marauder push was also excellent and some functional micro when he was paying attention took care of game one very solidly. Game two Polt found himself up against a wall, his harass being minimized and the push not inflicting much economic damage and not establishing an expansion. However by making use of the blocked path on scrap he was able to maximize his army's strength, and force Joon into an awkward position. By not expanding earlier or handling the strong positioning well Joon essentially let Polt back into the game, and then gave him the game, but at least some credit has to go to Polt for creating the chance in an innovative way. A clever player, if Polt can clean things up a little and improve his speed / micro a touch I feel there will be little that can stop him.

NsPJoon:
C
A "C" letter grade is supposed to mean average, no matter how many pre-meds tell you otherwise, and Joon's played seemed just that. He certainly did not play poorly, but he also didn't really do anything special to impress either. Reapers may be down, but not out, and Joon didn't bother to really account for them despite the immediate tech lab on DQ. Then, after seemingly leading the entire game, a bad decision with a slightly underdeveloped lead and the incredible efficiency of marine medivac tank cost him the game. The fast queens for both hellion/banshee defense was nice, and Polt threw a couple odd situations at him, but Joon was unable to respond correctly and is now fittingly out in the round of 64.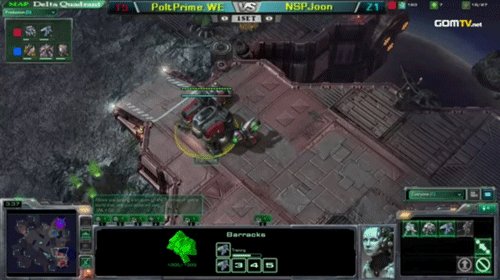 Don't Fear the Reaper...

"Jinro Says No to Drugs"

LiquidJinro
< 2 – 1 >

NEXDrug
Game 1 @ Delta Quadrant
+ Show Spoiler [Show Recap] +
Our hero Jinro started with some quick marine pressure, catching NEXDrug without any zerglings. The marines and a fast hellion killed the queen and canceled spine crawlers, putting a lot of pressure on the zerg. A fast medivac picked up the marines and bounced between the zerg high and low ground adding even more pressure, and Jinro was able to set up a siege tank on the high ground surrounding the natural, which from there was able to protect the marines as they took out the Lair. Drug opted to give up his lair and counter attack, but a large number of marines and a few repairing SCVs kept Drug's roaches from doing any significant damage. Jinro continued to harass as he established his natural, using the high grounds to prevent Drug from taking an expansion. Without any real options Drug set up a hidden expansion on Jinro's side of the map, but the marine tank medivac ball moved out, catching the roach hydra army in the choke to Drug's main and concluding an absolutely one sided rout.
– Not the most exciting game, but Jinro demonstrated some terran domination on DQ that is sure to only further depress any zerg unfortunate enough to be stuck on it.
Game 2 @ Metalopolis
+ Show Spoiler [Show Recap] +
Drug scouts close positions but he opts to open hatch first into Jinro's dual barracks. Jinro began to pressure from his first marine, Drug transferring most of his drones to the expansion and starting a large number of zerglings without having started mining gas. Jinro quickly expands and pulls back his marines. Drug begins roach production as Jinro's various bio upgrades tick. Both players macro for a bit allowing Drug to catch up somewhat on worker count, Jinro pushes out as his upgrades finish, pushing into the natural of Drug and microing around the Mengsk statue to kill as much as he could, but a much larger roach ling force easily subdued the push. Drug immediately uses the advantage to take the gold expansion directly between the players. Jinro opts to keep with a primarily marine marauder force, slowly adding in siege tanks and medivacs, and using SCVs to keep an eye out for Drug's third, yet not checking the gold expansion at all. After a easily deflected drop, Jinro attempts to move out against Drug's natural. Drug is ready however, catching the terran army on the high ground at the normal third, a beautiful flank from behind Jinro's force allowing the zerg to absolutely crush the ball. Easily counter-attacking through Jinro's defenses with ease afterwords.
Drug apparently believes he can hold a hatch first against 2 rax in close positions, something other zergs have failed to do despite longer rush distances on other maps. A bold choice of third and beautiful flank made Jinro look like the broodwar foreigner stereotype.
Game 3 @ Jungle Basin
+ Show Spoiler [Show Recap] +
Drug opens hatch first, Jinro opting to get a very fast factory rather than a more common FE on this map. Jinro again pressures with the 4 marines and a hellion, managing to kill some zerglings and a queen only to be repelled quite easily by a couple quick roaches. Having expanded behind the push Jinro's economy picks up. A banshee put a little pressure back on the zerg, forcing a defense but without any direct damage. Both players were content to macro for a while, Jinro's banshee and a medivac with marines keeping an eye on Drug's roach hydra army and 3rd timing. After an extended lull, Jinro actually begins his third first, Drug starting a hatch at his middle expansion not long after. Both players move out, and the maxed armies vie for position. Despite getting a flank on the terran ball in the middle of the map, Jinro's force was far too much for Drug to handle, forcing a cancel on the third hatch as Jinro's planetary set up on his middle expansion, sealing a spot in the Ro32 with a strong, albeit passive macro victory, showing why Zergs can't afford to sit on the same number of bases for the majority of a macro game.
– Drug never expanded, and 2 base maxed marine medivac tank beats 2 base roach hydra, especially fighting partially in a choke.
Player Grades:
+ Show Spoiler +

LiquidJinro:
B+
A very strong first and third game for Jinro, he appeared in complete control of both games almost from start to finish. His extremely active play with starport units gives him the full picture of what his opponent is doing. With his use of high ground on DQ, and constant scouting of the expansions on JB, Jinro never let Drug expand, forcing incredibly strong situations for his own army. Game two was a slightly concerning blemish on his performance however, the attack timing prior to Drug taking a third might need to be looked at. Trading armies with Jinro's drop heavy style allows him to attack a zerg as they spread out with new expansions, however that attack would not really be considered a trade. Then despite all of Jinro's scouting efforts, a simple SCV at the zel-naga watch tower would've spotted the third at the gold and allowed him to react accordingly. Overall though it was a very strong performance for our home team champion, and bodes well for his tournament performance.

NEXDrug:
C-
Drug's play was quite solid, but it seemed a little one dimensional. His bold hatch first on close positions metalopolis is either a strong of great strength, or insanity. Either way his reliance on simply macroing up a roach hydra force and attacking seemed to be lacking something. To be fair though I don't feel like this is a fair grade for Drug. It is only a grade of how he played today, because the maps limited his diversity or real demonstration of skill. Against such stifling play on DQ I had to feel sorry for him; he was forced to play on a map which Jinro demonstrated a zerg realistically should be thankful for every expansion they can get. Yes his strategy could have been better, he could have accounted for it or developed a more aggressive build to prevent a terran from using the map that way. Still though, Drug was obviously put in difficult positions to take a third on all three maps, and his inability to overcome it kept him from demonstrating even the things he is good at on his way to an early exit.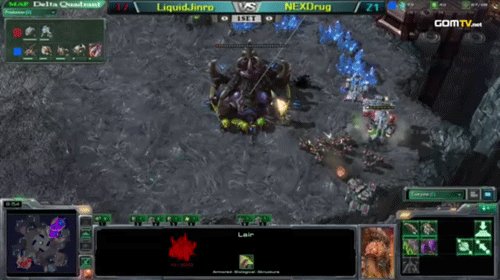 Its a bold move to give up your Lair and still think you have a shot
"WC3 players worldwide flap their wings..."

Moon
< 2 – 1 >

ButterflyEffect -
Game 1 @ Shakuras Plateau:
+ Show Spoiler [Show Recap] +
ButterflyEffect (BE) dictated the opening of this game with an early scout that blocked Moon's natural with a nearly complete engineering bay, followed up with a single hellion into a fast banshee. Moon did not overreact to the block however, simply getting a faster lair while saturating the delayed expansion. BE opted for a command center along with his banshee, an opening that put BE in a very strong economic spot despite the single banshee not accomplishing any harass. Moon opted for spire tech, his first set of mutas finishing in sync with his third hatch. The mutas never got a chance to harass however as BE's MMM force was immediately pushing the zerg natural, and without a baneling nest Moon simply did not have an army to take care of the bio army.
- A strong build order by ButterflyEffect, but Moon's lack of baneling nest or adequate response to the first bio push was a basic mistake that made for a quick low level game.
Game 2 @ Xel'Naga Caverns:
+ Show Spoiler [Show Recap] +
Moon opted for hatch first, and BE opened with a one base reaper opening. After killing a few early lings and getting a command center up at his natural, BE teched up with a MM force, Moon opting for a large number of lings and a baneling nest. A large baneling/speedling army forced the natural to lift off as BE was pushed back into his main, giving Moon control of the game. Moon used this time to get a third up at the 3 o'clock and get the roach and baneling speed upgrades before starting a spire. After a period where both players were content to macro, BE moved out against Moon's third, and Moon responded by counterattacking BE's natural to force a lift while hatcheries went down at both the gold and normal third locations. Moon next used roach burrowed movement to get under the terran ball and snipe the tanks, losing most of his roaches as BE's remaining bio ball threatened the gold hatch, but roaches and banelings from 4 hatcheries proved too much for BE to handle.
– The delayed baneling / speedling attack was an interesting and effective move by Moon, but BE's fear of moving out made for a one sided game.
Game 3 @ Delta Quadrant:
+ Show Spoiler [Show Recap] +
BE opens double barracks in close positions against Moon's hatch first opening. Rather than push the rush however BE preferred to force the lings and then start to tech. A delayed push after the tech had started did not work, Moon was able to surround the marines near his natural ending any threat of BE!!>!>!>! BE opted to use marines and a tank on the hghi ground to put pressure on the zerg expansion, Moon responded by using a nydus worm onto the cliff to take out the tank and end the pressure. BE remained aggressive however, using medivac drops to run Moon's army around before the spire finished and ended the harassment. Moon started on the offensive with burrowed roaches, catching BE as his marauder and tank heavy ball moved out, unburrowing the roaches to snipe a few of the tanks and buy time. Despite the sniped tanks BE's push was barely repelled by Moon, managing to kill all the marines and use Mutas to clean up the remaining marauders and tanks. As Moon's gold third and fourth base starting to kick in, BE's next push was repelled with ease, BE frantically got his own third as Moon's fifth started. BE moved out as Moon reached 200 food with a giant muta / roach / baneling army. Rather than attack the terran ball head on the zerg army went around to attack the terran front, forcing BE to engage Moon's army, Moon easily rolling over the terran army and forcing gg.
– ButterflyEffect could've won the game early on with a better executed marine push or possibly even if he would've just kept those marines for his timing attack. Instead he made a poor decision and Moon capitalized in a text book example of how a zerg with a lead should close a game ZVT.
Player Grades:
+ Show Spoiler +

FOXMoon –
B
A rocky first game with no way of knowing if it was a misclick or strategical oversight, Moon's second and third game showcased some very strong play with a touch of personality. The baneling timing attack, cliff nydus on DQ, and general trend of preferring to counter attack rather than attack a terran head on makes Moon an example of yet another zerg style. His play could certainly use refinement, but if his SC2 career is as early as it is reported, Moon undeniably shows an incredible amount of potential. As WC3 wraps up and Moon transitions to SC2 fully, I for one am certainly excited to see what he accomplishes, though I expect his lack of polish will end Moon's GSL3 bid prior to the finals.
ButterflyEffect –
C+
Butterfly Effect has improved since last GSL, but he still shot himself in the foot this season. Game 1 showed a well refined opening that sadly we didn't get to see develop as Moon handed him the game. The second game didn't go well as BE was put on the back foot all game, but the third game is really where ButterflyEffect proved he doesn't belong in the Ro32. Close positions on DQ, BE was primed to put a lot of early marine pressure on Moon's hatch first build, but instead he half pressures and half techs, opting to not even commit to the marine pressure until after he's stopped pumping marines and given Moon time to get zerglings up. On top of that he then forefits most of his marines for almost nothing, putting him in a worse position than if BE just hadn't bothered trying to take advantage of Moon's greedy opening. Ohwell, I can't say I'm disappointed to see Moon move on, but ButterflyEffect really defeated himself from a favorable position.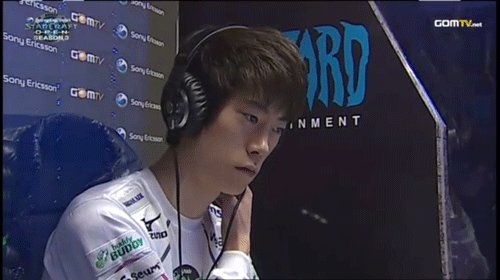 We know he's the 5th race, but is he the Xel'Naga?
"The Gracken obliterates Choa"

EGIdra
< 2 – 0 >

NEXChoa
Game 1 @ Shakuras Plateau:
+ Show Spoiler [Show Recap] +
NEXChoa opens forge first, using a couple pylons to block Idra's ramp, allowing the nexus to start before Idra's hatch. However despite forcing Idra to get fast roaches, Choa did not appropriately prepare for the roach counter attack. By using overlord vision and roaches on the low ground, Idra took out warping cannons and the gateway, allowing the roaches past his wall without a gateway for a quick game 1.
– I don't know what it is about Idra's Ro64 games…
Game 2 @ Steppes of War:
+ Show Spoiler [Show Recap] +
Idra opens pool first speedlings against Choa's 2 fast stalkers. Choa doesn't move out however, opting to expand on 2 gates and getting a forge. Idra opts for hydra tech, building 4 spine crawlers at his front while Choa uses a hallucinated phoenix to scout the zerg base. Despite seeing the hydra den however, Choa continues adding warpgates and adding to his stalker sentry force. Idra moves out quite quickly, using overlords to spew a creep highway across the map, moving his spine crawlers forward and engaging the gateway army at the protoss choke. Despite equally sized armies and great concaves, the hydra's strength against gateway units was very apparent as Idra came out ahead, adding to his army until he had enough to roll over the protoss army for an easy game 2 to wrap up his set.
- A well executed strategy by Idra dictated which way the game should have developed, Choa however refused to play along, stubbornly trying to overcome hydras with gateway units and failing miserably.
Player Grades:
+ Show Spoiler +

EGIdra –
A-
It was a little surprising that Choa was able to block the bottom of Idra's choke in game, a move that put Choa way ahead if he would've defended properly. It seems unlikely that Idra has a good strategy to come back from that position, and he'll no doubt block it in the future, but it caused a moment of concern despite his otherwise dominating performance.

NEXChoa –
D-
There have been worse players in the GSL, and bigger mistakes, but there is not an abundance of redeeming qualities for Choa's performance. Being unprepared for the roach counter that he saw coming is a pretty basic mistake. Similarly on Steppes, the 2 gateway opening after scouting pool first is curious, and then despite getting hallucination to scout making absolutely no use of the scouting information seemed pretty poor. Perhaps Choa needs glasses, or perhaps he anticipated that Idra, having been scouted, was going to switch to spire tech. Perhaps Choa also anticipated he was going to win the GSL.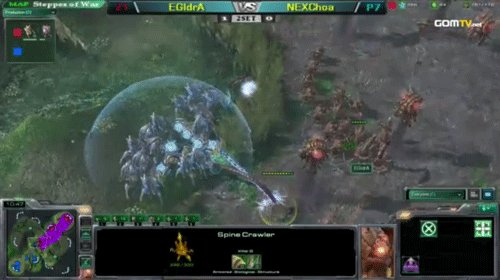 Crikey, if you look ova' here you'll see the fearsome giraffe migration strategy, it's a real beaut.


Set G: "Aces in Eight"
Recaps by TrueRedemption
+ Show Spoiler +

"MVP Takes Out the Trash"

IMmvp
< 2 – 0 >

BanbansZenith -
Game 1 @ Scrap Station:
+ Show Spoiler [Show Recap] +
MVP opted for a reaper after marine and 2 rax safe opening against BanBans 3 gate robo all in. Banbans broke down the destrcutable rocks, hittnig the terran front with the typical gateway units and 2 immortals, but the MVP had stayed on one base and his bio/tank force plus bunkers easily repelled the attack. Banbans was committed to the all in however, briefly regrouping to wait for reinforcements. MVP repaired his front and medivac dropped the protoss base just as the second attack crashed into the terran wall. Once again MVP held with ease, his drop killing of the majority of Banbans probes, forcing him to type out.
– Banbans seemingly was re-living the beta, and MVP held with ease.
Game 2 @ Metalopolis:
+ Show Spoiler [Show Recap] +
MVP opens with 3 rax, BanBans went for a 2 gate expansion, quickly getting a robo instead of additional units for defense. MVP moves out with his bio army just as the nexus finished, and some terrible forcefields made MVP's timing push unstoppable, wrapping up an unbelievably quick first round for IMmvp.

No stars – A 2 gate expo cutting units for a fast robo and bad forcefields can't hold 3 rax pressure.
Player Ratings:
+ Show Spoiler +

IMmvp –
A
In the interview MVP explained he was aware of BanBans' style, and he simply took care of business. Not much else to say.

BanBansZenith –
D+
BanBans clearly didn't think he was as good as MVP, and he made it pretty clear he isn't. His game 1 all in wasn't bad, but not particularly new or well done, and it was held. Game 2 BanBans took a different approach, hoping MVP was unreasonably passive, and he didn't have enough of an army to defend the fast nexus. Standard diamond ladder shenanigans isn't going to threaten MVP. At least his friends got to see him on TV.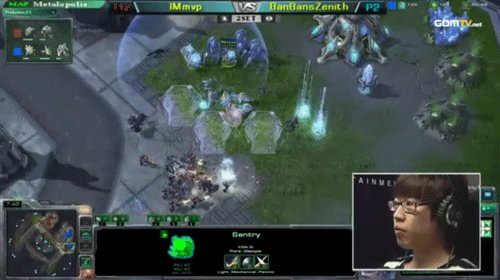 This might be what it'd look like if marauders had force field
"Choya says Hello, Anyeong says Goodbye"

choyafOu
< 2–0 >

AnNyeongPrime -
Game 1 @ Jungle Basin:
+ Show Spoiler [Show Recap] +
Annyeong goes pool first fearing a probe delay on the hatch, Choya opting for a forge first fast nexus before gateway in a well refined build order. Annyeong sent his early lings to start breaking down the back rocks as Choya gets a stargate and a few more gateways up. Annyeong attacks with a beefy roach / ling push, catching Choya with only few stalkers, a void ray, and a phoenix. In a frantic race, Choya manages to hold on to his nexus with 63 hit points as nothing could attack the void rays. Choya's void rays made it to the zerg natural but were met by too many queens to do any damage. Annyeong transitioned into mutas, catching the protoss air force in the middle of the map. Both players take a third and macro up the muta harass not really doing much. A nydus between the protoss natural and third initially traps the zerg army, but Annyeong manages to take out the protoss natural while taking a 4th. Choya counter attacked, managing to take out the natural and 4th hatch, leaving only the central third mining. With 2 protected expansions remaining Choya jumped into the lead, Annyeong attempted a final push but he couldn't break the protoss defense and he was forced to type out.
– An incredibly aggressive game, Choya demonstrated some less extreme 2 base stargate play while Annyeong's strong attacks left him just 63 hit points away from a victory.
Game 2 @ Metalopolis:
+ Show Spoiler [Show Recap] +
Choya went forge first, pylon blocking the zerg choke and placing cannons just barely in range of the mineral patches from the low ground. Choya used a familiar brood war tactic to slide probes through the pylon wall, building more pylons and cannons on the high ground and keeping vision for the cannons below, but Annyeong refused to go out without a fight. Using his queen and a spine crawler he valiantly defeated the push. As both players stabilized it was clear Choya had earned a massive economic advantage, Annyeong's only hope was a quick lair and nydus in hopes of catching Choya unprepared. After scouting the lair Choya was more than prepared however, quickly stopping the one nydus attempt in his main while setting up his own expansion. Stuck with roaches Annyoeng quickly ran out of options with a slower expansion and a couple voidrays on the way. Again Annyeong was able to hold, but he was so far behind the game was a mere formality, Choya opting to take a third and even beginning a mothership before Annyeong surrendered.
– a strong cannon rush defended valiantly, but despite Annyeong's efforts he was too far behind to catch up as the game dragged on needlessly.
Player Grades:
+ Show Spoiler +
choyafOu -
B

Choya played pretty well in two very intense games, the first managing to hold on through immense pressure, and the second having good enough multi-tasking to take advantage of the tremendous pressure he put on Annyeong.

AnNyeongPrime -
B-
The kid has heart, that much is for sure, but it was simply not Annyeong's day. Catching a rough break game one and a nightmare of a cannon rush game two, I couldn't help but feel for him after a brutal 0-2 exit, but we are here to determine the best players and despite Annyeong's efforts, he couldn't pull out a win.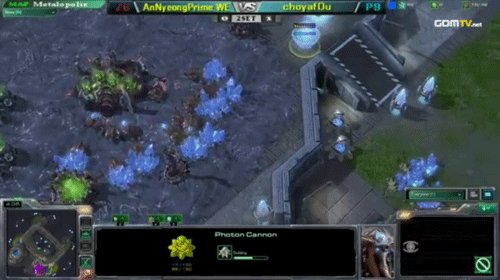 Cannon rush into mothership. Viable?
"Holy Check this was a bad series."

CheckPrime
< 2-0 >

Destination -
Game 1 @ Scrap Station:
+ Show Spoiler [Show Recap] +
Check opts for hatcher first, Destination opened with a greedy build, early stim and a very fast expansion, getting 4 rax up as the CC finished. From 5 rax a bio ball grew very quickly and he quickly tore the rocks down between bases for a timing push. Check had a large enough baenling/speedling force to hold, partly thanks to poor micro by Destination, and he had just started a hatch at the gold. Check's remaining army went and put a lot of pressure on the terran front and natural, forcing it to lift. As more lings streamed to the battle and a massive group of banelings tansformed there was nothing left for destination to hold on to as Check took game 1 in dominating fashion.
- Destination had a strong two base push that made use of the security scrap often offers, but upon seeing Check's banelings he must have broken out in song rather than micro his troops, and their less than glorious demise made an easy win for Check.
Game 2 @ Steppes of War:
+ Show Spoiler [Show Recap] +
Check opened pool first against Destination's reaper into 5 rax mass marine all in. Not an immediate rush, Destination mined just enough gas for quick stim and combat shield upgrades while marines accumulated. Check scouted the attack however, and got an early baneling nest. Destination moved out, and despite more uninspiring micro it looked like he might have come out ahead, but as the next round of zergling production finished, Check beat back the all in with ease and proceeded to wrap up a very easy round of 64.
- Another timing attack, another poor micro battle, and another easy game for Check.
Player Grades:
+ Show Spoiler +

CheckPrime -
A-
An interesting delayed lair strat on scrap had him looking vulnerable to the bio mix in game one, but Destination helped out by not microing his push particularly well. Other than that Check simply outplayed his opponent and it showed.

Destination -
D
Hopefully it was more about the journey than the destination for Destination. All in builds are not necessarily a bad plan, especially if you believe your late game play is weaker than your opponents, but microing the battle your investing all your resources in will dramatically increase your success rate.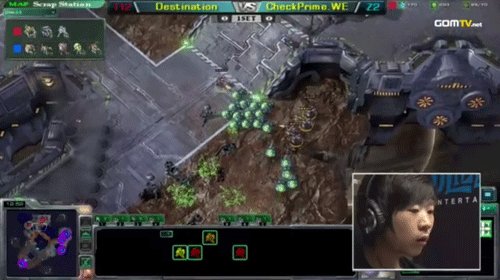 With more banelings than marines this looked more like a scene from Final Destination
"The Emperor Begins Another Campaign"

SlayerS_'BoxeR'
< 2 - 0 >

NEXON -
Game 1 @ Steppes of War:
+ Show Spoiler [Show Recap] +
Boxer showed an unusual fast expand build, starting the command center after a single barracks then getting both gas and a factory, allowing him to get the standard siege timing. NEXON mismicroed his early marine hellion push, allowing Boxer to defend with ease. NEXOn did push out first, attempting to siege up on the low ground near Boxer's expansion using a medivac to scout, however Boxer's equivalent siege timing and viking soon after prevented the NEXOn from doing any damage. Up an expansion with an equivalent army, NEXOn swung a drop around into Boxer's main, managing to kill quite a few SCVs as his own command center started. Boxer's superior viking count and better economy was too much, NEXOn struggled to hold on for a while but he was only delaying the inevitable as game 1 went comfortably to the Emperor.
– good build order, by boxer, but bad micro and inferior macro by NEXOn
Game 2 @ Shakuras Plateau:
+ Show Spoiler [Show Recap] +
Boxer again went 1 barracks double gas fast expansion opening, NEXOn opting for a more delayed command center combined with 4 hellion drop. Boxer's bonjwa senses were tingling however, his first viking catching the medivac before it gets into his main, only 2 hellions able to bail out before the medivac was taken out. To add insult to injury Boxer showed some trademark micro, not allowing the hellions to kill a single unit nor even get significant damage on the few defending marines. Boxer made the next move with some cloaked banshee play, netting quite a few SCV kills catching NEXOn without the energy to scan. NEXOn aware of his position had to move out, drawing Boxer's army out of position by landing vikings in the main then sieging up on Boxer's natural. Boxer repelled the scary attack handily thanks to target fire. NEXOn at this point cracked to the pressure, running his push into Boxer's superior positioning then allowing the Emporer's army to walk through the back door to his main without much resistance for checkmate.
– A better build order for NEXOn, but great micro by Boxer, solid performance where On's lack of micro cost him the game.
Player Grades:
+ Show Spoiler +

SlayerS_'Boxer' –
A
With a new TvT opening and his micro looking sharp, Boxer would not be denied...

NEXOn –
C
NEXOn did not show a particularly strong game 1, and broke down after a strong opening in game 2. Whether it was nerves, skill, or the threatening mob waiting outside his booth, NEXOn simply could not contend with the Emperor on his game.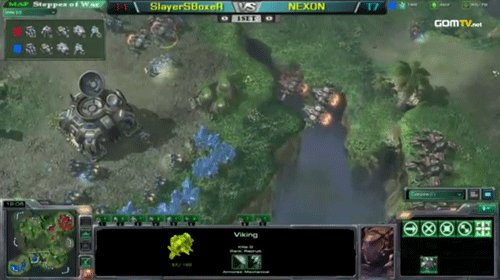 Boxer adds Steppes of War into his empire.
---

Next: Ro32 Recap
The cream of the crop is rising to the surface as the GSL progresses. Things get much tougher from here on out. How will the four remaining foreigners fare against drastically improved competition? Who will win the battle of Ro64 heroes GuineaPig and Leenock? Can the remaining champions of Auir pull it together? Answers to all of these questions, and more in the Round of 32.

Thanks for reading!