Banner by pachi, Screenshots from GSL Open Season 2
GSL Game / Series Rating Scale
+ Show Spoiler [Show Rating Scale] +
- One player played very well, but his opponent played amazing. Watch this right now!
- One player played very well, usually with a great micro move or strategy.
- One player played solid, his opponent played average. If you have time, watch.
- One player played average, the other played poorly. Don't bother watching unless you're a fan.
- One player played very badly. Not worth watching at all.

No stars - One player failed, usually in a very hilarious way. Actually very watchable just for laughs.

Remember, we're recommending games to watch assuming a neutral viewer. If you want to have TLO's babies, you probably don't need our recommendation to watch his games. If you don't want to wade through all the recap text, here's a short list of our ratings for each series.



Giants battle on through the rounds of 16 and 8 as the second GSL season races toward a thrilling climax. Brood War legends and fan favorites step into the ring and duke it out, with Teamliquid providing all the coverage in this super-sized edition of the recaps. Boxer, Nada and Idra all stare down destiny behind these spoilers, so continue onward, eager reader.

Links and Resources:

---
"Of Deities or Mortals"
GSL Season 2 Ro16 Recap
By TrueRedemption & Treehugger
+ Show Spoiler [Ro16 Day 1] +
"Banelings or Bust"

oGsEnsnare < 1-2 >

KyrixZenith
-
Game 1 @ Delta Quadrant
+ Show Spoiler +
Kyrix goes hatch first, Ensnare gets a late refinery and attempts forward bunker play but does little damage before its repelled. Ensnare then took the in base expansion while Kyrix droned hard. Kyrix then puts down a baneling nest and a hidden third base still having not teched to lair. A zergling baneling army runs up Ensnares ramp thanks to a lowered depot, catching the marines and couple tanks unprepared but fails to cripple Ensnare. Kyrix drones up his third and sticks with a zergling baneling army composition. Both players are content to macro, Ensnare set up a third and Kyrix started his fourth at the gold expansion. Ensnare moves out and takes control of the midlle of the map, but a large number of banelings roll through Ensnare's army. Just as Kyrix seems to pull ahead some bad muta micro sets him back and Ensnare sets up again in the middle of the map. This time Kyrix is unable to break the position and Ensnare pushes into the natural to force gg.
– Kyrix shows some very interesting ZvT midgame securing a very good position, but a few failed baneling busts and flying the mutas into the marines cost dearly. Ensnare capitalized on the opportunity, seizing the lead and leaning on Kyrix until he fell.
Game 2 @ Blistering Sands
+ Show Spoiler +
Standard openings for both players, Ensnare decides to tech to a banshee for a little harass and map control. Kyrix goes spire after taking an early third next to his back ramp rather than the gold. A pack of Muta/Ling destroys the rocks to Ensnare's base, harassing a little and morphing a ton of banelings as a 4th expansion starts near Ensnare's ramp. Kyrix probes the terran defenses as both players armies grow. Ensnare expands to his gold, triggering Kyrix's muta/ling/baneling army to attack the MMM + tank setup, both armies being wiped out. With economies in full swing both players quickly replensh their armies, and Kyrix opts to move against Ensnare's 3rd, forcing the command center to lift and catching the scv train with banelings. The armies clash again, but the economic advantage and 4 hatches of larva begins to show for Kyrix as he overwhelms Ensnare to force game 3.
– Kyrix has a greedy opening getting a quick third while getting a spire, but transitioning into a hyper aggressive Muta Ling Baneling while getting a 4th, making for a very entertaining well played game, despite a little uncharacteristic sloppiness from Ensnare.
Game 3 @ Steppes of War
+ Show Spoiler +
EBay blocking the zerg natural keeps Kyrix on a one base opening. Zerg opts for a fast 2nd gas and lair, getting mutalisks out just in time as Ensnare's hellion marine push reached the still building Zerg natural. The smaller muta count due to a one base economy limits Kyrix's harassment, droning the natural and building the muta count. Meanwhile Terran builds a CC and a thor to add to the marines and tank ball, Ensnare pushing out again while setting up his natural. The push is barely held off thanks to Kyrix pulling all of the drones at his natural, the drones and a last Mutalisk barely managing to take down the Thor, but as the reinforcements hatch Kyrix suddenly finds himself in a very strong position. After taking out a small Terran force the few remaining lings banelings and mutas pushed into Ensnare's natural, taking out a number of SCVs and forcing the burning CC and various production buildings to lift off and relocate in the main, and its just a matter of time until Kyrix's army was able to move in to the main, opting for mass banelings to bust the front, Ensnare typing out when he saw the army begin up the ramp.
– Back and forth aggression on Steppes often had both players balancing on a razors edge, Kyrix by barely holding off Ensnare's pushes was able to squeeze out a small advantage that slowly snowballed out of control, Kyrix eventually overwhelming Ensnare and moving on to the round of 8.
Player Grades:
+ Show Spoiler +

KyrixZenith – B+
Kyrix demonstrated some very entertaining ZvT in this series, his constant aggressive style creating dynamic exciting games, and applying immense pressure on his opponent, evidenced by the uncharacteristic mistakes Ensnare made in game 2. With an army primarily of lings and banelings Kyrix did not hesitate to trade his entire army, quickly spawning a new army to continue the assault. While entertaining and effective to a degree, the excessive baneling numbers I weakened Kyrix at certain points due to the nature of their one time use. This unit combination worked with Kyrix's style quite well, however in some situations a transition is considerably more valuable than 20 banelings.

oGsEnsnare – B-
Ensnare played quite well coming from behind in game one, and had strong games 2 and 3, but that wasn't quite good enough. Kyrix's constant pressure noticibly affected Ensnare on Blistering Sands, and Ensnare responded in game 3 by attempting numerous fast timing pushes, attempting to counter aggression with faster aggression, an idea which came close but didn't quite work out thanks to Kyrix's Muta timing and a prophetic drone pull engagement. As Ensnare felt game 3 starting to slip away I would've liked to see him try changing something, but regardless he defended ferociously to the end.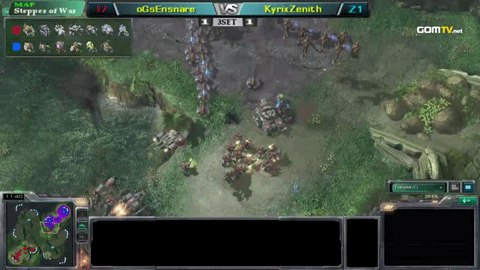 Warrior Drones: the bane of Ensnare
"Check Tortured"

HopeTorture
< 2-0 >

CheckPrime -
Game 1 @ Steppes of War
+ Show Spoiler +
Check 6 pools into an overlord and HopeTorture did not wall in. As the lings get to HopeTorture's main most of the SCVs pull from mining to fight, Check opting to run around and not engage, chasing away the few SCVs that remained mining as the first marine finished. The marine and occasional SCV attack whittled down the initial zerglings as more lings rallied to the terran base and a second marine finshed. The tremendous amount of lost mining time was curbed thanks to a mule providing considerable income despite none of the SCVs mining. As Check was chased from the terran main the game stabilized, Check was far behind but not giving up yet. Although he repelled two of HopeTorture's attacks, Check was never able to catch up economically, and HopeTorture eventually overwhelmed him.
– Although the majority of the game was not actually close, HopeTorture demonstrates a textbook defense against a 6 pool and prompts a Tastosis analysis of high level 6 pool micro. The rest of the game is a waste apart flashes of very nice micro.
Game 2 @ Scrap Station
+ Show Spoiler +
Hatch first opening for Check; HopeTorture opened with 2 quick hellions followed by 4 vikings that hunted down a few overlords. The interesting opening was illuminated shortly after when 4 marauders, 4 hellions, 2 medivacs and 4 vikings attacked Check's natural expansion. Behind due to lost overlords and a spore crawler over-reaction to the starport, Check makes no attempt to save his expansion. HopeTorture continued pushing into the main, taking out a few queens before a group of mutalisks poped and cleaned up the terran forces but not before losing his spire. So far behind Check's only option was to go all in, but his small group of mutas was no match for a viking marine medivac army, and HopeTorture continued on his way back to the finals.
- Again a one sided route, but well played by HopeTorture.
Player Grades
+ Show Spoiler +

HopeTorture – A
Rainbow was on his game today. From the 6 pool micro through the tremendous build that brought check to his knees, Rainbow had one thing in mind, getting to the round of 8, and he certainly wasn't going to let Check stand in his way.

Check – D+
The failed six pool and being absolutely destroyed game 2 did not show the level of play expected from Check. Holding Rainbow's first two attacks in game one showed some nice micro and decent play, but overall a horrible performance from Check.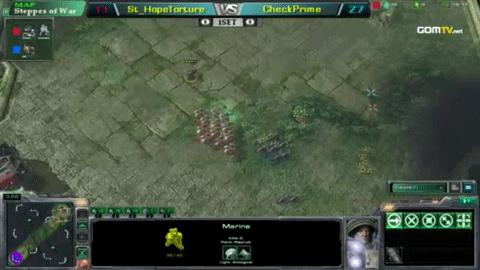 Beating 6 pools 101, by HopeTorture
"Six things I hate about you."
oGsNada
< 2-1 >
Leenock
-
Game 1 @ Delta Quadrant
+ Show Spoiler [Show Recap] +
Leenock six pools, and then brings all of his drones along. NaDa gets a marine out, but rallies it in the wrong direction, and gets it killed. GG. Netizen rage knows no bounds.
What am I supposed to say here again?
Game 2 @ Shakuras Plateau
+ Show Spoiler [Show Recap] +
Leenock goes hatch-first, while NaDa takes his natural immediately after finishing his barracks and scouting Leenock's opening. Leenock does not do due diligence in scouting, not initially spotting NaDa's early expo, and sending an overlord only far enough to see one of NaDa's two refineries. After securing his expansion with no pressure from Leenock, NaDa puts his gas to work in two factories and puts out a few rounds of hellions. Leenock, going banelings, is not tremendously well-prepared for NaDa's blue-flame hellion runby, and loses more than he should've. NaDa rolls out a set of thors, while Leenock spawns a muta cloud. Both players take their thirds, and NaDa easily handles some sloppy clumped-muta pressure from Leenock. Time is running out for the zerg, as NaDa throws down a number of barracks, and begins to put his sizable economic advantage to work. Leenock eventually decides he's going to be cute and take out NaDa's third base, which he does, but NaDa just 1a's into Leenock's base.
- Leenock had the wrong units, not really because NaDa was particularly deceptive, but because he thought he was too cool to scout properly. Three base muta/baneling (with one last-minute infestor) is not really going to touch three base thor/hellion/marine. In short; one-sided.
Game 3 @ Xel'NaDa Caverns
+ Show Spoiler [Show Recap] +
Leenock goes hatchery first again, while NaDa walls in his main and gets a quick factory. Leenock is exceptionally irritating with his scouting drone, taking the pursuing scv into the red, eventually chasing it down and killing it. He then steals NaDa's second gas just before a marine comes to finish the drone off, and holds on to it for a few more cycles before breaking free and scouting NaDa's factory and natural cc before the marine finally kills it. NaDa immediately puts down a starport with a tech lab and adds two more barracks while expanding, but Leenock spots it all with a well-timed overlord. NaDa half-heartedly tries to pressure with a banshee, but gets nowhere and retreats. Leenock siezes the opportunity by throwing down an infestor
mound
and baneling
den
, double expanding, and racing for hive. However, NaDa attacks at precisely the right timing before Leenock's greed can kick in, and is able to spread his marines to thwart Leenock's banelings. Suddenly army-less, Leenock gives in as NaDa knocks on the door.
- A fun game with some worker heroics, a risky strategy, and the ending we all wanted.
Player Grades
+ Show Spoiler [Show Player Grades] +
oGsNaDa - A
No doubt about it; NaDa was blindsided by Leenock's series-starting cheese. Forgivable. But after going down a game, NaDa make the zerg look foolish in the last two games. NaDa's play was tight enough to shut the door on any openings very quickly, and he was able to carry both games into the later stages where his macro and positioning was decisive. In the end, he left no doubt about who the better player was.

Leenock - B-
It's the Jaedong Paradox; if Fruitdealer, Idra, or any other popular zerg had pulled six pooled Rainbow, then there wouldn't have been nearly the hate that Leenock generated after the opening set. But cheesing a SC legend is a no-no for most people, and the esports gods clearly agreed, handing Leenock a crushing defeat in the later two games.

I really don't have a problem with Leenock's metagaming, but his play in the later two games wasn't good enough. That Leenock's best controlled unit in the series was his scouting drone is telling. In the second game, he repeatedly clumped his mutalisks in range of thors, basically making it impossible for him to maintain effective harassment or kill the game-ending terran push. That's a bad mistake. In the third game, he invested an early lead into dangerously greedy play, and was out-macroed and out-thought. Now I've been impressed by Leenock this GSL, and I think he could've easily taken a standard game off of NaDa, but you had to look for the positives in this particular series for the zerg.
Six-pool THIS!
"One good turn deserves another..."
oGsZenio
< 2-0 >
EGIdrA
-
Game 1 @ Delta Quadrant
+ Show Spoiler [Show Recap] +
Neither player sends their overlord the correct way.
Identical spawning pool timing from the two players, but Zenio takes his gas much earlier. Each player takes a roach warren, and Idra takes an early advantage when he slips two zerglings past a group of four that Zenio has guarding his ramp. There's no way for them to do damage, but Idra sees Zenio's entire base, and keeps his lings alive. Idra uses his roaches clear his backdoor natural and takes it comfortably. Zenio has greater plans, however, morphing an overseer, and (surprise!) contaminating Idra's main hatchery. Idra is initially slow to respond with his queens, and Zenio takes advantage, keeping hiss hatchery on lockdown with three spread-out overseers dancing in and out of Idra's main. Meanwhile, Zenio puts together a large roach army, and dashes up Idra's ramp. The battle is tight, but Idra holds on. Yet the overseers continue their relentless contamination chain, as Idra struggles to figure out where to inercept them, and Zenio takes an easy expansion while macro'ing up again. The next time, the contamination makes all the difference, and Zenio steamrolls Idra's depleted army.
- A wonderfully cheesy and neat strategy from Zenio. Idra's response appeared lackluster initially and he allowed Zenio to break his ramp way too easily. Yet he also was able to overcome Zenio's first attack and make a game of it. Some of the good and some of the bad in this one.
Game 2 @ Blistering Sands
+ Show Spoiler [Show Recap] +
Zenio goes for a roaches initially, while Idra puts up a baneling nest. Idra never actually builds a baneling however, instead spotting the roaches and attempting to breakdown Zenio's backdoor. Zenio moves out before this happens, however and Idra is forced to fight a roach/ling/b-ling army with pure zerglings and queens. It doesn't go so well. Idra gg's, and Zenio celebrates by throwing an elbow from his booth. Go figure.

No Stars - Awful game.
Player Grades
+ Show Spoiler [Show Player Grades] +
oGsZenio
-
B+
Zenio prepared a gorgeous cheese in the first game, and rolled over Idra in the second. Yet winning this series is not as impressive as it seems when your opponent admits that he was not prepared for ZvZ, and when you yourself admit that you also
have no confidence in the match-up
. So while Zenio earns a high grade for his win, I'm not at all convinced that this series was played at a particularly high level.
EGIdrA
-
C
There was a lot of debate after the series over whether Idra is overrated or not. He may well be, but if you think this series demonstrated anything, you're crazy. Idra didn't have experience or tactics on his side in this series, but I doubt we'll see such an uninspired performance again. Idra is a much better player than a cheesy series in an off match-up would indicate. As shown by Fruitdealer, winning this tournament takes a considerable amount of luck along with skill. So, a disappointment for the great foreign hope, but not a truly worrying one.
E-coli in the spawning pool
+ Show Spoiler [Ro16 Day 2] +
"TheWind Huffed and Puffed, Couldn't Blow NesTea Down."

NesTea
<2 0- >

oGsTheWinD -
Game 1 @ Blistering Sands
+ Show Spoiler +
TheWind goes for an early pool and fast baneling against NesTea's fast hatchery. TheWind morphs 5 banelings and takes out most of Nestea's early lings, but just as reinforcements arrive the first roaches hatch for NesTea forcing TheWind to pull back. TheWind's zerglings took down the destructible rocks as zergling speed finished, opening up simultaneous harassment at the natural and the main. Durring the high pressure speedling harassment TheWind 's own natural and roach warren finished. NesTea produced a larger speedling pack than TheWind, finally ending the harassment. NesTea decides to counter attack, his roach ling catching TheWind with only roaches and a couple banelings. NesTea manages to kill the initial army before TheWind's next round of troops hatch, allowing Nestea to kill both armies with just enough left over to win the game.
– A very classic example of ZvZ dynamics on Blistering Sands, roaches unable to safely defend the destructible rocks and the fast expansion being abused by superior mobility, but NesTea defended quite well, and by keeping his early roaches alive it strengthened his counter attack, finding a brief window before TheWind's economy and production had fully swung ahead.
Game 2 @Delta Quadrant
+ Show Spoiler +
The wind opened fast baneling against NesTea's speedling roach and a spine crawler. A couple banelings slipped into NesTea's main and demonstrated the effectiveness of the early spine crawler, NesTea not losing a single unit as he roaches began to hatch. TheWind had droned up, giving him an economic advantage as he started a roach warren. NesTea's heavy army production easily scared away speedling harass and he pushed out before any economic advantage could pay off. The attack came just as TheWind's first roaches finished, but NesTea's army proved too much, forcing TheWind to type out.
– NesTea defended TheWind's fast baneling attack on his drones, and a strong push punished TheWind's later roach warren and greedy droning.
Player Grades
+ Show Spoiler +

NesTea –
B+
NesTea's good defense in game 1 under extreme pressure for so long allowed him to hit the timing window to end game 1, and his spine crawler nullified TheWind's fast baneling, setting up the strong roach ling attack that won game 2. Little control slips didn't cost NesTea too badly, and his overall good performance lead him into the round of 8.

oGsTheWind –
B-
TheWind made the same mistake in both games, his greedy droning as NesTea prepared to attack left him a little too weak to defend either push. Better awareness of his opponent's production or slightly safer play would have kept TheWind in both games, probably even with a slight advantage, but he pushed it too far and paid the price both games.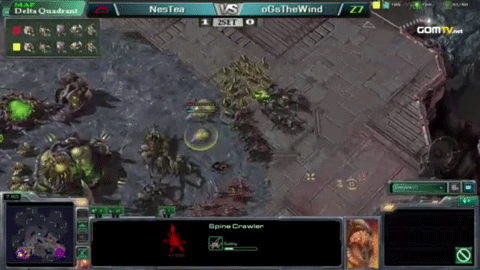 Hoping your not attacked isn't the best game plan
"Foxer Proves He's For Real."

Foxer
< 2-0 >

BabyByeBye (
SangHo
) -
Game 1 @ Delta Quadrant
+ Show Spoiler +
Spawning in cross positions, Foxer hid a second barracks in his gold expansion. SangHo did not scout it, but opened with a sentry after zealot instead of a stalker and starting a second gateway. Foxer moves out with a few quick marines and a marauder, SangHo's first sentry finishing just in time to force field his ramp. A second sentry finishing in time to put down another force field, but because the force field wasn't at the bottom of the ramp the marine marauder forces had vision on the high ground, making it difficult for SangHo's next two sentries to get close, and missing the timing for a third force field, the marine marauder army running up into the main, Foxer having too many units for SangHo to hold off.
– A strong early pressure build from Foxer but SangHo was in position to hold it, he simply made a critical control error, unable to buy enough time for his army to get out.
Game 2 @ Zel'Naga Caverns
+ Show Spoiler +
SangHo opens 1 gate robo into 3 gate robo against Foxer's fast expansion. SangHo puts down his own expansion with a small gateway force, but it is still behind. Foxer moves out just as SangHo's expansion finished, good forcefields splitting the bio ball but only just barely holding, Foxer retreating as the probes pull and SangHo's first colossus finishes. Both players content to macro a while, Foxer's faster expansion and push gave him a 30 food advantage as the large MMM + viking force tore through SangHos 3 colossi gateway army, decisively finishing the set 2-0.
–A straightforward second game, the build orders and an untimely pylon block was the difference in game 2. Foxer's faster expansion and timing push to wipe out SangHo's gateway units put him well ahead and Foxer didn't make a mistake. A pylon block during the two base macro made things go from bad to worse for SangHo, Foxer convincingly advancing to the round of 8.
Player Grades
+ Show Spoiler +

Foxer –
A
I am not sure if Foxer made a single mistake during this entire series, and he capitalized on all of SangHo's. A truly dominate performance showcasing two quite different builds, even the contrast between builds emphasizing how well Foxer prepared and preformed this match.

SangHo –
C-
SangHo made a couple critical, fundamental mistakes, missing the force field in game 1 and getting pylon blocked in game 2. His play otherwise wasn't bad; he demonstrated a strong, safe sentry before stalker opening for force field capable players as well as a reasonable reaction to Foxer's FE. Missed force fields and unforced food blocks have no place in the round of 16, and SangHo paid the price.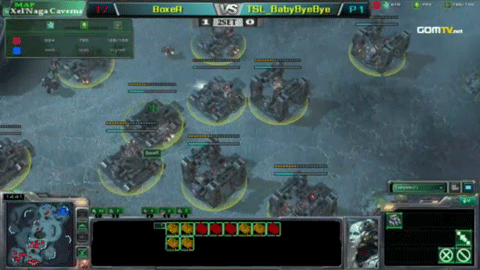 Crushing SangHo with 1500 minerals to spare
Pizarro would be proud.
NEXGenius
< 2-1 >
oGsInCa
-
Game 1 @ Lost Temple
+ Show Spoiler [Show Recap] +
InCa opts for a quick two gate, while Genius opens with one. No real pressure results, however, as InCa immediately takes his expansion and goes for robo tech. Genius takes his natural slightly later, but throws down two gateways before, momentarily taking an advantage in army size, but doesn't capitalize on it. InCa soon is on an even gateway count, and rushes out a pair of colossi to push. Genius seems surprised by the timing, and narrowly loses a battle outside his front. Genius has colossi of his own coming, but InCa has proxied a pylon right at Genius's front door and is able to hold the line, and then decisively win a running back-and-forth battle outside Genius's natural. Genius gg's.
- Short aand sweet, with some nice control from InCa and most importantly, some good timing.
Game 2 @ Megalopolis
+ Show Spoiler [Show Recap] +
Both players begin familiarly enough, with InCa getting two gateways before a core, and Genius going with only one. InCa is late to scout, however, and sees Genius's double gas late, if at all. Whatever the cause, the result is a failure to diagnose Genius's blink stalker rush. InCa responded curiously, hedging with an expansion and an extremely defensive posture. Genius blinks straight past InCa's ramp force field, however, and it's over.
- Another extremely short but enjoyable game. There wasn't a good deal of suspense in this one, but it featured a clever build, some nice micro, and some good mindgames.
Game 3 @ Xel'Naga Caverns
+ Show Spoiler [Show Recap] +
Mirror builds for both players, getting a single gate, core, and double gas, with identical stalker timing, and near simultaneous watch-tower scouting. Creepy.
Genius eventually throws down two more gates, while InCa puts down only one, and both players put down a council. The moment of truth comes when Genius catches InCa out in the open with his larger stalker force, and shreds it in a blink marathon across the map. Genius immediately moves in for the kill, blinking right past a wall at the ramp, and clearing the main of probes. However, InCa has just gotten a dark shrine, and sends a dt out to Genius's base, where it assassinates all of
Genius's
probes, and snipes the nexus. The clock is ticking for InCa, however, as Genius builds a robo bay outside his base and is able to get an observer out. InCa has a few more dts roaming the map, but he can't protect his main, and he can't kill Genius's all-seeing army. Genius snipes InCa's nexus, and after taking out a farewell pylon, InCa gg's.
- The third quick game of the series, and the best, if only for an end-game scenario that nobody practices for. But it was a lot of fun to see the strategizing in this game, and the series as a whole.
Player Grades
+ Show Spoiler [Show Player Grades] +
NEXGenius
-
A-
In the end, some fortuitous positioning, made possible by a gateway advantage paved the way for Genius's entry into the Round of 8. But that's what happens to great players; things go right for them. Genius's game-sense let him down in the first game, but clever blink stalker play saved him in the series. Ultimately, there's not a whole lot to say. This was a tremendously evenly matched series, and Genius won the day.
oGsInCa
-
B+
High level mirror match-ups are subject to all kinds of random chance, and InCa got the back end of that variability in this series. Genius may be the better player, but it's difficult to tell from these three games. InCa's strategy in the first game was top-tier, but his execution in the next two games was what let him down.
Over in the Blink of an eye
"再见"
SlayerSBoxeR
< 2-0 >
Loner
-
Game 1 @ Metalopolis
+ Show Spoiler [Show Recap] +
Boxer is wearing a stylish puce colored button-down shirt for the occasion. This gives him an automatic advantage over Loner, who is wearing a loose-fitting t-shirt. Both players go for a 1-1-1 opening, but Boxer delays his build slightly in order to accommodate a reactor for his barracks. Loner attempts to take advantage with his first hellion, but Boxer's extra marines allow him to deny the pressure with ease. Boxer builds a tank, but opts not to push, expanding instead and getting a viking. Loner attempts to keep the pressure on with a medivac, and drops on Boxer's sieged tank, but even then the emperor holds easily. Boxer then dispatches his mighty two viking fleet to harass Loner's base. Comically, Loner engages these vikings like bad guys do in the movies; one at a time, and "poorly". Somehow, two vikings take out a couple marines, a number of scvs, and
a tank
before lifting off without either of them being killed. Loner expands as well, but he's disastrously behind, and Boxer embarrasses him with his first push. With siege tank shells raining into his natural, Loner ends the misery and calls gg.
- Watch for Boxer's spiffy collared shirt.
Game 2 @ Steppes of War
+ Show Spoiler [Show Recap] +
Hey Steppes of War! We don't see you that often! Identical adaptations of 1-1-1 play from both players, with similar results. Loner's early first hellion attack is again rejected, and a timing push with his first medivac and two tank is similarly beaten back. Each player takes an expansion and Loner tries to stall in the middle of the map until he can get siege, but Boxer presses the line forward and gets a couple marine kills as Loner is slow to react. Loner sees the urgency of the situation and tries to force the issue, attacking from the flank of Boxer's forces, but Boxer has too much stuff, and the move turns disastrously against Loner. Boxer immediately takes a position outside Loner's natural, and there's nothing the Chinese terran can do to dislodge him.
- A replay of the first game, but marginally more interesting.
Player Grades
+ Show Spoiler [Show Player Grades] +
SlayerSBoxeR
-
A-
The emperor won this handily, and looked extremely classy to boot. I'm inclined to put more of the credit for this win into a simply better opening sequence, but Boxer obviously still had to execute to take the series, and he really didn't have any hiccups in doing so.
Loner
-
B-
I saw this series as more of a BO loss for Loner. I think he made some decisions that ended incredibly poorly for him, but I can't fault him for trying, especially once he was behind. I think the more valid criticism is his failure to respond to Boxer's opening, exemplified by his dogged insistence on that initial marine-hellion push which put him behind in both games. Boxer's build essentially seemed to put him in the better position each and every timing that Loner moved out, and the Chinese terran didn't have any new answers.
No, Mr. Loner, I expect you to die.
---
"Survival of the Fittest"
GSL Season 2 Ro8 Recap
By skAnarky
+ Show Spoiler [RO8 Day 1] +
"The Few. The Proud. The Marines"

FoxeR
<3-2>

KyrixZenith
Game 1 @ Shakuras Plateau
+ Show Spoiler +
Kyrix opens with a fast Hatchery, while Foxer opts to go CC before gas. Kyrix starts his first push with over 10 banelings. Foxer blocks with tanks and micros marines into tiny groups, and deals with the banelings commendably. With siege up, Kyrix's second bust does a similar amount of damage – this time taking out the factory -- but nothing that cannot be managed. Foxer decides to mass barracks hard. A large scuffle over the middle position ensues with Foxer microing nicely and always managing to reinforce his force with a seemingly infinite stream of marines. Foxer hits the 3rd expansion of Kyrix, but doesn't manage to do enough damage. A drop by Foxer takes out 6 overlords. Kryix responds to this harass by getting mutalisks. Once again, both players battle constantly over the middle position, Foxer splitting marines to avoid baneling damage and constantly streaming in reinforcements, while Kyrix throws mutalisks, zerglings and banes at his force. Slowly, Foxer's persistence pays off and he penetrates Kyrix's defenses briefly, lowering his drone and unit count. Kyrix attempts to adapt, producing roaches to create a superior force, but Foxer has maxed 3/3 upgrades on his marines, making them much more effective. With superior upgrades, Foxer's marines melt any force that Kyrix throws his way. Eventually, Foxer just walks in and takes his reward.
– Foxer's marine micro was phenomenal, countering a unit composition that is usually meant to decimate a pure marine force. The game is extremely push and shove and has many tense moments. One of the best GSL games to date.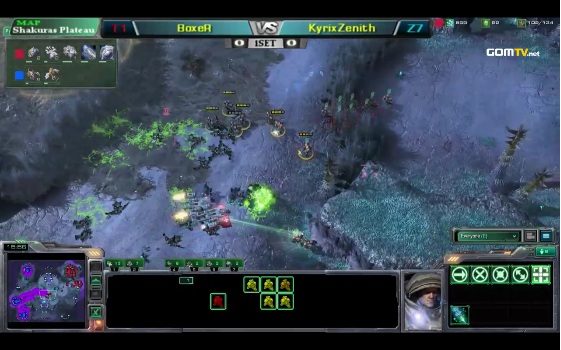 You would think watching this over and over for 15 minutes might get boring. It didn't
Game 2 @ Lost Temple
+ Show Spoiler +
Players spawn in close positions. Kyrix steals gas and spawns hatch first. Boxer expands and builds two more barracks. Boxer does a timing push with one SCV and 8 marines and manages to do amazing damage, killing many zerglings and even a queen. Furthermore, he keeps reinforcing at a constant rate, similar to game 1. A counter attack by kyrix manages to stabilize the worker counts and the midgame commences. A large baneling push manages to break boxer's wall, but manages to hold temporarily with good SCV micro. A second wave penetrates harder and an already weak defense cannot hold.
– Kryix's timing was well executed and took advantage of the 2 depot wall BoxeR put up. With two aggressive players meeting, Kyrix just managed to pull ahead.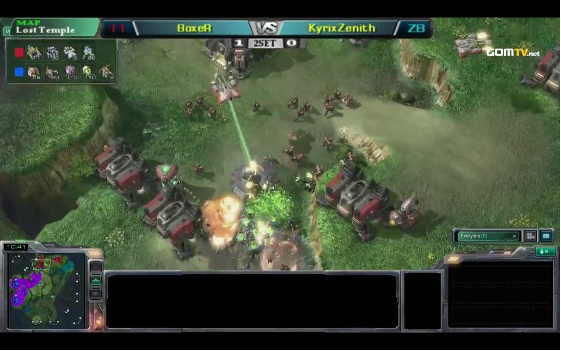 Banelings + Depots = easy win.
Game 3 @ Steppes of War
+ Show Spoiler +
Kyrix opens Hatch first while Boxer opens with two barracks. Kyrix steals gas again. Boxer pushes with eight marines and 4 SCVs against 20 zerglings, but is not able to survive. A counter attack of about 12 zerglings is defended, and the game stabilizes. Boxer walls off with a total of 4 barracks and two depots, as Kyrix builds a baneling nest again. Kyrix expands to gold, while pushing in with 16 banelings and 12 zerglings. The bust succeeds and zerglings rush in, destroying most of Boxer's base. Kyrix, morphing banelings in front of Boxer's force, gets punished for his cocky play and is pushed out. Despite this, Kyrix's three bases are too much to compete with, and Boxer inevitably crumbles to the infinite waves of zerglings.
– Again, Kyrix abuses the low HP wall in buildings with mass baneling. This round saw a small change in Kyrix taking an aggressive gold expansions turning his baneling play into a macro baneling factory.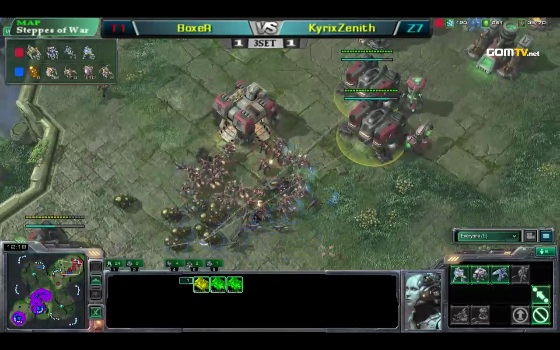 Kyrix even uses banelings for his trash talking.
Game 4 @ Scrap Station
+ Show Spoiler +
Boxer builds a quick gas and barracks, while Kyrix morphs a fast expansion. Boxer opts for a factory and two starports, while Kyrix builds a roach warren. Kyrix scouts the banshee but still looses a queen to the harass. Boxer returns the banshees to repair. Boxer's banshee push kills all the queens and Kyrix is left practically naked and the drones start dropping fast. Attacking the expansions allows Boxer to take out the spire and another queen, and its GG.
– Boxer's banshee micro is quite commendable. His choice to return to repair and fully commit to mass banshee was well executed and got great gains.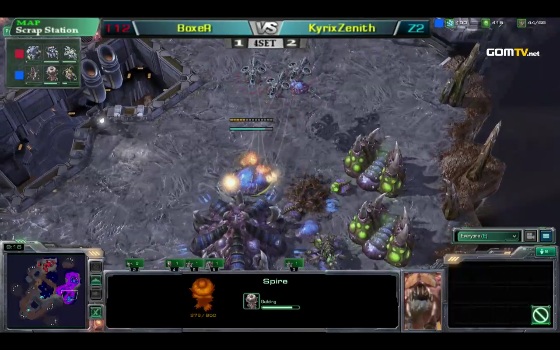 … nothing banelings can do to stop this.
Game 5 @ Xel'Naga Caverns
+ Show Spoiler +
Boxer opens one barracks, one factory, one starport, while Kyrix opens with a fast hatchery. Boxer expands whild building banshees and kyrix pushes with a small force of zergings. Behind this push, Kyrix takes a 3rd base. BoxeR manages to scout morphing banelings and is able to minimize damage, but is unable to defend his natural. Kyrix keeps a squad of marines to assure that Boxer cannot expand back into his natural. A Drop in Kyrix's third kills some drones, but is smashed by mutalisks. Boxer suddenly decides to do a rogue push into Kyrix's third and manages to kill the defense with great marine micro and good tank defense. The expansion falls, and the supply is miraculously in favor in Boxer. Kyrix attempts to bolster his forces with roaches. An attack crushes Boxers first force, and a second attack into Kyrix's gold expansion is also countered. An attack on Boxer's expansion has Roaches dieing to siege tanks, and many zerglings and mutalisks falling to marines. Boxer manages to hold a gold base, and a massive push and shove ensues that, while even, leans slightly in favor of Kyrix, who on numerous occasions penetrates Boxer's defenses. The final push sees Kyrix attempt to penetrate with heavy roach and baneling drops, but great marine micro proves superior, and Boxer's marauders clean up the roaches. GG
– A superb match that should be watched by everyone. The game teetered on a knife's edge, and shows Boxer's ability to adapt to an opponent's unit composition and seize small windows of opportunity to gain a lead. Possibly the most exciting game of both GSL 1 and 2.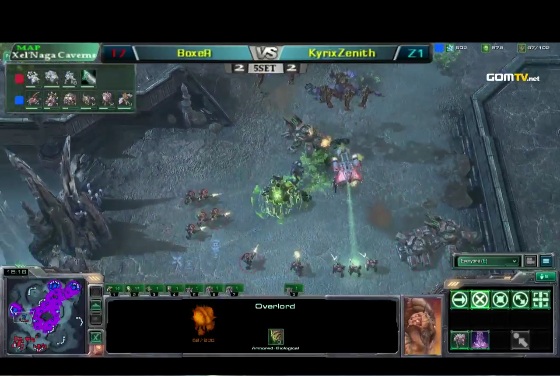 This image neatly sums up the entire series. FoxeR imba.
+ Show Spoiler [Player Ratings] +
Kyrix -
- While his aggresive play is unmatched in the zerg scene right now, Kyrix seems to have a one track mind when it comes to strategy. While a similar thing may be said for his opponent in this series, Kyrix style is even more singular, and it cost him.
Foxer -
- This player provided very entertaining games containing a very innovative strategies that utilize constant pressure, and insane micro. It's hard to say if Foxer is here to stay or if he is merely the flavour of the week, but right now, this style of play is so awe-inspiring, everyone is eating it up.
---
"Any Given Playday"

HopeTorture
<3-1>

NEXGenius
Game 1 @ Lost Temple
+ Show Spoiler +
The players spawn in cross positions. NG opens 1 gate and 1 targate, while HT opens with two barracks with heavy marauders. As the voidray finishes and NG expands, HT masses a very large marine/marauder ball. HT misses his window of opportunity to attack when NG had little to no forces and NG manages to muster a great voidray and warpgate force. NG drops a support pylon, and with a suprerior composition, HT's forces melt.
– HT could have had the game if he just pushed out with his bioball. NG's choice to build voidrays worked well. Rather standard game.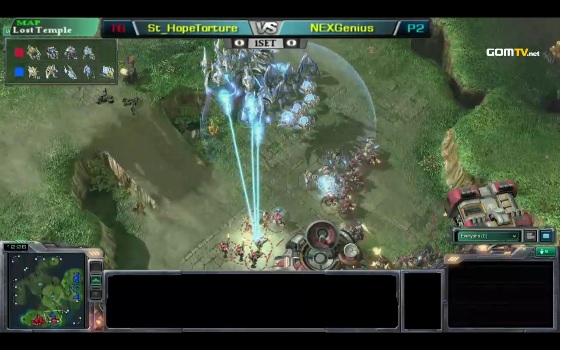 LASERS!
Game 2 @ Delta Quadrant
+ Show Spoiler +
Players spawn in far positions. Both players open with standard builds, except NG proxies a twilight council. HT, luckily, decides to get banshees with cloak. NG attacks HT's base while the banshee hits the mineral line. NG is driven off while his worker count drops hard to the banshee harass. NG pushes in once more with 9 stalkers, but HT counters once again with the banshee harass. HT manages to repair his bunker, and NG isn't able to do the damage he needs. GG
– Commendable play by NG, but this is simply a case of HT's rock and NG's scissors.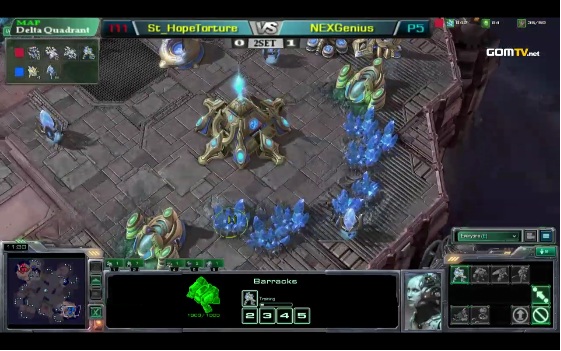 A nexus as bare as a graveyard doesn't win you games.
Game 3 @ Xel'Naga Caverns
+ Show Spoiler +
NG opens one gate, while HT opens one barracks proxy factory. NG goes fast robotics. NG fast expands while HT opts for a thor rush supported by marines and SCVs. The thor kills all and is repaired with ease. GG.
– Great build choice on HT's part, but the lack of scouting on NG's part created an insta-win.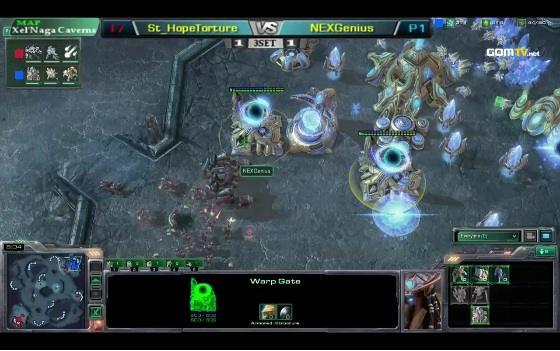 NexGenius' units were there, and then they weren't
Game 4 @ Metalopolis
+ Show Spoiler +
The players spawn close air positions. HT opens 2 barracks command center, while NG opens 1 warpgate and 1 stargate. HT scouts the stargate with a reaper. NG's voidray harass is quite well executed, but is unable to do much damage. HT builds Vikings and masses up barracks. HT pushes out with a massive bio ball supported by Vikings. When the forces clash, NG is left with 3 void rays and HT gets a fully saturated 3rd base set up. HT's second push lands at NG's 3rd expansions, and he manages to snipe the building and run. NG retaliates, but his forces get pincered, EMPed, and all around decimated. HT reaches his opponents natural, and he takes the game.
– The only standard game of the series. NG allowed himself to get caught off guard, and HT smashed him.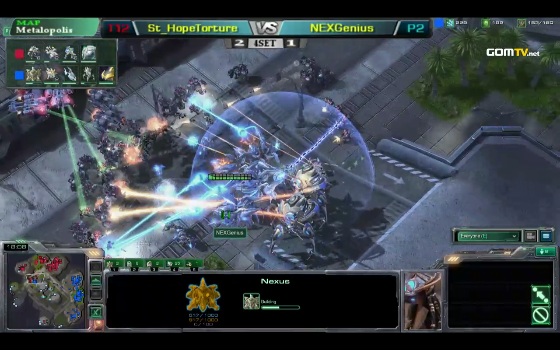 Surrounded with nowhere to run. Too little, too late.
Player Ratings
+ Show Spoiler +
HopeTorture -
- While in many ways fate handed this player the win, Game 3 showed viewers that HopeTorture can adapt and be surprising. Furthermore, the final game was executed with a cool collected macro play that allowed him to get ahead.
NexGenius -
- We really didn't get to see what NexGenius was capable of in this series. He did make a few mistakes, which inevitably cost him his position. But, if I could choose to see any series in this GSL played again, it would be this one. Disappointing.
+ Show Spoiler [RO8 Day 2] +
"The Cannibal"

oGsZenio < 0-3 >

NesTea
-
Game 1 @ Metalopolis
+ Show Spoiler [Show Recap] +
Players spawn in close positions and both decide to open hatchery first. Both match with lings and roaches. Zenio 3rd expands fast. Neastea masses a huge force of speedlings and roaches and smashes a trapped roach line at zenio's base. Taking out both queens, Nestea keeps a small force while reinforcements come in to finish the job. Nestea doesn't notice a 3rd expo which allows zenio to pull enough to defend, but when the mutas come in, its gg.
- Punished Zenio for overdroning, and manage to make a better unit composition, utilizing speedings to tank some DPS. The notable aspect of this match is NesTea's timing, as he knew when his opponent was droning.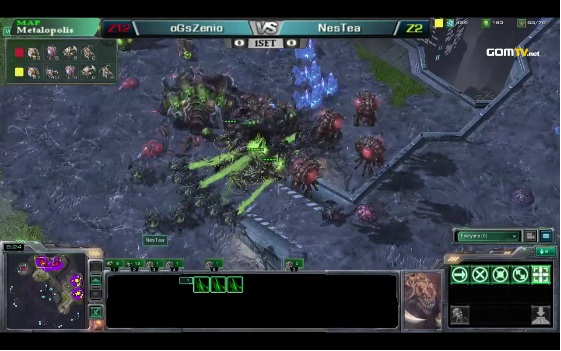 Talk about a kill zone...
Game 2 @ Scrap Station
+ Show Spoiler [Show Recap] +
Both players open with a similar gas and spawning pool, leading into heavy 1 base tech. Nestea, anticipating an all-in or massive timing attack, lays down a massive spine crawler line. Zenio sees this defense and cancels his banelings. While Zenio manages to scout a spire by suiciding some zerglings, his reaction of burrowed infestors is countered. As the burrowed infestors approach NesTea's base, there is an overseer waiting, and they are denied. After smashing the rocks. Nestea hits with mass roach with muta support and Zenio cant hold. The infestors weren't worth the price.
- Great defense from nestea, very solid. Predicting the banelines and spacing 5 spines was key to dumbfounding zenio, and it paid off massively.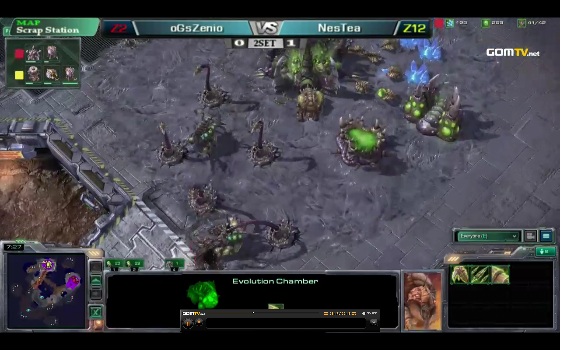 This play almost made me to call NesTea Nostradamus zerg.
Game 3 @ Xel'Naga Caverns
+ Show Spoiler [Show Recap] +
Zenio 8 pools for fast banelings. Zenio, sneaking lings to avoid scouts allows him to take out massive drones with banelings. Workerless, Nestea uses his only resort and attacks with 4 newly spawned roaches, and himself manages to do massive damage as well. With the counter attack, worker counts are equal, and a spire race ensues. Nestea hatches mutas first, and starts a harass that will allow him to dictate the pace of the game. By creating this pace that gives him map control, NesTea can amass a superior muta force and stomp Zenio.
- Nestea's ability to counter with those 4 roaches was critical in allowing him to not only catch up, but pull ahead. Very quick thinking.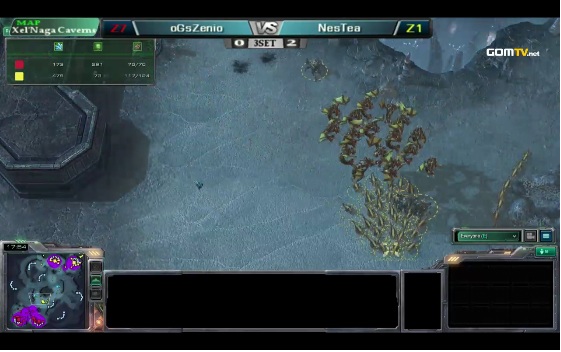 Ewwww. Thats a lot of mutas.
Player Ratings
+ Show Spoiler +
Nestea -
ZergBong showed a solid command of the ZvZ matchup here, able to think on his feet and stay calm in remarkably tense situations.
Zenio -
– Zenio, a solid player in his own right, was resoundingly outplayed by someone who simply knew the matchup far better than he did.
---
The Emperor and The Genius

SlayerSBoxeR
< 3- 1 >

oGsNaDa -
Game 1 @ Metalopolis
+ Show Spoiler [Show Recap] +
With the players spawning at far positions, NaDa takes his natural quickly. Boxer, despite this, decides to proceed with 1 base banshee play. Boxer under estimates the advantage of the distance and Nada's ability to deny scouting combined with good tank play give him a great lead. Nada's early game consisted of very heavy rax play, which allowed him to thwart BoxeR's attempts to harass early on. An early push by NaDa catches Boxer without siege and nearly eliminates his natural, but is cleaned up last minute by scvs and tanks. During this, BoxeR uses this crucial distraction to kill a mass of SCVs with a single errant banshee, creating a much more even game than previously suspected. With siege up for both players, the game stabilizes. Both players move out with similar forces and clash on the high ground outside NaDa's natural. This starts a push and shove tank match that is broken by a crucial play: NaDa decides to drop under the cover of a defended tank position, allowing him hard to prevent access to Boxer's base. A Base trade ensues. While Boxer makes a very commendable attempt to catch up during this base trade, NaDa's early drop put him into a lead that BoxeR couldn't get out of.
- BoxeR's ability to capitalize on a losing situation shows that he is not to be taken lightly. NaDa's entrenched drop was beautiful, creating a situation that was nearly impossible to escape. Very entertaining.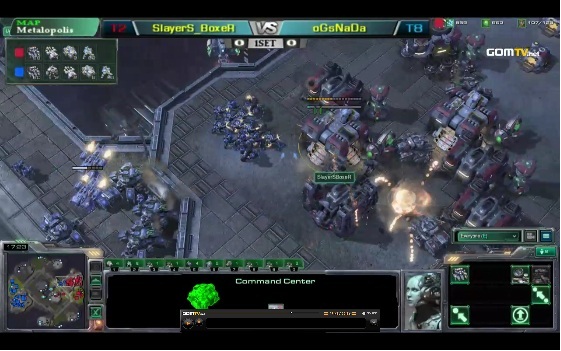 That is a tough nut to crack.
Game 2 @ Xel'Naga Caverns
+ Show Spoiler [Show Recap] +
Both open standard 1/1/1. While both players decide to open with banshee, Boxer gets more tech in the form of heavy tech labs. While both players go banshees for harass, only Boxer is able to capitalize, getting 10 kills with his banshee. Both transition to marine/tank and begin dancing around each other in the center of the map. The tide turns when boxer decides to attack thorugh nada's back door, following with a flanking force to sandwich in NaDa's forces. An extremely decisive attack that smashed his opponent. NaDa never saw it coming, and was flattened.
- That simple yet effective attack caught NaDa off guard and won the game easily. Great timing.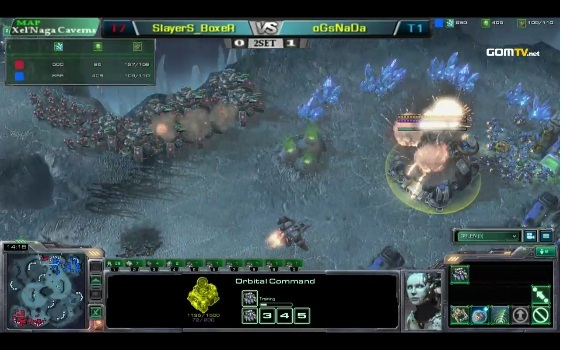 SURPRISE!
Game 3 @ Shakuras Plateau
+ Show Spoiler [Show Recap] +
NaDa, definitely proving to be the more unpredictable player, opens with fast blue hellion, while boxer goes for banshee again. They simultaneously attack each other's worker lines and end up with worker counts of 11/19 in favor of NaDa. Nada transitions to thor/marine and attempts a timing push that is thwarted easily by tanks, primarily due to bad SCV use. Once again, Boxer has a hero bashee that racks up over 20 kills, and that combined with the NaDa's inability to capitalize on the transition to thor gives BoxeR the opportunity to counter with his good ol' marines and tanks. NaDa folds again.
- Boxer keeps his cool under heavy pressure from blue hellions and builds a solid defense while fully maximizing use of his banshee. Solid comeback.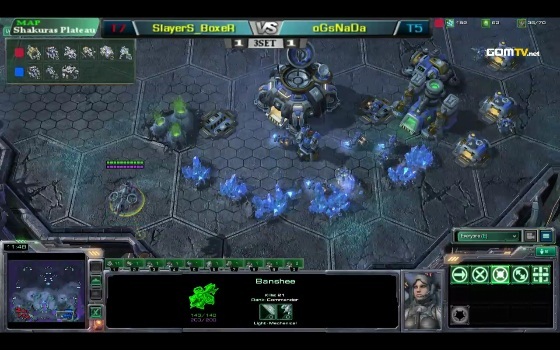 Ladies and gentlemen, the MVP of the Boxer arsenal: the hero banshee.
Game 4 @ Delta Quadrant
+ Show Spoiler [Show Recap] +
Players start in close positions. NaDa opens with two gas and a hidden ghost academy. Boxer opens banshee again once again. NaDa decides to follow suit and harass with his own banshee, but is once again thwarted. Both expand, but NaDa decides he wishes to take map control early and charges with a small forces of ghosts and marauders, doing a small amount of harass damage Boxer, proving that he never stops harassing, lands 4 vikings on a suicide mission that do commendable damage, but nothing drastic. Nada, attempting the TLO nuke fake, executes the maneuver incorrectly and lets the nuke land, allowing boxer to know the exact moment that that NaDa is expected to attack, which causes the attack to fail. Despite this, NaDa keeps his contain and the game becomes even. Boxer does a big push with stimed marauders and manages to siege his tanks before marines close in, and this allows Boxer to turn the contain back on his opponent. NaDa, knowing he must make a move, attempts to land 7 vikings in Boxer's base, but is denied by in-base tanks and marines. A final push with landed Vikings/marauders/tanks manages to wipe out NaDa's army it is curtains for NaDa.
- A game that shows how evenly matched these two players are, and shows that Boxer can make subtle changes to create an advantage. Boxer's switch to heavy marauder in his final push really helped penetrate Nada's tank line, allowing him to gain an insurmountable advantage. Nada's inability to capitalize on the strategic nukes also allowed Boxer to pull further ahead, as the strategy didn't pay off enough for the investment.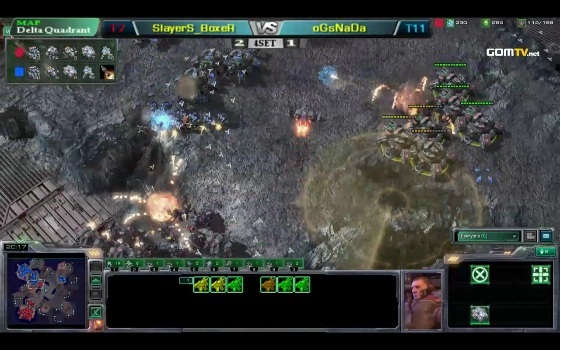 This isn't going to end well.
Player Ratings
+ Show Spoiler +
SlayerSBoxeR -
– The Emperor has shown us some exciting moments so far, and watching him spar against another top ex-pro was a real treat. Boxer's awareness and reactions seem to be getting better every game and he's clearly a legitimate threat against any player in the world.
oGsNaDa -
– Despite the 3-1 score, Nada was no pushover. We're left to ponder what might have been had he not run into a very hot Boxer.
---
---

Next: Round of 4 Recap and Finals Preview
The stage is set for a brilliant showdown in this second season of GSL. Which Boxer is going to throw the knockout punch? Will NesTea find success or heartbreak at the end of the Rainbow? Prizes and pride are on the line as each series tries to outdo the last, so don't miss any of the action!

Thanks for reading!