Banner by pachi, Screenshots from GSL Open Season 2/i]


"Revival"
GSL Season 2 Ro64 Recap
By Lovedrop, Treehugger, TrueRedemption, BroOd, and Xxio

Welcome back to the second season of the GSL. Last season here at TeamLiquid, the GSL recaps have been a huge hit and now we're back with a brand new batch of games for you to enjoy ! The world's most prestigious Starcraft 2 tournament is underway, and games are coming and going at a rapid pace, even faster than last season. In this thread you will find recommended games, ratings, and player grades, as well as a recap of every single best-of-3 (yes, all 32) from the GSL2 Round of 64. So sit back, grab a drink, and read on!

Links and Resources:
http://wiki.teamliquid.net/starcraft2/2010_Sony_Ericsson_Starcraft_II_Open_Season_2
GSL Game/Series Rating Scale
Rating Scale
- One player played very well, but his opponent played amazing. Watch this right now!

- One player played very well, usually with a great micro move or strategy. A must-watch game.

- One player played solid, his opponent played average. If you have time, watch.

- One player played average, the other played poorly. Don't bother watching unless you're a fan.

- One player played very badly. Not worth watching at all.
No stars - One player failed, usually in a very hilarious way. Actually very watchable just for laughs.

Remember, we're recommending games to watch assuming a neutral viewer. If you want to have TLO's babies, you probably don't need our recommendation to watch his games. If you don't want to wade through all the recap text, here's a short list of our ratings for each series.

Recommended Series Short List
+ Show Spoiler [Recommended Series] +

All ratings out of 5 stars.

Day 1
FruitDealer vs
ButterflyEffect -
NEXGenius vs
Rain[fOu] -
oGsInca vs
Aya -
MakaPrime vs
Banbanssu -
SlayerS_BoxeR vs
Happiness -
Day 2a
Loner vs
Bleach -
Ellenpage vs
BabyWeRRa -
PhoenixWeRRa vs
Apple -
BabyByeBye (SangHo) vs
LiquidTLO -
Day 2b
Rain vs
choya -
oGsEnsnare vs
SuzyWeRRa -
Ace vs
NEXKYumer (ChRh) -
KyrixZenith vs
HongunPrime -
HopeTorture vs
FlintZenith -
Day 3a
Pippi vs
oGsCezanne -
SanZenith vs
oGsHyperdub -
Suhoshin vs
FreeDSL -
TankboyPrime vs
TSL_Clide -
Day 3b
Gilja (Sync) vs
jookToJung -
CoreJJang vs
Bless (Lyn) -
Terious vs
PoltPrime -
LegalMind vs
Leenock -
CheckPrime vs
Garnet -
Day 4a
NesTea (ZergBong) vs
KangJiYoung -
ParkJongHyuk vs
NEXChief -
EGIdrA vs
ChickenCombo -
ReXZanDarke vs
oGsGon -
Day 4b
oGsMC (Iron) vs
Overthezero -
IMmvp (MVP) vs
SoundWeRRa -
oGsZenio vs
Jjakji -
oGsNaDa vs
Cargo -
TheWinD vs
LoveRip -
---

Day 1 - "Return of the King"
Recap by Lovedrop
+ Show Spoiler [Day 1 Recaps] +

"Fruitdealer, Impervious to Pressure."
김원기 – FruitDealer
< 2-0 >
백승주 - ButterflyEffect -
Game 1 @ Blistering Sands
+ Show Spoiler [Show Recap] +
The champion makes his triumphant return on Blistering Sands against a lesser-known Terran opponent. Right off the bat, ButterflyEffect opt to go for a double proxy barracks at the ramp to block off Fruitdealer's newly made hatchery at the 9′o clock natural. Unluckily for him, the SCV that was building did not swing his way to the other side of the constructing barracks and was picked off by one measly drone that Fruitdealer sent to defend. As the natural went up uncontested, zerglings stream across the map to put early pressure on ButterflyEffect, who is now vastly behind. Fending off the four early zerglings only delayed the inevitable for ButterflyEffect, as a batch of roaches and metabolic boosted zerglings break down the backdoor rocks, gaining a free entrance to the Terran main, forcing the gg.
- Watch if you like FruitDealer, roaches, and failed proxy barracks.
Game 2 @ Scrap Station
+ Show Spoiler [Show Recap] +
While Artosis is entranced by the new announcer voice, ButterflyEffect throws down an engineering bay to prevent the Zerg from putting down a hatchery. After getting out a quick viking, ButterflyEffect throws down another starport while adding on tech labs for both of them. The cloak-less banshees are on route while a spire has been thrown down at the natural for FruitDealer. The two banshees attack the three queens at FruitDealer's ramp, only to take down a queen at the cost of a banshee. The banshees snipe out the queens seconds before the mutalisks pop, forcing the banshees to fall back. Regrouping with a handful of marines and tank/hellions, ButterflyEffect pushes out while Fruitdealer sneakily takes the gold. ButterflyEffect's army of marines is quickly wiped out due to a massive amount of mutalisks, and ButterflyEffect is left with a few banshee and hellions, not the best anti-air army he could've mustered. The supply after the engagement sits at 90 to 48. Fruitdealer's mutalisks flew in the Terran main, taking out the three last vikings, and ButterflyEffect quickly resigns.
- Watch if you like mutas.
Player Grades
+ Show Spoiler [Show Player Grades] +
김원기 - Fruitdealer -
B+
Solid and collected, Fruitdealer coolly dealt with early pressure from both games, and while not doing anything spectacular, easily takes the 2-0 victory.
백승주 - ButterflyEffect -
C
Risky first game strategy did not pay off, and his fear of roaches in the second game vastly delayed his banshees.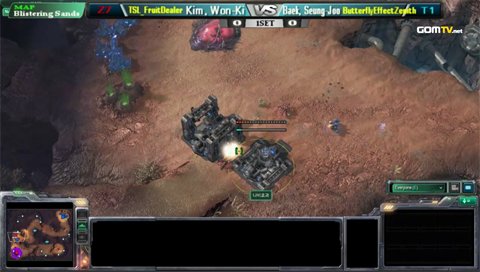 "Bad day at work for that SCV."
"The Defensive Genius."
NEXGenius
< 2-0 >
Rain[fOu] -
Game 1 @ Lost Temple
+ Show Spoiler [Show Recap] +
NEXGenius, given the close spawn distance, put on 2 gate early stalker pressure on a 14 hatch by Rain, following up by throwing down 2 more gates. Rain overreacted and made too many zerlings instead of drones, and is now vastly behind economically as NEXGenius's expansion is now up and running. Rain realizes this and pushes with an atrocious amount of roaches but NEXGenius with beautiful control, falling back to cannons, force fields and eventual blink micro decimated the roach army and gg soon followed.
- By feigning aggression, NEXGenius forces Rain to make unnecessary units and slowly built his lead economically. Fending off the mass roach with precise building placement and micro, NEXGenius looked impressive as he did not succumb to the intense pressure.
Game 2 @ Delta Quadrant
+ Show Spoiler [Show Recap] +
NEXGenius scouts the early hatchery first, replying with a quick forge/gateway. Throwing down a pylon at the Rain's natural, chrono-boosted zealots make their way over while 2 cannons are thrown down right next to the hatchery. Even with zerglings and a newly-spawned queen, Rain could not stop the cannons from going up. Too many drones fall, Rain calls GG.
- NEXGenius showing the Zergs at home, hatchery first is a big no-no.
Player Grades
+ Show Spoiler [Show Player Grades] +
NEXGenius -
A
Amazing defense game 1, there are a few moment where you thought the roaches would have overran him, but composed himself and held on until blink. Took advantage of Rain's hatch first second game, and punished him for taking that risk.
Rain[fOu] -
C
Overreacted game 1, and forced to engage. Overall roach buff and decent macro almost got him the win, but NEXGenius defended very well. Took the coin-flip strategy game 2 and paid for it.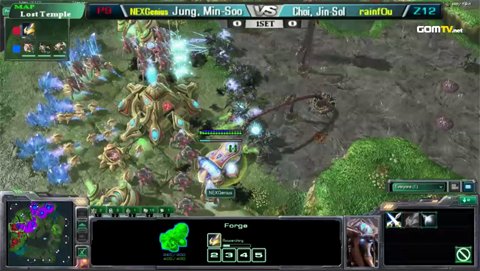 "Defense is the best offense."
"DTs? What DTs?"
oGsInca
< 2-1 >
아야 (Aya) -
Game 1 @ Metalopolis
+ Show Spoiler [Show Recap] +
Aya starts a late reaper in order to scout oGsInCa. InCa shows impressive reaction time as he denies the scout with a quick force field and probe surround. Aya throws down a command center while InCa warps in a dark shrine at the back of his base, while making a nexus as well. The dark templar harass twarted Aya's MM timing push, turning the game in favor of InCa. InCa's first colossus-backed push ends up to be an army exchange for both players. A hard unit switch to templars and immortals prove to be too much for Aya, who quickly resigns.
- Good attempt to hold by Aya, but the dark templar harass slightly threw him off his game.
Game 2 @ Delta Quadrant
+ Show Spoiler [Show Recap] +
Once again choosing to go dark templar tech, oGsInCa begins to abuse the map terrain on Delta Quadrant. However, a well-placed supply depot spots the pylon along with a strong wall in front, InCa's two-front attack is nullified. InCa's stubborn attempt to break through eventually ends with a cloaked banshee wrecking havoc on the probe line. Aya moves out with his MMM + raven army and overwhelms InCa, forcing a decisive game 3.
- InCa's persistence to back door warp-in proved to be his undoing.
Game 3 @ Xel'Naga Caverns
+ Show Spoiler [Show Recap] +
Aya opens with a 1 rax FE build, 3 barracks soon to follow. Aya's reaper scout once again pick up on InCa's plans, scouting the stargate with a Void Ray being built. The VR/gateway attack begins with a pylon below Aya's main, enabling InCa to warp in units to the high ground. Aya simply does not have enough marines to deal with the VRs, and is eliminated from the tournament.
- Although he scouted out the stargate, it does not seem like Aya was well-prepared for InCa's VR timing attack.
Player Grades
+ Show Spoiler [Show Player Grades] +
oGsInca -
B
A great tech switch game 1 earned him the win, yet his bullheaded approach in game 2 pushed him to an elimination game.
아야 (Aya) -
C
Did well to hold off the push on game 2, but his lack of marines after seeing the stargate was very questionable.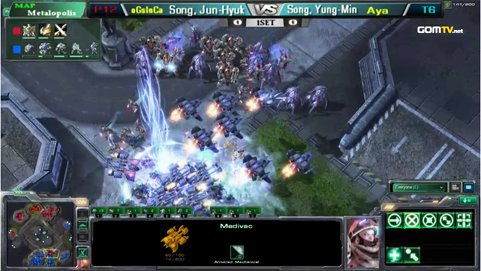 "Weather forecast shows a high chance of storm."
"Maka is sick? Do you mean he's SIIIIIICK?"
요츠바랑 (MakaPrime)
< 2-1 >
반반쓰 (Banbanssu) -
Game 1 @ Metalopolis
+ Show Spoiler [Show Recap] +
An early three barracks opening by Maka is a clear sign of aggression, yet BanBans chooses to two warp gate expand instead. Moving out and reaching BanBans's natural as soon as combat shield and stim pack is done researching, Maka plows through Banban's so-called "defense".
- Banbans had no chance to hold Maka's stim push, and not being cross-position only further doomed his attempt to fast expand.
Game 2 @ Shakuras Plataeu
+ Show Spoiler [Show Recap] +
Maka's second command center began construction as the reactor landed on his first barracks, and Banbans looks to end the game with a quick four warpgate push. Although Banbans made some fishy decisions at Maka's front, he eventually broke through the bunker and much to Maka's agitation, this match is going to game 3.
- Four warpgate runs over fast expand, GSL2's quickest game at 7:31 gg.
Game 3 @ Steppes of War
+ Show Spoiler [Show Recap] +
Maka hides a quick second barracks in his natural, and pushes out with 4 marines and several SCVs. The SCVs tank quite a few hits for the marines, but a force field denies any kiting shenanigans, and Maka is pushed back. Maka erects two bunkers to defend, and Banbans looks poised to break the wall. The engagement at Maka's ramp falls heavily in favor of Maka, and not only is he now not contained, he is ready to land his CC and have a major economic lead. Maka pushes out with MM+Ghosts, and slowly nukes the nexus for apparently minimal gain. He eventually pushes in to Banban's natural and cleans up Banbans's army.
- Banbans made a huge blunder trying to win the game by pushing up Maka's ramp, and after that, it was Maka's game to lose.
Player Grades
+ Show Spoiler [Show Player Grades] +
요츠바랑 (MakaPrime) -
B
You wouldn't have been able to tell he was sick if Tastosis had not informed you.
반반쓰 (Banbanssu) -
C
Did not make very many mistakes, but when he did, they were fatal.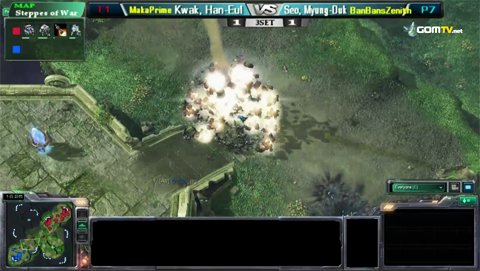 The new BM ?
"The Emperor Strikes (Back)."
SlayerS_BoxeR
< 2-0 >
Happiness -
Game 1 @ Lost Temple
+ Show Spoiler [Show Recap] +
Boxer's early marine rush catches Happiness off-guard. Boxer's three marines + SCV overwhelms Happiness's two, and the marines do a reasonable amount of damage to Happiness's mineral line. Happiness splits his cloaked banshees in different directions to force two scans, but Boxer's vikings takes out both of them while sustaining minimal damage. The match carries on to a tank / viking / marauder mid-game with several viking/raven skirmishes. Boxer takes control of the watchtower and Happiness barely manages to make it out of his choke unscathed. Happiness's attempt to take a third gets denied, while Boxer's third carries on unchecked. Attempting to break out of desperation, Happiness is forced to engage Boxer's tank line with all his SCVs. There are just too many tanks for Happiness to overcome, the Emperor promptly takes game 1.
- Standard tank/viking play with bio mixes for both side, Boxer comes out victorious with better positioning.
Game 2 @ Xel'Naga Caverns
+ Show Spoiler [Show Recap] +
Rather than the standard 1/1/1 in TvT play, Boxer decided to 1 rax FE. Instead of throwing down a handful of additional barracks, Boxer also swiftly lands a factory along with his barracks. Happiness senses the danger of leaving Boxer's natural unattended, and pushes out with a tank/marine push. Boxer catches Happiness's push out of position, stims forward, and utterly destroys any hope of Happiness making it to game 3. Boxer proceeds to drop in Happiness's main, taking out almost every single SCV and makes a triumphant return to televised Starcraft.
- Boxer's precise timing, micro mechanics and overall game sense dominated Happiness.
Player Grades
+ Show Spoiler [Show Player Grades] +
SlayerSBoxeR -
A
The Emperor looked sharp and nearly invincible as he tore Happiness in half while making his Starcraft 2 television debut.
Happiness -
C
Nerves might have been a big problem for Happiness, as he cannot be completely happy of his performance.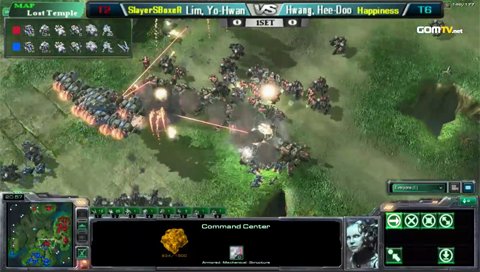 Happiness desperately trying to break the contain.



Day 2a - "Two Foreigners, Two Different Stories."
Recap by Lovedrop
+ Show Spoiler [Day 2a Recaps] +

"Rising to the Occasion."
Loner
< 2-1 >
블리치 (Bleach) -
Game 1 @ Scrap Station
+ Show Spoiler [Show Recap] +
Loner begins his quest to silence his critics by opening 1/1/1 and drives a quick hellion into Bleach's base. Bleach picks off the hellion right before it was able to collect the most important piece of info: the four gateways being warped in at the right corner of Bleach's base. Unfortunately for Loner, missing this key piece of information was crucial as he drops down a quick command center. The gateway units make their way up Loner's ramp, force fielding the bunkers to prevent them from being repaired. Loner is forced to pull SCVs but it made no difference, and Loner is down one game due to a critical scouting mistake.
- Lack of proper scouting cost Loner the game, although his nervousness seems to be quite noticeable.
Game 2 @ Delta Quadrant
+ Show Spoiler [Show Recap] +
A quick barracks with tech lab and close positions enable Loner to do a quick marauder + concussive poke at Bleach's base. The rush turns out to be quite effective as a constant stream of reinforcing marauders were able to take out Bleach's first few gateway units and a few probes. Loner drops a money scan right on top of the dark shrine warping in, and reacts by throwing up turrets in his main. The dark templar back door warp in did minimal damage, and Loner pushes out with a MM + raven timing push. Bleach sacrifices his expansion, and retreats up his ramp. Although a force field cuts Loner's forces in half, the overwhelming number of units demolishes Bleach's remaining army.
- Aggressive opening by Loner paid off, and his spider senses were tingling as his scan on the dark shrine was spot-on.
Game 3 @ Steppes of War
+ Show Spoiler [Show Recap] +
Given the close rush distance, Loner drops two barracks while quickly researching stim, feigning pressure. Loner follows the barracks with starport tech, while the observer for Bleach scouts out Loner's army. Both players drop their expansions, Loner's army is comprised of MMM + vikings, while Bleach builds up colossi count and throwing in phoenixes. After several skirmishes, Loner's gold expansion is up and running, forcing Bleach to move out. Loner takes the battle and cleans up the remaining colossi, and Bleach taps out.
- Although his expansion was later, his aggression once away paved the way to victory as his relentless assault on Bleach's natural enables him to secure his gold.
Player Grades
+ Show Spoiler [Show Player Grades] +
Loner -
B+
Recovered from his anxiety and performed splendidly. Nothing short of China's best player.
블리치 (Bleach) -
C
Took advantage well of a build order win in game 1, but was short in terms of overall gameplay in comparison to Loner.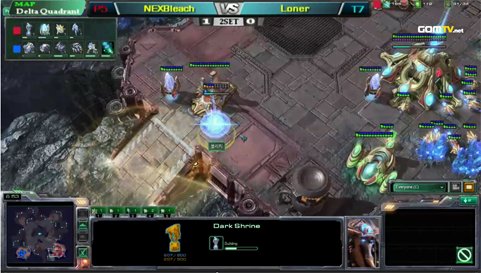 Show me the money [scan].
"BabyWeRRa still needs his diapers."
Ellenpage
< 2-1 >
BabyWeRRa -
Game 1 @ Lost Temple
+ Show Spoiler [Show Recap] +
As BabyWerra goes hatch first, BoxeR prepares a ghost academy and teching up to starport. Two nukes eventually land on the natural, but no real damage was done. BoxeR expands and pumps out marines/vikings to fend off mutalisk harass. BabyWeRRa double expands while building his muta baneling army. BoxeR attempts several drops in the main, but they get shut down completely and he was forced to gg.
- Creative play, but ineffective from BoxeR. Babywerra took his economic lead and never looked back.
Game 2 @ Metalopolis
+ Show Spoiler [Show Recap] +
BoxeR fast expands after making a reaper scout and follows up with bio play. BabyWeRRa's response seems to be zergling/banelings, and runs in to the Terran's natural as soon as his first batch of banes are done. BoxeR strangely moves his MM force outside the wall and they get picked off immediately. Pushing the zerglings back, BoxeR suffered heavy losses. On the other side, BabyWeRRa seems to be recklessly trying to break the Terran, sacrificing a large number of units for very little compensation. BoxeR eventually stabilizes and pushes out to secure the victory.
- Very sloppy play from both players, making questionable decisions and lack of macro/micromanagement.
Game 3 on Jungle Basin
+ Show Spoiler [Show Recap] +
BabyWeRRa chooses to do a quick roach rush, but a well-defended wall denies any entrance to the main. BoxeR rushes to banshee and zerg's only answer is to make more queens. A push with tanks and marines soon follow and a huge blunder by BabyWeRRa as his roaches were on move command while walking into the Terran main. The small army of BoxeR faces no resistance at the Zerg's main, and BoxeR moves on to the ro32.
- BabyWeRRa simply threw away the game. BoxeR wins in a rather bizarre fashion.
Player Grades
+ Show Spoiler [Show Player Grades] +
BabyWeRRa -
D-
Spared from an F after taking a game from BoxeR and showing viewers that he at least have used Zerg before.
Ellenpage -
C
Although victorious, his games were won in a very unconvincing manner. Needs to step his game up and be a bit more fruitful from his creative play.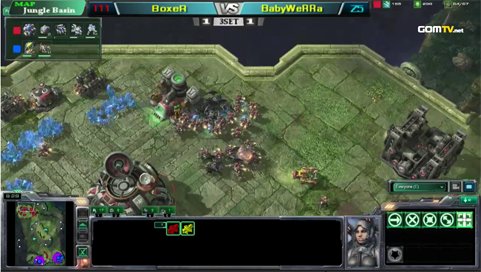 "SCVs killing Roaches, Terran imba reaches a new high."
"Anything associated with fruits is scary."
PhoenixWeRRa
< 2-0 >
Apple -
Game 1 @ Shakuras Plateau
+ Show Spoiler [Show Recap] +
Apple's fast expansion looks prime for a 2 base bio-mech push, but PhoenixWeRRa delayed that push with persistent mutalisk harass. The marines stim effortlessly in order to catch up to the mobility of the mutas, but to no avail. PhoenixWeRRa capitalizes on this with fungal growth and banelings to quickly snatch up game 1.
- PhoenixWeRRa kept Apple in his base, preventing any real incoming threat.
Game 2 @ Xel'Naga Caverns
+ Show Spoiler [Show Recap] +
Apple opts to go for a double factory opening, throwing down a tech lab to research the infernal pre-igniter. Perfectly placed spine crawlers deny blue flame hellions harass, and Apple pulls back to expand. As Apple tries to take the gold, the max out army of roaches/infestors/banelings engage, taking out a large chunk of the Terran army. Phoenix macros up, pushes again with a smaller army of the same composition and takes the game.
- A better game by Apple, but his botched control of early hellions allowed Phoenix to drone up and soon out-macroed him.
Player Grades
+ Show Spoiler [Show Player Grades] +
PhoenixWeRRa -
B
Controlled the tempo and played at his pace, not allowing Apple much of a chance to get back into the game
Apple -
C
Performed well for a reporter who was on the job, but overall not impressive as his execution was quite poor.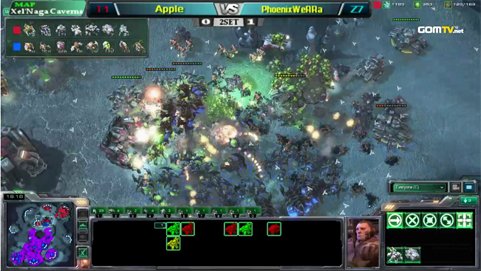 Zerg and lots of green goo.
"Baby, bye bye."
BabyByeBye (
SangHo)
< 2-1 >
LiquidTLO -
Game 1 @ Xel'Naga Caverns
+ Show Spoiler [Show Recap] +
TLO is starting with his standard gas first before barracks, not for an early factory but for an early stim. He pushes with a small force as soon as stim is finished, but is forced to retreat. Sangho takes the opportunity to expand, along with his 2 gate and robotics facility. TLO throws his expansion down quite late compared to Sangho, but he takes his third before Sangho. TLO's experimentation with Thors and 250mm cannon backfires as the immortals focus fire down the thors, and pushes into TLO's natural and secures the victory.
- A rather suspenseful game, it seemed as if TLO's army could have went toe to toe with Sangho's, but poor positioning leading into the confrontation saw his thors get charged down / focus fired at an alarming rate.
Game 2 @ Steppes of War
+ Show Spoiler [Show Recap] +
TLO places a forward bunker in front of his natural, and Sangho pokes in with three stalkers in order to make sure that TLO has not expanded. The stalkers die before they could catch a glimpse of the armory, and Sangho blindly adds on two gateways and a twilight council. The dark shrine is warping in as TLO pushes out with thor/marine and a batch of SCVs. The first DT gets taken out and TLO immediately throws down a turret along with bunkers inside Sangho's main. On the other end, Sangho sneaks a nexus at the 9 o'clock expansion and smuggles DTs in TLO's base. TLO scattering his SCVs to put up turrets while his forces take out almost every single gateway. Sangho is still reluctant to engage and when he does, his forces proved to be no match for the mighty thor.
- Exciting and diverse strategy from both players, with TLO's engineering bay saving him in the end.
Game 3 @ Jungle Basin
+ Show Spoiler [Show Recap] +
Sangho sets up for a 4 gate attack with backdoor warp-ins, and goes undetected by TLO. TLO goes 1/1/1 and prepares a cloaked banshee, but the 4 gate comes before cloak could finish. TLO panics and desperately tries to wall but could not hold the pressure from both fronts, and as the tech lab on the starport falls, so does the foreign fan favorite of the tournament.
- A rather anti-climatic ending to an exciting series, Blizzard maps once again under fire.
Player Grades
+ Show Spoiler [Show Player Grades] +
BabyByeBye (
SangHo
) -
B+
Had the right unit composition in game 1, took a build order loss in game 2, and quickly took any little advantage he can get in game 3 to ensure his place in the next round.
LiquidTLO -
B-
As usual, his creative self in his uses of thors, but Thors are still Thors and Immortals are still lololthors. A missing supply depot at the back rocks in game 3 gave him no chance to come back.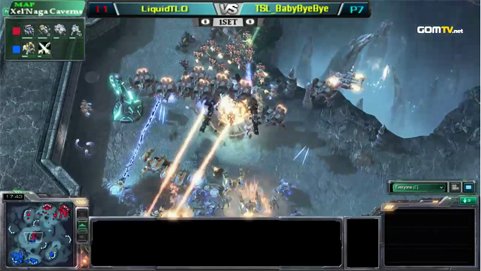 Thor TvP Part 1: 250mm cannons could not focus down the immortals quick enough.



Day 2b - "I shouldn't have made that Command Center"
Recap by Lovedrop
+ Show Spoiler [Day 2b Recaps] +

"RAAAAINNNN - Stephen Colbert."
Rain
< 2-1 >
choya -
Game 1 @Blistering Sands
+ Show Spoiler [Show Recap] +
Rain puts up a reactor on his first barracks and cut gas immediately. Choya is slow on noticing, putting down a stargate and three gateways. Rain throws down three additional barracks and rallies over to Choya's base. Breaking down the backdoor rocks, his four barracks marine push along with a handful of SCVs makes quick work of Choya.
- An extremely effective marines push by Rain, and Choya was a bit unprepared and slowly reacted to his backdoor rocks coming down.
Game 2 @ Xel'Naga Caverns
+ Show Spoiler [Show Recap] +
Choya after throwing down two gate before cybernatics core, hides a dark shrine at the top left corner of the map. Rain opts to go for an early second gas, rushing a thor fully equipped with 250mm cannon and a pocket full of marines. Choya successfully defends the thor timing push with his dark templars, and his natural is now up and running. Rain prepares another attack with a raven, a desperate attempt to finish the game. The mass amount of chargelots and immortals crush his push, and we are tied at 1-1.
- Both players open rather non-standard in an attempt to catch their opponent off-guard. The lack of early mobile detection nullified the effectiveness of Rain's push, and Choya was able to recover and secure the win.
Game 3 @ Lost Temple
+ Show Spoiler [Show Recap] +
Although Choya successfully hid a probe inside Rain's base, he did not see that Rain had already began construction on his second command center. choya decides to drop a stargate and begins to warp in Void Rays, while making a pylon at the back side of Rain's base. The pylon is spotted and Choya is forced to engage, but his initial warp in of 3 zealots were not enough to stop the pylon from going down. Choya attacks with the Void Rays from two fronts, but the continuous production of marines from four barracks are enough to push them away. Choya desperately tries to break the front, but the fortification of three bunkers and turrets proved to be too much for Choya and he is once again forced to retreat. Rain pushes out with a marine heavy army as soon as stim is finished, and reserves a spot in the ro32.
- Choya's VR-centric play has been substainially affected by the patch, as the threat that VRs pose are no longer present.
Player Grades
+ Show Spoiler [Show Player Grades] +
Rain -
B
Utilizes three different strategies in order to take down his opponent, a good showing for the Terran.
choya -
C
Responded quite poorly to the marine/SCV rush in game 1, and game 2's iffy dark templar play luckily worked out.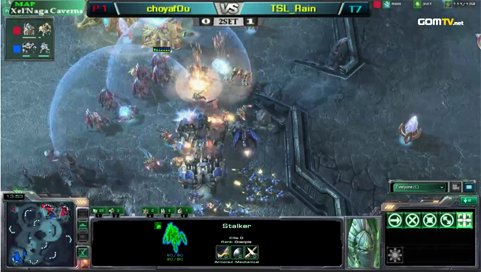 Thor TvP, Part 2 : Chargelots COULD focus down the Thors quick enough.
"Ensnare'd."
oGsEnsnare
< 2-0 >
SuzyWeRRa -
Game 1 @ Lost Temple
+ Show Spoiler [Show Recap] +
Ensnare begins with a 1/1/1 and immediately throws down a command center. Suzy's stargate gets scouted by Ensnare's delayed reaper, and commits himself to phoenix play. Suzy tries to pick up SCVs and losing several phoenixes in the process. Ensnare's expansion comes out uncontested, while Suzy drops his own and begins teching to chargelots/templar. Ensnare's first timing push is ambushed by Suzy at a rather obscured angle and Suzy swiftly won the battle. Suzy's greedy attempt to shut down Ensnare's natural is denied by a large SCV wall. Ensnare once again pushes out with his thor/marine army, this time only to be faced with high templars ready to storm. Ensnare micros his marines, dodging storms while slowly pushing to Suzy's natural. Without the Khyderian Amulet upgrade, Suzy's newly-warped HTs are unable to storm, and are sniped out by thors. Suzy is left with no choice but to gg.
- Ensnare played really well to deny phoenix harass, and although he was caught out of position, Ensnare promptly macro'd back up a force to push Suzy in the other direction.
Game 2 @ Xel'Naga Caverns
+ Show Spoiler [Show Recap] +
The tech lab lands on Ensnare's first barracks at the same time a command center drops at Ensnare's natural. Suzy's dark shrine begins warping in at the back of his mineral line. Ensnare scatters missile turrets in his main and natural, perhaps aware of a possible DT warp in. Now that his harassment has been denied, Suzy has no choice but to expand. Ensnare adds three more barracks to a total of six, neglects factory/starport tech and begins a vicious timing push. The push coincides with stim and combat shield finishing, and tears apart Suzy's tattered army.
- A simple yet effective timing push from Ensnare only worked in his favor as the tech-heavy Protoss simply did not have enough units to defend.
Player Grades
+ Show Spoiler [Show Player Grades] +
oGsEnsnare -
A
Never looked in danger or in a position where he could have lost the game. Commanding presence in an overall solid and refined match from a player of his caliber.
SuzyWeRRa -
C
Tried to switch it up to catch Ensnare off-guard, but everything he threw at Ensnare seemed to be completely ineffective.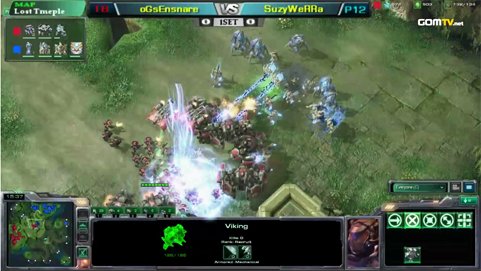 Thor tanks and storm dodging, Ensnare shows his micro prowess.
"Clash of the ex-BW pros."
Ace
< 2-1 >
NEXKYumer (
ChRh
) -
Game 1 @ Metalopolis
+ Show Spoiler [Show Recap] +
Kyumer foregos the first gas and instead drops two barracks, pumping out marines to relieve some pressure off of his soon to follow command center. Both sides enter a mid-game lull, but it is Protoss who throws up his third base first. Kyumer pushes out from a 2-base timing attack with his viking + ghost backed MMM army. The first engagement falls heavily in favor of Ace, as he is now up one base after the army exchange. Ace overextended himself trying to take down Kyumer's third, and Kyumer's beautiful EMP + concave takes out everything at the 5 o'clock expansion. Kyumer looks for an opportune moment to engage, but Ace's overall superior army overwhelms Kyumer at his natural and takes game 1.
- A back and forth army clash at both ends of the map, most in favoring of Ace. Kyumer's army was very marauder-heavy, perhaps the lack of insane marine DPS was his downfall.
Game 2 @ Scrap Station
+ Show Spoiler [Show Recap] +
A quick hellion scouts out completely of Ace's fast expansion and the 2 gateways that accompany it. Kyumer begins pumping marines out of a reactor'd barracks and banshees out of two starports after saving up energy from his first raven. Breaking down the destructible rocks, Ace begins fortifying his ramp with cannons and stalkers. Bringing along SCVs to repair the banshees, the Point Defense Drone sucks up stalker damage, giving the marines free reign to take down the stalkers, and for Kyumer to force a decisive game 3.
- Brilliant timing attack by Kyumer, taking advantage of his earlier scouting. There was very little Ace could do to hold off that attack.
Game 3 @ Xel'Naga Caverns
+ Show Spoiler [Show Recap] +
Ace hides a pylon at the top right corner of the map, along with his twilight council and dark shrine. Kyumer, unaware that his SCV was a few feet from these hidden buildings, follows his 2 barracks play with a quick expansion. Ace creates a warp prism and manages to sneak in dark templars in Kyumer's main. The warp prism goes undetected and the DT harass carries on for way too long, crippling Kyumer's economy. Kyumer's weakened force pushes out to try put some pressure, but is met with a "redonkulus" (Thank you, Artosis) amount of chargelots and stalkers, who triumphant march into Kyumer's natural to lock down his spot in the ro32.
- Brilliant use of warp prism by Ace, Kyumer cannot be happy with a very unsatisfactory performance.
Player Grades
+ Show Spoiler [Show Player Grades] +
Ace -
B
Kept his cool game 1, engaging at advantageous angles and did not give in to Kyumer's attempts to break his third. Beautiful warp prism + DT play in game 3 shows a rather creative side of himself.
NEXKYumer (
ChRh
) -
C
His exclusion of marines in game 1 was a bit dubious, but had just minor effect on the outcome of that game. Timed his banshee push perfectly in game 2. Extremely disappointed that he did not solve the mysterious DTs that kept popping in his base in game 3.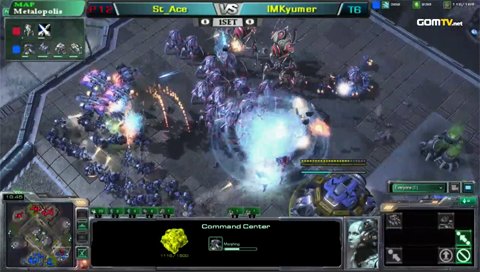 Concave & EMP 101.
If JulyZerg & Yellow had a Baby"
KyrixZenith
< 2-0 >
HongunPrime -
Game 1 @ Metalopolis
+ Show Spoiler [Show Recap] +
Hongun's initial probe gets surrounded at Kyrix's natural, ending any chance he had at a very early cannon rush. Hongun retreats to get blink stalkers and hallucination, while Kyrix is free to drone and build up roach count. Hongun uses his blink stalker very efficiently, but Kyrix slowed drone production in order to mass up an army to take out Hongun's nexus at the natural. Hongun attempts to buy time poking with his stalkers, but the eventual hydra/roach push from Kyrix quickly ended the game.
- Stunning blink micro by Hongun, but falling behind so early in the game had a huge impact on his ability to macro up an army.
Game 2 @ Xel'Naga Caverns
+ Show Spoiler [Show Recap] +
Both players fast expand, with Hongun's a bit later. Kyrix puts on early pressure with zerglings, catching quite a few stalkers and sentries out of position, and almost forcing a cancel on the nexus. Roaches come streaming in while a hidden third goes up at the 9 o'clock for Kyrix. Roaches cleans up the Hongun's army and carries Kyrix to the ro32.
- Hongun's messy unit control lost him a large part of his army and was unable to defend his natural.
Player Grades
+ Show Spoiler [Show Player Grades] +
KyrixZenith -
B
An extremely aggresive player, Kyrix cuts drone production in both games in order to finish off his opponent.
HongunPrime -
C
While displaying a valiant effort to get back into game 1, Hongun just seemed to lost all will to continue after falling vastly behind from early pressure. A disappointing exit for last season's quarterfinalist.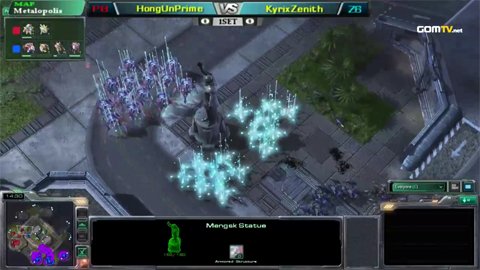 Stalkers, desperately trying to escape.
"DAT BM."
HopeTorture
< 2-1 >
FlintZenith -
Game 1 @ Lost Temple
+ Show Spoiler [Show Recap] +
HopeTorture tries a quick two barracks marine push, but is met at Flint's ramp with a bunker and forced to turn the other way. While he expands from his two barracks, Flint decides to muster up a force of marine/tank and a raven for a timing attack. HopeTorture drops Flint's main as the army pushes out and does a considerable amount of damage, but Flint's tanks are leapfrogging towards HopeTorture's base. A Point Defense Drone and siege tanks soon put HopeTorture's production facilities under fire, and he slowly creeps his way into the main. HopeTorture lifts off to the 12 o'clock main as Flint puts up a teasing command center. Trying to claw back into the game, Flint once again methodically moves his siege tank into position to finish off what's left, and placing another command center in the process. HopeTorture keenly types "gg".
- While HopeTorture struggled to survive, Flint's taunts were not unjustified, as he held a commanding position in Game 1.
Game 2 @ Metaloplis
+ Show Spoiler [Show Recap] +
Both players begin to produce hellions, with HopeTorture's coming out from a reactor, while Flint decided to get the infernal pre-igniter. Flint's drop is intercepted by HopeTorture's vikings and he loses the dropship with three hellions inside. Back at HopeTorture's base, a second command center is now underway and functioning. Flint pushes out and loses air superiority and a ton of SCVs back home to a surprise hellion raid. Flint is met with a siege tank line as he arrives at HopeTorture's natural, and he promptly GGs.
- Clearly outplayed, HopeTorture shuts down Flint's drop and always was two steps ahead of his opponent.
Game 3 @ Steppes of War
+ Show Spoiler [Show Recap] +
HopeTorture once again fakes the early pressure and drops his command center after the second barracks. Hiding a handful of ambushing marines at the 11 o'clock gold, HopeTorture catches a similar tank/marine/raven push from Flint. This time however, HopeTorture's abundant amount of marauders were able to push through the PDD and take out the push, while our guerilla marines were doing a great job of cutting off reinforcements. Sitting in a rather comfortable position, HopeTorture sets up a mini-contain while preparing for a drop. Flint, in a do-or-die situation, moves out with a rather intimidating force, not retreating one step even when his main is under attack. Flint catches HopeTorture at an awkward angle, and pushes into his main in order to stop unit production. HopeTorture's SCVs grab their pitchforks to eliminate what's left of Flint's army, as HopeTorture barely survives a tough ro64.
- Flint put up a great fight, but HopeTorture has seen through his timing push and responded spectacularly.
Player Grades
+ Show Spoiler [Show Player Grades] +
HopeTorture -
B+
Facing elimination from his first opponent did not seem to waver HopeTorture, as confidence in his ability and build order was more than enough to secure the win.
FlintZenith -
C+
His timing push exposed a small window that HopeTorture was vulnerable, but it was sealed up instantaneously in game 3.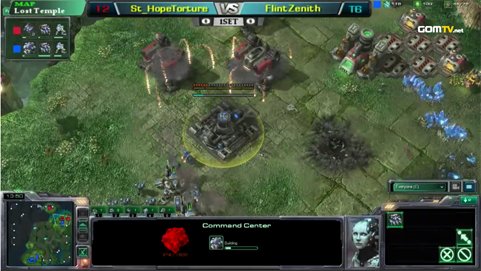 FlintZenith is gonna regret making that later.



Day 3a - "Tankboy, how so good?"
Recaps by tree.hugger
+ Show Spoiler [Day 3 Recaps] +

"This looks a lot like Brood War."
Pippi
< 2-1>
oGsCezanne -
Game 1 @ Scrap Station
+ Show Spoiler +
Pippi opens with a nexus-first FE, and then cannons up behind a wall to defend. Sufficiently locked in, the protoss is able to hold off initial pressure at his front. Cezanne opened with a pool first, but is unable to capitalize immediately on Pippi's econ-based build. Cezanne belatedly tries to pressure by breaking the destructible rocks near the natural, but Pippi throws down a host of cannons and denies that avenue of attack. Cezanne gets a handful of roaches (and a baffling amount of zerglings) and tries to force the natural again, but Pippi matches the zerg army with cannons and a growing force of his own. Frustrated by the protoss wall, Cezanne takes the gold expansion, and revs up the macro engine. But Pippi is already a step ahead, having secured his natural so early, and unleashes a massive robo-fueled army that rolls up Cezanne's army like a carpet, winning the game.
- Cezanne's seeming indecision in the face of an aggressive economic opening made this game a somewhat one-sided affair.
Game 2 @ Xel'Naga Caverns
+ Show Spoiler +
Pippi again builds a pylon at his natural, but this time intending to rush with zealots, and cover his expansion with early pressure. Cezanne luckily takes a spawning pool before his hatchery again, and is able to deflect the protoss rush until he can put out a few roaches, which crush Pippi's ambitious attack. The protoss expansion is now up behind a series of cannons and a wall, but Cezanne steams in with roaches and breaks the wall easily, waltzing into the main and forcing probes to be pulled. Pippi is unable to fend off this initial force, and calls gg when Cezanne's reinforcements slip through the wide natural choke to park behind the natural mineral line, effectively denying any economy for the protoss.
- Some tense moments, but mostly a foregone conclusion past the opening builds. Ill-planned aggression is defended easily, and capitalized on appropriately.
Game 3 @ Shakuras Plateau
+ Show Spoiler +
Not one to change anything up dramatically, Pippi once again goes forge FE, while Cezanne responds by taking his natural and a third at the bottom of the make. Pippi scouts the expansion, however, and slips an elite squad of hit-lots to the zerg third. Cezanne races units to the expansion in defense but the zealots focus-fire the expansion and take it down. Suddenly behind, Cezanne expands aggressively yet again to the top expansion, and techs to mutalisks. Meanwhile, his creep spread has engulfed most of the map, and Cezanne establishes a strong position in the map center with a huge amount of spines. Yet Pippi has cashed his early game edge into a frightening macro advantage, and attacks the zerg line head-on, while killing Cezanne's third with a small zealot detachment. The massive protoss army wins a pyrrhic victory on the first attempt in the center, having broken the line of static defense, yet taking considerable losses in the process. As a result, Cezanne snipes Pippi's third with zerglings, putting the protoss in severe economic trouble, and casting the result of the game in some doubt. However, Pippi's macro would not be denied, and in a running battle across Cezanne's creep, featuring a nearly endless barrage of storms, he eventually forces Cezanne to concede.
- This game got a significant amount of hate in the live report for reasons not entirely clear to me. While Cezanne made several errors, the most grievous of which was his early expansion placement, and his inability to defend it, the game demonstrated some excellent macro play from both players, and featured enough back of forth action to make this game a worthwhile watch.
Player Grades
+ Show Spoiler [Show Player Grades] +
Pippi -
B
Shaky in the first game, and flat-out bad in the second, Pippi elevated his game dramatically in the final game of the series. His ability was evident from the beginning however. Throughout the series, Pippi displayed strong multi-task and notably formidable macro, which was only let down on occasion by questionable decision-making.
oGsCezanne -
B-
It's always important to differentiate between errors and risks that don't work out. Cezanne's play in each game showed strong fundamentals coupled with a willingness to take risks. Unfortunately these gambles were generally countered by his opponent, and Cezanne paid heavily for it. That said, Cezanne made few outright mistakes in control and was only seconds behind in defending his third in the final game. Not a bad performance by any stretch from the oGS zerg, but one that ultimately wasn't good enough.
This is what macro does for you.
"Manner nexus? N-n-nooo, I was... uh.... expanding!"
SanZenith
< 2-1 >
oGsHyperdub -
Game 1 @ Jungle Basin
+ Show Spoiler [Show Recap] +
Hyperdub walls in, and races for cloaked banshees while San gets a robotics bay for observers, and takes an expansion off of two gates. Hyperdub moves out with his first banshee, but runs it directly over a well-placed proxy pylon. The surprise spoiled, Hyperdub pulls back to prepare a timing attack, while San unloads his new anti-air capability into a scouting factory. With an observer directly over Hyperdub's army, San anticipates the push, and gets a forge just out of range of the floating factory. Hyperdub eventually breaks through the destructible rocks near the natural with a formidable force of air and bio units, but San is more than prepared, and the terran army is torn apart by a flexible composition from the protoss, supported by a battery of cannons. Hyperdub tries again a minute later in desperation, and is demolished. Without and army and on only one base, Hyperdub concedes.
- A one-sided game that serves as a microcosm of most of the GSL Round of 64 action. A cheesy and aggressive rush is easily dealt with by a cautious and patient response. San thoroughly out-scouted Hyperdub, and it should be no surprise that he won as a result.
Game 2 @ Xel'Naga Caverns
+ Show Spoiler [Show Recap] +
Both players opt for nearly identical builds from the first game, but this time Hyperdub has learned from his mistakes and opts to get a raven before any banshees. He denies the first of San's observers, but isn't vigilant enough, and the second slips through and san once again reads Hyperdub's bio-banshee timing push before it lands. This time around, San has much less time to prepare, and a significantly less advantageous map position. Hyperdub's attack nearly breaks through, but San reinforces adequately and barely holds. Behind again, Hyperdub chooses to expand instead of fruitlessly pressing his attack. This pays off, as San greatly overestimates his lead and tries to finish the game with an attack at the terran natural. This backfires horrendously, as Hyperdub pulls his scvs, and flips the balance of the game. Even more crucially, San surreally builds a manner nexus directly next to his dying army¾a white elephant that is immediately killed. Hyperdub's revitalized army chuckles its way into San's natural, where it brings the hammer down upon the presumptuous protoss.
- Largely a replay of the first game, but instructive where the two deviate. Hyperdub corrected many of his mistakes from the previous game, but still needed a gift from San to survive, perhaps suggesting that his bread and butter build may not be of the highest calibre. Oh, and San's manner nexus added some much needed "wtf" on the cartoonishly drab Xel'Naga Caverns.
Game 3 @ Scrap Station
+ Show Spoiler [Show Recap] +
Perhaps deciding that he hadn't quite been committed enough to cheesy terran rushes, Hyperdub proxies a second barracks near San's base, which is scouted just as it finishes. Wedded to his folly, Hyperdub vainly pushes the protoss main, and is completely mauled for his troubles. San evicts the rouge barracks, and presses into Hyperdub's main, but thankfully pulls back upon receiving fire, and expands. Hyperdub techs up to ravens and takes a slightly later expansion, but is again unable to deny San's enterprising observers from uncovering every detail of his composition. Both players macro up, and San attempts to harass with phoenixes, meeting little success until he finds Hyperdub's raven alone and picks it off. In possession of the lead for the third time, San displays well-earned patience, denying several multi-pronged terran attempts to harass, before landing a devastating feedback kill on two medivacs. Massively ahead, San finally begins his push through the middle rocks, and shreds Hyperdub's paltry army despite some desperate colossi sniping from the terran. Hyperdub concedes the series.
- A lost cause for Hyperdub from the beginning, he still managed to stick around long enough to let San let off some fireworks.
Player Grades
+ Show Spoiler [Show Player Grades] +
SanZenith -
B+
There really wasn't a lot to do in this series. Relying on one safe and smart build with a premium on scouting was one of the better overall game-plans we saw from anyone in the opening round. Key to San's play was his patience. In the first game, it led to an easy victory, and in the second, his lack of it cost him the game. To his credit San appeared to learn his lesson well in the third set, and defused a particularly dangerous double-drop with good anticipation and unit placement, before finally starting his attack. Of course, it helps to have complete vision of your opponent, but in all but one instance, San's reactions were perfect.
oGSHyperdub -
C+
It's tempting to really savage Hyperdub for an uninspired and cynical approach to this series, but it must be noted that Hyperdub's bio-banshee timing pushes were extremely dangerous at times, and could have easily been deadly. Yet to have worked well, they clearly demanded a player with more finesse or a more clueless opponent. An undue reliance on one-base techs that are easily undone by diligent scouting is hardly a winning strategy. Even when correcting his build in mid-series to account for San's observer play, Hyperdub simply couldn't keep his ship from leaking. And in the deciding game, Hyperdub's limp-wrested execution of a double-rax cheese showed that even he wasn't confident enough in his fundamentals to advance on them alone. So while it's not hard to imagine a scenario in which Hyperdub would've squeaked through, he still wouldn't have deserved it.
This is the last time San ever builds a manner nexus.
"Creep? I don't need no stinkin' creep!"
Suhoshin
< 2-0 >
FreeDSL -
Game 1 @ Shakuras Plateau
+ Show Spoiler [Show Recap] +
FreeDSL opens with two gates, while Suhoshin takes an expansion after chasing out an annoying probe. FreeDSL moves out to pressure with a couple of stalkers and a zealot, and very nearly assassinates Suhoshin's natural queen. Zerg micros extremely well at the final moment, however, and is able to alleviate the pressure with no serious damage taken. Sensing an opportunity, Suhoshin overlings, and tries to catch the protoss unaware in the process of expanding. FreeDSL is prepared with a partial wall however, and plugs the one hole with zealots and sentries. Undeterred, Suhoshin follows up with mutalisks, and presses FreeDSL's main, only to be stymied by two-gate phoenixes from the protoss. Suhoshin still has superiority on the ground though, and he quickly recognizes and capitalizes on this by taking a third immediately and a fourth soon after. Strangely, Suhoshin has not (and will not) spread any creep between any of his bases, even the main and natural. FreeDSL dances around the map with his phoenix group to cover as he builds an army, and also manages to snipe Suhoshin's fourth with a dt drop. But the party abruptly ends when Suhoshin nails down FreeDSL's phoenixes with a sublime fungal growth, and wipes them out with his mutalisks. Suddenly behind, FreeDSL's takes the middle expansion, and breaks down the rocks to Shoshin's main. But in the resulting battle, FreeDSL's dead phoenixes loom large, as Suhoshin overpowers the protoss army with nearly pure mutalisks, and forces the gg.
- One of the highest level games of the opening round, both players were constantly trying to outmaneuver each other, as opposed to just running each other over with units. Every decision was made in response to the other player, and the battle to stay ahead in the mind-games made this a really fascinating contest to watch.
Game 2 @ Xel'Naga Caverns
+ Show Spoiler [Show Recap] +
Nearly identical openings from both players, but this time Suhoshin is much better prepared for FreeDSL's stalker/zealot pressure, and he chases the stalkers back to the protoss base and slips in with four zerglings. FreeDSL repels the lings with little damage, but is unable to prevent them from spotting his hidden dark shrine. Instead of pursuing this attack, FreeDSL takes his expansion instead, and balloons his warp gate count, while Suhoshin is forced to wait out the dt threat and macro up. Once again, Suhoshin doesn't do any creep spread, including between his main and natural. FreeDSL attacks as soon as his warp gates come into play, but Suhoshin has not committed to taking a third yet, and matches the protoss army. Despite some excellent force field micro, and some really well-planned pylon placement, FreeDSL's stalker heavy army falls back against Suhoshin's off-creep hydralisks. He's able to regroup several times, but finally a combined hydra/muta strike proves too much for FreeDSL's ragged army.
- The second game wasn't as complex as the first game of the series, but it still featured a great back-and-forth between the two players. Suhoshin rode FreeDSL's early blunder all the way to a victory, but the protoss still was able to make things interesting with some strong battle micro and management.
Player Grades
+ Show Spoiler [Show Player Grades] +
Suhoshin -
A- or (C+)
It's hard to know what to make of Suhoshin. Among other things, this series showcased an excellent command of tactics, and the mechanics to make it all work. Most impressive was Suhoshin's perfect understanding of when to be aggressive and when to play defensively. But hell, is it even possible to play that well without doing
the single most fundamental thing that your race does? Did Suhoshin even know that creep could be spread? Was he taunting FreeDSL? Was it a calculated decision to boost macro and protect overlords? Is there any way to justify it?


FreeDSL- B
FreeDSL played a tight, meticulously planned, and well executed series. It wasn't enough. These first couple GSL's are going to be tough on some good players who draw unlucky seeds, and such was the case with FreeDSL. In both games, his planning and micro were nearly enough to take him to victory, but a small mental lapse in each game was enough to send Auir's magnanimous internet provider out of the tournament. These mistakes are glaring. He should've been more wary of infestors in the first game, and pulling the same early aggression in consecutive games was a poor decision. Yet there was considerably more to appreciate about FreeDSL's play than not.
There's no coming back to life after this.
"TankbooooooooooyPriiiiiiiiiiiime!"
TankboyPrime
< 2-1 >
TSL_Clide -
Game 1 @ Scrap Station
+ Show Spoiler [Show Recap] +
In a battle of the cheesy rushes, Tankboy's banshee play empathetically destroys Clide's blue-flame drop play. While both score some scv kills, Tankboy's existing marine-maruader force is able to deflect the hellions, and eventually snipe Clide's medivac, while the TSL terran eventually rushes out some Vikings, but is only able to deal with the threat after all of his scvs are dead.
- Pure BO win for Tankboy. Nothing to see here.
Game 2 @ Lost Temple
+ Show Spoiler [Show Recap] +
Both players being the game with standard enough openings, but Clide gets a hellion, and takes an extremely fast expansion, while Tankboy plans to expand only after a tank and medivac. This gives Clide a small timing window which he exploits expertly, breaking Tankboy's ramp with good micro, and earning two marines and a hellion some quality time behind the mineral line. Tankboy restores normalcy when his namesake unit builds, but the damage is largely done. Clide adds a set of barracks and a starport, and easily defends a series of Tankboy's half-hearted counter-drops, before pushing out himself with significantly larger army. Tankboy has about half the necessary defense when Clide comes calling, and gg's as Clide cleans up the rest of his army.
- Clide gains an early advantage, and Tankboy digs the whole further trying to catch up.
Game 3 @ Xel'Naga Caverns
+ Show Spoiler [Show Recap] +
Tankboy builds a cc in his base after only a barracks, while Clide goes for hellions yet again. Tankboy mixes in some marauders with his marines, however, and is completely fine. Clide meanwhile does not scan, instead turtling, and using a viking to scout. Only then does he discover his opponent's econ play, but Tankboy has a significantly larger army by this stage. Clide brings a set of blue-flame hellions around the backdoor, and kills all of Tankboy's scvs, but it doesn't matter because Tankboy has broken the front, and has siege tanks parked in Clide's main. Tankboy eventually clears the hellions out of his base, while Clide's attempt to wipe out Tankboy's tanks is unsuccessful. Clide ggs.
- Starcraft is a game of scouting. If you don't scout, you lose.
Player Grades
+ Show Spoiler [Show Player Grades] +
TankboyPrime -
B-
Tankboy won this series at home when he picked his builds. In the first and third games, Tankboy did little but execute for ten minutes. In the second game, his decision making and micro against very manageable pressure from Clide put him in a hole. His response to that initial deficit was anemic and panicked. Tankboy is a strong player, but he was on auto-pilot for this one.
TSL_Clide -
C-
Speaking of auto-pilot, it's difficult to figure out what Clide thought he was doing. Instead of opting for safe, economic play, he resorted to the one-base tech mentality that sunk nearly every other Round of 64 loser. Players who are confident in their play don't try to end every game with early pressure, or completely forgo elementary scouting. That's taking dumb risks because you're not sure of yourself. That's not play we should be seeing from a player of Clide's calibre.
Why no scvs Cliiiiiiiide?


Day 3b - "Check, please!"
Recaps by BroOd
+ Show Spoiler [Day 3b Recaps] +

"Timing is everything."
Gilja (Sync)
< 2-1 >
jookToJung -
Game 1 @ Lost Temple
+ Show Spoiler [Show Recap] +
Jook opens with a now-standard 14 hatch and Gilja gets a single scouting reaper before moving into expansion and 4 rax play. Gilja loses a handful of marauder marine early to lings. Gilja then finds himself unable to handle the early mutas from the zerg and tries to counter, but Jook stalls and brings his mutalisks home to easily deflect the attack. Gilja falls too far behind and succumbs to mutas soon after.
- Gilja's clumsy loss of his early force delayed any timing attack he had planned, and everything that followed in this short game was controlled by the zerg.
Game 2 @ Metalopolis
+ Show Spoiler [Show Recap] +
Jook opens gas first to get early ling speed while Gilja throws down an early factory for reactor-hellions. Jook chooses spire tech again as Gilja decides for a marine/tank push with bunkers at the zerg natural. The mutalisks decide to counter rather than hit the push, but are able to do little damage despite Gilja's late turrets. Jook gets a nydus and takes another main, but after his attempt to break the front of his base fails, he simply concedes and takes it to the 3rd set.
- Jook had no answer for Gilja's initial push and was behind all game.
Game 3 @ Xel'Naga Caverns
+ Show Spoiler [Show Recap] +
This game opens similarly, with Jook opting for ling speed before expo and Gilja opening factory and reactor again. Gilja differs this game by putting down 2 extra rax and making some marauders and marines as Jook morphs his spire. Gilja pushes forward just before mutas pop, and he manages to take down the expansion and all the drones before the zerg units can gather and kill off the push. The ensuing muta harass does little damage and Gilja's next attack fells the zerg easily.
- Gilja's attack timing walked a razor's edge, and a few seconds turned out to make the difference as Jook was unable to recover after losing his natural and drones so early.
Player Grades
+ Show Spoiler [Show Player Grades] +
Gilja -
B+
Games 2 and 3 exhibited Gilja's strong timing pushes. Zergs are going to have to prepare for this guy.
jookToJung -
C
Jook was woefully unprepared for Gilja's attacks, and each early blow from the Terran proved fatal.
Sparks works in SC2 as well.
"The transition was difficult."
CoreJJang
< 2-1 >
Bless (Lyn) -
Game 1 @ Xel'Naga Caverns
+ Show Spoiler [Show Recap] +
Bless gets an early reaper and manages to kill a proxy pylon. CoreJJang opens with a single gate before robotics, getting 2 warpgates and an expansion. The terran expands as well and gets a ghost academy while the toss skips too many robotic units, instead opting to rush towards templars and upgrades. Some clutch forcefields hold off the terran advance in time to get storm out as Bless retreats to take the gold. Bless executes a nice double pronged attack, dropping on the main and rushing in to the front of the natural, eating some storms but still taking out probes as he pulls an expo ahead. After some failed warp prism play, Bless attacks with perfect EMPs on the high templars and simply rolls the toss army with no trouble.
- Solid play from Bless but a sloppy showing from Core.
Game 2 @ Steppes of War
+ Show Spoiler [Show Recap] +
CoreJJang sends out an initial probe to proxy an early gateway outside the terran, but Bless scouts it and prepares with a bunker. The zealots do almost no damage as Bless gets a second rax, but the toss opts to sit below the ramp and make a few sentries to forcefield as he expands. Bless gets a hellion drop and kills some probes while simultaneously breaking out of the contain. Core counters after the harass and his army is too strong for Bless to defend as his economy hasn't kicked in, and he GG's.
- Core shows a nice follow-up to his fast proxy gate and held Bless in check all game. After getting into some trouble, losing many probes to hellions, he attacks in perfect time to finish the game.
Game 3 @ Scrap Station
+ Show Spoiler [Show Recap] +
Bless decides to go fast expansion this game while Core decides to go for a 4 warpgate push, denying the scouting reaper with a clutch forcefield. Bless smells something fishy and lays down 2 bunkers. Bless scouts the toss trying to raze the destructible rocks and attacks, but his marine heavy army can't content with the mass of stalkers. Bless lifts his expansion and Core is able to push into the main and force the GG as the SCVs and buildings fall.
- Bless inexplicably kept making marines in the face of mass stalkers and was unable to hold the simple 4 gate attack.
Player Grades
+ Show Spoiler [Show Player Grades] +
Bless -
C+
Reacting to builds seems to be Lyn's early weaknesses in his switch to SC2
Core -
B+
Core was solid if not amazing, and his build in game 2 showed a willingness to play lategame if his early aggression fails.
You shall not pass!
"Prime example."
Terious
< 2-1 >
PoltPrime -
Game 1 @ Scrap Station
+ Show Spoiler [Show Recap] +
Terious starts the game off with an early expansion and some roaches as Polt opts for the reactor-hellion open. Polt doesn't commit to making many hellions and instead transitions into banshee while expanding and constructing more barracks. Some mild banshee harass dispatches a handful of drones. Terious lays down a spire and pops out some mutas, flying around and harassing with moderate effectiveness while simultaneously morphing some banelings and infestors. Polt gears up for a large push, gradually moving a tank line through the central passage. The push is stalled by Terious' constant harassment and is unable to move past the edge of the dividing path.
Terious starts to harass Polt's 3rd, forcing it to lift. Polt takes the blocked off 4th base as Terious puts a hatchery at the gold, continuting to mass ling/baneling/roach/muta. Terious sniffs out the 4th and works the debris as Polt tries to be aggressive and push with his middle army towards the main of the zerg. Terious snipes the CC at the 4th with a group of banelings as Polt pushes his army into the main, killing all reinfocements and razing tech buildings. Terious sends a batallion of ling/roach/baneling but Polt displays some excellent marine control, dodging all the banelings. Polt's mining is extinguished at this point, while the zerg still has the gold, and his dwindling army is insufficiently reinforced to deal with the zerg army and economy.
- Some sloppy mistakes by both players, but an exciting, back-and-forth tvz nonetheless.
Game 2 @ Lost Temple
+ Show Spoiler [Show Recap] +
Terious opens pool first after spawning at the 12 o'clock and finds himself vindicated in his decision when he scouts Polt at 9 o'clock. Polt lays down a factory again, but skips the reactor and gets a fast starport and armory instead. Terious squeezes out a small number of early roaches to prod at the terran, but runs into the aforementioned marines and a bunker. The dropship and thor pop out and start to harass the expansion, with Terious cleverly sniping the SCVs dropped to repair. The upgraded roach range helps Terious greatly in stalling and engaging the thor on the cliff.
Terious, for his part, throws down a nydus worm in Polt's base but only successfully kills a depot while the persistent thor finally smashes the natural hatchery. Polt sets up a presence in the mid and Terious tries to exploit it by a second nydus attempt, commiting his entire army to the nydus attack, queens included. Polt makes use to the narrow chokes between buildings to defend, and although Terious has taken two expansions during the battle, the attack wastes too much of his army and he taps out a GG as Polt moves out to counter.
- The infamous 12 O'clock Thor drop rears its head, and Terious overcommits to what could've been a simple distraction to buy his expos some time.
Game 3 @ Metalopolis
+ Show Spoiler [Show Recap] +
Terious expands early this game, and polt follows suit, starting a CC in his main before his factory is finished. Polt gets a reactor for the factory but makes just a single hellion, instead choosing to get more barracks. Terious transitions into muta/baneling, setting up some cute baneling traps outside Polt's main. Terious deflects Polt's pushes with ease as he adds a 4th and 5th base. Polt takes out two of the zerg bases unopposed with his main army, but Terious has massed up and swarms over the terran ball, taking down the natural and main base while polt clings to life for a few minutes before conceding the game and series.
- Terious showed a nice management style and great patience in dealing with the scary terran ball.
Player Grades
+ Show Spoiler [Show Player Grades] +
Terious -
B+
Some smaller mistakes don't tell the full story of this solid zerg
Polt -
B-
Polt's harassment style wasn't in good form today, and he was unable to knock out his opponent, who just kept absorbing the blows.
When in doubt, make it a planetary fortress.
"Overruled."
LegalMind < 0-2 >
Leenock
-
Game 1 @ Lost Temple
+ Show Spoiler [Show Recap] +
Legalmind denies Leenock's expansion attempt and he's forced to put down his pool first. Legal techs to warpgate and expands himself, teching toward hallucination while Leenock gets a spire and adds a hatchery at the 3 o'clock natural. Leenock stays on muta ling, adding some corruptors to deal with Legalmind's phoenix army. Legalmind wanders slightly too far into the middle of the map and Leenock jukes his army, heading into the main and doing severe damage. After losing his main nexus and too much economy, Legal goes all in with his remaining army but Leenock holds for the win.
- Clumy mistake by Legalmind defined this game.
Game 2 @ Metalopolis
+ Show Spoiler [Show Recap] +
Leenock makes his hatchery on 14 and pool after, despite being close to Legalmind's base. Legal chronoboosts the warp gate upgrade fo his impending 4 warpgate rush. Leenock runs 4 zerglings into the protoss main and flusters Legalmind, who warps his next round of zealots in his main to defend, leaving his forward stalkers completely alone to get surrounded and squashed by zerglings. Legal pumps out more zealots but Leenock holds and Legalmind, aware of his situation, surrenders with a GG.
- Poor decisions from Legalmind left his 4 gate rush impotent and easily supressed.
Player Grades
+ Show Spoiler [Show Player Grades] +
Leenock -
B+
It was hard to determine much from these games, but Leenock showed decisive, intelligent reactions in split-second opportunities.
Legalmind -
D
Legalmind looked very amateurish in these games.
How to beat 4 gate with 5 lings.
"Perpetual Check."
CheckPrime
< 2-0 >
Garnet -
Game 1 @ Xel'Naga Caverns
+ Show Spoiler [Show Recap] +
Check opens hatch before pool while Garnet plays standard with a typical gate-core wall. He pops out a second gateway and robotics, but Check floats an overlord in at just the right time to see everything. Garnet drops another 2 gates and moves out with his second colossus. Check's creep spead is excellent, and he's able to easily dismantle the attack with pure roach/ling flanks. His following counter easily crushes the single-base toss.
- For many zergs, 4-gate with 2 colossus is pretty scary. Against Check, it seems underpowered.
Game 2 @ Metalopolis
+ Show Spoiler [Show Recap] +
Check opts for a safe, pool-first opening this game. Garnet decides to spice things up, going for a fast robo and getting a very early warp prism. He drops a zealot, 2 sentries and a stalker with the warp prism, forcefielding the ramp but only managing to kill a queen before losing it all. Garnet jumps up to 4 gates and gets an immortal while expanding while Check comfortably takes the 6 main. Check attacks Garnet with his entire army, mutas at the main with roach/ling at the front, but Garnet was simultaenously attacking Check's front. The two race to eliminate each other, but Garnet can't destroy Check's scattered expansions before the zerg eliminates him and moves on.
- An unusual opening by Garnet didn't phase Check.
Player Grades
+ Show Spoiler [Show Player Grades] +
Check -
A
Check looks as solid as ever, dealing with all-in play and unusual openings with ice in his veins.
Garnet -
C
This unspectacular protoss served little more purpose than to make Check look good.
Can Garnet catch Check off guard and steal a win? Studies say no, he can not.


Day 4a - "Queen kiting, a useful skill toi have."
Recaps by TrueRedemption
+ Show Spoiler [Day 4a Recaps] +

"Tea time for Zergbong"
NesTea (
ZergBong)
< 2-0 >
KangJiYoung -
Game 1 @ Zel'Naga Caverns
+ Show Spoiler [Show Recap] +
Nestea opened hatch first into roaches against KangJiYoung's blue flame hellion drop. Good overlord placement and reaction time insured the roaches prevented any real harass, allowing Nestea to get up both a Baneling Nest and a Spire. Meanwhile KangJiYoung continued on one base pumping out more hellions, some bio, and starting Battlecruiser production. After a few production cycles Nestea's sizeable Roach army pushed out and overwhelmed KJY's ground forces in the middle of the map as the Battlecruisers continued on to the Zerg base. A base race ensued, a supply depot left down limited the Terran's ability to defend his main, while a scrapy defense bought time in the zerg main until a pack of mutas hatched to finish off game 1.
- It only that much because there were Battlecruisers and Zergbong destroying his opponent.
Game 2 @ Jungle Basin
+ Show Spoiler [Show Recap] +
Making use of the safe natural Zergbong went Hatch first, matched by KangJiYoung's marines into command center. Curiously KangJiYoung throws down more barracks and continues pumping strictly mass marine, deciding to push out with around 20. After applying a little pressure and being met with a zergling roach army, the marines set up outside the Zerg main and more barracks go down as the expansion kicks in.
As the marine ball grows KJY attempts to swing around and break the rocks protecting the natural, but Nestea's Baneling nest had finished and good overlord placement again alerted Nestes of his opponents shenanigans, and what followed may not be appropriate for all audiences. The zergling baneling roach army came in behind the marines, trapping them against the rocks and almost instantly the marine force was liquidated.
KangJiYoung desperately set up for a 2 medivac drop but Nestea had smelt blood and was ready to go in for the kill. The Medivac drop headed out just before roaches and a massive baneling ball bust open the choke and continued on to flatten the orbital command instantly. Despite Roaches tearing apart his main, KJY stuck with the drop, successfully taking out Nestea's natural and pushing into the main, but spine crawlers and a couple waves of units are able to wrap up a pretty easy round of 64 for Nestea.
- Poor decisions by KJY, but mass banelings destroying an army and a base has some appeal. Don'twaste your time unless you're a huge Zergbong fan or interested in learning how not to play TvZ.
Player Grades:
+ Show Spoiler [Show Player Grades] +
NesTea (ZergBong) -
A
Hard to grade a player when all he is tasked with is holding off a BC Rush then mass Marine, but the completely unnecessary mass banelings to please the fans shows he had plenty of Control over the situation.
KangJiYoung -
D
Getting Battlecruisers prevents you from getting D-, but only just barely. I really am curious what his thought process was for the entire game 2, JB is practically built for Terran to deny a Zerg third. I'd also like to hear what went through his head when he suddenly saw his marine ball trapped in a corner against banelings.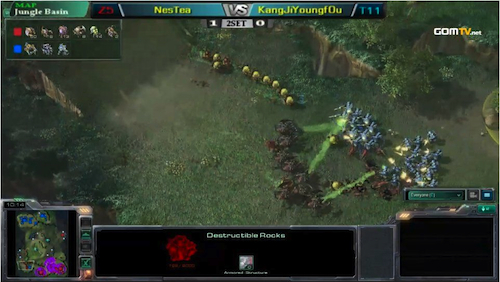 Oh the Humanity!
"Revenge of the arbiter... almost."
ParkJongHyuk
< 2-0 >
NEXChief -
Game 1 @ Lost Temple
+ Show Spoiler [Show Recap] +
In close air positions ParkJongHyuk went for a 1 rax fast expand against NEXChief's fast void rays. A late Reaper manages to get 5 probe kills and see only one gate, missing the stargate, but immediately building an engineering bay anyway. Great void ray micro manages to take out all of the marines just as the engineering bay finished and more void rays rallied over. A total of 4 void rays caused considerable damage before being taken out, seemingly putting NEXChief in the lead despite the early probe losses. NEXChief transitioned into chargelots and expanded but ParkJongHyuk demonstrated some ee-han timing, moving out after a couple production cycles and catching NEXChief before the expansion kicked in or Templar could be out. One force field short of trapping the Terran army, NEXChief had to pull probes to repel the push, but the kiting bio ball proved insanely cost efficient as wave upon wave of gateway units fell trying to protect the Protoss natural. Just as the multiple stims adding up looked to turn the tide of the fight, two medivacs arrived, the expansion fell, and NEXChief surrendered.
- Some incredible void ray micro and a very clear example of good game sense changing the outcome of a game.
Game 2 @ Scrap Station
+ Show Spoiler [Show Recap] +
Another fast stargate opening from NEXChief while ParkJongHyuk teched to banshees, cleverly flying his factory to the island to build the tech lab for the starport. Instead of voidrays a couple phoenix poked around the Terran base while a fleet beacon was warping in. To deal with the phoenix ParkJongHyuk made a couple of vikings instead of banshees while banshee cloak was upgrading, This slight delay allowed NEXChief's premeditated robo to finish as he began production of a
Mothership
. Aware of the potential observers PJH opted to hide his banshees in the top corner behind to Protoss base, waiting for the army to move out while also getting a command center up.
The mothership warps in but unexpectedly it does not trigger a push, instead NEXChief kept pumping his one base immortal / gateway army until the mothership had enough energy to recall into the Terran main.
Despite the motherships sluggish speed and a viking haven scouted its approach, the recall caught ParkJongHyuk out of position on the wrong side of his own ramp. Raven's and a scan negated the cloaking effect of the mothership, but the positioning and lack of bio ball micro made the fight unexpectedly one sided. NEXChief appeared to have pulled off a mothership build, however during the fight PJH had moved his banshees into the Protoss main and was wreaking havoc. Units completing after the recall fight was over managed to bring down the Mothership to 1 hit point, but it survives and heads back home to deal with the banshees, leaving the remaining ground forces destroy the Terran base in what appears to be a base race. The mothership's agonizing pace cripples it however, it is unable to chase down the banshees that had taken out all of NEXChief's probes and production buildings.
Terran managed to float a command center over to the island expansion however, where the starport also still stood. NEXChief realizes the situation and recalls half of his forces to the island. An all important viking pops out just then and manages to kill the Mothership, stranding half the protoss army on the island. At that point the banshees could not be stopped as they started tearing down the remaining protoss structures, forcing NEXChief to type out.
- While the play may not have been the absolute best on either side, this was an incredibly entertaining game. Every protoss has dreamed of finding a viable use for the mothership, and NEXChief appears to have worked on one, but some good critical decisions and ultimately a base trade secured a win for the stronger the two players.
Player Grades
+ Show Spoiler [Show Player Grades] +
ParkJongHyuk -
B+
Some interesting decisions at times that happened to work out in game 2, but great decision making in game 1 and the base trade revealed some serious skills.
NEXChief -
B+
Two critical decisions short of a spot in the ro32 (tech + expand in game 1 and his handling of the base trade), NEXChief demonstrated impressive void ray control and a Mothership game nearly combing KHB vs Artosis ownage with Huk's MLG Showmanship. I for one certainly hope to see more of this guy.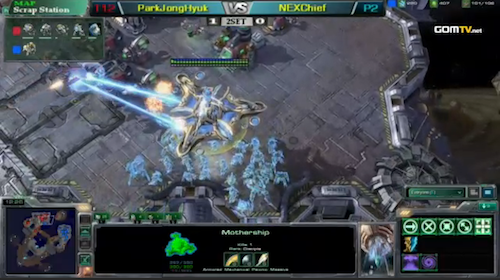 Someone nearly won with a Mothership, time to nerf it again
"Luckily it turns out queens can kite battlecruisers"
EGIdrA
< 2-0 >
ChickenCombo -
Game 1 @ Scrap Station
+ Show Spoiler [Show Recap] +
Hatch first for Idra against a quick 2nd gas and fast starport. ChickenCombo immediately built a medivac and loaded up his 5 marines for an incredibly ineffective drop in Idra's main. The fast starport having been revealed Idra quickly put down a spire at his expansion, meanwhile a fusion core was halfway built, hidden outside the main. Another drop by ChickenCombo was repelled near Idra's rocks. Shortly after a Battlecruiser made it into Idra's base, the spire not yet finished. Zerglings prevented any marines from helping, and Idra was able to kite the Battlecruiserqith a couple queens, drastically limiting the damage it did. This delay bought enough time for the mutalisks to finish, and they quickly overwhelmed the BC and counterattacked for an easy win.
- Battlecruiser! Probably 1.5 stars if your an Idra fan, 0 stars if your not interested in watching him destroy an inferior player.
Game 2 @ Jungle Basin
+ Show Spoiler [Show Recap] +
ChickenCombo opened with a proxy double barracks, blocking Idra's choke. Idra scouted it just before his planned hatch first was about to go down, instead starting his spawning pool and extractor. Idra delays with zerglings and a queen on creep as ChickenCombo attempts to bunker hop, but when five roaches spawn Idra engaged and the marines couldn't hold, gg.

0 stars - Really, just don't waste your time unless your trying to learn what not to do.
Player Grades
+ Show Spoiler [Show Player Grades] +
EGIdra -
A
Although our bad boy of SC didn't nuking his own army or building a nexus at his opponents natural, Idra did make ChickenCombo look like an absolute scrub, losing an absurd less than 20 units total in both games. ( I didn't count but thats got to be close) Idra simply took care of business and returned to the ro32.
ChickenCombo -
D
While a BC rush and double proxy rax are more exciting than some games, ChickenCombo was simply unable to compete with Idra. Two cheese builds against a superior opponent aren't bad decisions, but unfortunately it didn't make his play any better.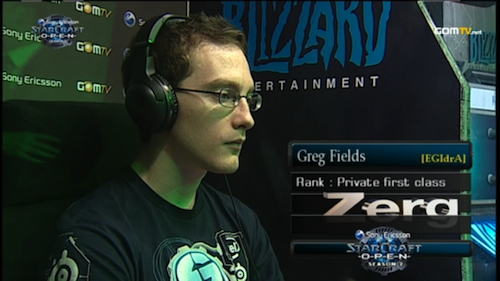 IdrA, the business man
"Going, Going, Gon!"
ReXZanDarke < 0-2 >
oGsGon
-
Game 1 @ Scrap Station
+ Show Spoiler [Show Recap] +
RexZanDarke opened with an interesting assimilator before gateway build, delaying his second gas a little and getting a fast robo. This proved to be a perfect blind counter to ogsGon's proxied factory push of 2 marines, 2 marauders, 2 scvs and a hellion. RexZanDarke warped in a robotics bay as ogsGon next attempted to catch back up with a medivac drop, but was unable to find a way into the protoss base. This did however keep RexZen in his base as a command center floated to the 9 o'clock expansion. An observer scouted it very early, allowing a few gateway units to head over harass. Despite this staggering lead RexZanDarke was uninterested in expanding himself. After a brief lull ogsGon sends a small bio army to the protoss natural likely intending to harass an operational expo as the 9'oclock comand center sets up at the Terran natural. Instead he forces the cancel of an already incredibly late nexus. RexZanDarke finally realizes he is giving away his very strong opening position. With no expansion and the minerals in his main running low, RexZanDarke pushed out through the rocks but was met by a great concave and two bases worth of units which easily defeated the protoss ball.
- An interesting Toss opening should have put him way ahead, but this game demonstrates how quickly you can lose a lead by not doing anything with it.
Game 2 @ Zel'Naga Caverns
+ Show Spoiler [Show Recap] +
RexZen again goes gas before gate, this time opting for two gateways before the cybernetics core for some early stalker pressure. oGsGon manages to slip a hellion behind the stalkers, racking up 9 probe kills before warp ins take it out. Meanwhile oGsGon dismantled the Protoss push, and both players take expansions. A banshee gets to the protoss natural just as an observer finishes, foiling oGsGon's initial harass, but two port banshee plus bio begins to accumulate into a scary arny.
RexZen teched to colossi, but was pinned in his base by oGsGon's multitasking cloaked banshees. A banshee kills 10 probes when the Protoss army slipped out to break the rocks to the standard third. oGsGon had broken down the rocks at the gold however, and decides to push RexZanDarke's natural as the command center builds. Good force fields combined with very poorly placed point defense drones and not waiting for the medivancs allowed RZD to hold with an inferior army. Double stargates finish as the thirds come up, introducing phoenix into the mix as both players macro up an army. After some back and forth play in the middle of the map the final battle occurs, and while the phoenix were able to clean up the vikings, banshees, and medivacs, the protoss ground force was not able to hold the bio ball, and RexZen surrendered.
- Although the early hellion put him farther ahead than it should, the overall strategy for oGsGon was incredibly solid, and apart from the battle when the poorly microed battle when the 3rds were building, all around great play up great play.
Player Grades
+ Show Spoiler [Show Player Grades] +
oGsGon -
B
While oGsGon easily won both games, the first game was given to him and hardly earned. The second game he played more to the level people were expecting, though while I understand trading armies to get a gold third set up, throwing away his army that badly won't work in the later rounds.
RexZanDarke -
D+
While no one will deny RexZanDarke made some pretty bad mistakes in his games, but there were oh so brief flashes of potential. I believe Rex's nerves were what sealed his GSL fate, the pressure of being on stage / TV plus playing against a good opponent could explain the passivity and stupid mistakes. That or he just won the qualification bracket lottery.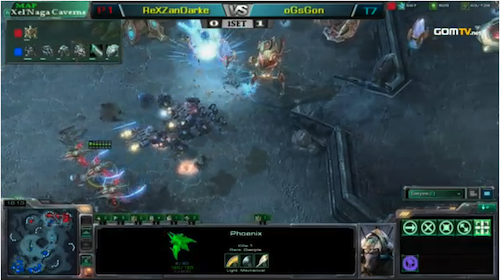 The Phoenix did their part...


Day 4b - "Golden Mouse through to Ro32."
Recaps by Xxio
+ Show Spoiler [Day 4b Recaps] +

"Iron blinked overtherocks."
MC (
Iron)
< 2-0 >
Overthezero -
Game 1 @ Scrap Station
+ Show Spoiler [Show Recap] +
Trusting Scrap Station's long rush distances, Overthezero 1 gate FE. This is not a build you want to use against oGsMC (aka Iron), one of the most aggressive players left in the GSL. Without knowing a Nexus was warping in, Iron decided to lay on the pressure and see if he could break Overthezero, and break Overthezero did. Iron kept streaming stalkers and zealots into Overthezero's base until his warpgate tech was up. Then, with a pylon in his enemy's main, Iron was able to make use of his higher warpgate count, getting the GG from Overthezero. Iron's stalker micro, in combination with Overthezero being greedy and not pulling nearly enough probes, led to an easy win for my boy MC.
- Iron streams his first to last unit into Overthezero's main. Overthezero underestimates the direness of his situation. Overthezero loses.
Game 2 @ Jungle Basin
+ Show Spoiler [Show Recap] +
In game 2 suicide toss stole Overthezero's second gyser and went 1 gate DT. Unfortunately for Iron, Overthezero got an observer out in time, and while Iron ended up destroying the robo facility and killing a couple stalkers, both dts died, along with a group of gateway units, without any probe kills, leaving Iron in an unfavorable position. Aware of his advantage, Overthezero expanded while guarding his ramp with an obs and a handful of stalkers. He could not, however, prepare for the mastery of Iron's one base play. With 5 warpgates and blink, Iron warped in over the rocks in the back of Overthezero's base, pulling the Overthezero's stalkers away from the front door. Blinking to keep his stalkers alive, Iron ff'd the ramp into zero's natural and overwhelmed him from both sides.
- DTs are always exciting, even when they fail, and Iron's huge comeback with blink stalkers totally owned.
Player Grades
+ Show Spoiler [Show Player Grades] +
oGsMC
(Iron)
-
A-
Iron played the first game perfectly, poking in to create an advantage that he held onto through to victory. In the second game, his dt strategy didn't pan out, but his follow up based on existing tech and a flanking, multi-pronged attack was excellent.
Overthezero -
C-
Overthezero's FE in game 1 was fine by me, but the fact that he never pulled more than maybe 4 probes at critical moments is a big disappointment. He showed inexperience in the second game as well when he brought his entire army down to the rocks, letting Iron trap and make a fool of him.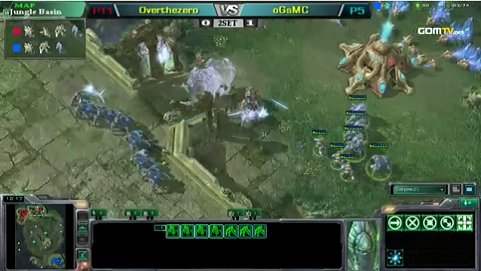 Suicide toss blinks over the rocks.
"MVP breaks the sound barrier."
IMmvp (
MVP)
< 2-0 >
SoundWeRRa -
Game 1 @ Delta Quadrant
+ Show Spoiler [Show Recap] +
MVP's scouting scv denied by Sound's first marine, the Brood War superstar had to choose a build order blind. MVP teched straight to cloaked banshee, and killed 8 scvs, a tech lab, and a reactor while Sound was pushing his ramp. Unlike a certain protoss, MVP pulled all his scvs to hold off the very dangerous tank/marine push. Alive and ahead, MVP counter-attacked with banshees and a handful of marines. Sound, his army wiped out and tech destroyed, had to type out.
- How much damage MVP's banshee did was critical to his success. That, and Sound's push made the game tense and exciting.
Game 2 @ Metalopolis
+ Show Spoiler [Show Recap] +
SoundWeRRa goes for blue-flame hellions, MVP once again opens with cloaked banshees. Sound dropped 4 hellions into MVP's mineral line, but like a pro, MVP pulled all his workers, losing maybe 2 as he took out 2 of Sound's hellions and scared the rest back into their medivac and away. Meanwhile, MVP's two banshees worked up to about 15 kills combined, as well costing Sound more than one mule. Running a saturated expansion before Sound even began to build his second CC, MVP had a dominating economic lead. Sound went for a last attack based around four tanks, but cloaked banshees and stim marauders cleaned it up, winning MVP the game and the series.
- After Sound's hellion drop utterly failed, all the tension was taken out of the game. MVP's banshee harass and unit combination let everyone know he won the game long before Sound made his last stand.
Player Grades
+ Show Spoiler [Show Player Grades] +
IMmvp (
MVP
) -
A
MVP made the same build work twice in a row, each time adding slight variations as he adapted to Sound's play. In the first game, he was put in a dangerous position, but playing blind he did a remarkable job making his build work, in addition to handling Sound's tank push like a veteran he is.
SoundWeRRa -
B-
Sound's push in game 1 was very strong and well timed. However, he should have been more proactive buildinh additional turrets in his main, as well as making his scans count. In game 2, his hellion drop failed miserably and he decided to go all-in rather than try to macro back up.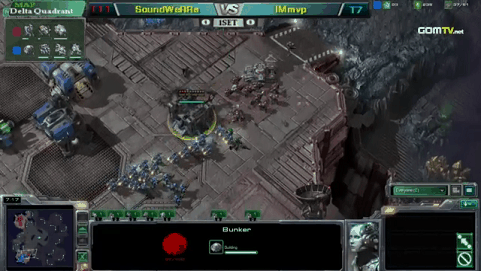 The SCVs were the MVPs of this battle.
"Zenio and his banelings outsmart Jjakji."
oGsZenio
< 2-0 >
Jjakji -
Game 1 @ Xel'Naga Caverns
+ Show Spoiler [Show Recap] +
Zenio took advantage of the length of the map and went hatch first, stealing one of Jjakji's geysers before throwing down a pool. Jjakji went for low tech blue-flame hellions; Zenio roaches. Seeing Zenio's tight defense, Jjakji tried to fake him out with an empty dropship in the main, but Zenio, whether by bad reaction time or suspicion, didn't commit more than a queen to his main and Jjakji's hellions ran right into his roaches at the natural. While Jjakji turtled, Zenio spent his larvae wisely and built up a strong economy while harassing with the tunneling claws upgrade. When Jjakji decided to push out, Zenio had the production capacity to make more than enough roaches to simultaneously counter-attack and hold off the Terran push, winning him the game.
- While this was a one-sided game, Zenio still put on a clinic.
Game 2 @ Blistering Sands
+ Show Spoiler [Show Recap] +
Jjakji dared to open 1 rax reaper into FE against Zenio's FE. The reaper did not end up doing much damage, but it gave Jjakji early map control, which he then held on to with a group of stim marine/marauder. Zenio pushed back quickly with a strong roach/baneling army and a sneaky third expansion. Then, Zenio broke down Jjakji's rocks uncontested and slipped into the Terran main, getting a baneling daebak on Jjakji's worker line. Jjakji came close to breaking Zenio at one point, but units always arrived just in time to keep Zenio and his economy alive, whether from drops or a huge attack. Eventually, on four bases to Jjakji's two, Zenio out teched and outproduced the Terran, overwhelming Jjakji for the win.
- Zenio's excellent army management and macro, combined with Jjakji's aggression, makes this a very entertaining game.
Player Grades
+ Show Spoiler [Show Player Grades] +
oGsZenio -
A
Zenio played extremely well this series. His economy was never damaged, and his units always came out just in time to hold an attack or push Jjakji back across the map. His tight macro, including taking expansions like clockwork, in addition to superb micro, gives him an A.
Jjakji -
C+
Jjakji played fairly well. Clever plays like his fake drop in game 1 are always nice to see, and he held up for great seesaw battles with Zenio in game 2. His lack of ever trying for a third expansion, as well as not having a scout by his rocks in game 2 and not running his hellions up Zenio's ramp in game 1, made for less than ideal play. I felt like he threw up his hands and said, "well, this is it!" after taking his natural, as if the planetary fortress was not in the game.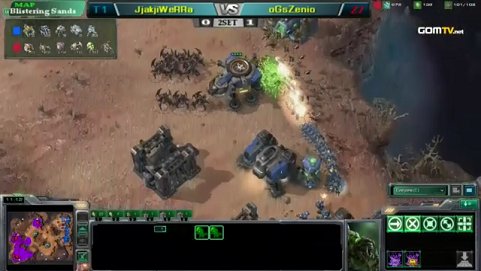 This baneling died happy.
"Lost Cargo."
oGsNaDa
< 2-0 >
Cargo -
Game 1 @ Lost Temple
+ Show Spoiler [Show Recap] +
Cargo, whether scared of the bonjwa's management skills or simply creative, rushed for a cloaked ghost and got worker kills in the double digits before losing it. Like a boss, NaDa then expanded and out macroed his opponent while killing off drops. Cargo didn't try for map control or any timing pushes, he just got a very late expansion. So when NaDa moved across the map and sieged up outside Cargo's natural, there was really nothing he could do but concede the game.
- The ghost was exciting.
Game 2 @ Xel'Naga Caverns
+ Show Spoiler [Show Recap] +
Deciding that a heavy harassment style wasn't the best strategy to use against NaDa, Cargo 2 rax FE'd in game 2, while NaDa opted for a much safer siege tank into banshee build. NaDa contained Cargo with siege tanks for the first half of the game, using banshees to pick away at Cargo's army and worker lines throughout. When Cargo finally broke out, his army had been significantly damaged and NaDa was safely taking his natural. While he macroed, NaDa constantly picked away at Cargo's bases with banshees, keeping the Terran's units and attention back home. Once he had built up a ridiculous number of tanks, NaDa siege walked into Cargo's natural, decimating his enemy's pure bio army and ending the game.
- NaDa made this game fun to watch by containing Cargo and harassing with banshees, but the lack of any threat from Cargo leaves the game shallow.
Player Grades
+ Show Spoiler [Show Player Grades] +
oGsNaDa
-
B+
NaDa responded well to Cargo's ghost harass in game 1 and FE into bio play in game 2, but without ever being pressured or put in a dangerous position, his skills were not exactly tested.
Cargo
-
D
Cargo had no follow up to his cool ghost play in game 1 except for some questionable drops, which he should have known would not have worked. In game 2, he dealt with the banshees decently, but lost too many forces breaking NaDa's contain, and didn't scout or attack NaDa at a critical time. In the final battle, it looked like he just a-moved towards NaDa's tank line.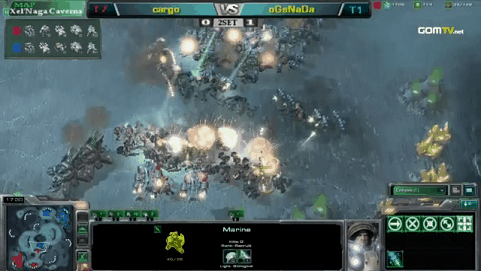 Nada has more tanks and golden mice than Cargo.
"TheWind and roaches both improve between GSL seasons."
TheWinD
< 2-0 >
LoveRip -
Game 1 @ Xel'Naga Caverns
+ Show Spoiler [Show Recap] +
Both players had safe, expansion based openings, staying on their respective sides of the map during the beginning of the game. With his first group of lings, however, TheWinD circumvented the Protoss army and slipped into LoveRip's main, full scouting and halting mining for a good 20 seconds. As LoveRip pulled back to his base, TheWinD took map control and his third expansion. A bit overbold, TheWind tried to sneak in the side entrance to LoveRip's natural and had the majority of his roach army killed for nothing in return. However, LoveRip did not act on this advantage. Later in the game, TheWinD used tunneling claws to cripple LoveRip's natural, taking out a robotics facility and a number of units while abandoning his third to a Protoss attack. TheWinD quickly retook his expansion and mercilessly picked away at LoveRip guerrilla warfare style until he massed enough to units to corner, and overwhelm LoveRip's blink stalkers.
- The midgame and endgame were extremely exciting and TheWinD's roach tactics were incredible.
Game 2 @ Scrap Station]
+ Show Spoiler [Show Recap] +
TheWinD 6 pooled in game 2, but instead of going all-in, he was frugal with his 6 initial zerglings and kept them alive as long as possible in the Protoss main. TheWinD followed up with drones and an expansion while causing grief to LoveRip's mineral line and build order. Even though he 6 pooled, TheWinD got his first gas up faster than the Protoss, and 4 minutes into the game was matching LoveRip in harvester count. LoveRip tried a zealot counter-attack, but it was thwarted, as was a follow-up stalker push. At this point, LoveRip had been down an expansion for a concerning amount of time without having done any critical damage. Falling back to his base, LoveRip tried to expand and macro up but TheWinD didn't miss his opportunity and swarmed LoveRip while he was ahead.
- It was so cool to watch TheWinD's unique 6 pool into economy build, and with the added tension of LoveRip possibly taking down a base, this game was quite entertaining.
Player Grades
+ Show Spoiler [Show Player Grades] +
TheWinD -
A
In both games TheWinD had very solid and creative play. His roach tactics and macro in game 1 were really incredible, as was his risky but highly entertaining and successful 6 pool build in game 2, which he executed perfectly.
LoveRip -
C
If matched against an opponent like Cargo, Overthezero, or Sound, LoveRip could have definitely made it into the Ro32. In the first game he was not nearly aggressive enough with his stalkers and was definitely lacking detection, but he still did a decent job defending TheWinD's multi-pronged attacks, even though he was a bit of a sitting duck. He played better in game 2, almost taking down TheWinD's expansion with a zealot counter-attack. If he had expanded earlier the game would have lasted a lot longer.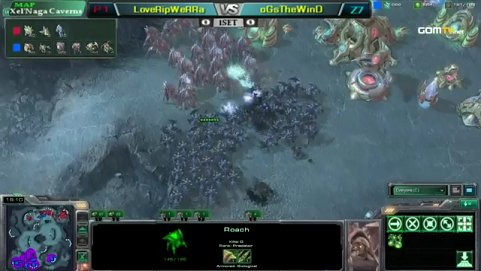 [i]Roaches. Many of them.
---

Next: Ro32 Recap

Sixteen thousand words of recap later, the Round of 64 is over in four jam-packed days. I think we may have broken a TL newspost word count record. Next week we cover the much more exciting and evenly matched Round of 32. Will the foreigners IdrA and Loner stay alive? Will the fan favorites Boxer and Nada make it to the Ro16 or even to the Quarters? Will we ever see Jason Lee troll Idra on camera? All these questions answered in the next recap.

Thanks for reading!