Banner by Silversky
---
This is a review of the OSL Semi-Finals between Flash vs Calm, written by a user on Fomos by the name of "Becker". MrHoon initially found this article, but he has gladly allowed me to do the translation, so many thanks to him. Enjoy my last translation!


---
Game 1 - El Niño



http://www.youtube.com/watch?v=BZHikK2tefQ



Even if they are all the same Mutalisk-micro dependent builds, depending on the build order, the role of the Mutalisks change. For example, 9 Mutalisks from a 3 Hatch build's biggest role is to buy time and waste the Medics' energy by forcing the Terran to constantly use Stim Packs while defending, so as to make battling the army later on much easier. However, for a 2 Hatch Muta build, the role of the Mutalisks change. They require even more focus and concentration on micro, and they should be used to find weaknesses in the Terran's defense and do as much damage as possible.

Calm chose to go for a 12 Pool Gas Hatchery build, a build that requires utmost Mutalisk micro, and at the 5 minute 30 second mark, 6 Mutalisks should be flying to the Terran's base and completely obliterate the opponent with the build that can be said to be almost an 'all-in'. The role of these Mutalisks, should the Zerg choose to go for such a build, is not to kill workers or delay the tech, but ultimately to reduce the army size of the Terran.

With these goals now known, what I want to focus as the key moment of this game, which would have been summarized as "Flash had better micro", was when Calm went to pick off a few workers at the natural. It should have been followed by cutting off the number of Marines at the ramp, which he clearly failed to do so and simply pulled back his Mutalisks. If Calm had microed his Mutalisks better here, he would have been able to at least kill 4 to 5 Marines (along with a few more SCVs), and he would have been in an advantageous position.




Around a minute later, a similar scene happened, but by then, there were already 2 turrets near the ramp, and by microing his Marines while using those turrets as 'shields', Flash was able to defend well while Calm, on the other hand, was unable to do any significant damage with his Mutalisks.

The Terran's army ball eventually grew without much interference, and due to the choice of build order by Calm, his 3rd gas was naturally late. No prizes for guessing the outcome of the first game.


---
Game 2 - New Heartbreak Ridge



http://www.youtube.com/watch?v=oFcZ-CNOYXA



Flash has gotten widely recognized for his off-beat army advancement, but despite this seeming to be so strong, not many Terrans do not do this for a few reasons. The first reason is that an average-sized army will be easily run over by the Zerg's units, and the second reason is that the Terrans prefer to defend against possible Zergling run-bys into their main.

Flash, who usually shows amazing reaction timing and completely denies any possible run-bys, missed Calm's 6 Zerglings, giving Calm a chance to put the Zerglings to great use later on. Most likely, Flash was thinking, "What could 6 Zerglings ever do? Even if they were to go for a run-by later on, I would be able to defend it easily."

The first run-by attempt led to Calm trying to pick off a SCV that was building a turret, but he wasn't greedy and immediately pulled back his Zerglings, saving them for a second combined attack on the turret, together with his Mutalisks and finding a crack in Flash's defense. Calm's brilliance in his decision to save his Zerglings, which were initially for cutting off scouting SCVs, and using them later on in a more decisive moment was outstanding.

The 2 Hatch Muta build is a significantly fast build in terms of tech advancement, and because it is so fast, there is also one advantage that the Zerg has over the Terran for a moment of time - the Terran's Marines do not have range upgrade. Calm capitalized on this and by making full use of the terrain, he was able to quickly cut down on the number of Marines. From that moment onwards, it was Calm's game to take.


---
Game 3 - Fighting Spirit



http://www.youtube.com/watch?v=dbzHpzjKuOY



Like game 2, Calm was able to avoid Flash's off-beat Marine + Medic push and successfully do a Zergling run-by, and at this point of time, Calm seemed to have gained a lot of points. However, by running his rallied Mutalisks into the advanced army, the game quickly shifted to an awkward position for Calm.

Calm once again went for a 2 Hatch Muta build, but this time, instead of trying to do damage to Flash's economy, the Mutalisks were more for defending his 3rd gas easily. This was to be followed by a Hive tech transition into defiler-centered defense, eventually going for a macro game and overwhelming Flash with endless stream of units.

That is why Calm decided to use the least gas possible at Lair stage, with just a handful number of Lurkers and Mutalisks and securing a 3rd gas, followed by an offense with Guardians and defense with Defilers simultaneously, bringing the game to his favor.

However, at a certain moment, Flash was seen cutting off Calm's scourges, and it seemed like Calm's guardian attack was a failure. But this was more because of the fact that Flash decided to pull back his army after being unable to deny Calm's 4th gas (plus the fact that the Guardians would eventually be defended). Weighing it out, both players were still at a decent position (although of course, Calm would have been the player that was more uncomfortable as his Guardian force attack didn't deal as much damage as they could have).

Let's take a small pause here to look at the game from the players' point of view.




Calm's point of view - The Standard ZvT - "Get 4 gas, harass everywhere, buy time, get 5th/6th gas running, victory."

Calm played with this thought in mind, and he executed it very well. He spent all the gas saved while on Lair tech on Hive tech units, and his play of getting his 4th gas with defilers while researching drop upgrade at the same time and harassing Flash's 6 o'clock expansion was remarkable. By doing this, he forced Flash to use his vessels to defend, hence unable to cut Calm's defilers for the time being. At the same time, he sent cheap Zerglings to 5 o'clock/7 o'clock and gained a few points there while also expanding at 12 o'clock, 3 o'clock and 9 o'clock. Calm's thinking was that if he were to secure even one of these 3 expansions, it would be certain victory for him, and indeed, he was able to secure them. Now, Calm would simply defend all his opponent's attempts to harass and eventually clean up his opponent's main base with all his Ultralisks.




Flash's point of view - It is certain that the game didn't turn out as Flash had thought it would. He was to deny Zerg's 3rd/4th gas early and play on from there, but Calm's defilers were out much faster than usual, which made destroying the expansions very difficult, and when he wanted to get his 5 o'clock expansion running after Calm got his 12 o'clock and 3 o'clock expansion up, it was harassed by a handful of Zerglings, dealing some economic damage. Despite all this, the reason why Flash wasn't too anxious and was able to hold his own was due to the strength of Siege Tanks.

The result was a constant attempt to secure and deny the 9 o'clock expansion from both players. Calm was already on 5.5 gas (after counting the fact that few of his geysers would have been depleted), so to him, the 9 o'clock expansion was just an added bonus. But to Flash, denying that expansion meant victory. And this mindset of both players can be shown by both players' actions - Calm made Flash focus on 9 o'clock while going for a drop at 5 o'clock expansion, and later on harassing 6 o'clock. But all these attempts were fended off and as Flash started to slowly accumulate his number of Siege Tanks, Calm started to feel a need to hurry. The overall game plan that he painted out was definitely according to how he had planned out, and yet.. how should I say this... Flash handed him a canvas that was 1.3x bigger than what he had expected?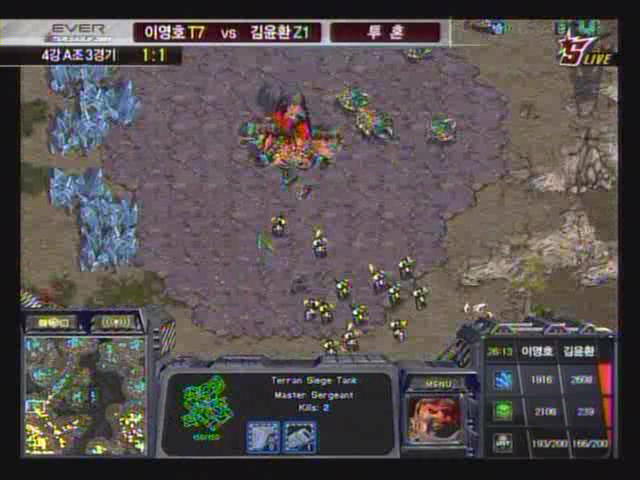 Flash's persistent 9 o'clock harass



I thought about how the Zerg should react when a game turns out like this, and after a long time, I realized that the answer is still straightforward defense break. Of course, not just some thoughtless head-on charge, but a break that involves dropping defilers from Overlords, harassing the 7 o'clock main with Zergling drops as well as other methods.

I came to this conclusion only after watching the VOD several times after the game had ended and going through my thoughts over and over again, so imagine the confusion and frustration Calm must have felt while playing the game live. He indeed tried to break the defense line several times, but it was too tough to break Flash's impregnable fortress.

The more you watch this game, the clearer the players' mindsets throughout the game becomes, sort of like a well-made movie. For a good movie, the more you watch it, the more you think of it as a masterpiece, and similarly for this game, the first time you watch it, you would simply be thinking "wow, damn Flash, how is a Zerg supposed to break that?", but the more you dissect the game, the clearer the mindgames between these two players and their fighting spirit becomes, and the more you will come to be awed by this game.


---
Game 4 - Eye of the Storm



http://www.youtube.com/watch?v=lqecwe3No5U



Despite Calm's superb performance in game 3, he eventually lost the game, and it definitely would have affected his performance in game 4, but personally, I think that game 4 was more of Flash's cunning mindset shining.

Calm started off with 2 Hatch Mutalisks in this game as well, similar to the 3 other games (with some slight variation in build order), and the reason behind this was to overcome Flash's off-beat Marine + Medic push. And as expected, Flash once again sent out his Marine + Medic force to deny Calm's 3rd gas - the key point required for a good Hive tech transition - right according to Calm's 2 Hatch Mutalisk timing. This bold play by the Ultimate Weapon was really swift and deadly like a flash of lightning.




The timing rush that Flash prepared for the 4th game was pushing out with 3 tanks and 1 vessel, combining his pushing army with the army that was already moving around the map and finishing off the Zerg with just one attack. This timing attack is often used by Hwasin and other Terran players who love to do timing rushes. However, the reason why Flash's push this game was so special was to stray from his standard TvZ winning formula, and to end this game with just one single attack. If Flash's usual TvZ winning formula was to cut off the Zerg's arms and legs and let him slowly starve to death, then this game can be summarized as going straight for the heart with an earlier push.

According to many people, Calm's loss in game 3 severely affected his performance in the fourth game, which is true, but I think that game 4 displayed Flash's solid mechanics, as well as his own unique sense that truly shows that he is the best in all aspects of the game - mechanically and psychologically.


---
Game 5 - El Niño

The series never got this far, but this question came to my mind at the end of the fourth game.

"What strategy would Calm have gone for in the 5th game?"

"The Brain" Calm played four straight games with the same idea behind his play, and played standard for all of them. I felt that he had brought a very strong build to counter Flash's playing style, but I don't think he would be so stubborn to use the same build in the last decisive game. Anyway, Calm's idea was to win at least 2 games by the end of the fourth game by going for the same opening for four consecutive games and playing different from what Flash would have expected, and eventually using a very cleverly thought-out build in the final game.


---
Wrap-up

Calm showed the best possible response to how Flash usually played, but Flash, even while playing the usual way he did, showed that he was able to quickly think on the feet and was able to change his playstyle. I tried to analyse as much as possible by watching via the observer, but this amazing game was filled with the highest degree of mindgames that I really want to watch this game again as a replay. With so much discussion on forums, as well as programs such as Kingdom's Manner Pylon being more common, I think that if there were shows where commentators and the players involved in these games can participate and share their thoughts, it would be an excellent addition to the wide variety of programs available that can enlighten the viewers more.

Fomos.kr