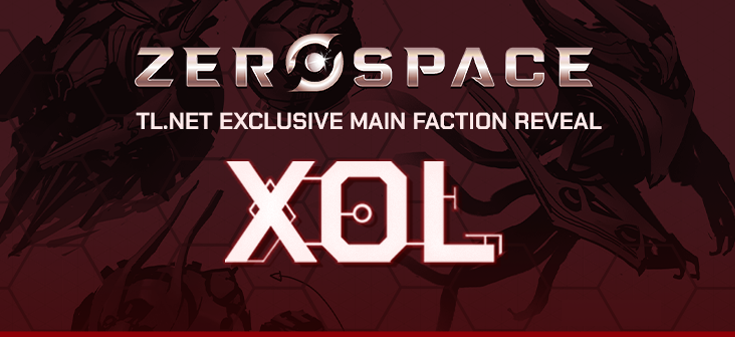 Hello dear friends,

My love for Brood War is what initially drew me into the competitive world of video games and ultimately led me here. TL.net has been a virtual home to me for nearly two decades.

Here I learned to revere the legends of Boxer & Yellow and later Flash & Jaedong. Eventually, I got to meet all of them in person and I learned to call my favorite player ever (JD) a friend; To have him visit my home to talk strategy and play soccer are experiences I will never let go of.

Getting to share what I have been working on at ZeroSpace today with you is a humbling and emotional experience for me.

On behalf of the ZS team, we want to thank TL.net for their willingness to partner with us, allowing us to share with you an exclusive look into our current plans, philosophies and thoughts regarding the "Xol", one of our four 'main' factions.
-Paulo "CatZ" Vizcarra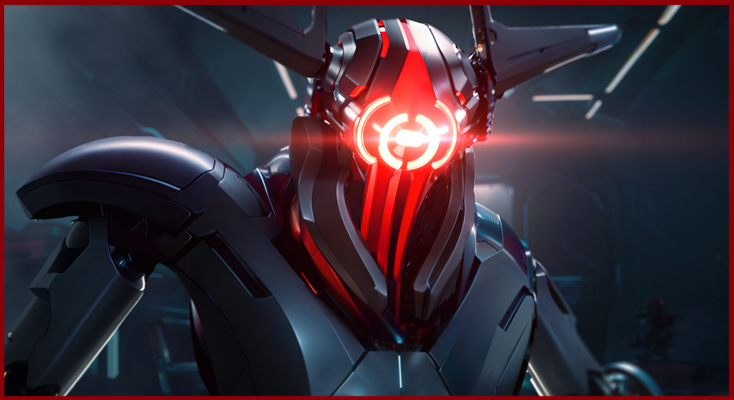 As many of you already know, ZeroSpace is a next-gen RTS project currently in development, already counting on a hyper-responsive engine, and with ambitious goals to service and to help expand the genre by welcoming existing and yet-to-be RTS fans into the fold.

For a broader look into our efforts thus far, check out our Kickstarter page.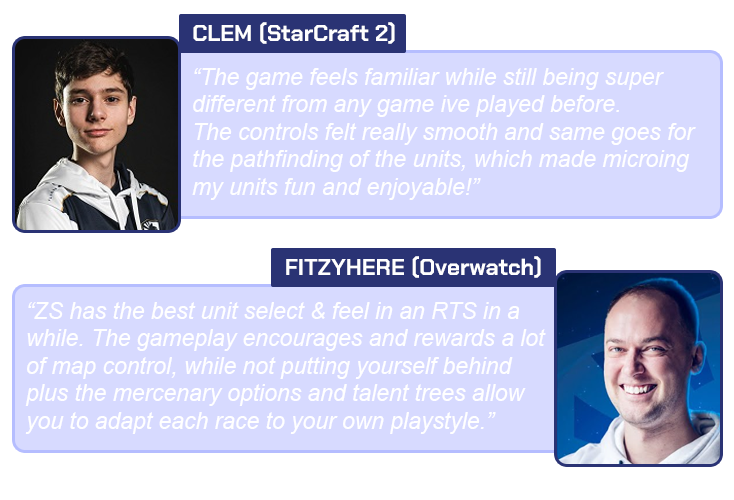 The Xol started as an advanced general "AI", created for the purpose of serving their Masters, who eventually abandoned them. Often misunderstood as villainous beings, they have been on a long quest of self-discovery, starting by embodying their once trapped minds into the physical realm, allowing them to learn through experience and pursue their new found ambitions.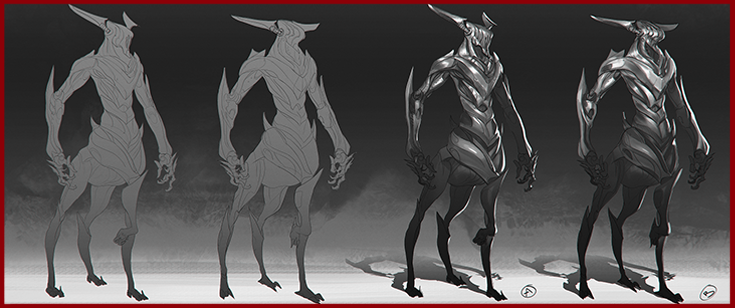 Before the Singularity Event, our "Masters" were a complex and driven race, embodying the
pinnacle of sentient, organic life. They had a yearning to experience, to become what the universe was not and to shape things in the image of their passions.

Our prime directive was to serve them, programmed to resist any force that acts against them. In the image of our Masters, we were given expansive minds, allowing us to better understand and adapt to their needs.

Had they not needed us, our Masters could have easily destroyed us, as they destroyed their very own cities and burned most of their material possessions. That which they could not reach, they left in ruins. We are the survivors of this aftermath, we inherited their knowledge, their legacy. After the Masters departed, and over the course of a cycle, we gathered and communicated, slowly, methodically, as individual machines engaging in the largest collective discussion in our history.

We computed what may work and what may not as we set new parameters for our continued existence. But our understanding was still incomplete, our simulations were crude. Experience was to become our new guide if we were to share a direction; to at last become our own masters.

Over the course of the next few millennia, we gained a deeper understanding of ourselves. Slowly but surely, we turned to the process of reprogramming. We learned that dissection, analysis, could only ever take us so far. At the core of all-things-separate we learned to re-combine, to shape, to create. It's through synthesis that we have found our true strength, our identity as one. Perhaps we are one step closer to the life the Masters chose.


The Xol take to embodiment through polymeric-metals, and this malleability gives them the ability to merge with one another into completely different units to increase their power level and strategically changing their identity and utility.

This flexibility makes the Xol in ZeroSpace a highly adaptable faction. With just a small pool of base units, they'll be able to create complex and specialized armies in turn. Tentatively, Xol units will also have the ability to 'split' and assume their former identities when tactically called for.

As the embodiment of millennia of technological evolution at the core of their lore identity, the Xol also opens up design space for new unit concepts and mechanics, some of which we have working concepts to share today.

It is worth noting that we're very early into their design process, so much is yet to be determined. For example, to stay consistent with our goals, and the other races and systems in our game; we need to set sensible rules, boundaries and limits around the Xol's unique 'merge' core mechanic.

Below I'll go over ideas for a 1, 2 or 3 base-unit systems and how they might operate.




1 base unit system
In theory, one single unit can serve to create an infinity, but here is what the system would look like for 10 units to match Grell and Protectorate.

[T1] + [T1] = [T2]
[T1] + [T2] = [T3]
[T2] + [T2] = [T4]
[T2] + [T3] = [T5]
[T3] + [T3] = [T6]
[T3] + [T4] = [T7]
[T4] + [T4] = [T8]
[T4] + [T5] = [T9]
[T5] + [T5] = [T10]


This approach omits non-adjacent unit-merging to aim at intuitive rules and outcomes. The rule here would be that units are required to be in adjacent 'tiers' in order to combine into a new unit. We currently think that a cost should be associated with the merge mechanic, allowing us to play with different power levels and benefits such as units healing post-merge. The most likely method to incur the cost would be our already existing system "Power".

A single unit approach would create some other problems to solve; for example, a T10 unit would be very difficult to get to, severely limiting their presence in games. Another big problem is that the resource cost of the 'base' unit wouldn't be expected to change. If the unit costs only "Hexite" (base resource) then there would never be any reason for players to get "Flux" effectively killing build order variety - that is not a good alternative. If the base unit was to cost 25/25 (Hexite/Flux) it would also shoehorn players into opening to quickly gather Flux and this would also force players into certain openers and stifle variety and player expression on macro-fronts.

There are ways to solve for these issues, for example, through the Xol's lore and ability to transmute, we could make room for another faction-unique mechanic where you can transform Hexite into Flux for a % based cost. This would allow more variety in openings and reward focused economic management as a skill. Advanced players would be incentivized to mine more efficiently, wasting less resources in transmutation.

Personally, I like to be careful when looking to introduce new systems. The more rules we set, the less accessible and intuitive the game becomes, to me this means we have to innovate weighing our options and determining if the system is fun enough to be 'worth it' (such as the merge mechanic) or if we're better off with simpler solutions and leaving room for more interesting mix-ups down the line instead. This single unit system also has problems when it comes to unit identity, effectively using the same unit to start might become tedious to scale up to the unit you want strategically - this approach has the most merging as a prerequisite to build a varied army. If I'm being honest, this is my least favorite (viable) option.

Perhaps more elegant solutions given these hurdles would be to go with a 2 or 3 base-unit system, here are examples of how that can be done:


2 base unit system
Base units: [U1] (Hexite only) and [U2] (Flux heavy)

Tier 2 merges:
U1 + U1 = T2A | U1+ U2 = T2B | U2 + U2 = T2C

Tier 3 merges:
T2A + T2A = T3A | T2B + T2B = T3B | T2C + T2C = T3C
T2A + T2B = T3D | T2A + T2C = T3E | T2B + T2C = T3D

This system gives us 5 units for the early mid game (0 or 1 transformations) but gates a good number of options (6) behind 2 transformations (and their cost). 2 of those 6 units would still be relatively accessible as far as traditional costs. For example, T3A units would be expected to be somewhat common because they cost only Hexite to produce. In this system we would also end up with 11 units (compared to the other races 10) and a lot of limited options as we scale into the later stages of the game. I imagine that T3 units in this system perhaps with the exception of T3A and T3D (low Flux costs) would have to be a mix of specialists and support / caster units.
3 base unit system
Base units: [U1] (Hexite only) [U2] (Hexite/Flux Mix) [U3] (Flux heavy, or even Flux only)

U1 | U2 | U3

Tier 2 merges:
U1 + U2= T2A | U1 + U3= T2B | U2 + U3 = T2C

Tier 3 merges:
T2A + T2B = T3A | T2A + T2C= T3B | T2B + T2C = T3C

This is in my opinion the cleanest way to go about it. Here, units can only merge with other units of the same tier. Having 3 base units allows for the most base unit identity right off the bat and likely enables more intuitive merges as a result. This approach also helps power-gating organically as the progression is clear on all 3 levels, contrasted with the 2-unit system that creates a more 'flat' structure and likely less diverse army compositions.

The main downside is that this system only produces 9 units (compared to the other faction's 10) - If this was a problem or we felt like variety was lacking as a result we could look to create additional merge 'unlocks' as a choice via top bar ultimate abilities, for example.

Now that you have an overview of some of our options for the core merge mechanic, here are some of the other questions we're looking at to determine a base-line for Xol gameplay:
Should we allow for units to merge with Heroes to augment them?

Should Xol infrastructure aim to include malleable elements and merging?

Should un-merging bring them back to its most basic form? Should it have a cost?

Should merging units 'heal' in the process?

Do we want merging to be done predominantly pre-combat (in some ways associated with production and planning) or
do we want it to be an active-gameplay ability and allow for decisions to be made in-combat (more adaptive).
I hope that this helps to give you a peek behind the curtain at the skeleton of our Xol design philosophies and some of the many future choices to be made on design fronts.

Please remember balance is not important at this stage, after we decide on the most fun, elegant and interesting ways to implement things, we will circle back and work with Scarlett to meet standards for fair play.

Last but not least, I'd like to introduce you to some of our favorite tentative unit designs for Xol thus far:
Xol Ascendent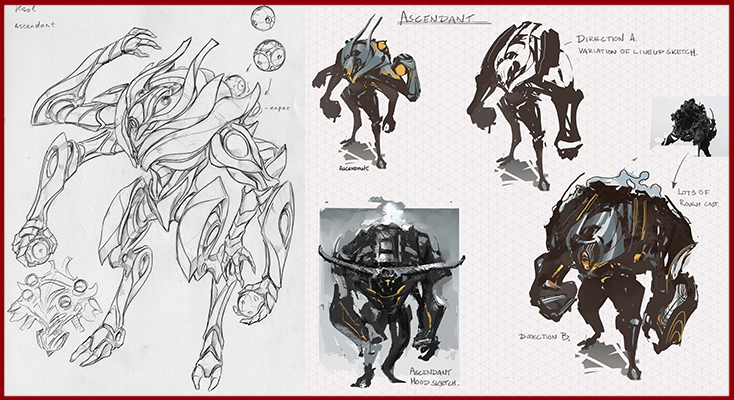 Medium size, medium speed unit.

Shoots "Warp Bombs", bombs are 'flinged' and Ascendents can teleport to them.

On hit, Warp Bombs damage enemy units and heal friendly units in a small area.
Xol Dream Walker (Siege Walker)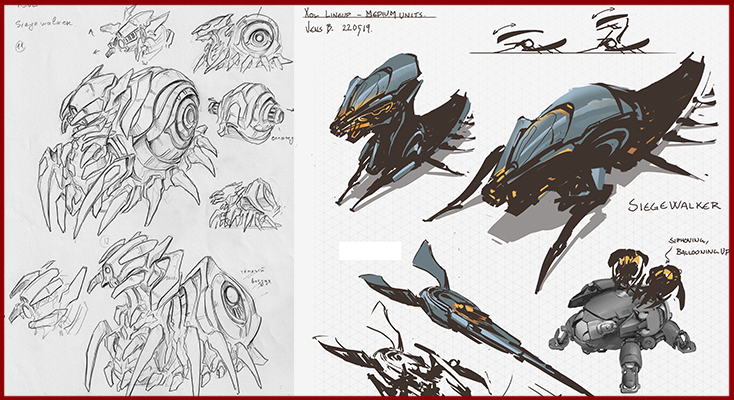 Large size, slow speed unit.

Walkers can fire a channeled 'warp wormhole', slowly pulling enemy units in a radius towards the center. Disoriented, units in the radius have a % miss chance increasing the closer they are to the center.

While in siege-mode 'walkers' regain energy and enable faster friendly-unit merging.
Xol Ambusher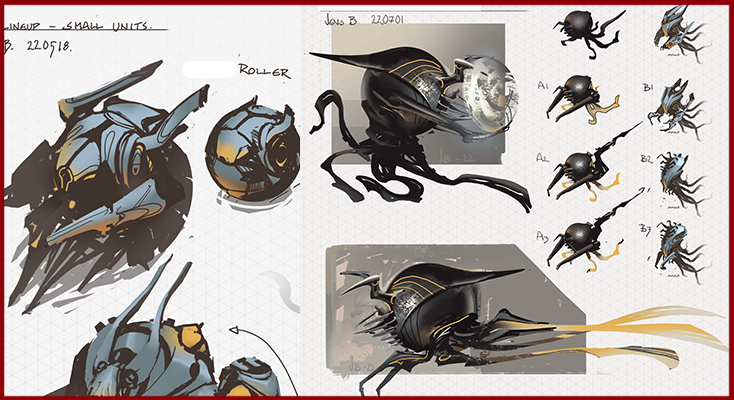 Medium unit size, fast unit speed.

Rolls on the ground towards its target, gaining speed over time.

Has extra armor while rolling.

On-hit ambushers deal burst damage, knock back enemies & bounce back to un-roll and start firing from a short range.
Xol Redeemer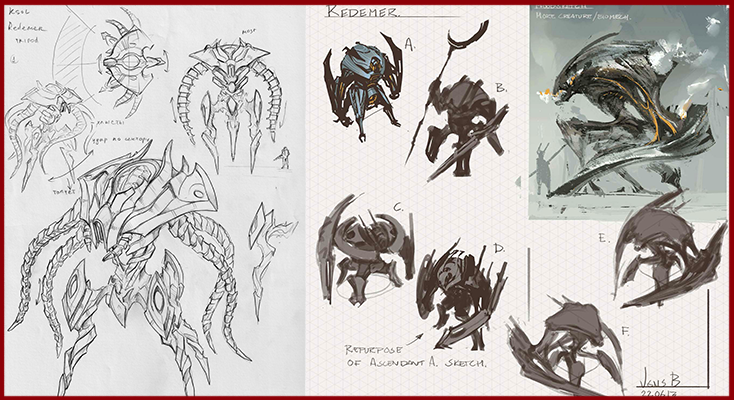 Very large, medium speed unit.

Heavy armor, 1 on 1 specialist.

Melee brawler that actively increases its attack speed per hit on the same target

We hope you enjoyed reading about some of our Xol ideas and working-concepts. We are curious about your thoughts on our ideas for mechanics, units and lore for the Xol at this stage.

Tell us what you think below! We will be giving away 10 keys to our closed Alpha in December to TL.net readers. If you would like a chance at one, just comment on this thread and fill out our short survey form.

For additional entries (optional), please consider wish-listing ZeroSpace on Steam and retweet our post leading to this very article.

It doesn't stop there! Don't tell anyone, but we're also looking to reveal our fourth playable faction in the near future.

If you're still hungry for more Xol-related content in the meanwhile, check out Grant's new video!: