Always being a Zerg enthusiast, I strongly believe that the zergling is a formidable starting unit. Being a melee unit, it has to travel to its enemy in order to inflict damage. This does not create a problem when facing the Protoss base unit, the zealot, but poses an interesting dilemma when facing the Terran marine. Luckily, there are several upgrades that can be researched that help the zergling overcome the travel distance and inflict rapid damage on the enemy marine.

But how much do these upgrades help the zergling? What sort of odds should Zerg players expect when assaulting the Terran menace? I present to you the

The Zergling/Marine Efficiency Experiment By The_Overmind_77

Objective: To measure the efficiency of the zerg base unit, the zergling, versus the terran marine as the zergling takes on various upgrades.

Procedure:
1. Determine the Zergling/Marine Ratio
First, it is necessary to decide on the number of zerglings to which we should combat the same number of marines. I first considered having same mineral value ratios (two zerglings for each marine, a fifty mineral value for each race) but then came the complication.
Under these conditions, the zerglings most often completely overwhelmed the marines with zero losses. When finding the efficiency in this condition (efficiency being number of marines killed per number of zerglings killed represented as a percent), the ratio yields a number over zero, which gives an efficiency of undefined parameters. When this ratio is received, it indicates that we need to increase the number of marines until at least one zergling is killed.
I therefore decided to use a 1:1 ratio. In combat there would be one marine present for each zergling. After a few preliminary tests this ratio was determined to be effective.

2. Determine Parameters
After finding the ratio to use, I looked to what one would find in a common Starcraft match to determine on what numbers of zerglings and marines to test. Since a person man only select twelve units at once in Starcraft, I decided that I would test up to twelve marines and twelve zerglings. Finding battles above this number in-game are rare and the presence of other units (hydralisks, lurkers, medics) would warp the results.
Since zerglings are hatched in twos, the numbers to be tested are 2-12 marines and zerglings.

In considering what upgrades to test, I will start with a test group of no upgrades and advancing up to crackling status (which means Metabolic Boost + Adrenal Glands). I will also add a special group for my own personal interest, the Burrow group, testing the effectiveness of burrow in comparison to the other groups.
Therefore we have four test groups: No upgrades, Metabolic Boost, Metabolic Boost + Adrenal Glands, and Burrow. Adrenal Glands by itself was not tested because zerglings with this upgrade but without Metabolic Boost are rarely (if at all) seen in-game.

3. Create Map
A custom UMS setting map was created to test this procedure. It would be run by triggers to prevent any human interference. Being run by triggers, however, does create several limitations which should be noted. See Things to Consider at the bottom of this post.
For groups 1-3, triggers were run to create the set number of marines and zerglings at a set distance from each other. The zerglings were given their specified upgrades. The zerglings were then set to patrol to the marine location. The number of surviving zerglings and marines were counted after the conflict was completed and the number placed in excel. All scenarios were run under fastest speed. Six trials were run and the efficiency was averaged.
For the burrowing group, I set up the zerglings to ambush the marines. They would be burrowed and then spring up from under the marines. If you create zerglings already burrowed with the triggers, however, the zerglings are all clustered on one single spot. Since this is rarely the case in actual games, I first created the zerglings unburrowed with a trigger. I manually selected and burrowed them, causing them to be in the same formation as when initially created by the trigger but not on top of each other when burrowed. Then, I set a switch to spawn the marines on top of them after I had completed this. The zerglings where then ordered, via trigger, to patrol to the location where they were created, causing them to spring up and attack the marines. The survivors would then be counted and documented in excel. Six trials were run and the efficiency was averaged.

Results:
Below is a chart of the average number of survivors per group per number of marines and zerglings. Following is a chart showing the change of efficiency. Click to enlarge!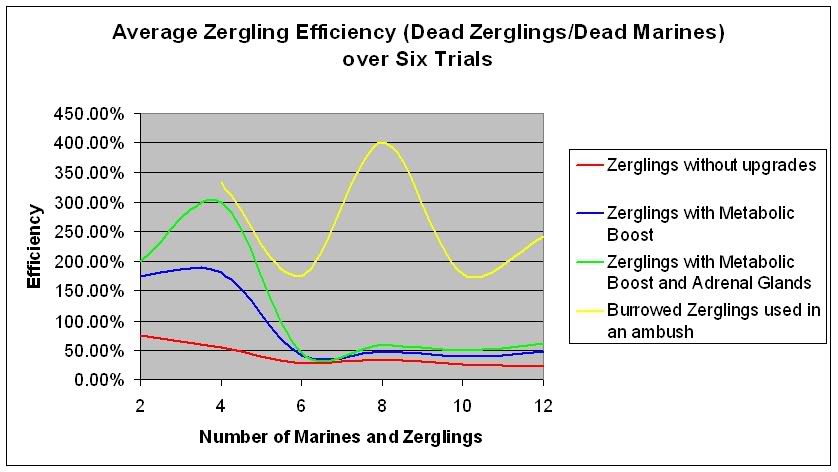 Note: The results for Burrowing with 2 marines and zerglings was not shown on the efficiency chart because it yielded the ratio of a number over zero, which is inaccurate results. This shows that the Zerg has very high (yet difficult to measure) efficiency percent for this test run.

Analysis (Interesting things to note!):

1. As a general trend, the efficiency of zerglings decreases as the number of combatants increases. This may be common sense seeing as the zerglings can only engage the marines on the outside of the cluster, but is still interesting to note.

2. Burrowing ambushes yields the highest efficiency increase from the baseline of unupgraded zerglings. At some instances, it yields over a 350% increase. It allows the zerglings to engage the marines without traveling a large distance. I never thought that burrowing was that advantageous! Of course, the limitations are that an ambush must be utilized (which isn't always the easiest thing to do).

3. Metabolic Boost provides a larger increase in efficiency than Adrenal Glands.

4. Around 6 marines to 6 zerglings, the efficiency of groups 1-3 converge to around 40%. The efficiency flatlines for these three groups after this with only a slight variation in percentages.

5. The fourth group, the Burrowing group, did not receive such a significant decrease as the number of marines decreased. The efficiency for this group varied quite widely in a dampering simple harmonic oscillator motion. I have yet to explain this.

6. When in low numbers, zerglings almost always defeat marines in efficiency.

7. Remember: If you want to get actual mineral value efficiency, multiply these values by two. This is because in the test I use a 1:1 ratio, whereas the actual mineral value ratio is two zerglings to one marine. This means that when the efficiency flatlines fro groups 1-3, it is actually stabilizing around 100%, meaning that for every 50 minerals you spend in on zerglings you are destroying approximately 50 minerals worth of marines for the Terran player.

Quick Points to Note (If you are too lazy to read through the experiment):
- Zerglings are better against marines when in small scale battles (1-6 units per team)
-A burrowing ambush provides the largest benefit to the zergling efficiency
-Metabolic boost provides the zerglings with the largest increase of the non-ability upgrades
-A Zerg will almost always kill AT LEAST the same mineral value of enemy units when engaging zerglings with non-upgraded marines across the same elevation of terrain

Things to Consider
1. The tests were run under very controlled situations. The results will of course vary under different combat formations and will further vary when additional units or intensive micro is added.
2. These tests did not include the two marine upgrades (stimpack and range upgrade). Range would most definitely change the trials of group 1-3 (not by an incredible amount, I believe, as each marine would at most only gain an additional hit) but would not affect the burrowing trial (group 4) because the zerglings are already in range at the start of combat.
3. The burrowing trial is dependent on very particular formations. However, it is important to note that when ambushed, the marines might be moving in single-file and thus this might cause a higher jump in efficiency.
4. No medics or firebats (God help the zerglings) are introduced in these cases. Enter: Lurkers!

Extended Study: Burrowing Graph:
Micronesia got me irked when he told me when he started talking about the Simple Harmonic Motion of the burrowing graph. I had used it to describe the graph's initial appearance..and he said that he doubted it continued like that.
So I decided to extend the burrowing range to 24 units on each side. I repeated the testing procedure and graphed the data.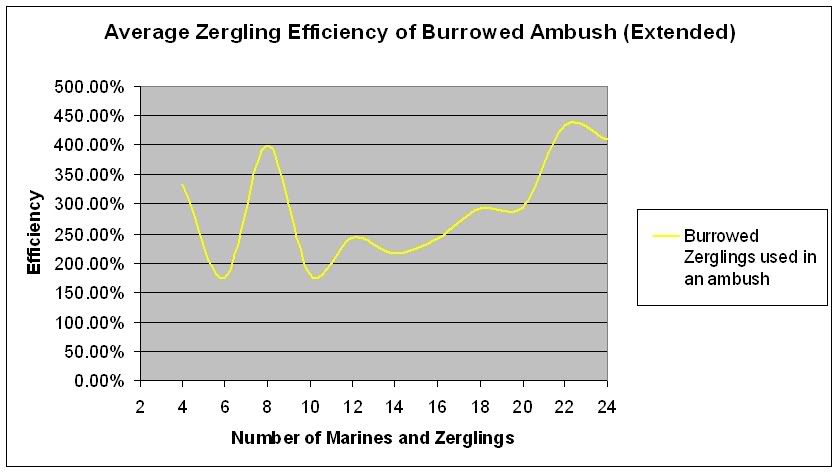 And what wacky results! It looks nothing like a dampened oscillator. The surviving zerglings varied GREATLY...but it seems that efficiency is increasing as the number of zerglings increases even though the number of marines increases as well. This is probably because the large number of zerglings cause the marines to move about when they unburrow, giving plenty of time for free hits by the zerglings. Interesting, eh?

Conclusion
Although many of you might not think that this data is worth anything, I found it very interesting to actually have hard number to crunch when viewing how zergling efficiency increases as they are upgraded in various situations.
Now why, do you ask, did I not investigate zealot combat? Well, zealot/zergling micro depends very much on formation and the surrounding of the zealots, and many of the upgrades (burrowing, metabolic boost) would not provide as much of a noticeable effect because the units are both melee. Travel time is not as much as an issue when considering just the combat (but can affect many things such as flanking, formation, etc). Obviously this would be a MONSTER to study and thus I avoided it.

Hope you enjoyed this small, nifty experiment and my results! FOR THE SWARM!