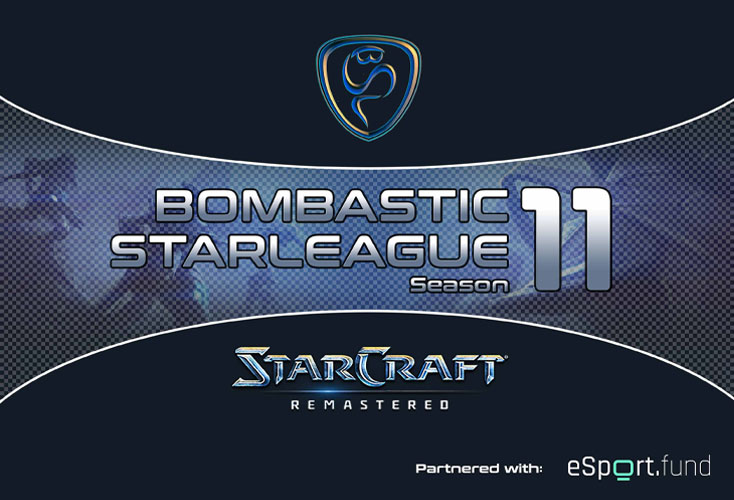 Its the homestretch for the BSL now, the Semifinals, On one side we got Avi-Love a long time veteran of the foreign scene making the deepest run hes ever had in a major tournament and keeping the Zerg hope alive going up against not just the last terran left in the tournament but also truly the best, its a tough match for both players who have strong momentum going in.

On the other side we have our reigning and defending BSL Champion Bonyth going up against the fast rising OyA, will OyA get the biggest win and the most shocking upset in the tournament or will Bonyth get another chance at glory?





Table of contents
I'll admit it – I didn't think this was gonna be one of the semi-finals. Terror being here isn't that big of a surprise – he is a frequent contender for the top 4 spots in the foreign tournament scene, but for Avi-Love, this is the first time he hits top 4 in the BSL – despite previously having played in the pro league in BSL seasons 10, 9, 8, 7, 5 and 4.
Avi is a true veteran of the scene, but one that has largely escaped the radar. It seems like a lot of players have only really noticed him in the SC:Reloaded – era, but he's playing on a high level for just about two decades. While I'm not going to state this as an absolute fact, I actually believe he is the single player that is currently part of the scene whom I lost a game against the longest time ago, I believe sometime shortly after the turn of the millenium. Avi was a competitive player in the early 2000s, and for the entire decade until SC2 put the foreign scene in a hiatus – even though he was only occasionally part of the tournament circuit. Coming back to the scene after SC:R, he has consistently been in the group of 'almost among the very top foreigners' – performing a bit worse than Eonzerg, Trutacz, Sziky and Gorynich – but the list of zerg players who have looked better than Avi for the past three years ends there.
Whether this slight radar-dodging is caused by him having a penchant for smurfing, him being very selective in terms of what tournaments to play in, or that his results from those tournaments have been a bit underwhelming seen in relation to how good he's been, is kind of besides the point – the important thing is: Now that he has reached the Ro4 in the BSL, his most impressive tournament result to date, the spotlight is his. The relevant question is – how will he perform?
In the previous round, he dispatched of Koget in a most impressive manner. Especially the game on Sylphid, where he opened with double hatchery before pool and utilized it to get a massive hydra lurker queen army, was a real joy to behold. Looking at the four games in that series, we saw hydra lurker queen twice, hydra fake into mass muta into everything - and one two hatch defiler that escaped the mid game phase, turning into a real nailbiter. Basically, not even one instance of a more commonly seen 2 or 3 hatch mutalisk opening, even though the latency permitted for it.
If you haven't watched the series, I would recommend giving it a go even if you know the result.
That series was one where Avi emerged victorious from the mind games-aspect – but also one where he showcased strong macro and a wide variety of openings and strategic decisions. His two hatch muta micro might not be on the same level as the zerg players mentioned above, but his ability to churn out a good amount of drones – followed up by a massive amount of units and excellent army control – is as good as any. Additionally, he played a genuinely unpredictable style of play, mixing his impressive macro play with big ling floods, a committed two hatch defiler, and even queens.
Now, he's up against Terror. The Peruvian terran has been on a tear as of late – showing fantastic TvP and TvT skills. So far in this BSL, he won his ro24 group beating Ultra and Boa, won his ro16 group beating Dandy and Koget, before he beat Boa again in the ro8. Additionally, he recently beat Dewalt 5-0 in the best of the best tournament – a shocking result – Dewalt had a 26-4 record going into that series. Looking at this, Terror seems to be in the shape of his life. While he's been a regular in the bracket stage of the BSL, this is only his third semi-final, and his best result was all the way back in BSL3 where he got runner up – but this was a smaller tournament with a different format. Since then, he also got third place in BSL season 9, a result he'll surely be hoping to improve upon now.
While the results I just listed from Terror are certainly impressive, all the players he beat share one common trait: They are not zerg players. Terror mentioned as much in the interview after he beat Boa last weekend – while he's on a hot streak, his TvZ might be his weaker matchup. While Terror is a fairly complete Terran player, who can utilize a wide variety of builds, he does tend to stray from going pure SK – Terror virtually always adds a machine shop to his factory, and he might even build more than one. He's also willing to mix it up with proxy raxes (and factories), but is also comfortable opening command centre first. 1-1-1 builds are also a big part of his repertoire.
I expect him to have watched the Avi-Love vs Koget games, and to have adjusted based on what he did see. One thing we need to factor in, is that the turn rate of this game will be lower than what we saw for Avi vs Koget. This has some real consequences for how the players are likely to approach the games. Comparing turn rate 20+ with turn rate 12 (which is likely the highest they can play smoothly), certain strategies might fall in or out of fashion, and it might influence the mind game between the two. For example, two hatch mutalisk builds are generally worse. Vultures – even with speed - cannot reliably beat speedlings. Hydra lurker generally becomes stronger while muta/ling is weaker.
Consequently, going more tank heavy becomes a better option, and as Zerg might skip spire, drops become stronger, too. Both these players are also aware of how lag impacts their play – Avi will know that speedlings counter vultures in tr12, but Terror will know that Avi knows that speedlings counter vultures in tr12. Thus, if Terror does open vulture, don't be surprised to see him also make an improvised wallin with a bunker.
While Avi opened double hatch before pool twice vs Koget, without getting punished in either game, I'm not sure we see such shenanigans against Terror, and I feel that if we do, it will be a bigger gamble than it was against Koget.
These players have faced off multiple times before. In the BSL, Terror has generally had Avi's number, but I've seen Avi beat him handily on a couple occasions, too. My own experience is that Terror is very good at playing against the hydra lurker style Avi employed against Koget – he expertly uses dropships to pull the Zerg's army out of position, which allows his own tank-heavy force to get into position. However, he might be a bit less polished when fighting muta ling into fast ultralisk – but again, that strategy is also genuinely harder to execute against Terror because of the lowered turn rate.
My prediction is that we see a wide variety of openings here, too. Both Terror and Avi might open with an aggressive build – pool before hatchery or barrack before supply depot. But while Avi's openings ended up countering Koget's builds in a great manner – whether by fluke or by design – I don't think he'll get in equally advantageous positions against Terror. I think Terror will win the series, particularly on the back of strong attacks in conjunction with dropship harassment. However, I do expect it to be close – Avi makes very smart decisions and tends to find himself in excellent shape entering the mid game, and he is a particularly dangerous opponent because he makes it very difficult to determine whether you're getting allined or whether he's massing drones.
Final prediction: 3-2 for
Terror!
Last week, I argued that this was going to be the year of Dewalt. I thought I had sensed some previously unseen chink in Bonyth's armor, and I thought Dewalt had been looking exceptionally strong, for a long period of time. While it is possible that Dewalt was having an off day (the way he lost the third game of the series, where he had a significant build order advantage, only to lose because Bonyth's control proved far superior, was uncharacteristic of him), there's no point in detracting from Bonyth's win.
The Bonyth we saw last week was the same Bonyth we've seen win the previous three editions of the BSL, and he's looking poised to extend that series.
While Oya is in strong contention for most improved player since the release of SC:R, I don't picture this ending well for him. Speaking of his trajectory though, watch this development: The first edition of BSL he played in, was BSL7. He didn't qualify for proleague, but he won Gosuleague. BSL8 – he's in pro league, but loses in the ro24. BSL9 – he makes the ro8. BSL10 – he gets fourth place. Now we're in BSL11, and being Swedish, Oya is not one to aim for flattening the curve.
However, I think this time around, he's more likely to achieve the steady rate of improvement through winning the third place match than he is at making top two.
Again - this isn't the first preview featuring Bonyth playing a PvP in BSL – let us just look at their records: Bonyth is 10-1 in PvP series in the BSL, 25-5 in individual matches. Oya is 5-4 in PvP series (although a more impressive 13-7 in individual matches). To be fair to Oya, the two did face off in BSL10, and while Bonyth won their bo3 series, Oya did take one game. Oya has been on a steady upward trajectory for the longest time now, and there are moments of the game where he's Bonyth's equal. Turn it into a very frantic game with multiple simultaneous battles occurring, and Oya can come out ahead of those exchanges. I think if you look strictly at their respective multitasking abilities, Oya is superior. But in smaller PvP engagements, Bonyth has proven time and time again that he is the foreign champion. This is such a central element of the PvP matchup that it's hard not to see it be decisive overall.
Don't get me wrong here. Oya has excellent micro, and on occasion, he can win an equal fight. Oya's place as the third best foreign protoss is about as cemented as Bonyth and Dewalt being the top two is. Oya isn't drawing dead, I expect the games to be good, and I expect there to be points of the games where it looks like Oya might be pulling away with a win. But I also expect Bonyth to show just why he is the champion.
Final prediction:
Bonyth takes it 3-1!
---