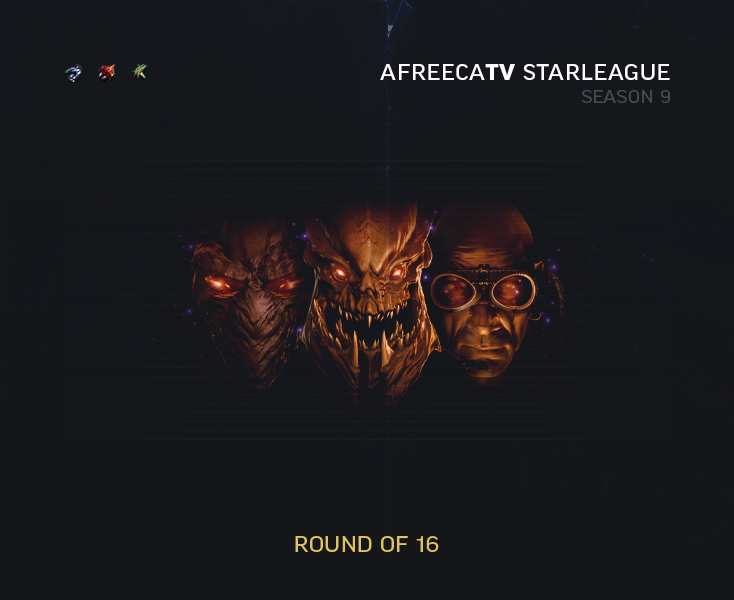 After a fairly underwhelming Ro24 where our only real enjoyment came from crazy upsets, the Ro16 has delivered so far. Flash decided to speedrun his group, and the relative inexperience of BarrackS made Group A probably the shortest all Terran group of all time. Luckily, we got some great games from Light vs Mong as well as a few masterclass games to study from Flash.

Group B, on the other hand, was anything but predictable, and the overall skill level of the games turned things up a notch. As predicted, my boy Stork made it out in first with Larva quick on his heels, but it was the journey that was the real experience. This week, guest writer Kwark wrote a wonderful recap of the group including an analysis of the strategic genius that allowed Stork to overpower his clearly more skilled opponents. And, of course, the final game is one for the ages.

For this coming week, we have a mostly Zerg group with plenty of ZvZs and the "Group of Death", so things can get pretty volatile. I don't envy the writers who had to predict how things would go this week. In any case, we're looking forward to the end result, and with the high caliber of players across the board this week, here's hoping to some classics we can talk about for tournaments to come!



Table of contents

Group B Recap
First Match - Stork vs Snow
As Stork's probe left Snow's base in anticipation of the first dragoon, Snow immediately cancelled range and threw down a robo while Stork got his robo at the normal timing after his second goon had started.
Stork opted to delay shuttle and reaver while using his robo for a quick observer and spent his money on a second gateway to increase goon production. He could go back into reaver once he had no more teching costs and two gates up and running. In the meantime, Snow was continuing his reaver rush and loaded up two zealots in his shuttle while delaying goon range until 5:20.
Stork's first observer crossed the short distance between their bases and arrived in time to see the reaver loaded into a shuttle, which allowed him to move dragoons into position and bring the shuttle down to 6hp. Unfortunately, it lived due to one dragoon's micro failure. This left Snow in the unenviable position of having a shuttle too fragile to use, an army with a significantly lower dragoon count (no range) and some zealots, and no real control. With Snow's hand shown, Stork promptly started a reaver of his own and expanded, which forced Snow to play from a deficit or push into Stork's larger army.
Snow pushed with 3 dragoons, 2 zealots, and a reaver in a 6hp shuttle and found 8 dragoons and 2 reavers waiting for him. His only edge, the ability to micro his reaver with a shuttle, was taken from him when Stork just killed the shuttle. When the dust settled, Stork was 16 supply ahead with two gateways and a pair of reavers in a shuttle to Snow's single gateway and lone reaver. Stork then just killed Snow.
The Verdict: 2/10
Would not recommend the game. Snow's reaver rush was cool in 2002 when you got close spawns on Lost Temple...but Stork showed us all why we don't do that anymore.
Second Match - Bingsu vs Larva
This game couldn't have opened in a more standard pattern. Very normal FFE against very normal overpool 3-base lair. Bingsu opted for a quick +1 and telegraphed speedlot play, which only pushed Larva towards his preferred heavy droning into muta style—a good counter to +1 speedlot aggression. Larva's five hatches kept pumping a ridiculous number of drones and pushed back the speedlots with just five muta.
Larva's five muta were enough to snipe a handful of probes and a high templar from Bingsu's base, but more importantly, they forced gas to be expended making corsairs. Meanwhile Larva, on six hatches and more drones than probes, just made hydralisks. Larva dodged storms competently, kept getting value from his remaining muta, and rolled Bingsu with hydra and lurker.
The Verdict: 5/10
Worth watching if you're studying ZvP builds. Bingsu only really ventured out onto the map once, and he gave Larva 168 seconds warning before he did it. Larva knew how to beat Bingsu's opener and did so cleanly without ceremony.
Winners Match - Stork vs Larva
Game 1
Stork did a cool 11 nexus/11 forge opener without scouting, and Larva did a 9 pool into 2 lings and mass drones, which was also pretty cool. By five minutes in, we were at pretty standard openers too with the exception of Larva skipping spire for faster 6 hatch hydra.
Stork went for a heavy two base mass army play while Larva played defensively, massing hydras and pressuring through expansion by taking a close 4th. Larva put some light pressure on Stork's nat and was rewarded by a trio of lurkers catching Stork's zealots in a bad spot and wiping them out. Immediately after, he pulled back. This demonstrated very clear vision by Larva. With Stork still on two bases and Larva with a strong economy, he had effectively forced Stork to all-in. If Stork attacked, he just needed to catch Stork's army in the middle of the map. If Stork defended and tried to expand, then he would win by virtue of his stronger economy.
Stork chose to take a third, but Larva's economy was sufficiently far ahead that with some well executed fights via excellent storm dodging and observer sniping Larva could trade efficiently and replace more effectively. In the end, Stork was forced to tap out.
The Verdict: 7/10
Less of a beatdown than Larva vs Bingsu but still Larva outclassing his opponent. Larva took essentially no risks throughout. Stork's moves were deflected with minimal exertion, and Larva picked up small edges by picking off what he could for 12 minutes. Stork kept trying to find an opening to exploit, but Larva gave him nothing to work with. It wasn't that Stork had no initiative, it's that his efforts just weren't getting rewarded the way they would against a worse player. Eventually Stork realized that he hadn't gotten enough done to win with a 2 base push, and by then it was too late. Another good game to study.
Game 2
Don't read this right now, just go watch the game.
The game started pretty normally. Stork opened 2 base into sair then storm for a push while Larva opted for his starting 3 bases into spire followed by a hidden 4th base at the other main. Stork contested air control with +1 sairs, but Larva's four gas let him quickly establish air control with mutas and scourge to keep Stork's sair count from hitting a critical mass.
Stork refused to commit to 2-stargate sair because he was also rushing a quick psi storm for a 2-base gateway push through the eggs. Unfortunately for him, without air control, his push through the Disruption Web didn't achieve its aims. Larva stopped it with mutas and forced Stork to use the storms to help the corsairs survive rather than on the eggs.
At this point Stork had basically lost. All he had going for him was an army he couldn't really use. He'd twice attempted to take his second natural but been shut down by muta. Every attempt to push was met by a counterattack at his natural by Larva's mutas. And then the game got weird….
Fortunately for Stork, Larva had killed the buildings between him and the centre and killed almost all of the buildings between Stork and the centre. And so, as Larva's mutalisk plus some zerglings picked off Stork's only expansion, Stork suddenly realized he had an open path to allin Larva's main. Larva's muta took more damage than they should have from a psi storm and then wasted essential seconds killing zealots when they should have been killing a morphing archon. A good archon hit on the muta and the sacrifice of Stork's corsairs and suddenly Stork's remaining forces had Larva's main and one of his naturals destroyed.
The next 10 minutes were nuts. Larva tried to get as much value as possible from what was essentially 2-hatch muta while Stork tried to minimize casualties and hold onto at least one mining base. It was a little throwy with the absence of a dark archon and some very questionable templar positioning, and Larva dismantled him hard with the muta despite having basically nothing else.
But then Stork sniped Larva's spire and earned himself a brief respite while Larva teched to lair again. This gave Stork enough time to snipe a key expansion of Larva's with an archon drop. Larva responded by trying to trade that expansion for Stork's only mining base in the middle of the map. Unfortunately, that's where all of Stork's army and cannons were. Before the attack, Larva was ahead on mining bases and supply, but rather than wait for Stork to mine out he went all-in. The result was Larva losing half of his supply to Stork losing a tenth of his (and all his cannons which were no longer needed because all the mutas died in the attack).
With Larva's army and mutas gone, Stork snuck a hidden expansion at what used to be Larva's old natural and pulled ahead to twice Larva's supply. Not realizing how far ahead he was, he allowed Larva to take what used to be his natural before everything stopped making sense which gave Larva the illusion of a win condition but Larva couldn't kill Stork's expansion after all his army got thrown away for nothing, and Stork eventually realized he had enough to just walk all over Larva.
The Verdict: 10/10
Super throwy but super entertaining. Larva looks extremely strong when he's macroing, microing, and just playing out games he's played a million times before, but in this game everything went weird and he made some bad decisions. Larva's plan, to block a ground push and dismantle Stork with 4 gas muta scourge, worked absolutely perfectly until stuff got weird and then Stork's 16 YEARS! of progaming kicked in, and he just made better decisions. I don't think Stork beats Larva most of the time in a normal game, but this wasn't normal.
Game 3
Stork scouted 5 hatch hydra without spire and went for 5-gate speedlot in response. A critical moment of improvisation came at 8:30 when Larva went for hydra pressure at Stork's natural. Normally Stork would have speedlots clustered behind cannons, one to two templar with storm, and would have to place a lot of cannons to prevent the hydras from simply dodging the storms and killing the speedlots as they tried to defend the choke. Instead, Stork hid a group of speedlots on the map and left his natural defended by the implication that the speedlots were there, which allowed him to skip critical cannons.
Larva prepared to threaten Stork's natural and was surprised to find 8 speedlots running into his own natural. I'm reasonably sure that if Larva opted to attack Stork's natural, which only had 2 cannons (3rd building) and which could not be defended by speedlots effectively due to the blocking buildings, he would win the game immediately (unless he completely refused to micro against storm). Stork just didn't have enough ht with energy to resist a hydra bust, all his minerals that should have been cannons were in speedlots and a good number of those were on the other side of the map. But Larva was caught off guard and wasn't sure how much was attacking him or where they came from, so he didn't pull the trigger. The eight zealots were easily cleaned up by the newly produced hydralisks Larva had at home and only killed six drones, but the momentum of Larva's build was completely lost. Stork's high templar were building up energy and Stork had successfully defended a 5 hat hydra bust timing with the loss of a net 500 mineral trade.
Stork threw away his corsairs without getting much in return, and Larva responded with nine mutas to exploit the lack of cannons at Stork's main.
With the main completely shut down, Stork responded by just going all-in. He outmaneuvered Larva's hydralisks and forced the mutas to come back and snipe ht before Larva's hydralisks could engage. Two of the four templar were picked off, but Stork was already in Larva's mineral only base. He sat atop Larva's hatcheries and killed whatever hatched while Larva's hydralisks forced to attack down a choke. Larva pulled his muta back rather than trading them for the other two 2 hts, and was punished with four absolutely devastating psi storms. The mutalisks completely shut down all of Stork's mining, but Larva's hydralisk ball was lost to the storms, and the hatcheries to replace them had fallen. Stork's army rolled Larva.
The Verdict: 9/10
Really interesting from a tactical perspective. Larva consistently had the right stuff to beat Stork, his macro was on point, his overarching strategy was correct, and his micro was excellent as always. But Stork's units were never where he expected them to be and Stork's choices (no air defence, no defence against hydra bust, too many gateways) caught him off guard repeatedly.
His 5 hat hydra bust was about to be devastating when he was caught off guard by 8 zealots which, although easily cleaned up, completely threw him off his timing. He recovered to a plan of picking off the high templar and rolling Stork with mass hydra only to find that Stork had skimped all defense against muta and was charging across the map for an allin. There just wasn't time to snipe the ht and dodge the storms. Stork's zealots were already on his hatcheries, and the hydralisks had to commit in the worst possible way. Larva is an amazing player and played his way into a textbook win twice this game. He was frustrated both times because Stork's tactical execution completely threw him off of his game. A really good example of how to beat a better player than you with tactical choices.
Losers Match - Snow vs Bingsu
Game 1
Pretty clean game, but Snow gained a slight build order advantage and made better use out of his shuttles. Bingsu tried harass with a slow shuttle and overstayed, eventually losing shuttle and reaver to dragoons for just 6 probe kills. Slow shuttles can't really do much. Ahead by a reaver and a shuttle, Snow was able to just walk into Bingsu's natural and trade efficiently.
Bingsu critically missed a Snow speed shuttle flying over obs and lost his chance to snipe it to regain the advantage. Instead, he let Snow inflict more damage upon him. But they were still in pretty even positions when Bingsu tried another shuttle play of his own and immediately lost his reaver to a shot from each of Snow's two reavers. With both players on dragoon/reaver armies and Snow 2 reavers and 2 shuttles ahead, the only thing Bingsu had going for him was the extremely defensible choke point. Snow realized Bingsu's army was out of position and shoved his dragoons and reavers through the choke, ending the game.
The Verdict: 3/10
Bit of a beatdown. Not as bad as Larva vs Bingsu but Bingsu just looked worse throughout.
Game 2
Bingsu blocked Snow's scouting probe and then went for 3-gate observer to hit Snow with a timing attack. He then let a scout probe hidden behind his natural minerals see everything as he moved his dragoons out for no reason. Snow responded by playing safe with 2 gate goon into reaver expand and skipping obs because he'd seen everything Bingus had. A 3 gate dragoon timing attack doesn't work too well when the opponent hard counters it. So Snow won.
The Verdict: 2/10
If you're going for a build order win, then it's important not to let the opponent see what your build order is.
Final Match - Larva vs Snow
Game 1
Normal openings led to 5 hatch spire against speedlots and +1 sairs. Larva opted for a flock of mutas and a lot of scourge with the hope of bullying the corsairs out of the sky so he could pick off any templar before a hydra switch. Unlike the Stork game on Polypoid, Snow identified that a 2-base push wasn't about to break through for the win and opted for a fairly quick mineral only 3rd with his corsairs shadow boxing the mutalisks to keep his templar safe.
Larva poked Snow's third a few times with hydra but wasn't able to get much done, and despite taking his own mineral only base in response, found himself just one base and one gas ahead and significantly behind on supply. Snow ran speedlots and corsairs around the map looking to cap Larva's counter-expansions and limiting Larva's overlord and speedling vision. He then quickly took a fourth gas of his own.
Larva continued to pressure Snow's mineral only third with hydra/lurker, despite Snow's whole army backing up the cannons there, and Snow's fourth base got established completely for free without Larva even scouting it. By the time Larva sent a zergling to investigate, Snow already had cannons up and was in a fairly commanding position for the late game.
Larva used cracklings and upgraded hydralisks to pull Snow around the map effectively and slow down Snow's deathball. Additionally, Larva prevented Snow from establishing his fifth base on the high ground before Snow could get the infrastructure up to defend it with high templar and forced Snow into a cost inefficient fight to try and reclaim it. With the loss of Snow's fifth and his army, the supply looked slightly in favor of the Zerg, but Larva hadn't invested in expanding behind his aggression.
Both players took and defended symmetrical fifth bases with gas, but with Larva's main and nat mining out, Snow had the stronger economy and map control started swinging back toward him. Snow was unable to inflict much damage upon Larva, but Larva in turn wasn't able to slow down Snow's economic growth (including a crucial failure to snipe Snow's fifth nexus which left it with just 72 HP).
For the next ten minutes, they both threw everything they had at each other in a beautiful micro/macro war with each wave of reinforcements from each side wiping out the survivors of the previous wave before being wiped out in turn. Neither side was routed. Some amazing storms kept the cracklings from killing everything while hydralisks, lurkers, defilers, and cracklings overran every Protoss push. But PvZ is a gas game, and with even gas, the Protoss army composition has sufficient archons and high templar to defeat hydras, lurkers, and cracklings. Larva traded effectively over and over until, without warning, Snow's army was too much and broke him.
The Verdict: 9/10
9/10 game, this was nearly the perfect PvZ. Larva spent the first part of today looking absolutely unstoppable in a straight up game until Snow held his nerve and stopped him. Snow's army was an immovable object to Larva's unstoppable force, not overrunning him but also refusing to give ground. Perhaps the game would have been different had Larva realized he needed to expand to stay in the game earlier but it's absolutely reasonable that Larva thought it would never get to that point because why would it, Snow shouldn't have been able to hold. Had it not been for the unscouted quick 4th I doubt Snow would have been able to but that third gas gave him so many more ht to outlast the waves of hydralisks and cracklings. Watch this as a guide to PvZ, apparently all you need to do to beat Larva is secure your bases, macro perfectly, cast amazing storms constantly, and suppress his expansions.
Game 2
Very standard openers from both sides, FFE vs 3 hatch spire into 6 hatch hydra. Larva contested air with mutas and scourge again and then used hydra/lurker to delay Snow's mineral only base. The game progressed very similarly to Game 1 until Snow's attempt to follow up his mineral only with a quick 4th base and pull Larva into a meat grinder at his 3rd failed. Larva used speedlings to deny Snow's fourth base, then again with mutalisks, then again with hydralisks.
Snow's limited gas was split between dragoons, observers, corsairs, and high templar, and his unit composition leaned heavily into speedlots. With his high templar picked off by mutalisks, Snow was forced back by lurkers. He continued to macro amazingly and pushed Larva back over and over, but without a third gas, there simply weren't enough templar to storm down the hydralisks, the lurkers, and the cracklings.
The Verdict: 7/10
Snow played excellently, and it just didn't matter because Larva is really, really good at ZvP. If Larva's opponent isn't given a third gas for free, he will smash faces in with hydralisks and lurkers. I'm probably biased giving Game 1 a better rating than Game 2 given they were basically the same game except an unforced Zerg error made Game 1 go on for much longer and result in Protoss winning...but Game 1 was just really cool to watch.
Game 3
Larva channeled his inner OctZerg and did a three hatch speedling all-in. Sometimes when you only have one cannon, you lose to a speedling all-in. It's just one of those things.
The Verdict: 1/10
Skip it, the description is enough. Full credit to Larva for winning, but it's not an interesting game to watch.

The Hivemind and the Brain
It's a good old fashioned "brood war" in this group, with the three Zergs Soulkey, Soma and Action vying to make that Ro8 spot. Only the solo Protoss player Brain (Sea.KH) can break the monotony of ZvZ, but will these very strong and hungry Zerg players eat him alive, or will he be the one to stand first among them?
Sponmatch-wise Soulkey, Soma, and Action have not been playing much ZvZ, but that shouldn't be surprising when the three of them are in the same group. If you narrow the number of Zerg practice partners on their level, it's just Larva and ZerO. But Larva chose something else, and ZerO has his own "harder to prepare for" group.
This, of course, put them in a position to play each other instead (or at least Soma and Action, which ended up being 3-0 for Soma). Meanwhile, Soulkey opted to play vs Hyuk with middling results (4 wins and 3 losses), It's not much, but it does put the ZvZ advantage among all three zergs towards Soma, which isn't surprising. Soma is one of the most best looking Zergs in the ASL right now and most likely to go the furthest.
Soulkey does have a lot of heart this season, though, and my personal bias says he's going to advance even if the data doesn't back it up. His opening match vs Soma is really going to dictate his positioning in the group. After all, it's a Bo1 and the map is known in advance, but Soulkey is all too familiar with having his ASL dreams dashed because of ZvZ.
Action is probably glad that he's opening up against Sea.KH and avoiding ZvZ right away. While his PvZ results don't look good, all his losses were to Bisu, Stork and Snow (and at least he has some wins against Snow). I would venture to say Horizon Lunar Colony looks good for him. If he advances, a match against Soma puts him at a disadvantage, but a match against Soulkey puts him in the advantage.
The wildcard of the group Sea.KH (or Brain, I guess...he's not known enough that we can actually decide if we want to change the name) is probably the one to throw any prediction off with how he comes at the group. Having to prepare for only one matchup is great, and he's really shown it too by playing loads of games against Larva with a miraculous record of 15-12 at the time of writing. But does that measure up to something going into a studio setting? The other three players, for the most part, translate their play from home to studio about the same overall. I would not be surprised if Sea.KH throws off the group, but I suspect the other Zergs may be too much.
With us getting so many ZvZ games this group, I can only hope we get some late game ZvZ hive tech stuff. That definitely would put Soulkey at an advantage considering his history in that stage of the matchup, and it's exciting to see stuff we rarely ever get to see, especially something that is absolutely mental when it happens.
My head says Action should beat Soulkey since he basically always chokes in this situation (like he did against Sacsri last season), but I don't want to be right. I'm going with my heart on this.
Action
>
Sea.KH
Soma
>
Soulkey
Action
<
Soma
Sea.KH
<
Soulkey
Action
<
Soulkey
Soma and
Soulkey to advance to Ro8!

Battle of the Titans
Defining a group of death is somewhat tricky. Usually we use the label when there are more players that are expected to go far in a tournament than there are qualifying spots for. A quick glance at the names in Group D certainly tempts us to do so, but those players have specifics to consider that complicate matters further. Add in the ever-increasing upset rate, and the excitement grows way beyond the four big names in the group.
Sharp got a seed in the Ro16 after winning the wildcard qualifier but somehow ended up as the underdog in the group, at least on paper. His best matchup is TvT, which won't help him here. His TvZ has historically suffered, and while his TvP has earned praise recently, he still struggles against most top Protoss players. Best, however, is a notable exception. Sharp has one of the best win ratios among all Terran players against him with a 5-5 score in 2020 sponmatches. Statistically, his prospects don't look good against Bisu and ZerO.
Best had to fight his way from the qualifiers, as always. His tendency to look very promising but never really deliver is slowly turning into a rule, and we have yet to see any reason he might do better this time around. Largely known for his monstrous PvT, he rarely gets to play against Terrans offline, and even when he does, he manages to flop like in ASL7 versus Mind. Now he got paired with a somewhat uncomfortable opponent in his best matchup. As for PvZ, this is where Best has had trouble historically. His End of the World Bo9 matches against some of the top Zergs showcased very significant improvement in that regard (not to mention superb style), yet he barely breaks even with a 25-25 score in March. He also has had less than stellar results in mirrors, especially offline. Bisu, on the other hand, is widely regarded as one of the top PvP players of all time. All in all, Best is in a tough spot.
ZerO is the most interesting and confusing player to analyze, not just in the group, but possibly in the whole scene. Since he came back from the military more than a year ago, he's been steadily rising through the ranks and now vies for the top spot in spongame rankings with Flash. His win rates in March are insane across the board: 80% versus Protoss and 70.5% against Terran. Online, he's been tearing pretty much everybody apart, won the CMSL2, and was a menace for quite some time even before he rose to the absolute top. On paper, he's the group's absolute favorite...if it weren't for his tendency to choke in offline matches. He had trouble all the way until KSL4 and didn't even qualify for ASL8. His Top 4 finish in KSL4 was indeed a breakthrough, but he still looked somewhat shaky against Rush in his Ro24 games fairly recently.
Last but most definitely not least comes Protoss legend Bisu in his first offline tournament after returning from the military. He did appear rusty at first but has regained form surprisingly quickly after playing an outrageous amount of games against all the top players. Now he is now poised to qualify for the elimination bracket. Statistically, he's alright against both Terran (55%) and Zerg (61%). Mirrors comprise a small part of sponsored matches, but he's yet to lose a PvP game in March. Besides his legendary micro and multitasking, he's upgraded his arsenal considerably too. Most recently, he showcased a one-base build against Soma in the KCM Race Wars—if you haven't watched that game, go watch it. Seriously. All in all, if we go by the numbers to assess current form, Bisu appears to be a decent bet for making it out of the group.
I'd go safe on this one and avoid betting against the numbers (and Best's tendency to underperform), but it is a group of death after all. Whatever happens, it'll sure as hell be a great watch.
Sharp
>
Best
ZerO
>
Bisu
ZerO
>
Sharp
Bisu
>
Best
Bisu
>
Sharp
ZerO and
Bisu advance to the Ro8!
---