3 groups down, 3 more to go! ASL6 has already kicked off to a great start with some players showing great games, while others have unfortunately played a little subpar. Alas, good and bad days, it happens. Group A saw both Jaedong and Sea advance, with an interesting game to close out the series. In the same vein, group B had Shine and Shuttle, but not before Miso almost knocked out Shuttle in the finals' match. As for group C, well, the two favourites in Best and Mind advanced which is not surprising, but some blunders were showcased in the matches. Please read the recaps of Group A, B and C by Ty2, Bigfan, and Bisudagger respectively for more details.

Moving on, Group D features EffOrt, Action, Mong and Stork which should be an interesting mix for all. Group E features Last, Soulkey, Rush and Calm, an all Terran and Zerg group! Finally, group F features the specialists, Light, Sharp, GuemChi, and the lone amateur, yerim2. BLinD-RawR has previewed the groups for us so make sure to read them!

With Group D set to start in , it's time for all the players to lay it down on the line for a chance to advance to the Ro16 and join the group selection ceremony. Let's get hypeddddddd!!!!!!!!!!!!

Medium Highs, Really Low Lows
Sea vs. Horang2 on Sylphide:
Sea does a proxy BBS in the center of the map while Horang2 does a gateway expand before gas. Horang2, relying solely on his first zealot to scout Sea, doesn't see the 5 marines headed his way. Before long, Horang2's single defending zealot and probes are ravaged to claim a quick victory for Sea. Sea's choice of a rush build was done to abuse Horang2's habit of scouting late.
Jaedong vs. Killer on Sylphide:
Jaedong opts for a 9 pool lair first versus Killer's 12 hatch. Jaedong's first 6 attacking lings take a bad engagement, stopping all aggression on Killer. Jaedong, now slightly behind retreats to his choke point and waits until mutas for his next move. Mutas now out, Jaedong smells blood in the water. He makes several more lings to attack Killer's natural. Killer, unable to scout whether Jaedong is expanding or not, is armed with only a few more lings than Jaedong. In the game deciding engagement, Jaedong's mutas whip in and out of spore colony range to damage Killer's lings to gain the edge in the ling battle. Killer GGs.
Jaedong vs. Sea on Autobahn:
Jaedong in his game on Autobahn prepares a strategy that fully utilizes the stacked backdoor generators.
Jaedong opens 3 hatch muta while Sea opens with 2 rax after expand. In the early stages, Jaedong picks off one of the stacked generators with his speedlings, an apparently inconsequential move. However, his moves are quickly realized to be a part of a much larger, intricate plan. He expands to the bottom left, the corner base connected to Sea's backdoor. Meanwhile, Jaedong's muta harass keeps Sea chained to his base. Sea eventually moves out to harass Jaedong's third, but lurkers are already in position to defend.
Jaedong's next move is a stroke of brilliance, moving lurkers and lings through the path now cleared of generators. Sea is quickly found out of position, taking a horrendous engagement versus the numerous lurker spines.
Sea retaliates, sending his units down to the bottom left. In spite of Sea's best attempts, the all too privy Jaedong has defilers with dark swarm to halt the push.
The final act of the game is a harmonious melody of Te- defiler pushing his natural, shutting down mining at his 3rd, all while brushing off his attacks. Sea GGs.
Killer vs. Horang2 on Autobahn:
The fast expanding Horang2 sets off a pang of frustration for Killer, killing a drone with his scouting probe. To make matters worse, Horang2's first zealot kills another drone. The angst only appears to mount as Horang2's zealots before dying see Killer's alarmingly fast hydras. However, the move is a fake-out, prompting Horang2 to overmake cannons. Horang2 in a stagnant position vies for an early storm drop to abuse Killer's lack of a spire. Heading to Killer's base, tragedy strikes - corsairs die in the process of flying directly over Killer's hydras. The fumble is a massive setback, not redeemed by an even more disappointing storm drop.
Horang2's control looking worse for wear finds his feeble army razed by Killer's overwhelming numbers. Not long after, his third is no more along with Horang2's chances of advancing. Better luck next time, Tiger Toss.
Killer vs. Sea on Circuit Breaker:
Killer opts for 3 hatch muta as Sea goes +1 4 rax, making double starports for science vessels. Sea's hopes of a strong midgame are dashed as his marines are incredibly outmicroed and savaged by Killer's mutalisks. In the lead, Killer feels confident enough to expand to 3 bases at once. Taking the bottom right, top left, and 6 O'Clock, Killer's greed knows no bounds. Making a fast +1 carapace instead of hive, Killer's choice of upgraded lings further compliments his mutaling army. Later, Killer's crackling upgrade lets him defeat Sea's marine medic armies in a head-on fight.
Going straight for ultras instead of lurkers, Killer's mobile army engulfs several of Sea's bio armies. Eventually, one move-out gives Sea a glimmer of hope. Killer's awry decision making leads him to attack Sea's 3rd, but as a result Killer loses his natural. Despite the setback, Killer kills Sea's stranded army and is still in the lead with 4 bases.
Unfortunately, the game descends into poor decision after poor decision. Killer in his haste and complacency neglects making defilers and takes losing engagements of pure ultraling vs. marine medic. Even though Killer has killed at least 20 science vessels, Sea stands strong. The game breaking move is Sea's push to Killer's bottom right. Killer frantically makes the switch to defilers, but all is too late. Sea's pressure eventually destroys Killer's most precious base. Killer, neglecting to make anymore drones, and with very few remaining units, concedes. An incredibly sloppy game, the once far ahead Killer manages to squander his advantage in spectacular fashion.
Tale as old as time....true as it can be....no defiler friends...ultras dead as can be
Jaedong
and
Sea
advanced to the Ro16!
Off by a Long Shot
Group B promised to be an interesting group with KangTaeWan, aka ByuL making his first appearance in ASL with other expros such as Shuttle, Miso and Shine. Alas, his debut was anything, but a stark reminder of the gaping hole between an expro and an amateur.
Game 1: Shuttle vs ByuL on Sylphid:
The first game of the day showed Shuttle going for a proxy early gate in the center of Slyphid while ByuL opened up with a rax then added a fac. The first zealot from Shuttle doesn't do much damage due to some sick micro from ByuL, however future zealots killed a lot of workers allowing Shuttle to take a nice eco lead. From there, Shuttle went for an attack as ByuL was expanding and killed his standing army. With the game completely in his control, Shuttle kept expanding, went for reavers and several drops, before eventually going for a huge drop that helped him seal a won game.
Game 2: Shine vs Miso on Sylphid:
Ah yes, ZvZ. Both players opened up somewhat similarly with Shine having the faster spire and Miso being the first to expand. However, overall, Shine had the better control, winning mutalisk engagements, killing the hatchery as he took his own exp and slowly stretching his lead until Miso tapped out a bit later on.
Winners' Match: Shuttle vs Shine on Autobahn:
Opening pretty standard on Autobahn, Shuttle lost his first corsair moments after it reached the Zerg base. He ended up making several cannons at his main and exp, presumably expecting mutalisks. Unfortunately for him, he never scouted the large hydra force that eventually crashed into his expansion. With several cannons and zealots, but no storm or anything else to help him defend the assault, he was broken. Shine easily took the game to be the first to advance to the Ro16!
Losers' Match: Miso vs ByuL on Autobahn:
After the Jaedong vs Sea TvZ, this was going to be an interesting match. Instead, it was yet another spectacle that was used to highlight the difference between an expro and an amateur. For one, it felt like ByuL just couldn't keep up, especially with Miso displaying some fantastic mutalisk micro. That was pretty much it. ByuL tried to move out, got his first force taken out so he sat back and tried to defend against mutalisks as Miso established a third then fourth base. Once his army was annihilated and Miso started morphing a guardian right there, he gg'd out.
Finals' Match: Shuttle vs Miso on Circuit Breaker:
Finally on a map that a lot of players are used to, we were treated to a really long back and forth macro game that deserves to be called the best (or second best) game in ASL so far. In this game, we saw Shuttle go for the usual speedlot attack, get some nice drone kills using dark templars, and go up to 4 bases with a decent army, but what made this game so good was the way Shuttle held on against what seemed like an endless Zerg assault. Miso in a moment looked to turn the game on its side as he rallied his large army towards Shuttle's third. Shuttle ended up losing his mineral only and barely held his fourth.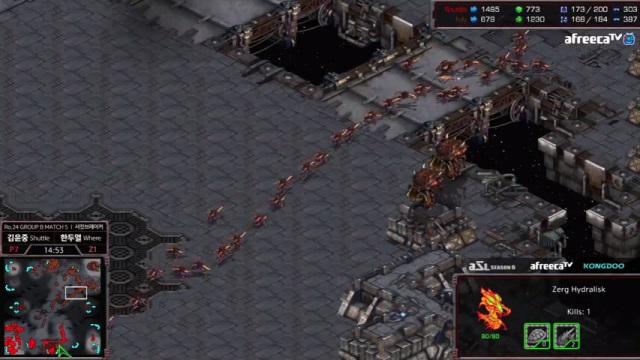 It begins...
Despite looking in a great position, Miso's macro took quite the hit and Shuttle through great engagements and decisions slowly brought himself back into the game. He eventually broke Miso's 6th base, 5th base then 4th before taking quite the thriller. Do yourself a favour and watch this game!
Shine
and
Shuttle
advanced to the Ro16!
Day of Blunders
Game 1: Mine over Matter
The group starts off with a TvZ between Mind and underdog Sacrsi. Mind spawns down at the bottom left and immediately opens up with an 8 rax. Those who have watched Mind since the Sonic era should be no strangers to the early aggressive play Mind employs in most TvZs (see KSL). Feeding of the energy of a live studio, Sacrsi pulls a great number of drones and defends the early marine-bunker rush. Now that Mind's been forced to play a longer game, he proceeds to employ the 1/1/1 that most Terrans are using these days. Sacsri is forced to respond. Having drawn experience from the recent Soulkey vs Last series, Sacsri does a variation of a hydra opener in response. However, he opts to turtle up and push tech over aggression. This choice proves well, because of Mind's option to upgrade mines early on. Mines are a great defender ff a small hydra push to the natural occurred. Instead, Sacsri chooses to macro up and expand to a third…
Except the single greatest vulture/mine combo would occur. Sacsri's drone at the third cannot form a hatchery because a mine is burrowed and since there was a vulture attacking his drone, he was forced to make an extractor. As the extractor nears a 100%, the drone has to cancel and rebuild! To top it off, the mine is finally removed, but by the time the drone can make it to the hatch location, the remaining vulture kills it off. The delay of the third was too critical. As Artosis and Rapid (Raposis? Artopid?) echo-ed, Sacsri really was playing a great game, but not getting the third kept him from playing the macro game he required in order to stay ahead of Mind. Mind in turn proceeded with a bio-mech push that would put him in the winner's match.
Game 2: The worst movie ever made
This game still confuses those of us who watched it live. Best, spawning at the 8 o'clock position, opts for a dt expand build meanwhile Movie, at the 12 o'clock goes for a 3 gate timing. Movie pushes hard with his 3 gate army just as the first dt leaves Best's natural. Best has a natural base that he chooses to defend instead of sending the DT straight to the third. Now, in an attempt to reason with Movie's choices, here is what he did. Movie creates a templar archives instead of a forge. Making a choice that would give him DTs instead of detect DTs. It is possible he thoughr the damage he could enforce on Best would be so great that the follow up of DTs would cause an instant GG in the game. Instead, Best survives and is still in really good shape. His DTs march over and force a GG out of Movie. The question remains, had Movie made that forge, would the outcome have been different?
Game 3: Best in show
Best versus Mind face off on the German Highway. Best spawns at the top left and Mind at the bottom right. As the game opens, it is clear that the Protoss trend of acquiring reavers would be what Best goes for. Mind hunkers down on his two bases and forms a solid mech army and chooses to push out with his tanks. Best has one option here, which is to engage the unsieged army with his shuttle/reaver/dragoon squad. The micro and decision making in this battle is nothing less then astounding. Best completely ignores the threat of a few goliaths and commands his reaver to target tanks only.
Meanwhile, he dances his goons beautifully to pick off each goliath with surgical precision. Each target attack from his units breaks down Mind further and further. The mech army makes it to the natural of Best, but Best has a double advantage. With defender's reinforcements, he can take on the tattered Terran army without his reavers. Knowing this, Best was able to counter attack and harass the worker line with no resistance. Mind is unable to fight back and taps out.
Game 4: The worst movie ever made - Part II
Sacsri has to take care of business or he will be eliminated. Using Autobahn's map exploits to his advantage, Sacsri opens up fast speedlings at the 11 o'clock position. Using the early lings, Sacrsi heads to the far right and starts breaking down the neutral building blocking a path to the north of Movie's natural. Let's take a pause now to discuss an awesome moment that happened. Artosis points out the irregularity of Movie's second defensive cannon. Often times we've watched so many games of Starcraft 1 that we don't always question every building placement. But Artosis really went Day9 on us. He posed the question "Why there?". This fundamental question and answer was exactly how Movie was able to survive the early rush from Sacsri.
First observed, the cannon placement does extend the covered area had the lings decided to dive through the front door. This extra length is indeed effective in dealing with speedlings. However, the cannon placement becomes more splendid with the backdoor entrance being exposed. That single cannon was able to defend the nexus from an attack coming from the left or the top. Now, there have been certain maps over the years that we have seen this mandatory cannon placement, but even so one can really appreciate hearing a perfectly placed question and watching the answer divulge itself as Movie defends so perfectly. From the point at which Movie is completely safe, Sacsri is greatly behind. Still, he mounts a really aggressive lurker hydra attack on Movie. This attack would have more then succeeded, but another huge blunder costs Sacsri the game. He became another victim to the horror of DT harass. As Movie defends by the skin of his teeth, the economic damage forces a GG.
Game 5: The worst movie ever made – Part III
Like, Godfather 3, we are happy there is another game, but are afraid of how ugly this one can get. Sure enough, this was another disappointment for Movie fans. The final series is cross spawns PvT on Circuit Breakers. Movie and Mind both open with a strong economic focus. Movie expands pretty quickly to his third and fourth at the 6 o'clock position. Meanwhile, in the top right Mind grabs the mineral only as his third. Due to Movie's aggressive expansion timing, Mind senses a moment where he can go for a mech push before 2-1 finishes. He proceeds to go for the throat and moves his mech army to the high ground that precedes the third and fourth base entrances. Movie in a wild move yanks his army away leaving the pathway clear. What this allows him to do is pick off oncoming reinforcements as he slowly confronts the army.
Movie eventually defends quite well. It opens up the opportunity and he expands to the 6 o'clock base and macroes up a near maxed army. Movie gathers for a recall on the main that is easily deflected with an EMP. Sensing he must force the issue, he orders his entire army to try and take on the fourth base of Mind. This force is decimated as it tries to walk down a ramp and past a depot into the siege fire of Mind. Following the failed attack, Movie transitions to 4 stargate carrier. Mind uses his game sense and throws down a scan revealing the entire plan. Pumping of 3 gases and 2-1 upgrades, Mind is well prepared for the carrier attack. Movie shows fatigue as the match ensues and even loses a carrier to a turret. Mind finally takes a PvT and sends Movie back to his day job.
Best
and
Mind
advanced to the Ro16!
Fan Favorites!
Kicking off week 2 for the Ro24, we have an explosive group with EffOrt, Action, Mong and Stork. All players who have been quite the personalities (and memes) since the beginning of their careers. Of course that's something that they could sell on their streams, but this is the ASL. Only the best players will advance.
EffOrt vs Action:
Right now, EffOrt, by the numbers, is the most dominant zerg online, which would come as a surprise to some considering how he was knocked out of the last 2 seasons due to ZvZ. But looking at his ZvZ form online, he's at an 80% win rate (90% if you count this month alone) and that's JvZ in prime form good. Although, we like to make a point about that online/offline setting gap, but when the results are this good, that gap should not matter.
Action on the other hand has been ignoring his ZvZ for the most part this month to pump up his ZvT numbers which would seem to suggest that he is going to follow a lot less focused approach to the match and try to play a standard game and rely on mechanics alone. But right now, both EffOrt's zergling and mutalisk control is not to be trifled with. Unless EffOrt makes a blunder, Action is going to have to take the loss here.
Saiyan Prince, Mafia Zerg, Action is all of these things
Mong vs Stork:
Stork's KSL run proved that even he's capable of being as cunning and as clutch as he used to be as the ace of KHAN back in the KeSPA era. He's going to need that trait in spades in this group, especially against Mong. After all, the only reason Stork's PvT numbers aren't looking as bad as his August's is because he has not been playing Mong with whom he's had a 1-12 record against in August alone. The cards are stacked against Stork on this one, and he might need to rely on any tricks he could pull of on Sylphid to win this one, because the rest of the group isn't getting easier for him.
Mong is pretty lucky to not feel like the weakest link in the group, because he has not been on the top for at least 3 years. He bombed out of the last season getting 0-2'd in the Ro24. To put it bluntly, the only upside right now for him is clearly knowing that he has Stork's number going into the group, unless he's dealing with something map specific like a 3 speed shuttle drop play to really catch him off guard. I see Mong taking this game.
Winners', Losers', and Finals' Match:
Autobahn is looking to be an absolutely great ZvT map right now, and I cannot wait to see how EffOrt shows his brand of play against a Terran on it. Mong is going to have to be aggressive even if it means going BBS, because EffOrt is going to take it in a macro game without a doubt.
Action has been thrashing Protoss players left and right and while it's true that he's lost the only game he played against Stork in the last 2 months, that's a really small sample size. Stork is going to have to get crafty again, especially on determining how to obtain a third base, because that is the biggest challenge he has to face on this map against a Zerg.
This leaves us with Action vs Mong on Circuit Breaker, and to be honest, for a group with 2 Zergs, Mong really has spent his time avoiding playing Zergs publically. It is Circuit breaker which is pretty good for Terran and I'm going to refer to the old adage of Action "If he gets to hive, he's going to be unstoppable".
EffOrt
and
Action
to advance to the Ro16!
It's a Rematch, Dang It!
Disclaimer:
This preview will not have spoilers of the KSL finals, its highly suggested to wait until the day of this group to discuss the result.
We got the Deadest Hype train aka Rush, AlphaGo 2.0 Rebirth Edition Last, Neo.g_Bonjwa Soulkey and of course The Clamity
Clam
Calm. Definitely something for all Terran and Zerg fans, a fun day to be had, but who will make it through to the Ro16? Lets find out.
Last vs Calm:
There was a time where people would look at this match and say it's obviously going to be Calm. Nearly a decade later and their roles have changed so drastically, with Last being one of the best Terrans of the era and Calm practically being a part-time pro (who still got it, considering the hell that is the ASL qualifiers).
Now to say that Calm even has a chance is being extremely optimistic. Last is playing his best SC since his initial AlphaGo run in 2016 even showing control over the TvZ matchup in his semifinal series against Soulkey. Calm will really have to show up with his old form, Brain Zerg to even have a chance to make this game look even. I think its improbable at best.
Soulkey vs Rush:
Rush looks determined to beat Soulkey, spending these last few days practicing and playing sponbbangs with Action. So far, the results have been looking really good for him, going 7:3 against Action is definitely a good sign that Rush is prepared to take on Soulkey.
Soulkey on the other hand has spent his time destroying Mong and it still cannot be understated how good his ZvT actually is seeing as he beat Light in KSL. Hoping to see some improvement from Rush from his training, otherwise I only see Soulkey winning here.
Winners', Losers', and Finals' Match:
The rematch between Last and Soulkey coming as a Bo1 on a new map like Autobahn will at least give a new perspective on the rivalry, plus who doesn't want to see a top level TvZ on this map especially when Jaedong on Group A showed what a Zerg is capable there. I give the mental edge to Last, but this could go either way.
It's a shame that Calm really does not inspire much confidence in me in this group. For someone who has a great legacy, he has just not been able to deliver in our current era. Rush should take this easily.
Rush vs Soulkey rematch on Circuit Breaker will definitely play out better for Rush than on Sylphid. Definitely interested in seeing this potential match than say Last vs Rush, where the advantage is clearly in favor of Last. I'm still going to give Soulkey the advantage for being the more seasoned veteran who can pull off more wins in this situation.
Last
and
Soulkey
to advance to the Ro16!
+ Show Spoiler [ Bonus] +
In the miraculous off chance that we do see a Calm vs Soulkey final match, I'd say it's the best possible outcome for Calm to make it to the Ro16 as Soulkey could not beat Calm in a Bo3, let alone a Bo1 and I feel like I should never let this die down.
Specialists In Winning
We got TvT expert Sharp, TvZ expert Light, G-chizzle aka OMEKim aka GuemChi, and the fresh faced ACS finalist yerim2. We got some variety in store for this group.
Sharp vs yerim2:
Once again Sharp proved in the KSL that he has some of the best TvT, but falls flat in the face of other matchups with his two 3-1 victories against Sea and his eventual quarterfinal fall against Soulkey. However, since then he seems to have started to redeem himself online currently going 14-6 in TvZ going up against the best ZvT players. Definitely will be looking sharp (pun intended) in his opening game.
yerim2 draws a bigger question mark than the ACS champion as we know very little about him outside of his qualifier run where he beat Jaehoon, ForGG and Leta to earn his spot in the Ro24. Those are definitely known names, but he needs to show what he's like on the big stage come game day.
Light vs GuemChi:
Another teamkill match as both players were formerly in Woongjin Stars and were teammates (albeit briefly).
Light is right now probably in the best shape he's ever been in and that includes his KeSPA-era career. While he still seems to have trouble with TvP, he's been showing a lot more improvement especially in recent months with his runs in the KRS series, even going as far as performing an All-kill earlier this week. He is definitely going to be riding that momentum going into this group.
GuemChi has a winning record against both Terrans of the group (to be fair, it's a 1-0 against Light and a 2-1 against Sharp, hardly a record) since August, but his focus so far on stream has been playing more PvZs than PvTs which won't serve him much against Light. Expect Light to make quick work of this matchup.
Winners', Losers', and Finals' Match:
Sharp going up against Light is easily the main event of the night even if it is a TvT. Both players are equal in their head to head, and both players are known for being able to take the matchup at all stages, early, mid and those late late game BC vs BC scenarios. One can only wonder how it would work out on Autobahn.
As mentioned earlier with GuemChi, he has been focusing on PvZ right now, and he should be more than ready to beat yerim2 to make it to the final match.
It's usually in this situation that we are likely to see the appearance of OMEKIM or to put in simpler terms, GuemChi burns your eyes with his play (thus the name Oh My Eyes Kim) and outplays himself into a bad situation. However, there is no doubt in my mind that either Sharp or Light should be able the close the game out themselves without him needing to do so. But expect GuemChi to gamble on an early game proxy robo reaver drop at either the 12/6 base on Circuit breaker.
Sharp
and
Light
to advance to the Ro16!
---