What amazing two weeks we've had so far. I didn't expect any of the four groups to turn out like they did. Initially after the first day I was scared about how we would lack Zerg after Killer got knocked that are capable of beating high level Terrans. Boy did ZerO, Kwanro, and Modesty step up. This next week is going to be even more amazing, JangBi, Bisu, and Sea are just some of the names.
Thanks to KristofferAG we have a
recap
and I would also like to thank Poetic for taking the images last minute. We finish off this short article with the
preview
of the rest of the round of 32 groups.
Table of Contents

Round of 32 Recap I
Upsets Galore

Round of 32 Preview II
The best yet to come


Liquipedia
Round of 32 Recap I
By KristofferAG
With group A, the clear favorites to make it through would be the reigning champion, Killer, and one of the fiercest Terran players in the league, Mong. Britney, though an entertaining streamer, has never really impressed with his play, and ZerO only recently returned to Brood War, and has been unable to grab any wins against the top contenders in the King of the Hill series. Still, this is SOSPA, and having an upset this early on wouldn't be the biggest surprise. Except, this time, it was a huge surprise.
You could argue that Killer has seen a slight slump as of late. He's not won as consistently as he used to, but he's still way up in the rankings. His only real obstacle in this group was expected to be Mong, with his terrifying TvZ. Britney was destined to go out in fourth, and I dare say it surprised no one when that actually happened. With ZerO being a Zerg, Killer was expected to stomp him. Things didn't go as planned.
As expected, the Killer vs Mong series were really entertaining. Mong would take the first game on the newest map in the pool, Mist, after defending Killer's advances time and time again, crushing the lurkers and defilers coming in from the Zerg. Killer stepped up his game for the following maps, defending and countering at the right times, to take a 2-1 win. ZerO almost fell out early to Britney to a small zealot/DT attack on his expansions, when all his overlords died to corsairs, and his single spore got destroyed early. Eventually, ZerO just massed hydralisks, sniped all of Britney's HTs, and crushed the Protoss defenses. Game two saw Britney being overly defensive, letting ZerO spiral out of control before crushing the Protoss.
And now, for the upsets. Killer's ZvZ can usually be defined as "unstoppable" or "terrifying". On this day, it wasn't. ZerO's great defense against the early ling rush gave him a macro advantage, and with an earlier spire and higher mutalisk count, he (seemingly) easily defeated the reigning champion. Mong would go up against a Britney that seemed to have choked completely after the ZerO games. When you go fast arbiter, you can't really mess up your stasis.
Drones going on an adventure.
So, the final match was a rematch. Mong opened with an eight rax on his natural, rushed down Killer, who tried to July his way to victory with a drone counter-attack. Spoiler: It didn't work. Killer opened game two with three hatcheries before pool, while Mong built his CC before barracks in his main, putting him far behind. Any pushes from Mong with marines and medics would get shut down by the Zerg, and after fifteen minutes, the series was tied up.
Cross-spawn on Fighting Spirit. Basically a best of one, to decide who goes on to the round of sixteen. In a 30 minute game with constant pressure from both players with mutalisk harass, dropships, we were treated to the best game of the night. With both players pushing their multitasking skills to the max, and Killer barely holding on with his defilers and lurkers. Mong expanded across the top of the map and took map control, forcing out a desperation move from Killer. Guardians were morphed at the twelve o'clock of Mong, but thanks to the aforementioned map control, the Terran quickly spotted it and destroyed the guardians before any damage was done. A starving Killer was eventually forced to gg out. There's an upset for you.
Group B saw the return of Midas, playing his first ever SOSPA matches, in a group with the household names, HiyA and Sky. PianO had been making waves with big wins during the latest KotH proleague, and already has a flawless winning record against HiyA, with two wins.
Sky sure enjoys putting buildings where they don't belong. His proxy gateway rush in game one failed, giving HiyA a lead after defending the DT follow-up. The double gateway/cybercore proxy in game two came as a huge surprise to HiyA, who opened with an expansion after one barracks. GG in seven minutes. To make up for the two fast games, the third would go on for ten minutes without aggression, before Sky recalled into mines. HiyA countered with a huge mech army that Sky tried to avoid, but after a quick fight Sky was left with no standing army.
When I first heard Midas would finally be playing a SOSPA match, I didn't know what to feel. I didn't want to see him crushed, but I still really wanted to see him play. His first opponent was the up-and-coming PianO, a TvT that allowed Midas to show what he's good for. He played an amazing game in the first match, showing confidence in his play, and grabbing a win with an air army too strong for PianO to handle, after a close and intense game. The next two maps went in PianO's favor, with some clever use of building blocking on the natural of Midas on Neo Electric Circuit, and a lengthy TvT that ended with PianO's unstoppable air fleet being too much for Midas to handle.
Who needs forcefields when you got barracks?
PianO once again showed off his brilliance with 24 kills on two wraiths after ten minutes played in the winners' match against HiyA, achieved while defending any attacks from HiyA and counter-dropping when he could. For once it seemed like HiyA was being toyed with, before the gg eventually was called by a beaten and bloodied HiyA. As PianO swaggered off into the round of sixteen, Sky took on Midas in the losers' match, using his patented messy play-style to forge a 30 minute back-and-forth, messy PvT. Sky eventually managed to bleed Midas dry, after throwing his army against the Terran multiple times
The final match ended up being a rematch between Sky and HiyA, another long game that was basically served up for Sky at the beginning. HiyA opened greedy, and was punished for it, but HiyA managed to buy himself enough time with drops that he eventually got to just slow-roll the Protoss army. Sky tried to claw himself back into a winning position with constant recalls, but instead ended up losing his entire army, and his last chance to make it into the round of sixteen.
Modesty joined around the same time as ZerO, and has gotten a kill list containing names like Sea, JangBi and HiyA. With that in mind, group C was predicted to result in sSak and Modesty grabbing the top two places, Shinee yet again failing to bring his ladder performance into a tournament, and ZergMaN playing like he usually does, good, but not good enough to get through to the round of sixteen.
sSak mostly dominated Shinee in their matches, showing off superior decision-making and game sense. In both games he would gain an early lead with vulture and wraith harass, keeping Shinee poor and locked up at home. On Neo Electric Circuit sSak even managed to block a building armory with a floating barracks, forcing Shinee to build a new one, not being able to click on his currently building armory.
Tickling eventually kills you.
From TvT to ZvZ, Modesty was ready to take on ZergMaN with a fast pool against an expansion first. ZergMaN held on for a long time, defending the initial rush and dealing a lot of economic damage with counter-attacks whenever Modesty moved out with mutas. ZergMaN still managed to lose the majority of his air army, meaning Modesty was allowed to just steamroll his opponent's base for the win. In the second game, ZergMaN seemingly took the lead when Modesty messed up his spore placement, and losing his pool and mining in the main as a result. ZergMaN proceeded to lose all his mutalisks just as his spire finished, allowing Modesty to counter and win.
In the deciding winners' match, Modesty contained sSak with mutalisk play that hit the Terran main at just the right time, before continuously whittling down the marine/medic army. The natural follow'up to this would be guardians, no? As sSak desperately tried to get out valkyries to save his ass, but Modesty had way too much and crushed through with a mutalisk/guardian/devourer army. It took about ten minutes before Shinee and ZergMaN started trading blows, with a fairly successful drop and neatly positioned firebat in ZergMaN's main. ZergMaN oddly threw away multiple units to Shinee's defenses, before breaking through to take out one of the Terran bases, while taking his side of the map. The Terran soon reclaimed his base, and with an odd mutalisk switch from ZergMaN, the Zerg player found himself far behind in army, and with a lack of dark swarm he was unable to defend the final push.
We got to revisit the first match of the group in the final match, in which sSak did exactly what he did in their earlier meetings. An early vulture got a full scout and some damage done. The follow-up wasn't a wraith, but a vulture drop, that was able to deny mining for a while. The counter-attack in mass vultures from Shinee was quickly blocked with a huge wall from sSak, while goliaths from Shinee stopped the drop from doing any major damage. This time, Shinee was on the offensive, while sSak grabbed a short page out of Mong's book with a big drop into Shinee's main. With no way to defend, Shinee rushed to attack sSak's base, but stopped by the defenses. A second huge drop into Shinee's main basically secured the win for sSak, ending it with wraiths a couple minutes later.
Group D was hard to predict. Kwanro has failed to impress since his return, hero is great at ZvP but doesn't have as much to show for in ZvZ, Pusan is literally the best person in the SOSPA scene, but his BW skills do not match up to it, and Terror is loud and entertaining, but not really a top seed.
Kwanro took the first game of the day after hero overextended with mutalisks, and it looked like it would be a quick 2-0 win before Kwanro overextended heavily with his mutalisks, giving hero a huge lead that would eventually tie up the series. The third game looked like it would be a quick win for hero, with Kwanro going early expansion against an aggressive Zerg opponent. Kwanro held on with a couple drones dead, but got hammered by mutalisks to keep his worker count down. Kwanro slowly got up a huge mutalisk army, which he sent to counter-attack when hero decided to go for the third of Kwanro. With a huge err in judgement, hero decided to keep attacking and go for an elimination race against a Zerg with more buildings and a hidden base, ending in an elimination, and win for Kwanro.
Then came Pusan vs Terror. After some nice play from both hero and Kwanro, this was not exactly a series that got you excited. Terror lost game one by losing all of his mutalisks to an archon and a storm. He then lost more drones than necessary to a zealot/archon attack, and clumped his lurkers for easy storms to lose the game. The second game ended in Pusan throwing his corsairs into a mutalisk/scourge army as he was attacked, losing them all and the game. The third game was longer, which doesn't necessarily mean better. A two-pronged attack from Pusan successfully set four zealots up against an unprotected base, which only managed to kill a couple drones due to bad targeting. Then, multiple corsairs fell to scourge when they should have been fine. Pusan continued to make some bad decisions, eventually trapping his entire army for Terror to pick off, and getting a huge plague on his entire army. The game was over.
Terror's face when losing all his mutas to storm.
Kwanro got to show off against Terror, with clearly superior control in the muta v muta battle. Distracting Terror with zerglings, sniping drones, and handling muta/scourge v muta/scourge simply better. Zerglings from Kwanro would sneak in and grab single drone kills over and over, while all of Terror's overlords were found and killed off on the map. Kwanro kept being careful while sniping the single drones, until he eventually took a deciding battle to win the game, and move on to the round of sixteen. The losers' match was another display of two players just playing on different levels, with hero crushing Pusan. Any shuttle play got shut down, and the counter drops from hero were devastating. After almost twenty minutes, hero finally broke Pusan's frontlines and spirit.
I don't think there was any doubt as to who would win the final match between Terror and hero. They both expanded early, and went for mutalisk play. That is, until hero decided to mass zerglings and go for an attack that caught Terror by surprise. With some great zergling micro, hero was able to kill all of Terror's zerglings, and destroy his natural. With the taste of blood still fresh on hero's mind, he kept squeezing out zerglings, eventually rushing into the main and crushing what remained of Terror's army.
Round of 32 Preview II
By Epoxide
| Group E | Group F | Group G | Group H |
| --- | --- | --- | --- |
| Tyson | Larva | Movie | Ample |
| Mind | JangBi | Zeus | Bisu |
| Pure | Lazy | Shuttle | Jaehoon |
| beast | Cola | Mini | Sea |
Group E
The group starts out with the two heavy-hitters in the group, Mind and Tyson. Mind debuted in SRT18, where he advanced second from his group but got knocked out in the quarterfinals by HiyA. Proleague went quite well, beating Movie, Lazy, and HiyA. Unfortunately he got knocked out in the first group stage in the LoveTV Starleague but advanced from his group in first in Zeus Starleague. Tyson had been gone for a while after SRT17 but came back when proleague started. But it didn't go so well at first. After a four game losing streak, Tyson finally squeezed out his first win against JangBi, he finished the season by beating PianO two times. Just like Mind, Tyson was knocked out in the first stage of the LoveTV Starleague. Although PvT is considered Tyson's best match-up as well as doing great lately, I don't think it's enough to beat Mind. Tyson on the other hand is known to beat Terrans in the most absurd games. This series is going to make Sayle's voice crack or get him pissed.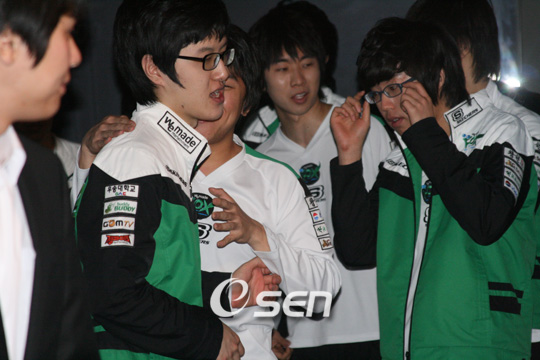 WeMade this group.
The other match is beast vs Pure. Pure debuted in SRT18, just like Mind. He however got knocked out immediately in the round of sixteen without winning a single game. Proleague didn't go well either, he ended the season at 1-6 with his only win against Zeus. He got knocked out in the LoveTV Starleague in the first stage without winning a single game. Pure isn't exactly playing the best of StarCraft, to say the least. beast went on a tear in proleague, as he does in teamleagues. I don't see how he can't win against Pure. Beating Mind in the winners' match will be nearly impossible but he should have a chance against Tyson in the final match. It's hard to decide who will win, but this is an individual league, I give Tyson the slight edge.
Mind
and
Tyson
to advance.
Group F
The group is finally here! The long awaited
return of Heo Yeong Moo
. JangBi is the clear fan favourite, but is it as an easy group as it seems for JangBi, the reality might be quite the opposite. JangBi hasn't played that many games yet, and they are all scattered with sudden breaks. It's really hard to say what exact form JangBi will bring. In his first match he faces off against Larva. JangBi has only played three games against Zerg in tournaments so far losing to both Modesty and Killer while winning against StarCue (that's basically like saying he is 0-2). Larva hasn't looked really great but not really bad either. He got some huge wins in proleague against Protoss players like Lazy, Jaehoon, and Movie. But then he also lost to Mini, Zeus, and Jaehoon. Neither of them have really impressed. It's impossible to accurately predict this, but how can you not be on the JangBi hype train?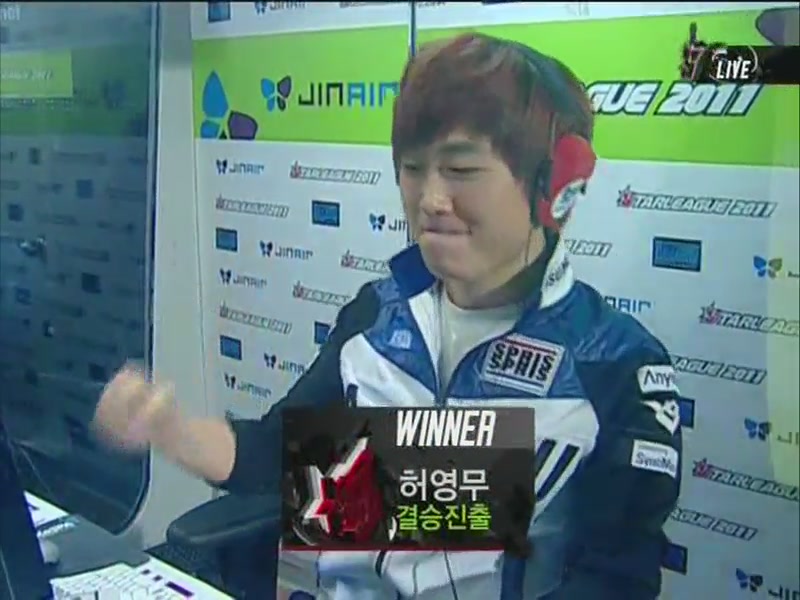 We have a winner.
The rest of the group isn't very interesting, Lazy has done well recently but he is not a fan favourite, doesn't play flashy, and doesn't catch your eye. Cola hasn't been doing well at all lately. With the influx of so many ex-progamers, Cola has kinda drowned out in the crowd, he is now the amateur of old. Lazy should win against Cola pretty easily. As far as PvP goes Lazy has been smashing everyone left and right, including beating JangBi himself and Bisu not once but twice. The best of one PvP will decide who goes out in first and who goes out in second. Larva and Cola shouldn't be a huge problem for the Protoss in this group.
JangBi
and
Lazy
to advance.
Group G
Protoss lovers rejoice! An all Protoss group, this means that two Protoss are guaranteed in the round of sixteen! Likewise, Protoss haters, this means that two Protoss are guaranteed to get knocked out! If you like PvP, this is the day to watch. Shuttle and Movie are great at PvP and they have a long history of rivalry. Movie is currently leading the score, 12-11. Those two are the clear favourites, while Mini and Zeus don't really have any PvP record to boast with. Mini is 0-4, to opponents like Changers and Pusan. Zeus has the infinitely better record at 1-4, with losses to Pure and Hi, where he also got his only win but he lost the series.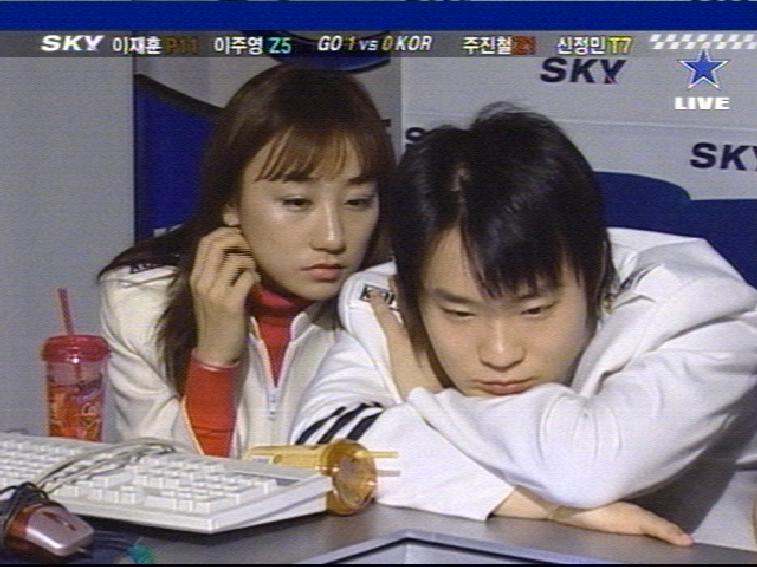 No ceremony prize and no prize for advancing either.
I guess Mini can upset? Atleast mustaju believes one STX Toss will upset the other. I don't really see it happening. There isn't much to add to this group. One match-up, two clear favourites. The game between Movie and Shuttle should be the highlight of the group.
Movie
and
Shuttle
to advance.
Group H
Probably
the most
anticipated group of the round of 32. Bisu and Sea are the two hottest players currently. Bisu had by far the best record in proleague and Sea just came off of destroying the Protoss race in the FIX race wars just a few days ago. If Ample and Jaehoon had been put into any other group they would have most likely advanced. The first match is Ample vs Bisu and I don't think a lot of people question me when I say that Bisu will crush him 2-0. Although Kim Tae Yeong>Kim Taek Yong.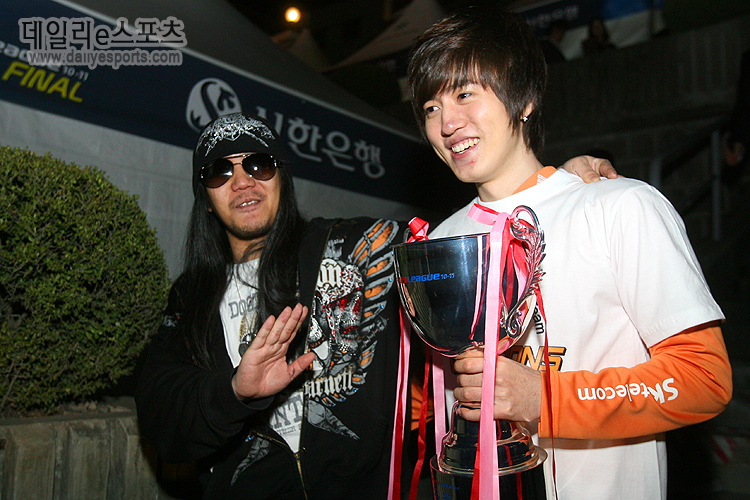 Rockstars get girls, Bisu gets rockstars.
Sea rocked every Protoss two days ago, including on Blue Storm. Jaehoon has just bern playing decently at best. Sea will beat anybody in a best of series. It's the winners' match where all the action is going to be. Bisu didn't participate in the TvP race wars, he is probably afraid of Sea. Sea on the other hand wasn't afraid to show his hand. Admirable confidence or foolish cockiness? This is going to be the best match of the group stages for sure. Either way it's clear what two players are going to advance.
Sea
and
Bisu
to advance.
---
WRITERS:
KristofferAG, and Epoxide
GRAPHICS:
Hyde
PHOTOS:
dailyesports
,
SonicTV