At the start of my blogging activity at TL, I made a decent article on Bruce Lee, but I didn't feel that just one blog could even express what this great man did to the whole world!I'm currently speechless as I am trying to remember how this man revolutionized the ways people looked at Martial arts in general. He tried and succeeded in breaching the gap between this idea of "styles" that people used to stick to. As a martial artist myself, he is the person I Idolize.






Yesterday, the 20th of July was the day Bruce Lee died. Such a young age... 32. If he only lived longer, who would have known how much he would have done to the world as a whole?! Recently there was a documentary titled "How Bruce Lee changed the world" on the History channel. I missed it

, however the DVD is coming out on 28th of July, and I encourage everyone to try and get a copy to watch the true epicness of this guys and its effect on different people in different professions. ( http://www.amazon.com/How-Bruce-Lee-Changed-World/dp/B001OLY1YU ).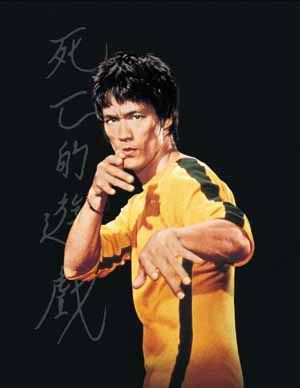 We should all remeber thing great man, and what has he accomplished through his short life. In the end I leave you with several things you can check out:

A short segment from an intreview with Bruce Lee:


A list of physical feats accomplished by Lee:
* Lee's striking speed from three feet with his hands down by his side reached five hundredths of a second.
* Lee's combat movements were at times too fast to be captured on film for clear slow motion replay using the traditional 24 frames per second of that era, so many scenes were shot in 32 frames per second for better clarity.
* In a speed demonstration, Lee could snatch a dime off a person's open palm before they could close it, and leave a penny behind.
* Lee would hold an elevated v-sit position for 30 minutes or longer.
* Lee could throw grains of rice up into the air and then catch them in mid-flight using chopsticks.
* Lee could thrust his fingers through unopened cans of Coca-Cola. (This was when soft drinks cans were made of steel much thicker than today's aluminium cans).
* Lee performed one-hand push-ups using only the thumb and index finger.
* Lee performed 50 reps of one-arm chin-ups.
* Lee could break wooden boards 6 inches (15 cm) thick.
* Lee could cause a 200-lb (90.72 kg) bag to fly towards and thump the ceiling with a sidekick.
* Lee performed a sidekick while training with James Coburn and broke a 150 lb (68 kg) punching bag.
* In a move that has been dubbed "Dragon Flag", Lee could perform leg lifts with only his shoulder blades resting on the edge of a bench and suspend his legs and torso horizontal midair.
Source: http://en.wikipedia.org/wiki/Bruce_Lee


My you be remembered forever.